Do you want to automatically share your WordPress blog on Pinterest? That will help you to share your schedule content on WordPress site automatically on your multiple accounts or boards? SchedulePress Pro (previously known as WP Scheduled Posts) comes with this exact solution that will share your blog post on your multiple social media profiles including Pinterest in an automated process. Let's find out how auto-post sharing actually works and gets engaged to the blog till the last!

Why You Might Have To Focus On Pinterest Sharing?
Increasing your website traffic and conversion is one of the difficult tasks to accomplish in content marketing. You have to apply innovative tactics that would help you to drive your site engagement and conversion rates simultaneously. Pinterest marketing will do that for you without giving any extra effort.
For that, content marketers mostly focus on sharing their WordPress blog on Pinterest to get more site visitors and exposure on the spot. This is mostly because the audience feels attracted more with the interactive content which represents content with amazing visual and text content. This makes it different from other social media sites to build huge social exposure and engagement quicker than others.
Benefits of Sharing WordPress Blog on Pinterest
Just think about the phase that you have to share your daily blogs manually for your separate Pinterest accounts, how would that be? It's time-consuming and kills productivity. That you might have to go through a long schedule and maintain it accordingly before publishing your content on your social site.
For that reason, people feel the necessity of automation. It will help you to display your scheduled content at a time your posts being published on your website. You don't have to wait for any manual work nor you have to maintain any lists and other stuff. You just have to schedule your blog and it will share your blogs automatically on your multiple social profiles of Pinterest. Isn't it amazing? SchedulePress Pro comes with this amazing auto-sharing feature not only for Pinterest, but you will also be able to share your content at a time on multi-social profiles, groups, or pages of Facebook, Twitter, and LinkedIn. Let's get to know the details!
How To Share Your WordPress Blog On Pinterest With SchedulePress
To share your scheduled blogs automatically on your multiple Pinterest accounts, you have to integrate your Pinterest account first with SchedulePress. After that, the rest of the work will be done with automation. You can choose your preferred boards to pin your every post separately. Then it will be auto-share your scheduled content on your selected boards.
Besides, after completing any blogs, you will be able to do instant sharing with this amazing plugin directly from your WordPress editorial to your Pinterest multi-social profiles or boards.
Let's Get Started With SchedulePress
By following the step by step guideline, you will able to auto share your scheduled blogs for your multiple Pinterest accounts using SchedulePress. Let's check out the guide below:
Step 1: Configure Social Share Settings
First, configure SchedulePress with your Pinterest account and if you need help, follow this step by step guideline to integrate Pinterest. Here you will learn how to retrieve your Pinterest API keys, which you will need to connect your Pinterest account with SchedulePress. After doing this, you can share any WordPress blog on Pinterest with a single click.
When you have collected your Pinterest API keys, go to SchedulePress→ Settings from your WordPress dashboard and click on the 'Social Profiles' tab as shown below. Then simply paste your Pinterest API keys to connect your account with SchedulePress.
Besides, you can change and customize how your social share template will look like when you share your WordPress blog on Pinterest with SchedulePress. To do this, you just have to go to the 'Social Templates' tab from your SchedulePress settings page. Once there, scroll down to the 'Pinterest Pin Settings' section and tweak the options there to customize your social share template.
Step 2: Get Started With Instant Sharing
You will be able to share your WordPress blog on Pinterest right away by using the 'Social Share' settings from inside the editor. You have the option to choose whether you want to share your WordPress blog on Pinterest default board or any custom board as shown below.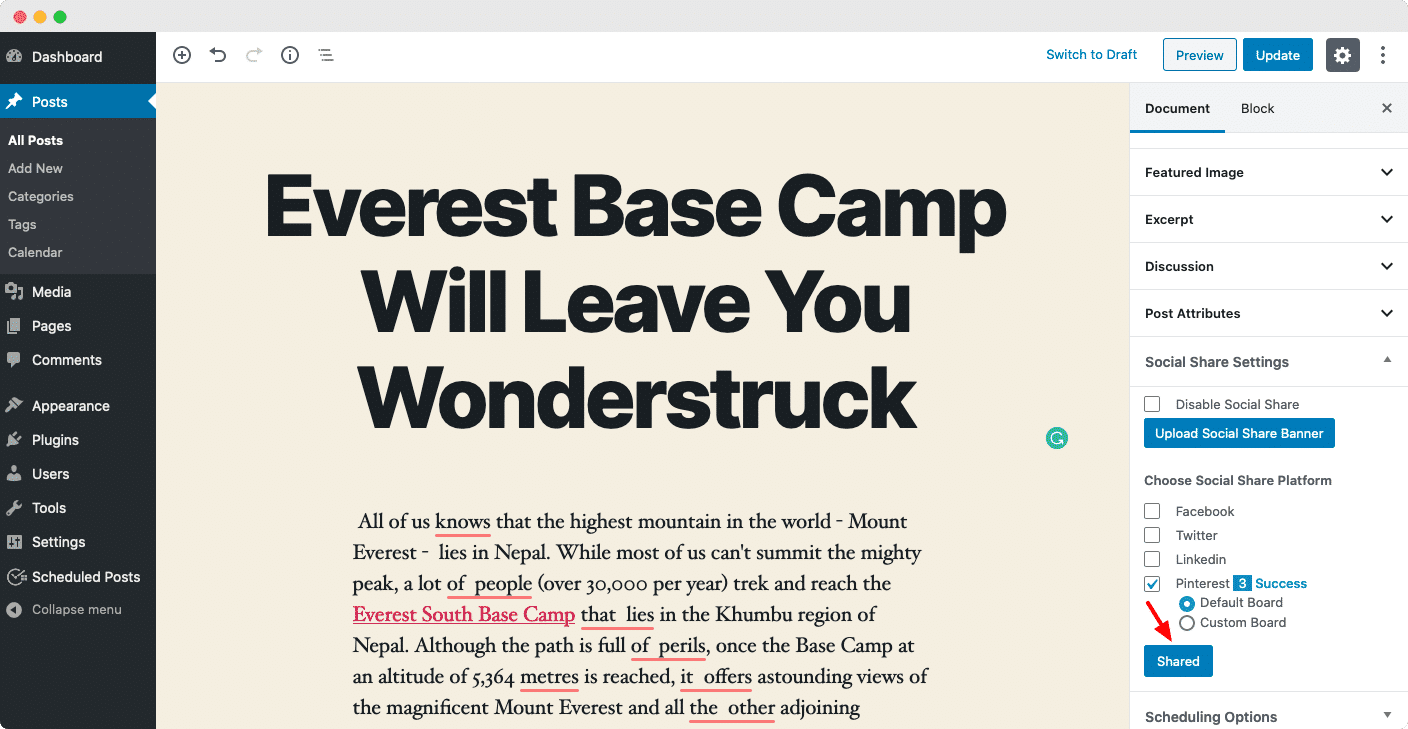 How It Will Look Like
After successfully following all steps and configurations, you will be able to auto-post your scheduled WordPress blog on Pinterest outstandingly with SchedulePress Pro.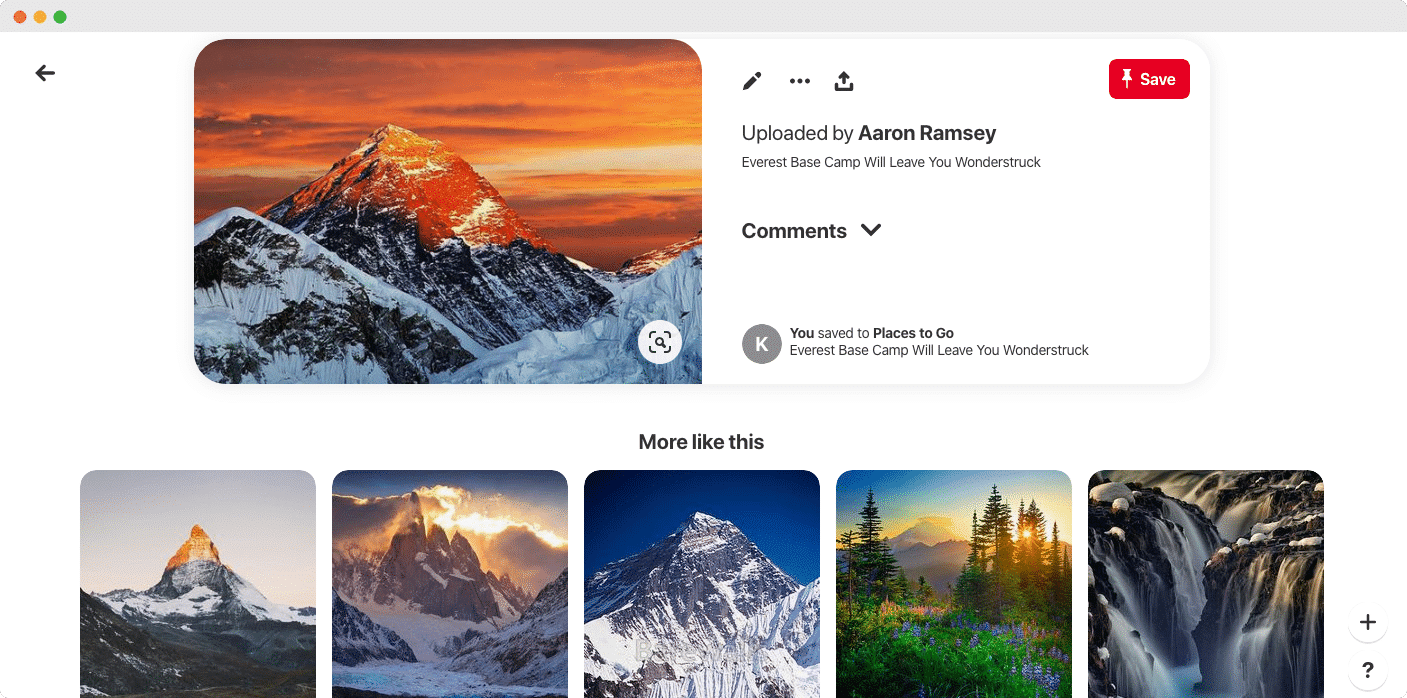 Final Thoughts
Automation makes work easier to do even if it's huge. For content marketers who are running multiple blogs and social channels, this amazing automation process gives them the freedom. They don't have to worry about post their content by the manual process or at a specific time. SchedulePress will automatically publish their scheduled WordPress blog on Pinterest including other social media profiles, pages, or groups instantly when it goes live.
If you find this blog helpful, let us know by sharing your comment!