If you can share WordPress blog posts on Facebook automatically, it will help you to create a buzz on your popular social channels. In the meantime, you will also be able to reduce your workload instantly. Because after publishing content on your WordPress site, you have to give an extra effort to get the word out. So, automating this process will quickly give you the desired exposure and boost your website traffic easily. But to do that smoothly, you need to get a complete solution to automatically share WordPress blog posts on Facebook without any hassle.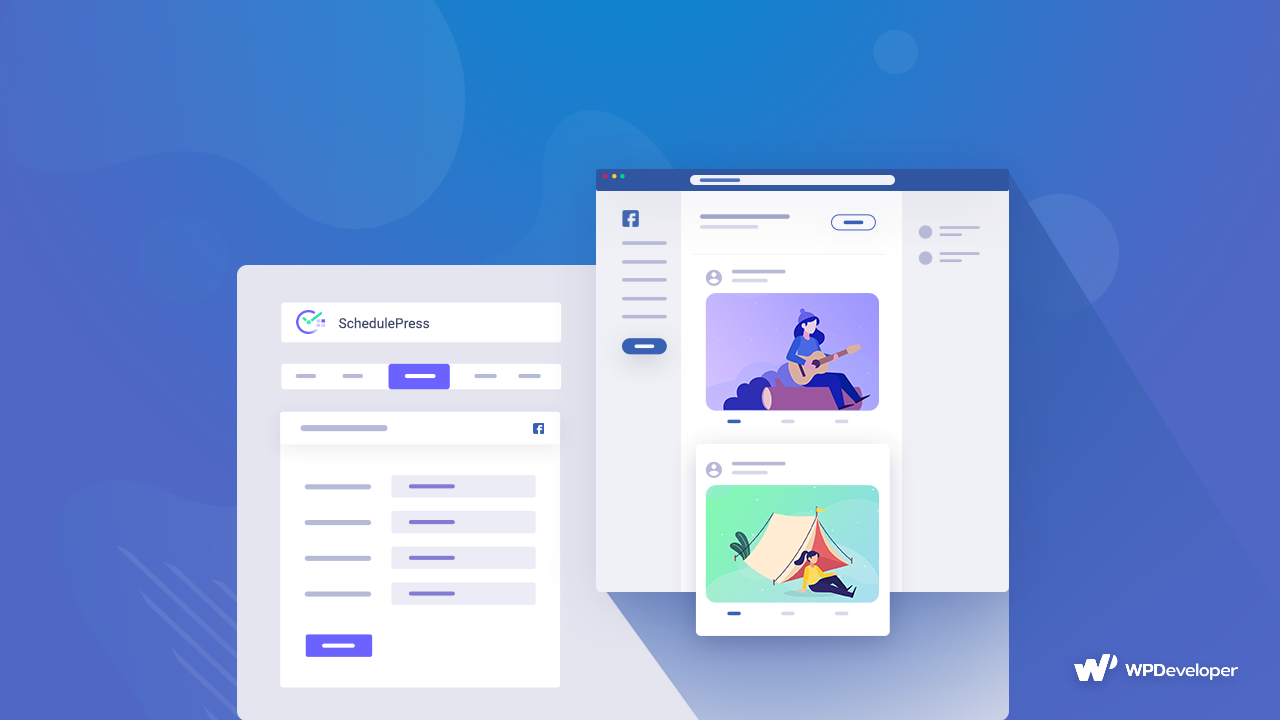 That's why we are introducing the best content scheduling and auto multi-social sharing WordPress plugin SchedulePress which is revamped and rebranded in the latest and known before as WP Scheduled Posts. You can do automatic scheduling of your blog content and share WordPress blog posts on multiple pages or groups of your Facebook, Twitter, Pinterest, and LinkedIn. So let's get started to explore this advanced multi-social share plugin SchedulePress in detail below!
Benefits Of Sharing Blog Posts On Facebook  
Recommended Reading: How To Automatically Tweet On Twitter When Publishing New Blog Post in WordPress.
As a content marketer, you must have to know the right tactics and pick the perfect social media sites for your content promotion. That will help you to boost your traffic and rank you higher on the search engines like Google, Bing, or others. So in a very effortless way, you can increase your engagement rates and conversion without doing anything extra. You will be able to reach out to your target audiences in every corner of the globe with ease.
Facebook is one of those social networking sites that can easily give you that social exposure. It has over 2.7 million monthly active users and is considered the largest social networking site worldwide. So if you can push your blog content on Facebook, it will help you to reach your potential clients effortlessly. 
✔️It's always easier to get organic traffic on Facebook for your enrich content. And it's absolutely free and gets you to the right customers on an instance. 
✔️Once you have published your blog on Facebook, it will be quicker for your content to get indexed on search engines like Google and rank top within a very short period of time. 
✔️Also, it helps you to make your blog site credible and trustworthy for your customers that you have an active presence on Facebook. People are always looking for a strong social media presence before creating engagement with your content or your website blogs. 
✔️Besides, your active readers can easily share your blogs on different groups or channels. Also, they can easily recommend your blog site to others. This will work as a chain, if one gets benefited by reading your blog, they will share it with others, and you can make huge traffic instantly.  
So, you can gather more social traffic that will help you to boost your Facebook posts traffic and the website simultaneously. That's why people make the first choice as a startup or even true for the established content marketers or blog site owners, they prefer Facebook first to promote their latest released content. Most people of different age groups are attached to this social networking site where you can easily be reached out to your target audiences' and accelerate your site engagement and conversion in a continuous process.
How Can You Automatically Share WordPress Blog Posts On Facebook Using SchedulePress?
As you already know, SchedulePress will automatically share WordPress blog posts on your Facebook groups or pages whenever you publish them on your website. But how it will function after installing and activating this advanced plugin on site that you have to know. So to do that accurately follow these simple step by step guidelines below:
You have to install and activate both free and premium versions of ScheduPress. This exclusive multi-social share feature comes with its premium version. After installing it, you are all set to go. 
Step 1: Configure Your Facebook Pages or Groups 
First, you have to ensure that you have to connect your preferred Facebook pages or groups to share WordPress blog posts on Facebook automatically. To do that, navigate to the WordPress dashboard wp-admin → Scheduled Posts → Settings →Social Profile to configure your multiple Facebook pages or groups.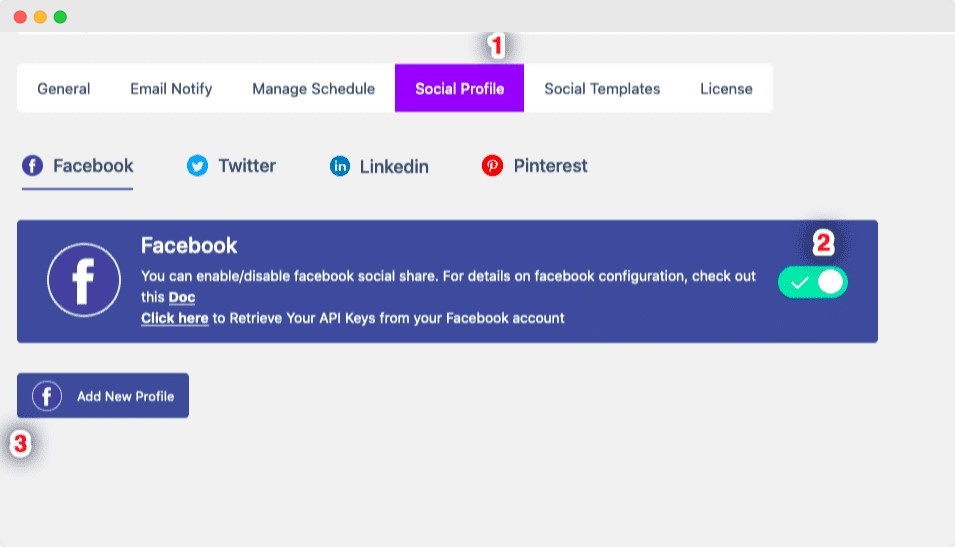 Afterward, click on the 'Add New Profile' button and it will pop up a window to add Facebook 'App Id' and 'App Secret' to integrate Facebook on SchedulePress to add your preferred Facebook pages or groups you want to add there. You can configure it very easily following this doc step by step guidelines.
After completing the configuration process, it will automatically fetch all your pages and show this on the popup window. There you can pick all or choose which ones you want to share WordPress blog posts. If you already have a Facebook developer account, you just have to copy and paste the required things in the desired sections. Unless you have to first create your app by following the process below.
If you want to configure your Facebook groups, you have to just click on the navigation bar of your group page More → Add More tab from the drop-down menu. Afterward, navigate to Settings →Apps → Add Apps and search for SchedulePress to configure it for your group.
That's it now each time you have scheduled your blog posts to publish, it will automatically be on desired Facebook pages and groups. Besides, if you want, you can change the look of your social share template by enabling metadata, add categories as hashtags, choose your content source as excerpt or content, or add custom content in it as per your preferences.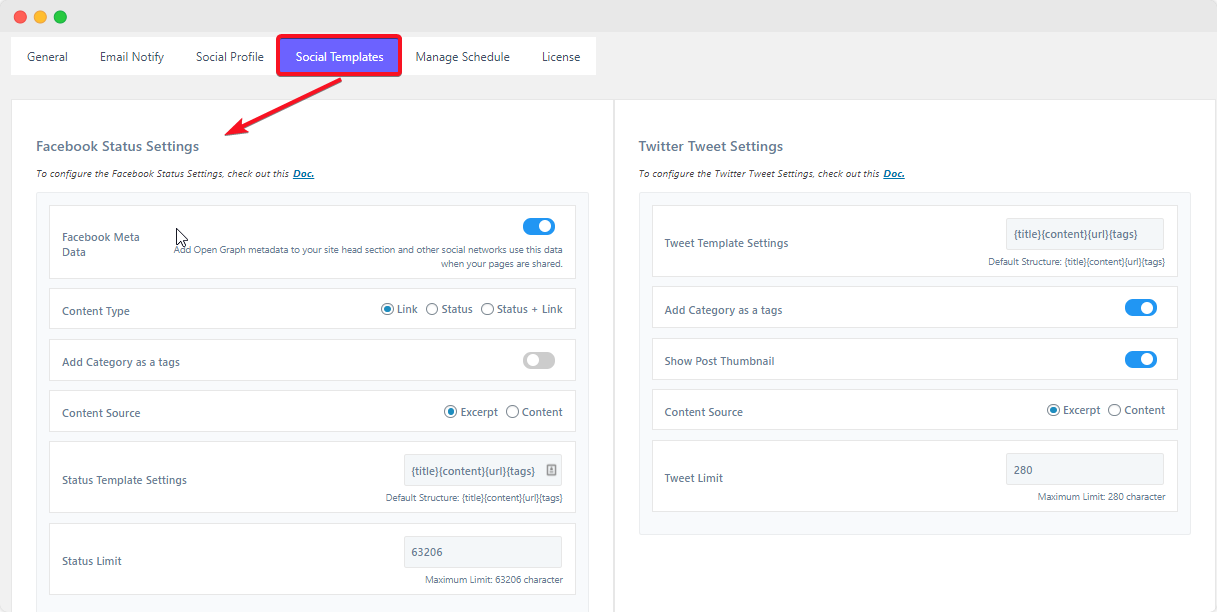 Step 2: Enable Facebook Sharing On Your WordPress Posts
So as you configured your social profile settings, now you are ready to go to the next step. Now whichever WordPress posts you want to publish right away or your preferred time, enable social share and pick Facebook. You can even add a separate banner for your social share post there.  
If you want, you can share your blog directly on your Facebook using the 'Share' button. Unless it will automatically share WordPress blog posts when your blog will be published on site.
Wrapping Up!
After you have connected your Facebook account with SchedulePress, your posts will now automatically be posted on your Facebook pages or groups at the time they are published from your website.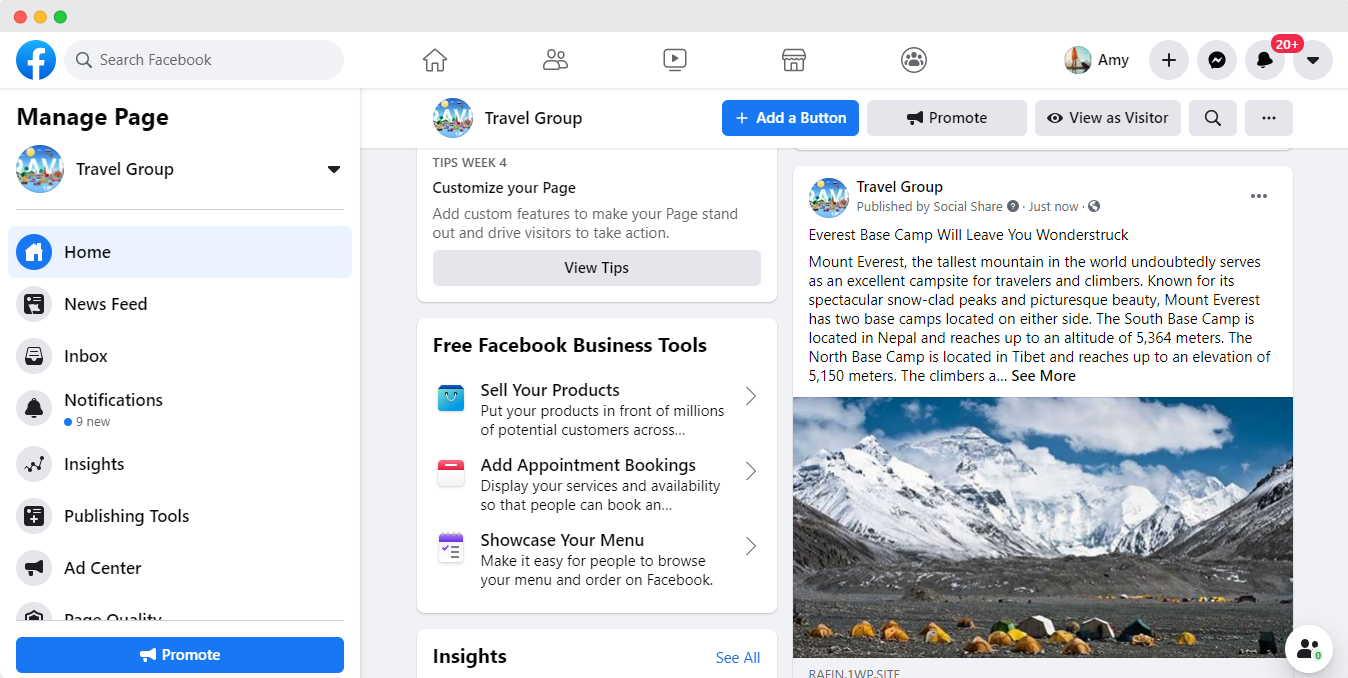 This way, you can go a step further to improve your marketing strategies. With SchedulePress you can now automatically share WordPress blog posts on Facebook and boost engagement on your site.
So get SchedulPress Pro, and let us know your experience by commenting below. If you get stuck or need any further help, feel free to contact our support team anytime you want.