As we move towards the second half of 2021, here at Templately, we have introduced tons of new ready Elementor template packs for you to create beautiful websites on WordPress. Let's check them out below, and see why more than 100,000 web creators are choosing Elementor templates from Templately to create their websites on WordPress.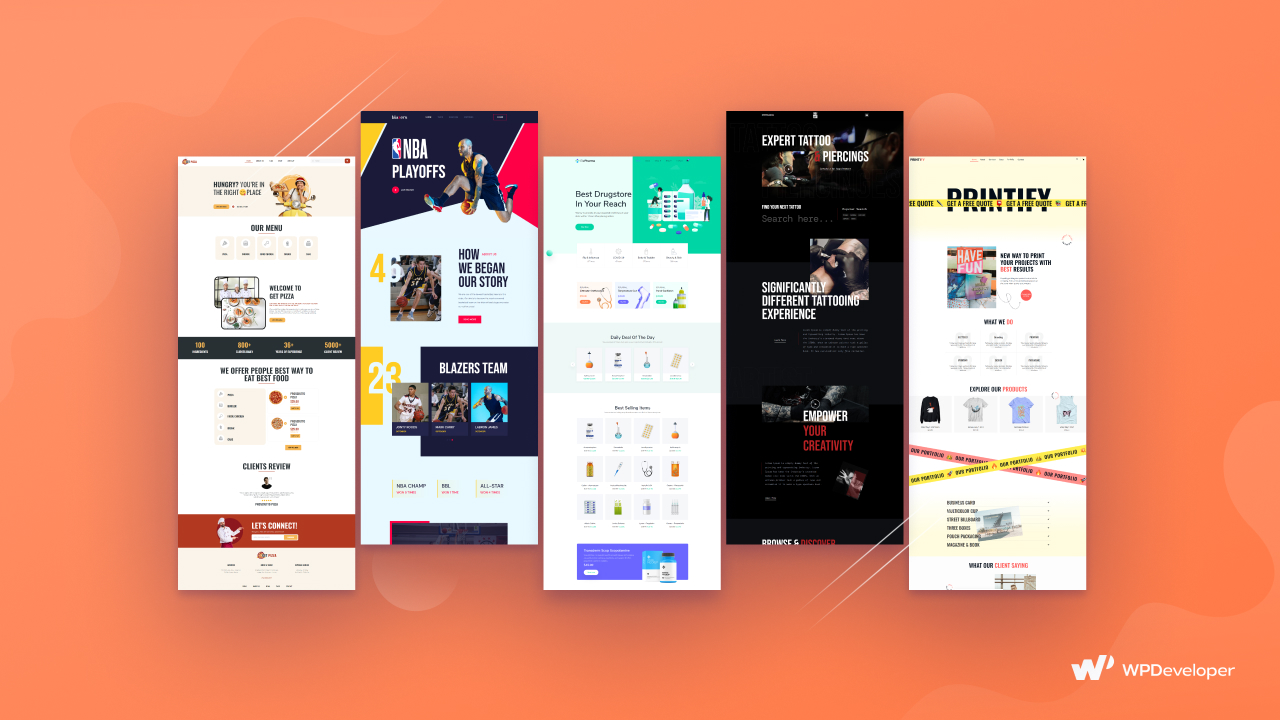 This month we have brought you beautifully designed templates for creating many different kinds of websites. From creating websites for restaurants, printing shops, tattoo studios and even NFT marketplaces, this month we have brought tons of new ready templates that you can insert to build your website with a few clicks.
NFTGallery: Ready Elementor Template For NFT Marketplace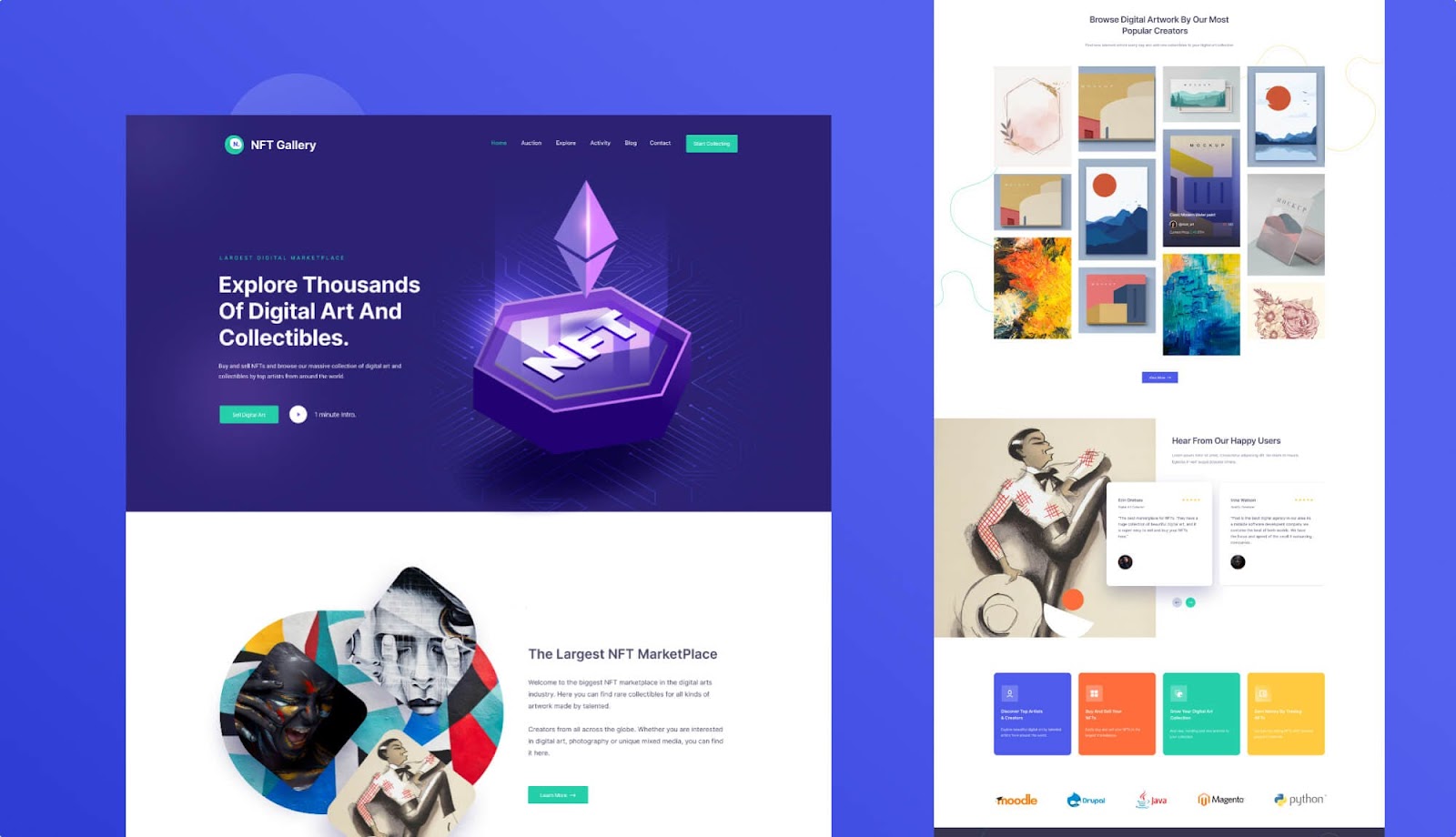 One of the best ready Elementor template packs we have released this June is NFTGallery, a fully responsive, beautifully designed website template for NFT marketplaces. 
NFTs, or non-fungible tokens, are essentially irreplaceable digital creations and an NFT marketplace is where these digital collectibles or creations are bought and sold. If you are into these digital collectibles and want to create your own online WordPress marketplace, then you can use this NFTGallery template pack for Elementor to do it. 
With this template pack, you get access to 5 beautiful premade pages to showcase digital collections and trade them with people from all over the world.
InnerSide: Elementor Template Pack For Interior Design Website
If you want to make a beautiful website for architecture, interior decorating or interior design, then Templately has tons of ready website template packs for you such as Intec, EleInterior and much more.
The latest one that we added to our collection is InnerSide, a stunning Elementor template pack that comes with 10 ready premade pages to help you build a complete interior design website on WordPress without any coding.
Ink Art: A Bold & Beautiful Template Pack For Tattoo Studio
If you are looking for a spectacular website template pack for a tattoo salon or tattoo studio, look no further. This June, we released Ink Art, a modern and stylish Elementor template pack designed to help you create websites for tattoo studios, tattoo artists, or tattoo salons. It comes with 6 ready pages, a dynamic gallery and is fully customizable without having to touch a line of code.
Get Pizza: A Vibrant Colorful Restaurant Website Template
At Templately we have tons of ready Elementor templates for those in the food or restaurant business. From beautiful templates for bakery websites like BreadyBake, or coffee shop websites like Coffee Express, you can find tons of options with Templately to build your restaurant website on WordPress. 
And if your restaurant specializes in mouth-watering pizzas, then we also have a new template just for creating your pizza shop. With Get Pizza template pack for Elementor, you can create an eye-catching restaurant website and boost sales for your business.
This template pack is also perfectly compatible with WooCommerce, one of the most popular eCommerce plugins for WordPress. So if you want to run an online pizza shop or restaurant, this template is a great choice for you.
Frutto: Online Food Blog Website Template For Elementor
Speaking of restaurants and food businesses, if you have always wanted to create your own food blog on WordPress, then you can now do so instantly with Frutto. This bright and colorful website template pack is perfect for food bloggers, food reviewers and others who are simply enthusiastic about food, cooking and dining.
Bitesize: Elementor Template For Online Cooking Classes
If you are more interested in teaching people how to cook, then now you can create your own online cooking class website with Bitesize. This beautifully designed ready Elementor template pack from Templately is perfect for home chefs, professional chefs, or anyone interested in culinary classes. You can also use this template pack to create websites for culinary schools or culinary institutions.
Blazers: Basketball Team Website Template For Elementor
For those who want to create their own sports club website, particularly for basketball teams, you can use Blazers, a bold and modern Elementor template pack that is fully responsive on all devices and comes with 4 stylish premade pages. With this template pack, you can create websites for basketball teams, or for your own basketball club or sports club. It can also be to create websites for sports events, basketball matches, and much more.
Filmo: Elementor Template For Film Production Or Film Studio
For those interested in visual arts, filmography and the world of cinema, Filmo is just the right template pack for you. With this beautiful ready Elementor template pack from Templately, you can create a stunning website for film studios or film production houses.
Filmo comes with 10 ready, premade pages, including a Projects page and a Services page, and is fully customizable without any coding. Just insert the template into your WordPress website and add your own content to make your film production house website in under 10 minutes. 
Printify: Stunning Elementor Template Pack For Print Shops
Next up on our list of the best ready Elementor template packs released this June from Templately is Printify. Featuring a bright color palette, a modern and stylish design and 7 ready to use pages, Printify is an amazing website template pack for those running print shops or printing service businesses.
Printify is also compatible with WooCommerce, so you can easily run your online printing shop business with this ready Elementor template pack from Templately.
ElePharma: eCommerce Website Template Pack For Drug Stores
Last but certainly not least, we have a different kind of medical and health-related template pack for you. Introducing ElePharma, a ready template pack for Elementor and WooCommerce to help you create websites for online drug stores and pharmacies. 
This eCommerce template pack can also be used for making websites for medicine suppliers, medical equipment businesses, clinics and other healthcare-related businesses. ElePharma comes with 8 ready pages and several premade blocks that you can insert and use to make your pharmaceutical website in a matter of minutes.
Explore Thousands Of Ready Elementor Templates From Templately
This wraps up our this month's showcase of the best ready Elementor template packs from Templately. But fret not, cause we are constantly adding more new and unique template packs to our growing collection. So stay tuned for the latest releases and updates by subscribing to our blog, or connect with other web creators like yourself on our friendly Facebook Community. 
Don't forget to sign up for an account on Templately if you haven't already and grab exclusive access to these ready Elementor template packs today.