Wouldn't it be great if you could design your WordPress website using Gutenberg libraries and not have to use any other page builder? Yet among hundreds of Gutenberg libraries, finding the best to design stunning sites is not easy. Especially when you're a newbie to WordPress. So today's blog is for those of you looking for block editor libraries to enhance your websites.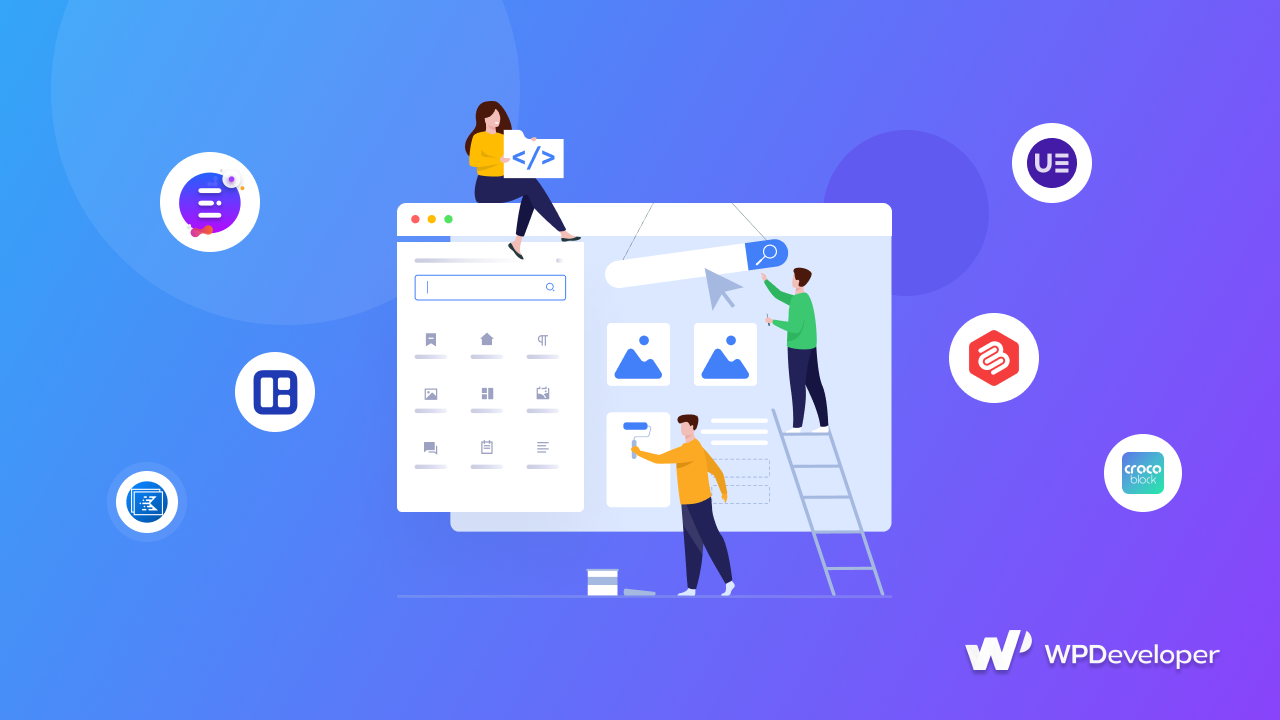 Introduction To Gutenberg Block Editor: Default Editor Of WordPress
Before getting into the list of best Gutenberg libraries, let's get an introduction to the Gutenberg block editor. From WordPress update, 5.0 Gutenberg block editor was introduced as default. From then to now Gutenberg block editor has 30k+ active users and getting more popular day by day. 
This block editor has brought the utmost flexibility to blog writing. At present, for the rich block editor libraries, now you can create a full-fledged WordPress website without any hassle. Using the Twenty Twenty-One theme, you can explore the design possibilities of block patterns. 
What Features To Look Into Your Block Editor Libraries?
Gutenberg libraries are plugins that build block collections for the Gutenberg block editor. You can only use them with the collaboration of Gutenberg. Hence, they are known as Gutenberg libraries. Before the introduction to Gutenberg libraries, there was not much scope to create stunning landing pages, Contact pages, or About Us pages. Block Libraries gives us the utmost accessibility to design WordPress websites as we want. 
Now the question is, how would you decide which are the best Gutenberg libraries? So, we have created a list with 5 checkpoints to consider:  
💡
Comes With Easy Set Up Wizard
Gutenberg offers the utmost flexibility in blog writing, but for a beginner, it can be difficult to figure out where to start. A plugin that comes with an easy setup wizard helps users understand better, resulting in a lower bounce rate. Therefore, make sure your chosen best Gutenberg libraries come with an easy setup wizard. 
💡 Provides Modular Control Over Blocks
When a plugin describes itself as a block editor library, it means it provides tons of blocks. But not all blocks are essential for everyone. Further, the more block collections you have, the more it will affect your site's memory, speed, and all the rest. You should pick the best Gutenberg library that offers modular control so that you can keep inactive any blocks you are not using. 
💡 Don't Kill Your Website Speed
It's one of the most important parameters to check while choosing block editor libraries. Cause in the name of beautification if you slow down your website, then it will negatively affect search engine ranking. So, pick the best Gutenberg libraries with super speed. 
💡 Offers Blocks For Creating Multi-Purpose Websites
Now not only blogging sites but almost every category of website are also created with WordPress. From simple landing pages to business websites, organization websites, eCommerce, etc are created with WordPress. So choose the Gutenberg library, where you find every category block so that no need to get more additional plugins and make your site heavier. 
💡 No- Dependency With Third Parties
While picking the best Gutenberg library for your WordPress website, you should check out whether it has dependencies with third parties or not. Third-party plugins sometimes can be miscellaneous and there is a concern for data security. So pick the Gutenberg library with no dependencies with third parties. 
5+ Best Gutenberg Libraries You Need To Check Out
Must say, Gutenberg block libraries haven't flourished yet with all their advanced functionalities. Most of them are new yet full of potential. Here is the list of the 5 best Gutenberg libraries that can help you to create stunning websites. Let's get started. 
1. Essential Blocks For Gutenberg
Essential Blocks For Gutenberg is a new yet resourceful plugin for Gutenberg. By adding these easy-to-use blocks to your page and post builder, you'll be able to make your WordPress page and post design easier and prettier than ever. Your Gutenberg experience will be enhanced with these blocks.
Number Of Available Blocks: 45+
Pricing: Free and Pro starting at $49

2. Gutenberg Blocks – Ultimate Addons for Gutenberg
Using the Ultimate Addons for Gutenberg, you can easily create a website with many functionalities. There are many unique and creative blocks included in Gutenberg that make it easy for you to build pages and posts without writing a single line of code. An easy-to-use interface and several customizations make it easier to build pages and complete websites without any custom code.
Number Of Available Blocks: 30
Pricing: $0
3. Croco Block
CrocoBlock adds features in a modular way and is a remarkable value. They continue to push the boundaries of what is possible with Gutenberg. It offers great value for beginners as well as experienced developers.
Number Of Available Blocks: 20+
Pricing: $0- $265
4. Ultimate Blocks – Gutenberg Blocks Plugin
Bloggers and marketers can use Ultimate Blocks is a Gutenberg blocks plugin. The goal of this block editor library is to make it insanely simple for you to create better and more engaging content. With its stunning blocks, you can create stunning websites of every category. Moreover, it provides cool extensions that will make your website designing journey more seamless. 
Number Of Available Blocks: 100+
Pricing: $0
5. Gutenberg Blocks by Kadence Blocks – Page Builder Features
With Kadence Blocks, you can create stunning websites with ease – no coding required. The custom blocks and options enhance Gutenberg's editing capabilities. It's a toolkit that turns your WordPress block editor into a powerful content-generation tool, which usually requires the use of page builder plugins. The performance, accessibility, and extensibility of each block are carefully considered.
Number Of Available Blocks: 15
Pricing: $0- $89
6. Page Builder Gutenberg Blocks – CoBlocks
With CoBlocks, your WordPress pages can be more engaging, beautiful, and fast. A true page builder experience for Gutenberg is provided by CoBlocks, with additional blocks as well as row and column building. Despite its powerful capabilities, CoBlocks is lightweight: it enhances the WordPress editor without being bloated. 
Number Of Available Blocks: 30
Pricing: $0
✨ Bonus: 3 Best Gutenberg Template Libraries For Designing WordPress Websites
Gutenberg template libraries offer ready-to-use designs and sections built with Gutenberg blocks. Template libraries are created to provide seamless experiences in creating stunning websites within Gutenberg. Let's check out the best 3 Gutenberg Templates you can go for.  
🌟 Gutenberg Template Library & Redux Framework
The Gutenberg Template Library & Redux Framework will supercharge your Gutenberg editor. Additionally, you can override any theme with our custom page templates option. You don't have to invest hours for recreating websites with blocks, with Gutenberg libraries, you can do that only with one click.  
🌟 Templateberg Templates For Gutenberg
Templateberg Gutenberg Template Kits are cohesive ready templates for niche or multipurpose websites using the Gutenberg editor. A huge collection of Gutenberg Templates is included in this Gutenberg Template library. From the block template library, you can quickly import your content and create a beautiful website.
🌟 Templately – The Ultimate Template Library For WordPress
Templately is one of the most popular WordPress templates with 3000+ templates and 200,000+ active users. Along with Elementor templates, here is a wide collection of Gutenberg templates that can make your website more user-friendly and increase user experience. 

Ultimately, Gutenberg template libraries are like armor to the Gutenberg block editor, which helps to create websites in a more flexible and interactive way. The plugins of this, all are popular among Gutenberg users. You can pick one that is suitable for you and start designing your website.
To get more updates about Gutenberg blocks and templates, do subscribe to our blog and get connected with other users through our Facebook community.