Looking for the best royalty free image sources that exactly align with your WordPress website brand and motive? Then you have come to the right place. Today we are going to share the most popular royalty free image sources which have a wide range of collections.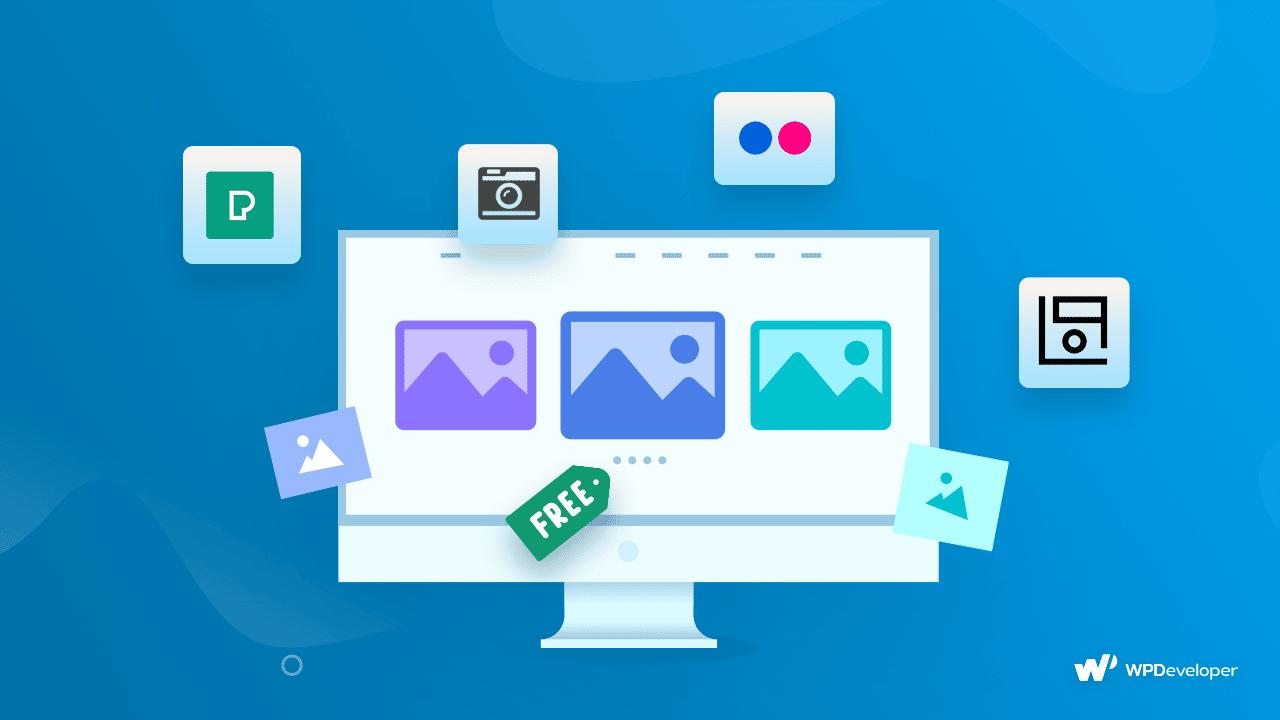 What Does Royalty Free & Copyright Free Images Mean?
The images you find all over the internet are obviously created or uploaded by someone. There is no such image as owner-less. Then what do copyright free images mean? There are some websites that allow you to download photographs for personal use such as wallpapers, for websites, etc, others forbid their use for commercial purposes. When you can use images from sources without mentioning the creator credits and modify them as you wish are known copyright free images.
📍 Copyright free images are all rights reserved by the user using. Users can make any kinds of alterations they want and use them for business, personal, or any purpose. Moreover, you don't have to pay for using copyright free image sources.
📍A royalty is a sum of money given to the owner of the rights in return for permission to utilize their copyrighted creation. It does not imply that you own the piece, though. Royalties merely pay the rights holder for the use of their work; they do not change ownership of the copyright. So when using images that won't cost you any royalty is known as royalty free image sources.
This frequently occurs when a business (such as Storyblocks) and the author have worked out a license that permits their customers to utilize the author's creative assets in specific, mutually agreed-upon settings.
How Will You Get Benefited From Royalty Free Image Sources?
Usually, people search for images in Google or other search engines directly. But what images are you seeing that are not all reality free images? They are copyright-reserved and not available for other purposes. Then as a WordPress website owner why should you keep the list in hand of the royalty free image sources?
🌟 When you are creating a website, you will definitely need images to create engagement and improve visualization. But creating images all by yourself, customizing them, and then uploading them is a long process. Moreover, buying images from sources or hiring professionals is a no-call if you are tight on budgets. In this kind of case, royalty free image sources come as a savior.
🌟 Suppose, you are going to create an eCommerce website in WordPress. When it's the start of the business, initially it's not possible to take images of all supply products. So for a quick starter, you can use royalty free image sources and design the website with useful stunning images.
🌟 We all know that human interaction images attract the most customers. Whether your website is service-based or portfolio based, adding your own photo or other people's activity photo will help your audience to connect the most. And royalty free image sources are the best place to look for these kinds of images.
🌟 Another amazing benefit you will get using the royalty free image sources is you can modify and customize them as you want. It helps to personalize your website appearance according to brand. If you know a little bit about image modification, that is enough to customize royalty free images.
Check Out The Best Royalty Free Images For WordPress [5+ Sources]
Perhaps you're a budding photographer looking for ideas. or a budding businessperson looking for stock photos to include on your website. or the proprietor of an online store that lacks sufficient resources for product samples' photos. Whatever your line of work, having access to copyright and royalty-free photographs is guaranteed thanks to our list of the top stock photography websites. Here we are sharing the best 5+ royalty free image sources that will be your great help. Let's get started.
1. Unsplash: Beautiful Free Images & Pictures
Unsplash is the ideal royalty free image source website to use if one needs photographs that can be used without restriction for commercial reasons and don't require attribution. The Unsplash license is used when photographers share their work. It is the most acceptable source to hunt for free images for WordPress and your commercial use because it produces over 11 billion photos each month. One of the top photography websites is this one. Since the Unsplash license is essentially identical to a creative commons license, it is a more trustworthy source.
2. Freepik: Free Vectors, Stock Photos
Planning to use illustration images, and versatile categorized images to give your WordPress a stunning appearance? Then Freepik is one of the best royalty free image sources you can count on. Freepik is a vast ocean for reality free images. You can almost find images of every purpose here. More importantly, you can get images in png, vector, SVG, and any format you are looking for. Images of Freepik are very easy to get, customize and use. 
3. Flickr: Creative Commons
Flickr is a widely popular platform for photography and image manipulations. Artists usually maintain Flickr as their online portfolio. Though it has a platform for creative commons. Where you can easily get royalty free images. From there, you can choose from a wide range of adaptable picture selections. The photos themselves are identified by simple symbols that indicate which usage categories they belong to, such as royalty-free images. The collections are getting bigger here, making it one of the best royalty free image sources.
4. Free Photo Finder Tool
Free Photo Finder Tool is one of the oldest and most popular royalty free image sources. The specialty of this image source is you can look for images by keywords. Based on your keywords, this popular hub will help you to find out reality free images from Unsplash, Freepik, Brust, etc. Moreover, you can set down filters for a more specific search while maintaining CC0 rules. WordPress users who don't know specific names of the royalty free image sources, this tool is super handy for them.
5. Pexels: Royalty Free Stock Images
Another well-known royalty free image source includes images with Pexels. The photographs may be edited and used without seeking previous authorization. Images are of extremely high resolution and are free. Each image was carefully chosen. Pexels offers free image downloads. 3000 new photos are added to the site's database each month, constantly expanding it. They distinguish themselves from their rivals by operating with the goal of "Empowering Creators." They pursue both private and business objectives. From the explore page, you can quickly do a search for your image.
6. FreeImages: Royalty Free Photos
When you are going to choose the best royalty free image sources, having infinite categorization makes a site more useful. This is what makes this unique service from FreeImages so appealing. Its high-quality pictures are divided by a number of niche-specific search parameters so you can quickly find that one ideal image. Additionally, these categories will make it easy for you to locate pictures that might be hidden away on websites like these.
💡 Bonus: Embed Images From Sources Directly In WordPress
What do you do when you want to display Getty Images, Imgur, Giphy images, or other popular image sources that don't provide you with copyright free images? When your website is WordPress-built and you want to display images from popular sources, the best way is to use the most popular embedding plugin, EmbedPress. With this stunning plugin, you can easily embed from popular 10+ image sources in one click. While you embed images, you will charge for copyright protection or plagiarism, as you are already giving source credits. By embedding images from stunning sources, you can increase website engagement and make it more interactive.

Hopefully, above mentioned free image sources will help you to give your website an eye-catching appearance. If you have found this article helpful, then share it with others and subscribe to our blog for more latest and most useful updates in website design.