Would you like to skyrocket your business growth using an advanced marketing phenomenon that lets you prepare and display custom FOMO notifications on your website? Introducing Custom Notification Alert, an exclusive feature, brought to you by NotificationX, designed to take your business to the next level. So, without further ado, let's dive into the main part of the blog below.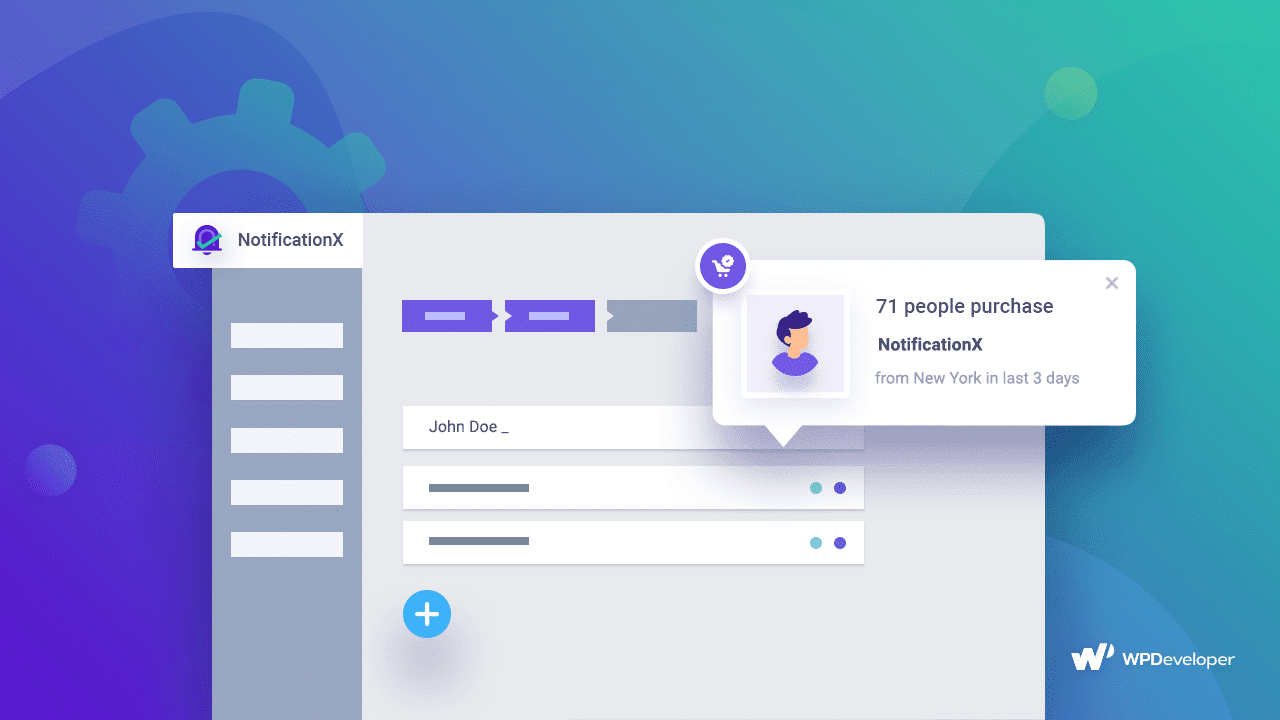 Is FOMO Really Effective?
Before you continue reading, let's answer the question "Is FOMO and Social Proof really effective marketing strategies?" 
FOMO and Social Proof Marketing tactics are part of the broader 6 principles of persuasion and are proven digital marketing tactics. In fact, FOMO and Social Proof are so effective that Ryan Williams, Author of "The Influencer Economy," dubbed Humans as FOMO Sapiens. You can listen to his thoughts on this HBR Podcast. 
NotificationX, the best FOMO and Social Proof plugin for WordPress, has been helping more than 30,000+ marketers turn digital marketing strategies into successful action. It helps digital marketers apply credible social proof and a sense of urgency through powerful notification alerts. With the ready notification templates, you can easily catch users' eyes and effectively convert visitors into customers or clients.
Why Should You Use Custom Notification Alerts?
The custom notification alert from NotifcaitonX is an advanced, premium feature to take your business growth to new heights using customized content and personalized designs. Let's learn why you should use custom notification alerts on your website.
Showcase Your Brick-and-Mortar Stores Sales
Imagine you have a brick-and-mortar store, and you are getting sales all around the day. Now, how do you display those sales stats on your website? That's where Custom Notification alerts come into play. Using this exclusive feature, you can easily showcase your offline sales on your website without any hassle. 
Add FOMO Marketing Tactics On Your Website
As you already know, FOMO ( Fear Of Missing Out) is a psychological phenomenon that can help to convert your visitors into customers or clients.  The Custom Notification alert can help you add FOMO marketing tactics to your website with your own message and images. So, without any delay, you can boost your conversion rate and accelerate your sales.
Build Credibility To Grow Your Business 
The Custom Notification Alert feature can help you build trust among your visitors. Using this feature you can showcase your Reviews, Comments, Ratings, Download stats, Email Subscription alerts, etc. on your website with your own message. Thus, you can easily make your business more trustable to your visitors.
Guide: How To Create Custom Notification Alert In WordPress
With your WordPress website, you can simply create custom notifications just the way you want using NotificationX. As it is an exclusive feature, before following this doc, you need to install and activate NotificationX Pro on your website. Once you are done, start following this doc to create your first custom notification alert. 
Step 1: Select The Source As Custom Notification
First of all, from your WordPress Dashboard,  navigate to 'NotificationX' → 'Add New'. Under the Source tab, you will find the option 'Custom Notification' option.
Now, you need to choose the 'Custom Notification' as your Notification type. Afterward, simply click on the 'Next' button.
Step 2: Select A Design Template
You will be taken to the 'Design' tab from where you can choose and style how you want to display your notifications on your website. There are a handful of templates for you to use, and no matter what template you pick you can fully customize them from adjusting the content to adjusting the style. 
You can also opt for 'Advanced Design' where you can specify the Background Color, Text Color, Position, Font size, and so on.
Step 3: Adjust Content For Custom Notification
If you want to display 'Custom Notifications' alerts, you can add custom user information from the 'Content' tab. Fill up all the fields as per your wish and add as many custom notifications as you want.
Step 4: Adjust Display For Custom Notification
In the 'Display' tab, there are two available sections: Image & Visibility. From the 'Image' section, check the If checked, this will show in the notifications box to display the default image or upload an avatar in the notification popup. From the 'Visibility' section, you can set the pages where you want to display the Custom Notification.
Step 5: Customize Notification Appearance
There are four separate sections under the Customize Tab- Appearance, Timing, Behavior & Sound Settings. From the 'Appearance' section, you can set the position for your Custom Notification. From the 'Timing' section you can set Initial, Display For, and Delay Between options.
From the 'Behaviour' section, you can choose to loop your Custom Notification. And from the 'Sound' tab you can specify a Sound for your Custom Notification.
Step 6: Publish Your Custom Notification Alert
Once you are done with customizing this notification alert, click on the 'Publish' button. That's how you can create a custom notification alert for your website using NotificationX.
Now, let's have a look at what your notification alert would look like below. If you need any help creating custom notification alerts, you can reach out to our support team anytime.
Accelerate Business Growth With Custom FOMO Notification Alerts 
The Custom Notification Alert feature can enable you to add FOMO strategy on your website right from the start. It could be the missing piece of the puzzle to accelerate your business growth. So, don't wait anymore. Get NotifcaitonX Pro now and enhance your growth with advanced marketing tactics.
Have you found our blog useful? If you do then please subscribe to our blog for more WordPress-related tips, tricks, and updates. Also, don't forget to join our Facebook community to get in touch.