Instant Answer helps you to get the reply right away just by searching it. In any Knowledge Base page, this instant support works like a booster to guide the audience. They don't have to roam around everywhere to find a perfect solution. It will provide the proper documentation support to your visitors right away. Your visitors would be able to give their valuable opinion through this form. And this will surely help you to raise the quality of your documentation and make you encouraged to do better in the future.
Are you curious to know about this special feature of BetterDocs? Then let's find out more about it below!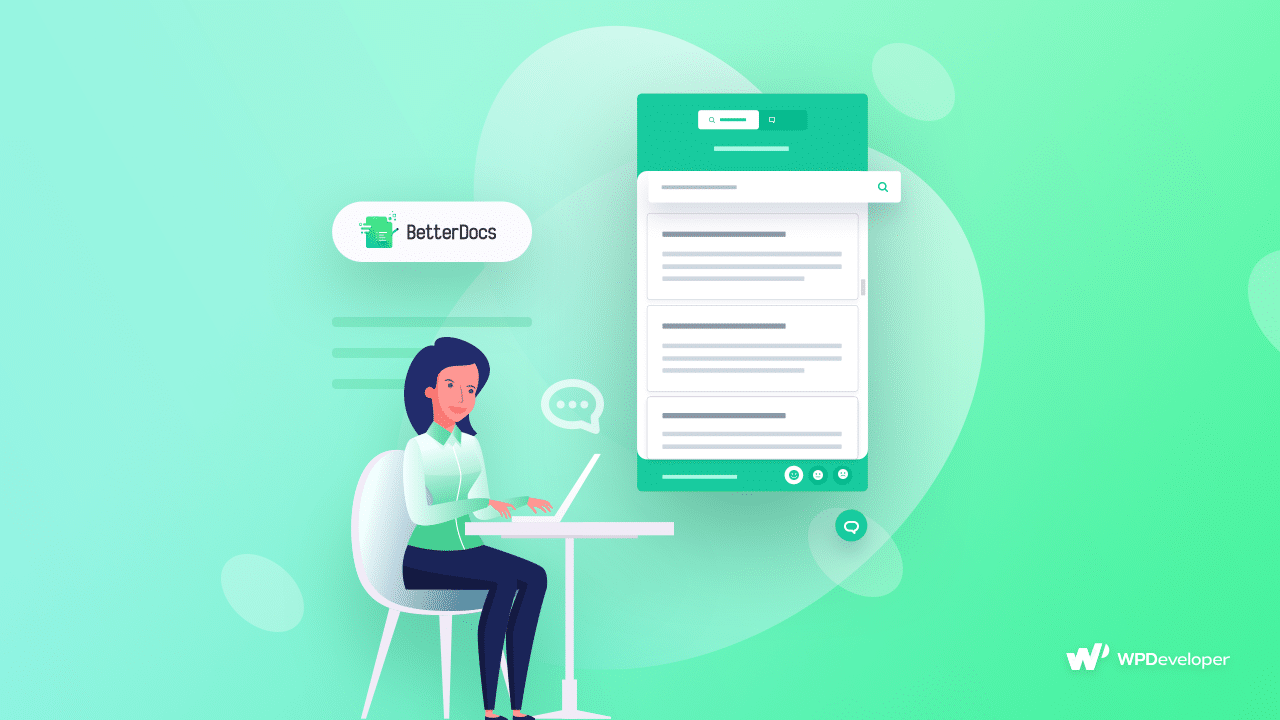 What Do People Want From a Customer Support System?
In today's fast-paced world, you need instant solutions to solve your problem. That's why people feel the necessity to get help from customer support. They can either call or generate a support ticket to create real-time communication. And customer wants to get a solution without continuing a long conversation. In that sense, clients want active and dedicated support from the helpdesk. So for that reason, self-servicing support can be taken as one of the best 24/7 customer service systems to help your huge user base straight away.
Not only that, but people also want to get instant solutions to solve their problems without taking anyone's help. Because it's saves a lot of time and increases productivity. Your new user base can get help from self-servicing documentation which will automatically reduce your support pressure. That's why business owners feel the need for Instant Answer support with Knowledge Base. And make the online documentation page more efficient to serve the valuable customers.
How Instant Answer Works In Knowledge Base
Instant Answer provides automated documentation support to the customers when they make a query on it. Your visitor will get their exact solution instantly and become satisfied. Because its work process is more flexible and time worthy. Anytime if the user feels the necessity to communicate with or leave feedback, they can easily do that with this support too. Because some advanced answering solution comes with this facility too.
Reduce Support Pressure
Now you must be wondering, how Instant Answer will reduce support pressure? Suppose you make a call on the helpdesk or create a ticket to reach out to them with your problem. What will happen next? In both cases, you have to suffer to get the right answer at the right time. This will kill your time, energy and productivity because of not getting the solution at the exact time. You will suffer from as customers, also where you bound to deliver your work timely.
Knowledge Base will help to remove that dependency from the support desk. And Instant Answer system makes its workflow more reliable and flexible immediately. As a result, users can get instant solutions without taking now one's help. If they want any further assistance to solve any technical problem or supporting documentation is needed, customers can now easily get by this automation support desk.
Encourage Self-Servicing
Continuing long conversation for the immediate problem is not at all a productive work to do. So, educate customers with self-servicing is another creative approach to save both ends time and energy. You will get more happy customers with Knowledge Base with Instant Answer system. In one organized place, you will get your ultimate support and increase your productivity.
Faster Decision Making Process
As you already know, the main purpose of documentation is to educate your customers or potential buyers about your product's exclusive features, functions, usage and a lot more. So Knowledge Base with Instant support will help to accelerate this work process more accurately by saving time with 24/7 content help. Customers can take their right decision to purchase and solve their technical problems on an instance with Instant Answer support.
Get Instant Feedback From Customer
What about your customers want to communicate with you to give feedback? What will be the solution? Instant Answer of Knowledge Base documentation comes with this exclusive feature. By using this, your customers can instantly give feedback or make direct communication on the spot. Documentation will provide them all the instant support to build a strong relationship and make your product and services more credible.
Introducing BetterDocs Instant Answer
After knowing Instant Answer all benefits, now you are convinced to get the best Knowledge Base solution of WordPress that comes with all these advanced features, right? Then your search will be ending with BetterDocs. It comes to help you out with its all advanced features and functions to support with Instant Answer system. You can build, design, analyze customer performance to instant documentation support with an automated process and more. Now let's find out how Instant Answer functions on your online documentation site!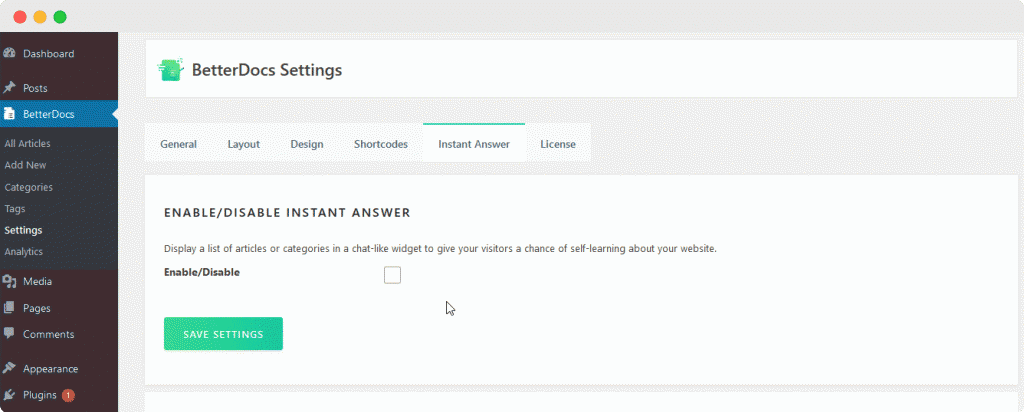 Instant Answer will provide your audience with instant support whenever they want. You can make it visible for all of your Knowledge Base pages. You will be able to change the Appearance and set it the way you want. You will get the full authority over how it will visualize on your site.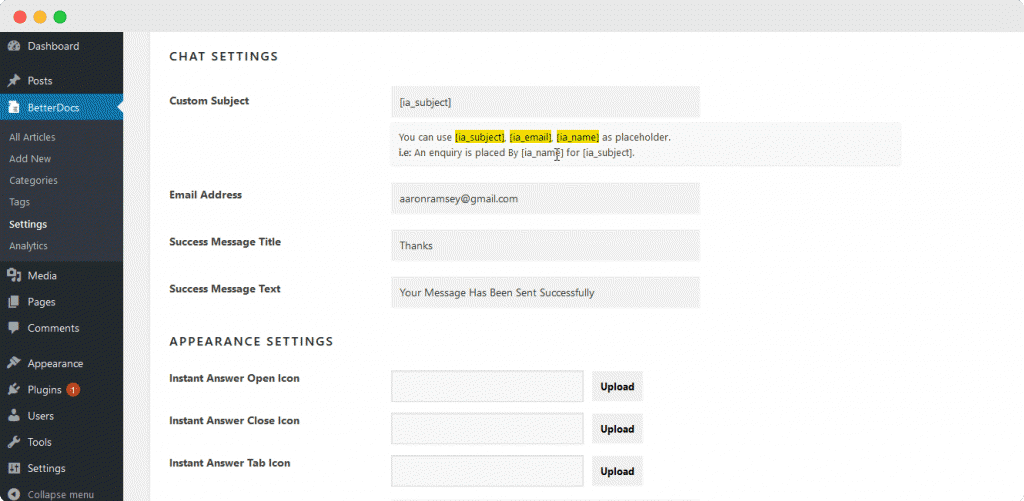 You can see all the real-time changes of your Instant Answer System if you enable the Live Preview feature of BetterDocs. You can change the Appearance and Colors Settings to style the Instant Answer form as your wish and can at a glace check what changes are taking place. It will help you to give an amazing look by enabling this section.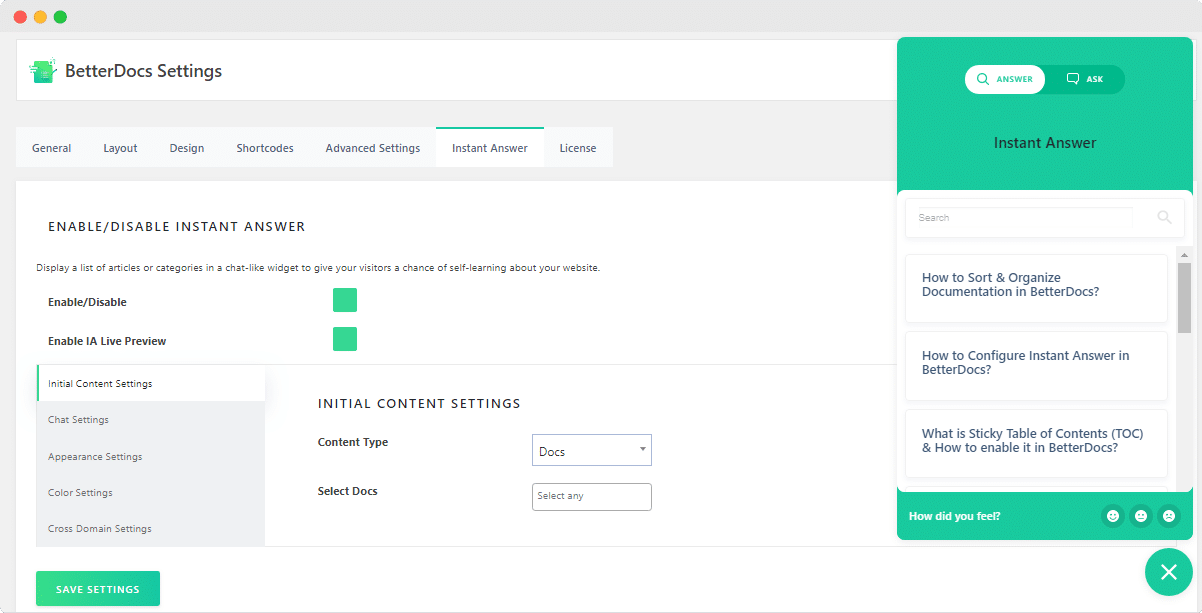 It also comes with the FeedBack form feature to make this more flexible for your users to use. They can give their opinion about particular content, overall document or ask anything directly from the Chat Bar of Instant Answer.
On the other hand, you can also use the Instant Answer tool in non-WordPress websites. For that, you just have to use the amazing feature Cross-Domain to enable this Instant Support System on any website. If you want to know more about it, then you can check the FAQ Doc on this specific topic.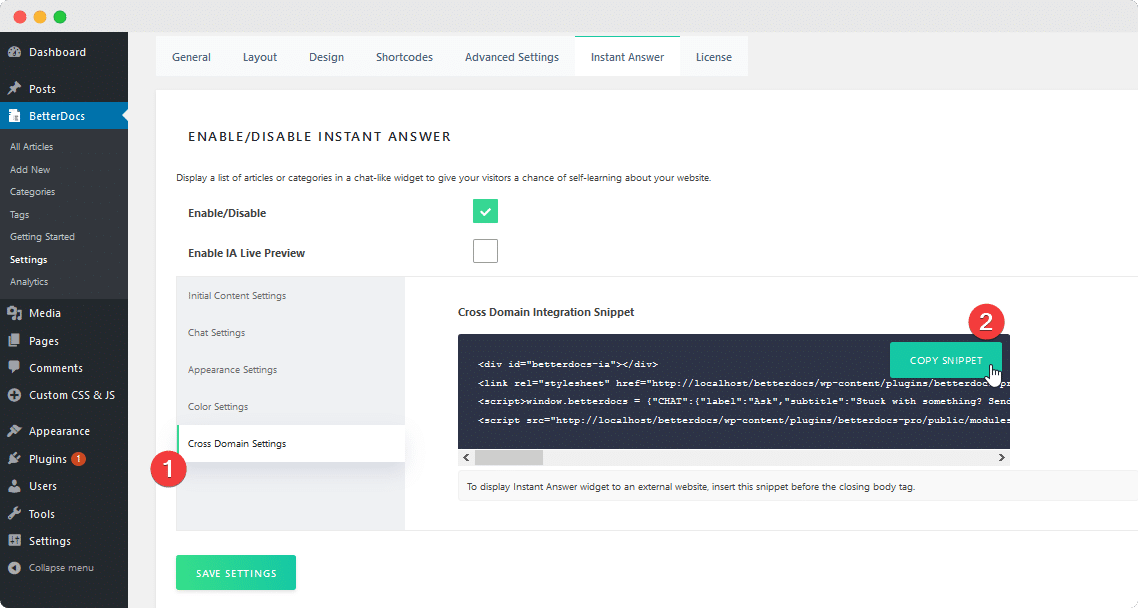 Making The Last Call
Online Knowledge Base Site can help your visitors to get instant support to get their problem solution instantly. But how you can make it more flexible and usable for users that's the real challenge. With the introduction of BetterDocs now you can easily implement this facility on your Online documentation site. And it comes with the Instant Answer Tool to help both WordPress and non-WordPress users sites as we earlier mentioned. 
If you find this blog helpful, then let us share your experience by commenting below. And if you don't use BetterDocs yet, then you can give a try and have a blast!