Why should you use Interactive Content? Well according to Time Magazine, every average person loses their attention after eight seconds, which is a very narrow window. Also, it is enough to give the marketers make a run for their money!

Interactive Content Attracts Attention
Interactive Content has always been a better option compared to the traditional ones, simply because it engages the readers. Interactive content persuades its readers to execute a certain action.  Which in turn adds value to user experience.
For example, simple text content might work best for certain scenarios. And if the wording, sentence structure is right it might bring you the desired conversion. But at other times, simple text will fail you. So what can you do to add value and engage your readers using simple text? Well, first of all, do not use Simple Text. And even if you do, make sure it has enough action infused with it.
What you see above is an Interactive Promo element. It is included in the Essential Addons bundle for Elementor. It is an elements bundle of only the top-notch elements for WordPress Website. In short, this element infuses the simple text with appealing animation. And the best part is, the element has its own format, all you need to do is fill out the necessary information inside the appropriate fields. And of course, without having to write a single line of code.
What are the elements you might ask? Elements are the building blocks for Websites. And Elementor is a drag and drop plugin for WordPress which lets you benefit from this block-based website building.
Elementor Interface
So, before we teach you how to create your very own Interactive Promo element, let's have a look at the Elementor Interface.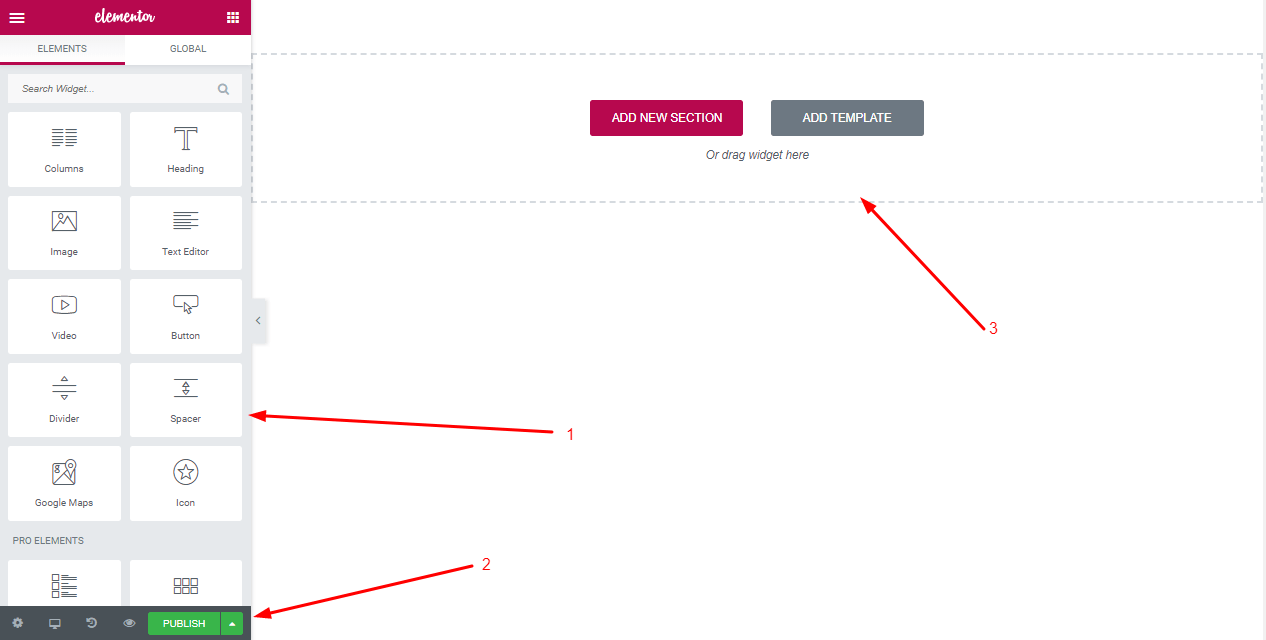 This is the Side Panel. It includes all the elements available to you.
This is the Footer Panel. You can redo/undo changes, Save your work as a draft or publish it.
This is the blank canvas, this is where all the work is done. You can either start by adding a new template or by adding a new section.
And also know that Elementor is a great Front-End Page Builder. Which means you can quickly hide the side panel to see how your work will look live.
Build Interactive Promo Content for Your WordPress Website
You need to install Elementor and Essential Addons to create Interactive Content Element.
After you have installed both the plugins, Go to your WordPress Dashboard and hit Add New Post button.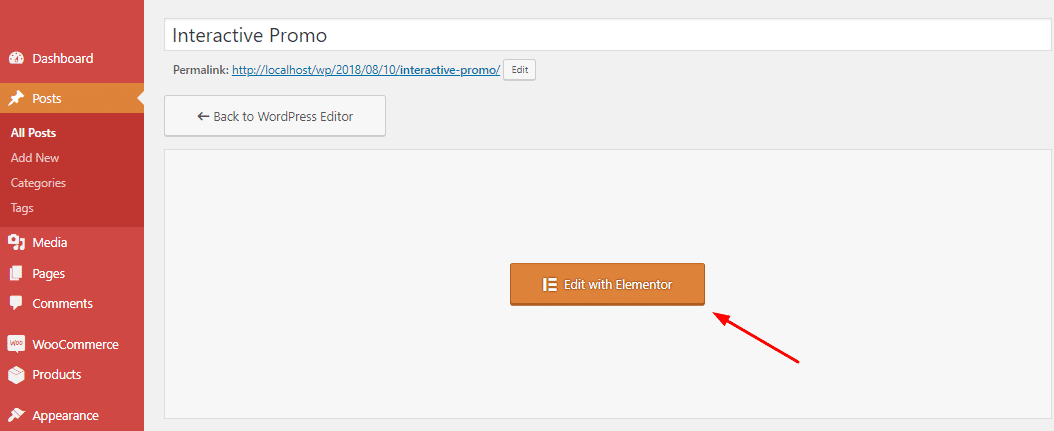 Once you are inside the Elementor interface search for EA Interactive Promo in the Side Panel search bar. Drag the element and drop it inside the Elementor Interface.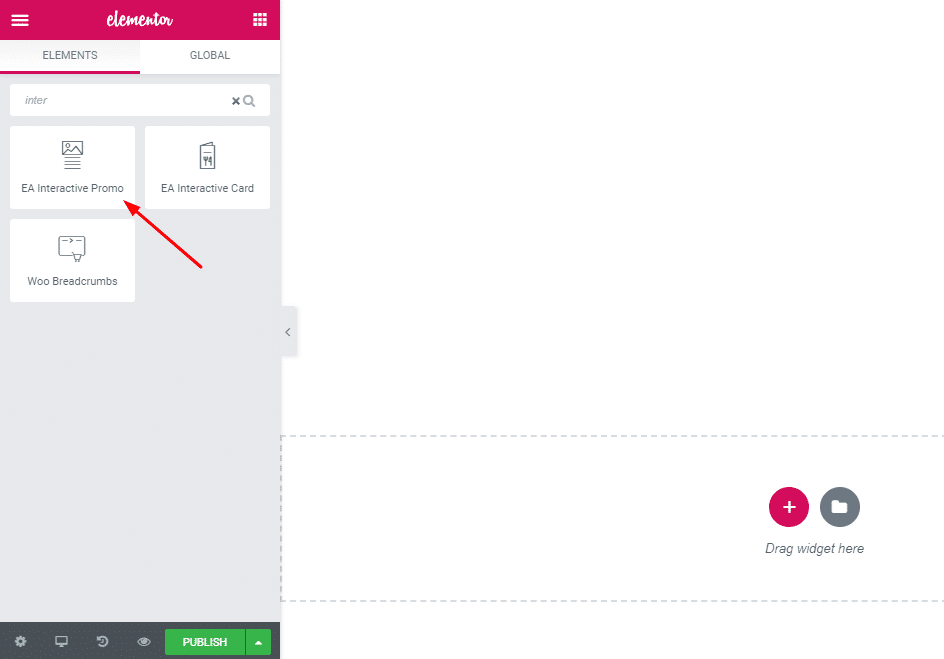 As soon as you drop the element inside the Elementor interface, you will notice the customization options appear in the Side Panel.
Add Content To the Element
Start off by adding text to the element. To do so head over to Content>Promo Content.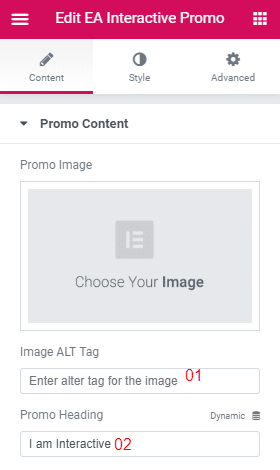 First, pick an image from your existing Media Library or upload a new one.
Add ALT tags to the image.
Give a heading to the element.
Scroll down and you will see a mini-WordPress editor.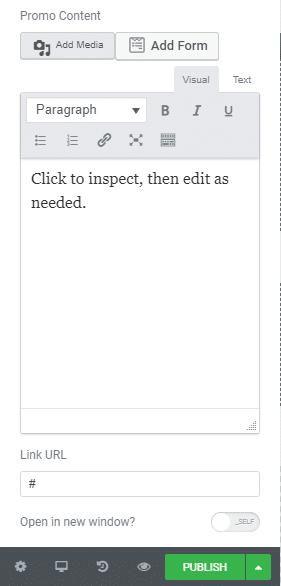 And at the very bottom, you will see a field for adding links to the element and just below it you will see the Open in New window Toggle bar.
Add Style to the Element
Start off by selecting a style for your element. Use the drop-down menu to pick a style for the element.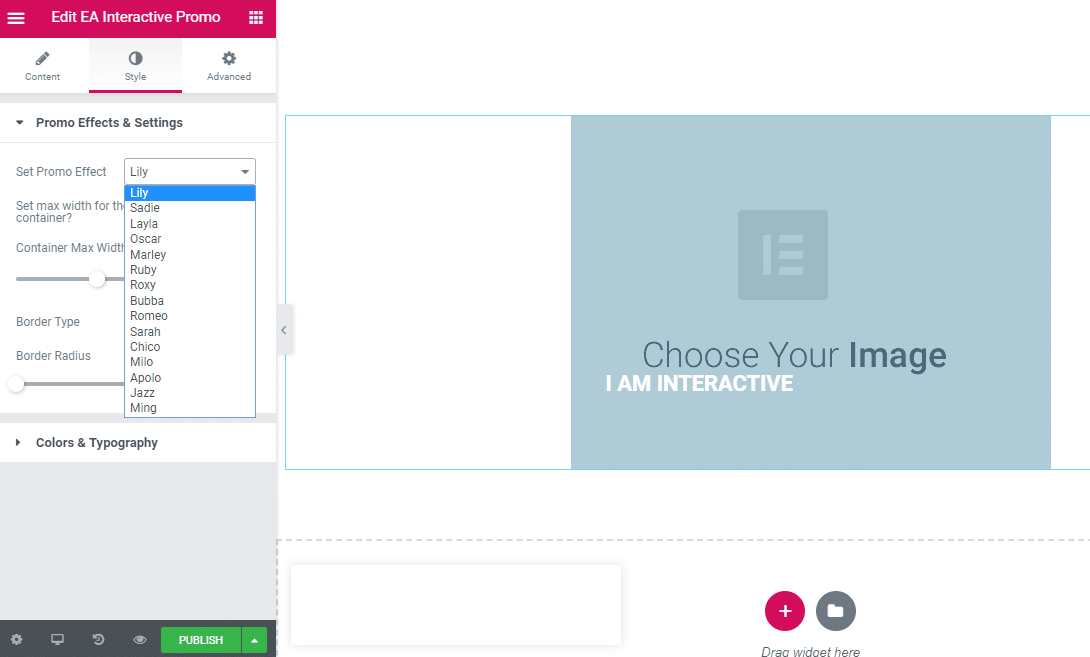 You can also adjust the max width and border radius for the element from here.
Typography
The Interactive Promo element has two text fields- Promo Content and Promo Heading.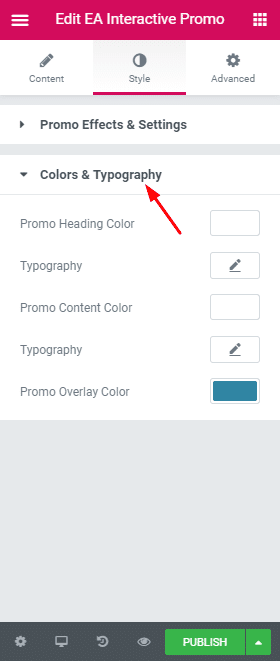 You have to click on the little Pencil icon to open the Typography pop-up.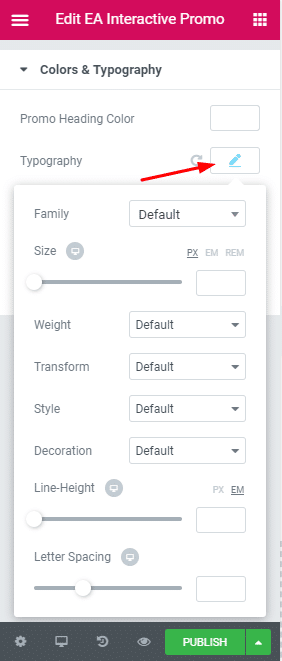 Wrapping Up!
You can use this element all by itself but you can always try different combinations of elements to get the best drag and drop experience. Elementor has 53 elements and if you add Essential Addons to it you will get another 50+ element. Well, that's more than enough to create fancy yet professionals websites.
For example, instead of adding a link to the EA Interactive Element itself, you might want to place an EA Creative Button at the bottom of the EA Interactive element. In the meantime here is a quick blog on how to Quick Guide: How To Create a Testimonial Page On Your WordPress Website.