Are you looking for the ultimate guide to entering the world of Japanese cuisine and launching a successful restaurant? Whether you are a seasoned restaurateur looking to diversify your offerings or an aspiring entrepreneur passionate about Japanese food, this blog is here to provide you with the essential knowledge and insights to kickstart your Japanese Restaurant Business.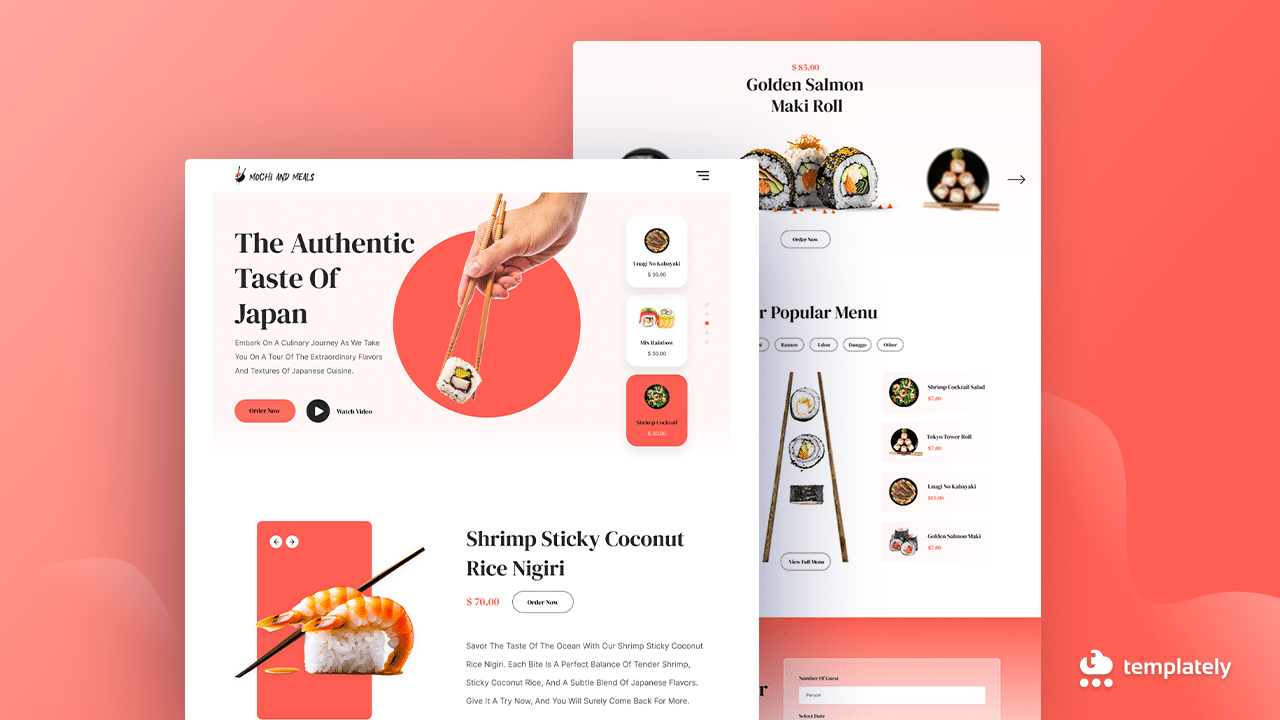 Japan's culinary heritage is rich and diverse, and the popularity of Japanese cuisine has been steadily growing worldwide. With careful planning, dedication, and an understanding of the unique aspects of Japanese dining culture, you can create an authentic and memorable dining experience for your customers.
Currently, building websites can help you advertise any business and gain enormous exposure at first, which is what every business owner wants. And this truth can not be disputed if you are managing your food business. You can quickly achieve a top organic search engine ranking for your Japanese restaurant website, bringing in the right customers right away.
So, let's dive in and discover the secrets to building a thriving Japanese restaurant website. That will help you stimulate your Japanese restaurant business right away. Get started!
[Best Ways] How To Create Your Japanese Restaurant Website
Before creating your Japanese restaurant website, you must make a plan. And to help you out from the beginning here you will get all the best ways. Take a look at below:
Choose A Unique, Memorable Name
You must choose a distinct and memorable name for your Japanese restaurant. The name ought to be catchy and easy for search engines to index. Additionally, this will get you one step closer to choosing the domain name of your choice.
Design An Interactive Landing Page
Your Japanese restaurant website can be easily accessible to your target audience by having an appealing homepage. You must present your distinct delicacies, other offerings, pricing, and more in one location the more you concentrate on building an interactive landing page.
Statistics say, "77% of the top landing pages were home pages".
Highlight Your Restaurant Menu
By overseeing an entire "Menu" page, you can make your Japanese restaurant more user-friendly. This will make it easier for your customers to make decisions and increase their interest in your company.
Some Japanese Restaurant Statistics To Look At: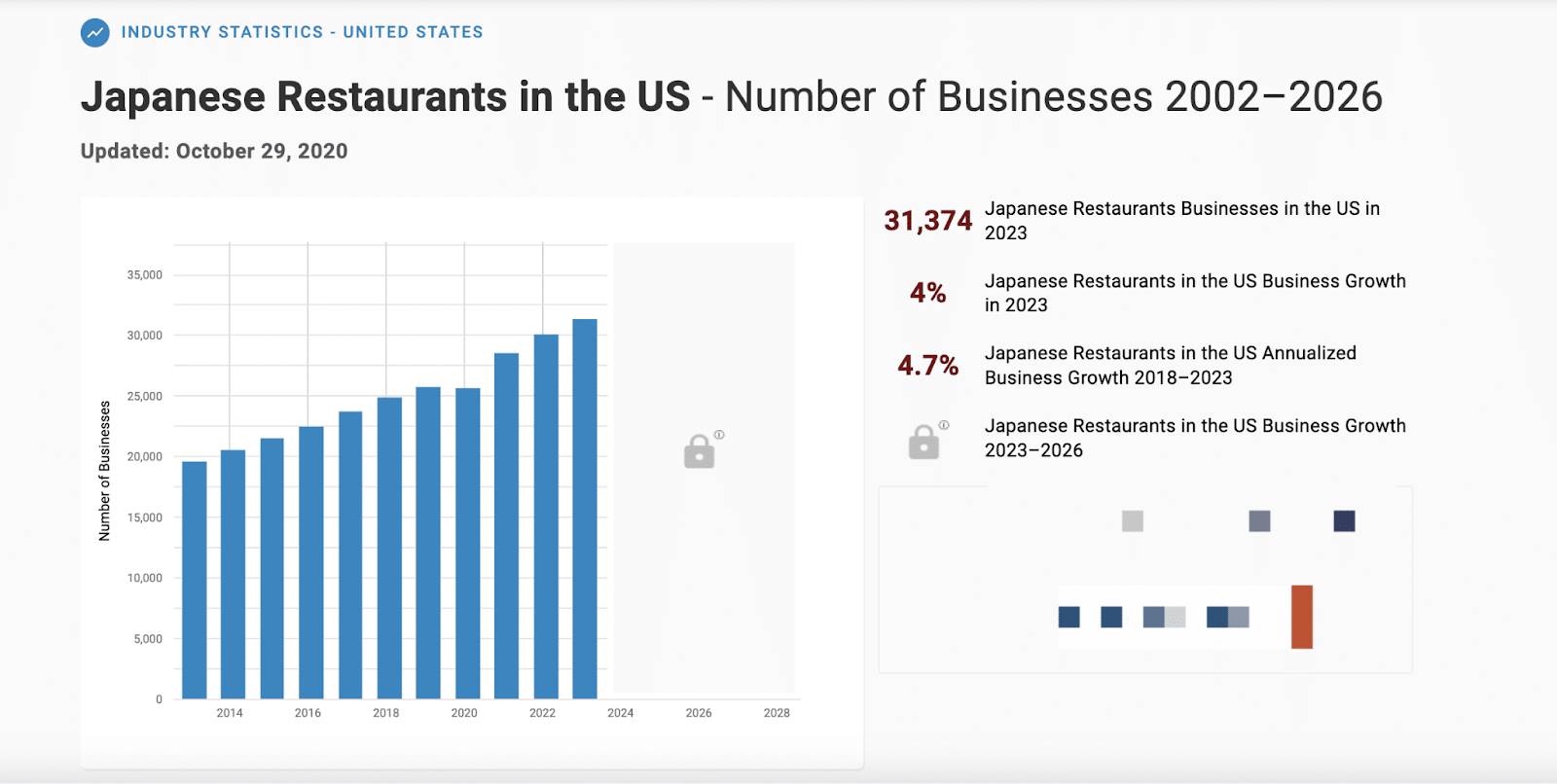 Source: IBISWorld
According to IBISWorld, Japanese Restaurants in the "US industry market size are $22bn."
According to Statistica, "In 2021, the market size of the food service industry in Japan amounted to approximately 17 trillion Japanese yen"
"The highest costs for business in The Japanese Restaurants industry in the US as a percentage of revenue are Wages (41.4%), Purchases (35.1%), and Rent & Utilities (4.7%)." (IBISWorld)
[Guide] Create Your Perfect Japanese Restaurant Website In Minutes
However, a ready Japanese Restaurant Website template can be your perfect solution. Look at Templately – the best WordPress template cloud for WordPress users who can create a stunning Japanese Restaurant Website in Gutenberg and the most popular WordPress website builder Elementor as well.
Templately comes with an exclusive ready Japanese restaurant design Mochi And Meals. Let's go through the complete steps involved in creating a Japanese Restaurant Website with Templately.
How To Create A Japanese Restaurant Website In Gutenberg?
To create a Japanese Restaurant Website easily with one click with Gutenberg editor, you need to have some necessary plugins installed and activated on your site. So here are the plugins that you need for your Japanese Restaurant Website.
👉 Templately
Templately is the ultimate template cloud with 200,000+ active users. For this tutorial, we have picked Templately– one of the most popular template libraries with stunning ready templates to create beautiful websites without any coding.
👉Essential Blocks For Gutenberg
A powerful WordPress plugin that comes up with 45+ ready useful blocks to create and design a stunning website in Gutenberg.
👉 Fluent Forms
As you need to add a contact page for your Japanese Restaurant Website and collect information, you will need "Fluent Forms" installed and activated.
Once you are done installing and activating all the above-mentioned plugins, you are all set to start designing your Japanese Restaurant Website.
Let's Design A Stunning Japanese Restaurant Website With Templately
After you have installed and activated the plugins mentioned above, it's time to start working on creating and designing the website now. To design the website, follow the step-by-step guide below.
Step 1: Create A New Page On Your WordPress Website
To design a Japanese Restaurant Website, you need to create a new page from your WordPress dashboard first. Log in to your WordPress dashboard and navigate to the Pages → Add New. You will find yourself in the default Gutenberg editing panel of WordPress.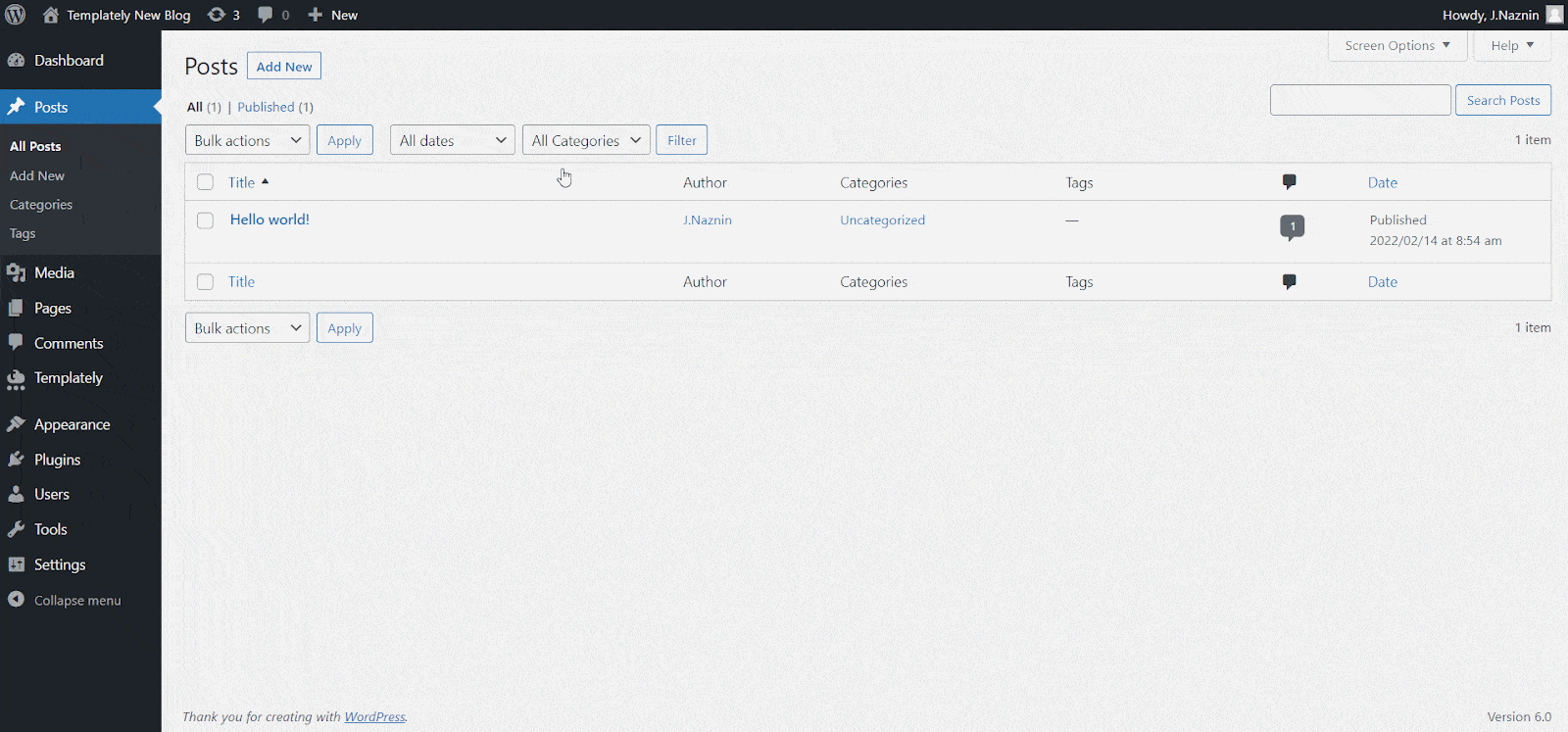 Step 2: Insert A Template For Your Japanese Restaurant Website
You will find the 'Templately' blue icon on the page. Click on it to get access to the Templately template library.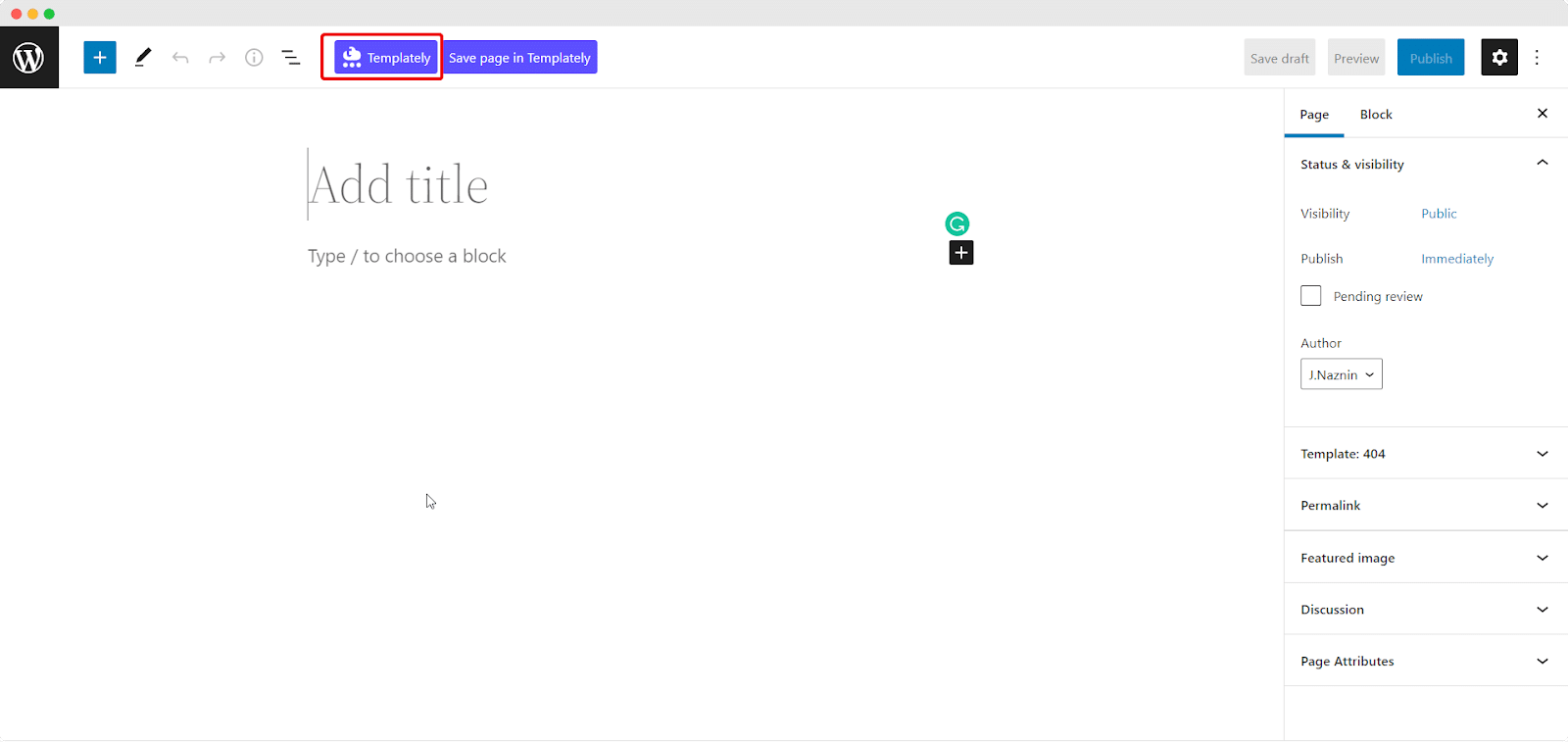 In the tutorial, we have chosen 'Mochi And Meals' to create the Japanese Restaurant Website. From the search bar, search "Mochi And Meals" and you will find a stunning ready event template pack for your website. Insert it into your page by clicking on the 'Insert' icon.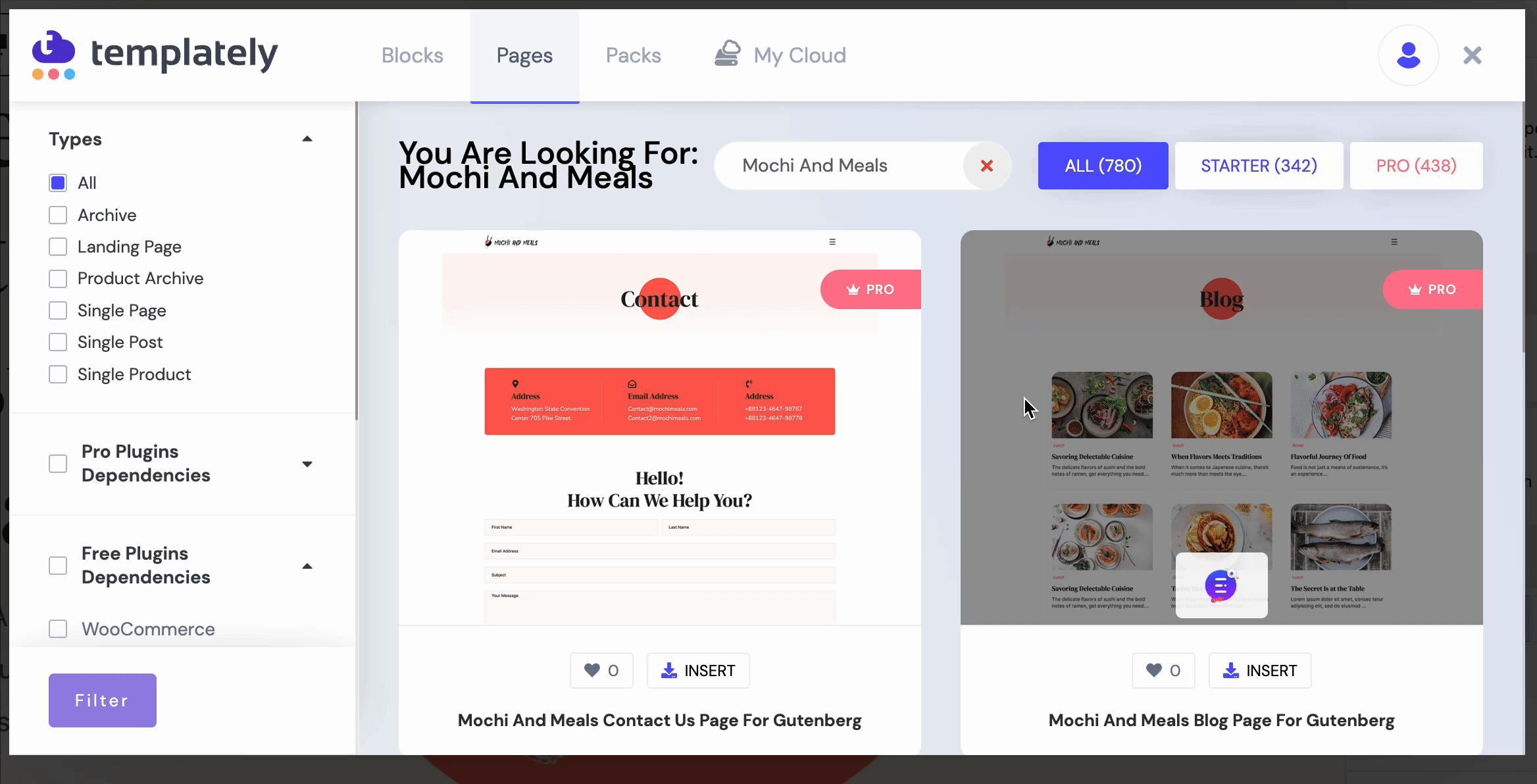 In just 1-click you will get the Japanese Restaurant Website template. The landing page of the Japanese Restaurant Website is being designed here in this tutorial. After inserting the Mochi And Meals Landing Page, it will appear on your page.
Step 3: Customize The Template To Design Your Website
Click on the home page template you want to customize, and the editing panel will be opened instantly. Now make all the necessary changes and give your website the desired look.

Step 4: Store Your Customized Designs In Templately MyCloud
Templately has an amazing feature for storing your customized templates in Templately cloud storage "My Cloud". You can store the template there for further use. A very useful feature that allows you to store templates in a cloud storage place that no other Template libraries offer.
If you want to use your customized page for other purposes, you can save those easily. Right-click on the section you want to save and then click on the 'Save Page To Templately'.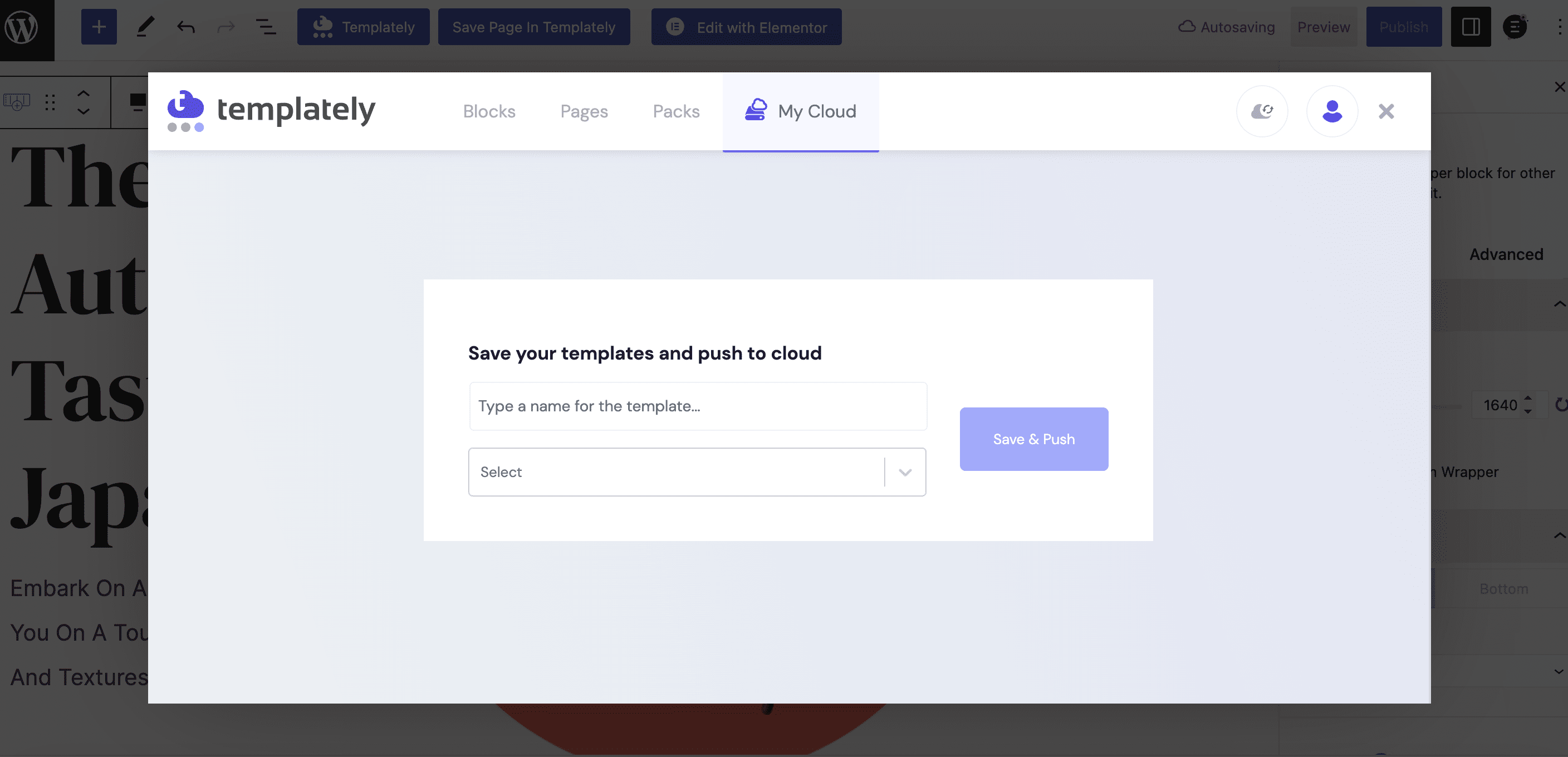 Above all, if you want to share your saved items with others then you can use Templately's other exclusive and super useful feature 'WorkSpace'. This unique and effective feature lets you directly collaborate with others with this feature and save a lot of time.
How To Create A Japanese Restaurant Website In Elementor?
To create your WordPress Japanese Restaurant Website in Elementor using any ready Japanese Restaurant Website templates from Templately, you must get some plugins installed beforehand on your WordPress dashboard. Check out these must-have plugins below:
✅ Elementor: Install and activate the most popular Elementor page builder first to use this ready template pack.
✅ Essential Addons: You must install and activate Essential Addons for Elementor – the best elements library with 1 million+ happy users and 90+ fully-functional elements.
✅ Templately: You have to sign up for an account and install 'Templately' on WordPress
Build A Stunning Japanese Restaurant Website In Elementor
We will use the Mochi And Meals – Japanese Restaurant Website template in Elementor Editor to build a stunning WordPress event page in Elementor. Let's follow the step-by-step guidelines below to create a standout WordPress Japanese Restaurant Website in Elementor:
Step 1: Insert 'Mochi And Meals' Ready Landing Page Design By Templately
Let's click on Edit with Elementor to create a new page on the WordPress dashboard. Within a moment, it will come up with a new page in the Elementor editor.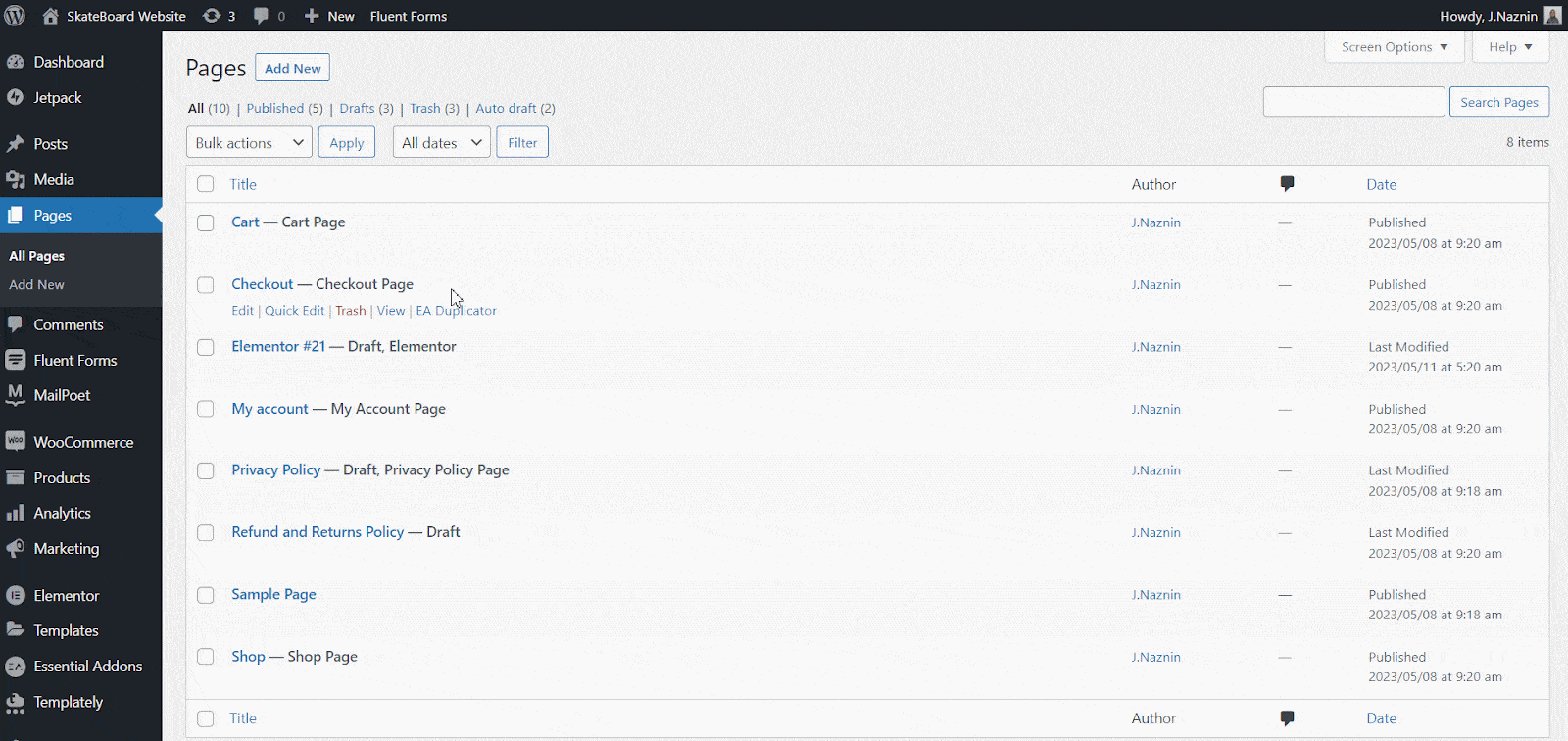 Afterward, you need to click on the blue icon in the middle that comes with the 'Templately'. It will then come up with a popup window to showcase all ready collections of Templately there.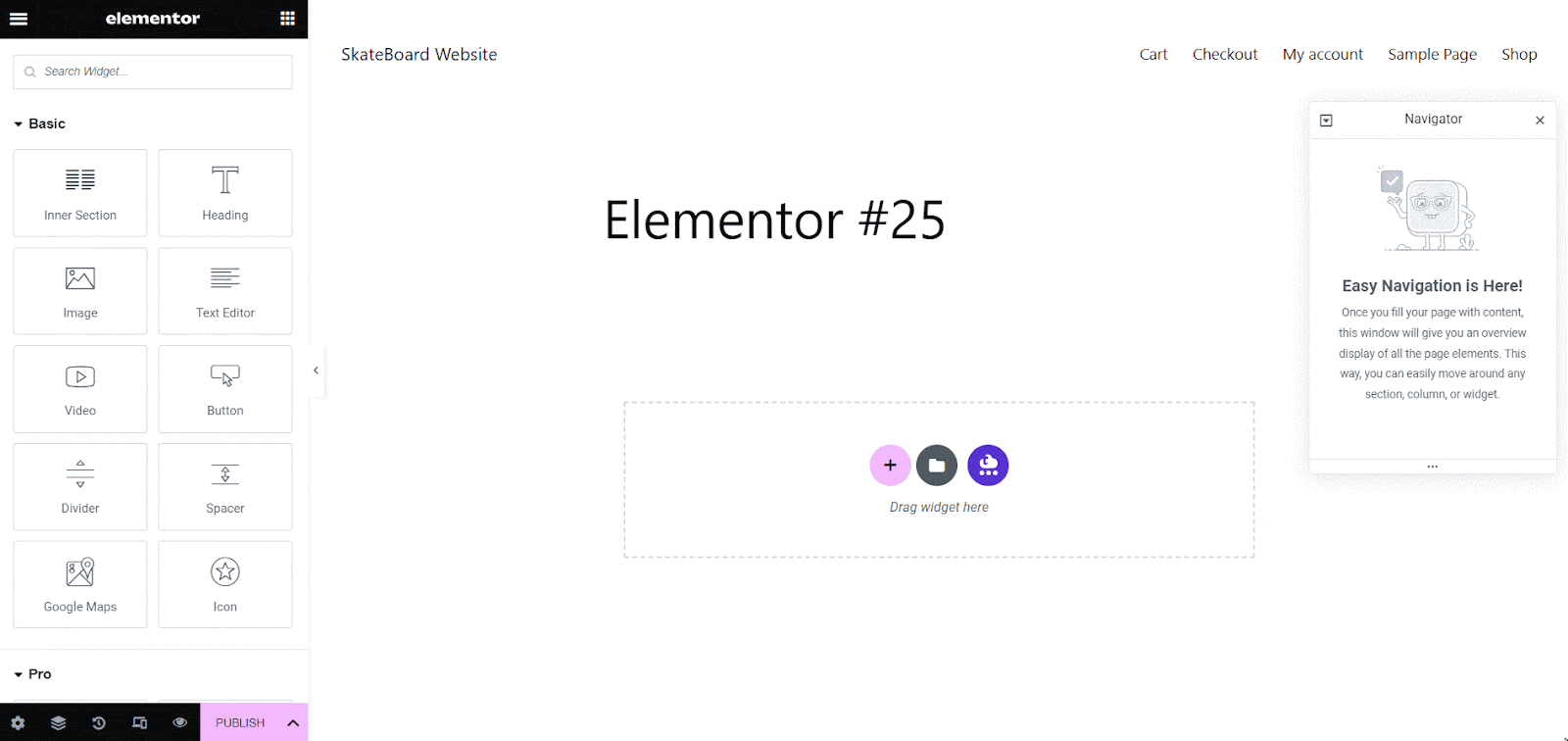 Now search for 'Mochi And Meals', and it will automatically show the ready page designs related to it. We will pick the Japanese Restaurant Website template. Hit the 'Insert' button, and start customizing the template design as per your requirements.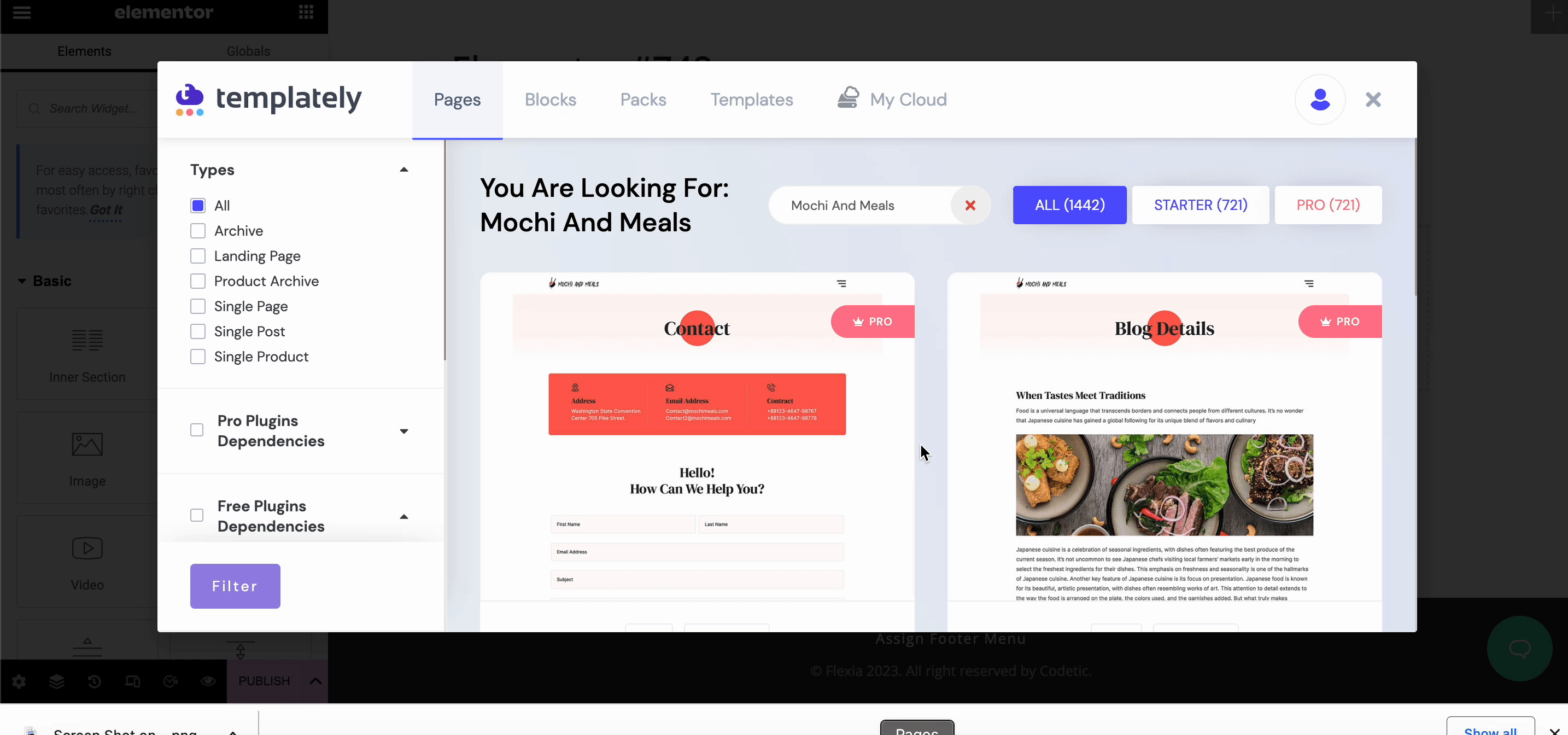 Step 2: Modify Your Event Page Design
Now you can fully customize the ready 'Mochi And Meals' WordPress event page design by adding your own text or visual content in each creative section. You can drag & drop one section to another or do other modifications and publish it right away.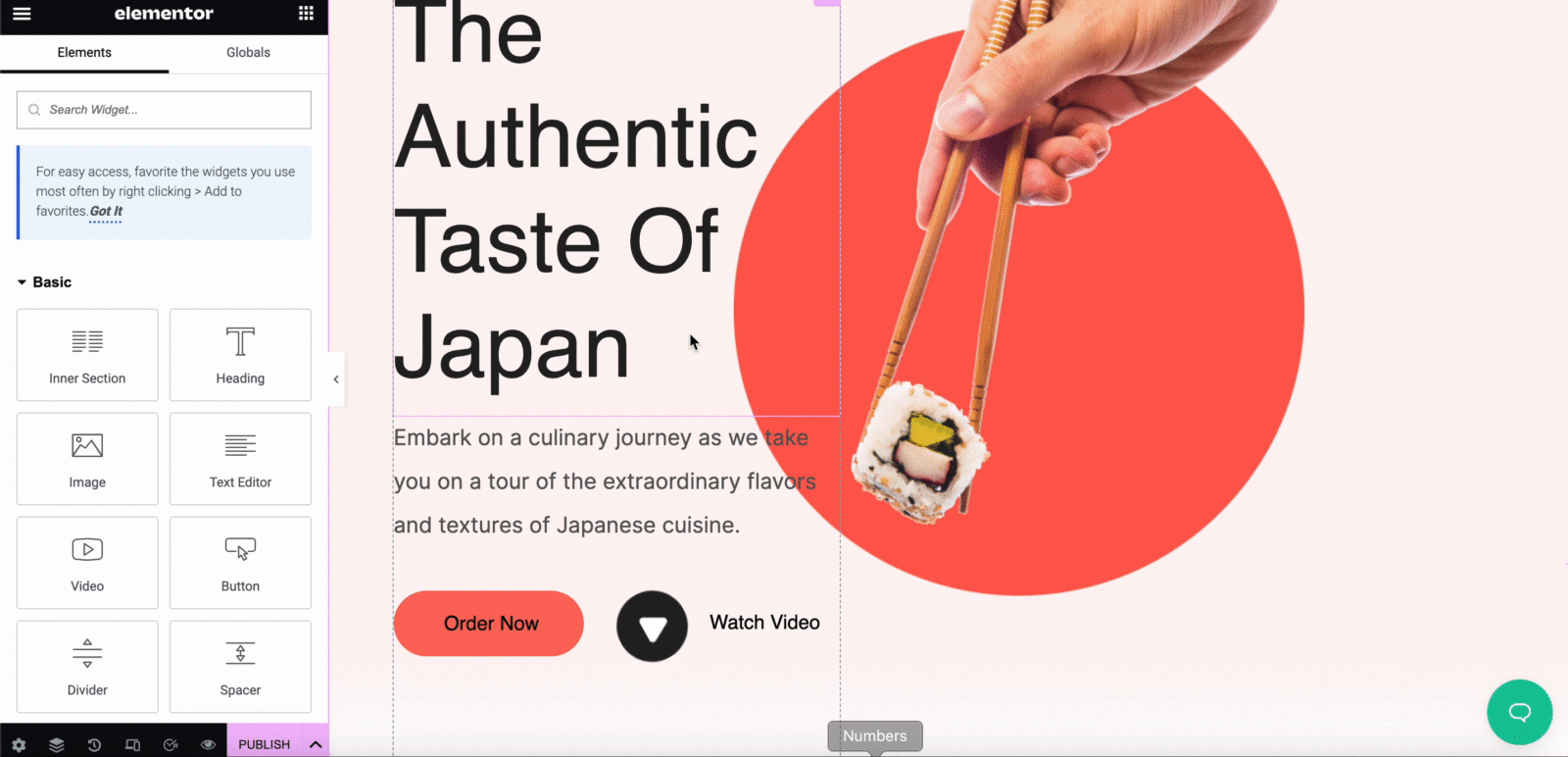 Step 3: Save 'Mochi And Meals' Ready Template Design On Cloud
There is another fantastic feature called 'MyCloud' storage by Templately to save your premade template designs in your own cloud space. This will easily create a secure backup for you. To do this, right-click anywhere on the page and click on 'Save Page to Templately' to save it on your personal cloud space.
Also, you can reuse these saved template designs on as many sites as you want. Besides, it lets you create a seamless collaboration through Templately WorkSpace on the cloud by sharing the ready design with other team members or external ones.
A ready Japanese Restaurant Website template is one of the best ways to build your own Japanese Restaurant Website without coding. It will cut off your extra effort and make it personalized, user-friendly, and optimize the site for search engines right away. Hopefully, this blog guideline will help you to create your own Japanese Restaurant Website for WordPress right away.
Launch Your Dream Japanese Restaurant Website Today!
A successful Japanese restaurant business involves thorough planning, a clear vision, and a profound understanding of the customs and intricacies of this renowned culinary culture. You can build a strong basis for your company and design a space where customers can fully experience the tastes, aesthetics, and warmth of Japan by following the instructions provided in this guide.
You have to remember, the key to success lies in continuous learning and adaptation. Stay informed about the latest trends and developments in Japanese cuisine, seek feedback from your customers, and refine your menu and dining experience accordingly. Embrace the values of quality, authenticity, and attention to detail that are integral to Japanese culture, and let them shine through in every aspect of your restaurant.
Bonus Tip: Some Ready Restaurant Website Template Designs By Templately:
Templately offers you some incredible ready template designs to start a restaurant website in WordPress without coding.
Opening a Japanese restaurant website is a thrilling endeavor that comes with its challenges, but with passion, perseverance, and a commitment to excellence, you can build a remarkable dining establishment that delights customers and leaves a lasting impression. So, gather your ingredients, polish your chopsticks, and embark on this exciting culinary adventure. We wish you the best of luck in your Japanese restaurant business!
We hope this blog has equipped you with the necessary tools and inspiration to embark on your journey in the world of Japanese cuisine by creating an interactive Japanese Restaurant Website without coding. Let us know your experience by commenting below.
Moreover, if you want to read more exciting blogs, you can subscribe to our blog page and join our friendly Facebook Community.