Starting a business might be easy but maintaining a business and ensuring its success is the hardest part. If you are worried about your marketing campaigns, know that there are many marketing tools that will help you make your marketing campaign to be successful. Introducing NotificationX – an advanced WordPress plugin lets you leverage Social Proof and increase conversion/engagement rates for your business.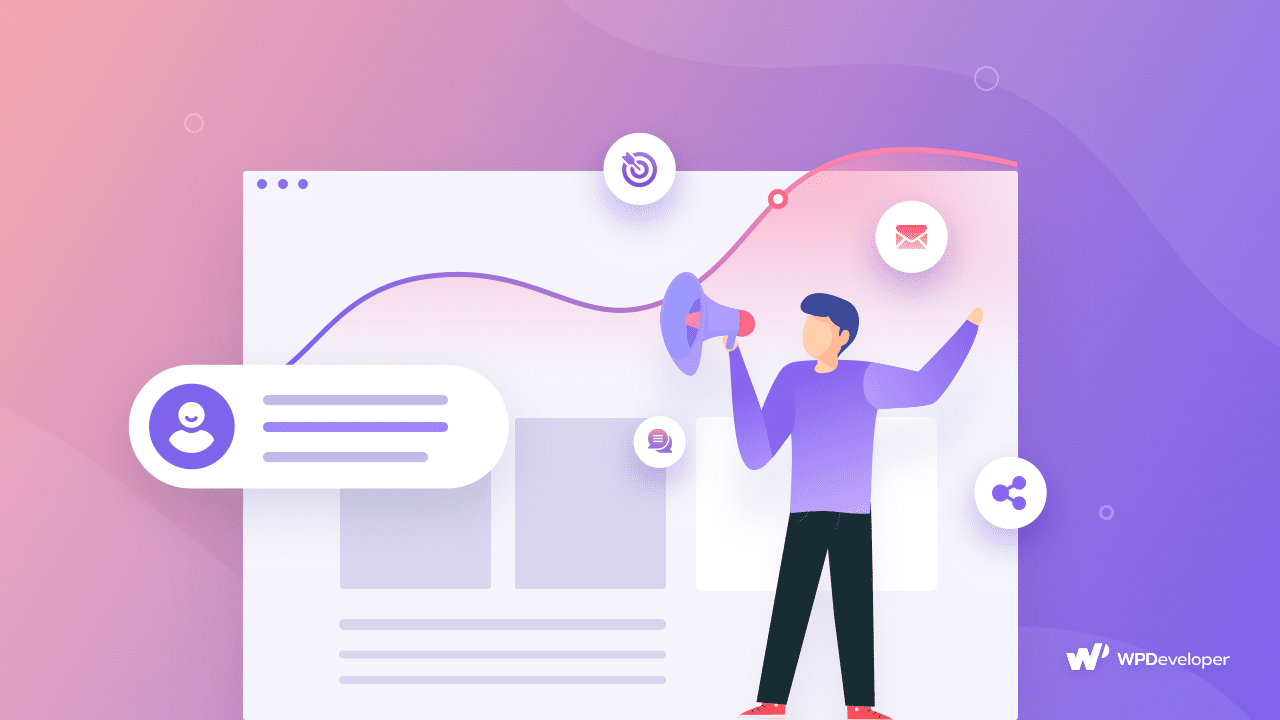 Boost Conversions with NotificationX Marketing Campaign
There are different types of messages you can display using NotificationX. These messages include Sales Notification, WP Comments, Notification Bar and, Subscription Alert as well as custom notification pop-ups. All these types of messages have different benefits, but the ultimate goal is the same, and that is to increase sales and conversion for your WordPress Website.
But what is FOMO and Social Proof? These two Marketing tactics are part of the broader 6 principles of persuasion. And needless to say, these are proven digital marketing tactics for improving conversion rates. Social Proof is user-generated content i.e. comments, ratings, mentions and every other interaction on social media platforms. You can leverage Social Proof to utilize the FOMO tactic, which is an abbreviation of Fear of Missing Out. In fact, Ryan Williams, Author of "The Influencer Economy," dubbed Humans as FOMO Sapiens. You can listen to his thoughts on this HBR Podcast.
NotificationX, the best FOMO and Social Proof Plugin for WordPress, has been helping marketers turn digital marketing strategies into action. It helps digital marketers apply proven FOMO and Social Proof Marketing Tactics to their WordPress Website.
Boost eCommerce Conversions With NotificationX Live Sales Popups
NotificationX is a FOMO and Social Proof Marketing Plugin that lets you display Social Proof pop-ups on your WordPress Website. This plugin works perfectly with all popular e-commerce solutions such as WooCommerce, Easy Digital Downloads.
People have grown accustomed to online buying. And why shouldn't they? It is easier, takes less time, and you can shop from the convenience of your living room. If that's the scenario why do owners of WordPress Websites complain about failing to make enough conversions? The answer is very clear. As buyers cannot physically examine the product they want to buy, they feel concerned about its quality. Who would like to end up buying something that looks nothing like its online images? But of course, there are proven ways for removing your user's concern regarding the quality of your product. Buyers rely on Social Proof to validate the product and its seller.
Online shopping gains its validity by social proof left by buyers in the form of comments, ratings, and reviews. People are more likely to buy something if they see someone else is also buying the product, it's not necessary that they must know each other personally. NotificationX lets you display all kinds of Social Proof in any Web-Page on your Website.
Using Social Proof you can leverage the FOMO phenomenon. Along with displaying who else is buying your product displaying how many units you have left in your stock is another way to leverage social proof and FOMO.
WooCommerce is the most popular e-commerce plugin for WordPress. If you are using NotificationX and WooCommerce on your site you can integrate them together. Afterward, you can display any new sales notification made on your site as a pop-up sales notification.
Not only WooCommerce, NotificationX is the ideal Social Proof plugin that works perfectly fine with other e-commerce solutions for WordPress such as Easy Digital Downloads. NotificationX lets you display the recent product purchase made by the customers as a notification popup on your website. Using NotificationX, you can easily design a fascinating EDD Sales Notification on your WordPress website to keep everyone engaged.
Increase WordPress Plugin Sales on Envato Marketplace
Envato is the largest market place for digital assets. Starting from images, videos, music, infographics, stock images, icons, website templates and everything else. It is undoubtedly the largest collection of Digital Assets.
If you are using Envato you can use NotificationX to display FOMO Sales Notification Alerts for your Envato platform. You are able to customize the sales popup anyway you want and make it appealing to increase your conversion rate.
Recommended Reading: How to Display Envato Sales Notification Using NotificationX?
Increase Student Enrollments for Your Online Courses with FOMO MArketing Campaign
MOOC websites have grown in popularity over the last few years. And with the Covid19 outbreak, people are looking for productive ways to spend their free time. Some people even have to spend their entire days doing nothing, this is true for employees who are responsible for a sole desk job and fieldwork. With the tight restrictions on free-roaming outside homes, these people are finding more free time than they ever did before. And as vacation is not an option these people are resorting to online courses that will give them a professional edge when they get back to work.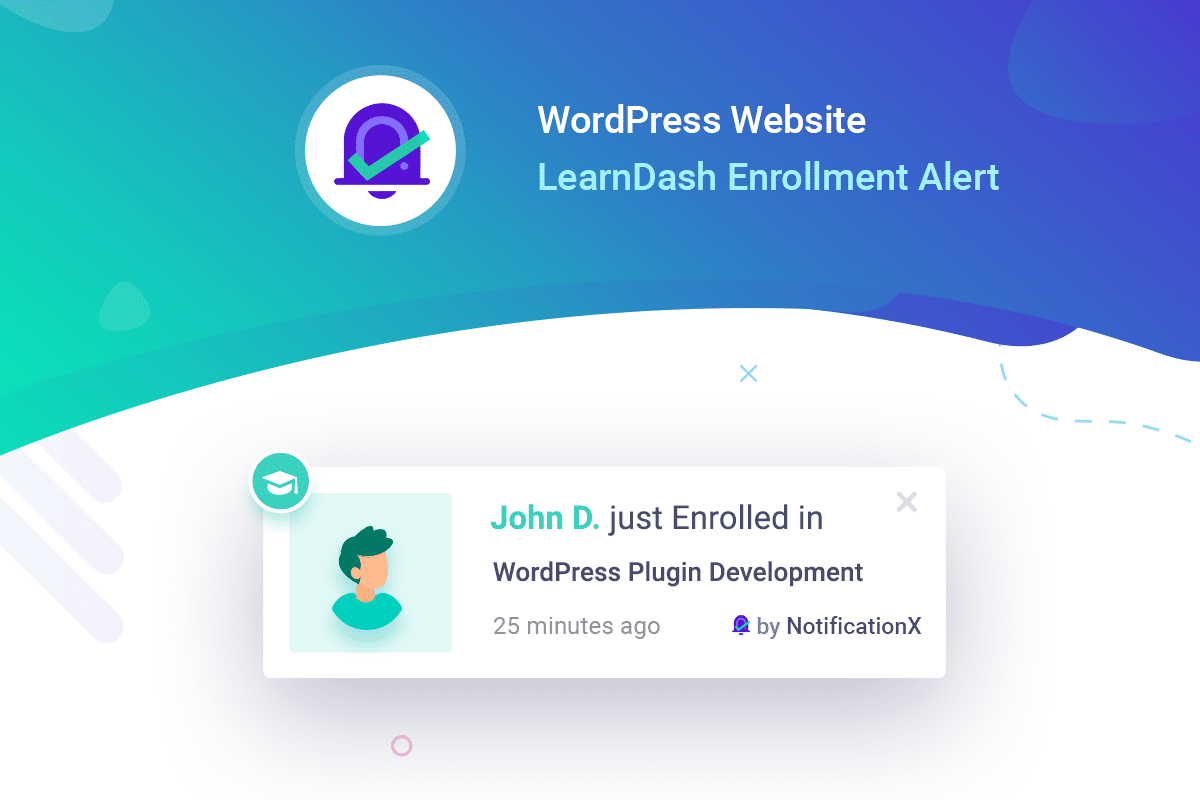 LearnDash & TutorLMS – two most popular Learning Management solutions for WordPress which are suited for Educational Institutions, Non-Profits, Developers as well as CEU Training Organizations. If you have a MOOC website you created using LearnDash or TutorLMS, you can benefit from NotificationX, you can increase the enrollment rates on your e-learning platform with real-time social proof popup.
There is a specific reason why people resort to Online Courses. The most obvious reason is, people, want to learn a new skill on the fly. Often they don't have the time to enroll in a course that mandates them to be physically present at the classes. But this doesn't mean they will compromise with the content provider for that course. Learners are more likely to sign-up to your course if they see the course provider is qualified and also actual people are signing up for the course. The way they can judge the credibility of your online LeanrDash Course and its certification is by seeing if actual sign-up for your courses.
NotificationX gives you this amazing facility to showcase your LearnDash Course Enrollment alert on your website. This impressive FOMO marketing approach will definitely grab the attention of your site visitors and increase your course enrollment rate massively.
Wrapping Up!
So there you go. No matter what your business is, be it an online education platform, be it an online store NotificationX will help you make more sales by leveraging Social Proof marketing campaigns. Online buying poses the issue of credibility as users can't inspect your product. But once they see other people are buying from you and they have positive feedback about your business, they will feel more encouraged to buy from you too. So what are you waiting for? Try NotificationX today & launch marketing campaigns to improve your conversion and engagement rates.