If you are a seller of organic food, then a presentable organic food website can add an extra advantage to boost your sales. Right now, to create your eCommerce website to sell any type of food online, especially organic ones, ready templates are the best decision you can make.
So for that, you need to go with ready template designs that will create a complete organic website without any coding. Just by doing a bit of modification on content, you can publish a fully functional website within a minute to reach out to your potential customers and earn maximum profit online.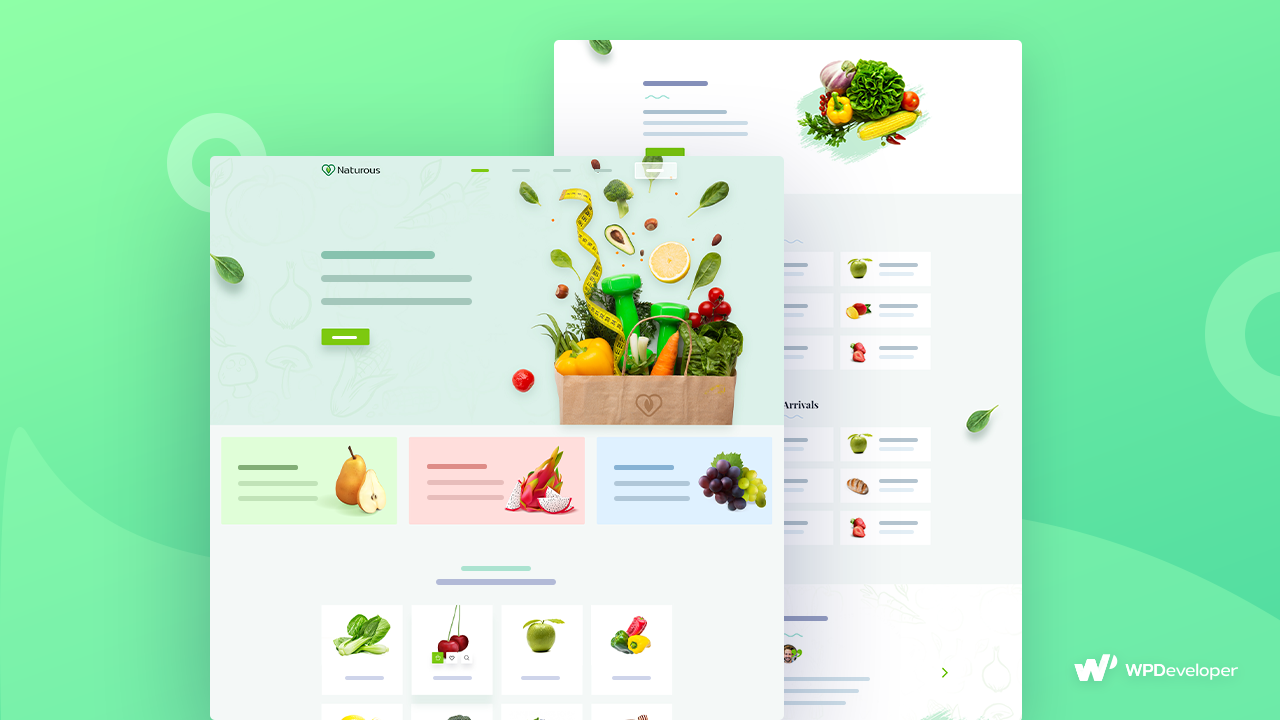 ⭐Why Should You Create An Organic Food Website?
As food sellers both online and offline, you have to focus on reaching out to as many potential customers as you can from every corner. And for that, creating an organic food website can help you to reach out to your maximum buyers to boost sales. You don't have to bother with continuous promotion and all. Having a fully fictional, SEO-friendly, responsive website will organically be presented on top of your customer searches on search engines.
For this reason, organic food store owners are now moving on to create stunning organic food websites to reach out to their targeted customers. It's easier to build a business value online and serve the buyers with high-quality products as well. Because payment can easily be made, and on-time customers get the right product without visiting the store.
⚡
How To Build An Organic Food Website Using Free Elementor Ready Template Pack?
Templately comes with beautifully designed ready template packs for the most popular page builder Elementor for WordPress.You can now build any type of website using Templately 2000+ ready collections. And to create an organic food website, it comes with an impressive predesigned free Elementor template pack 'Naturous' by Templately. You don't have to add any code, just with a bit of modification by adding your own content in it.
What Will You Get Using Naturous?
Naturous Elementor template by Templately comes with eleven pages & four blocks to create an outstanding organic food website to boost your eCommerce sales. Each of the ready templates consists of creatively designed sections with animated widgets, smooth scrolling effects, and more to make a blast. Let's check out each of the pages that it offered below:
👉An interactively designed 'Homepage' that will attach your potential buyers at the very first look.
👉Shop Grid Page will display your all organic food beautifully in every creative section.
👉Shop List Page will allow you to give a detailed shop list your buyers have made amazingly.
👉Add To Cart Page will help your buyers to add as much as products they want to add with ease.
👉Checkout Page comes to have a look at the final payment sections to your potential buyers.
👉You can use the 'Sign In Page' to help your buyers to have a fully functional account on the website.
👉About Us Page can make you display your inspirational stories, achievements, and more in an organizing way.
👉Blog Page will help you to do any announcements or posts beautifully using this interactive ready layout.
🔰Things You Must Have To Get Before Creating An Organic Food Website?
To create an organic food website using Elementor free template pack 'Naturous' by Templately, you must have to check out the necessary plugins below that have to be activated before start creating your site:
🚀Get A Complete Guide To Start Creating An Impressive Organic Food Website With Templately
After activating all the mentioned plugins, you are now fully ready to use the Naturous template pack in your Elementor site by following the simple step-by-step guidelines below:
Step 1: Insert 'Naturous' Homepage Design By Templately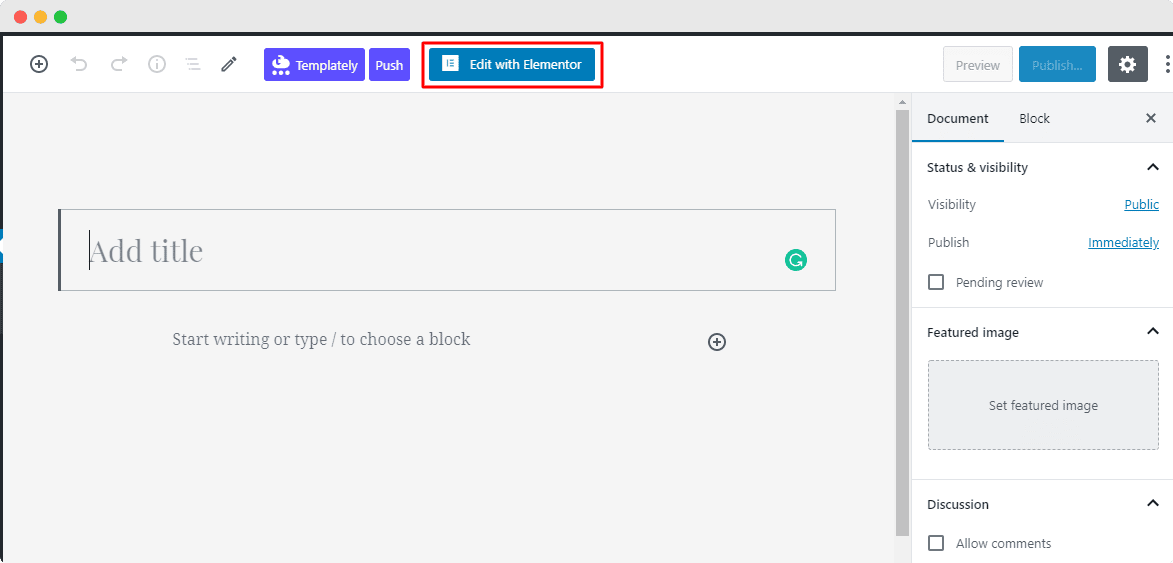 Let's click on Edit with Elementor to create a new page on the WordPress dashboard. In a few moments, it will then come up with a new page in the Elementor editor.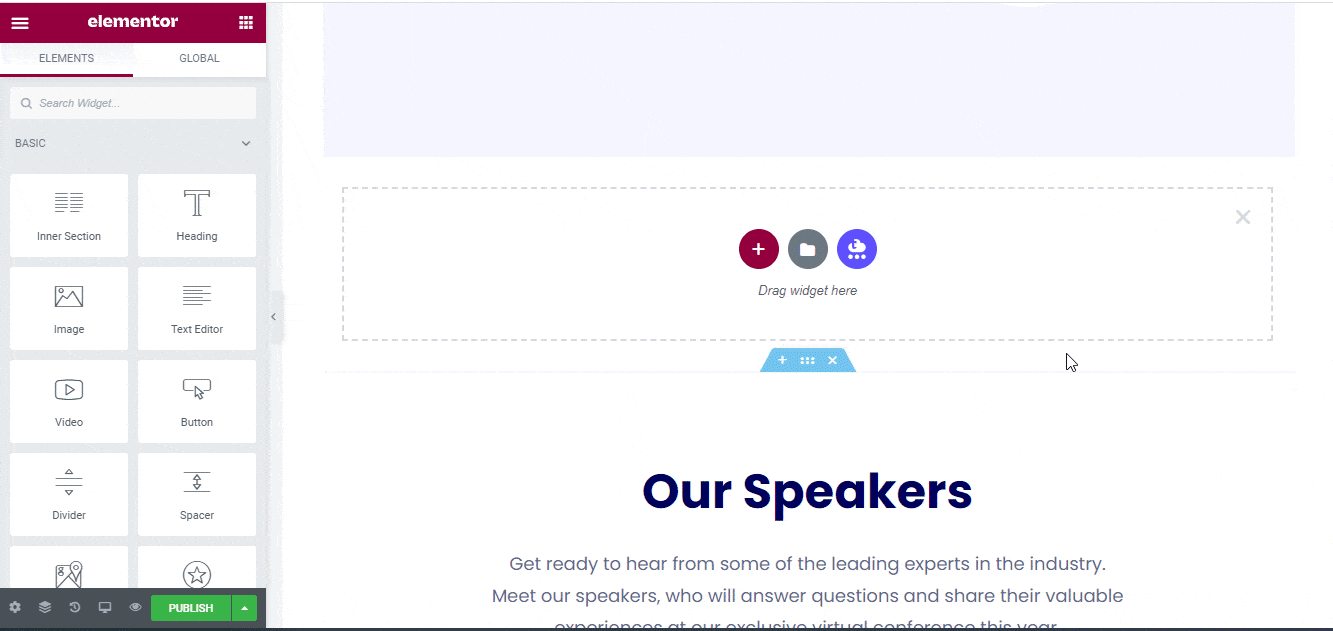 Afterward, you need to click on the middle icon of the page that comes with the 'Templately'. It will beautifully showcase all Templately ready collections there. You have to search for 'Naturous' there. It will automatically then show all the ready pages & blocks related to it.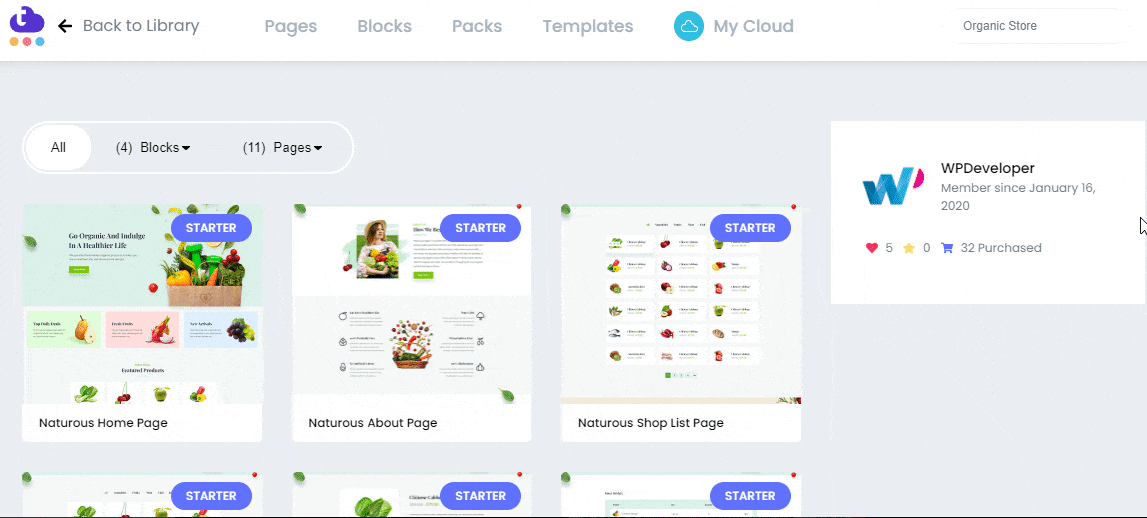 Afterward, we are taking the 'Naturous' home page design to get started and hit the 'Insert' button. Now you can make the ready template design as per your preference.
Step 2: Let's Modify The Template Design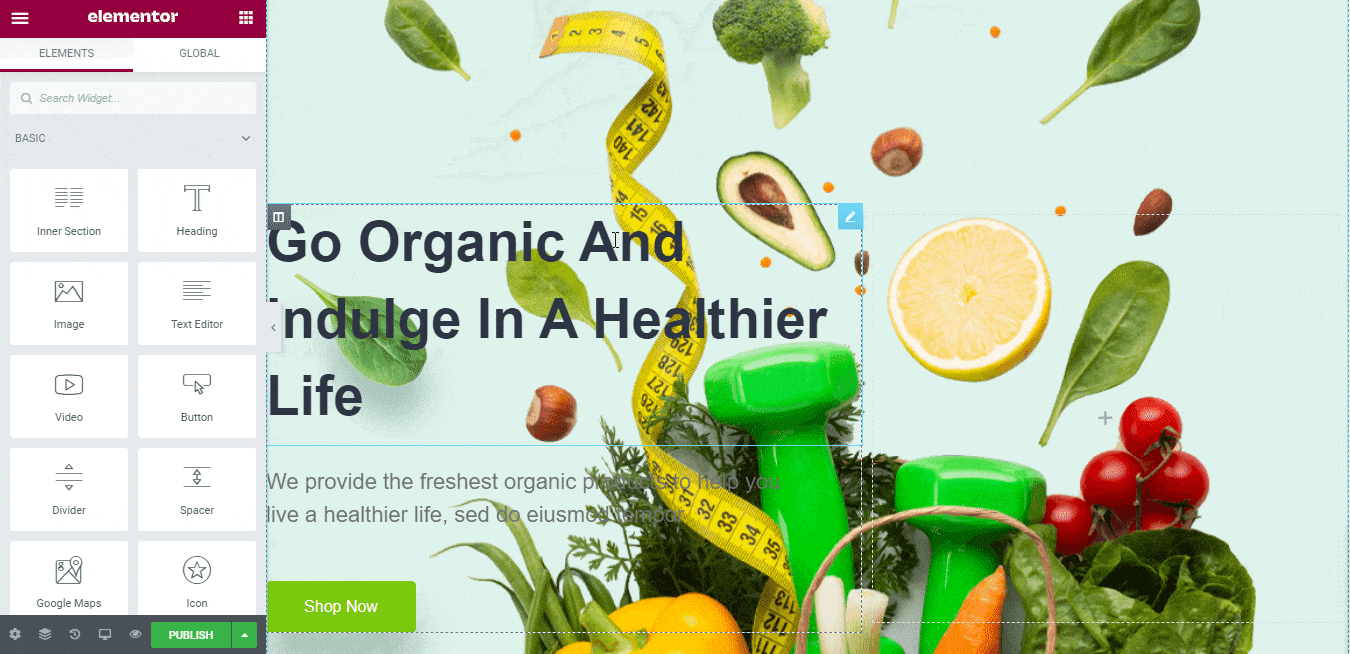 Without coding, you can now customize the ready Naturous homepage design by adding your own text or visual content in each creative section. Even if you want, you can drag & drop each section, insert any of its ready blocks if necessary, or do other modifications to make it publish right away.
Step 3: Secure Your 'Naturous' Ready Template Design On Cloud
If you want, you can save your premade template designs in Templately personal 'MyCloud' storage space and secure it thereby creating a backup. And to this, right-click on the design and press 'Save Page to Templately' to secure it on cloud space and work much smoother than before.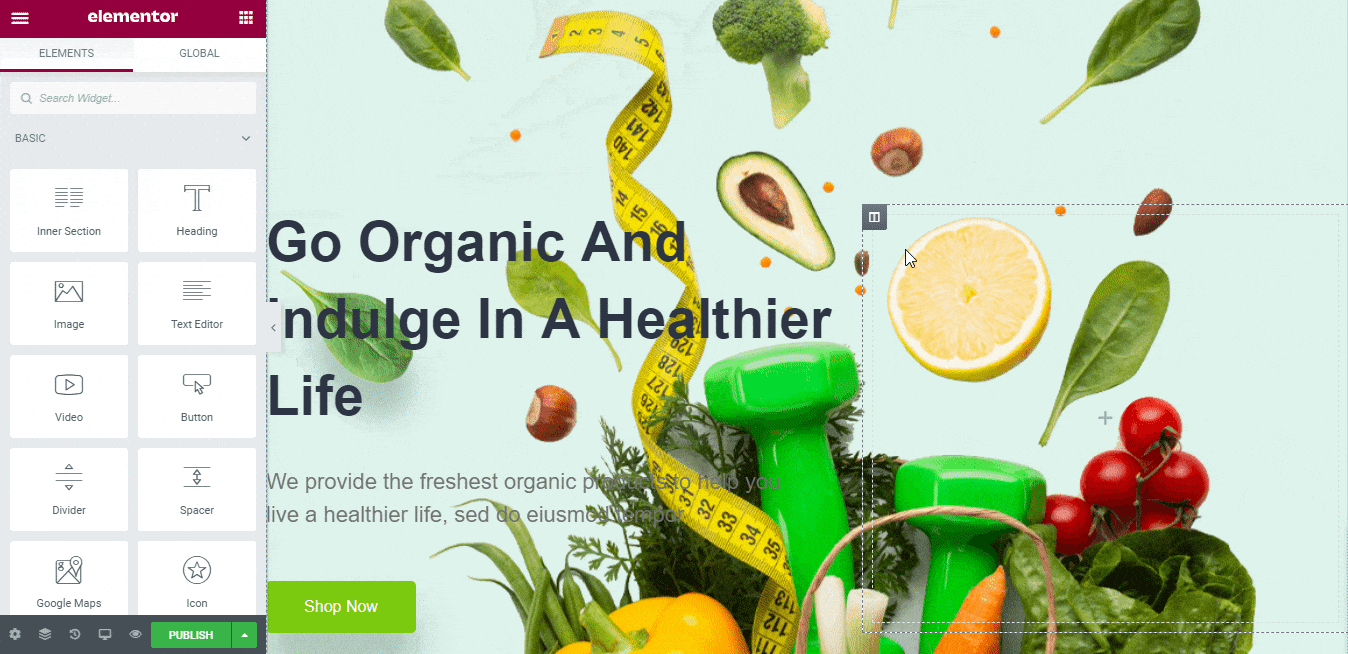 Also, you can even reuse your saved template designs on as many sites as you want. Besides, it allows you to create a seamless collaboration on the cloud sharing your ready designs of yours with other team members or external ones using Templately WorkSpace.
Final Outcome:
Congratulations! You have successfully used this stunning ready template design 'Naturous' by Templately to create an organic food website in Elementor without coding.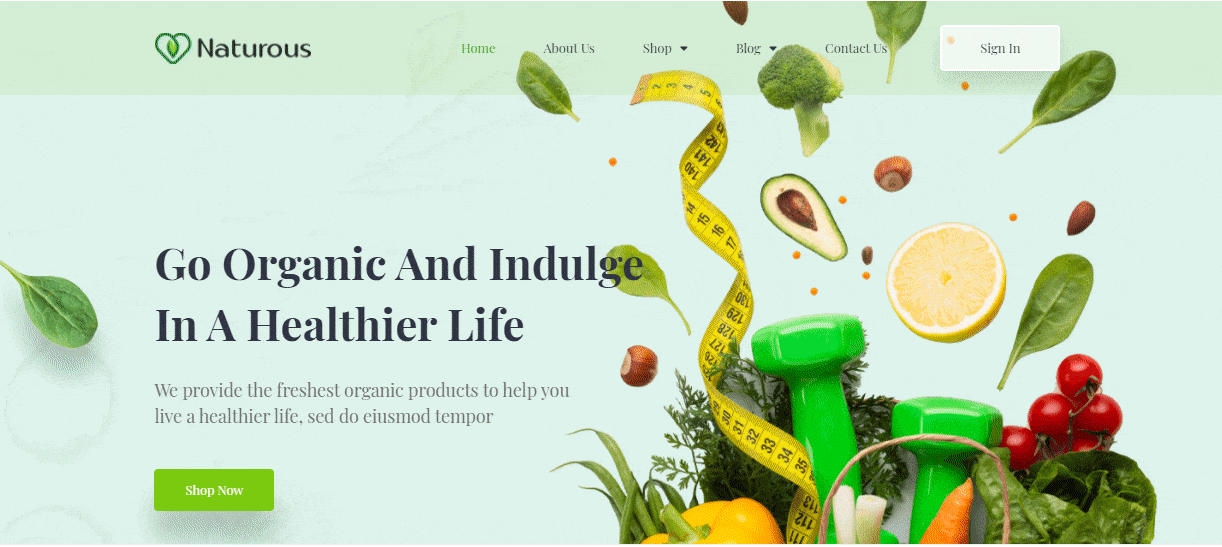 Get explored Templately ready template collections if you haven't tried it out yet, and let us know your experience by commenting below. If you face any problem or need any quick help, you can freely contact our support team anytime you want.