Want to step up your social media marketing game? Then you have to schedule social shares with proven & tested strategies. It may be a familiar concept to you if you are the webmaster or a regular author of a website to schedule your posts and pages directly to social media instead of posting them manually. Unfortunately, you don't always receive the desired result. Our goal today is to provide you with some key points that will help you revamp your strategy for scheduling social shares and achieving the greatest success.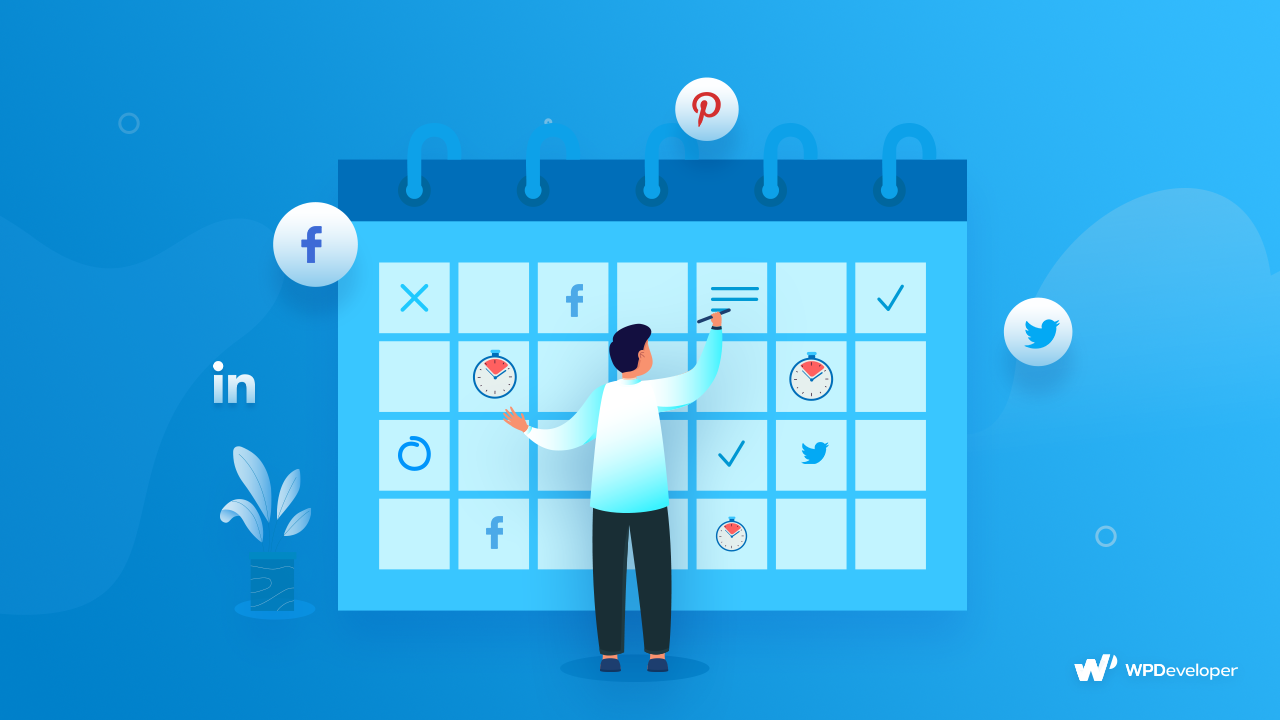 Why Should You Share Website Posts On Social Media? 
Before checking out the ground rules to schedule social shares on multiple social media, let's explore why you should even practice sharing posts on social media. We have analyzed and listed down the major benefits that you can take a glance to check out. 
Reach Out To Your Niche Audience
Just by making your website live and publishing blogs regularly won't take you closer to your niche audience. About 4.4 million new blog posts are published each day. While there are these many blogs and websites that are live it is hard to segregate the niche audience and reach them. 
On the other hand, almost every social media platform now has an option to personalize news feeds with your interesting topics. Thus depending on the website category, social media platforms organically promote your blogs to a niche audience. It's the shortcut way to reach out. 
Boost Website Engagement
If you struggle to meet your niche audience, then eventually the website engagement will be very poor on your site. It will increase the bounce rate of your site. In this case, if you start regularly to schedule social shares then your posts and website will bring value to the niche audience, and thus start boosting your website traffic. 
Rank Your Website In Search Engines
When your blog posts get a regular audience for blogs and huge traffic on the website, search engine crawl bots will consider these as positive factors for your website. And eventually, these will also help in getting a higher rank in search engines. So just a simple practice of sharing blog posts on multiple social media platforms will help your website to rank higher. 
Develop Long-term Relationships With Audience
You will come across KPIs that are related to measuring customer retention and satisfaction when looking for company success metrics. In order to achieve a higher score in these metrics, you need to create a long-term relationship with the audience. Instead of using the website's contact form, it's easier to communicate and build relationships on social media. Therefore, sharing blogs on social media will also help you build effective relationships with your audience.  
Why It's Better To Schedule Social Shares Rather Than Do It Manually?
After realizing the utmost benefits comes with sharing blogs on the social media platform, the next concern is how to share them? You can either schedule social shares directly from the website or manually share them each time a blog is published from your site. Let's check out which method is the better one. 
📌 When you share blog posts on a minimum of ¾ social media platforms and spend 15 minutes for each site to share them then every day you are killing about 1 productive hour.
📌 Also, if your niche audience's active time conflicts with your daily routine, then you must be awake and active at that time.
📌 Moreover, always staying actively informed of your work environment to share blog posts timely with hinder your other work growth. 
These all major problems can be resolved easily, just by scheduling social shares directly from your website. No more hassle in sharing multiple social media platforms, as well as maintaining the ticking clock every time to schedule social share. You can do it in your free time seamlessly. 
10+ Things You Wish You Knew Before Starting To Schedule Social Share: Pro Tips
Hopefully, you get a clear idea of why you should go to schedule social shares. Now is time to check out the key factors that must be checked before planning for social share strategy. 
1. List Down Which Social Media Platforms Are Right For You
Not all social platforms are suited for every category of business. Moreover, your all niche audience obviously won't be active on all social platforms nor only one. Everyone follows sites of their needs. So the first thing you should do is analyze and list down the platforms that go well with your business category. 
2. Study The Active Time Of Your Audience In Social Media
In the era of globalization, your business has the potential to grab attention from audiences all over the world. Moreover, if you have a niche audience globally then it won't be wiser to skip big chunk potentials only for not matching your geographical time zone. So, you have to analyze your user base, other competitors and set the times to schedule social shares seamlessly. This will give you max reach and engagement on your blogs and websites. 
3. Identify Your Niche Audience Geographically
Apart from marking social share schedule time by active time span, you must segregate the audience geographically as well. Based on races and culture, the interest of people, attracting views changes. So while planning to schedule social shares, writing copy keeping this point in mind will help to increase blog open rate.
4. Practice Adding Hashtags To Social Media Shares
May it seems some lame practice of GenZ people. But hashtags have great potential in the marketing team. If you can use trending hashtags with your social share, it will help to bring your posts on trending. So whenever you schedule social shares, make sure to use effecting and relative hashtags. 
By the analytical data, adding 3 hashtags brings more reach and engagement. 
5. Get The Best Social Share Management Tool For Website
While you are managing to schedule social shares, all you need is an automated tool. That will make everything as smooth as butter. For WordPress users there are many stunning social share management tools available; SchedulePress, Nileo Content, etc. with these stunning plugins you can easily automate scheduling social shares. Among all, SchedulePress plugin has exclusive features like creating ready social share templates, missed schedule handler, paginate navigation for scheduled posts, and many more. 
6. Become Used To Adding Emojis In Social Media Share
Adding emojis to your social share helps to grab audiences' attention. Moreover, the appropriate emojis also express the contents gest attractively. Research has shown that adding emojis to your social share boost engagement. So from now on, get a stunning tool/ extension on the browser to get your favorite & interactive emojis at a glance. 
7. List How Of Often To Post On All The Social Media Platforms
So we are on the same page that we should schedule social shares and maintain many key factors. But how many posts should be scheduled on each social media platform? It's a matter of analyzing from your side. Research others and find out how many posts they usually post for a month, week, or day. Then schedule social shares according to that. 
8. Discover The Character Counts Of Social Platforms
There is a common practice to create a single social share copy and use that for all social media platforms. Let's explore some demerits of this action plan. When you schedule the same social share for all the platforms, there is a chance they will appear on the same audience feed multiple times. That will create disturbance and only for this you may get one less follower! 
Another important fact is that now all social platforms have the same character count for their text section. So before writing down social share copies, give a look at the word count of your chosen social media platforms.
9. Engaging New Audiences By Resharing Website Posts 
Will the shared blogs and posts on social media for once bring the audience to your site lifelong? The answer is no. When you will keep actively resharing social shares on platforms, old posts might get lost in the crowd. So you should maintain a section in your social share strategy action plan to reshare old posts frequently with different social shares. 
10. Follow The Best Practices For Each Social Platform
If catchy funny videos are bringing more engagement on TikTok doesn't mean they will do the same for your Facebook audience. Moreover, URL adding options to each social media post's social share is different. So, before creating one content for all, point down the most popular best practices for each social platform and schedule social shares according to that. 
11. Focus On Developing Own Personal Brand On Social Media
Now one of the successful strategies to get more engagement and reach on social media is building your own personal brand. Then your self promoting posts will bring a huge audience to your website. It will also make less dependent on paid marketing. And you will already have a loyal audience group. 
Start Boosting Site Engagement With Social Shares
All these points mentioned above are easy to follow along with a skyrocketing impact on your site engagement. So scheduling social shares without maintaining these will increase traffic on your site. So why are you waiting? Book mark this blog start following all step by step. 
Moreover, to be the first to get resourceful guidelines like this, then subscribe to your blog now.