Gutenberg is the visually driven Block Based editor that has been introduced with WordPress 5.0. With the latest release, WordPress has replaced its Classic Editor, with Gutenberg Block Editor which was previously available as a plugin. For regular WordPress Users, especially the mass people like Elementor users got in the dilemma whether they should switch to the new version of not as it brings massive change for the editorial experience.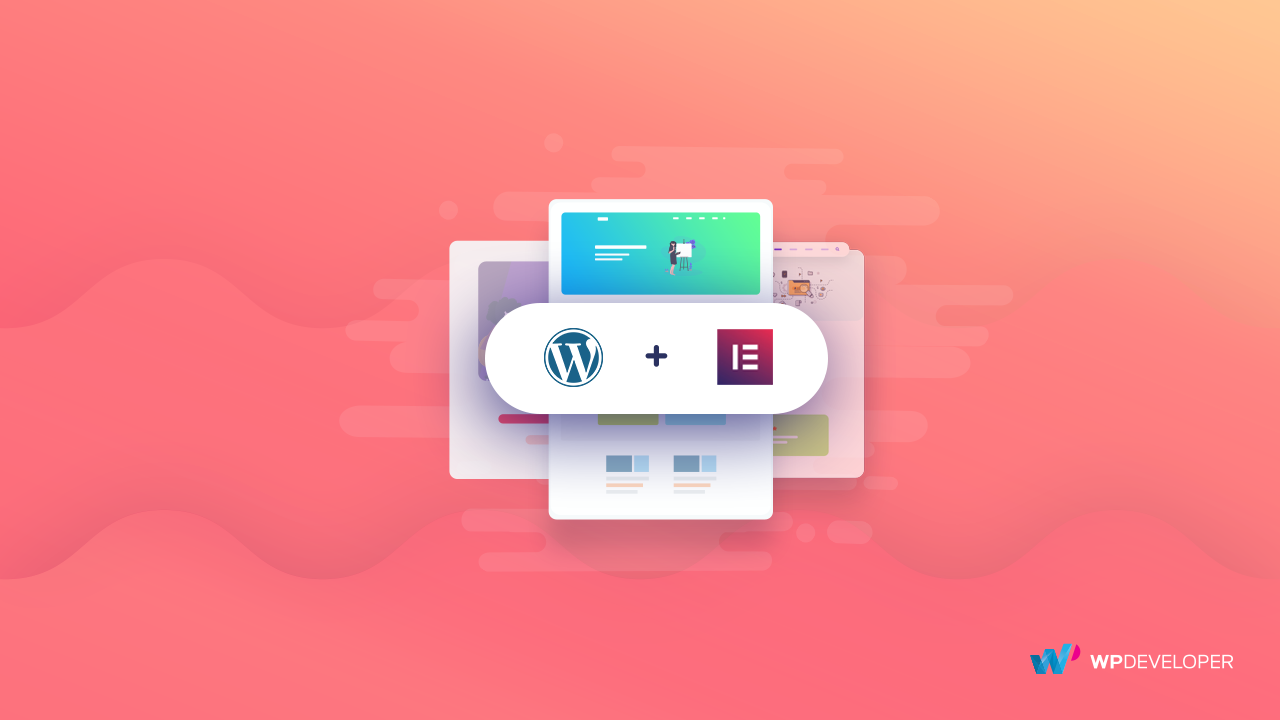 However, it is not like Gutenberg just got released. It was up on WordPress.org for a long time. But WordPress 5.0, which was released back on 6th of December, made it default editor replacing the Classic Editor. This particular event has boosted Gutenberg's development and landed it on everyone's News Feed.
Plugins for WordPress, like Elementor which sit at the Million Active Installation Club' had started developing its own plans to address the inclusion of Gutenberg into WordPress.

WordPress 5.0 & Elementor
You might be wondering isn't Gutenberg and Elementor rivals then? Well, we can say that they are, as we can associate terms like Page Builder and Drag-and-Drop to both the Plugins. But Elemetnor Team has a completely different view on the matter.
Elementor Team has written on their Blog that they do not take Gutenberg as a rival nor as an alternative. So, will Gutenberg replace Elementor? Elementor team doesn't take that as even a possibility.
The arguments that underpin their statement is this, from the very beginning Elementor has offered the easiest, fastest and most useful way of building websites. And they have proved to be the best Page Builder by climbing to the top of all other alternatives in the market in just a time-frame of two and a half years.
And Elementor not only has proved itself to be the best but has successfully encouraged others to share their dream. Currently, there are more Addons and Template Libraries for Elementor than any other Page Builder plugin. However, this did not stop Elementor from offering something new to their users who would rather switch to Gutenberg.
What Happens After You Upgrade To WordPress 5.0 & Want To Create Post With Elementor?
Elementor team published a blog on the same day, WordPress 5.0 was released stating that Elementor and WordPress 5.0 are 100% compatible with each other. This means, even if you upgrade your Website to WordPress 5.0, you can still keep using Elementor without any interruption.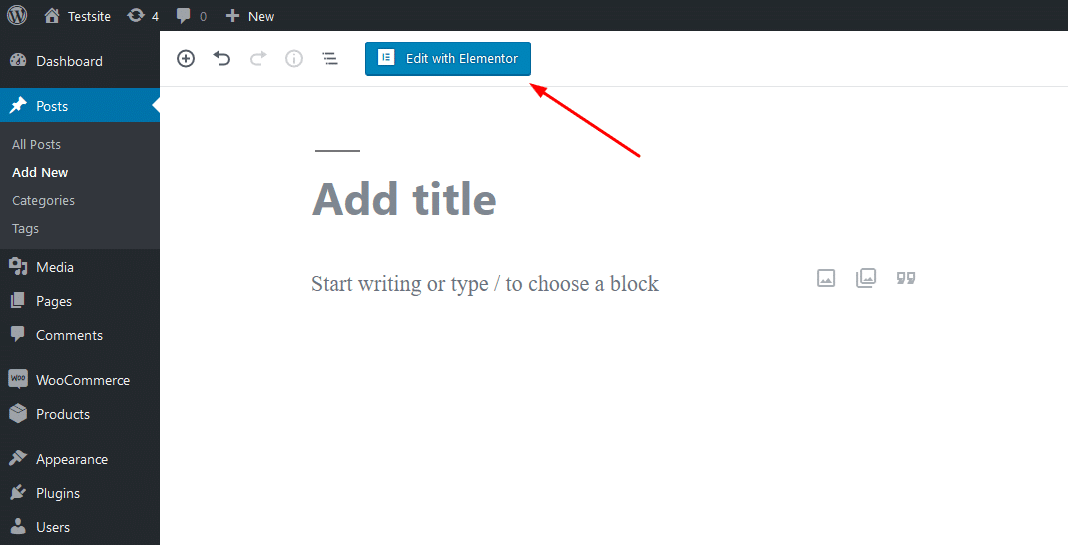 After you upgrade to WordPress 5.0, you will see the Edit With Elementor Button, sitting at the top. Clicking on the Button will open the old and familiar Elementor Interface, basically quicker way to start using Elementor.
There is another way you can jump straight into the Elementor Interface. And you can do it straight from your WordPress Dashboard.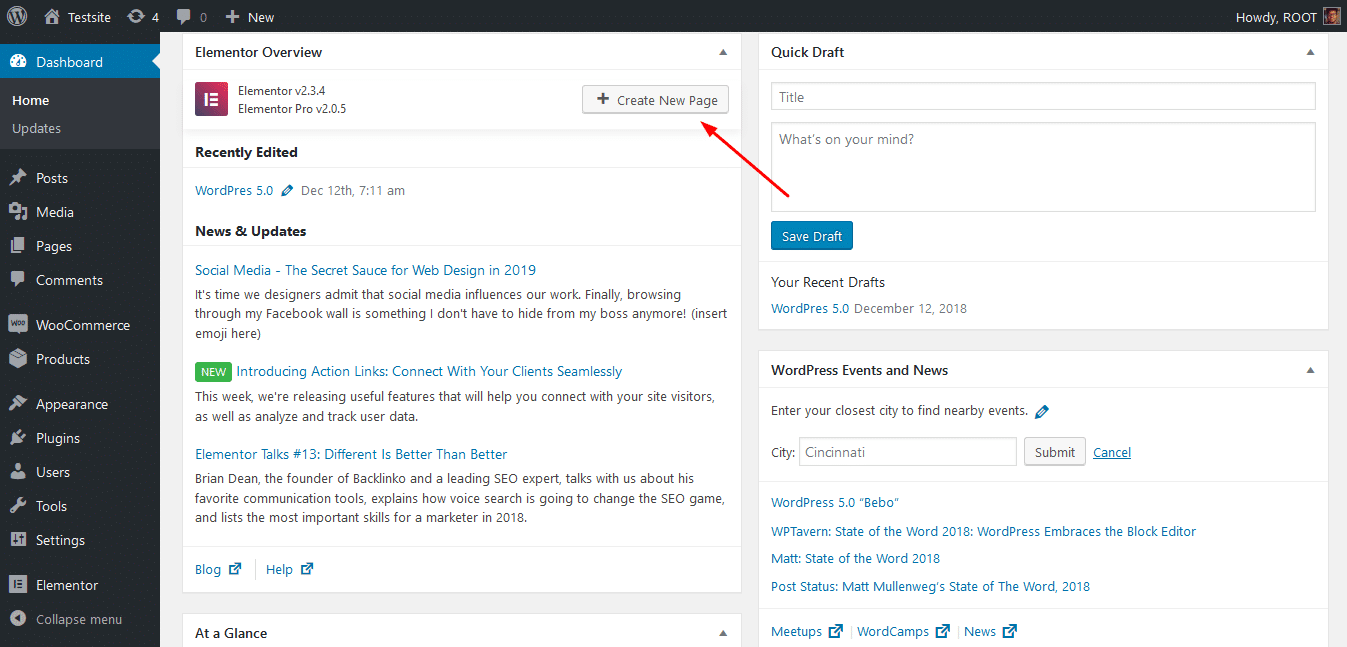 Can You Use Both Gutenberg And Elementor?
Yes, you can. This might be the greatest feature upgrade. With the Classic WordPress Editor, you could not insert Elementor Templates into the interface. But now you can.
This particular feature is greatly helpful when you are writing a blog and need to insert a simple Call To Action button or a Subscription Form that you had previously created with Elementor.
In fact, Elementor has a dedicated plugin that lets you insert any Elementor Template into the Gutenberg Editor.
Here is how it works:
First, go to the WordPress repo, and search for Elementor Blocks for Gutenberg. Then install and activate the plugin.
Inside the Gutenberg editor, add the Elementor Block.
Then, choose the template, and it will automatically preview in Gutenberg.
So, we now know what Elementor does not think of Gutenberg as a rival, rather the Block Editor made it simpler for Elementor users,
Wrapping Up!
We can say, without any second thought, that the Feedback on Gutenberg is totally mixed. Some people are arguing how exciting this new upgrade is, while others are expressing concerns over its usability. But let's not jump into any conclusions yet. Only time will show us how Gutenberg does under such pressure.
Before we finish, did you know that you can switch Back to the Classic WordPress Editor on WordPress 5.0 and keep using the previous editor? It's actually very easy. As stated before, the Classic WordPress Editor is now available as a separate WordPress plugin. You can check out how to keep using the Classic WordPress Editor.