Managing online job boards to recruit employees for your organization is not an easy task to do, but the grace of some best WordPress Job Board Plugins successfully made this happen. You can create your company profile, post any type of job posts, collect resumes and make it sorted by doing all other relevant work in advance using these exclusive WordPress job board plugins. So let's jump into the matter directly!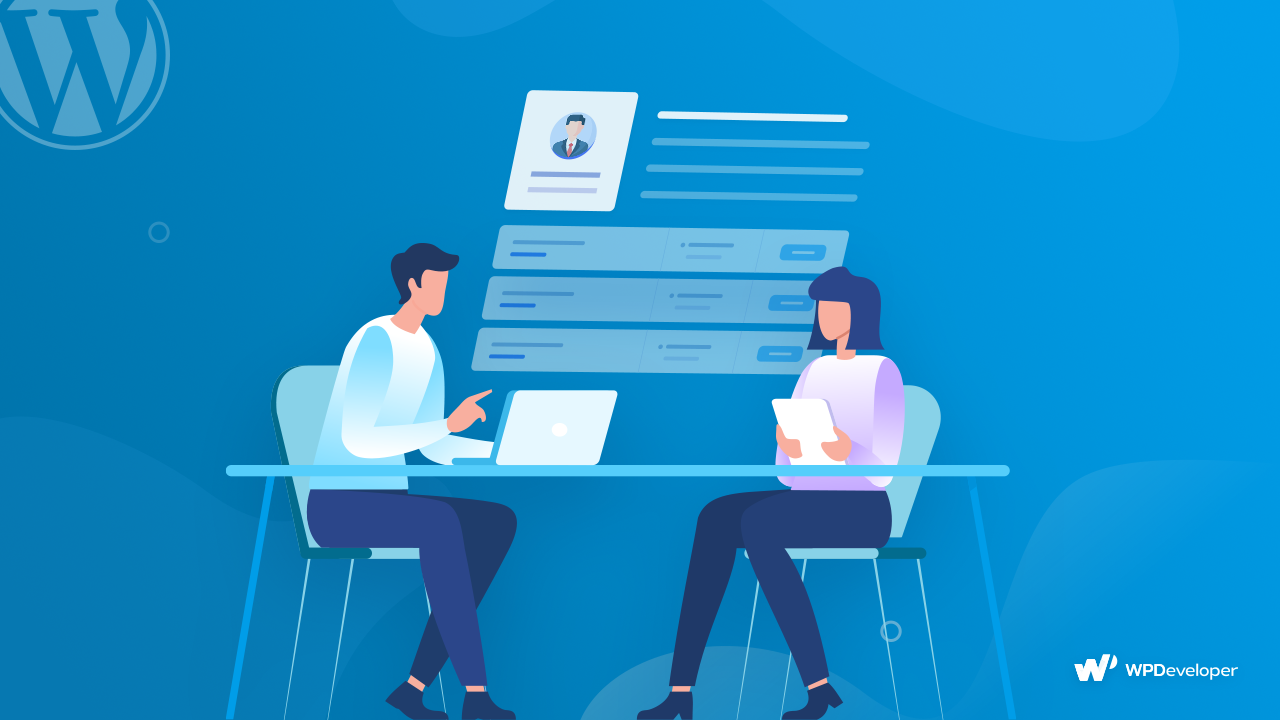 Top Features To Look At WordPress Job Board Plugin 
Before taking any decision to use or purchase any of the WordPress job board plugins, you have to first know what you should look for and make it compared with others. There you have to enlighten yourself with the must-have features and functionalities that will make your online recruitment hassle-free in WordPress.
Help you to create a complete company profile with a smart job alerts feature

Take online assessments, set question sets, or quizzes on sorting the right candidate faster

Insightful analytics to track and monitor details about the remote hiring

Analyze & filter candidates, in-app messaging systems, & video conferencing available

Customize application forms, and personalized career pages to make your hiring profile interactive

Highly recommended if the solution has AI integration and makes the process faster with automation

Check out whether the plugin is reviewed well and provides expert support.

If your selected job board plugin is integrated with any drag & drop page builder.
Get The List of Best WordPress Job Board Plugins Compared: How To Create Job Posts Instantly
As you have already known about some exclusive features that you might have to look at on your WordPress job board plugins, compare them and make the ultimate decision of usage. Check out the lists below: 
Easy.jobs – All In One Remote Hiring Solution For WordPress

Easy.jobs is an all-in-one SAAS recruitment solution that's exclusively available in WordPress plugin versions. Its easy-to-use, user-friendly interface can help you to create a beautiful brand profile with its ready layouts and integrate your Easy.jobs career site with WordPress just by following a few steps.
As Easy.jobs is considered the best job manager in WordPress with powerful page builder Elementor support. All you have to do is to subscribe to any of its packages to use this plugin and integrate EasyJobs with your WordPress site. You can use this remote hiring solution free with the initial package and can upgrade to a higher package anytime to use its all advanced premium features.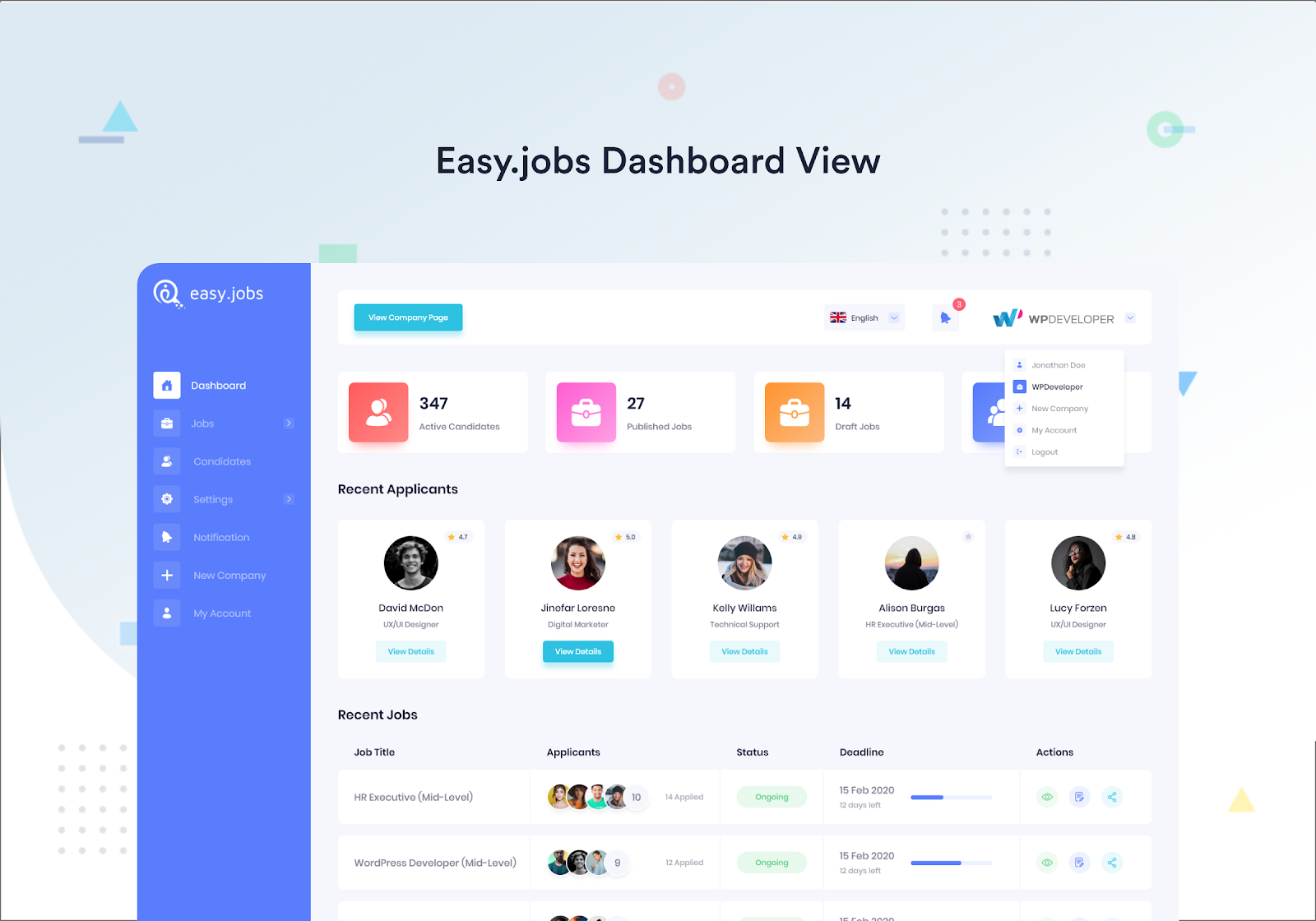 Easy.jobs will help you to track, analyze, communicate, and evaluate your candidates through its advanced filtering options, insightful analytics support, in-app messaging facility, and a lot more.  As much as job posts, types, categories, information, or all details can be configured instantly following Easy.jobs easy setup process. You can maintain and organize your job profile beautifully using this one solution.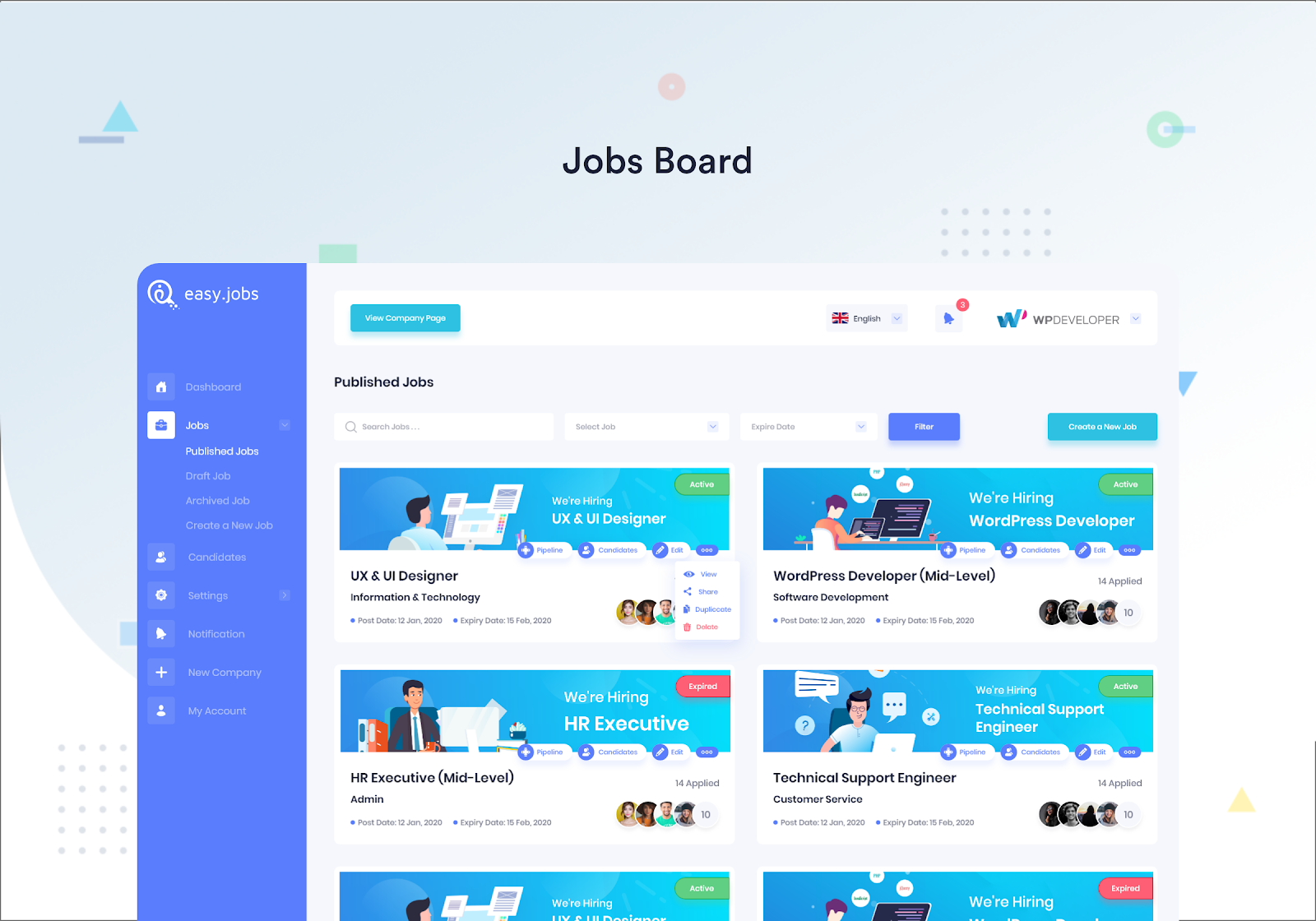 You can use any ready career site themes from your Easy.jobs and customize the outlook of your career site as per your preferences. Without adding any code or extra effort you can make your brand profile stand out.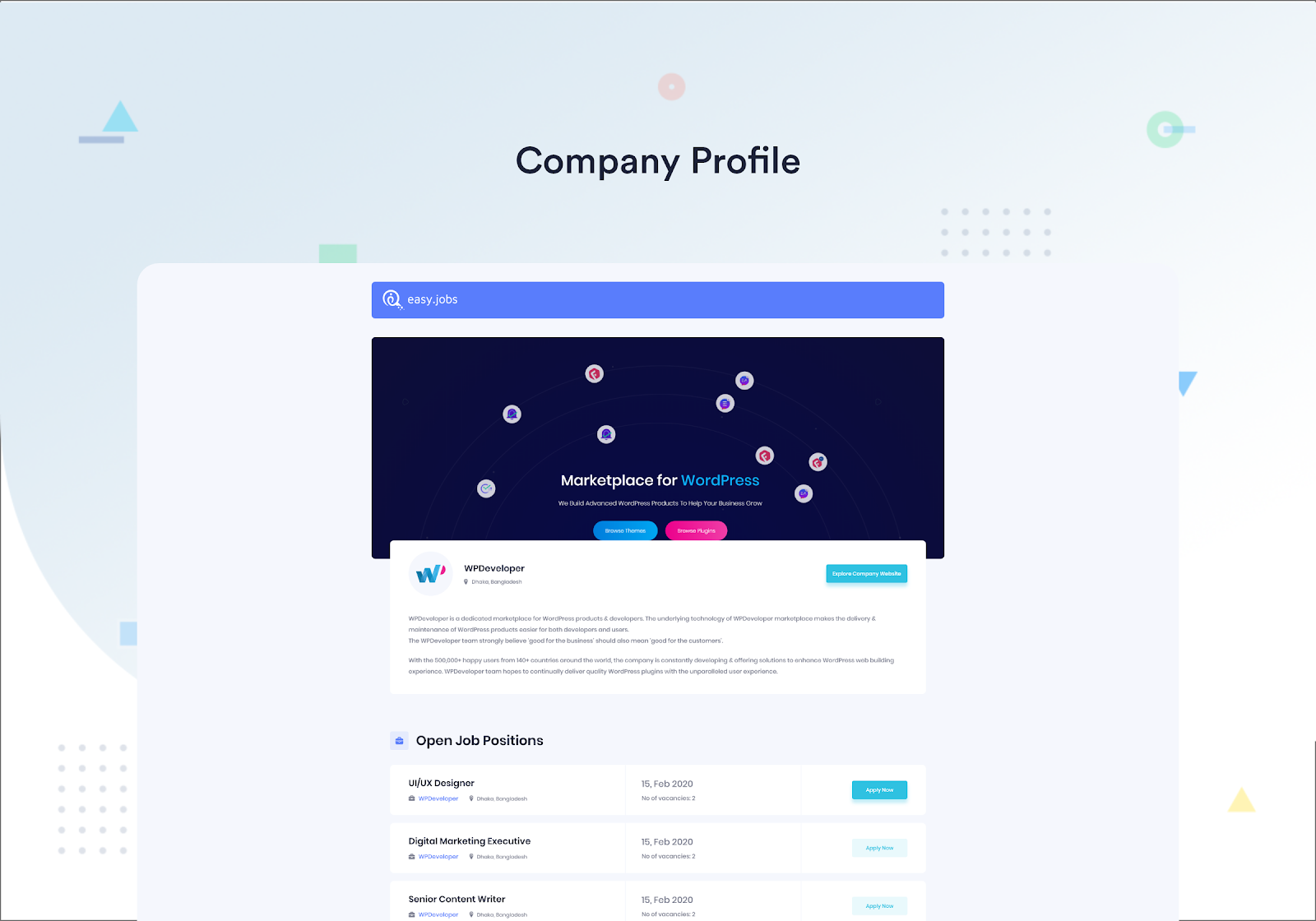 Besides, Easy.jobs can help you to set up question sets, quizzes to take an instant online test, track and measure your candidates' results. You can then decide which applicants are capable of the next step and your remote hiring process quicker, effortless.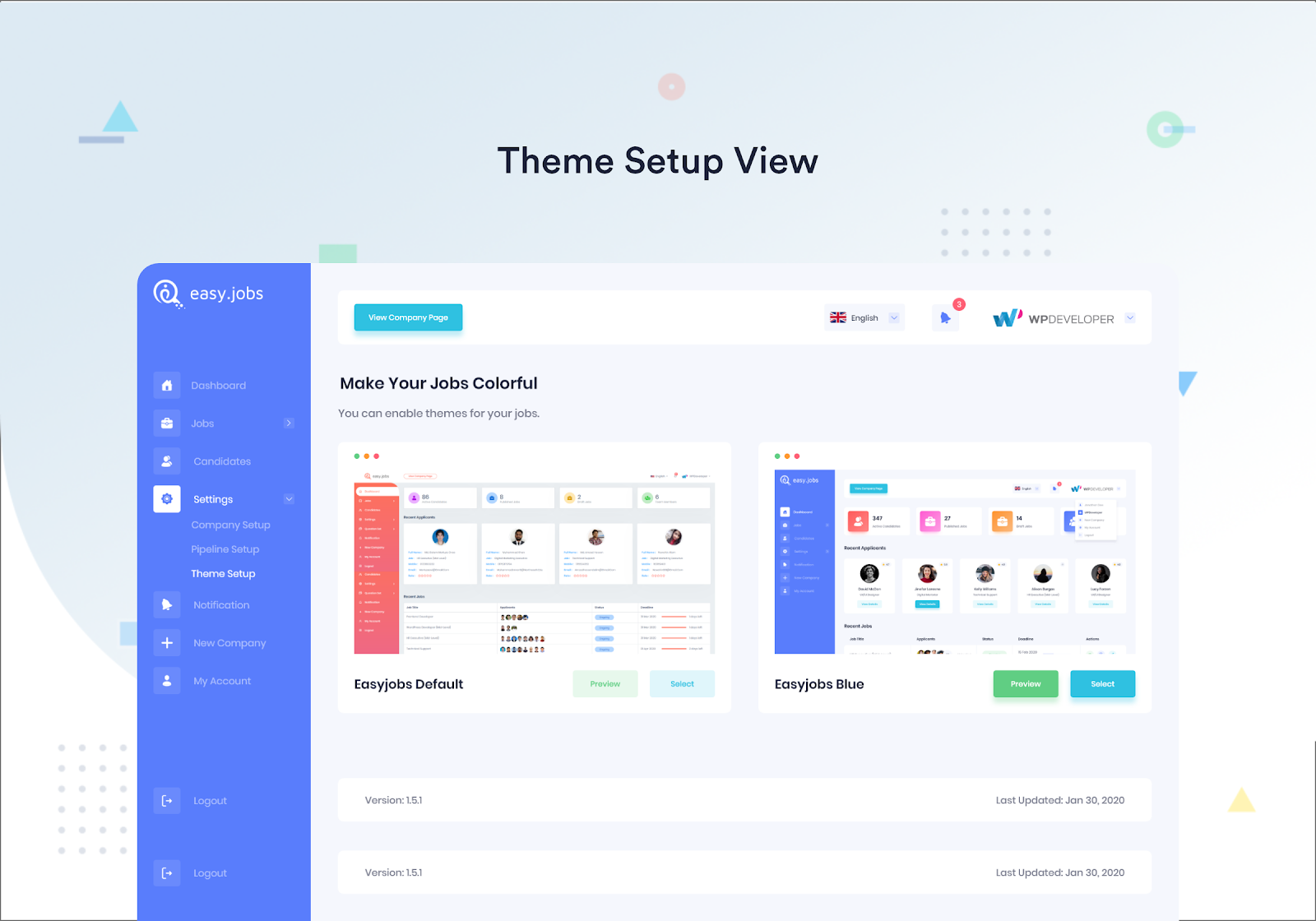 This is not yet, Easy. jobs' powerful AI screening system can help you to make your remote hiring process smoother and faster than anything. Now by using this one solution, you can get all the facilities that you have seen in the list of the must-have features above and take advantage.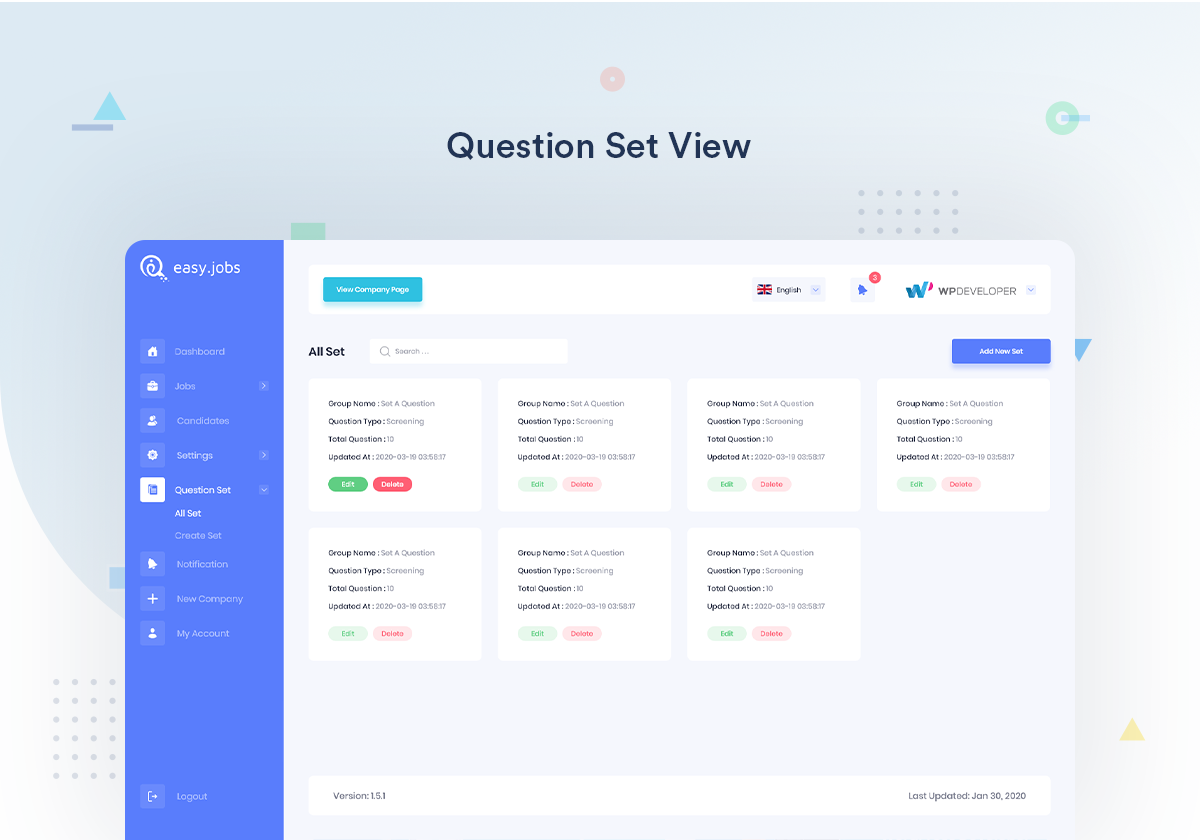 Easy.jobs Solution Exclusive Features  
Easy-to-use, user-friendly interface, & compatible with Elementor page builder. 

Create multiple job posts, configure types, categories and create your brand profile.

Advanced search, filter, and insightful analytics support to track & analyze online applications.

Set question sets and get detailed reports immediately to measure performance. 

in-app messaging systems, & integrate with video conferencing platforms.

AI-powered screening systems with automation to hire the right candidates faster, and a lot more.  
Simple Job Board For WordPress – Get The Right Skills On Board 

Simple Job Board is introduced by PressTigers and is considered as the easy, lightweight WordPress job board plugin. With the help of these, you can easily add a job board to your WordPress site without any hassle.

Using this plugin, you can add separate job categories, types, locations, configure your company profile, and more using these free WordPress job board plugins. And the outcome of making all changes can be displayed as something like the image below or you can change it accordingly as per your requirements.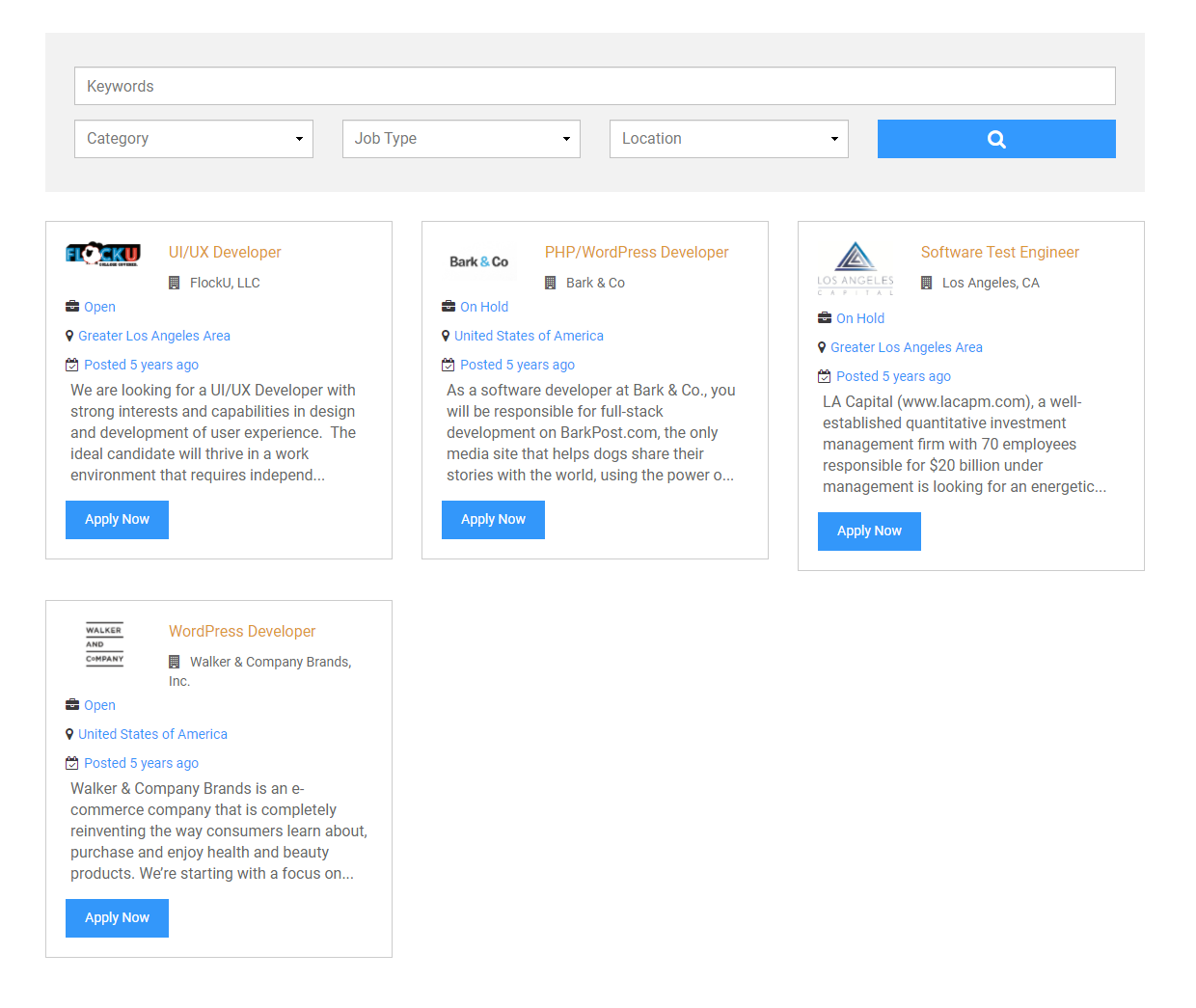 Simple Job Board Plugin Exclusive Features 
Extendible plugin to manage your various job offers. 

Customized job board facility, add multiple job listings, & make them view. 

Insert any type of job post with shortcodes with customized application forms. 

Insert notes to an application right from the dashboard, multilingual supports & more.
WP Job Openings – Super Simple Job Listing Plugin For WordPress

WP Job Openings is one of those WordPress job board plugins that have a simple but powerful interface solution to set up your entire job listing page on your website. It comes with ready layouts, following modern design methods, advanced filter options, and a lot more.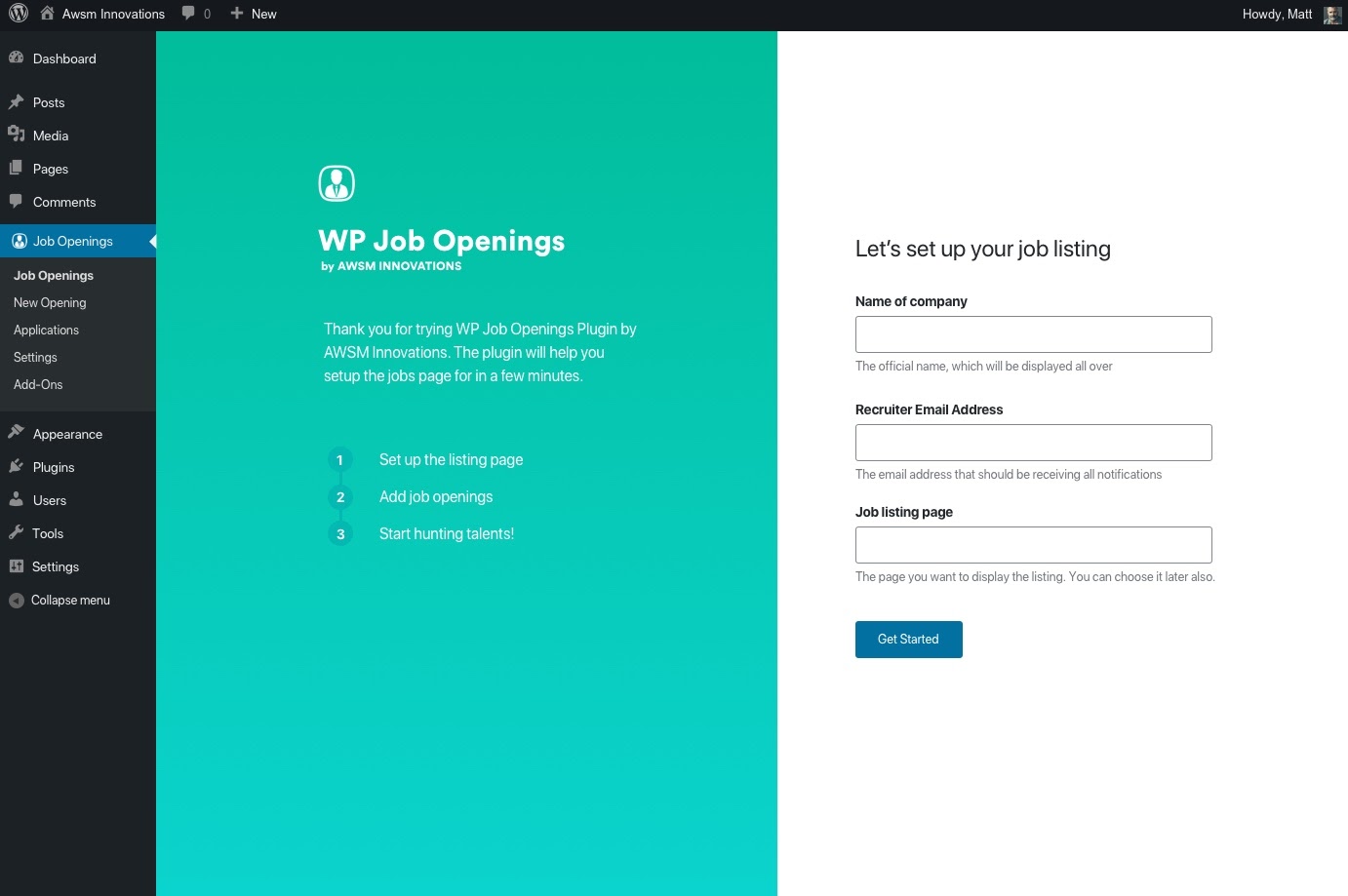 You can add as many as job categories you want, set up the types, insert all the necessary information about the recruitments, and more details to make it interactive and informative for applicants. Those applicants can easily look for their desired posts, filter, and apply immediately. And it's available in both free and premium versions for WordPress users.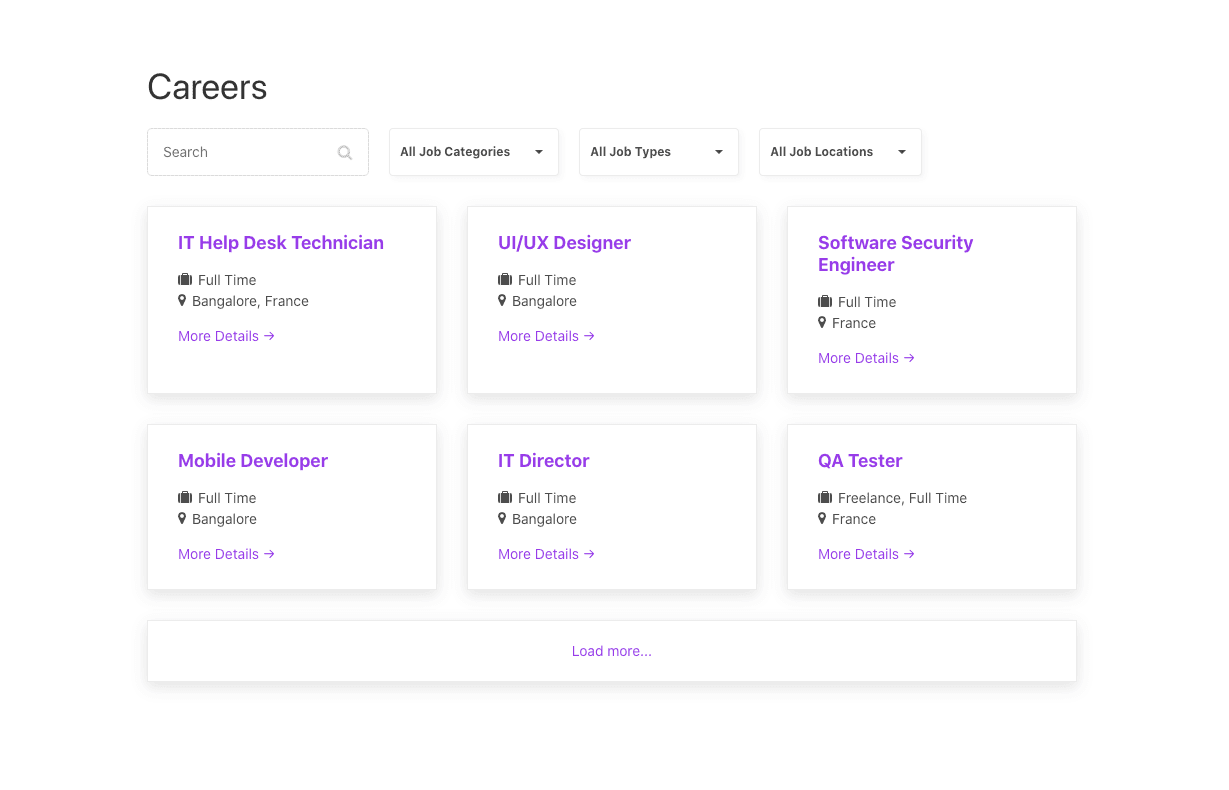 WP Job Openings Plugin Exclusive Features 
Super simple, powerful, easy to set up & use. 

AJAX-powered job listing and filtering facilities.

Clean, user-friendly interface that comes with two modern layouts. 

Offers default application form, & user role management facility. 

Get email notification templates and provide WPML support with a lot more. 
Job Manager & Career – Manage Job Posts Efficiently In WordPress

Job Manager & Career plugin for WordPress is developed by ThemeHigh. It lets you manage all your job posts efficiently and can set up the career feed with ease. You can do simple copy-pasting shortcodes on your respective job pages and make them published.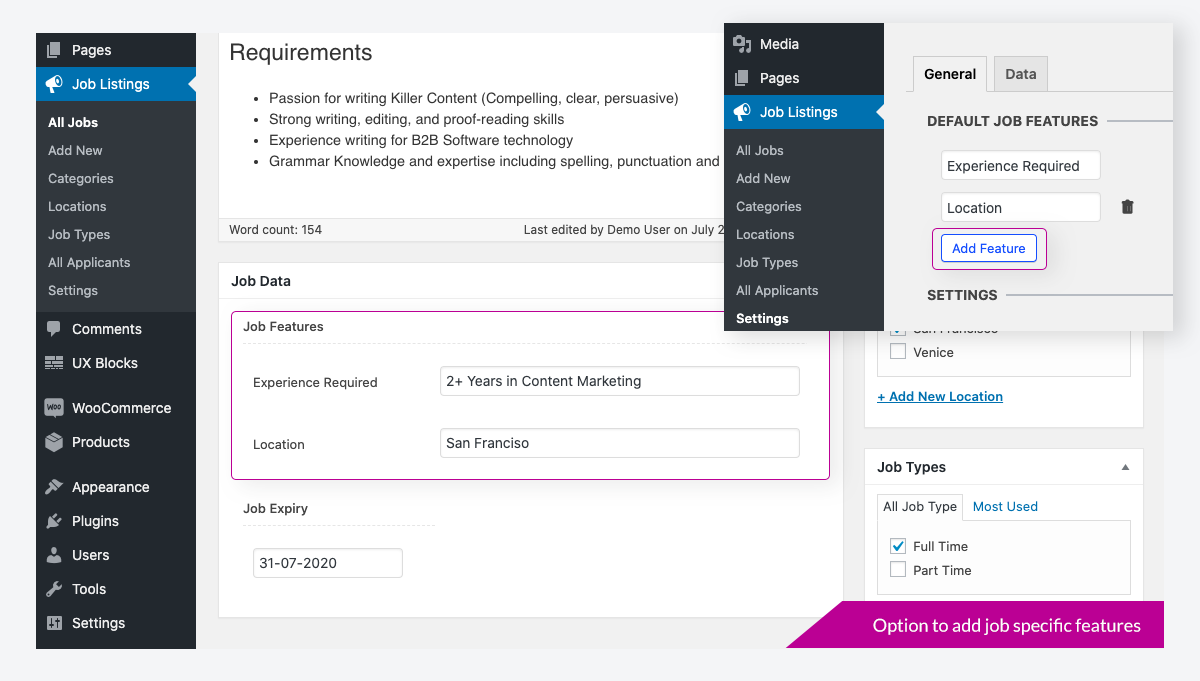 With the help of this simple job board plugin, you can insert all your job details like the job title, description, or any other additional things as per your needs. You will get the full freedom to make your career page in WordPress just the way you want. This WordPress job board plugin is available in both free and premium versions.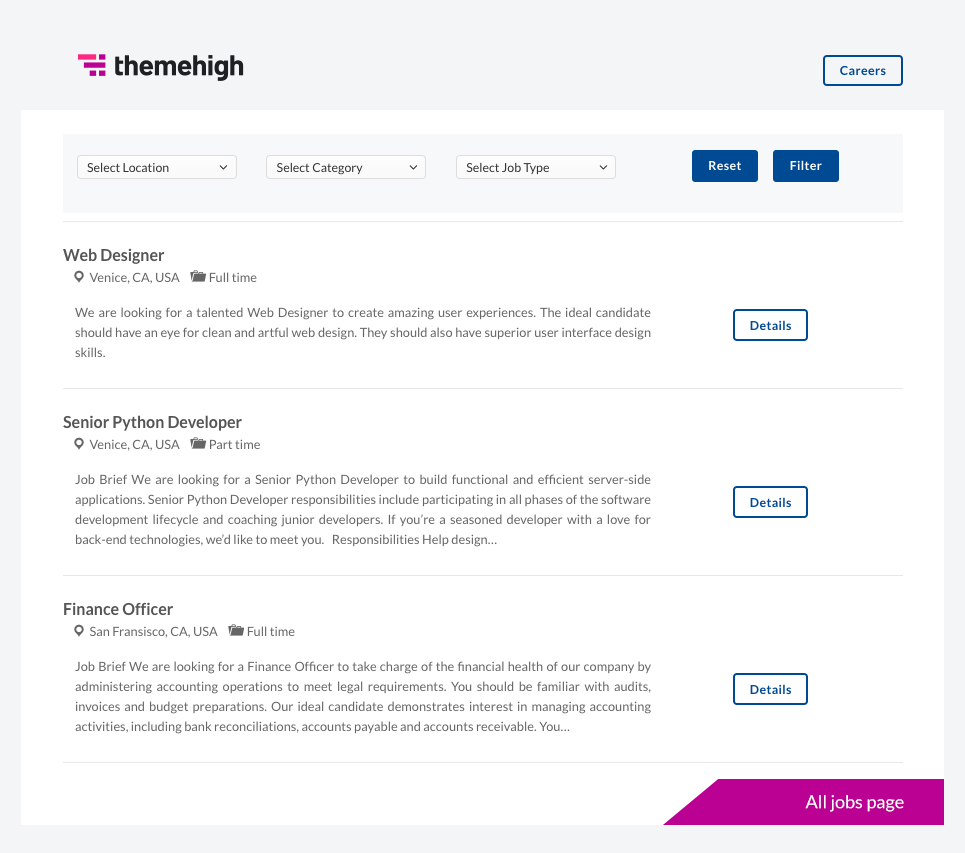 Job Manager & Career Plugin Exclusive Features  
Manage your job details, title, description, & job expiry. 

List jobs under locations, job types & categories. 

Multiple advanced methods are implied to collect job applications. 

Add any specific features to your job post & make it featured. 
Choose Your Favorite WordPress Job Board Plugin & Get Started Today!
As you have seen each WordPress job board plugins' exclusiveness, among them Easy.jobs for WordPress gets all the top features that you should look for. It offers all the latest updated features that should be included in one complete remote hiring solution to facilitate its user base and make the hiring process faster online. 
But it's totally up to you to analyze and compare all these WordPress job board plugins in detail. Because not everyone will look for the same things. That's why this blog's purpose is only to enlighten you with the available best solutions that can help you take your perfect decision and benefit. 
So hope you find this blog helpful and feel free to share your opinion by commenting below. If you want to read more exciting blogs go through this link and don't forget to join our popular Facebook community to get attached with all WordPress experts.