Have you ever thought of switching to WordPress Gutenberg from any other page builders or editors? If you don't, you might agree to use the Gutenberg editor right now after reading today's article. So, let's dive in and find out whether we can change your mind about coming back to Gutenberg or not.
It has been almost 4 years since WordPress Gutenberg was released, and for WordPress, this was a significant turnaround. At the very beginning, there was reluctance among people to explore the new editor, though this is not surprising. Because it is quite normal not to be interested in embracing a new editor when you have been using another for years that works well. However, with time, many became interested in using the WordPress Gutenberg editor, as it offers many advanced features that are useful.
Switching from one editor to another might seem like a big hassle when you have been using the Classic editor or Elementor for a long time. But once you get used to the Gutenberg editor, you are going to love it.
Presenting WordPress Block Editor – Gutenberg In A Nutshell
Since the release of the Gutenberg editor, there have been many improvements, and it is now the default WordPress editor. With new updates, Gutenberg came with advanced features that made blogging and page building easier than ever.
What makes WordPress Gutenberg significant is the introduction of blocks for a visually appealing and intuitive page building experience. The interface of the Gutenberg editor is more designer-friendly compared to the Classic Editor, which basically has a Word Processing interface.
Web designing with creative content becomes much easier with Gutenberg blocks since there's less dependency on shortcodes, HTML, and plugins. With easy styling and customization, you can have a smoother web-building experience with the help of the block editor.
Compared to the Classic editor, the Gutenberg block editor is less cluttered, which makes it easy for bloggers or content creators to easily design their pages. The editing space is larger than in the Classic Editor, which is easier to use. Everything is more organized and easy to edit in the Gutenberg editor.
Top 10 Reasons To Switch To WordPress Gutenberg From Other Editors
The goal of the Gutenberg editor was to make web building easy for you. Are you curious to know about the reasons why you must switch to the WordPress Gutenberg editor from other editors? Below are the top 10 reasons.
1. Avoid the Hassle of Obtaining Large Libraries Just For One Function
WordPress introduced Gutenberg, which offers a higher page speed than other editors. You don't have to make your website heavier by downloading heavy widgets or blocking libraries anymore. You can download blocks separately for the WordPress Gutenberg editor and use a single block instead of downloading a big block library that you will never use. This way, you can easily reduce the page loading time and enhance the user experience.
2. Exclusive Blogging Features That Only Available In Gutenberg
Gutenberg offers exclusive blogging features that will change your blogging experience. You will find the Drop Cap feature that will help you to add style to your blogs. Besides, you can now just copy-paste your content and publish them instantly on your website. Moreover, you will get an easy-to-access toolbar to customize your blocks and publish a stunning blog post on your website.
3. Dispensing Dependency With TinyMCE Editor For Good
The TinyMCE editor was a treat for the non-techies. It serves the purpose of formatting or editing a website without knowing a single line of code. As a result, people can easily create and format their blog posts and instantly post them on their websites using it. However, the WordPress Gutenberg editor introduced more advanced features that will help you edit and format your blog as well as create web pages. You can use the Gutenberg editor to create awesome web pages without knowing a single line of code.
4. Utilize WordPress Block Patterns, Libraries To Design Instantly
Gutenberg comes with stunning page-building functions such as building blocks and block patterns that you can use to build your website easily. You will get plenty of blocks for free to design your posts and create your website. In addition, you can install a block library or download blocks separately to design your website. Therefore, you can enjoy the ultimate freedom in designing your website.
5. Don't Need To Be Tech-Savvy To Create Posts with Gutenberg
WordPGutenberg provides the best user experience for everyone. Even if you are not a WordPress expert, you can easily learn how to publish your blogs or build pages using this block editor. It offers a simple and user-friendly interface where you can create your blog posts and pages without any hassle. Moreover, unlike the previous classic editor, it offers a block editor feature that will help you design your page and post with ease.
6. Save Your WordPress Website From Slow Loading Speed
From now on, you can create stunning web pages with the Gutenberg editor. Therefore, you don't need to install any other third-party web page builder on your website. So, while using Gutenberg to build amazing web pages, you can save your website from slow loading speed. In addition, you can supercharge your Gutenberg editor with the blocks library and create your dream website in a short period of time.
7. Edit Your Blog Without Any Distraction 
Gutenberg comes with all the advanced blogging features that change your blog publishing experience. From now on, you can easily navigate your content structure just like you do at Google Docs. So, even if you are writing a 5,000-word blog, you could jump to any heading without wasting your time from List View feature. Besides, this block editor has a "Spotlight" feature that will help you focus on a single block and edit it without any distraction.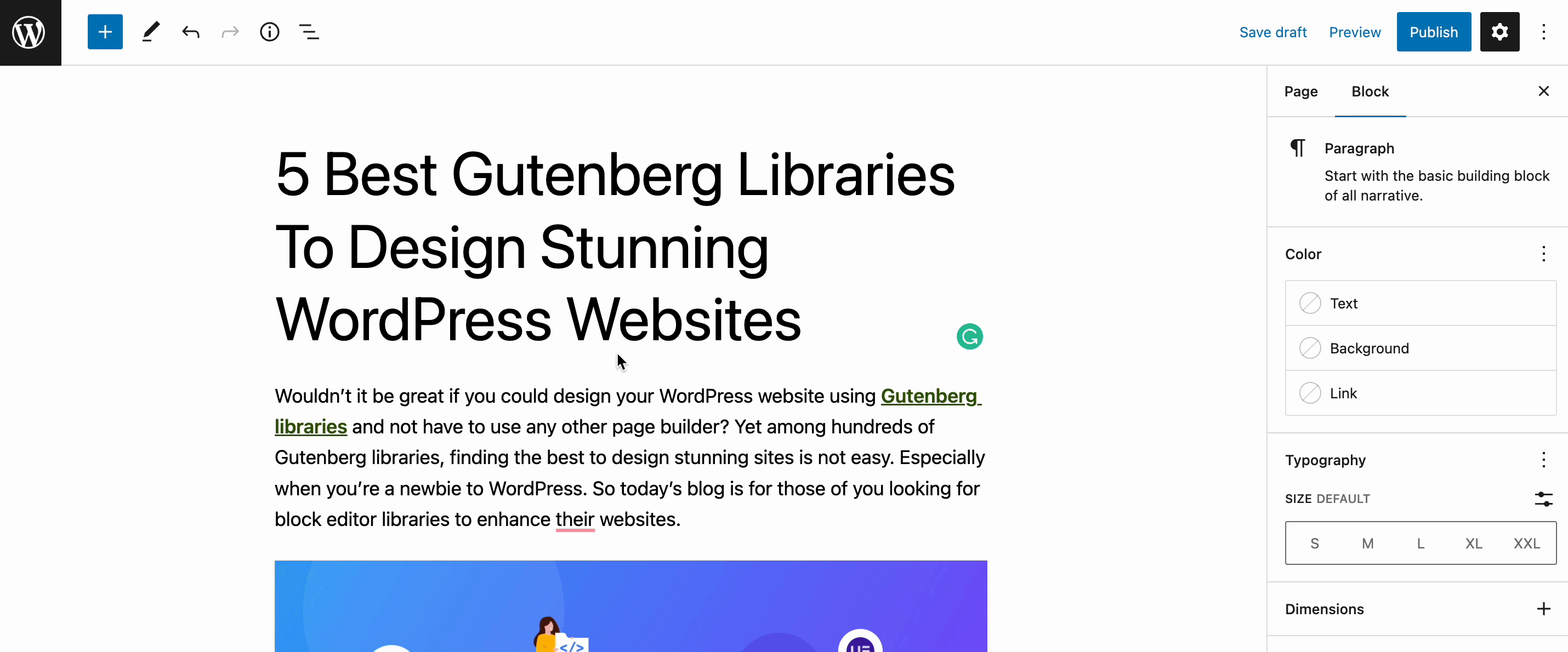 8. Get Exclusive Website-Creating Features Without Spending A Penny
The Gutenberg Block Editor comes as the default editor on the WordPress website. That means you don't have to spend additional money to create stunning web pages, it's FREE. From now on, using Gutenberg, you can create blocks and save them to reuse on another page. Therefore, you can build your dream website without any hassle.
9. Smoothly Embed Media Contents From Popular Sources
Embedding media content is super easy with Gutenberg. You can simply drag and drop media content from popular sources and embed it on your website. Additionally, you can drag and drop images from your device and upload them to your website. Thus, your valuable time will be saved while publishing your blog or creating a web page.
10. Easily Include Additional Customized HTML Codes
Gutenberg is a page editor that will help you create awesome web pages without any coding. However, if you want to add an extra bit of customization using codes, you will find that option there too. You can easily customize your blocks using HTML codes, tweak the borders, and modify your images without any hassle. Furthermore, you can add a new section to Gutenberg's page editor by using codes.
Get A Kickstart In Website Designing With Gutenberg Block Editor
Gutenberg's block editor is evolving with new features and functionalities. It is now considered the future of WordPress. As time passes, more and more features are going to be added to this editor to ensure a better web-building experience for its users. So, if you are still confused about whether to start exploring Gutenberg more, now is the best time to get started.
After all, you don't want to miss out on future WordPress developments that will undoubtedly improve the Gutenberg block editor even more.
Was this blog helpful for you? Feel free to share your thoughts in our Facebook community and subscribe to our blogs for useful insights, tips, and all the latest WordPress updates.