Social Share is a great way to reach more people and let them know that you have published a new blog post on your website. It doesn't happen automatically if you are using WordPress but there are ways to make it automated so that when you publish your next blog post, it will be automatically shared on your Facebook, Twitter, LinkedIn, or Pinterest accounts.

Why Social Share Is Important For Blogs
Blogging is probably the easiest method for reaching out to your followers. Students, Professors, Experts all consider blogging as an effective method for reaching out to new followers and share their knowledge. There is nothing wrong with this practice but you will definitely feel some pressure if you want to acquire new readers via your SEO Rank.
Users usually search for what they are looking for via typing in search strings into popular Search engines i.e. Google. And there is a common practice among all that, users will click the first search result, and if your luck is good, users can even open every link on the first page of the search result. But chances are you will not be this lucky all the time.
This is why Social Share is important. It helps you leverage Social Media to drive traffic to your WordPress Website. Via Social Share you can make repeated use of specific key-words without Google penalizing you for keyword stuffing. Moreover, if you regularly post on your Social Media Accounts it means your readers will see you are active and frequently have new things to offer.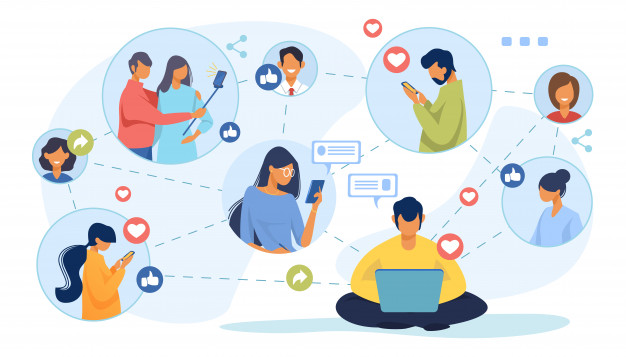 Automate Social Share For Your WordPress Blog
Using the ScheduPress advanced content planning tool of WordPress which is formally known as WP Schedule Post before can help you to auto social share your WordPress blogs from the editor. Digital Marketers, as well as Authors, can benefit from SchedulePress and its handy features. Check out this latest rebranding announcement blog of Schedulepress and get to know all exclusive features at a glance.
This plugin comes with Social Share Integrations. As a result, you no longer have to rely on additional WordPress Plugins to automatically share your scheduled content on multiple social profiles & groups of your Facebook, Twitter, or others.
Install and Activate SchedulePress
To run SchedulePress on your WordPress Website, you need WordPress Version: 4.0 or Higher and PHP Version: 5.4 or Higher. Once you ensure that you can download SchedulePress from WordPress.org.
Go to the WordPress Dashboard "Add New Plugin" section.
Search For "SchedulePress".
Install, then Activate it.
Connect Your Social Media Accounts To SchedulePress
After you have successfully activated SchedulePress on your WordPress Website, it's time to configure it. To automate Facebook Social Share for scheduled content on your website you need to perform two tasks, first, you need to create a Facebook App and second, you need to connect it with SchedulePress.
Let's have a look at how Facebook Posts look using SchedulePress.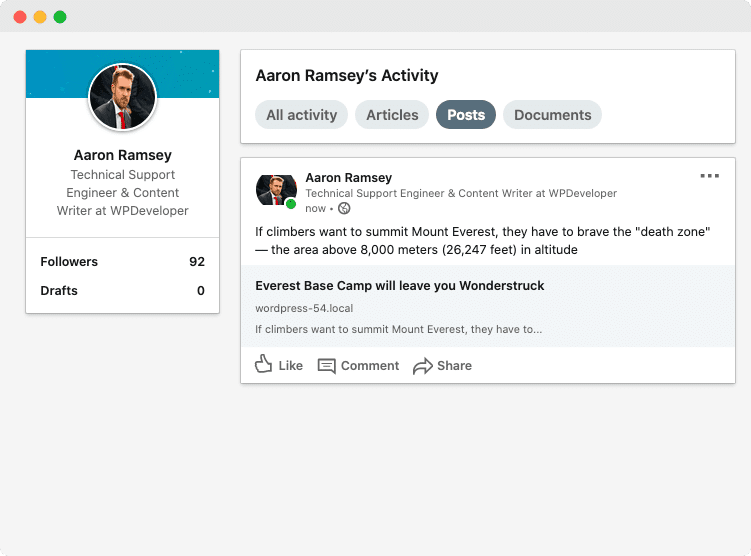 SchedulePress PRO allows you to automatically share your scheduled WordPress posts on your Twitter account. By connecting Twitter with SchedulePress, you can automatically tweet your blog posts in the scheduled time.
Let's have a look at how Tweets look using SchedulePress.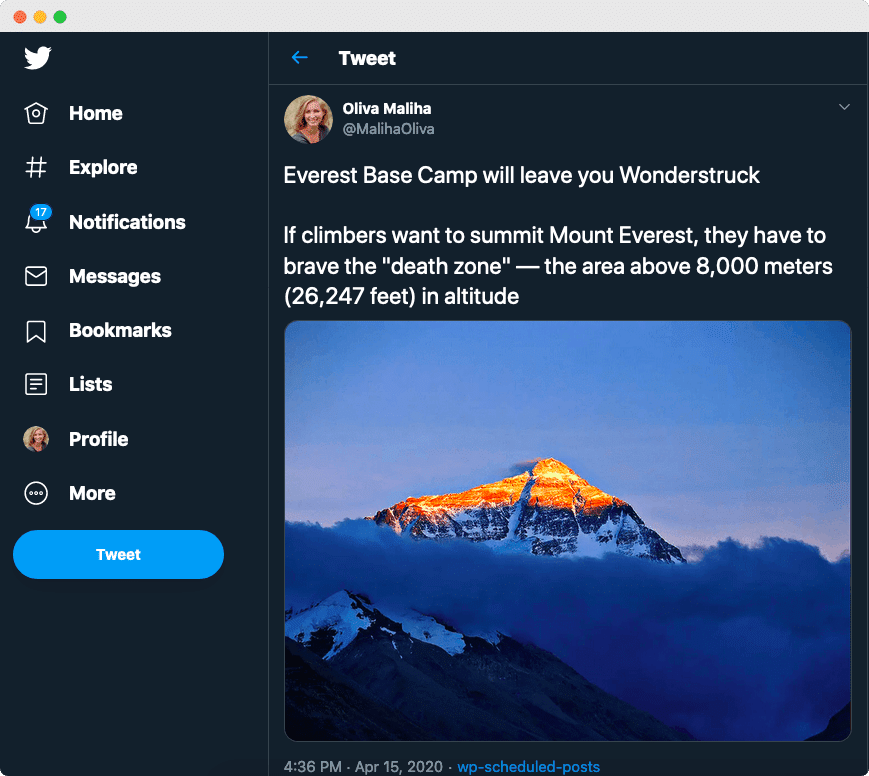 And last but not the least, SchedulePress PRO also allows you to automatically share your scheduled WordPress posts on your LinkedIn account. But before you do that you need to connect your Linkedin Account on SchedulePress.
Let's have a look at how Linkedin shares look using SchedulePress.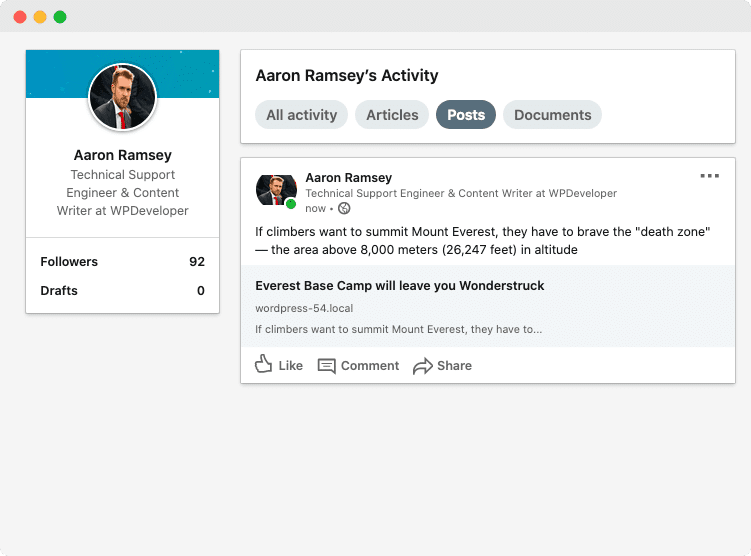 Configuring Social Share Templates
After you have SchedulePress running on your WordPress Website, you need to configure the template for your Social Share. To do so, open your WordPress Dashboard and navigate to SchedulePress>>Social Templates.
After that, you will find a Social Share Box right beside your Content Editor Window.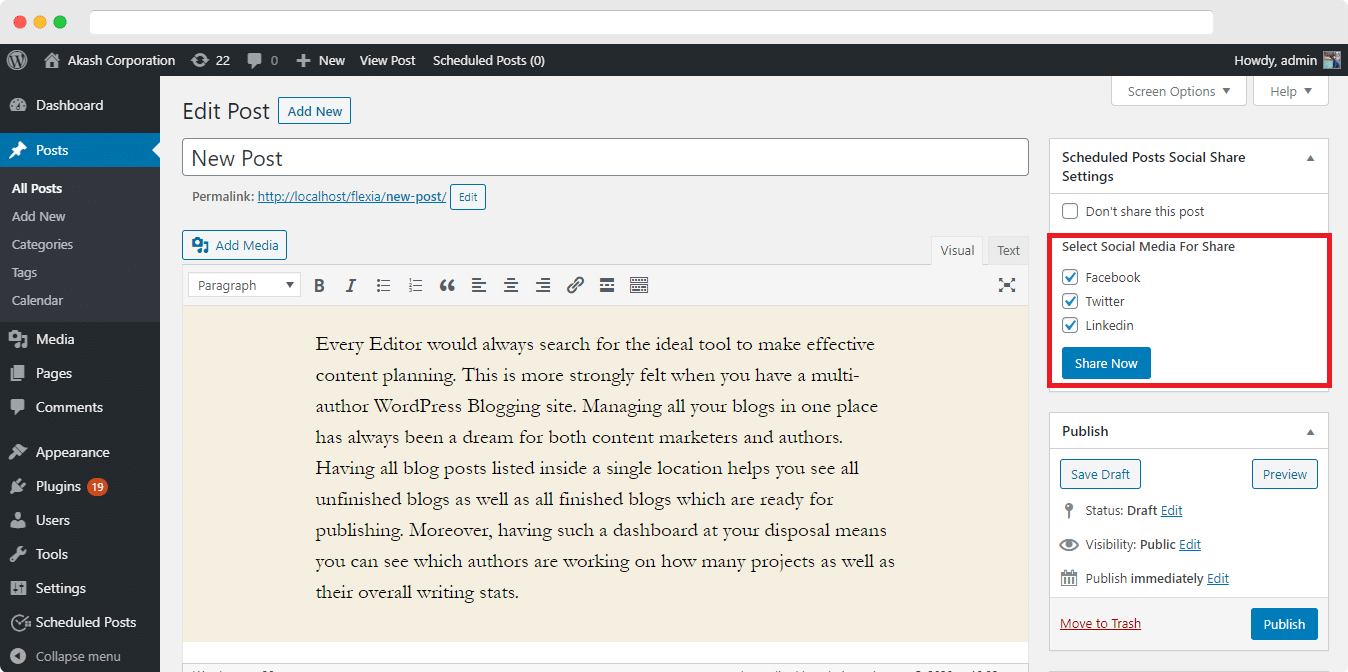 Wrap Up!
Every Editor would always search for the ideal tool to make effective content planning. This is more strongly felt when you have a multi-author WordPress Blogging site. Managing all your blogs in one place has always been a dream for both content marketers and authors.
Bonus: SchedulePress for Content Scheduling?
Having all blog posts listed inside a single location helps you see all unfinished blogs as well as all finished blogs which are ready for publishing. Moreover, having such a dashboard at your disposal means you can see which authors are working on how many projects as well as their overall writing stats.
This is where SchedulePress comes into play. This WordPress Plugin works as the ideal Editorial Assistant for large news agencies and blogging platforms.
The main objective of ScheduledPress is to make content management and scheduling even simpler and more user-friendly. This WordPress Plugin comes with a new and stylish dashboard design. Users can have the freedom to configure all the settings from one place. It comes with a Schedule Calendar that offers the best user experience. Besides, it's completely compatible with both WordPress Gutenberg and WordPress Classic Editor. No matter which of the editors you are using, SchedulePress will not trigger any unwanted error.
SchedulePress comes with both FREE and PRO versions. Both the plans come with both auto and manual schedule features enhanced and user-friendly interface so that you can easily get started with planning with your content. Moreover, if for any reason, any scheduled post misses its schedule, you will be notified and presented with a missed schedule handler option.