If you want to get the best sports website template to create your own sports site without coding, your ultimate solution will come with WordPress's most popular page builder – Elementor, ready template pack collections. You can get any of its predesigned templates, and with a bit of modification, you will be able to make it live anytime you want. 
But which one you should pick or go with, you have to be aware of that selection. In this guide, you will get to know in detail about the selection process of a complete Elementor sports website template below. Let's get started!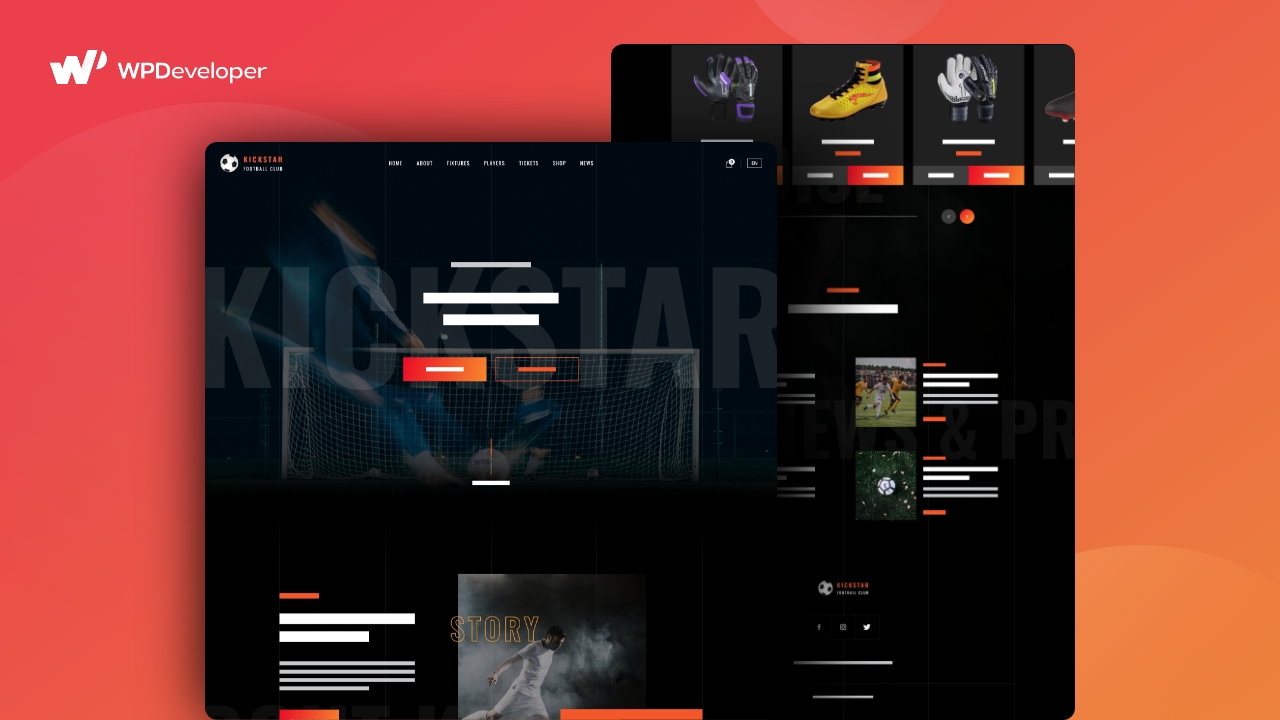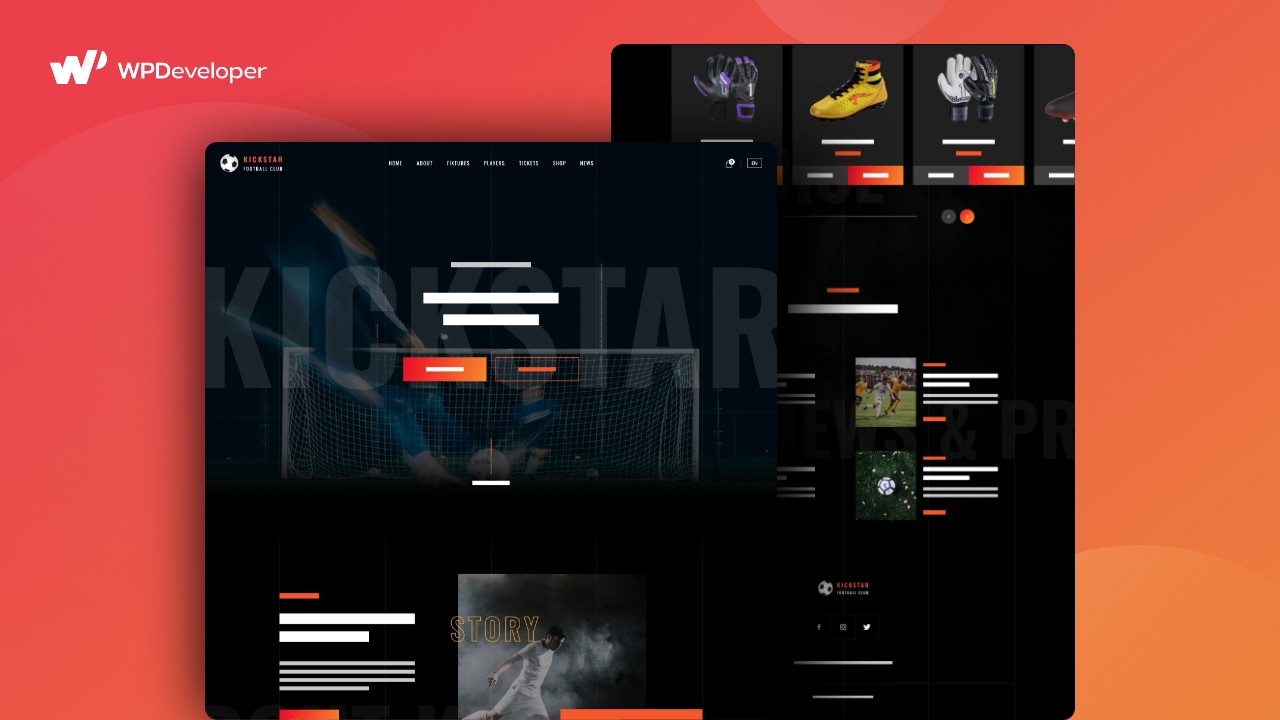 Building your own sports website from scratch will always be costly and time-consuming. As an owner or trainer of sports clubs, sports academies, football clubs, or anyone involved with sports, if you have chosen a complete templates pack, that will be easier for you to make your website live right away whenever you want. It's flexible and affordable to get started.  
You can anytime modify the template design, and add your preferred content to it without adding any single line of code. You will get full control and freedom to change the outlook of your entire website as per your preferences. 
Besides, your fans can share the news of the latest matches or any exclusive ones on social media platforms anytime they want. It will be easier for you and your visitors to spread the essential news as quickly as possible by having a compelling sports website.  
[Guide] How To Use Best Sports Website Template & Create Your Own Site Without Coding
You can now get this complete ready, free Elementor templates pack – 'Kickstar' by Templately to build your own sports website without any coding. You just have to add your text or visual content in each creative section of these ready designs and make it publish right away at your preferred time, simple! Let's find out more about this stunning sports website template pack below:
Kickstar Templates Pack Highlights: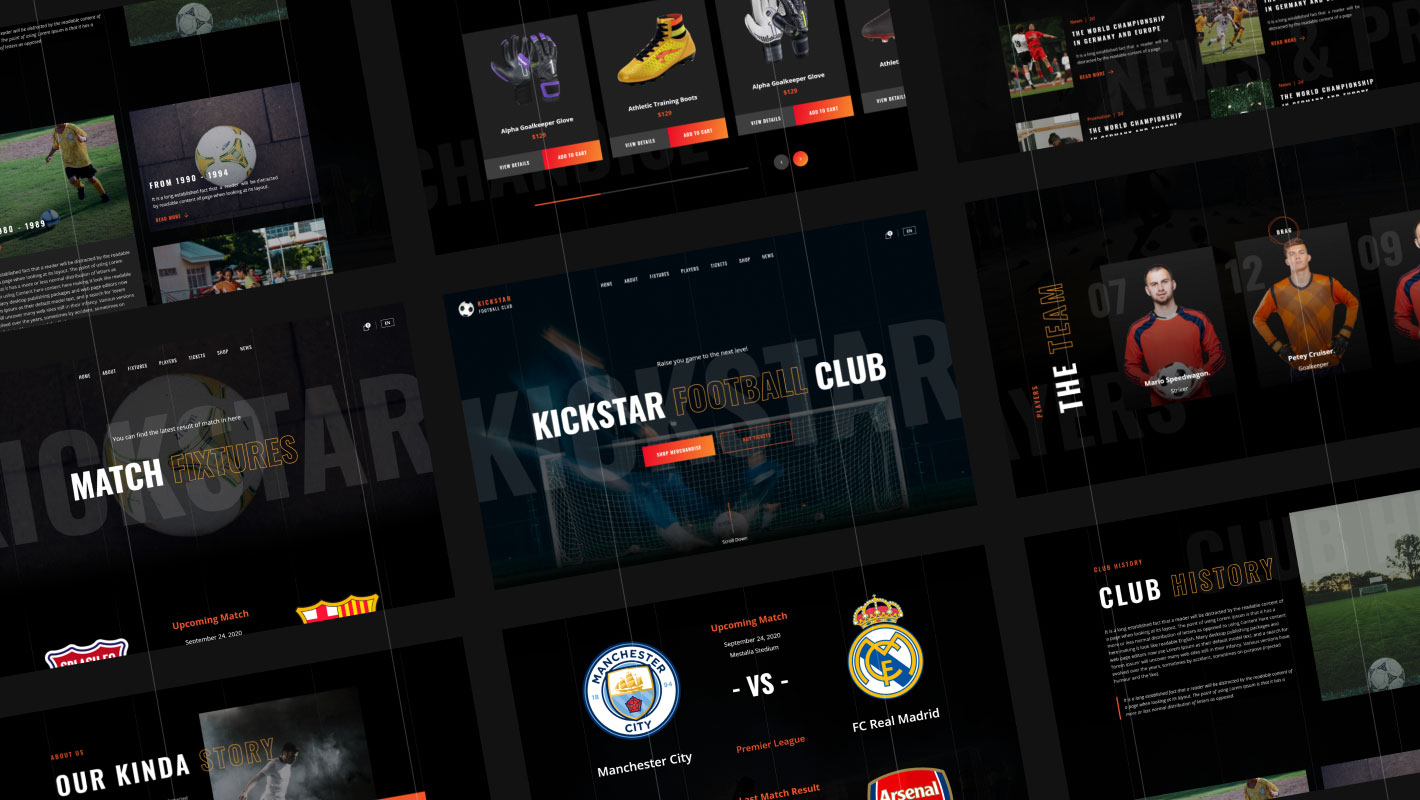 Kickstar comes with seven ready pages and four individual blocks. The entire sports website template pack has been designed beautifully, consisting of creative sections, animated widgets, smooth scrolling effects, and more to make a standout sports site within a few clicks. 
👉Home Page:
You will get a stunning ready Kickstar Homepage design that will help you to build an interactive landing page for your sports website. You can engage your audience on your website with the very first look. 
👉About Us Page:
You can enlighten your targeted audiences beautifully using the Kickstar About Us Page template. You can showcase your club history, inspiration, goal, and others to connect emotionally with your site visitors. 
👉Match Fixtures Page:
With this predesigned Match Fixtures Page design, you can display all your live matches and upcoming ones outstandingly there.  
👉News Page:
Using the Kickstar News Page ready template, you will be able to showcase your all latest notices, posts, or blogs there to notify your audience about any of your upcoming events.
👉Players Page: 
Your fans will get to know in detail which players are playing or not using this standout Player Page template. 
👉Shop Page:
Your buy sports clubs fan can easily buy their favorite player's related items using this Kickstar fully-functional Shop Page design. 
👉Tickets Page:
You can showcase your available match tickets on one separately organized page of your website using the Tickets Page template of Kickstar. 
🔰Checklist To Use This Sports Website Templates Pack 
Before using the sports website template 'Kickstar' Elementor template pack of Templately, you must have to get some necessary plugins that have shown below: 
✅ Elementor: Get installed WordPress one of the best page builders Elementor to use this complete sports website template pack. 
✅ Essential Addons: Afterward, you have to activate Essential Addons for Elementor – the best elements library. That comes with 1million+ happy users and 100+ fully-functional widgets. 
✅ Templately: Now to use the 'Kickstar' template by Templately, you have to sign up for an account, and then get installed 'Templately' on your WordPress website to use this compelling template pack. 
🚀Get Started With Templately To Create A Best Sports Website 
Let's assume you have installed and activated all the mentioned plugins above. You are then full ready to use the Kickstar template pack in Elementor. To do that, you need to follow some simple step-by-step guidelines below:
Step 1: Insert The Templately Sports Website Homepage Template 'Kickstar' 
Let's click on Edit with Elementor to create a new page on the WordPress dashboard. Within a few moments, it will come up with a new page in the Elementor editor.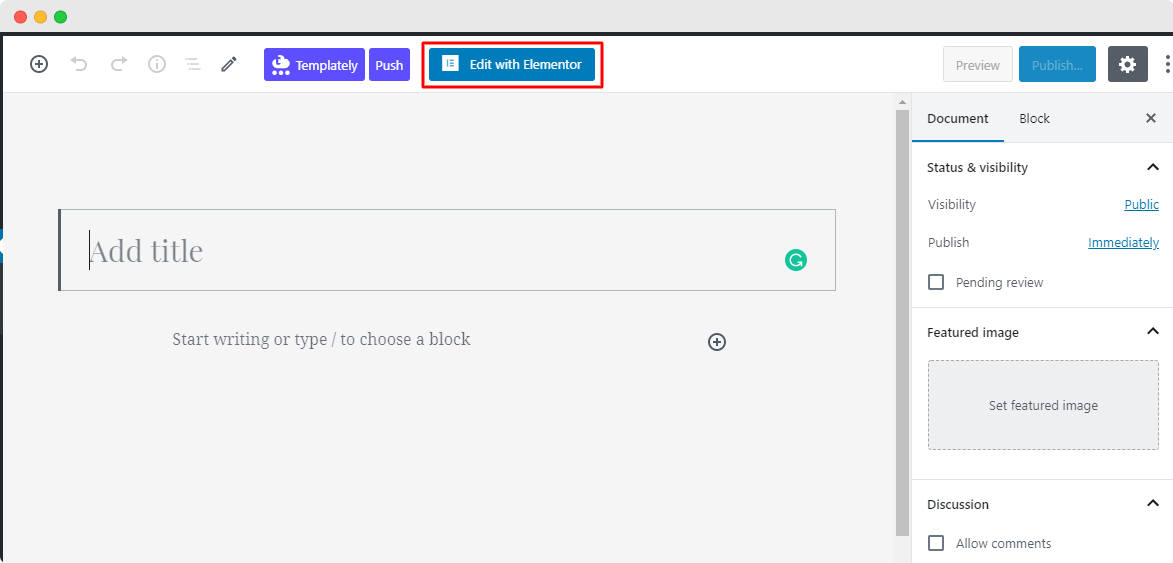 Afterward, you need to click on the center Icon of the page that is visualizing the 'Templately' icon. You will then be able to see all Templately ready collections in that beautifully organized place.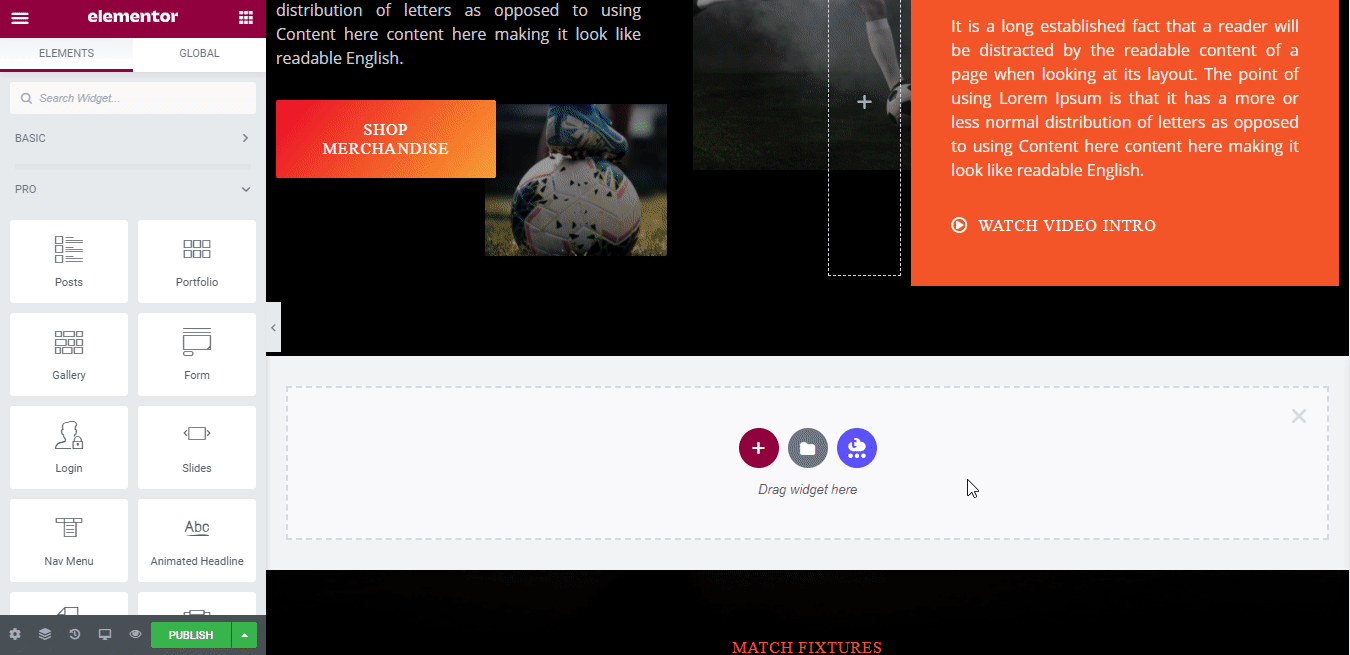 Let's now search for 'Kickstar' or 'Sport'. It will automatically then show all the ready pages & blocks related to that category. Later, pick the 'Kickstar' homepage design, and hit the 'Insert' button to start using the sports website template.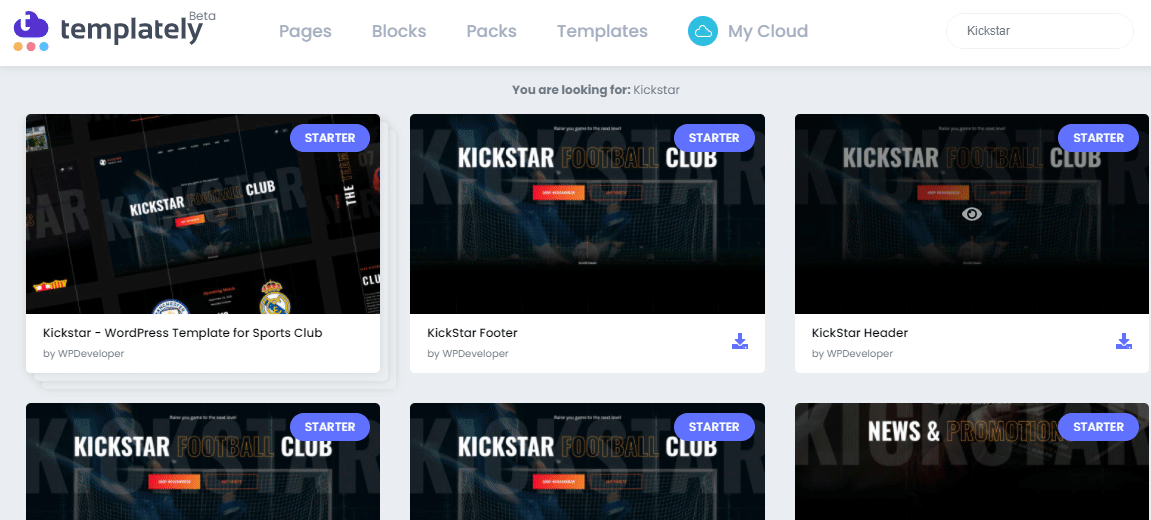 Step 2: Let's Do The Template Customization As Per Preference 
You can now customize these responsive, ready sports website templates design and make them publish the right way using Elementor editor. No need to add any single line of code. Just insert your preferred content in each creative section, drag & drop one to another, do a bit of modification, and it's fully ready to become live.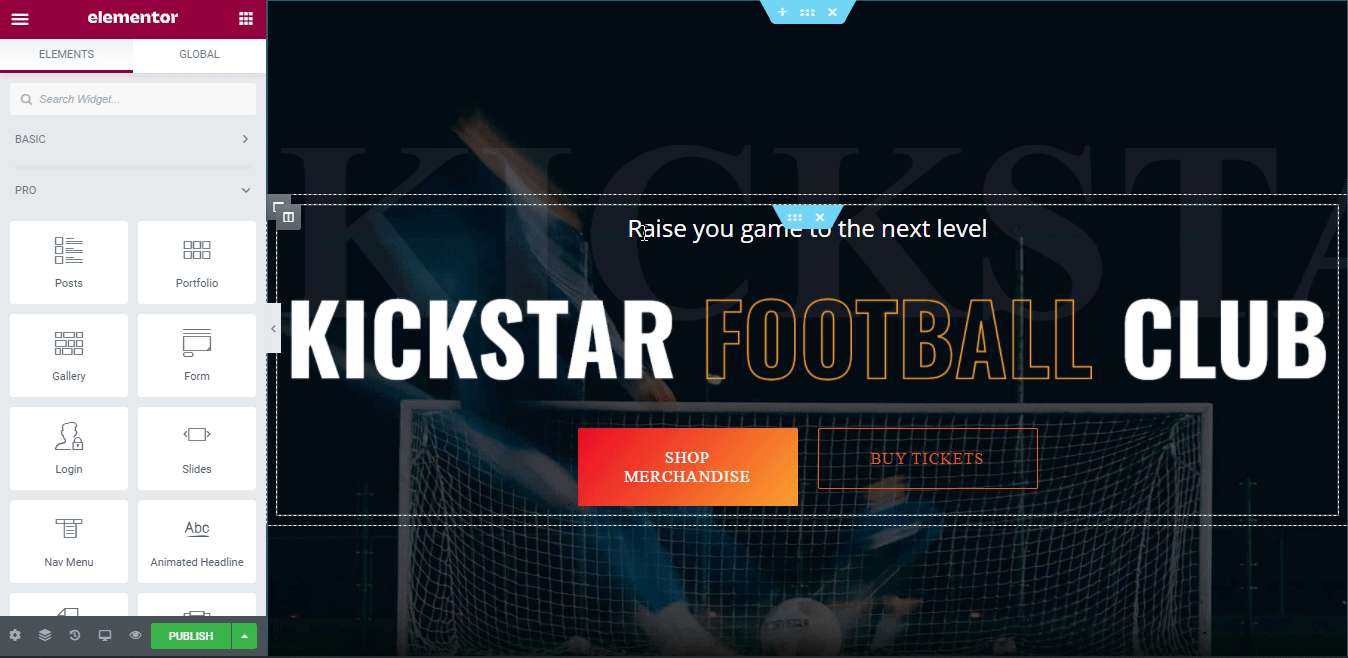 Step 3: Secure Your 'Kickstar' Ready Template Design On Cloud
You can now save your ready template designs securely using Templately personal cloud space 'MyCloud' storage. To do that, you have to right-click on the design and press 'Save Page to Templately' to make it secure on the Templately cloud. It helps you to create a backup on the cloud and makes your work smoother than before.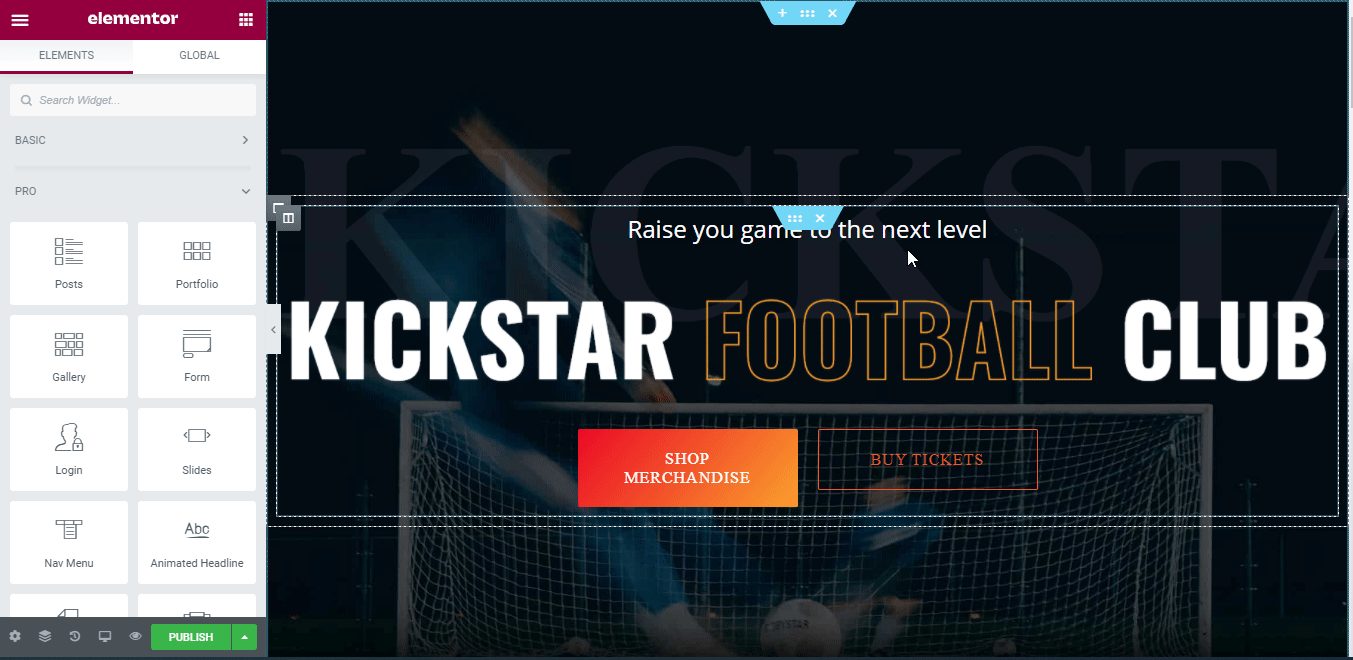 You can even reuse your saved designs from Templately cloud storage to multiple sites as many times as you want. Besides, it allows you to create a seamless collaboration on the cloud too. You can now share your ready designs with your team members to any outsider using Templately WorkSpace on the cloud. 
Use Best Sports Website By Templately & Create Your Own Site Without Coding
Now Congratulations to you! Finally, you have successfully used the best sports website template pack 'Kickstar' by Templately ready homepage designs in Elementor without any coding. 
Bonus Tip: Check Out More Related Templates By Templately
Never used Templately ready template collections yet? Then give it a try and let us know your experience by commenting below. If you face any problem or need any assistance, you can freely contact our support team or join our friendly Facebook Community anytime you want.