If you are looking for new WordPress themes for Elementor, then you are in the right place. Today we are going to take a look at 5 of the best Elementor themes that you can use to build a stunning WordPress website & you will also get some bonus templates for Elementor at the end of this blog!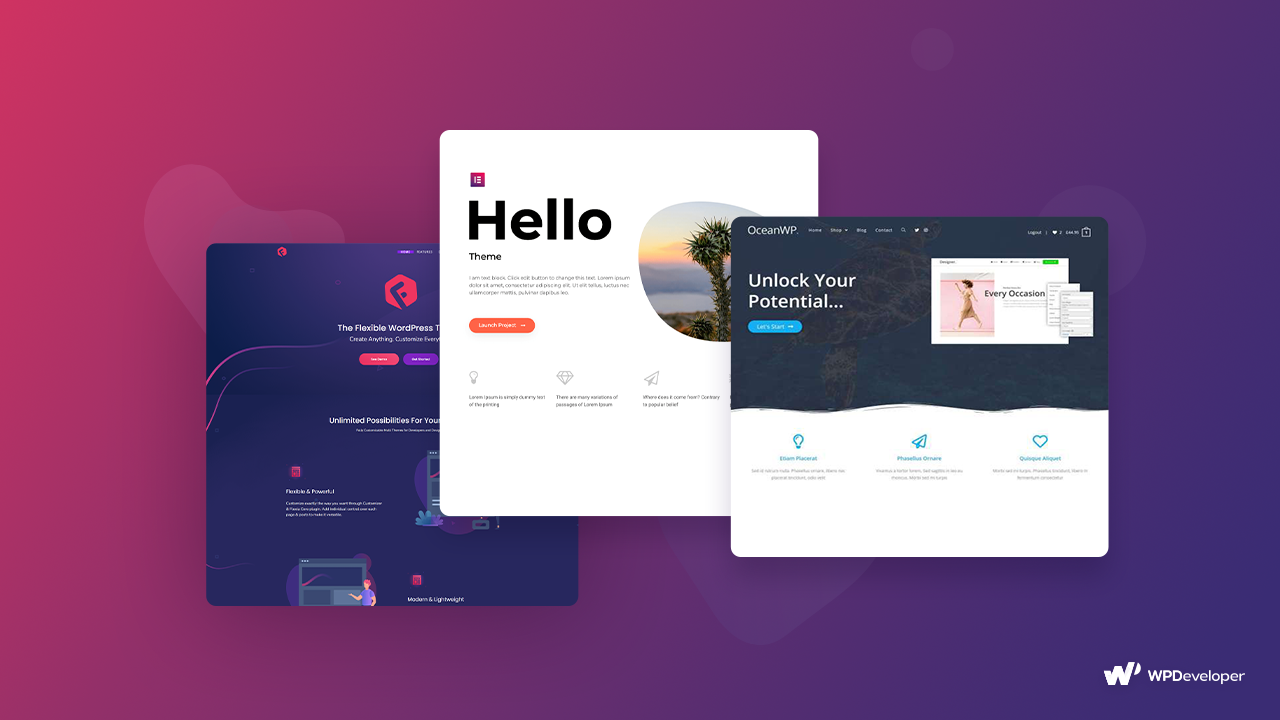 Elementor is one of the most popular drag and drop page builders to create beautiful web pages without any coding. But to use Elementor, you also have to make sure that your WordPress theme is perfectly compatible with this page builder. 
Fortunately, there are tons of amazing themes for Elementor that you can choose from. So let's dive in and check out some of the best ones that we are going to feature in this blog post.
The 3 Do's And Don'ts of Choosing Themes For Elementor
Before you start looking for themes for Elementor, you need to know a few "do's and don'ts" of selecting a WordPress theme. This way, you'll be able to know right away which Elementor theme will work best for you. Here are some things to consider before choosing any WordPress theme for Elementor.
1. Decide What Features You Want In Your WordPress Elementor Theme
Most WordPress themes are designed to have features that are suitable for different types of websites. For instance, if you want to create an online magazine website, you wouldn't want to use a WordPress theme that is designed specifically for eCommerce businesses. 
So before you start looking for WordPress Elementor themes, first decide which features you must have in your website theme. You can use the 'WordPress Feature Filter' to easily find the theme that has all your necessary features. 
2. Pick The Most Flexible & Easy-To-Use WordPress Theme For Elementor
Different WordPress themes for Elementor will have different features and options for customization. You should not simply pick a theme that has the most features; you should pick a theme that is the most easy-to-use and flexible for you. 
3. Check The Responsiveness Of Your Theme On Different Devices
The best websites are the ones that adjust to different devices for the best user experience. In other words, the best websites always have a responsive WordPress theme.
Responsiveness really is no longer optional, as different users will visit your website from different devices. In fact, most users claim that they do not revisit a website that does not have a responsive design on mobile devices. So before you pick an Elementor theme for your WordPress website, make sure to check out the theme responsiveness too.
Top 5 Best WordPress Themes For Elementor
Now that you know what to look for in themes for Elementor, here are the 5 best WordPress themes that are responsive, flexible and most importantly, perfectly compatible with Elementor.  
1. Hello: A Minimalist Theme For Elementor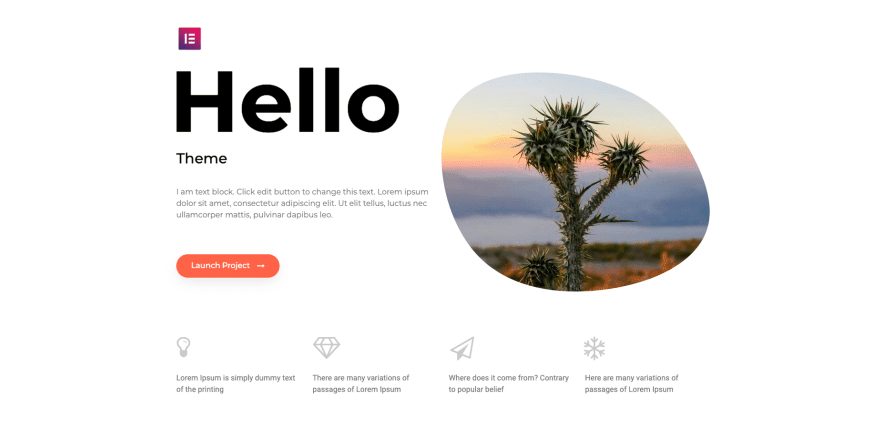 The Hello WordPress theme is brought to you by the team behind Elementor. It is a very minimalist theme that is designed to act as a blank canvas for the Elementor Editor. If you are new to using Elementor, or you want to experiment with the Elementor Editor by yourself, then the Hello theme is a good place to start. 
In terms of customization, the options are quite straightforward and simple enough for WordPress beginners. There are not too many styling or layout options for you to choose from when you are editing this theme using the default WordPress customizer, as this theme is purposefully built to be as minimal as possible.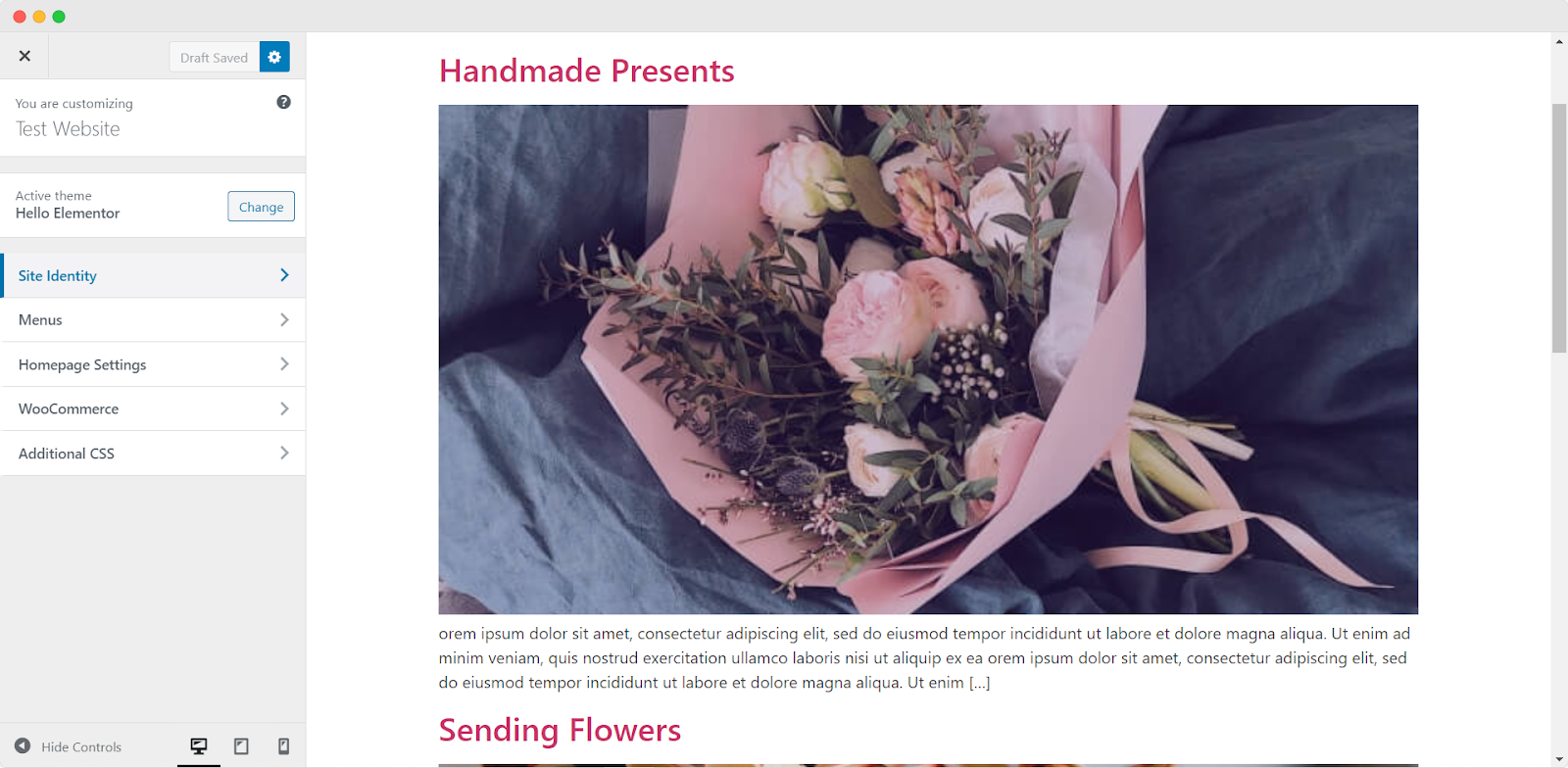 Once inside the Elementor Editor, Hello theme will give you a completely blank canvas where you can drag-and-drop any elements to design your website from scratch as shown below. If you want to figure out the layout of your web pages all on your own, then this can be a good choice for you.
2. Flexia: The Most Flexible WordPress Theme For Elementor
If you want a lightweight Elementor theme that also has lots of customization options, then Flexia is the perfect choice for you. I might little biased but this is one of the best WordPress themes for Elementor if you want to be able to customize freely with the least restrictions.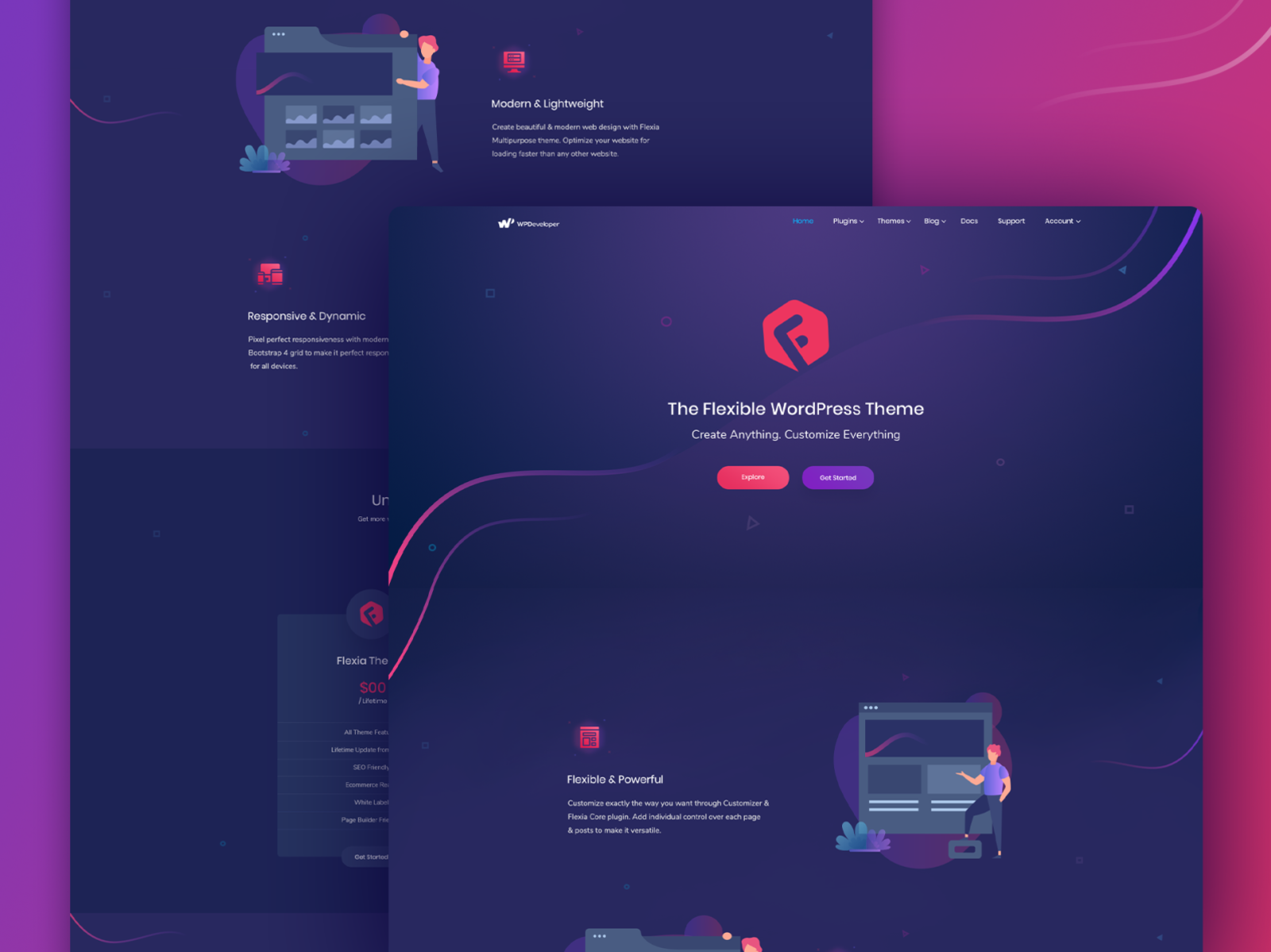 There are several different layouts and designs for showcasing your content using Flexia. This makes Flexia the perfect theme for virtually any kind of website. Besides being able to customize your header, footer, and menu areas, you also have the flexibility to four different content layouts, adjust the width for your website and sidebars as shown below.
Flexia also comes with 10 different widget locations, thus enabling you to use as many widgets as you like and place them wherever you want to. You can also customize your Call To Action buttons at the footer area to boost your click-through rates.
Inside the Elementor Editor, you can customize Flexia just the way you want easily to build stunning web pages. For the best results, you can use Flexia with Essential Addons For Elementor, which is the most popular widgets library for Elementor and is beloved by more than 1 million+ happy users.
In addition to this, Flexia was built as an SEO-ready theme. It was developed using clean and validated code to help improve the visibility of your website on any search engine and is compatible with popular WordPress SEO tools like Yoast SEO or All In One SEO Pack. So if you are looking for the most versatile and lightweight WordPress themes for Elementor, you should definitely give Flexia a try.
3. OceanWP: Versatile, Multipurpose WordPress Theme
Another amazing, multi-purpose WordPress theme that is compatible with Elementor is OceanWP. This theme is a good choice for any WordPress website because of its fast performance, flexible customization and compatibility with page builders and other plugins. It also comes with a useful, quick setup wizard, and several free demo templates, to help you start customizing the theme any way you want.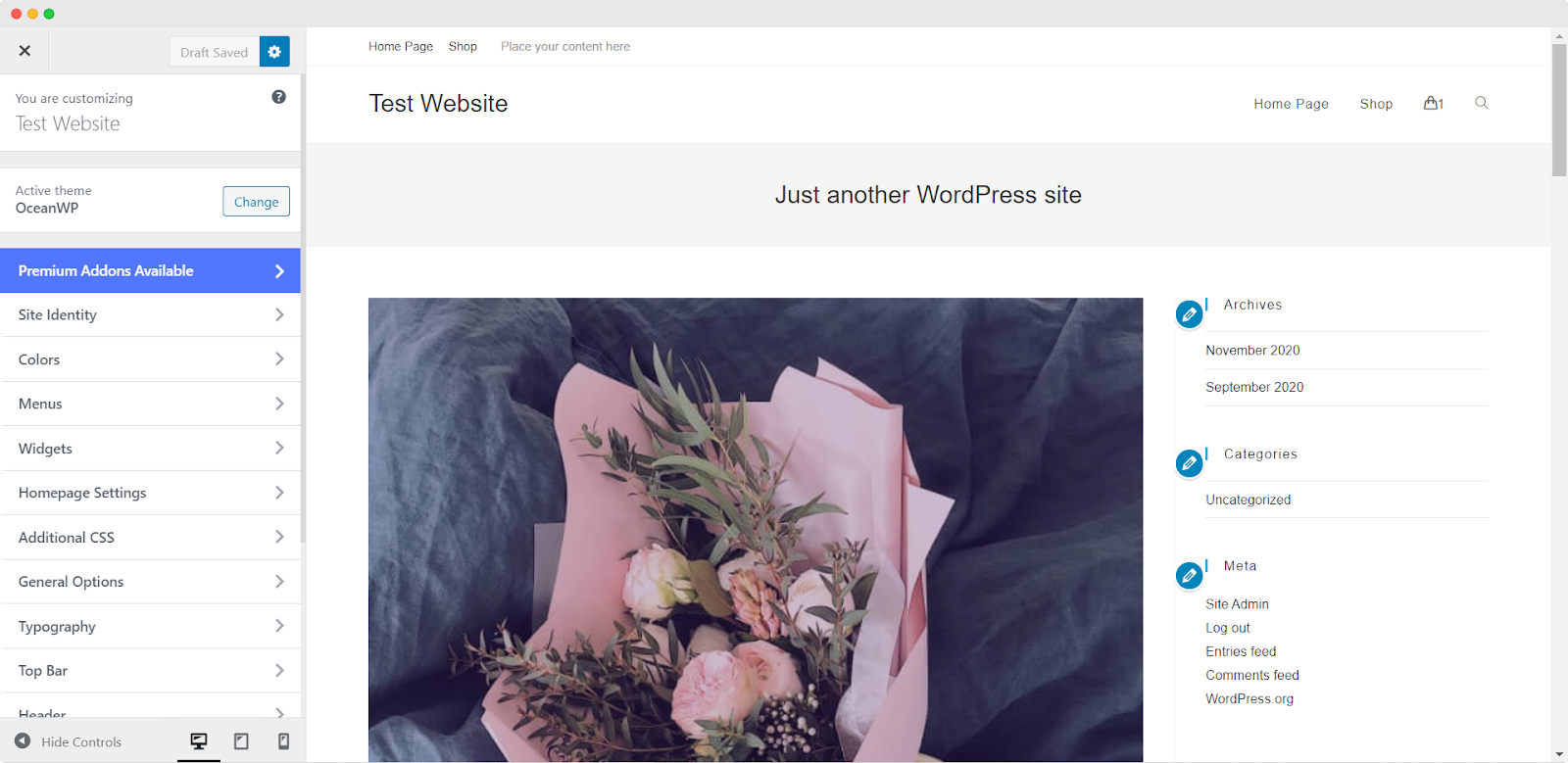 Just like Flexia, you can easily customize your website with OceanWP theme in Elementor Editor. Simply drag-and-drop any widget that you want and then modify the content to suit your preferences. With just a few clicks, you can create a beautiful website using OceanWP with Elementor.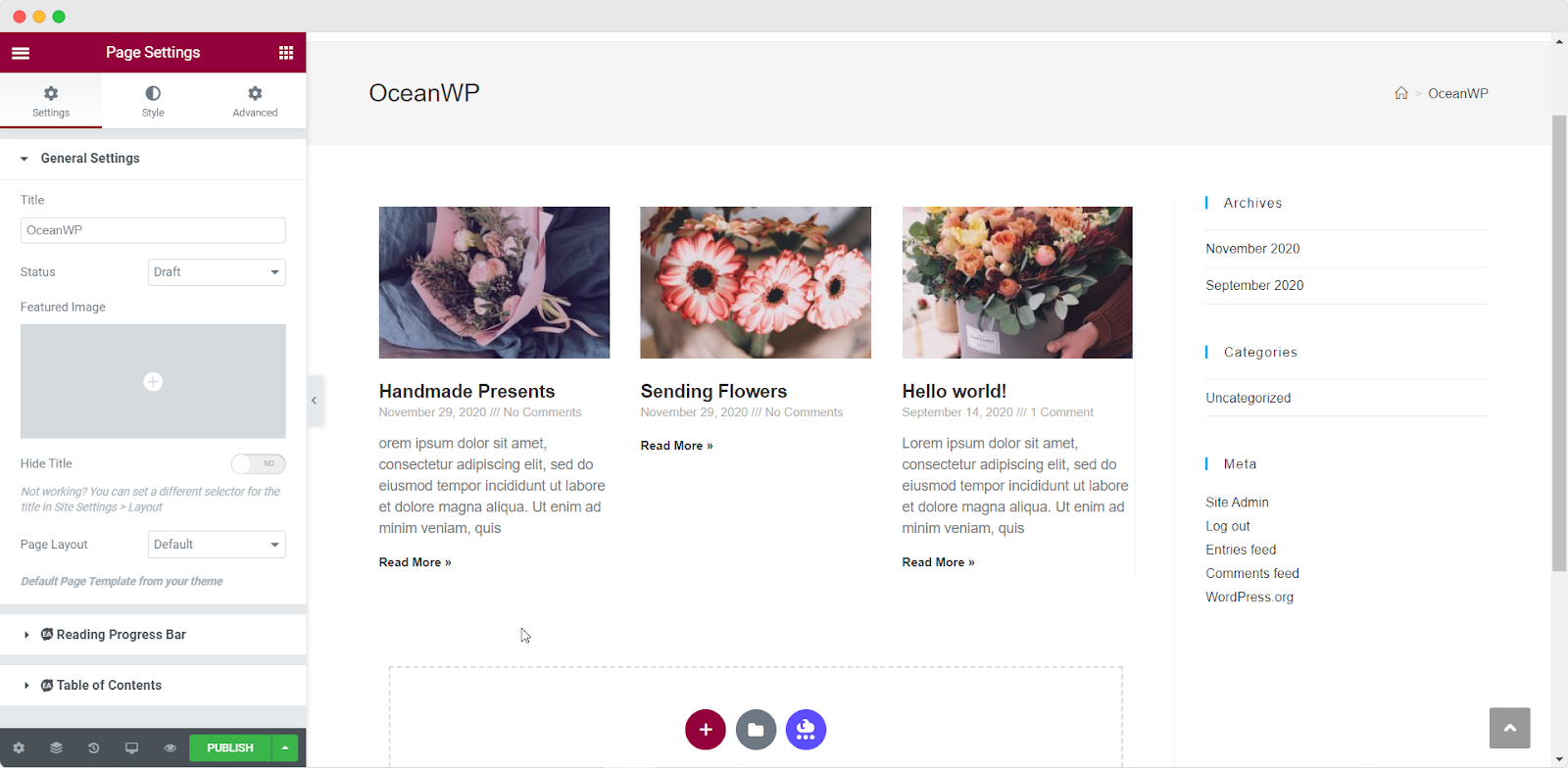 OceanWP comes with many options when it comes to customizing, however, for those who are new to WordPress, it might feel a bit overwhelming. The free demos also require purchasing additional plugins, which can seem unnecessary to some users.
4. GeneratePress: A Lightweight & Responsive WordPress Theme
GeneratePress is yet another popular theme for your website. Like Flexia and OceanWP, you will get tons of customization options with GeneratePress. For instance, you can customize the layout of your page, blog content, and sidebars any way you want with GeneratePress. 
GeneratePress is also very responsive on different devices, regardless of how you customize the theme. So it is a good option for anyone who is looking for a lightweight and responsive theme for Elementor.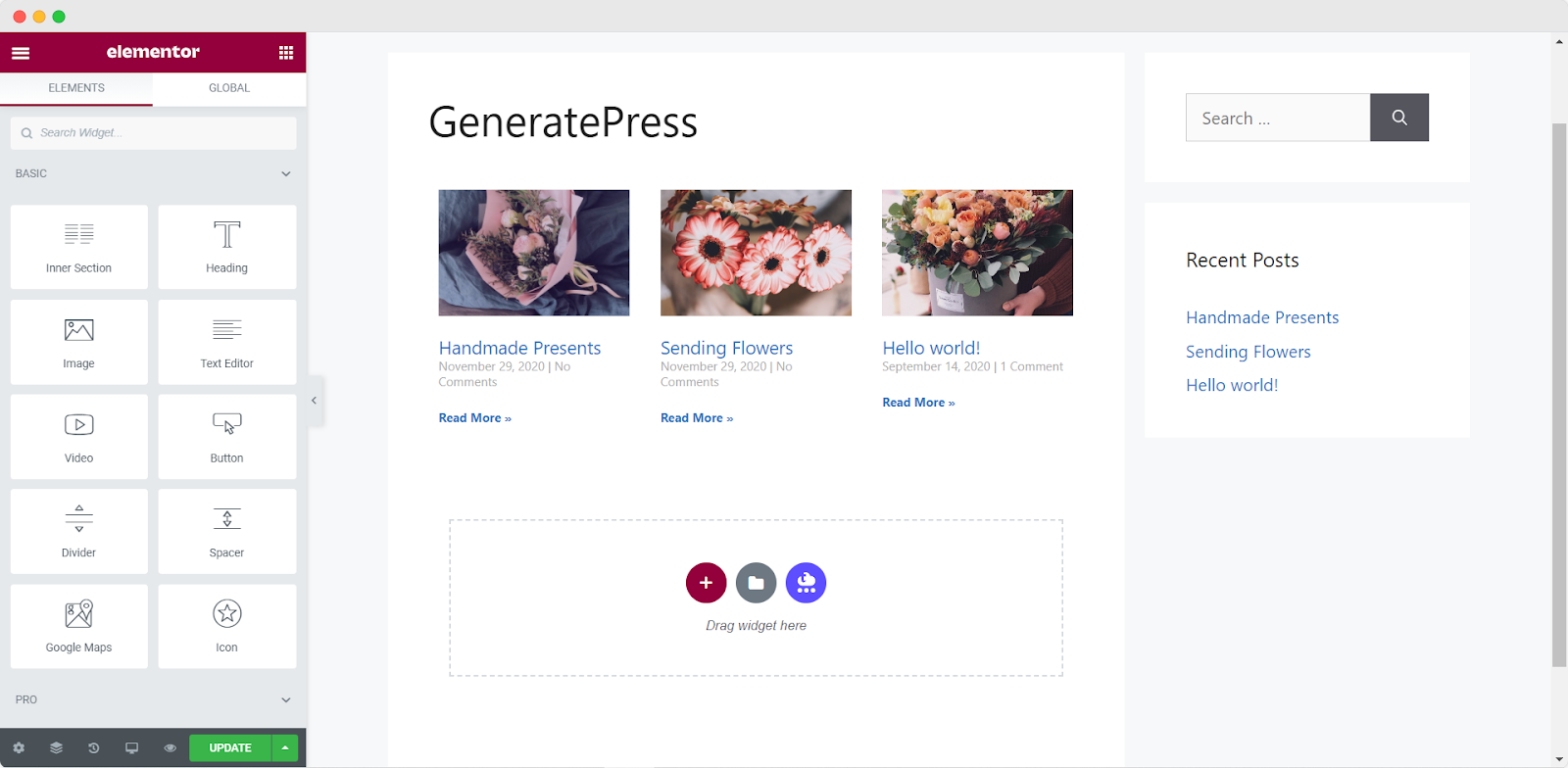 While it might take some time to explore all of the customization options that you get with GeneratePress, the end results are definitely worth it, especially if you use this theme with Elementor Editor. 
Neve: An Easy To Use Multipurpose Elementor Theme
Another very flexible WordPress theme for Elementor is Neve. This theme has lots of customization options for your website. You can change the layout of your pages, sidebar, and content, and much more with the built-in WordPress Customizer.
Neve also works quite well with Elementor Editor. It works especially well on mobile devices and loads very quickly for the best user experience. Neve also comes with several demo templates to help you get started quickly, but it requires the installation of additional plugins to use those templates.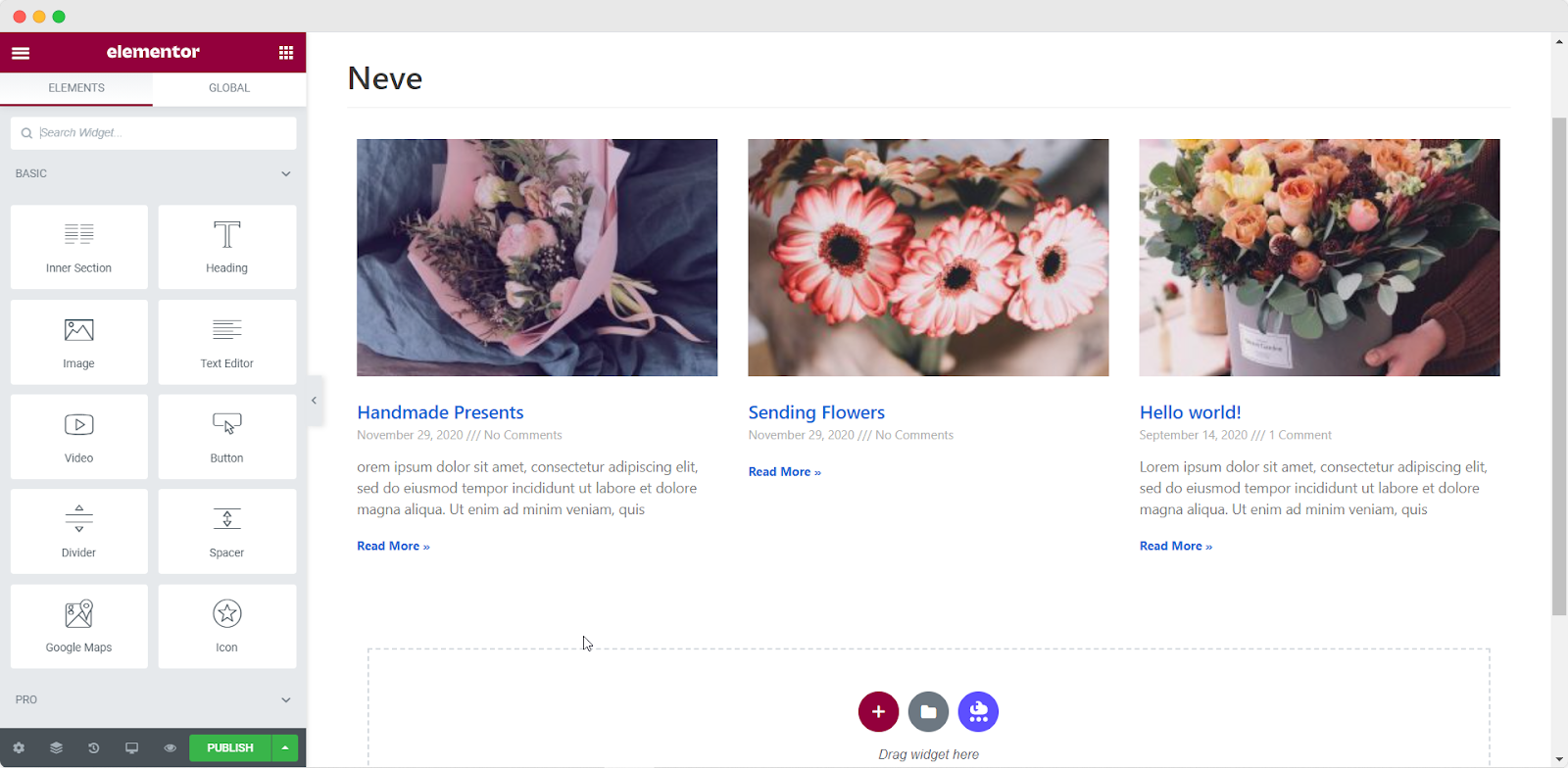 That brings us to the end of our showcase of the top 5 best WordPress themes for Elementor. While all of these themes have amazing features, if you are looking for the most lightweight theme that also has a lot of flexibility and customization options, then you can go for Flexia. At the end of the day, it all comes down to what features are most important to you when you are looking for the right theme for your website.
Bonus: Get Stunning FREE WordPress Templates For Elementor
While it's important to pick the most flexible and lightweight WordPress theme for Elementor, you should also consider using ready Elementor templates if you want to build stunning web pages with just a few clicks. 
That's where Templately comes in. With Templately, you can get access to more than 1000 ready Elementor templates and unique cloud collaboration feature to create websites faster than ever with your team. 
Enjoyed this post? Subscribe to our blog for more fun tutorials, updates, news and tips and tricks about all things related to WordPress. Or, you can join our friendly Facebook Community to connect with other WordPress users like yourself.