The need for creating a Knowledge Base has been around for a long time. Almost every website has one. But all the Knowledge Base Plugins for WordPress had very common drawbacks. This means you couldn't fulfill your expectations from a Knowledge Base Plugin by switching to a more advanced one, as there was no advanced solution.
WPDeveloper Team has been working day and night to develop a WordPress Plugin for creating Knowledge Base for WordPress Website. We call it BetterDocs- – create and organize a Knowledge Base for your WordPress Website.

Why we Created BetterDocs?
The reason why we created BetterDocs is that we felt the need for a WordPress Plugin that would let us both create and manage our Knowledge Base. We created BetterDocs and initially used for all our own Doc pages.
Prior to using BetterDocs, we have used a handful of other Knowledge Base Plugin for WordPress Website. All of them had a major drawback, which is they had very little customization options. We even purchased Knowledge Base solutions from the marketplace, but we weren't happy with any of the solutions. Some of the solutions even charged us $50 for a monthly package, which is a very high rate.
Unfortunately, despite the high price our experience with both SAAS and WordPress Plugins for Knowledge Base was very poor. Along with limitations in customization, most of them were very rigid and didn't offer much profession look or customization options.
During the time we were searching for an up-to-the-mark Knowledge Base solution for our WordPress Website, we knew that there must be thousands of others who feel the same way as we do. While developing BetterDocs we focused on developing a knowledge base solution that will be easy-to-use, easy to customize, comes packed with ready templates and most importantly- affordable.
Why do you need Knowledge Base?
Educating Users
Knowledge Base will help you create a loyal user-base by helping you educate your user base about your product/service. It's your responsibility to educate your users about how to use your product/service by sharing education resources. In fact, it's a continuous process. As soon as you roll out new feature upgrades, it's a major responsibility that you educate your users about the new features.
Faster Customer Support
We strongly advise you to not think of a Documentation Page as an alternative to your Support Team. They are both complementary to each other. In fact, if used properly they can help increase the effectiveness of each other.
If you have documented the common and most frequently asked solutions properly, your Support Team can redirect users to that particular Doc Page the next time they receive that query. This way, you are able to scale your Support Reach without having to increase the team size. Also, you can reduce the time between placing a query and receiving a response from your support team.
Reduce Support Ticket
Once you have created and published a well-organized Knowledge Base you will naturally see a drastic reduction in the number of Support Tickets. This will happen because according to a study, 80%-90% of all buyers prefer self-servicing over seeking assistance from your Support Team.
Due to Self-Servicing, you will be able to nurture a user-base that is well aware of your product/service. And there is another benefit of having a well-crafted Knowledge Base and that is, your Support team will have more time to allocate towards solving complex problems.
SEO Benefits
The last but not the least benefit of having a proper Knowledge Base is that it can help you generate more organic traffic. Documentation Pages are the most visited pages of any website. In fact, Documentation Pages are indexed by Search Engines faster than other webpages on your website. If you prepare your Knowledge Base targetting certain key-words, you will experience a higher domain authority as well as increased organic traffic to your website.
Why BetterDocs?
Instant Answer
The Instant Answer feature of BetterDocs has a lot of benefits. First, if your Support Team is not available, the Instant Answer feature makes it possible for your users to find answers to their queries instantly. Previously you could find this feature in SAAS solutions for Knowledge Base. But now you get it with a WordPress Plugin.
Advanced TOC
Table of Contents is a widely used feature for lengthy blogs. Readers might feel overwhelmed by the sheer amount of information they receive via lengthy blogs. But if they know what parts are included in a blog and what is the relative sequence of each of them, they can grasp information quicker.
This concept works for documentation as well. As Documentations cover all the technical aspects of your product/service it is very likely that your users might feel overwhelmed with the information you provide them with.
To solve this problem BetterDocs comes with the Advanced Table of Contents(TOC) feature. This feature places a TOC box at the left sidebar area, which stays visible at all times.
Templates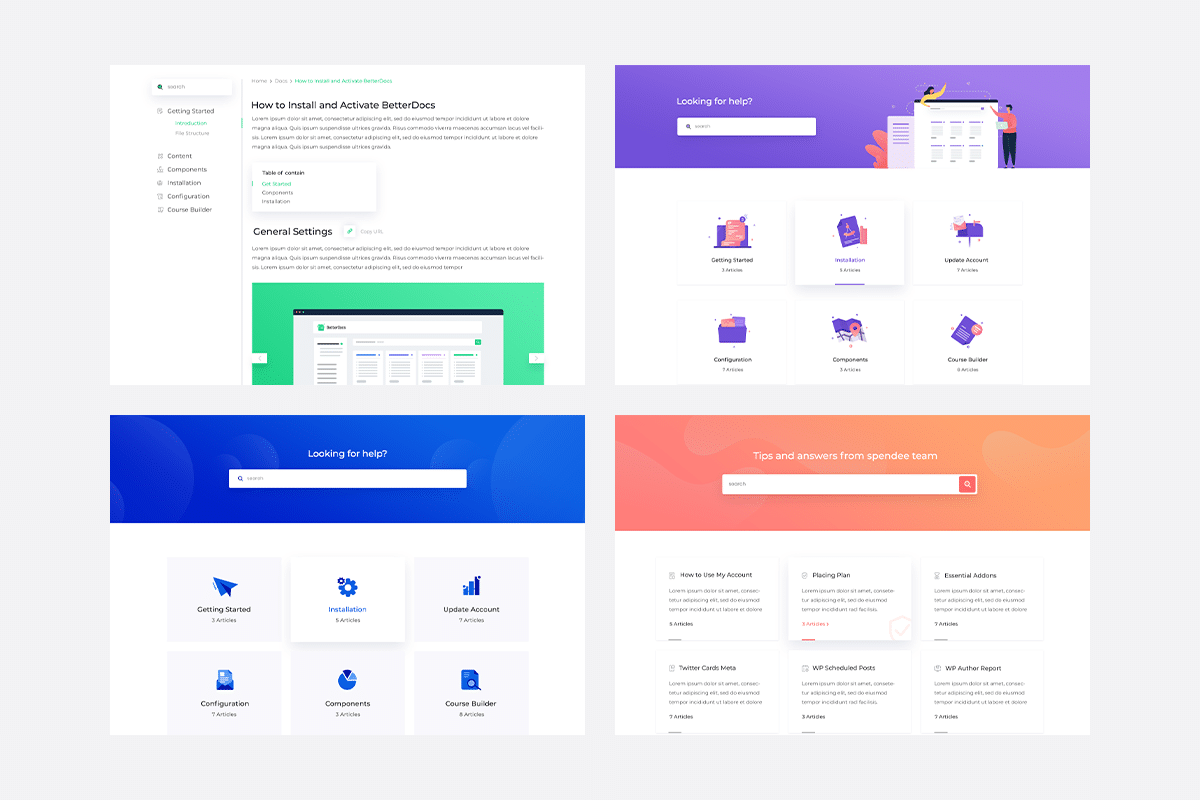 Prior to BetterDocs, Knowledge Base plugins did not provide ready-made templates. But we know how effective ready templates are for new users. It helps new users get a head start with their project. It also provides your old users to get inspiration for their projects. This is why we have packed BetterDocs with a handful of Templates. So that our users can get started in minutes.
Advanced Analytics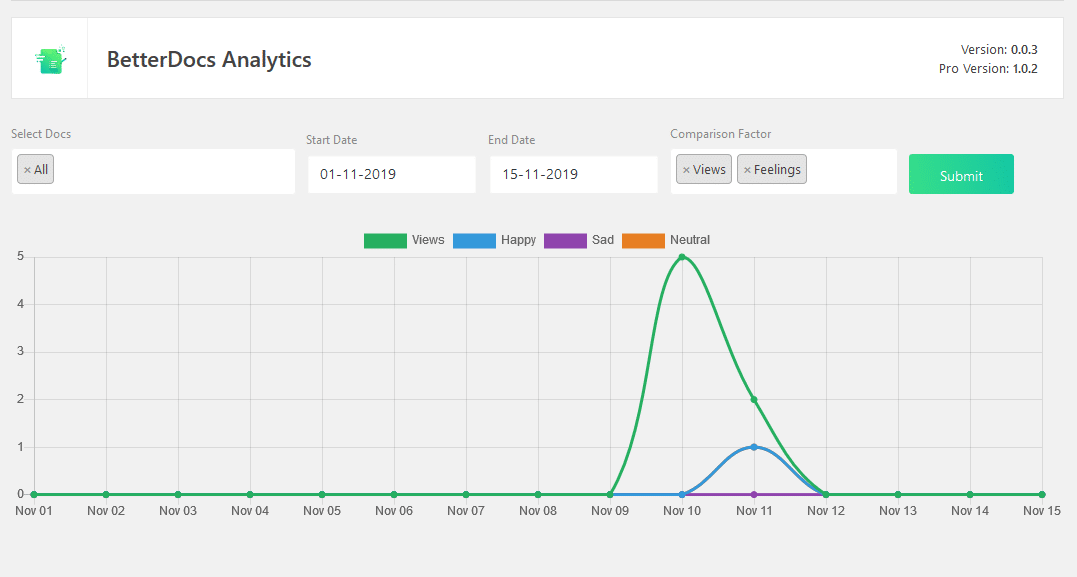 In this era of data, it's pointless to base any decisions on guesswork. This is why BetterDocs provides you with insightful data about how each of the documentation pages is doing. Once you know that, you can go ahead and make improvements to your existing Knowledge Base.
Fully Customizable
BetterDocs is fully customizable. You can customize both the Documentation Homepage and Single Doc Pages to the smallest details. Starting from enabling the Masonry Layout and, enabling the Live Search Bar, it's all a matter of a button click.
This is another gap BetterDoc fulfills. Previous Knowledge Base WordPress Plugins did not have many customization options if they had any. You can add styling to the fonts, adjust their font size, family as well as add color to the different texts on your Doc Pages.
Wrapping Up!
Recommended Reading: Introducing WP Scheduled Posts 3.0: Revamped Design & Exciting New Features
BetterDocs has been designed in a way so that it enhances the features older Knowledge Base Plugins provide as well as add brand new features. It packs both basic and advanced features that anyone can afford. You can install and activate BetterDocs just like you would do to any other plugin for your WordPress Website.
In case you need further assistance in getting started with BetterDocs, here is a link to Getting Started Documentation for BetterDocs, that we created using BetterDocs.