We are absolutely delighted to present our exclusive partner BlogVault, the best WordPress Backup solution for your website. Check this full article to learn why you should start using BlogVault.


Imagine the horror of finding out that your website has been affected by a Cyber Attack? Losing all your contents in the process? It would be an absolute nightmare especially if you are running an e-commerce or blogging platform. Just think about the number of customers you can potentially lose only just in a few minutes of site being down?
This is exactly the reason why you must make a routinely backup of your website. So, in case of any calamity, you can easily switch back to a previous version and get things back to normal. In the meantime, you need to secure your site from any potential threats as well. You can find lots of solutions to take care of such disasters in the WordPress Marketplace. But none of them are as powerful and reliable as the all-in-one Backup Plugin, BlogVault.
What is BlogVault?
In case you haven't heard of it before, BlogVault is a very popular WordPress Backup Plugin. It is a very powerful tool which offers automatic backups, security checks, restoration and many more. BlogVault protects your website from any sort of cyber attacks and keeps everything safe. Besides, It detects vulnerability in your website & secures all your data and files from getting harmed by storing them in its server. The best part is, you can instantly back up your entire website with just a single click from its incredible Dashboard.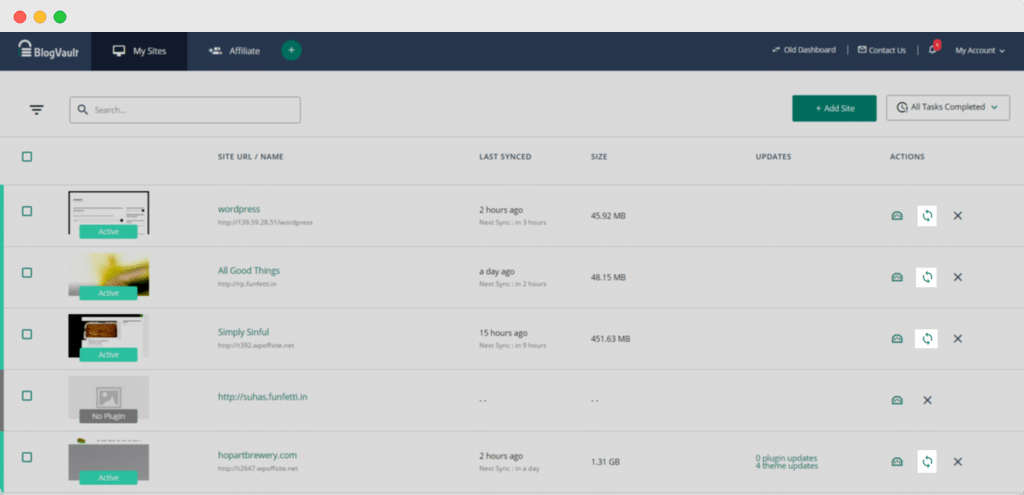 The fact that BlogVault offers simple one-click setups, it makes things very easier even for non-technicals as well. Running a WooCommerce Business? It syncs all your store transactions & orders automatically to keep you completely stress-free. By using this amazing solution on your website, you won't ever have to worry about losing your data ever again. Without further ado, let's have a look at a detailed overview of what you can expect from BlogVault:
Complete WordPress Backup Solution ⚡

BlogVault offers you an Ultimate Backup solution for your WordPress platform. You can make a complete backup of your WordPress Files and Database with just a couple of clicks. Even if your website gets down, you will have the freedom to access the backups files anytime you want. On top of that, you won't have to be stressed about your storage space on your servers as BlogVaults saves backups at its own server.
The most impressive thing about BlogVault is that it is capable of doing Incremental Backups. Instead of backing up your entire website every time, BlogVault cross-checks with your older backups and only store the files which have been changed. Since it takes a very minimal load on your server, you won't have to worry about slowing down your site at all. Thanks to this intelligent Sync approach, BlogVault provides a faster restoration process by taking less time & bandwidth.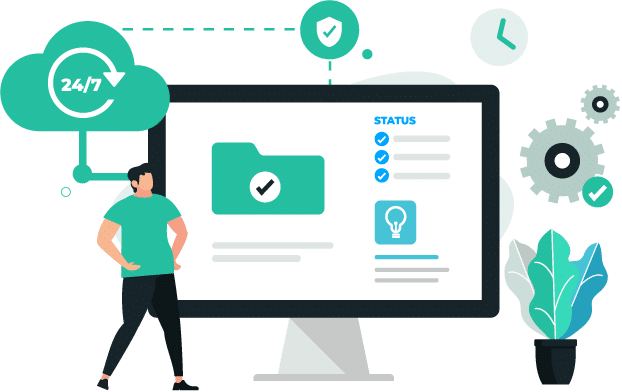 One-Click Staging Environment & Flawless Migration 🚧

Are you scared that a new update of your Plugin/Theme might break your website? You don't have to worry anymore since BlogVault allows you to create a Staging Environment with just one click. So, you can easily test all the new updates before making changes in your production site. You can even instantly merge your staging website with your Live site without any hassle.
Moreover, BlogVault flawlessly takes care of Migration of your entire WordPress website. You will have the flexibility to migrate from your Files to entire Database in just a few minutes. Since it offers a minimal load on your server, you can be assured of absolutely zero downtime.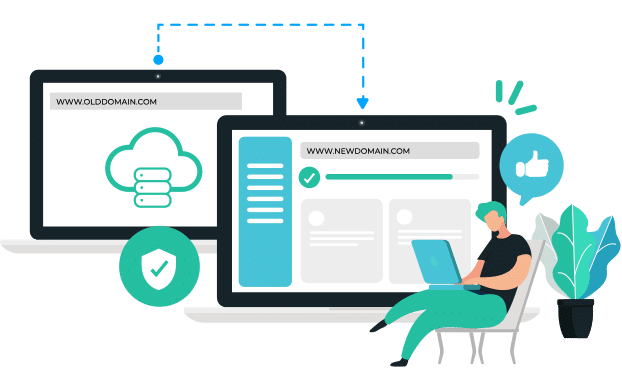 Smooth WooCommerce Backup 🛒

Just imagine losing tons of orders only because your site crashed? It can cause a massive financial disaster for your WooCommerce Store. BlogVault offers a unique approach to keep track of your every single order and sync them. Every time transaction is made on your site, it triggers an instant Backup process so that you don't miss out on anything.
Highly Effective Malware Scanning 🕵️

BlogVault provides very powerful Security System to protect your website from any kind of potential threats. Thanks to MalCare's Malware Scanning, you can easily remove even the complex WordPress malware that goes undetected. Besides, it offers inbuilt firewall and daily schedule scans so that you won't ever have worry about getting hacked.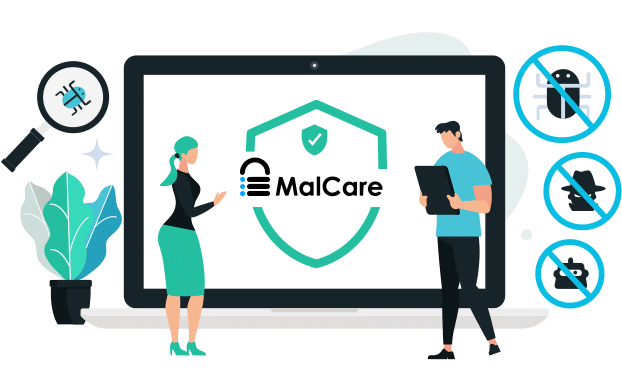 What Makes BlogVault Stand Out From Others? 🔥

There are lots of aspects where BlogVault totally stands out from other available WordPress Backup Solutions. For instance, regardless of the package, BlogVault doesn't put any restriction on the Data Storage. Whereas, other popular Backup Solutions such as UpdraftPlus, BackupBuddy, CodeGuard have limitations on storage usage.
On the other hand, BlogVault offers Backup Encryption which is very crucial to keep your sensitive information protected. However, you won't find this necessary tool in other well-known platforms such as VaultPress and BackupBuddy. Apart from these, Powerful Malware Scanning also sets BlogVault apart from its competitors such as UpdraftPlus who doesn't provide any monitoring.
Despite all its amazing features, the pricing packages of BlogVault is kind of confusing. For a small business, you might find it a bit expensive as well. However, if you consider all the amazing features it offers, BlogVault would be totally worth every penny.
Wrapping Up
In a nutshell, BlogVault ticks all boxes of being the Ultimate Backup Solution for your WordPress website. Considering all its amazing features & ease-of-use, we would highly recommend you to setup BlogVault on your website.