Are you searching for a premade solution to build your COVID-19 website? Do you want to spread social awareness during this pandemic situation? Don't worry, we have got you covered! With the introduction of Templately, you can now instantly create eye-catchy & informative COVID-19 awareness website with just a couple of clicks. If you have a large set of audience, this is your chance to encourage everyone to stay at home, be safe, and motivate your visitors to work remotely. Without further ado, let's get in more detail on how you can create an amazing COVID-19 website using Elementor without any prior coding knowledge.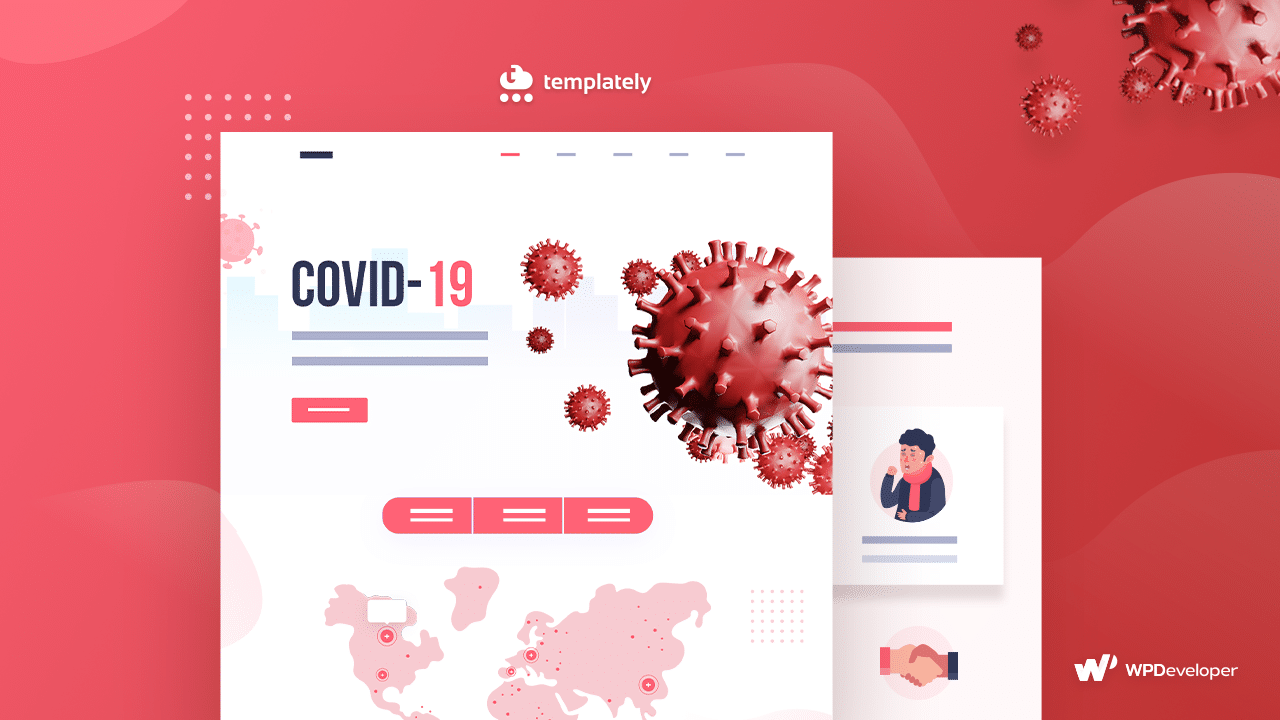 Why You Might Need COVID-19 Website?
It's a shame that COVID-19 pandemic situation is getting worse day by day causing everyone to be locked down and resulting in people working remotely from home.  As a result, people out their want to know how everyone else is dealing with this crisis as a business owner, entrepreneur, medical professional, or others. To make them assure you about your current position in the most graceful way is to build a COVID-19 website and spread social awareness especially if you have a large set of audiences or readers. This will be helpful to create awareness among your loyal visitors and encourage them to stay strong in this tough time.
Through your COVID-19 website, You can comfort your audience by sharing your remote working experience, activities, and your progress of work during this pandemic. It would definitely strengthen the bond with your audience and they would take aspirations to fight this pandemic while keeping everything together.
How To Create COVID-19 Website In Elementor
Everyone is now looking for a premade solution to build their own COVID-19 website and spread social awareness as much as they can. Business owners to medical professionals, everyone wants to get participated actively in this global crisis. With the introduction of Templately, you can now create a stunning COVID-19 website using Elementor without any coding knowledge whatsoever. Since Tempaltely offers free templates for COVID-19, you can get started quite easily. Simply by inserting the templates on your WordPress website, you will be all set to go. Sounds pretty amazing, right? After modifying the content as per your requirements, you can even save them in the cloud on your free workspace and use them wherever you need as well.
Things You Need Before Creating Your COVID-19 Website
You need to get a few things done before building your COVID-19 website for free using Templately for Elementor. Let's have a look at the Plugins you will require:

Get Started With Templately To Build Your COVID-19 Website
By following the step by step guideline, you will able to publish your COVID-19 website using Templately just within a few clicks. Let's check out the guide below:
Step 1. Choose COVID-19 Template From Templately 
From Templately panel, simply just search for 'COVID-19' and you will find few templates under that category. There are 5 different blocks and pages available under COVID-19.  For the purpose of this article, let's just focus on the 'COVID-19 Landing Page' template.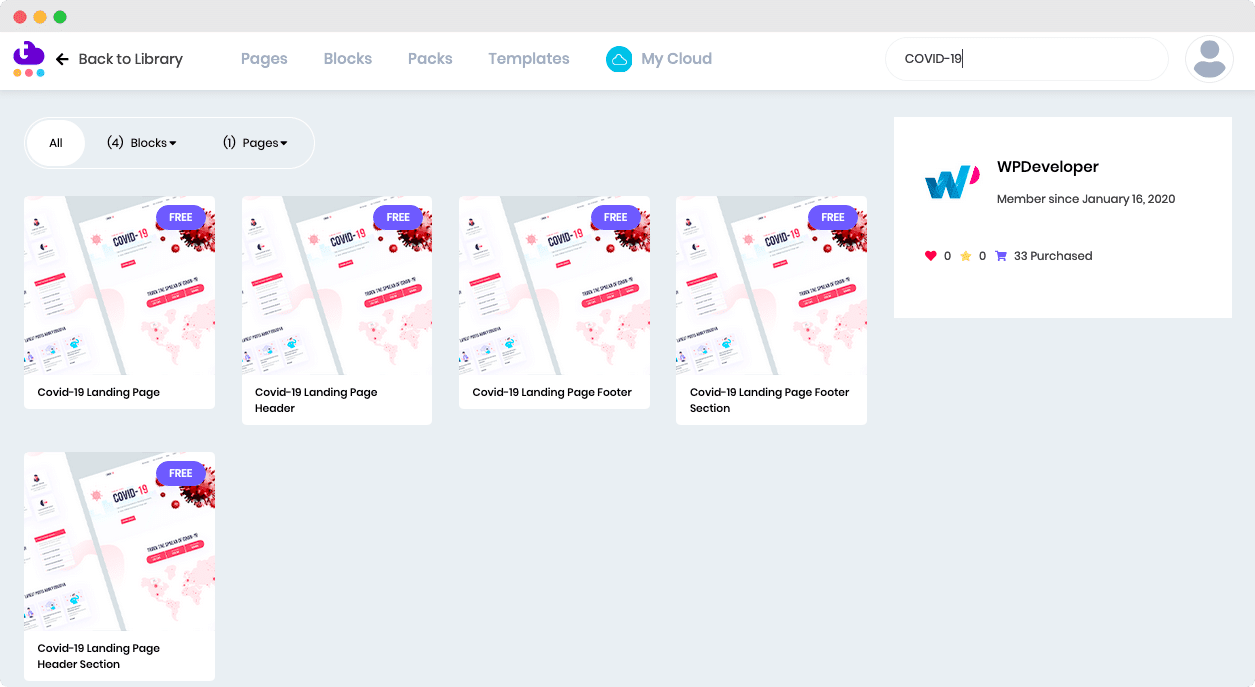 Afterward, simply 'Edit Template with Elementor' option and start customizing the template any way you want.
Alternatively, you can go to your Elementor page, then insert the COVID-19 website template from Templately and get started instantly.
Step 2. Customize The Template
After inserting the template, you will get full freedom to style the template any way you want. You can fill up the content with your own data, change the colors, typographies, and many more as per your requirements & leave your own personal touch.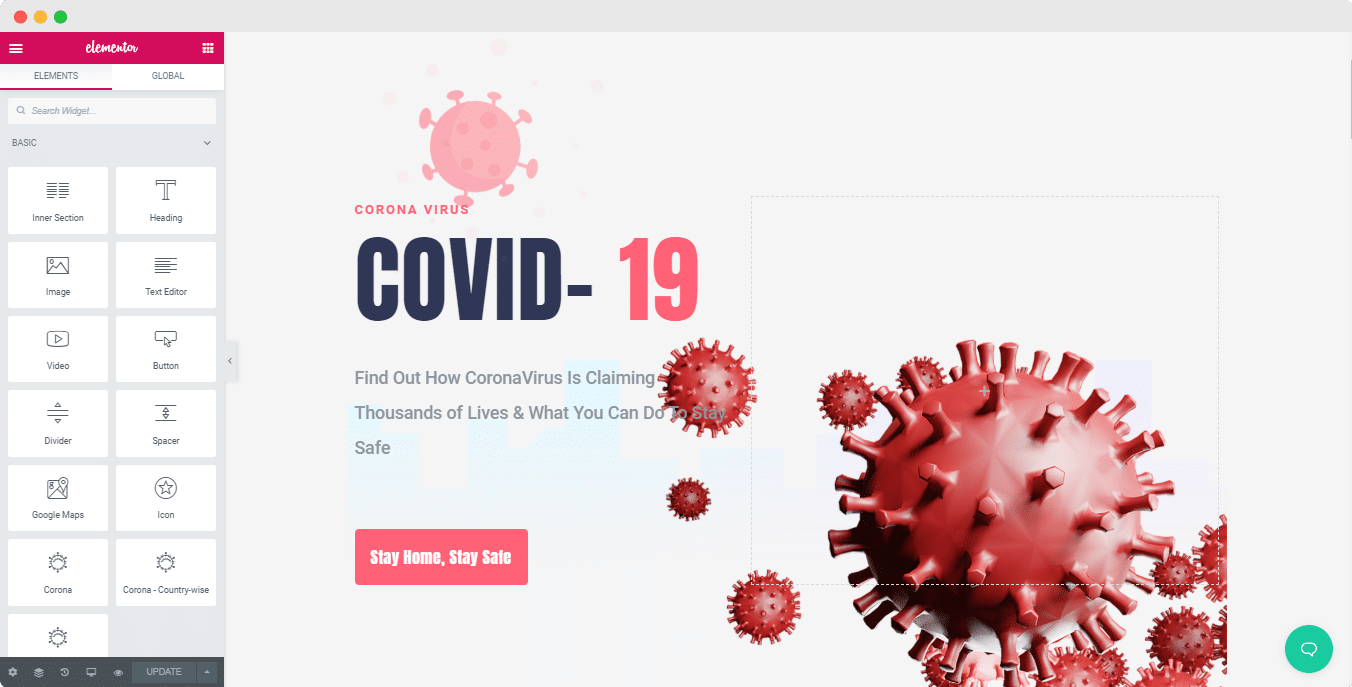 Step 3. Save Template On Cloud Storage
Moreover, you will be able to save your work on 'MyCloud' space of Templately. It provides free cloud storage for your stunning templates. So, if you are an owner of multiple websites and use the COVID-19 template you have built anywhere else, you can do this with just couple of clicks. Sounds pretty awesome, right?
Final Outcome
By following all the above steps and modifying the content as per your needs, you can build your COVID-19 website absolutely for free with Templately premade template designs.
Wrapping Up
If you are looking for a way to instantly create an eye-catchy COVID-19 website with Elementor, then Templately is just the right tool that you need. Get ready to spread awareness among your user-base and encourage people to fight together in this global pandemic by creating an informative COVID-19 website.
So, what do you think of this article? And if you haven't tried Templately out yet, let's check it out today!