Building a conference landing page that catches the 8-second attention span of your potential attendees indeed a difficult task. It requires the time and in the traditional way, you need a designer and developer to create a proper event landing page.
Imagine the frustration of visiting a particular Event website and failing to get the information you are looking for? It certainly leads to create a bad image among people and you would end up losing lots of audiences. To rise up your ticket sales and make the seminar stand out, you must focus on designing a jaw-dropping & to-the-point page. In this article, we are going to walk you through how you can create a Conference Landing Page in minutes using Elementor Page Builder.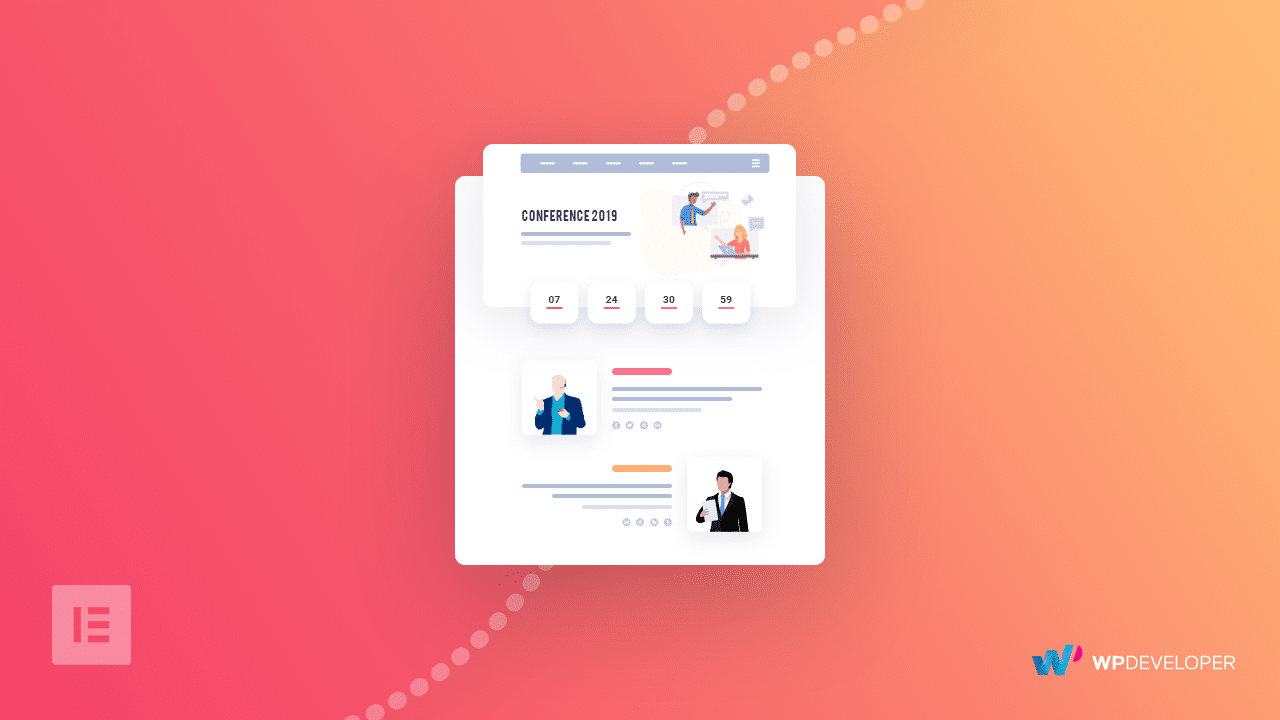 Things to Consider When Designing a Conference Landing Page
Nowadays, meetup events have become almost a daily occurrence for every industry all over the world. It's a great way to connect with people from all over the world and promote your business. With the rise of the internet, it is impossible to think about these sorts of events without advertising them online. This is why you need to have a wonderful Conference landing page to attract your audience.
Stunning Event page always helps to create a buzz among people. With more people talking, ticket sales easily can rise up. Even though a Conference tickets sale depends on other key factors such as credibility of the speakers, topic, location and many more. But with a splendid design, you have the opportunity to grab the attention of the visitors who wouldn't be interested otherwise. Moreover, a badly designed landing page can lead to losing out to potential attendees.
A quality Conference page displays key information in a plain view. So people would be able to realize what's the event is about, where & when it is being held, who is coming as speakers, how to purchase tickets and many more. The whole point is to make navigation easy for your visitors so that they can get access to the information they are looking for.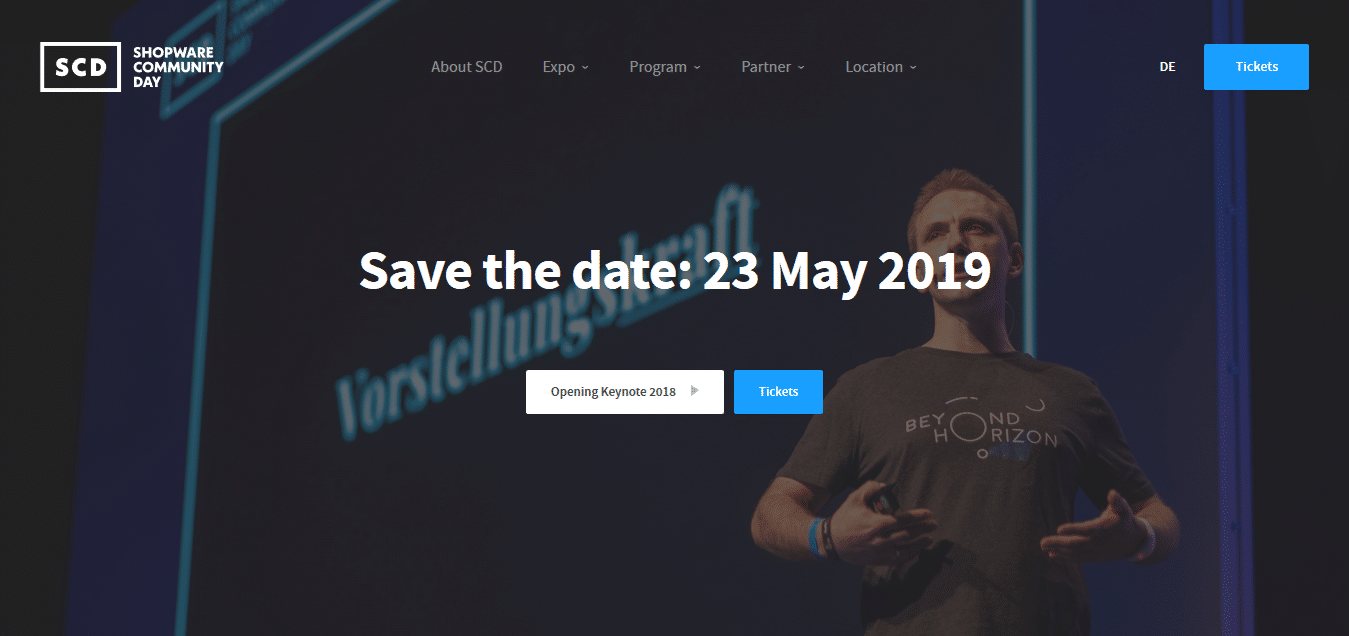 Most importantly, the Event landing page has to be straight to the point. You should always keep in mind that the Conference page meets certain criteria:
Clear mention of Event Date, Time & Location
Display Key Information in Plain Sight
Avoid Vague information
Showcase Speakers & a bit description of them
Call to Action buttons for Sign Ups or Ticket Purchase
Easy to Navigate
Well, even if you do not have any prior experience with web development, you can now easily design a stunning landing page for your Conference. You are probably wondering how you can do it? By using the Elementor, you are getting access to hundreds of awesome ready-made templates. You can easily pick your preferred layout for the Event page you are building and then modify the contents as per your wish. The best part is, it's gonna take only a few minutes of your time and you can make the whole page ready for FREE as well.
How to Create an Impressive Conference Landing Page Using Elementor
Before we begin, you need to make sure that you have created a page with Elementor Page Builder. If you are not sure how to do it, feel free to check out this documentation to get you started with Elementor.
Once you are inside the page you are working on, simply click on the 'Add Template' button. A Library window will then pop up which has 3 different tabs: Blocks, Pages & My Templates. Under the 'Pages' section, you will see a search bar. Just write 'Conference' in here and you will then see the collection of wonderful templates regarding the topic.
Afterward, you can simply just insert the 'Page Template' of your preference. It will then cover your page layout and give it a very professional vibe. If you are not sure which one to set, you can even check in the live preview as well. So, you don't have to worry about it at all.
On top of that, you have the freedom to personalize the template any way you wish to. You are able to change the color, image and most importantly, add styling to the whole layout you are using. If you choose to, you can even modify the contents or add new widgets to give your Conference page more options to offer.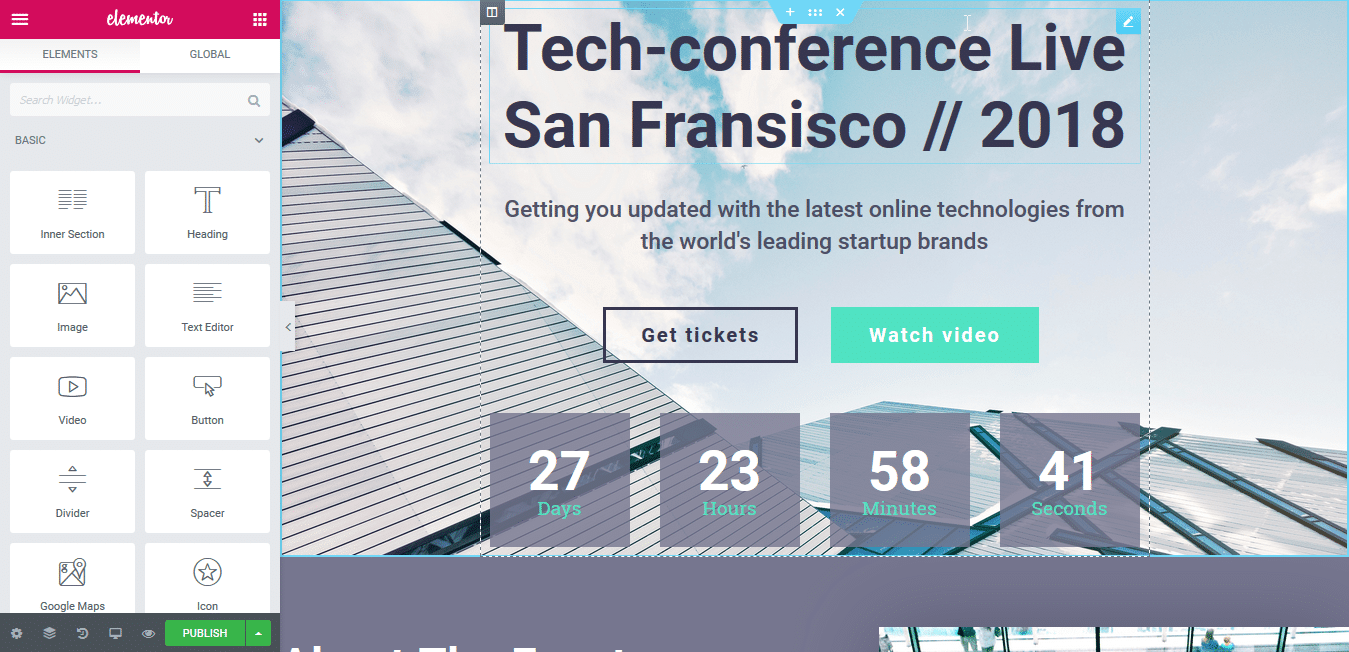 Expected Outcome
Even though the Elementor Templates for Events should cover the key elements of a Conference landing page. But you can easily modify the contents to your likings. You can even show-off your creativity to give it an exceptional design and make the page absolutely stand out to your visitors'.
Wrapping Up
To sum up, you must focus on providing a seamless user experience for the visitors' so that they can easily access the key information about your event and sign up. This will not just leave a great impression to the users, it will also immensely help boost your ticket sales rate as well. We hope that this tutorial helps you to instantly create an amazing Conference landing page using the pre-made templates offered by Elementor.
Getting stuck? Feel free to leave a comment mentioning how we can assist. For more details, you can also check out our blog on how to easily create a stunning page for your next event.