Why Do You Need To Build a Digital Agency Website?
Running a business online, you must have to get an interactive website to expose your products and services beautifully, in an organized way to get buyers. And for a digital agency company, that is undeniable. You must have to get an appealing, eye-catching website to promote your digital products and services uniquely than others. It will help you to attract and influence your audiences to make their immediate purchase decision by having an informative website. Besides, you can build a direct communication with your potential clients, nurturing the present buyers without any complex, and make you successful in the long run. 
For this reason, data analysts to machine learning services, whoever is running any digital agency company, nowadays tries to create a user-friendly, interactional, attractive digital agency website to promote their business on different social platforms. It helps to generate credibility, ensure brand exposure, and keep track of activities from present to potential buyers to take the marketing strategies to the next level.
How To Create A Digital Agency Website In Elementor Without Coding?
Developing a website from the beginning, you need to spend a lot of time, energy, and money. But if you prefer to use premade template designs, you can build and showcase a website as per your preference with ease. Without any coding nor to take anyone's help, you can make your website live anytime you want with a bit modification of content.
Dlab template from Templately makes that work quicker for those who want to get a complete, free, stunning premade template pack to build their entire agency website just in minutes. So let's find out what it offers you!
What Can You Get With Unigency Template?
Currently, Dlab offers you 4 stunning landing pages and 4 separate blocks to create your digital agency website in Elementor. Here, you will get to know in-depth about each page and block to expose your agency services online.
Homepage 
Dlab 'Home Page' template design will beautifully display your digital agency services, portfolio, achievements, customer feedback, more with interactive sections, animated widgets, and amazing scrolling effects to the whole website. It helps to make your online presence beautiful, organized, and interactive for visitors. 
About Page 
'About Page' template of Dlab will help you to share your journey, passion & interests, social profiles interactively with animation, creative sections, and scrolling effects to impress your potential buyers. That they should feel motivated to get your service immediately.
Case Study Page
With Dlab's Case Study Page premade layout, you can enlighten your customers about your digital agency service in detail through case studies, blogs, statistical data, and more with its stunning animated widgets, creative sections. 
Contact Page
An interactive, informative contact page helps you to create direct communication with your visitors or potential customers. With the help of the Dlab premade contact page template, you can do that work effortlessly. You can showcase your agency contact details, fully-functional contact form, subscription layout, Google map, and more to reach out to your actual clients without any delay.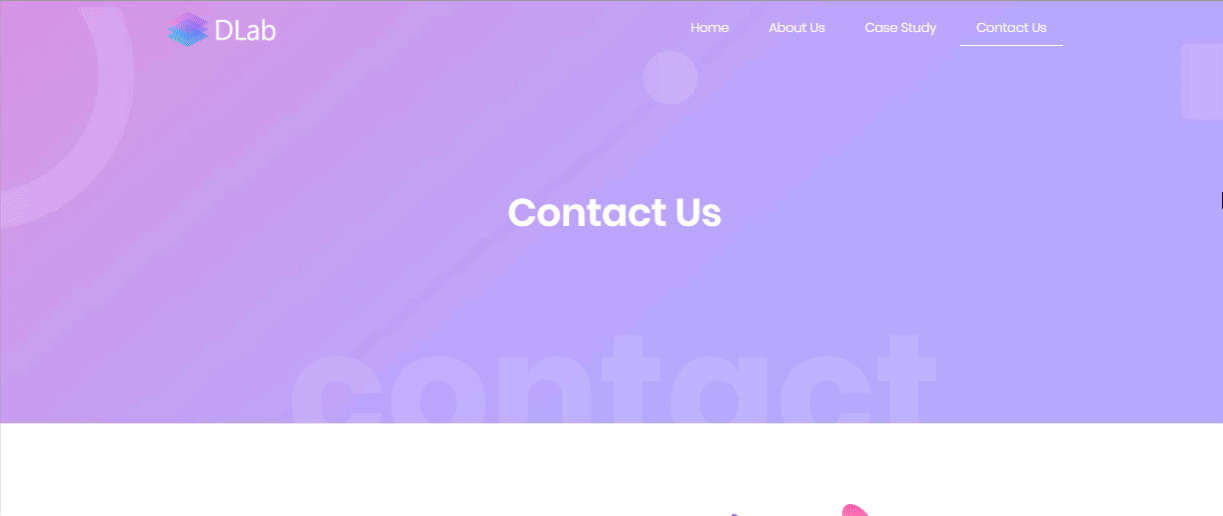 Things You Must Have To Get Before Creating Your Digital Agency Website: 
You need to get a few things done before building your 'Digital Agency Website' for free using the readymade templates of Templately. Let's have a look at the Plugins you will require and make sure you have installed and activated all of these plugins:
Elementor:

Make sure that you have already activated

Elementor

on your WordPress website before getting started.

Essential Addons:

You also need to activate

Essential Addons for Elementor

free and pro both versions of

to use Dlab templates and costume it in advance.

Templately:

Once you are done activating the above-mentioned plugins, simply just go ahead and install

'Templately'

on your WordPress website.
If you have successfully installed the mentioned plugins above, you are now ready to start creating your own digital agency website.
Get Started With Templately To Create A Stunning Digital Agency Website 
To get started, you have to follow some step by step guidelines to build a beautiful digital agency website on the spot using Templately.   
Step1: Choose Dlab Template From Templately
Create a new page from your WordPress dashboard and click 'Edit with Elementor'.
It will open up with Elementor. Afterward, you have to click on the Templately icon on the center to visualize all amazing template designs from Templately.  Now go search for 'Dlab', and it will provide you its full pack designs under that category.
If you want to get any of its page templates, you just have to click on the 'INSERT' icon to load the entire page on your site. We will take the 'Dlab Homepage' template to get started. It will take a few minutes to appear on your website. 
Step2: Customize The Template Design
Once you have done with inserting, you can now customize this readymade template design and make it the way you want. You can drag & drop any creative sections, edit each portion text, visuals, play with colors, change the background, typography, or others with your own content, and style it in advance to make standout.
Step 3: Save Template On Cloud 
Templately comes with a unique feature to save your work on 'MyCloud' storage. You just have to make a click on the 'Save Page to Templately' option and make it save on the cloud. So if you are a multisite owner or planning to create more digital agency websites, you can easily do that with any of its templates anywhere you want, just with a few clicks.
Besides, you can build your own Templately WorkSpace on the cloud to share, manage, and create a seamless collaboration with your team members having this one organized place.
Final Outcome
If you follow these few steps, you should build your 'Digital Agency Website' in Elementor just within a few clicks using Dlab template form Templately.
Wrapping Up
Get an appealing, standout digital agency website in Elementor, can help you to boost site conversions and sales at the same time. All you need to do is to find out the perfect premade solution to build your website without coding. Dlab digital agency website template form Templately allows you to build a complete, stunning website just in minutes without taking others' help.  
If you haven't tried it out, sign up for Templately, now! Explore it and let us share your experience by commenting below. Besides, if you face any problems, you can contact our support team for further assistance.