Wondering how you can disable comments or spam on each of the websites on your WordPress multisite network in some quick and easy steps? Using Disable Comments plugin, managing and disabling comments on your entire network or individual sites is now just a matter of minutes.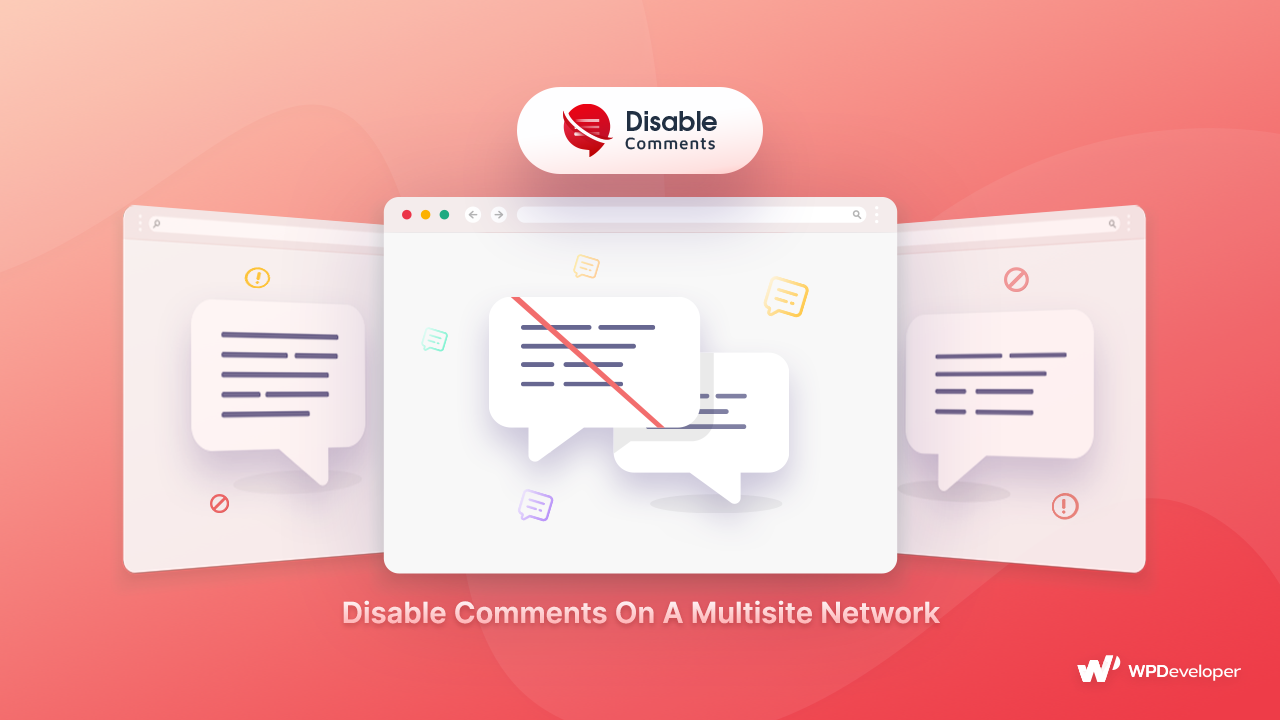 A WordPress multisite network is a network of subsites within a single WordPress installation and is commonly used by large corporations and businesses, schools or universities, that need to run several websites but want to manage them all from one dashboard. 
Removing spam from each of the content or product pages from all the websites individually might seem like a tedious and hectic task that might even take up an entire day, if not longer. However, Disable Comments now brings you the ultimate facilities to disable or delete comments throughout a multisite network. Securing all of the sites on your network at once is no longer a worry.
Reasons You Should Disable Comments On WordPress Sites
Spam comments can be a massive source of concern for website owners, like you, who want to keep their site clean from hackers and harmful links. Not only do they significantly affect your website's reputation and make it seem unsafe and unreliable. And this concern gets twice-fold when you have a WordPress multisite network to manage. 
If your site users and business clients come across comments that redirect them to harmful or offensive websites, the user may refuse to visit your site for a second time. New visitors or potential clients will not even consider checking your content out regardless of how well your company or blog is doing. 
This will eventually put a great impact on the incoming traffic on your website and lower your website's credibility. At the same time, it will also put your SEO ranking at risk due to decreased engagement rates. But you can easily avoid all these on not just one but all your websites on a multisite network with the ultimate WordPress anti-spam plugin, Disable Comments and maintain your site security, speed, and overall performance.
Disable Comments On Your Multisite Network With A Click
With the latest updates, Disable Comments brings you the great facility to manage spam comments, disable and delete them from your WordPress multisite network. It not only enables you to configure 'Site Wise' settings to manage all your subsites' comments on a multisite network from your WordPress dashboard but also gives you the freedom to control a specific subsite's comments. 
Check out the step-by-step guide below to learn exactly how to easily and quickly disable spam and unwanted comments from your WordPress multisite network using Disable Comments. 
Step 1: Add Disable Comments To Your Multisite Network
To start off, you need to add the Disable Comments plugin to your WordPress multisite network, and to do that, navigate to the top of your WordPress sidebar and configure the plugins through the network admin. All you have to do is click through the steps My Site→ Network Admin →Plugins, as shown below.
Afterward, simply search for the free plugin 'Disable Comments' on the and install it. When activated, it will be enabled on all your websites throughout the WordPress multisite.  
Step 2: Configure Site Wise Settings For Multisite Network
The next step is to configure the settings for the Disable Comments plugin on your multisite network. And to do so, you need to toggle to enable the 'Site Wise' settings from the plugin's user interface in order to disable spam comments from each of your websites on the network.
One thing to note here is that you need to then navigate to each of the websites you want to disable the comments for and separately manage your posts, pages, or entire site comments. This way, you can configure Disable Comments on your entire multisite network while having complete control over each website's contents with the site-wise settings. 
Moreso, if you want to disable comments using the plugin from the Network Admin but not from your individual sites, you can effortlessly do so by just turning off  'Enable Site Wise Settings' option. You will then only be able to manage your site comments from your Network Admin dashboard. 
Step 3: Disable Comments On Specific Sites On The Network
Following up on the last step, Disable Comments also brings you the amazing facility to configure settings for specific subsites separately. Just as earlier, you need to have Disable Comments installed and activated on your WordPress multisite network.  
However, to disable comments on each of your subsites individually and configure the rest of the features of this plugin, you need to make sure to disable the option 'Enable Site Wise Settings'. 
Afterward, simply choose the subsites in which you want to disable spam comments, and in which you would like to continue receiving comments and feedback from users.  Select them individually by clicking on or off the checkboxes next to the name of the subsites on your network and hit the 'Save Changes' button once you are done.   
Similarly, you can configure the 'Delete Comments' feature for your specific subsites on multisite networks.
Ways In Which Disable Comments Can Protect Your Website
So now that we know how we can configure Disable Comments on a multisite network, it's time we take a look at all the features Disable Comments brings to keep your websites secure from spam, hacks, and any type of inconvenience. 
Globally Disable Comments On Your Website With A Click
If you have a large website with a wide database that might be littered with a sizable amount of spam comments, Disable Comments has you covered. You do not have to moderate and remove spam from each post or page separately. 
With this helpful plugin, you get global control of your website comments and can turn off all comments on your entire website with just a click. The comment sections and review sections on all your website content will be automatically removed. 
Disable Comments On All Or Specific Post Types As Needed 
Sometimes you may notice a specific type of post receiving a significantly greater amount of spam and want to remove comments on that particular post type instead of removing the option to comment from your entire website in one go.
For such situations, Disable Comments comes with the perfect solution – you can choose particular post types to disable comments from. You can choose one or multiple of these categories and disable the comment facilities from them according to your preference:
🎯 Post                    🎯 Pages            🎯 Landing pages
🎯 Media files        🎯 Products       🎯 Documentation 
Stop Spam From External Sources Using Disable Comments
The XML-RPC WordPress specification and REST API are two applications that allow third-party websites or developers to connect to and communicate with your WordPress websites through the use of codes. So when such platforms get in touch with your WordPress multisite network, all your sites may get introduced to vulnerabilities and become a target for hackers.  
In situations such as this, Disable Comments can help take the security of your website a notch higher. You can instantly block all comments made by both these applications easily and without the slightest knowledge of complex codes using Disable Comments. 
Delete Spam Comments Permanently From Your Multisite Network
Disable Comments also allows you to permanently delete all comments on your WordPress multisite network or specific websites with ease. As mentioned earlier, you will be able to delete comments using 'site-wise settings' for your entire network or simply for individual sites. 
You can use the 'Delete Everywhere' option and remove comments from your entire website but once you enable this feature, there is no going back. The comments will be removed from your database entirely and only a database backup can override this feature. 
But if you want to remove comments from specific posts or content types only, Disable Comments lets you choose to allow and disallow comments on posts, pages, products, media contents as you decide.
Remove Spam On Your WordPress Multisite With Disable Comments
Disable Comments is the easiest solution to remove spam comments on your WordPress multisite network and to secure all related websites from harmful comments and links in the future. Protecting your site is entirely trouble-free, quick, and highly effective with this plugin.  
Hope this blog was helpful to you. If you still have not tried out this popular plugin yet, try it out and join 1 million happy users and us in our Facebook community. Let us know about your experience by commenting below. And subscribe to our blogs to get the latest updates, news, tutorials, and more.