Kudos to the Elementor team. On 7th of November, 2017 Elementor 1.8.0 was released. Now with their latest feature upgrade, you can streamline the process of page-building. You may wonder, how?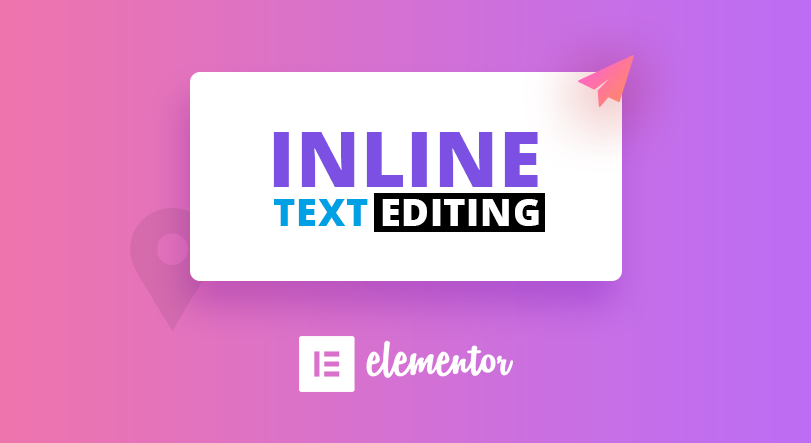 With the latest version of Elementor, you get in-line editing feature. You get it with both the free and pro version. This feature was much anticipated as it completely upgrades how you write content in the page-builder interface. Combine this with the feature-rich widgets and you have a lethal weapon.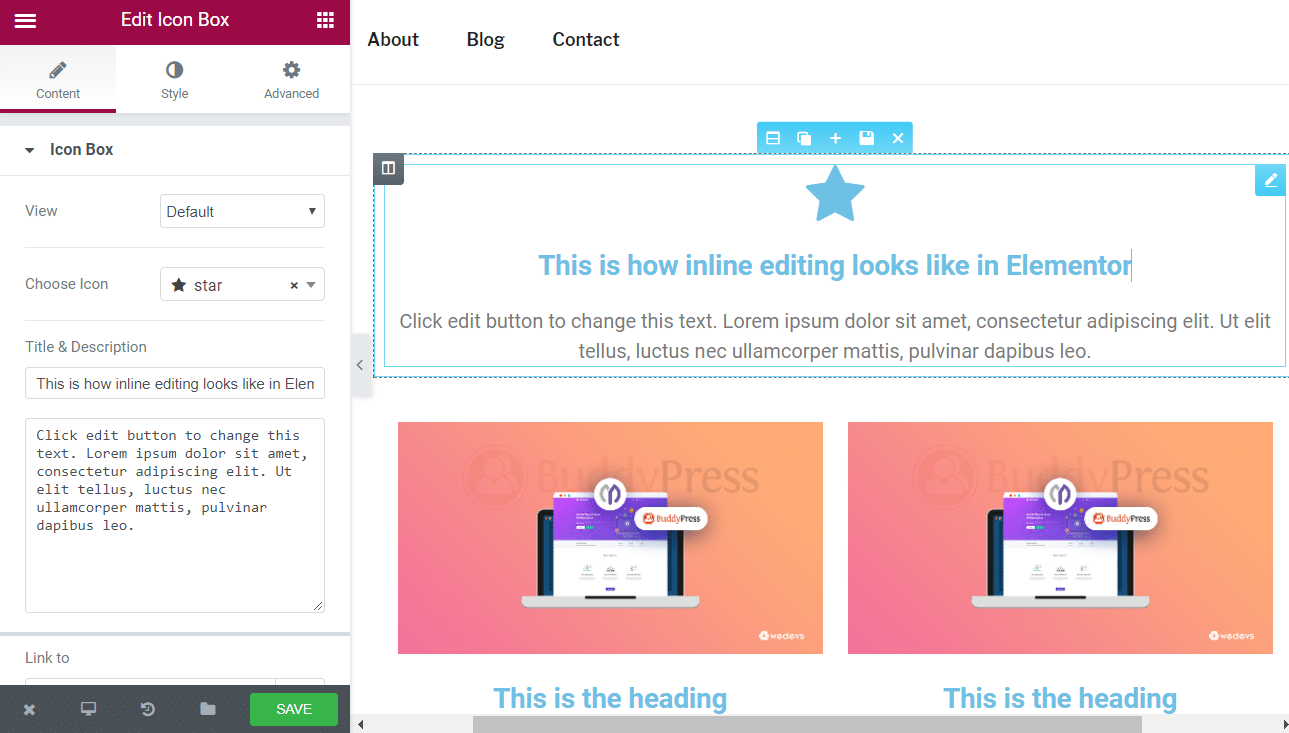 Is it Limited to Just Text-Widgets?
Elementor offers widgets of different types. And without any doubt, you can use the in-line editing feature with every Text-Widget. But do you need this feature for every other widget type? Definitely not! In-line editing suits specific widget types.
For example, the Flip-Box widget is heavily content-based. So you should be able to enjoy the in-line editing with this widget, right? Well, even if you had that chance, you won't enjoy it. The Flip-Box Widget gives you two canvases inside a certain section area. And as you hover your mouse over the widget it will switch back and forth between these two canvases. Think of these two canvases as two opposite sides of a paper.  This means although, in the same section, the front and back content needs to be typed in separately. And this is why you don't actually need in-line editing with this widget. The sidebar content insertion technique suits this widget better.
Same goes for the Countdown-Widget. It is better if the widget lets you select date and time from a drop-down menu rather than letting you mess things up with in-line editing. Now, do I need to explain why in-line editing doesn't suit the Share Button-Widget?
Below we have shortlisted a couple of widgets which are suitable for in-line editing.
Icon List
Accordion
Tabs
Toggle
Heading
Text Editor
Icon Box
Image box
Alert
Forms
Testimonial
Login
Facebook comments
Search
Will it Overwhelm You with Floating Bars?
Creating a story-driven blog/content requires the right mixture of widgets, but what good is it if you feel overwhelmed with floating bars all the time? With Elementor 1.8.0 you type into the page-builder section just like any other in-line text editor. And as you write directly into the interface it will be instantly updated on the side panel.
And to further modify a selected portion, you first need to highlight it. Only then the floating bar will appear over your highlighted text. Previously you had to select a widget and insert texts from the side panel. Undoubtedly it was a drawback. Many users of Elementor have shared their experiences, where they absent-mindedly started typing inside the interface but later realized this is not how it works. But now, go where your instincts take you and interact with Elementor in a more responsive manner.
How Can You Benefit from This Feature?
In-line editing streamlines content creation. Whether you are trying to fix spelling mistakes of a long blog-post or optimizing your landing page, you can do more with in-line editing. Using this feature content writer, marketers, designers and site owners, all will be benefitted. As it will increase what you can do, job delegation will be easier for heavy-content based projects.
How Inline Text Editing Works in Elementor
Inline text editing in Elementor is very simple, just add the element you want and click on the text. Now, start typing!
Previously, you had to select the element and type on the left sidebar. But now you can use both of the editors. You can either use click on the sidebar and type or start typing directly on your element. Neat, right?
Additional Features
What else is there in Elementor 1.8.0? You get an intuitive code editor. When you start typing a string of text, the AI Algorithm will suggest completed words that use the same prefix. Then you can choose the exact text from a drop-down menu. You don't even need to finish writing. The Code editor will assist you as a side-kick. At the same time, you can avoid making silly spelling mistakes. Small spelling mistakes can go undetected easily, but they have the potential of putting the whole project in jeopardy. Not anymore!
What are your thoughts on this new feature of Elementor? Do you think it will make Elementor the best page builder for WordPress? Share your opinion in the comments. And don't forget to check our own Essential Addons for Elementor, to enhance what you could do more with Elementor!
Will You Recommend Our Plugin To Your Friends?