Do you want to grow your email subscription list on WordPress site? FOMO marketing approach is one of the most popular ways to easily take care of this hassle. It will help you to showcase your latest subscriber information in an automated process. With the help of NotificaitonX, you can easily apply this amazing technique and encourage your site visitors to sign up in your Newsletter. Without further ado, let's talk a brief on how you can use NotificationX to boost your conversion.

What Is The Purpose of Email Newsletter?
In this digital phenomenon, email newsletter is the ultimate solution to provide updates about your daily blogs, products, services or overall business news. As a result, you no longer have to do a face-to-face sales pitch with your clients. Not only that,  it helps to grow your email subscription list of your valuable customers as well. So you can reach out to them in the future to make an effective relationship and boost your business in the process.
Suppose, you are running a software firm and you have great products to deal with. You need to find ways to engage your users through the regular updates about your product or business. Email newsletter makes things easier for you to grab the customer's interest. Therefore, your readers will be up-to-date about your every future move. Besides, you can disclose your special offers, packages or discounts to your users and increase your conversion too.
This is why it is crucial to building your email Subscription list to take your business to the next level. With the introduction of the ultimate FOMO Marketing tool- NotificaitonX, you can showcase the list of users who have subscribed to your website and sky-rocket your conversion in the process.

How to Use NotificationX to Boost Your Email Subscription List
The most difficult part is to get audience attention when they visit on the website. So for that reason, you have to display your content creatively that would attract them instantly after visiting your site. By displaying email subscription alerts on your website, you are able to do just that.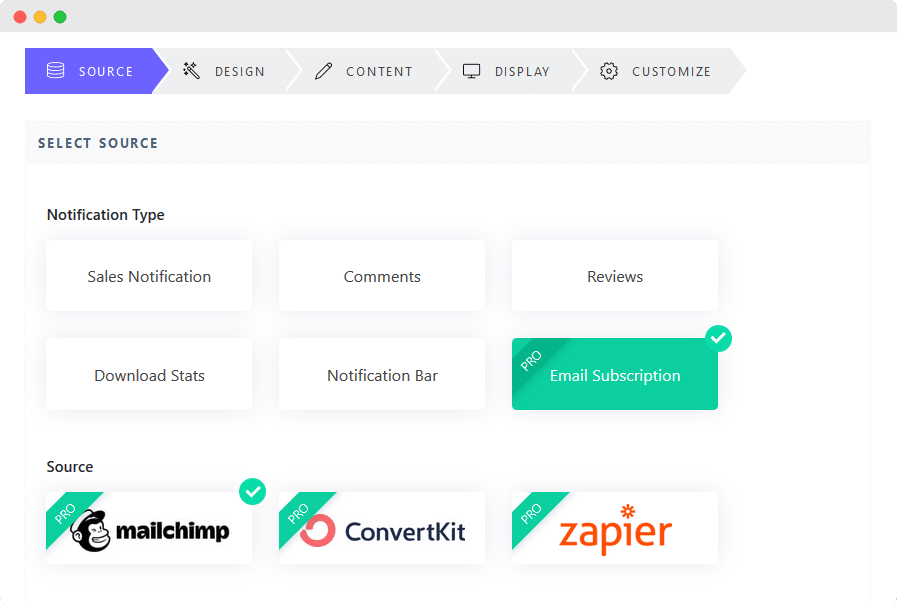 After stunningly showcasing your latest subscriber with the help of NotificationX, you will be able to add much needed social proof to your site. Therefore, people would feel encouraged to participate in the trend and sign up in the process. Most impressively, NotificationX PRO offers powerful integrations popular platforms like MailChimp, ConvertKit, and Zapier to display the users who have subscribed to your newsletter in an amazing manner.
Showcase Latest Subscribers To Influence New Visitors

NotificationX can help you to display your latest conversions on the website. From its simple user-friendly interface, you can pick the source of notification type from either MailChimp, Convertkit or Zapier to start configuring notification popup. After that, you can start designing your notification template from the Design and Content tab.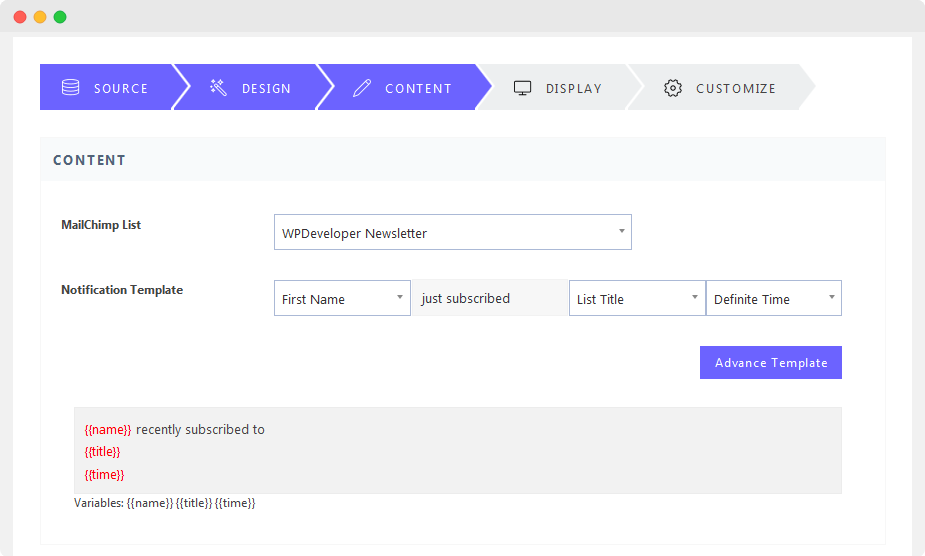 Here, you can choose and design your notification template in any way you want. Most impressively, you even have the freedom to display the location of your subscribers as well. Also, you can choose the placement to display the email subscription notification from the 'Customization' tab. 
In the meantime, you can customize the entire template layout and get your desired notification layout. You have the complete control over how and where you want the notification alert to be displayed. Besides, you can even showcase your subscriber information based on a particular time frame.
Final Outcome
By following the process we have mentioned, you will get a beautiful and organized outcome like this to showcase your email subscription alert. This will surely influence your site visitors to subscribe and boost your email subscription list in the process.
Final Thoughts
The email subscription list is an asset to run your marketing campaign successfully. NotificationX lets you showcase your new subscriber information in an appealing manner. By adding instant social proof, it will attract them on the spot and turn your visitors into your next subscribers as a result. Thus, it can be very essential to boost the conversion of your business.

The most intriguing thing is that your new subscribers would then get updates about your product and services from your email marketing campaigns. This can be highly beneficial to get your users engaged and make a strong relationship with you. Therefore, you will be to massively grow your user base and take your business to a whole new level.
So, why don't you explore NotificationX? Feel free to share your thoughts in the comments section.