If you are looking for a perfect way to embed BoomPlay music in your WordPress site without codes, you are then in the right place to get your all-in-one solution. Let's introduce EmbedPress with its revamped user interface that comes with more power to embed anything in WordPress without codes. You can embed more than 100+ resources in your favorite Gutenberg Editor, Classic Editor, or Elementor Editor with EmbedPress, just with a few clicks.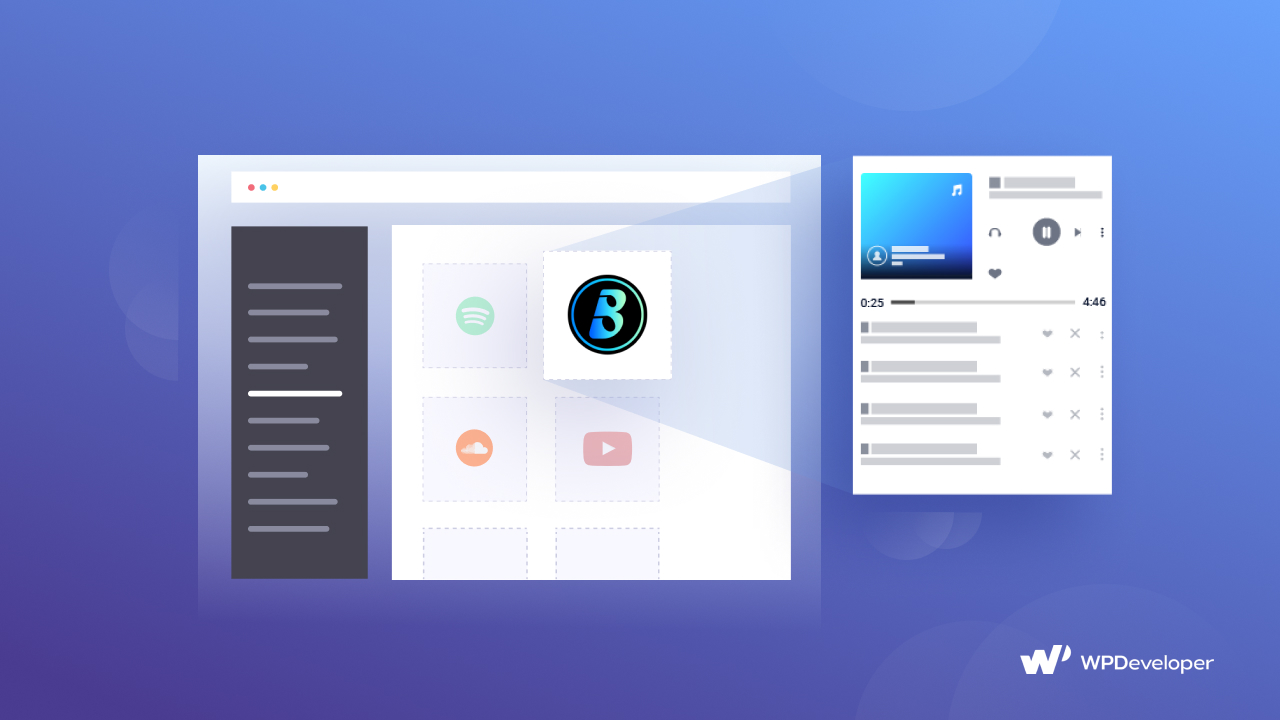 Embedding is one of the solutions that most WordPress site users are looking for but don't want to take the extra hassle. For them, EmbedPress comes as a blessing and has been helping WordPress users create unique content successfully from the year 2016. After acquiring EmbedPress by WPDeveloper, the plugin has been revamped completely with lots of flexibility, support for new content sources, updates, and more. That helps to make your user experience more smooth, functional without codes. 
Sounds cool, right? Let's check out the detailed blog here to know how to embed BoomPlay music in WordPress with a step-by-step guide.    
Why Should You Embed BoomPlay Music On Website?
If you belong to the music industry and run a music website to promote your music, latest creations, musicians, or others, you will feel the necessity of embedding music on your website. This is also true for music bloggers, reviewers who are constantly focusing on new music platforms or the established ones about their online performance and all. They can also feel the need of embedding such platforms' music on their content to make their posts more reliable for their readers. 
BoomPlay is one of those musical platforms that was first introduced as an app in Nigeria. It's a global music platform available in the web version or even installed on your Apple device or Android device. It's mainly focused on collecting all genres of music, or artists' works, specifically for promoting African music through this platform. Anyone can listen to their preferable music tracks, albums, follow artists, create personalized playlists, download audio files, or can even sell music to get exposure online and much more.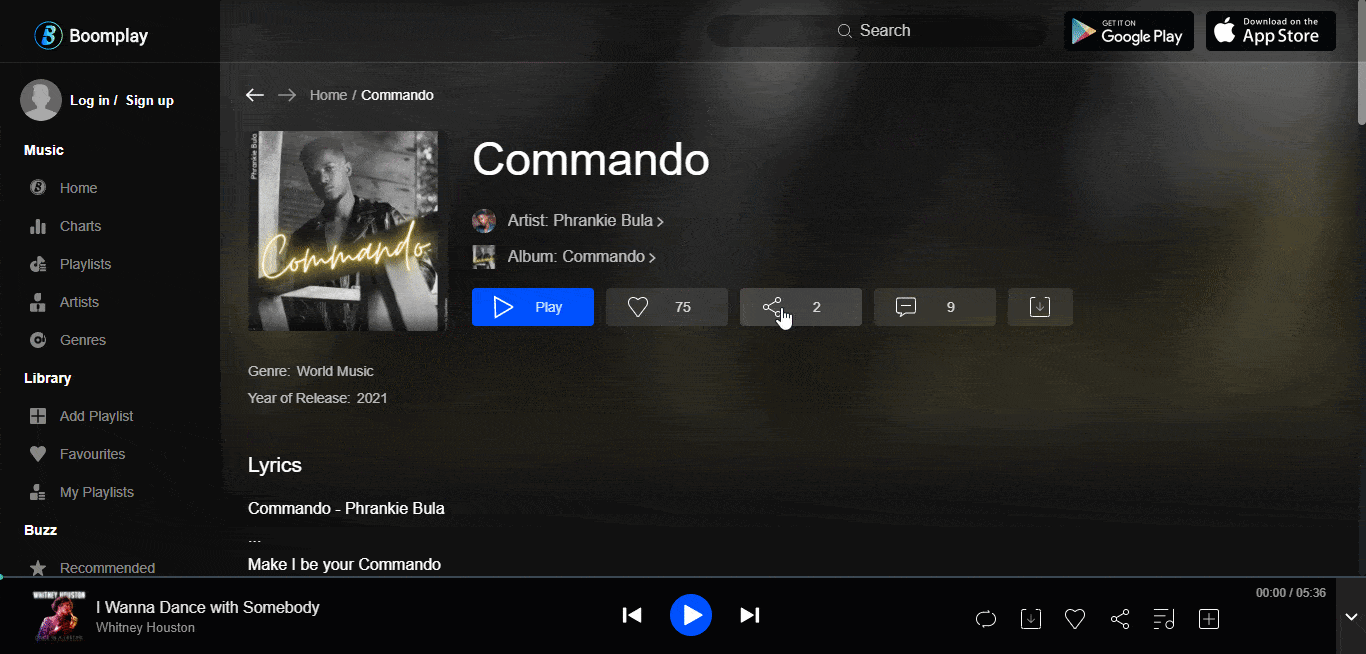 So if you are an artist of BoomPlay or going to provide a review about this cool musical platform on your website, then embedding is the best way to do so. If you embed BoomPlay music on your website, your customers can know about your choices, or get enlightened about this platform's success and more with evidence. 
Whatever perspective you may choose, you can easily make your purpose successful by letting your audience see the visuals of BoomPlay music tracks, albums, or more on your website. Embed BoomPlay music content can also help you take your online marketing activities to the next level without any hassle. 
Note: You need to install and activate this EmbedPress Plugin to embed a BoomPlay playlist, albums, or tracks in a WordPress site.
If you have successfully installed the plugin, then you are ready to embed anything on your desired WordPress editors along with the BoomPlay playlist.
How To Embed BoomPlay Music  In WordPress Using EmbedPress
To embed BoomPlay music in your WordPress favorite editor, you just have to follow some simple step by step guidelines below:
Embed BoomPlay Music Effortlessly In Gutenberg Editor
You can embed BoomPlay music effortlessly in your Gutenberg Editor by using EmbedPress block without codes. Just need to follow some simple steps. Get all the detail: 
Step 1: Insert EmbedPress Block On Gutenberg Editor
You just have to copy the link of your BoomPlay music, album, or playlist and insert it on the Gutenberg editor by clicking on the + icon and selecting 'EmbedPress'.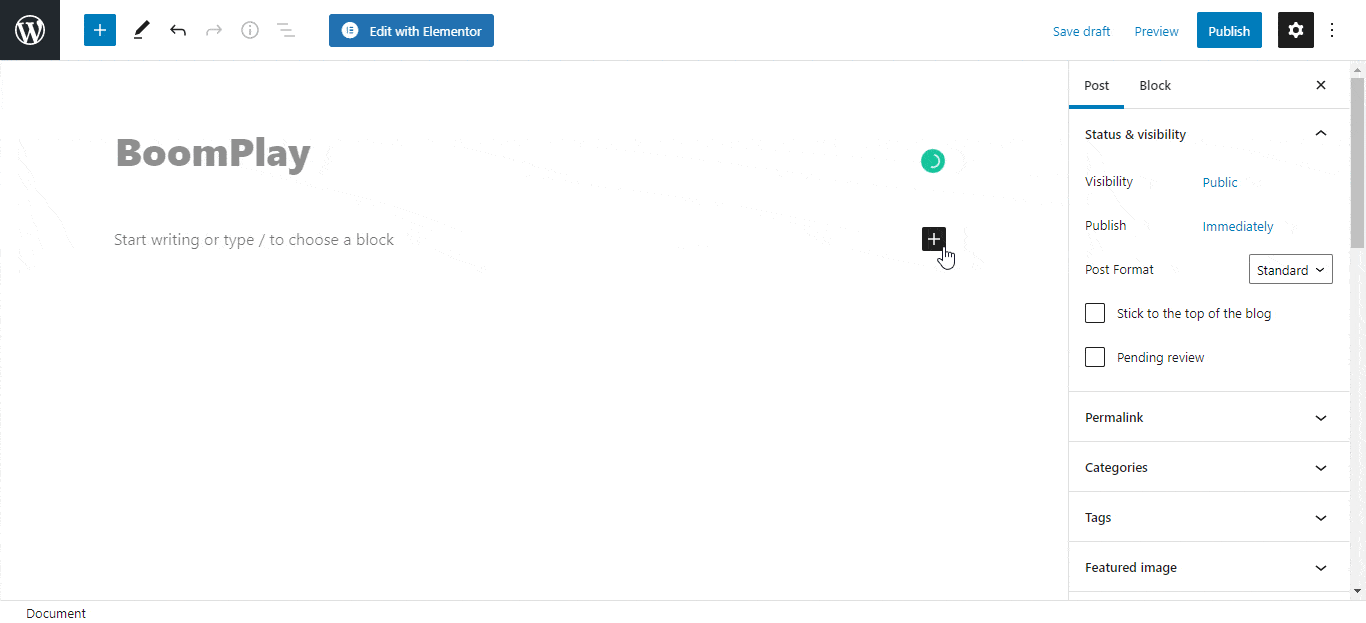 Step 2: Embed BoomPlay Music On Your WordPress Site 
All you need to do is to paste the link of your desired link on your EmbedPress block and hit the 'Embed' button. That's it! It will automatically fetch and display your feed outstandingly without any coding.
Step 3: Anytime Edit BoomPlay Music Content
If you want you can edit your BoomPlay music content width, height to adjust it with your website layout. To do this just click on the EmbedPress 'Block' on your Gutenberg editor and start customizing it as per your preferences.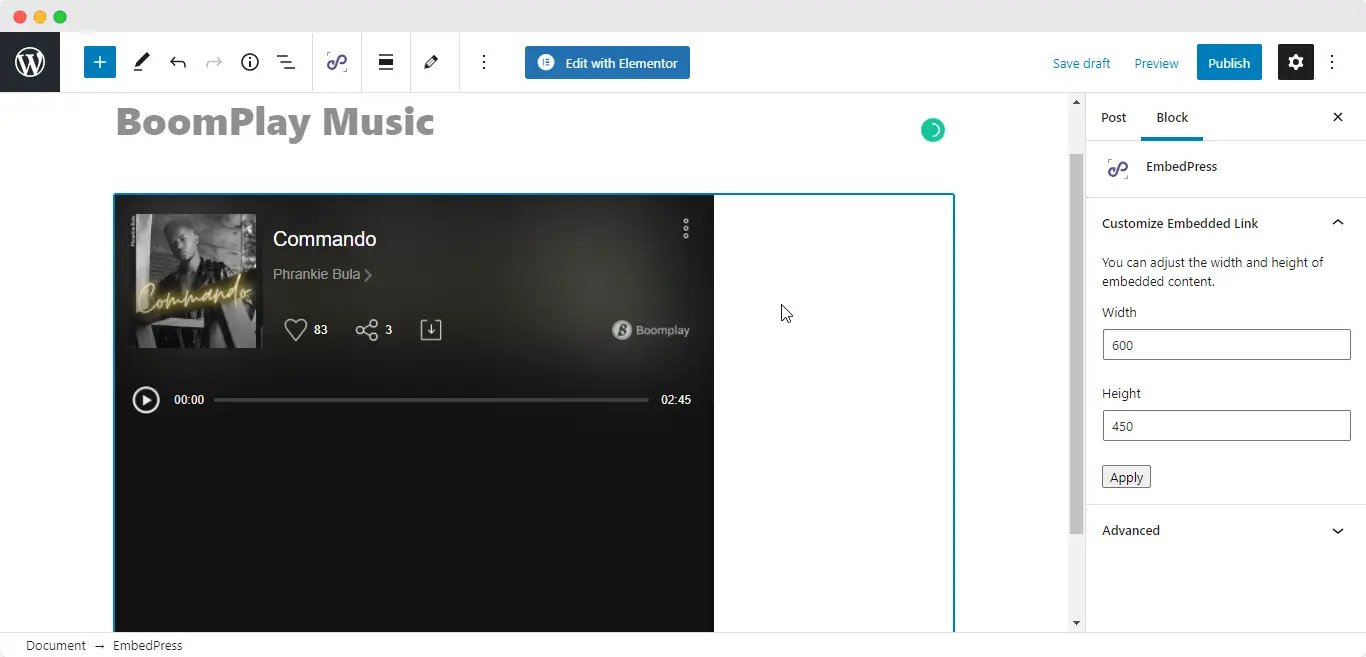 Embed BoomPlay Music In WordPress Classic Editor 
Similarly for Classic Editor, you can easily make it happen by following some simple steps. Take a look at below: 
Step 1: Embed BoomPlay Music In Classic Editor
First, you have to get the exact link of your BoomPlay music that you want to embed and insert it on the editorial panel. It will come up with a purple 'Loading your embed' message and will take a few moments to embed BoomPlay music in WordPress.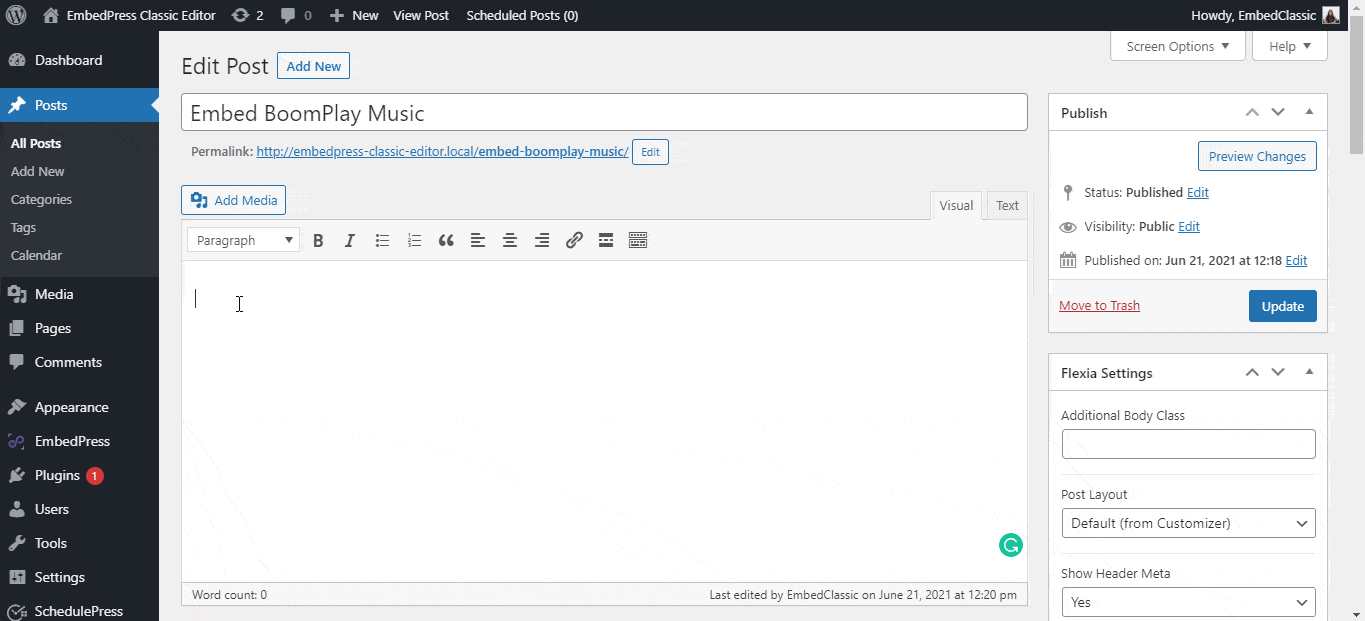 Right after a few moments, it will then automatically fetch and embed a BoomPlay Music in WordPress just with one click.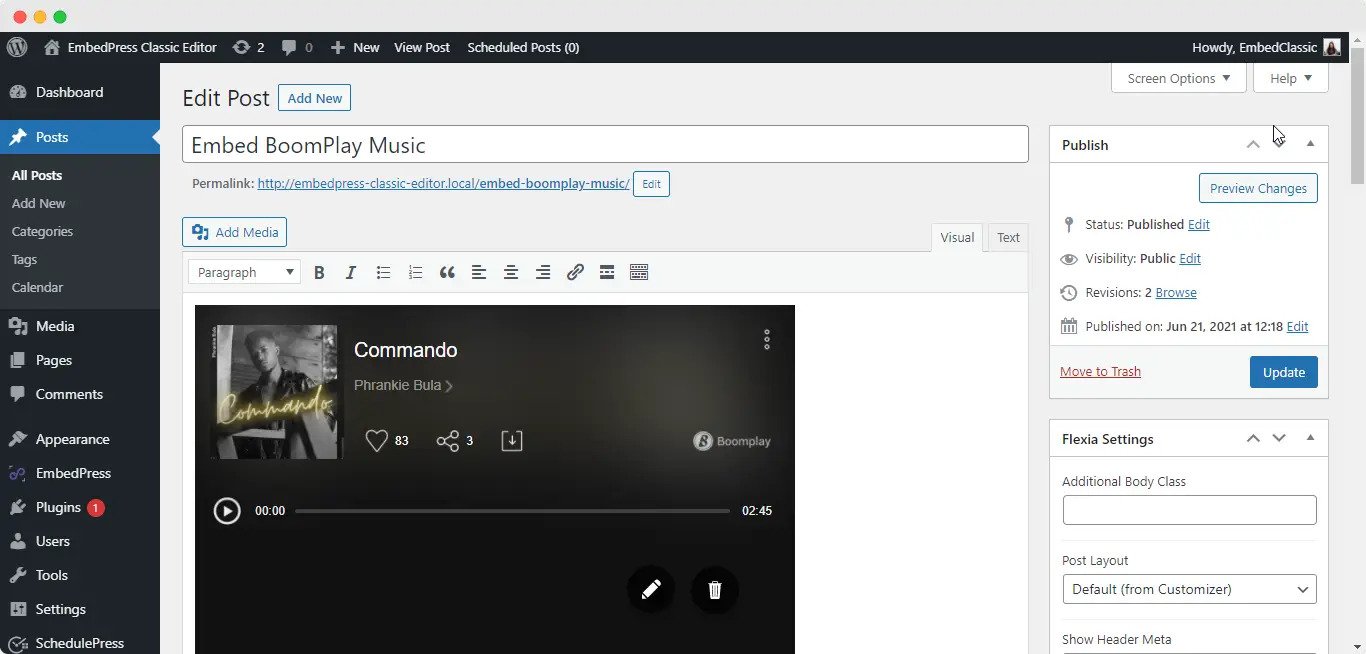 Step 2: Edit Your BoomPlay Music Just With Few Clicks
If you feel the necessity of editing your BoomPlay music content, you can then quickly do that by hovering the mouse pointer over your video. It will showcase a purple popup window at the top of the video with a pencil icon. Just click on the pencil icon and start customizing the look of your embedded BoomPlay music content the way you want.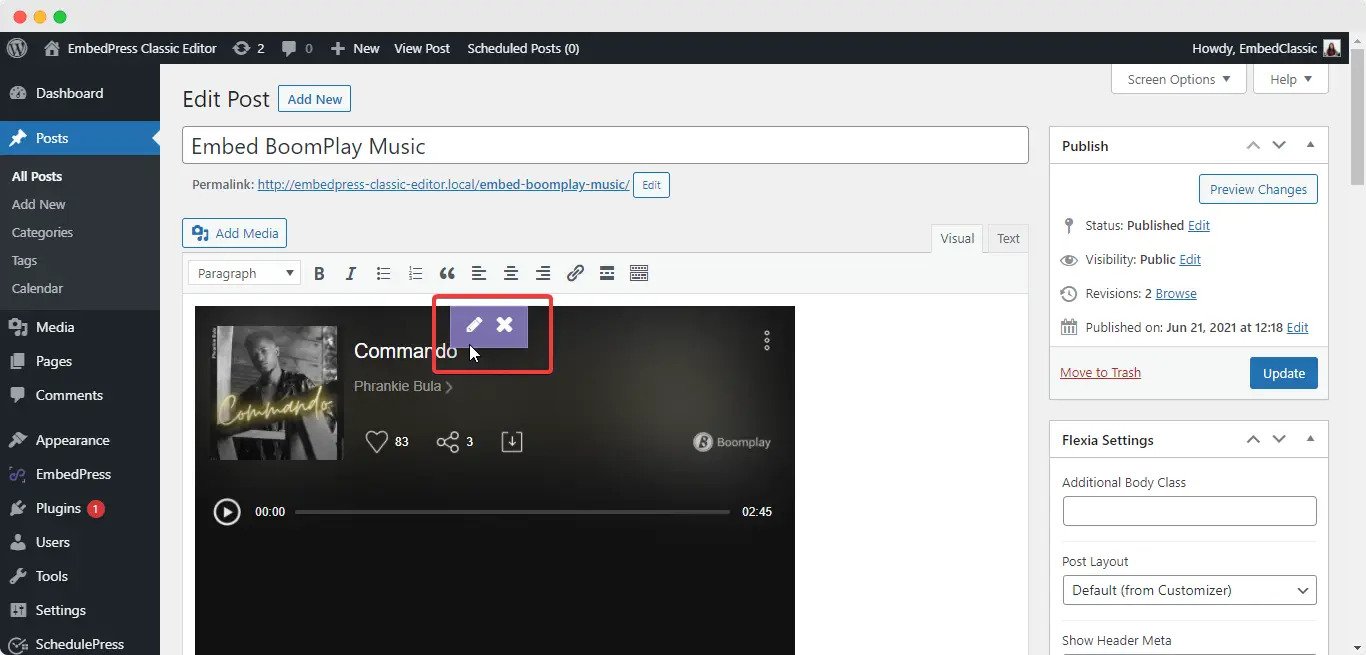 Instantly Embed BoomPlay Music In Elementor
If you want to start embedding your desired BoomPlay Music in WordPress most popular page builder Elementor, you have to follow some steps that are mentioned below:
Step 1: Insert EmbedPress Widget In Elementor Editor
You have to find out the EmbedPress widget from the Elementor 'Search' panel. Afterward, drag & drop the EmbedPress element on the desired section.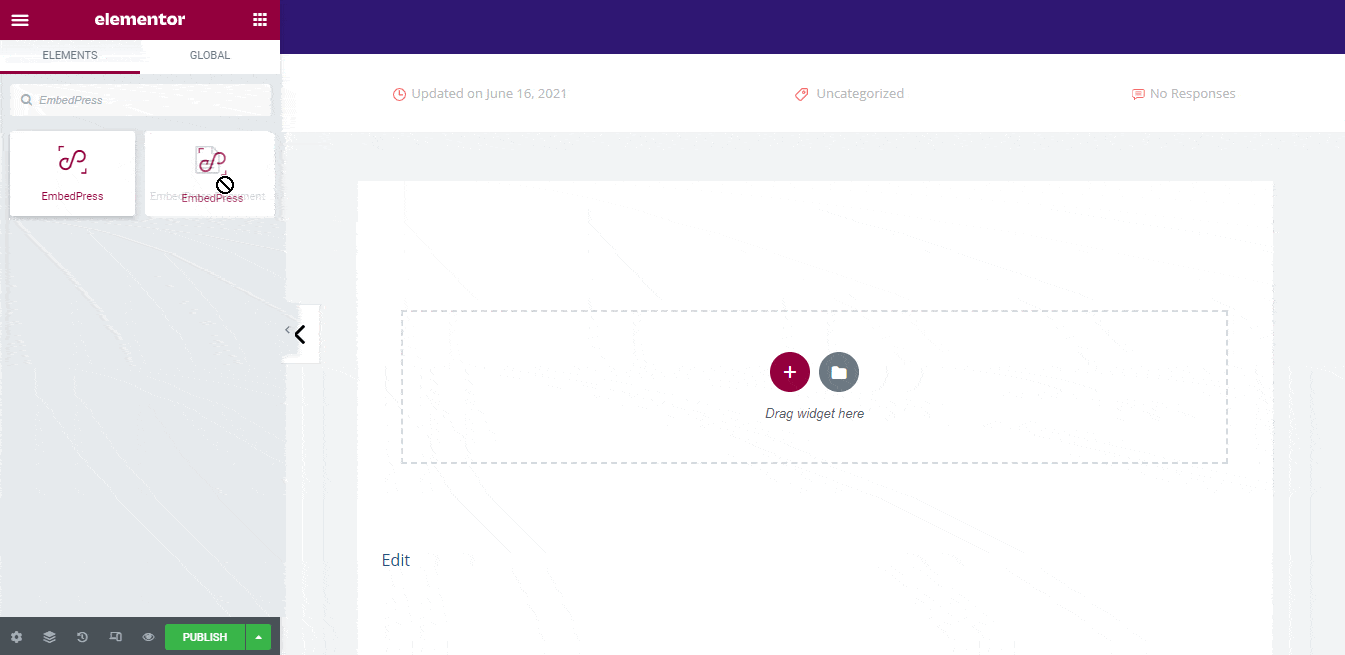 Step 2: Embed BoomPlay Music With One Click
Now copy the link and insert it on the 'Embedded Link' panel. Later, it will automatically track and publish your content just the way it belongs to. If you want to get more details, check out this detailed doc here to embed BoomPlay music on WordPress.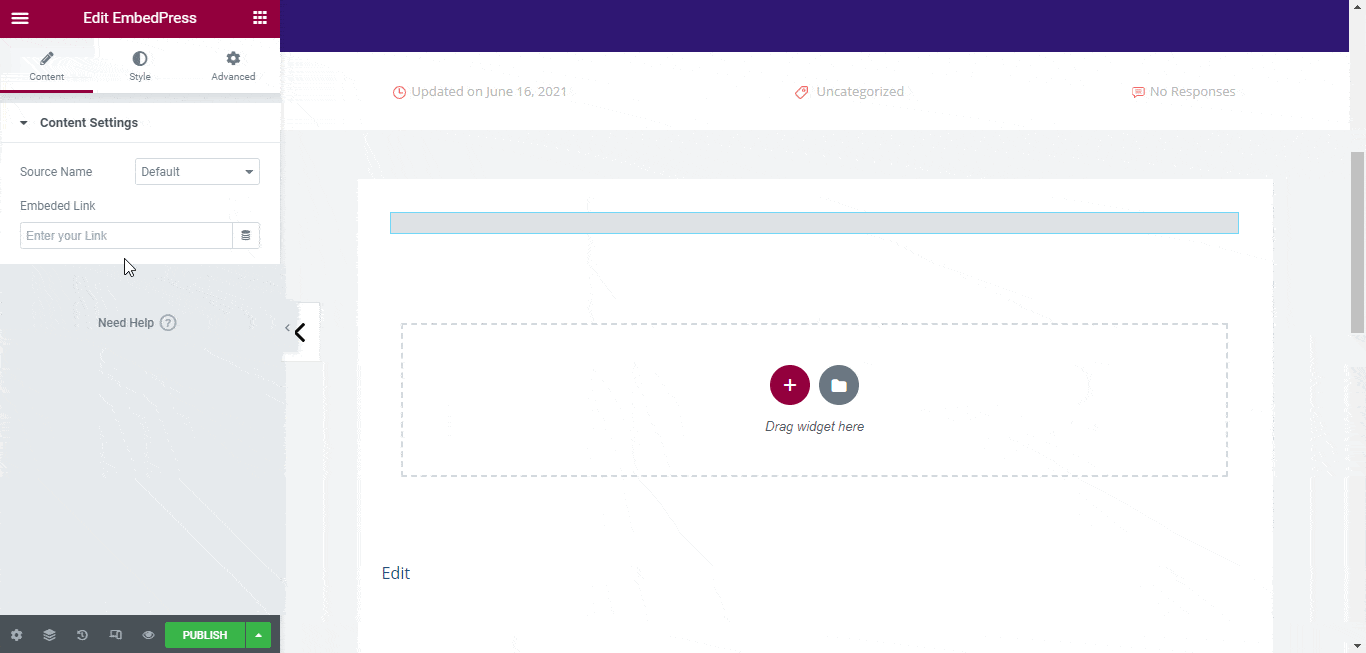 Step 3: Style Your Embedded BoomPlay Music In Elementor
If you want to style your BoomPlay music section in Elementor, you can easily do that with the EmbedPress widget 'Style' tab and make the changes according to your need.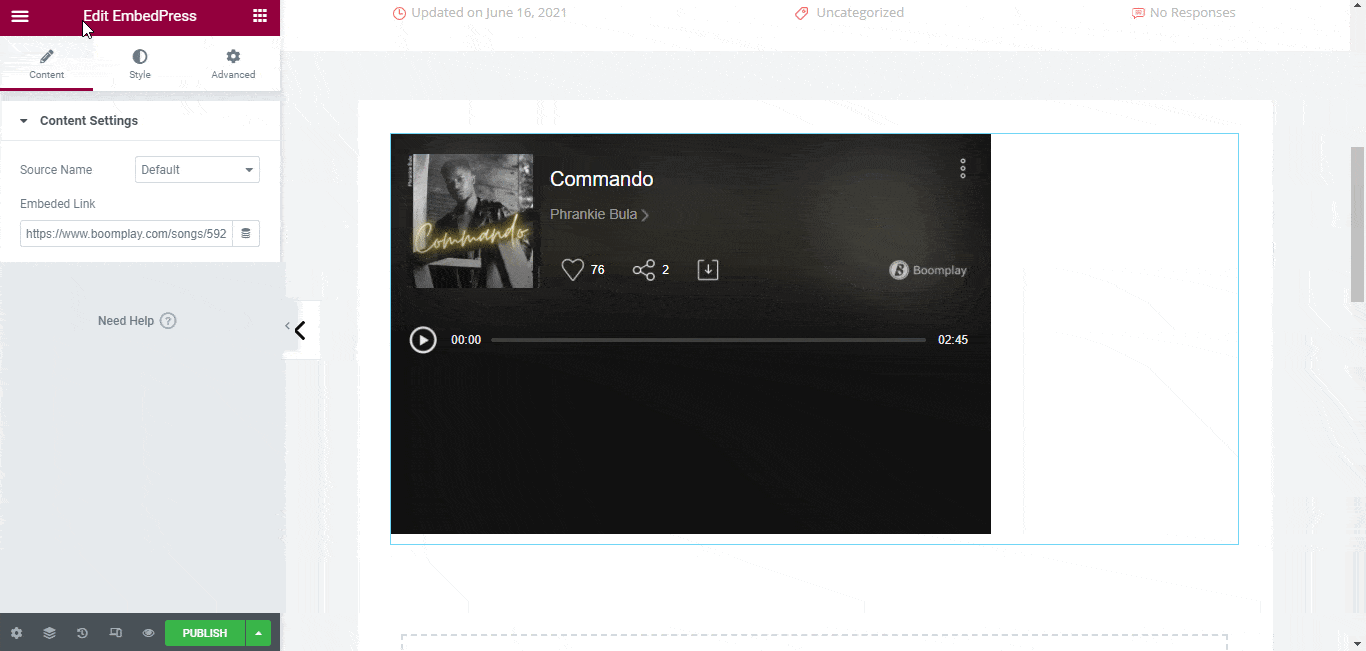 Start Embedding BoomPlay Music In WordPress Using EmbedPress
To share your music taste with your audience now becomes the easiest task to do with the help of EmbedPress. You can now think of embedding any BoomPlay Music content in WordPress effortlessly without adding any single line of code. You don't have to roam around for anyone's help to make this thing happen easily for your website. Besides this, you can embed Spotify, SoundCloud, ReverbNation music, and more on your WordPress website with a few clicks.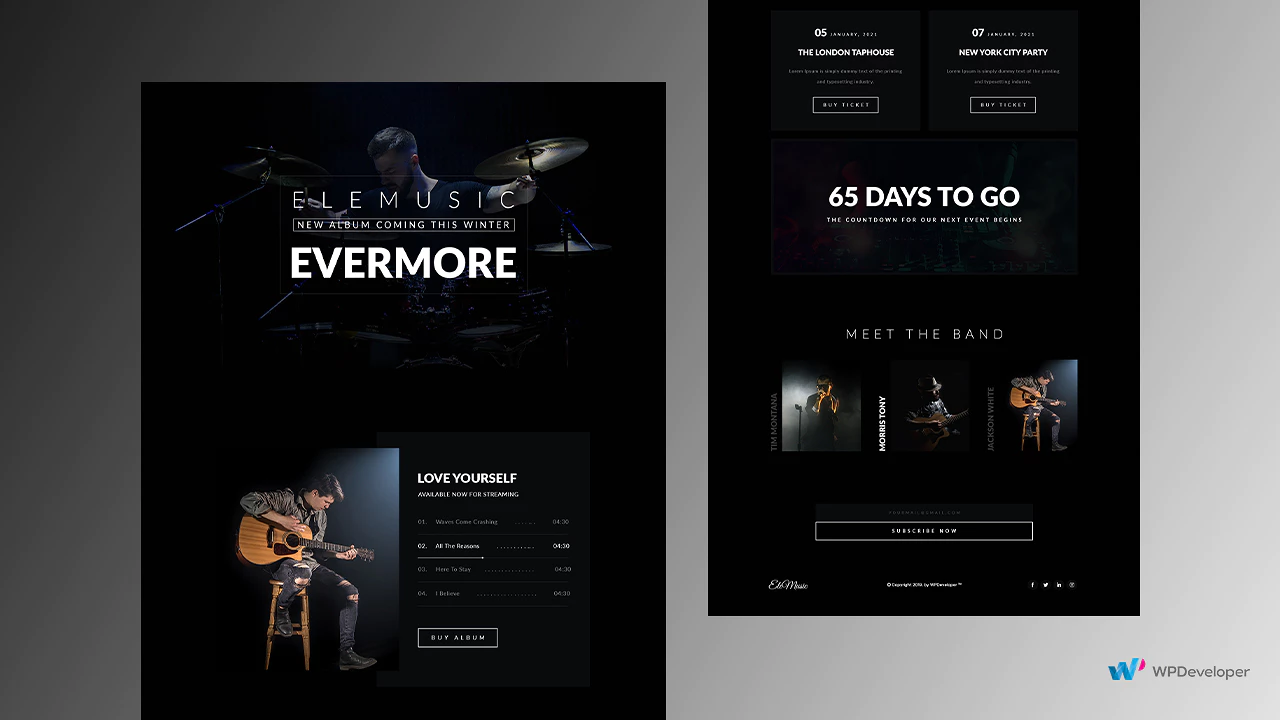 So let's explore this powerful embedding solution EmbedPress for WordPress and share your opinion by commenting below. You can even join our Facebook community for all the latest updates about EmbedPress and more in detail.