The WP Weekly has announced the WP Awards 2021 and Essential Addons for Elementor won the Gold award being the number #1 Elementor addons. After competing with some of the top addons in Elementor ecosystem, Essential Addons for Elementor ranked on the top by the WordPress users. 🥳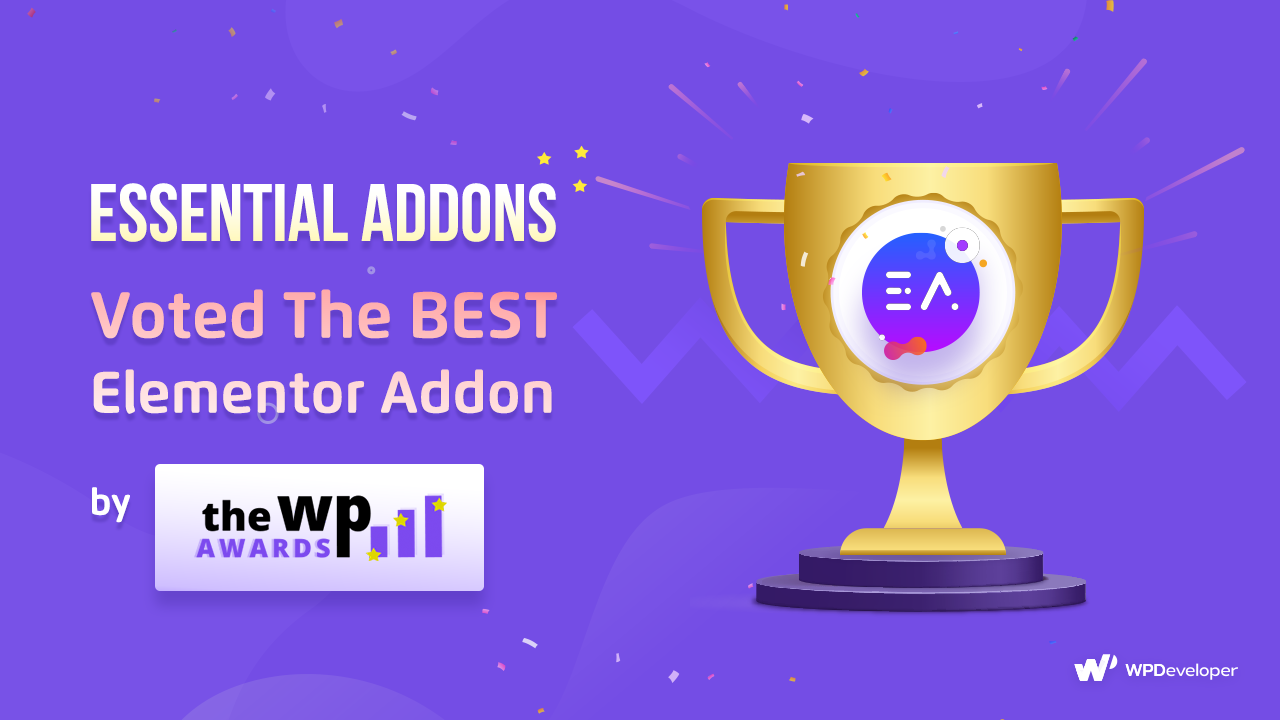 This community award from The WP Weekly is great motivation for our entire team. And all thanks to you for voting for Essential Addons for Elementor and showing your constant support. 
Achieving The Prestigious Winners' Title By The WP Awards
The prestigious WP Awards 2021 has brought the best plugins, themes, communities, and experts from the industry and given users the right to choose their favorites. Our Essential Addons for Elementor was nominated in the category 'Best Addons for Elementor' along with other solutions such as Ultimate Addons, Crocoblocks, and more.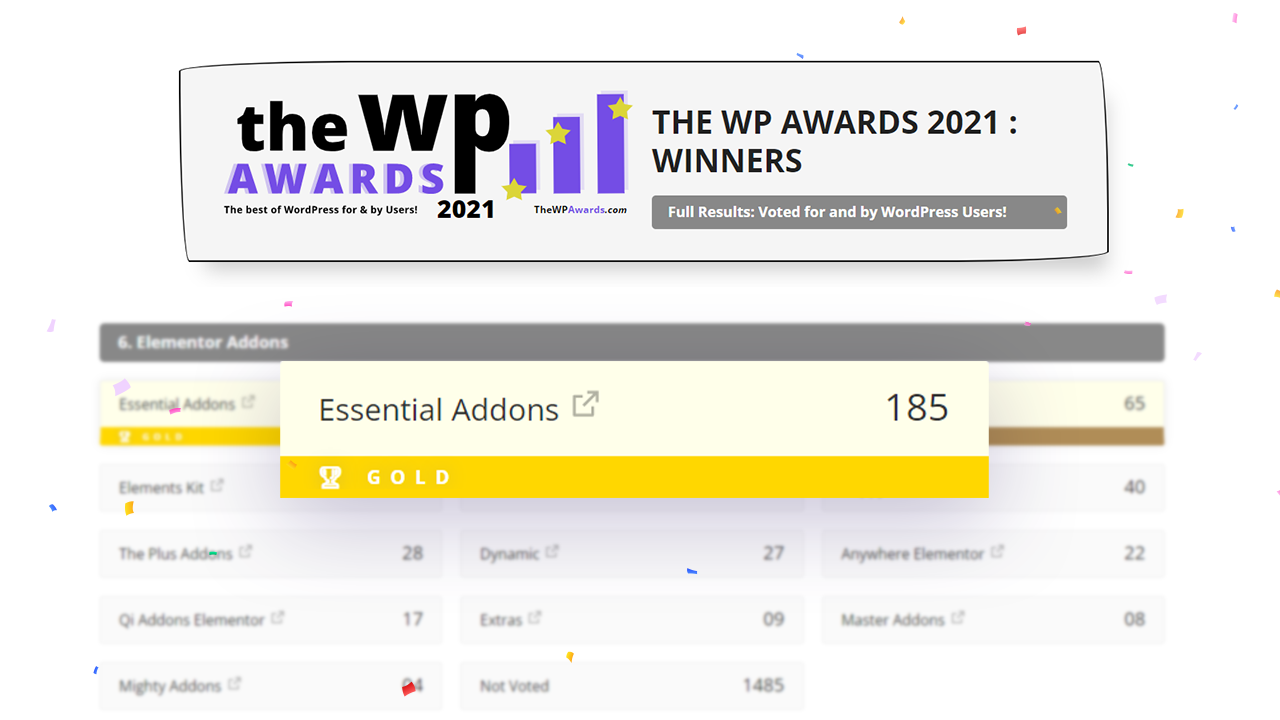 And we are immensely honored and humbled by the overwhelming love WordPress users have shown us. It's an outstanding achievement to be awarded the top GOLD position with votes from dedicated users like you. We are thoroughly grateful and would like to thank each and every one of you for your continued support and constant love that gave us this amazing award.
Rising To The Very Top As The Best Addons For Elementor
While we celebrate this great win, let's take a look back at all the steps forward Essential Addons for Elementor has taken over the year 2021 to become the best addons plugin in the industry. 

Reaching The Big 1 Million+ Active Installations In WordPress
When it was first launched in late 2017, Essential Addons for Elementor was one of the first plugins developed to enhance your web building experience with Elementor. With a wide range of outstanding 80+ widgets and extensions, it has aimed to take your web building experience to newer heights. 
And since then, our dedicated team has tried to make Essential Addons for Elementor the most optimized Elementor widgets library, and bring in tons of new features with every update. It has gained massive popularity over time, and in 2021 has achieved the outstanding milestone of 1 million+ active users to become the ultimate addons plugin for Elementor.
 We are proud to say that, for every 5 website creators, like you, who specialize in web building with Elementor, there is at least 1 among them who is using Essential Addons for Elementor. And, as mentioned earlier, we are truly grateful to all our 1 million+ users.
Gaining Trust From Renowned Brands & Trusted Users
As the years went by, we have not only gained a large number of users in the WordPress community, but we have also managed to gain trust and recognition from 180+ countries all around the world. 
Essential Addons for Elementor have been featured in some of the top-most publications in the industry and recommended by countless WordPress experts and enthusiasts. To be specific, it currently has over 2300+ five star ratings in the WordPress repository.
Amazing Addons for one of the best page builder out there! Essential Addons for Elementor is really great, and the amount of addons they deliver really brings your creativity to the next level when you are working with Elementor to create your website! All in all just great!
As someone heavily involved with Elementor, I wanted to see if there would be a performance impact on my website. Don't worry, I tested it and recorded everything so you wouldn't have to. Bottom line, Essential Add-ons adds features that are not in Elementor or Elementor Pro, and there are several unique features exclusive to Essential Add-ons. Also was quite surprised by my speed testing. My expectations on the performance were different then what the tests showed. Easy buy for me..
No Brainer Purchase For Anyone Who Builds Websites... If you build websites then you have worked on WordPress. IMO, by far the best builder to work with that also has the most integrations and fewest issues is Elementor. This addon takes Elementor to that next level and is the premiere addon for the Elementor page builder universe. The developers are engaged and helpful and my understanding is the addon is constantly updated and support is good.
Bringing Outstanding New Features With The Lastest Updates
However, securing the top place as the best Elementor addon among 1 million users and during this prestigious WP Awards required many tireless hours of developing new features and updates. And over the years, we have tried to expand our collection of outstanding widgets to help you create stunning and fully functional web pages effortlessly without any coding.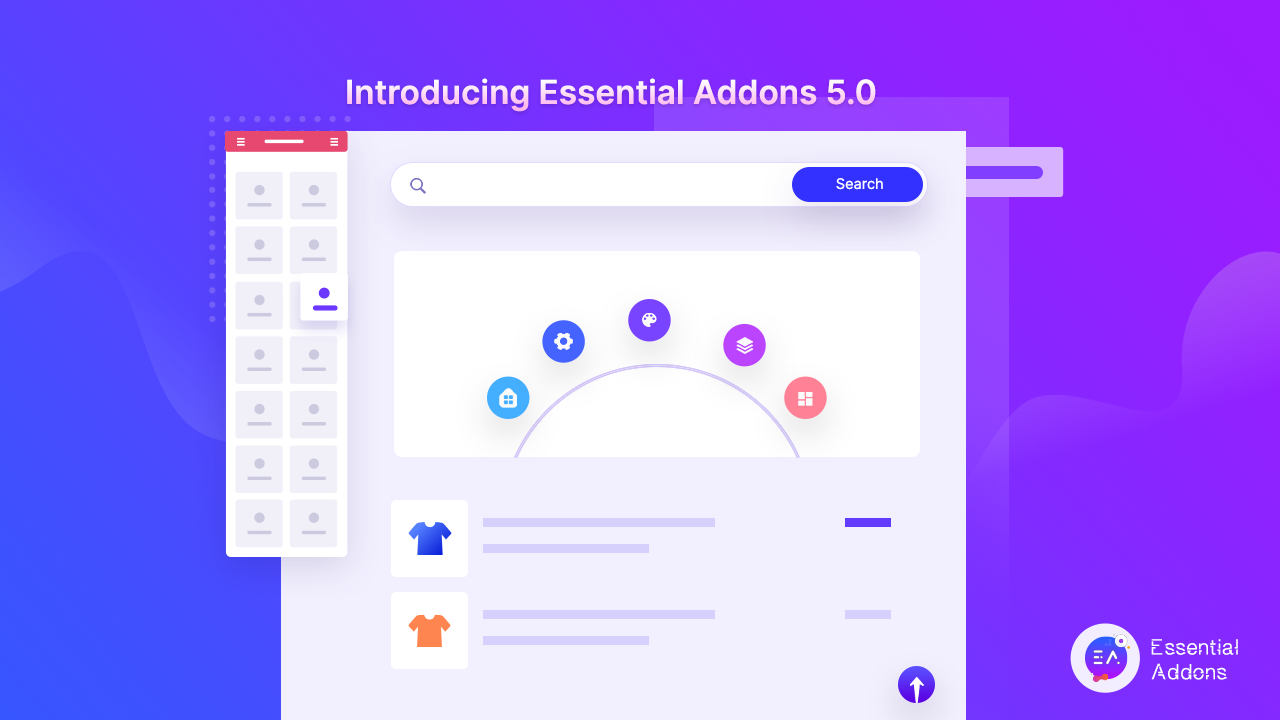 And we are excited to announce that, we ended the year 2021 with our latest update – Essential Addons for Elementor 5.0. This is a major release that is going to be an absolute game-changer for your web-building experience and unleash your skills on WordPress. This time, we bring you:
⭐ A completely revamped and redesigned user-friendly interface
⭐ The most anticipated elements and extensions for Elementor
⭐ A seamless integration with a brand new payment method, Better Payment, and much more!
Check out this detailed blog and find out all about the newest features, widgets, and integrations.
What To Expect Next With Essential Addons For Elementor?
Before we go, we would love to inform you that we are absolutely honored to have been chosen by our dedicated and loyal users to get this prestigious award from WP Weekly. And we plan to continuously try to improve your web building experience with Essential Addons for Elementor. We'd love to hear from you, feel free to comment below. You can also let us know if there are any new addons you would love to see in Essential Addons; we will keep introducing exciting updates for you.