Since the WordPress Blog landing page can have a major impact on the first impression of the site visitors, it's important to pay attention to the overall design. People are more likely to stay on the page if the appearance is attractive enough. Now, you must be wondering how to do so, right? Well, thanks to Essential Addons for Elementor,  you can comfortably display your WordPress Blogs & make them totally stand out.

Significance of Displaying Your Blogs in a Stylish Way
If you are running a blogging platform, you must have a beautifully designed layout to display all your posts. Let's think about it, if you have a very messy blog landing page, people would simply just leave your website & probably never will come back. That's how you can lose a potential reader so easily. This is why it is very important to build a nice & organized content showcase page to keep the site traffic flowing & build a community.
On the other hand, are you trying to promote your products or services through Content Marketing? Then, you should definitely focus on designing an attractive Blog Landing page for your website as well. Because the main purpose of this marketing strategy is to get more eyes on your content to increase engagement on your site and turn your audience into customers. So, to immediately grab the attention of your site visitors & make them stay, you need to display your blog posts in an interactive manner.
By using Elementor Page Builder, you can effortlessly design a landing page for your WordPress Blogs. Normally, the default Elementor Post widgets can serve the purpose to a certain extent. However, it might not be enough to make your page totally stand out from the rest. So, to present your contents even more impressively, you can use the Smart Post List element of Essential Addons. What sets it apart from other Elementor Post elements is that it gives the users a chance to interact with your contents because of its filter controls. As a result, you can easily choose a certain category or tag so that only the respective articles can be shown in the process.
How to Filter Your WordPress Blog Posts using EA Smart Post List
Thanks to EA Smart Post List offered by Essential Addons PRO, you will get to easily design a mesmerizing blog landing page. Aside from the amazing appearance, you can even add thrilling functionalities as well. For instance, you can showcase your content based on author, categories or tags with the help of it.
The most impressive thing about this element is that it allows you to filter the blog posts based on their categories or tags. As a result, it will only display the content based on the conditions you have specified. Without further ado, let's take a deep dive on how you can easily set up EA Smart Post List on your WordPress website.
Configuring EA Smart Post List Settings
First of all, you will have to configure the EA Smart Post List as per your requirements. Since our goal is to display WordPress blog posts using this element, we will go with 'Posts' as a Source type from the 'Query' section. Afterward, you will have the option to fill up the fields for tags, categories and author. As soon as you add a category or a tag, they will be added as 'Filter Controls'.
For instance, when you click on the 'Category' you have added, EA Smart Post List will display all the posts related to it. This is the most important configuration to get the flow running. Then, you will have the freedom to define the number of content you want to show in each page along with other options.
The Layout Settings gives you control over the appearance of your Blog Posts. You can use the toggle to easily to display the items you need.  For the purpose of this article, make sure that 'Show Category Filter' is turned on otherwise you won't be able to display contents based on specified filters.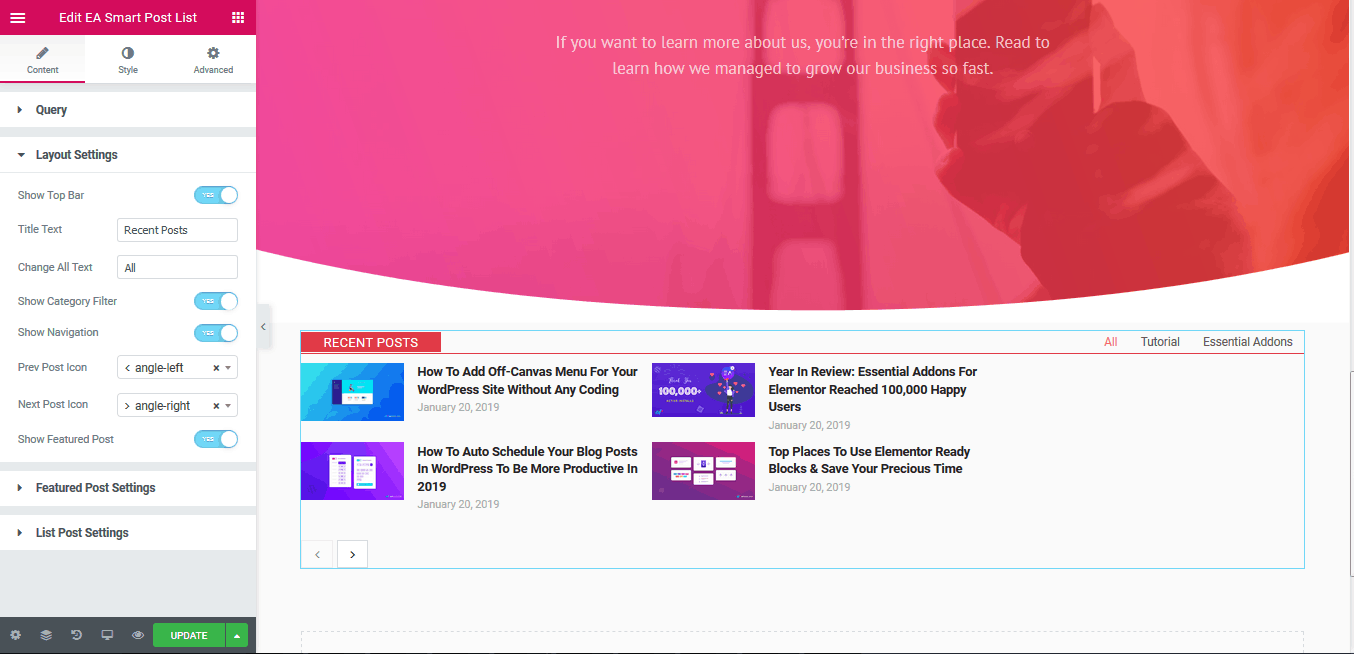 The fact that you can highlight a 'Featured Post' through EA Smart Post List, is quite fascinating. You can use this feature to put a spotlight on special content such as a milestone, big news or even something which is trending worldwide now. On the other hand, the 'List Post Settings' section gives you the control on whether you want to display the title and meta description or not. Based on your desire, you can change the 'Column Layout' as well.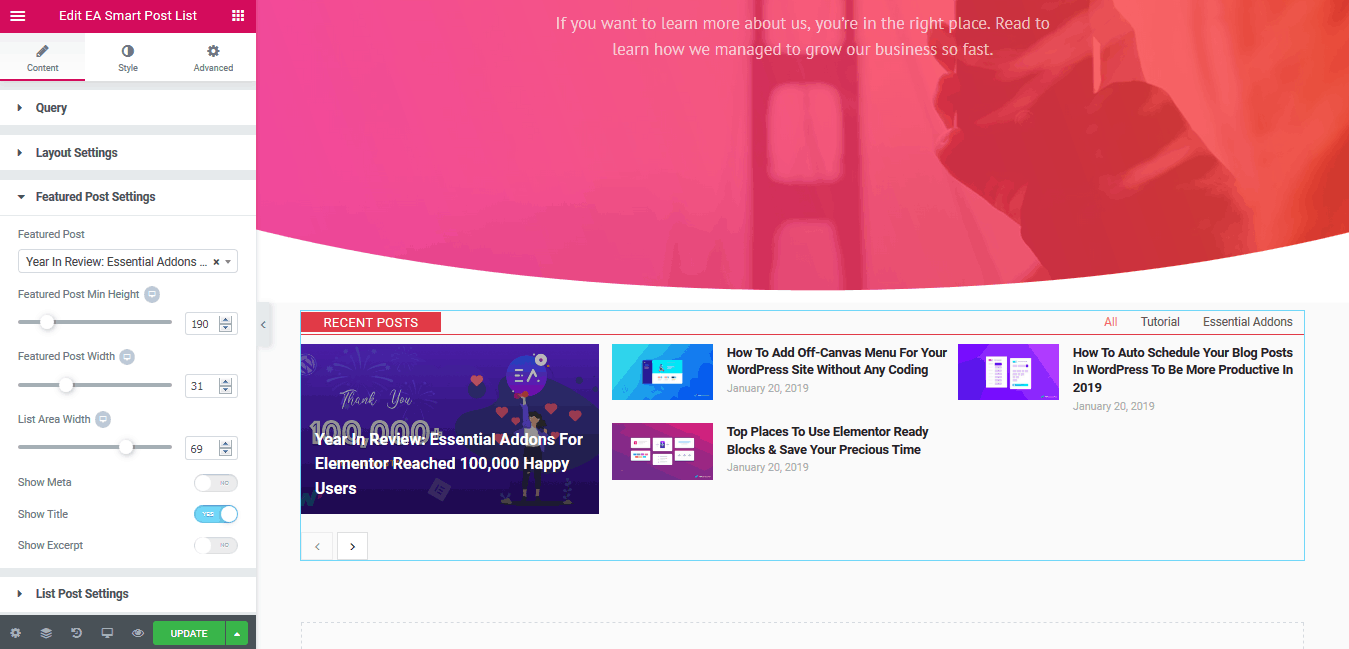 Styling all the Features
Once you are done with the Configuration, you can simply just go ahead and style all the features as per your preference. EA Smart Post List gives you plenty of freedom to personalize the entire layout the way you want. Besides, you can customize the Typography & Color for the content of your WordPress Blogs. By tweaking with the settings, you can even change the appearance of the Navigation Buttons & Topbar.
What You Can Expect
You should get your desired outcome after you have finished playing around with EA Smart Post List settings. If something bothers you, you can always just go back & change it to get the expected result.
Final Thoughts
We have already discussed the importance of displaying WordPress Blogs in an attractive manner & how it can affect your content marketing process. So, why don't you get started with EA Smart Post List and start having fun?
You can also check out our other amazing Post Elements to easily design your Blog Home page. Feel free to leave feedback in the Comments section.
Will You Recommend Our Plugin To Your Friends?