Themes help you create beautiful WordPress websites. And Flexia helped users do just that. Along with being a lightweight and versatile theme, now Flexia is Gutenberg Compatible. With the latest Flexia 2.0, you will be getting some new features as well as upgrades for the existing features.

Flexia 2.0: Gutenberg Compatible Theme for WordPress
After you upgrade to Flexia 2.0 you will get a ton of new feature improvements as well as entirely new features. The first feature upgrade we want to talk about is compatibility with Gutenberg. As we are talking about compatibility, did I mention Flexia is also compatible with Elementor. 
After WordPress 5.0, when Gutenberg was initially launched, many people have started enjoying using the new block editor over the classic one. If you are one of them, know that having both Flexia and Gutenberg Editor will not cause any compatibility issue. In fact, you will see a Post settings section at the bottom of every post you have on your WordPress Website.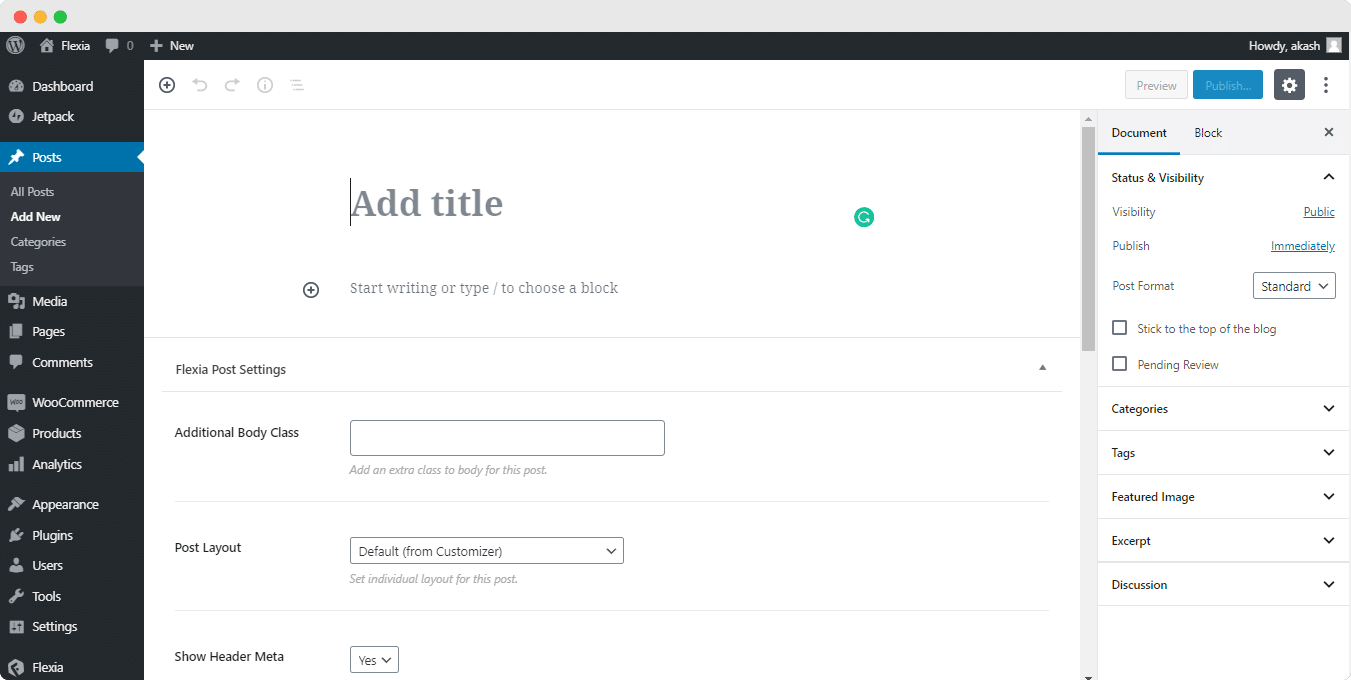 Google Fonts Integration
With our recent upgrade, along with Gutenberg Compatibility, you will face no issue using any Font from Google Fonts Archive as well. We know you love Google Fonts as it hosts the largest collection of stylish fonts. With Flexia's new updates, you will face no longer face any problem. Along with fixing the font loading, we have fixed issues regarding header footer template inclusion and displaying Flexia on your Header upon activation.
Eye Catchy Page Layouts Design
As you already know Flexia comes with a handful of designs for Header, Footer, Blog Page, Homepage, WooCommerce Home and Shop Page. If you intend on relying solely on Flexia to design your entire website, you will never feel the absence of enough layouts for your Website design. And now with Flexia 2.0, you get improved and more wholesome design layouts for every part of your Website.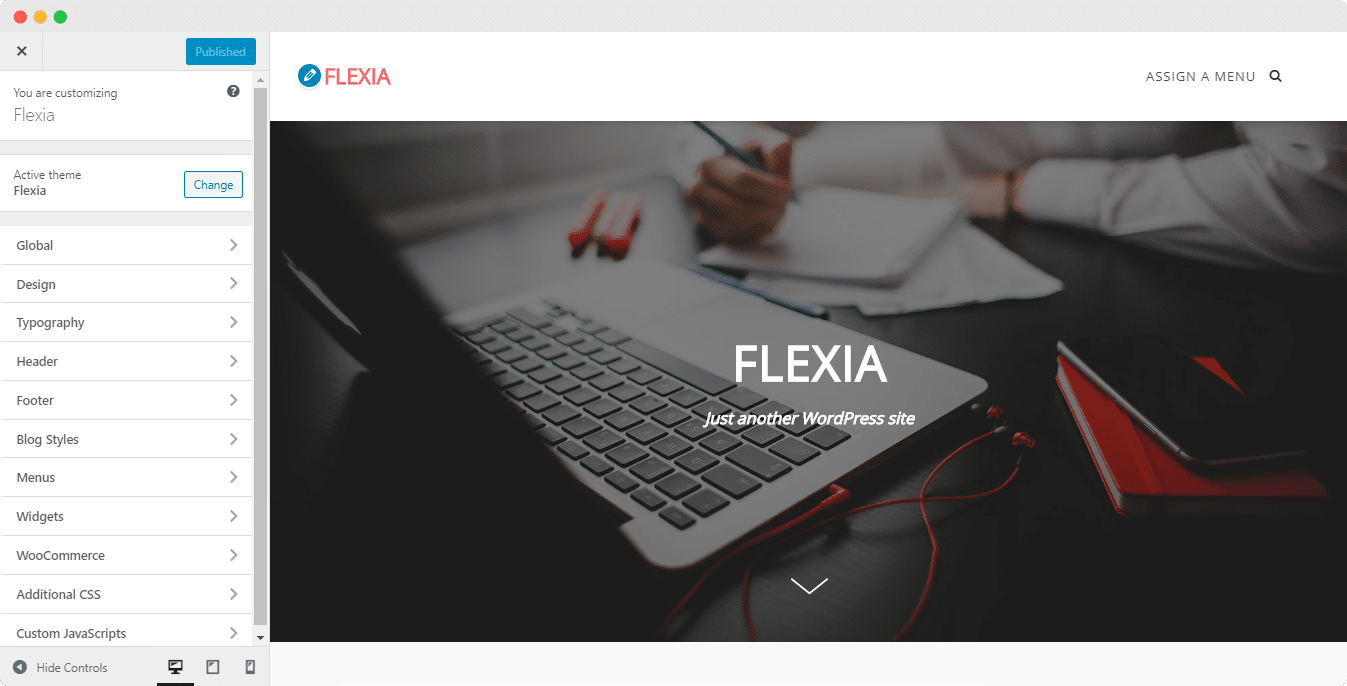 With Flexia 2.0, you get full control over typography on your site. You can adjust font preference for your body, heading, link text, paragraph text as well as button text.
Flexia has a color combination of pink over black. If you don't want to go with this color palettes, you can pick your own color combination for every area of the theme. Moreover, you also get background image control as well as background color control.
Make

your Heading More Meaningful
Along with improving the design of all layouts, we have made Flexia more useful. Now you can add and display contact information at the Header are of your WordPress website. You can add your own Phone Number, email address and also your Office Address. Moreover, you can also insert a Google Maps link to your office.
To set the contact information on your topbar to navigate to appearance>>customize>>header. From there you will also be able to adjust settings for a navbar menu. From there you can adjust settings such as inline, stacked, enable chat menu, enable search menu and so on.
Along with easily accessible contact information, there is another way your users can reach you via Social Media. Social Media is a popular medium to attract new users and, retain your existing ones. If you want to grow your Social Media audience, a great way to do that will be to connect your website with your Social Media Accounts. That way anyone visiting your website can easily stay connected with your Social Media Accounts.
With Flexia 2.0 you can display your Social Media Links for popular platforms i.e. Facebook, Twitter, LinkedIn, YouTube and so on.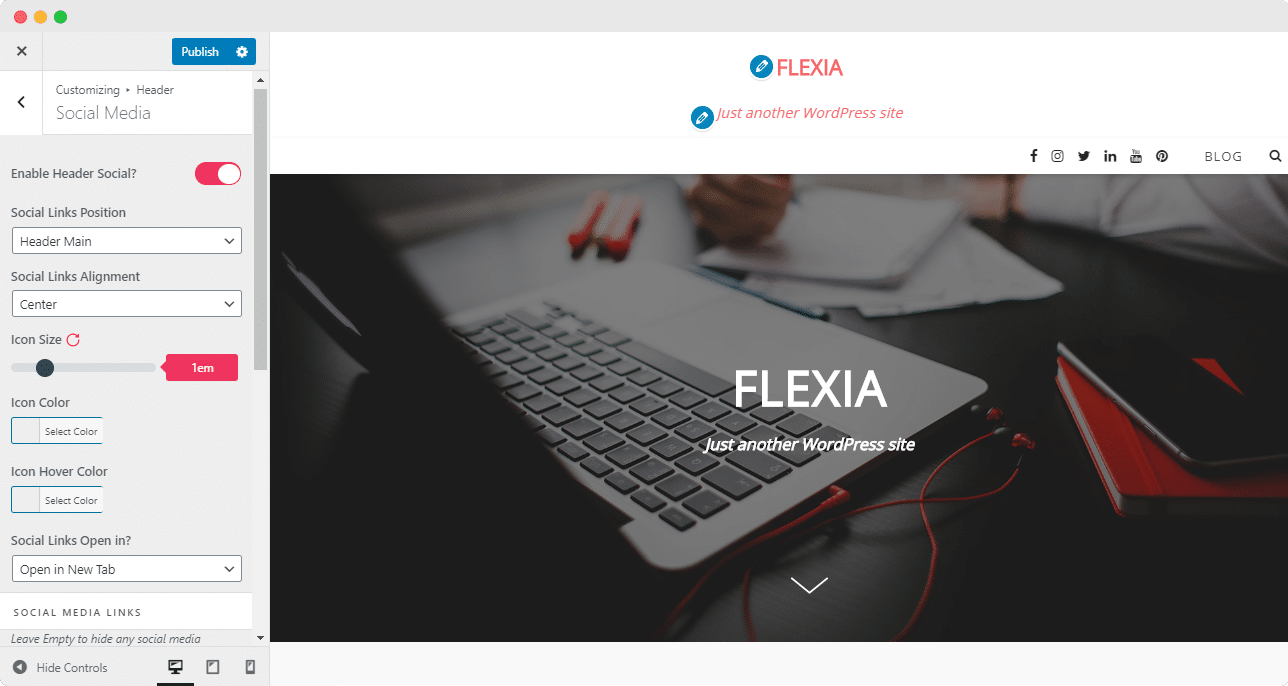 Create Beautiful Footers
With Flexia 2.0 you can divide your Fotter into multiple columns.  Similar to our previous version, you can insert the scroll to the top feature suing a simple toggle bar. Moreover, you can also adjust the color for footer content, background color, link color, and hover color.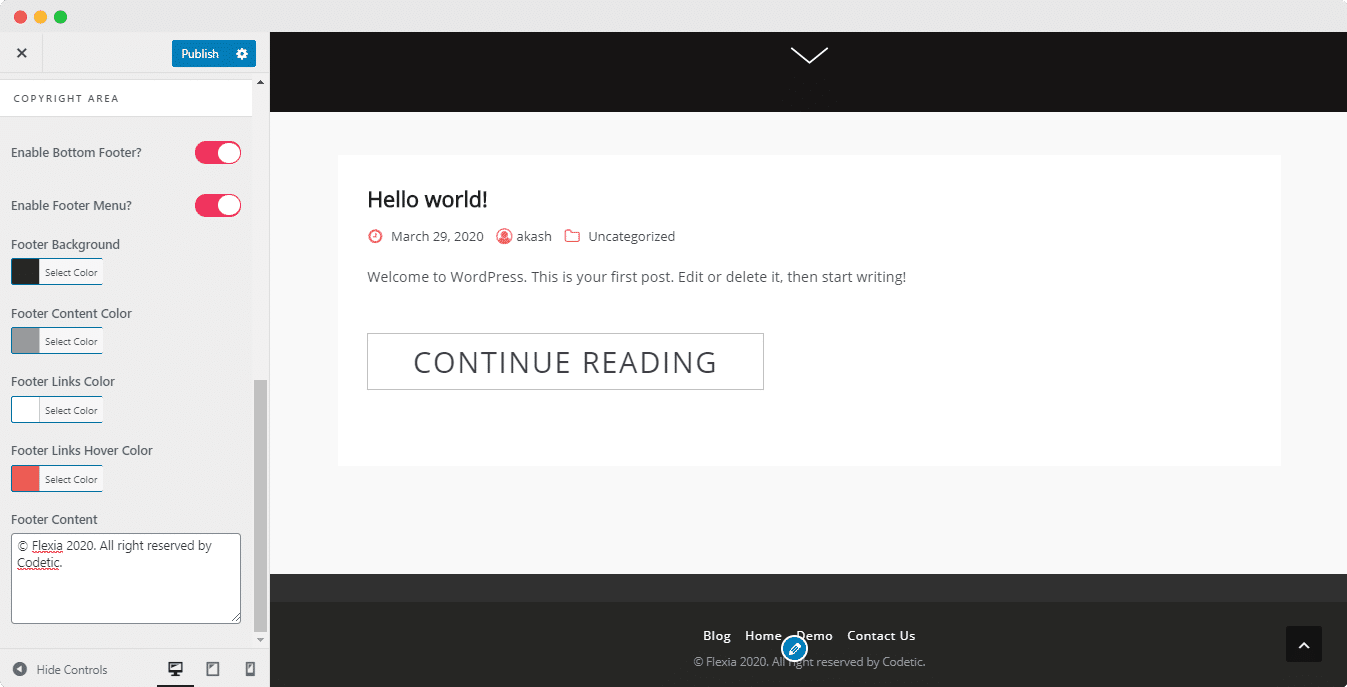 Flexia 2.0 For WooCommerce
Over the years online shopping has grown more and more convenient. Big giants like Amazon and Alibaba make it easy for both big and small retailers to open their stores on their platforms. However, if you have decided to go with WooCommerce and create your own online shop instead of using other platforms you need the right tools to help you grow.
With our previous version, you did not have any separate WooCommerce settings area. But with Flexia 2.0 you can adjust the layout for your Store Notice, Product Catalog, Product Image, Checkout, and WooCommerce Sidebar.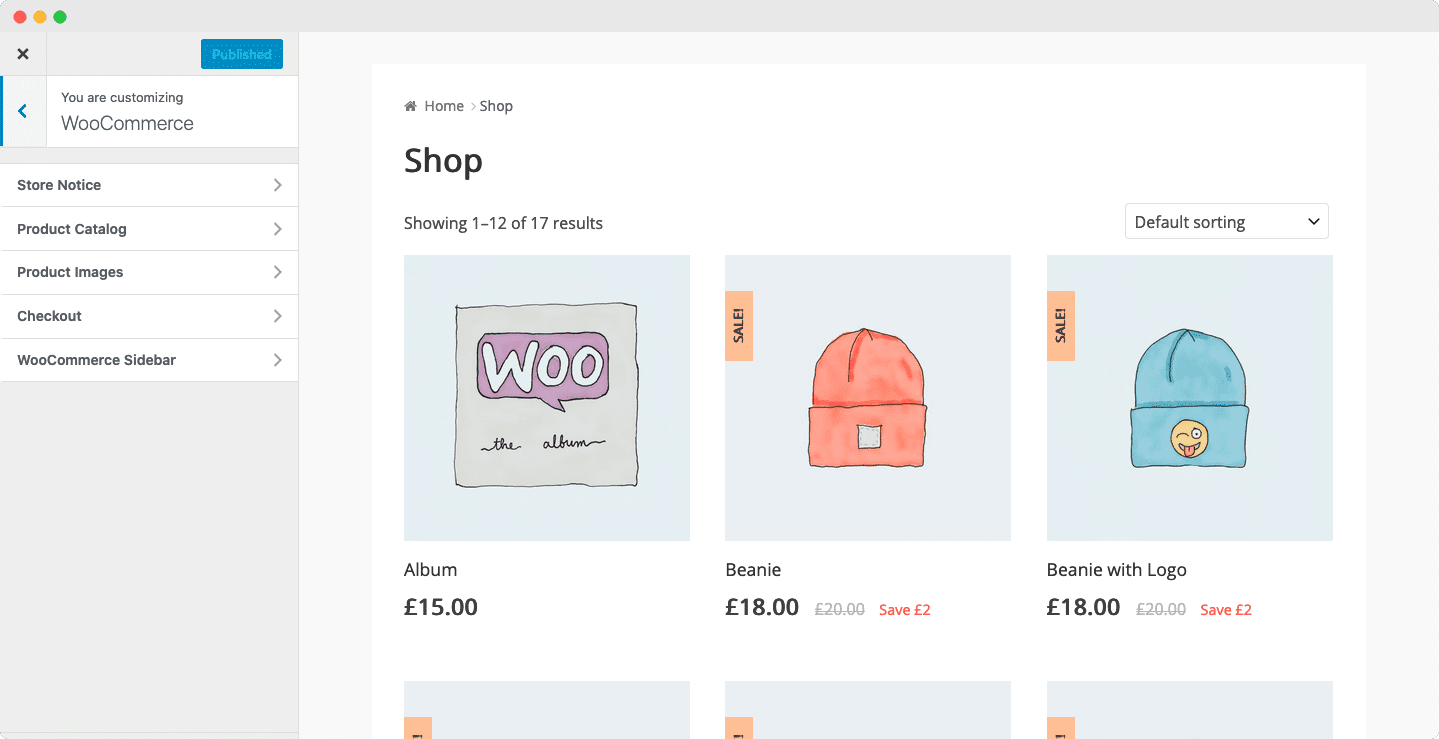 With Flexia 2.0 we have made massive changes to WooCommerce Shop Pages, we have also massively upgraded them and made them user-friendly. When I say the right tools, don't think you need a handful of them if you are using Flexia, this one theme will take care of most of the things. For easy navigation, Flexia lets you place a sidebar on your Shop Page, Product Page, Archive Page, Cart Page and, Checkout Page. This way your users can easily switch back and forth between individual product pages to their cart page to see if their overspending or not. Moreover having the sidebar displayed at all times means your users can jump back and forth between your product archive page and individual product page.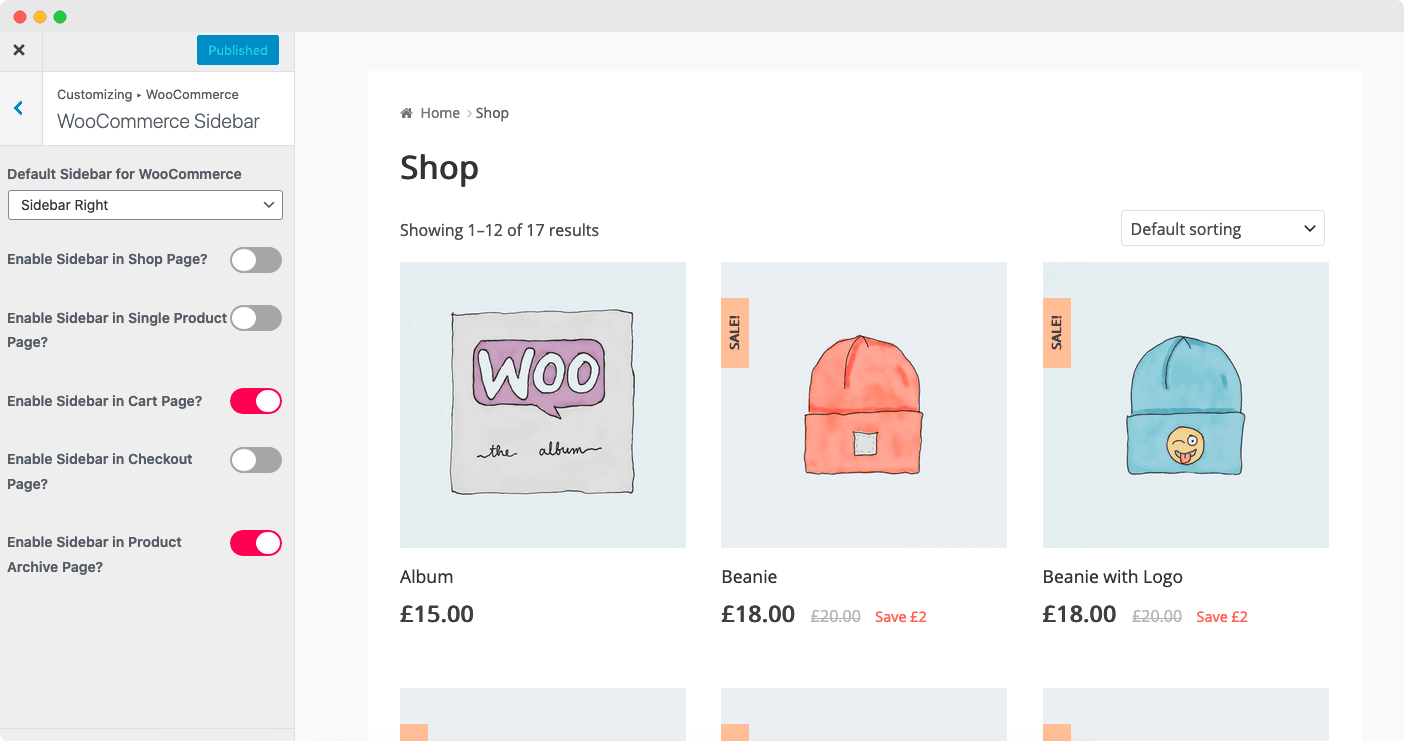 Wrapping Up
So there you go, now you know what comes with the new Flexia 2.0 upgraded. Flexia 2.0 comes with new feature upgrades along with additional design layouts. This way you won't find yourself stuck with only one option, you can pick the one that best serves you.
Now you can display your contact information, showcase your social media links and control all Flexia widgets from one place. And last but not the least, Flexia will also help you set up your WooCommerce shop as it places a completely separate tab containing basic and advanced features for your online shop. If you are new to Flexia, know that it also comes with a WordPress Plugin that let's you control all territory functionality for Flexia.
So, in a nutshell, Flexia 2.0 comes with user-friendly design layouts for your WordPress website. Moreover, you get advanced design controls for all your WooCommerce Pages.
There is more, but why should I ruin it for you. Start exploring yourself. So what are you waiting for, Flexia 2.0 is all set, take it for a ride. Don't hesitate to experiment, do reach out to us if you face any issues. Cheers!