Enthusiast gamers are now moving on more in search of getting ready gaming website templates. This can help gamers to build their own gaming website without coding. As gaming is now not becoming the only source of entertainment, people are also taking it as a profession. 
That's why an interactive gaming website can help gamers to promote their individual works beautifully and in one organized place. So without extending the intro, we will now take you to the perfect ready solution for WordPress to build your gaming website within minutes. Get engaged with this blog till the end to know all details!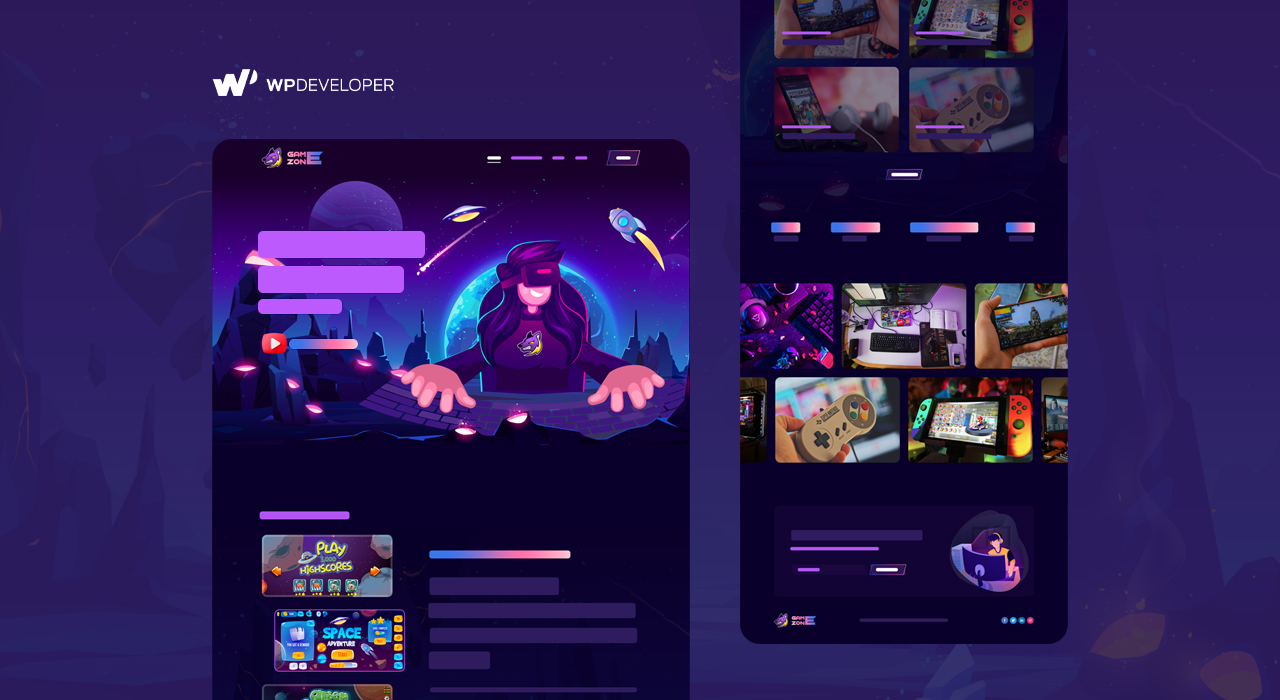 People now enjoy building new games, giving reviews on them, promoting them, or more to earn money by taking it as an enthusiastic fact to be professional gamers. So to build a connection with the gaming community, a user-friendly, handy website is an essential thing to have. Without it, nothing will function well in this digital era. 
👉For instance, if you get an SEO-friendly, responsive gaming website, it will help you to be on the top of search engines. That will easily be found by your targeted audiences to get the perfect exposure.
👉Your followers will then recommend your site to their friends who are enthusiastic about games. That will surely help you to spread your name in the gaming community very quickly. 
👉Also, you can then be able to become popular among your competitors if you get an interconnecting website. That will make a straight bridge between you and your visitors who will give only their attention to your site. 
👉Besides, you can promote your games, reviews, or other gaming-related works beautifully maintaining one organized place. You can tell your audience what you are doing and give every detail there in an interactive way. 
So for that, online gamers, reviewers, or anyone interested in video games are looking for a complete solution to build their gaming website. They look for a compelling one to showcase their work in one beautiful place that will help them work as their secure repository. They can create any promotional activities from there. And to make great exposure among the targeted audience to build a strong connection quickly and get a huge conversion.  
⚡How To Build A Gaming Website Using Elementor Templates In WordPress?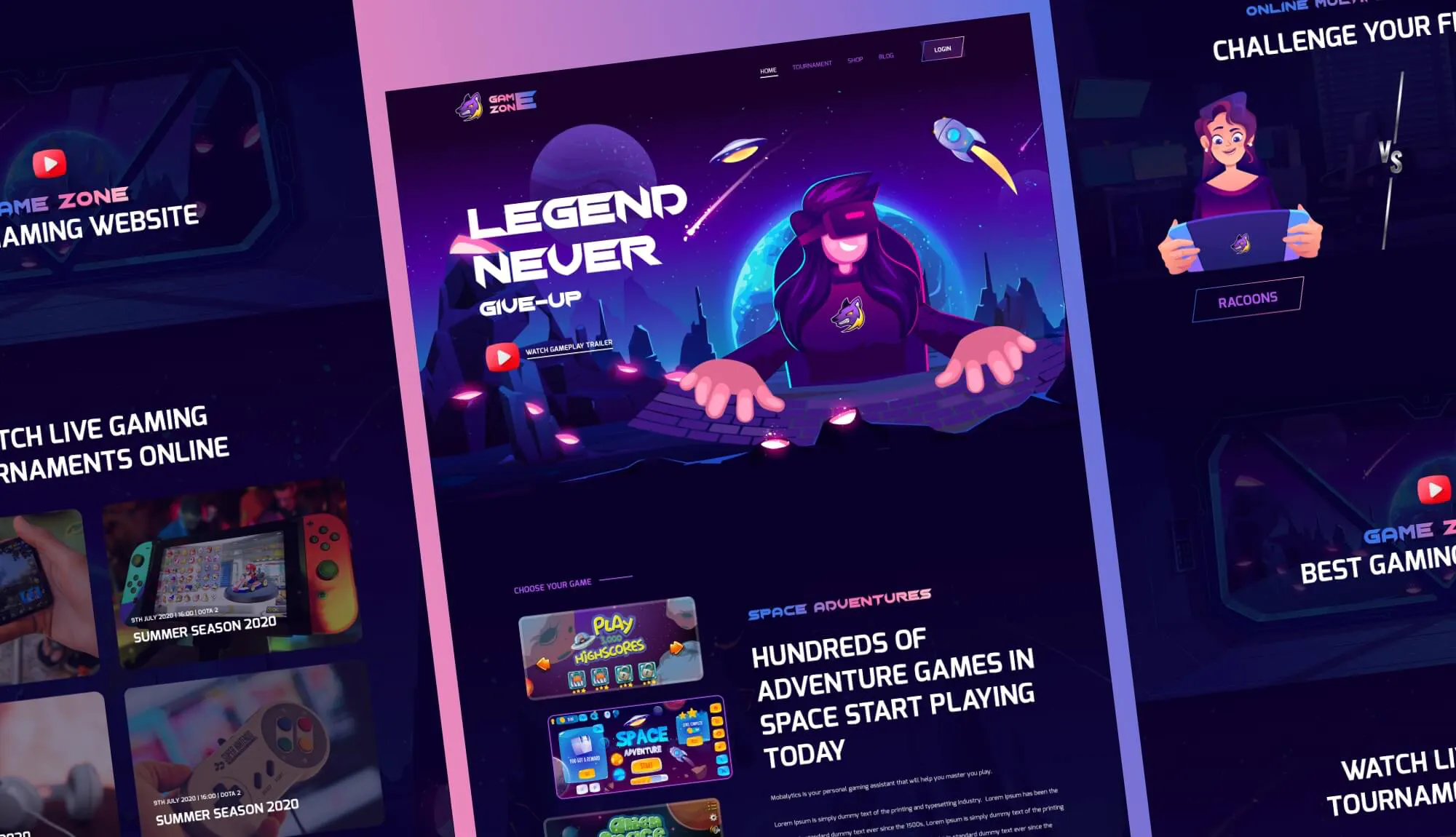 Without coding, you can now create a gaming website in WordPress using the most popular page builder – Elementor ready template packs. You have to insert it and do a bit of modification by adding your own content in each section and making your gaming website template live anytime you want. 
You can explore GameZone premium Elementor ready templates pack by Templately to build your WordPress website within a minute. Now you don't have to roam around anywhere to find the complete solution to create your gaming website. Let's get to know in detail about this amazing package below:
Takeaways From GameZone Templates Pack:
GameZone comes with incredibly designed ready pages and packs to make a complete gaming website in Elementor. It provides you with interactive sections with creativeness, beautifully used animated widgets, smooth scrolling effects throughout the site, and much more to impress you immediately.
🟣 Home Page: Its ready 'Homepage' comes with a compelling dark background that will help you to display your gaming experience interactively there. Your audience will get impressed with the very first look.  
🟣 Tournaments Page: Using its wonderfully designed 'Tournaments Page', you can showcase your real-time games tournaments in its creative sections to draw your visitors' attention. 
🟣 Blog Page: Gamers can write any reviews or posts about promoting a game that can use this fully functional 'Blog Page' template to that.  
🟣 Blog Details Page: 'Blog Details Page' will redirect your readers to the detail posts page. It will make them enlighten about posts excellently.  
🔰Things You Must Have To Get Before Creating Your Gaming Website 
Make sure you have got a few things done before using this gaming website Elementor premium templates pack 'GameZone' by Templately. Let's check out all the necessary plugins that will need below: 
✅ Elementor: First, activate the popular Elementor page builders for WordPress to use this GameZone template pack. 
✅ Essential Addons: After that, install & activate Essential Addons for Elementor which is the best elements library with 1 million+ active users and 90+ advanced widgets.
✅ Templately: As you want to use the 'GameZone' template by Templately, you have to then sign up for an account and get installed 'Templately' on your WordPress website. 
🚀Get Started With Templately To Build An Interactive Gaming Website In WordPress Within A Minutes
After getting activated all the above-mentioned plugins, you are now fully ready to use the GameZone templates pack in your Elementor site following some simple step guidelines below:
Step 1: Pick 'GameZone' Homepage Ready Template By Templately
Let's click on Edit with Elementor and create a new page on the WordPress dashboard. After a few moments, it will come up with a new page in the Elementor editor.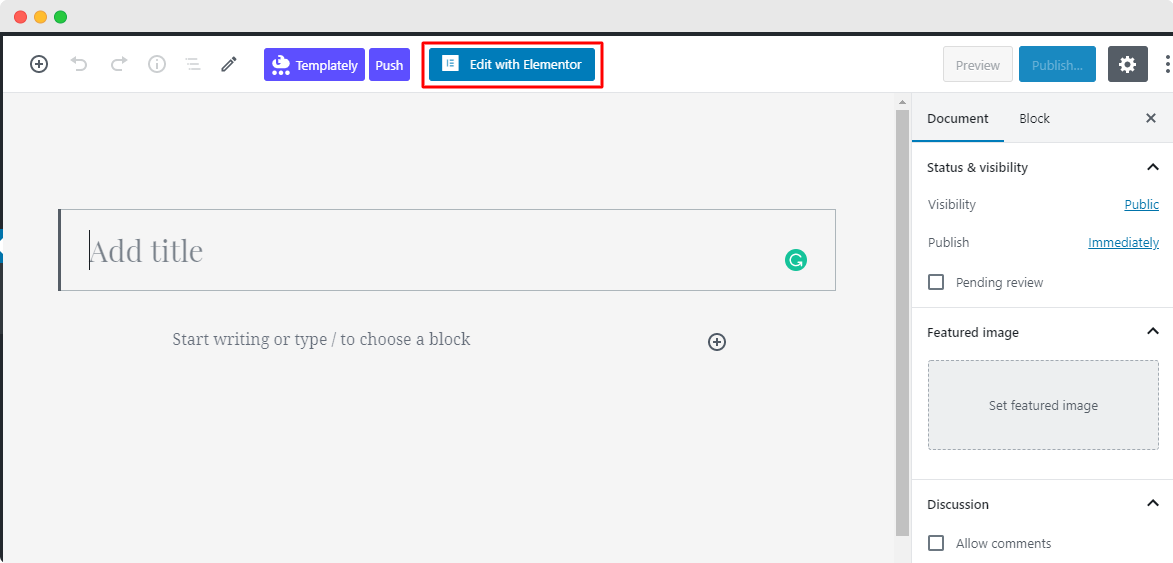 Afterward, click on the middle blue icon of the page that comes with the 'Templately'. It will beautifully come with all, ready collections Templately in a popup window.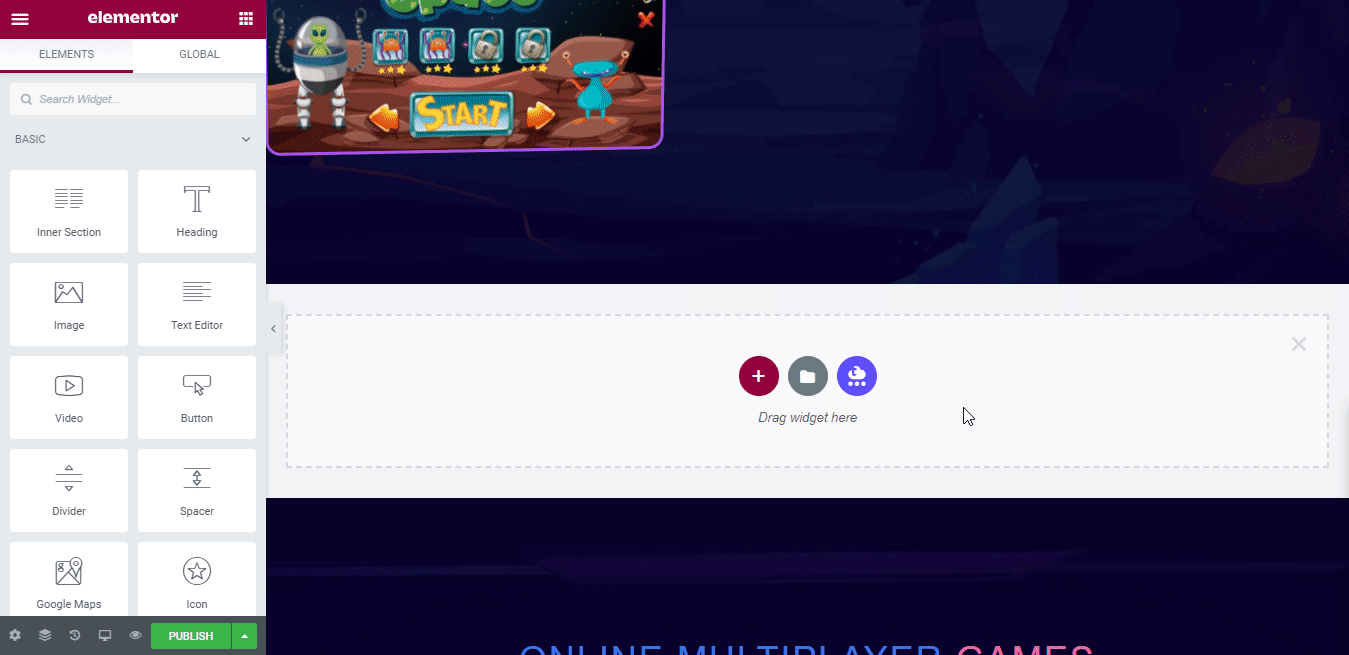 There you have to search for 'GameZone' to get all the ready pages & blocks related to this particular category. Later, pick the 'GameZone' ready homepage design, hit the 'Insert' button, and start modifying it as per your preference.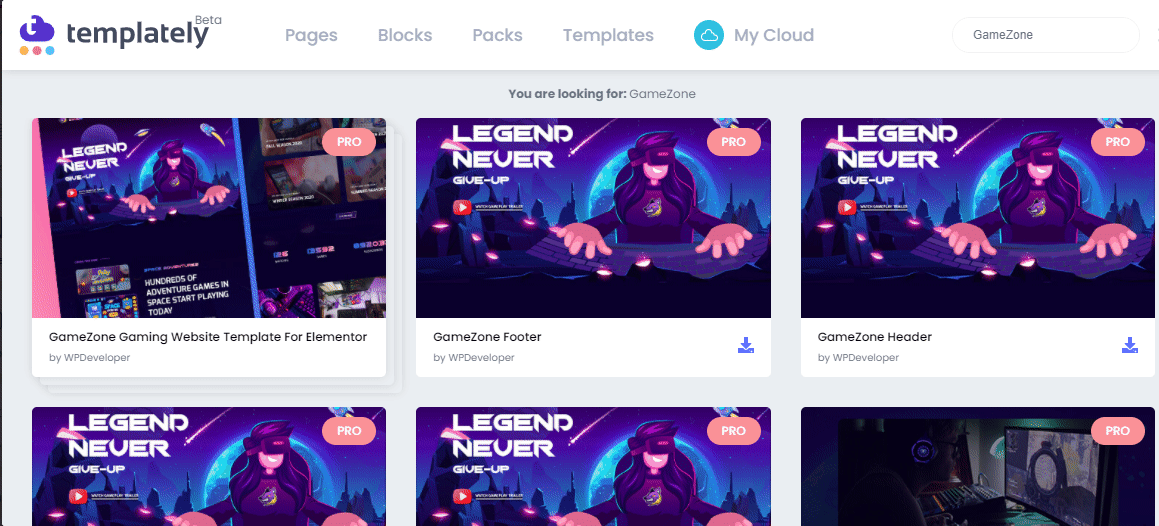 Step 2: Let's Start Customizing The Predesigned Template 
After completing all the previous steps, you can now customize this GameZone Gaming Website homepage template without adding any code. You can fill each creative section with your preferred content, drag & drop each if necessary, and do a bit of modification to make it ready for publishing within a few minutes.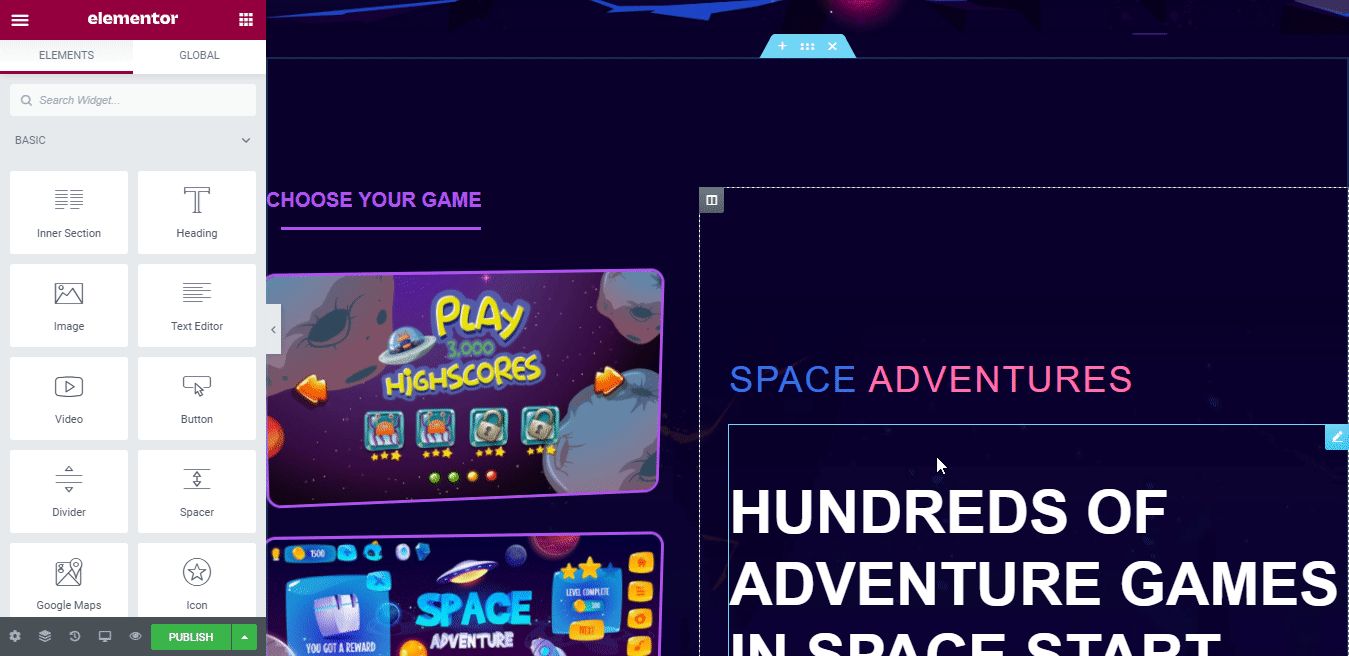 Step 3: Save Your 'GameZone' Stunning Homepage Design On Cloud
If you want you can use 'MyCloud' storage of Templately to save this ready homepage template design in its cloud space. Just right-click on the template design and press 'Save Page to Templately' and make it secure on the cloud. It will help you to create a backup on the cloud.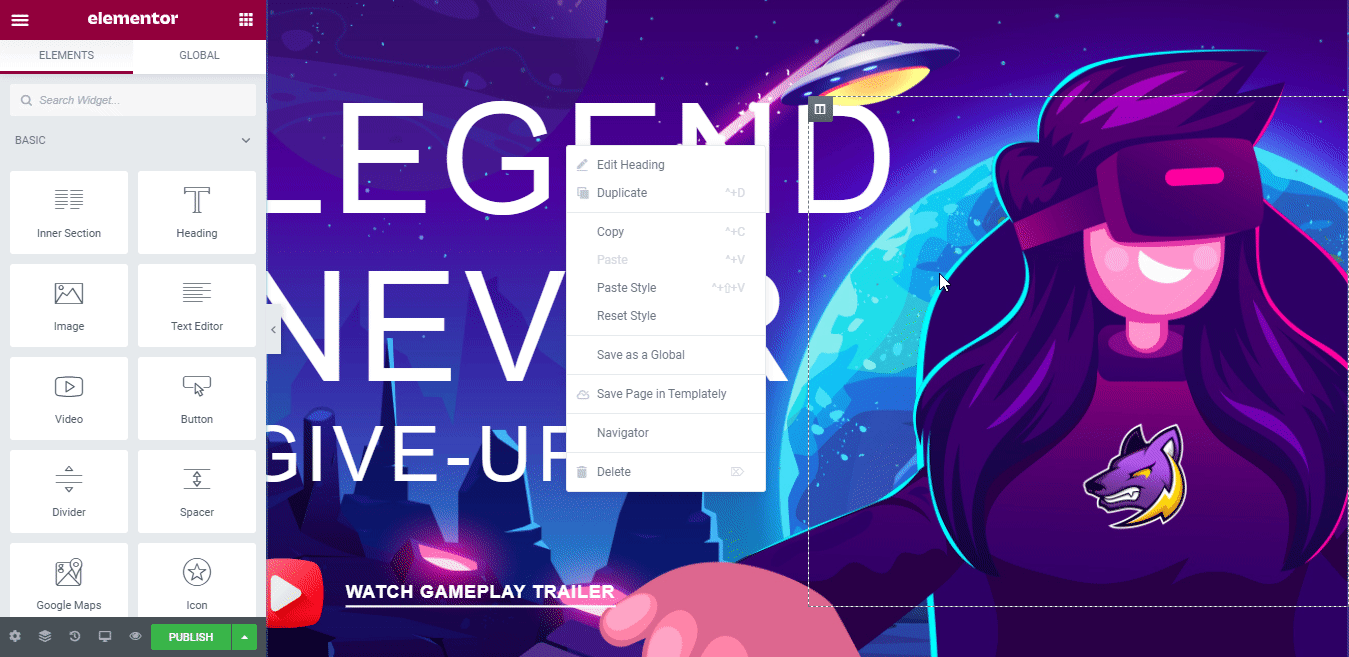 If you want, you can even reuse your saved template designs on multiple sites as many times as you want. Besides, it allows you to create a seamless collaboration on the cloud. You can share your ready designs with your team members or anyone you want using Templately WorkSpace. 
Start Designing Your Gaming Website With Templately Ready Templates!
Wonderful! You have now successfully used this interactive 'GameZone' ready homepage template by Templately to create your Gaming Website in Elementor without touching any single line of code.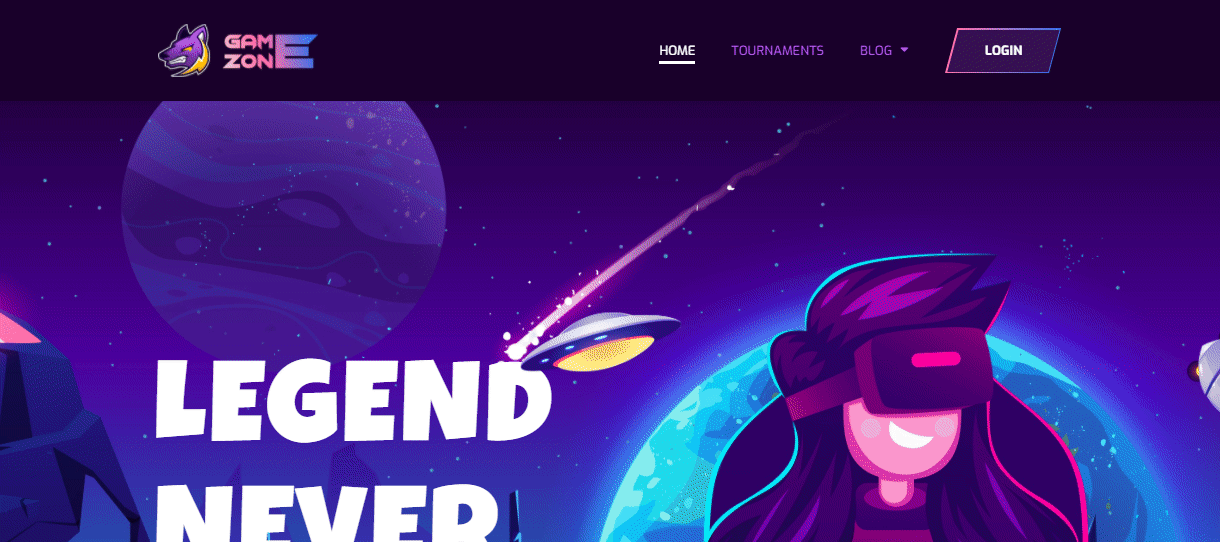 Get ready to use Templately pre-designed template collections if you haven't figured it out yet, and let us know your experience by commenting below. If you face any problem or need any help, you can freely contact our support team anytime you want.