When you have no experience in coding or web design, creating a website with WordPress is the best and most affordable solution you can have. Nowadays, building a website and running it successfully is one of the essential facts that you have to maintain. But where you are going to start is really very challenging. Welcome and keep reading until the end to learn how to build your first and complete website with WordPress. And get ready to create one immediately with the best non-coding solution.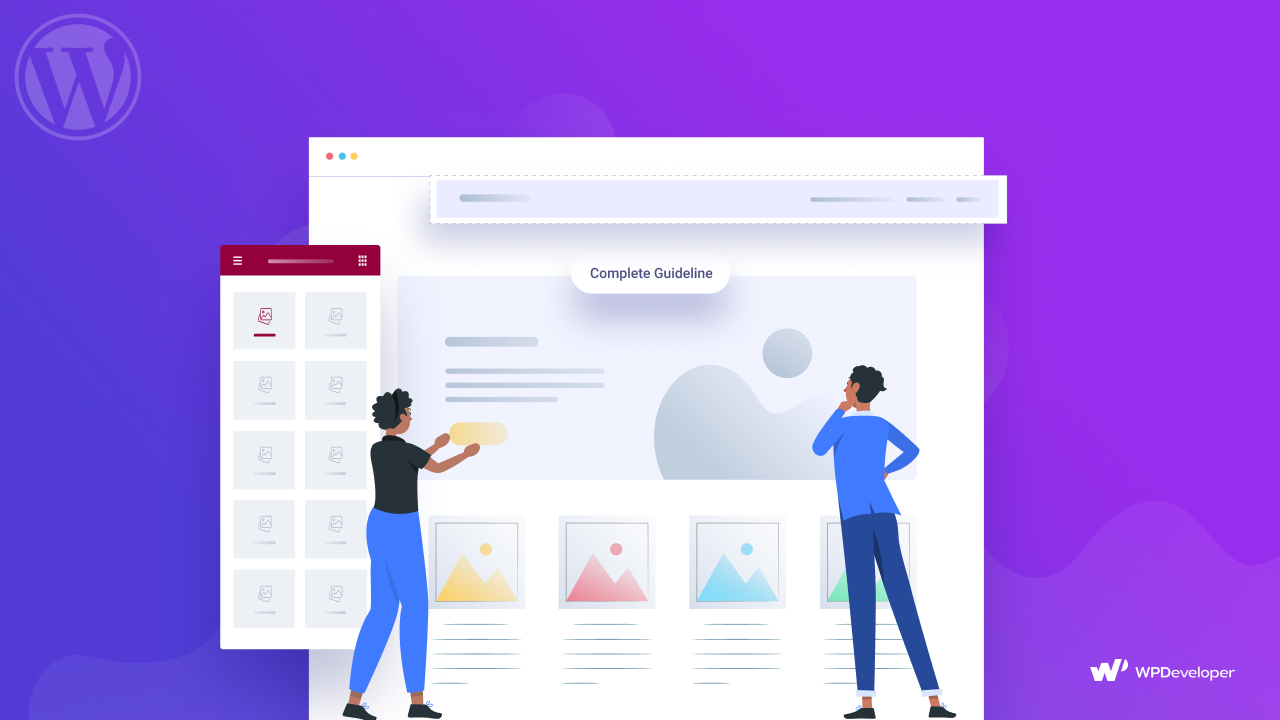 If you are passionate about writing blogs, selling multiple essentials, exclusive products, running an eCommerce store, enjoying creating crafts, or others, a fully functional website can help you to get online. And let the whole world taste your passion, also get engaged to your business on an instance. 
So if you have already decided to create your own website all by yourself, then you will need the most flexible, accessible website building platform. Where you can instantly create a website without being tech-savvy. Get started!
Building WordPress Websites Is A Good Idea, But Why?
Whenever you plan to create a website, you can blindly go for WordPress. At present, almost 41% of live websites are running with WordPress. There are so many captivating facilities you can get by using WordPress. Considering you as a beginner, we are displaying 5 exclusive benefits of building WordPress websites. 
Suitable For Non-Techy Beginners
First-time website developers may find it difficult to code and plan. The good news is that WordPress makes creating a website extremely simple. You can create a complete website with WordPress without using a single line of code. Just have to know what to choose before getting started. 
When building WordPress websites, you will get a built-in dashboard panel. From there you can have a glance at your website updates, performances, all changes, and modifications, and customize entire settings. WordPress provides a wide range of facilities. 
If you are not good at designing your website with WordPress, you can simply use WordPress template libraries like Templately, Elementor Template Library, etc. The designs of all of these templates are pixel-perfect and highly optimized. Whatever category of your website is, you will always get an outstanding template from these libraries. 
Fully Flexible & Customizable Depending On Your Needs
The primary structure of building WordPress websites is having a domain name, and getting a hosting provider before anything. Then a flexible WordPress theme to function the website smoothly. And the amazing thing is you can convert one category website into another easily with WordPress. That's the superpower of WordPress. As it's an open-source website-building platform, you can easily convert a portfolio website into an eCommerce website by doing a bit of customization.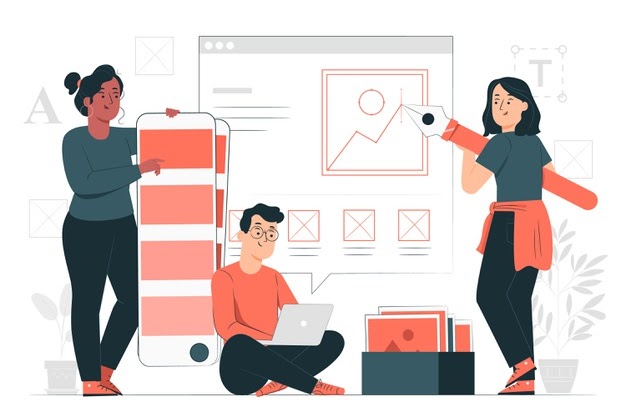 In any other website building platform, you have to add additional HTML or CSS codes to make the slightest changes like working on the background image, formatting website layouts, uploading videos, documentaries, and so on. And in a WordPress-built website, you can easily create and customize your website without any codes.  
There are many types of page builders available in WordPress. If you are comfortable with block editor or drag and drop editor, all types of flexible page builders are available in WordPress as plugins. You can also add multiple functionalities by activating plugins easily. 
Rank Your Website Higher In Search Engines
The best way to find out whether your website with WordPress is performing well, and reaching a niche audience, can be measured by ranking your website higher in search engines. To make that happen you have to optimize your website for search engines. 
When you are using WordPress for website building, it takes the responsibility to rank your website higher. Its internal structure and codes are designed in such a way that it will help you to rank in search engines. Moreover, there are many plugins available in the WordPress repository to help you improve readability, search engine ranking, and so on. In this case, you won't have to add additional codes as well. SEO plugins will do the tricks effectively. Also make sure you have SEO booster plugins like Rank Math, Yoast, etc to analyze your site content performance and suggest improvements. 
Built-In Blog Functionality In Every Website
If you dig a little deeper, you will find that WordPress was primarily a blogging website. With time and advanced technology, it has increased its functionalities and become the most accessible open-source website builder. You won't need to add extra custom functionalities to your website, just with a few modifications you can make your site live. 
Blogs are one of the popular marketing tools at present for content marketing and strategies. WordPress will allow you to create blogs directly from the dashboard by using popular page builders like Gutenberg or Elementor. Exclusive built-in blogging features are integrated into WordPress websites, such as commenting, displaying news, displaying blogs on specific pages, and many more. 
Prompt Support From WordPress Community
Another best part of building WordPress websites is you will always get support if you are stuck at any point. Every plugin provides its own dedicated support team to solve all customer issues as soon as possible. 
Moreover, there is a WordPress community forum where you can make inquiries about any problems, set up WordPress themes & plugin-related problems, and so on. All WordPress users from all over the world will try to help you sort it out.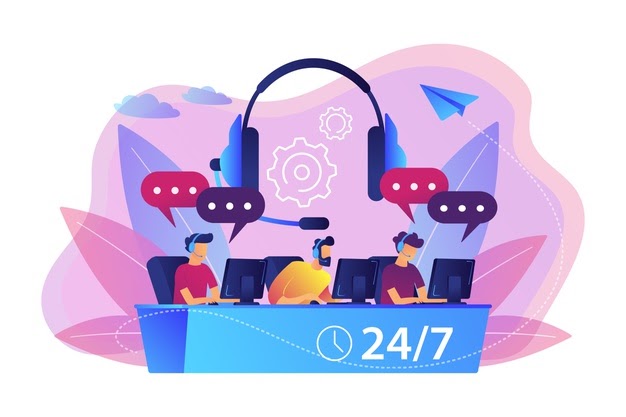 Even if you have any suggestions for the WordPress developer team or a particular plugin team, you can share your valuable suggestions as WordPress is free and open-source. It's been trying to make your website's creating experience fun and enjoyable. So that they are very supportive of their support tickets.
Besides these exclusive benefits, WordPress-built websites are fully mobile responsive, have cross-browser compatibility, and ensure total control over your site. Managing content has never been easier, and you can simplify things even more by assigning editors, authors, and administrators, and limiting their freedom. Are you convinced why should go for a website with WordPress? Let's find out what web pages are a must when you are building WordPress websites.
5️⃣ Must-Have Pages On Every Type Of WordPress Website
Whether you are running sales consulting services, eCommerce products, or just sharing your own experiences, and more. You have to represent all information in an eye-catching and interactive way on your website. You can tell a gripping story of yourself or your company, create a direct communication medium, etc, by adding must-have pages on your website. 
If you are building WordPress websites, you can add multiple pages instantly. To help you out we are sharing the list of must-have pages for any website with WordPress.
➡️ Landing Page: Where All The Action Happens
The first thing that your visitors will see when they land on your website is your landing page. This page will help your visitors to decide whether they want to explore your website, and products, complete the purchase or leave your website for other opportunities. Moreover, when you are planning to run digital promotion campaigns, landing pages are the place where you can easily divert your potential audiences. 
A well-designed interactive landing page helps to increase the conversion rate up to 11.45% or higher. So having a landing page is a must for any type of website with WordPress. If you can represent the page captivatingly, it will provoke your visitors to take the action you want. You can lead them directly to contact you, buy your products or services, or read your blogs. To provide you with a clear concept of landing page design, displaying Dlab Digital Agency Website Template's landing page from Templately.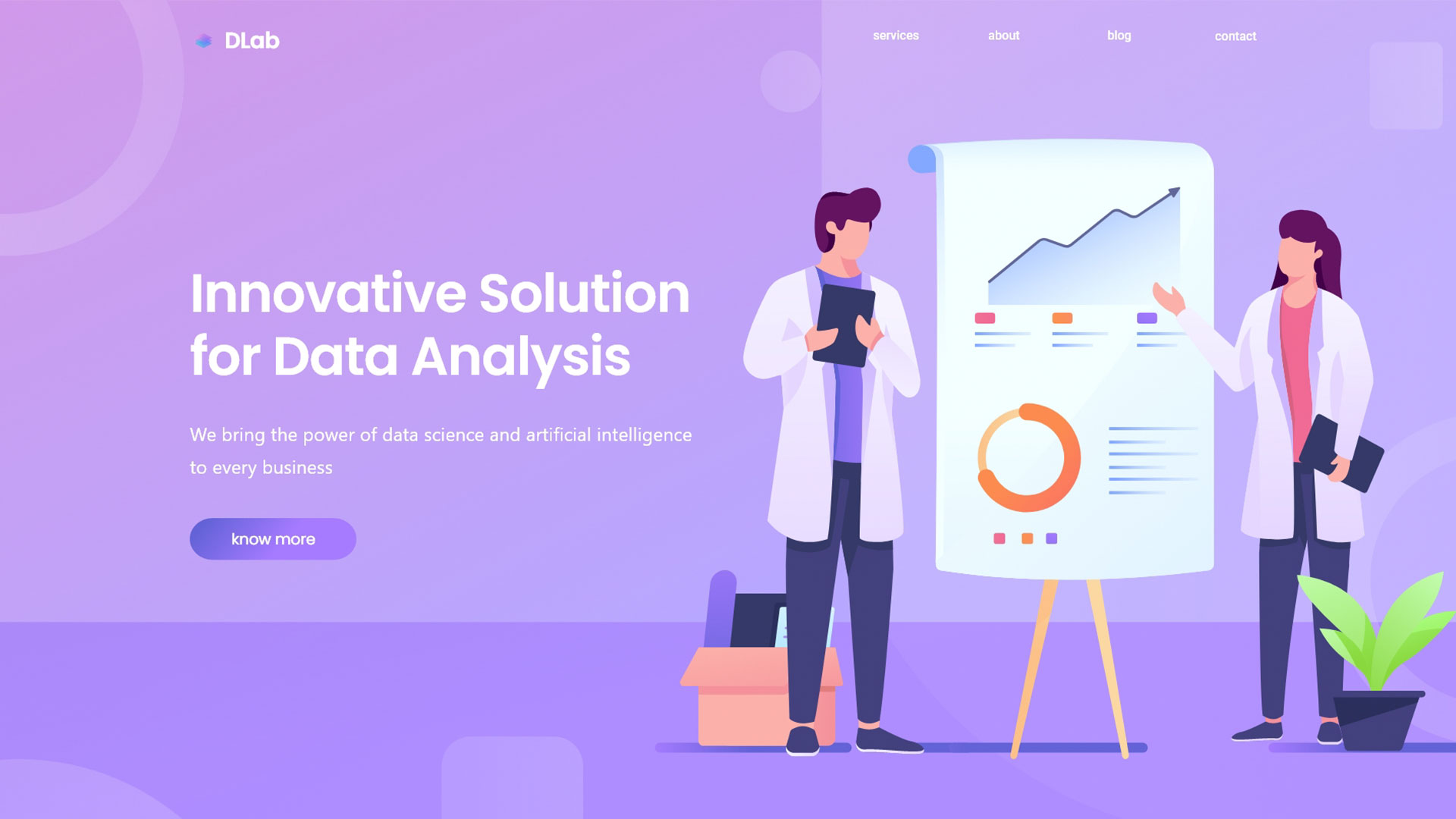 ➡️ About Us Page: Describe Purpose Captivatingly 
Just after getting a good impression from the landing page, 52% of visitors want to see "About Us" information. This is the right place where you tell your story, mission, vision, products, services, or business types, all in one place. The About Us page is the best place to briefly describe these interactively. 
Most of the time, potential leads want to explore behind the backdrop of people. It helps to build credibility, and keep your motives loud and clear. You can share your success journey, road maps, team members, team activities, and social media integrations here. Check this About Us page layout from Upsole WooCommerce Template from Templately to get a clear idea of the About Us page design.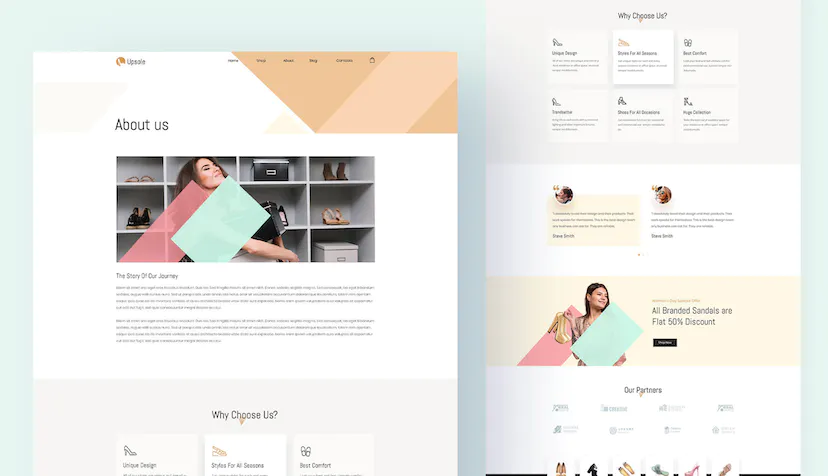 ➡️ Contact Page: Bridge For Direct Communication
44% of site visitors usually leave the website if they can't find a proper communication medium or contact page on the website. A Contact page creates an opportunity to communicate directly and instantly with your visitors and customers. It works as a customer support tool. If you keep a Contact Page and manage it successfully, you can convert more visitors into customers, upscale your site performance, and so on. 
According to the website category, you can display contact information, social media integrations, Google Maps, appointment options, etc. Running digital campaigns with all your collected potential customers' emails, nurturing leads, analyzing conversions, and many more opportunities doors open through including a Contact page on your website with WordPress. 
Here providing a demo of a Contact page design from Templately's one of the popular Template packs Balance-Health & Wellness Template.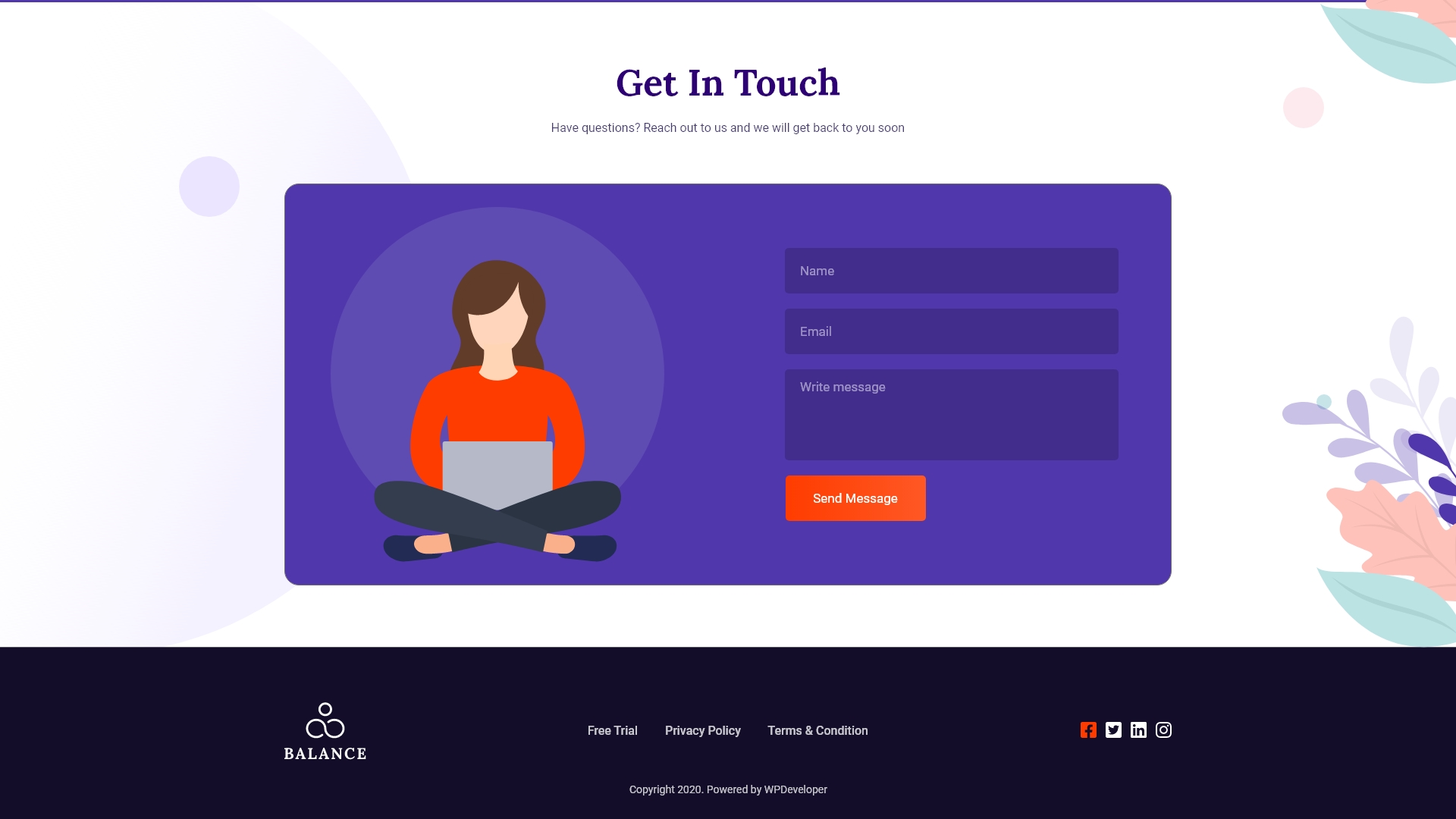 ➡️ Products Or Service Page: Create Unique Value
86% of visitors want to see information about that company's products/services, by the statistics of Komarketing. This page completes the main purpose of your website- generating revenues for your business. You can display all your products and services beautifully and interactively on this page. 
Product photography, well-written descriptions, user-friendly page layouts, and happy customer reviews on your products or service page will help you to convert customers. You can create your Products page like Templately's WooCommerce Elementor template EleGift.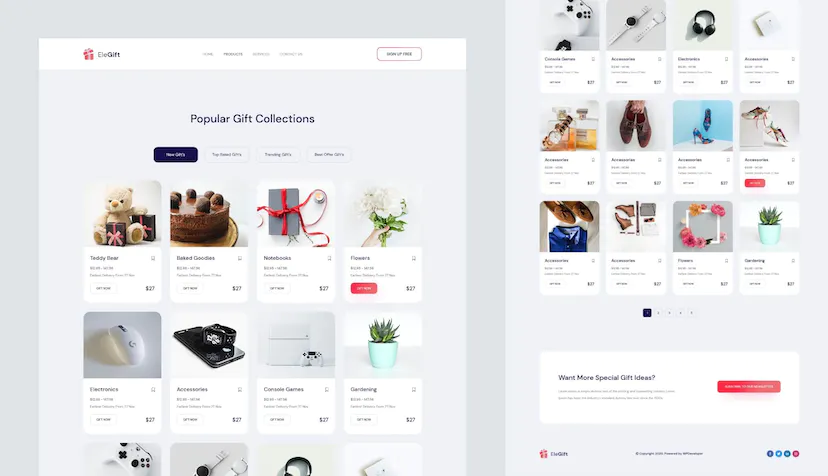 ➡️ Blog Page: Express Your Experience & Expertise
Nowadays Blog pages are considered as one the essential pages for static, eCommerce, agency, portfolio, or any type of website. A website with WordPress is one of the most popular platforms for blogging. As mentioned earlier, you will get all blogging functionalities and layouts available while building WordPress websites. 86% of the content marketers use blogs as their marketing strategy to the statistics of Oberlo. 
If you maintain a 'Blog Page' on your WordPress website, you can share insights, your experiences, expertise, your products or services' usability, and so on. A user-friendly representation of your Blog page matters most. If you are wondering how to design your blog page for a website, check this out from Templately's Blog Metro template.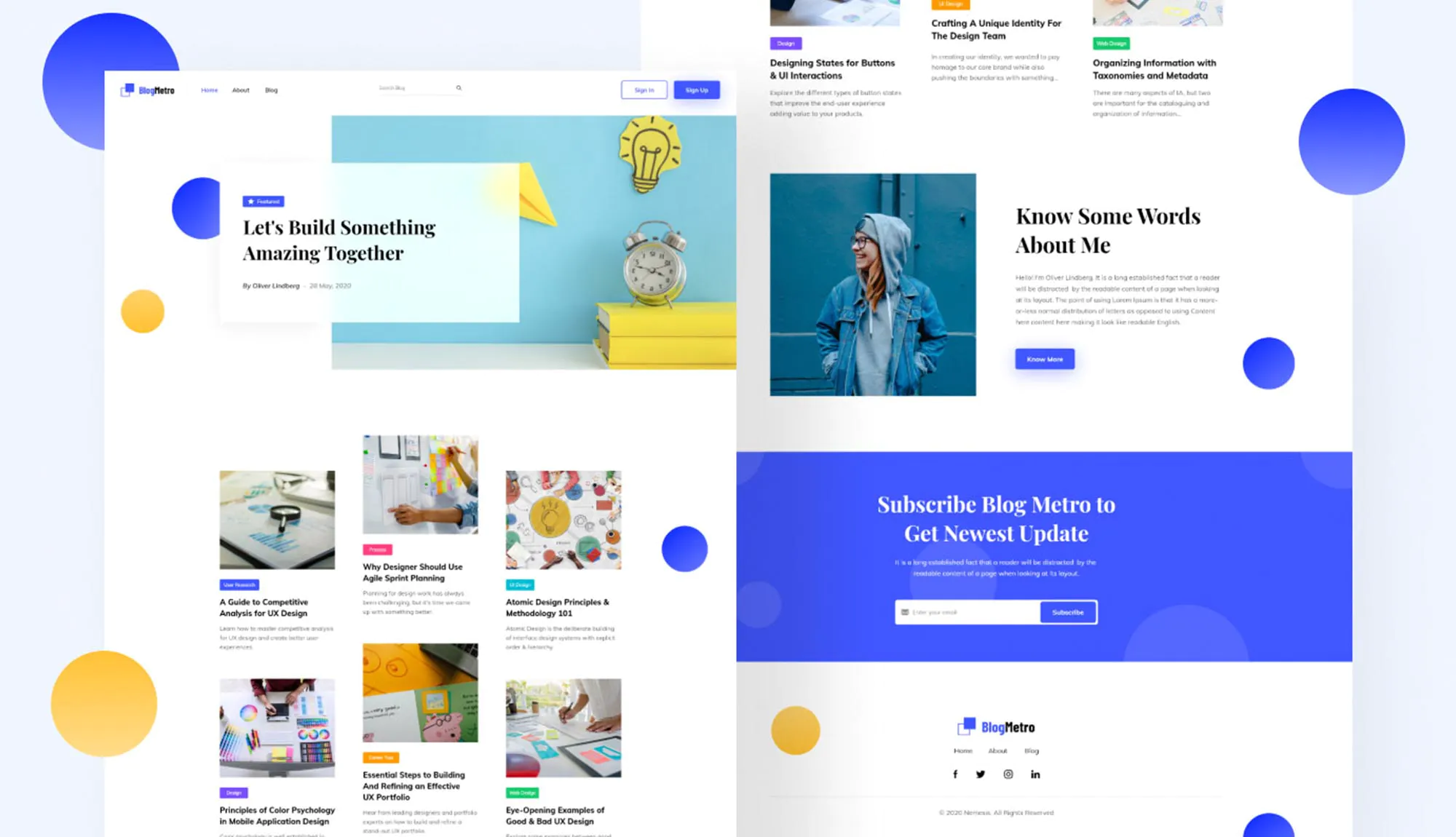 3 Essentials Setup Before Kick-Start Creating Your Website With WordPress
Building WordPress websites are like bread and butter if you know the right way and tactics. A fully functioning website can be made without adding any coding. Are you all set to build a complete website with WordPress? Then this part is for you. 
Get A Catchy Domain Name For Your WordPress Website 
A domain name represents the online identity of your website. While you are giving the name of your website you just can't name it instantly as you did for your babies or pets. You have to find out whether that name is available or not. 
There are many renowned sites to check whether your selected name for a website with WordPress is available or not and then purchase the domain name. The most popular domain marketplaces are GoDaddy, Bluehost, HostGator, Squarespace, Hostinger, and so on. Every domain marketplace sells domains yearly, so you have to pay an amount every year. Check out if your pre-selected domain name is available and purchase it immediately. 
Go For A Suitable Hosting Provider Before Starting Anything
In need of keeping your website active, live, and accessible to everyone online, you will need the best manageable hosting service provider. It will be a wise decision if you chose one complete platform that provides domain & hosting services. 
When you buy website hosting you rent server space on a server where your web files will be placed. There are many hosting provider companies near your hand to get a kickstart for your website with WordPress. Before choosing a hosting provider you have to consider a few things. 
What theme and page builder you are going to use for the website also plays an important role. While choosing a hosting provider, you have to consider three key aspects: Load time, Availability, and Support. If you are planning to create a simple website as a starter, you can go for any price-friendly hosting provider. Again you have a plan to expand your website functionalities, then you should go for renowned hosting providers.
Considering the performance and financial aspects, you can go for Kinsta, FlyWheel, Cloudways, WP Engine, etc hosting service providers. Due to the popularity of WordPress, the majority of top-ranked hosting companies come with one-click installation and a complete set of tools for WordPress. 
Set Up The Most Popular Website Building Platform: WordPress
There are many ways to set the environment for WordPress. As mentioned earlier, when you are taking any hosting provider service, they will provide you the facility to install WordPress with one click. If you are using Kinsta hosting provider, after activating your account, you will find the option of installing WordPress on your dashboard. Or you can install WordPress locally on your pc and start creating amazing websites with WordPress. 
With WordPress installations, set your navigation menu, add a logo, set a website tagline, choose the website page layout, select widget displaying positions, etc. You can do all these changes from your dashboard Customization panel. If you can make all these customizations before creating a website, it will make your building WordPress website journey smoother.
Step-By-Step Guideline: Building A Complete Website With WordPress
It's time to start building WordPress website if you have finished the above instructions. We have created this guideline in such a way that from beginner to expert level, everyone can build their desired website instantly without coding. To get started, all we need is your undivided ten minutes' attention. 
1️⃣ Get A Suitable WordPress Theme Aligning With Website Purpose
You have already acknowledged that you can build any category website with WordPress, from a simple one-page website to a multi-vendor eCommerce website. But before the kickstarts, you need to set the purpose of your website. 
There are almost 3900+ free WordPress themes available with multiple functionalities and categories. If you have decided on the purpose of your website, it will be easy to pick a WordPress theme for your website. To clear you out, WordPress themes are a set of templates, website functionalities, schemes, layouts, and styles. It's one of the fundamental elements of any WordPress-built website. 
Whenever you are choosing a WordPress theme,  the smartest tip is to pick a generic theme, so that you can create any type of website easily. While choosing a theme, you must consider the site loading speed, memory usage, and dependency on third-party plugins. As a starter, you can go for the WordPress default theme Twenty Twenty-One. It's so simple and lightweight that you can create any stunning website instantly.
If you are looking for a multi-purpose theme to build a giant website, you can choose from Flexia– The best WooCommerce multi-purpose theme, OceanWP, Astra, etc. But, you may face some difficulties while choosing a theme if you are a beginner. Multi-purpose themes will make your website heavy and affect your site performance. The bigger the theming capability, the bigger the number of bugs that occur. As a beginner, it's hard to manage all problems altogether. So to ease your workload, you can go for a lightweight, simple theme and use WordPress-ready templates and plugins to design your website beautifully. 
2️⃣ Design Your Website Pages Vibrantly
It's time to give your website color and give it a vibrant look. You will get pre-built pages with your chosen theme and have to create the rest of the web pages all by yourself using page builders like Gutenberg, Elementor, and so on. 
But if you have zero basics about website designing, the best option is to go for ready website templates from Templately– The ultimate template cloud for WordPress. Here you will get ready templates for almost everything. The only thing you have to do is to sign up in Templately and then start inserting your desired templates on each website page. No matter what theme you choose, with Templately you can give your web pages a stunning look instantly.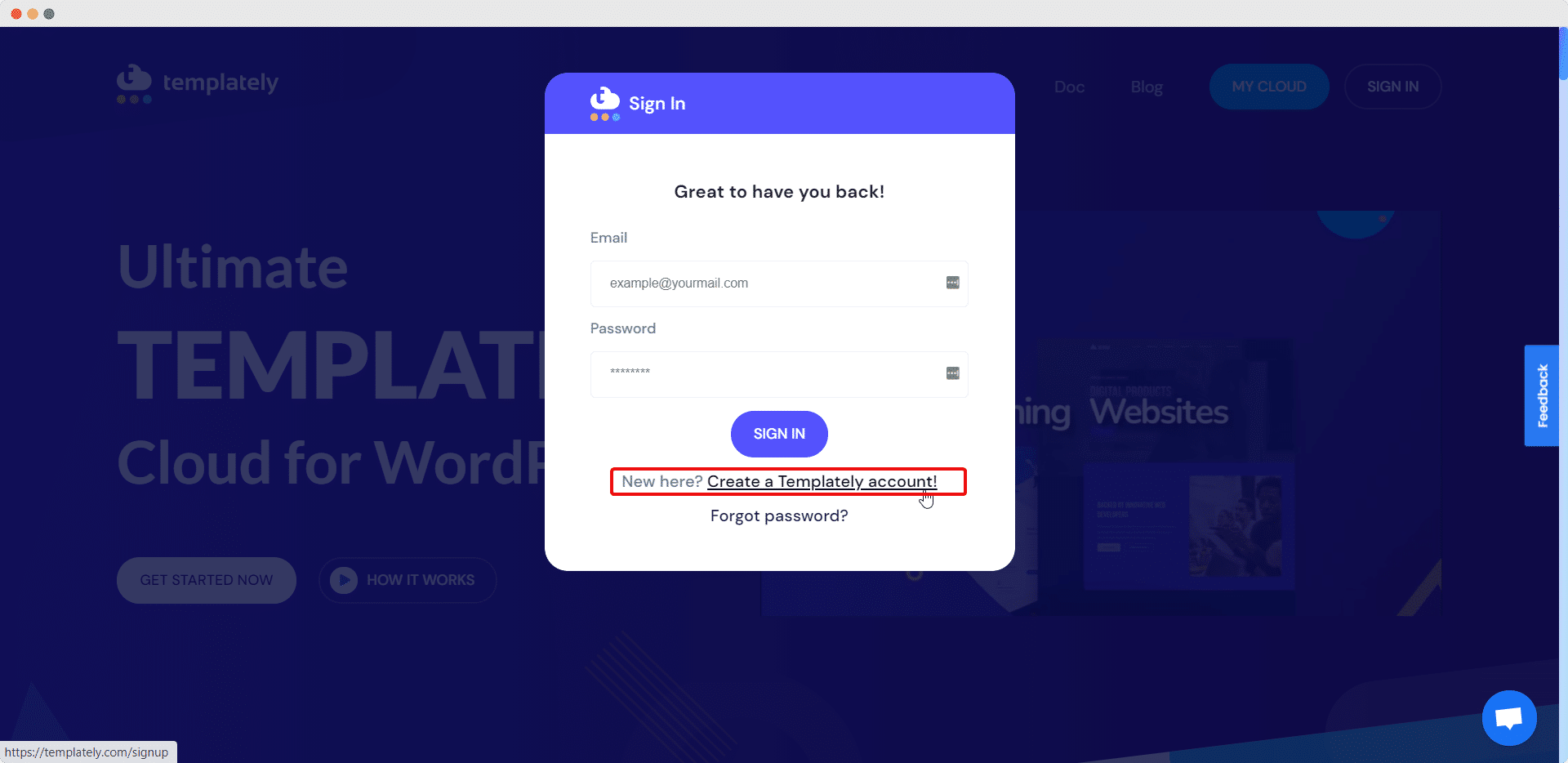 3️⃣ Get All Essential Plugins To Enhance Functionalities 
To successfully run your website with WordPress, you have to install and activate multiple plugins. Plugin means a group of functions that adds new functionalities to your WordPress website. To add vital plugins, you won't need to go elsewhere, you can add them directly from your WordPress dashboard. 
Navigate to 'Plugins' from your dashboard and then click the 'Add New' button. It will take you directly to the WordPress repository. From there your essential ones, and activate them one by one. As a beginner, you can install the Elementor plugin for creating web pages, Jetpack for backup and security, Contact Form 7 for including direct communication, Rank Math for SEO functionalities, and so on.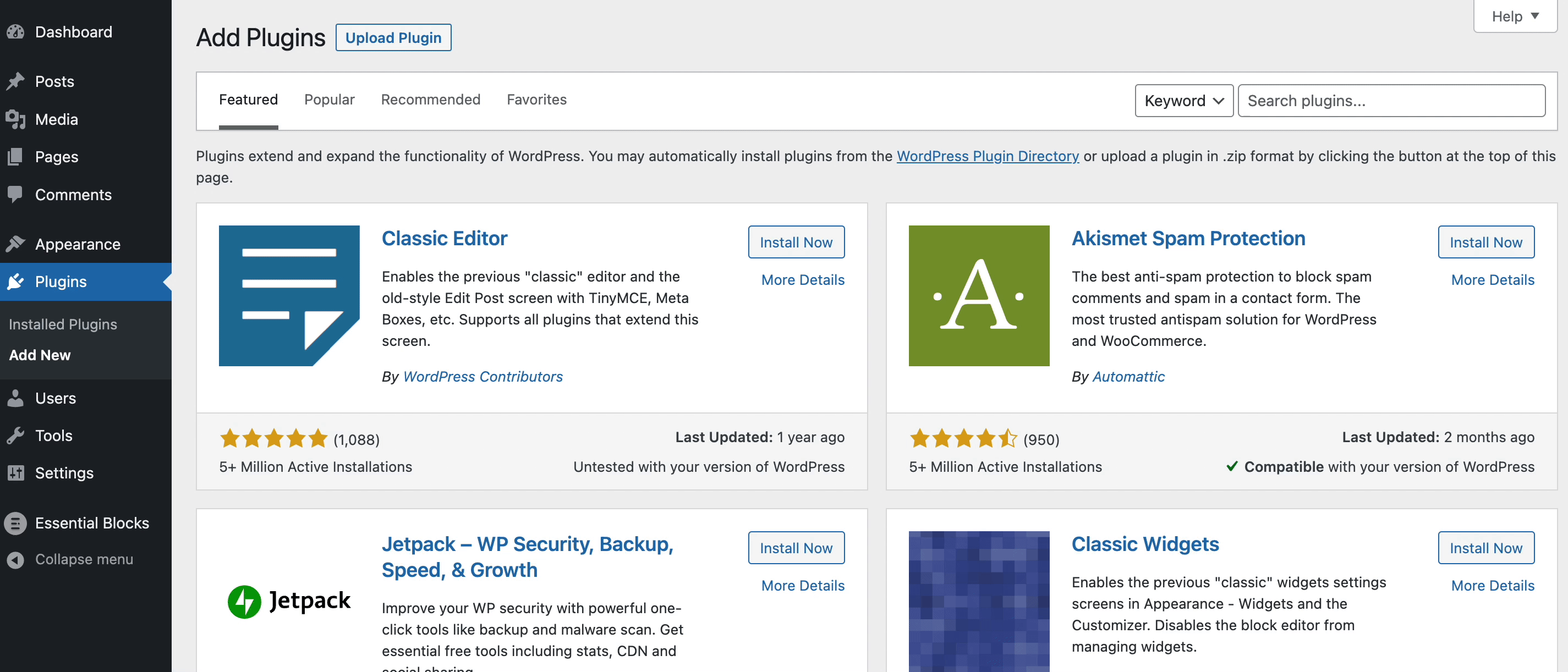 Final Outcome: Have A Look At Your Stunning Website 
Let's recap. If you have done setting up your WordPress site with a suitable WordPress theme, and activating all essential plugins to start designing the web pages, you can now make your website live anytime. Congratulations! You have created your very own website with WordPress for the first time. Don't forget to share it with others to get more engagement on your website. Check out the website we've created for tutorial purposes.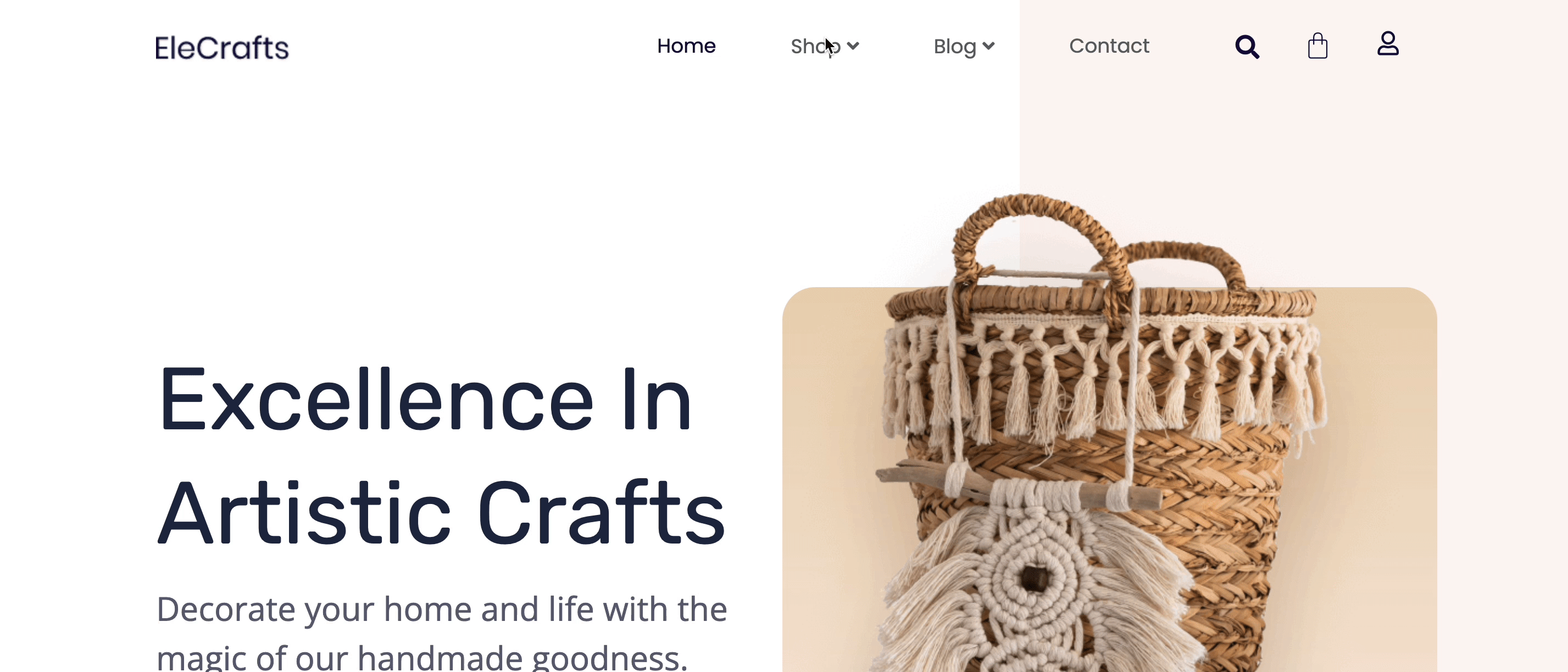 ✨ Bonus: Best Practises For Websites To Improve Your User Experience
Building WordPress websites isn't a one-time job. You have to manage your website, get more visitors, and eventually at the end that will result in an increase in revenue. 
If you want to boost your website engagement and increase revenue, you have to improve your site's user experience. There are many strategies, tricks, and tips to do that. Here we are mentioning easy to implement yet important tactics to improve the user experience of your website.
⭐ Include Eye-Catching Call-To-Actions
Call-To-Action buttons are the main trigger point that influences the site visitors to take action. You can make call-to-action buttons catchy and interactive, and use them in the right places. So that your visitors won't feel forced to take action and eventually improve your site's user experience. 
Wondering where to get attractive and interactive call-to-action buttons for your website with WordPress? You can go for Essential Addons For Elementor plugin. There you will find a stunning call-to-action button to make your website more interactive and user-friendly.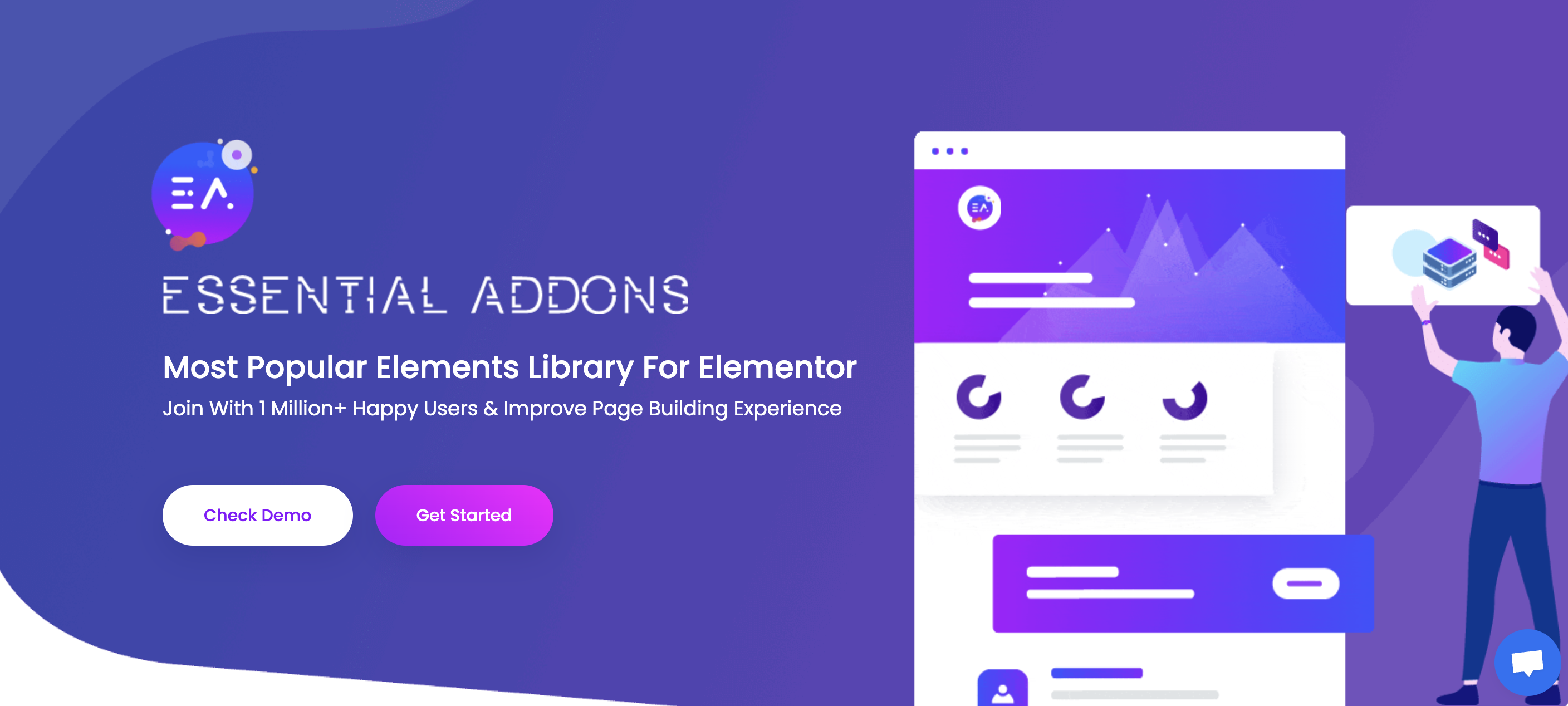 🔔 Use Social Proofs To Increase Engagement
The best way to increase site engagement and activity is to include social proof strategy. If you can influence new visitors with past customers' success stories, recommendations, and activities on your website, soon they will turn into your regular customers. 
There are multiple plugins to implement social proof on your website. Among them, NotificationX– Best social proof And FOMO marketing solution from WordPress repository can be the most popular with 20k+ active installations. You can display your site visitors number, blog readers statistics, product sales activities, customers review teasers, special promotional offers, etc with interactive clickable live pop-ups. These will influence the new visitors and instantly improve your site engagement, revenue, and user experience. 
📣 Create Content Copy That Attracts Visitors
If your website's landing page and other pages' can't attract visitors, then unlimited plugins or strategies can't help you out. So that you will need to make your content copy outstanding to keep visitors stick to your website. 
Templately– The ultimate template cloud for WordPress can help you to create content copy that will attract your visitors. You are supposed to think how? As templates from Templately come with attractive and interactive content, including images, illustrations, animations, call-to-actions, etc., so you don't have to spend money on getting creative content. 
How To Build A Website With WordPress: Birds Eye View
All of the above steps will allow you to design a beautiful website with WordPress. Let's review once again the essential steps you need to do. 
🔰 Get a search engine optimized domain name
🔰 Select your hosting provider smartly
🔰 Set up WordPress environment for creating a website
🔰 Select a suitable, beginner-friendly WordPress theme
🔰 Design your website pages attractively
🔰 Ensure that all essential plugins are installed and activated.
🔰 Make your site live and share it with others
Now It's Your Turn To Explore 
You have reached the end of the blog. You've just learned how to build a complete website with WordPress! Now anytime you can start creating your own website in WordPress without adding any single line of code.
And the cool thing is if you follow the above steps one by one, then you won't need anyone to build WordPress websites for you. Creating a complete website with WordPress is the most budget-friendly and beginner-friendly way you can ever have. 
How much have you enjoyed this blog? Don't forget to share your thoughts via comments or by joining our Facebook community. If you want to get more of these types of insightful tutorials, and blogs, subscribe to our blog, and stay tuned for more.