Businesses are taking preparations in full swing to reap the best out of the biggest shopping season Black Friday and it is the best time for affiliate marketers to gain big on affiliate sales. To run campaigns successfully, you need to track affiliate links properly to measure the performance of any campaign which holds equally true for Black Friday, Cyber Monday, Christmas, or New Year campaigns as well.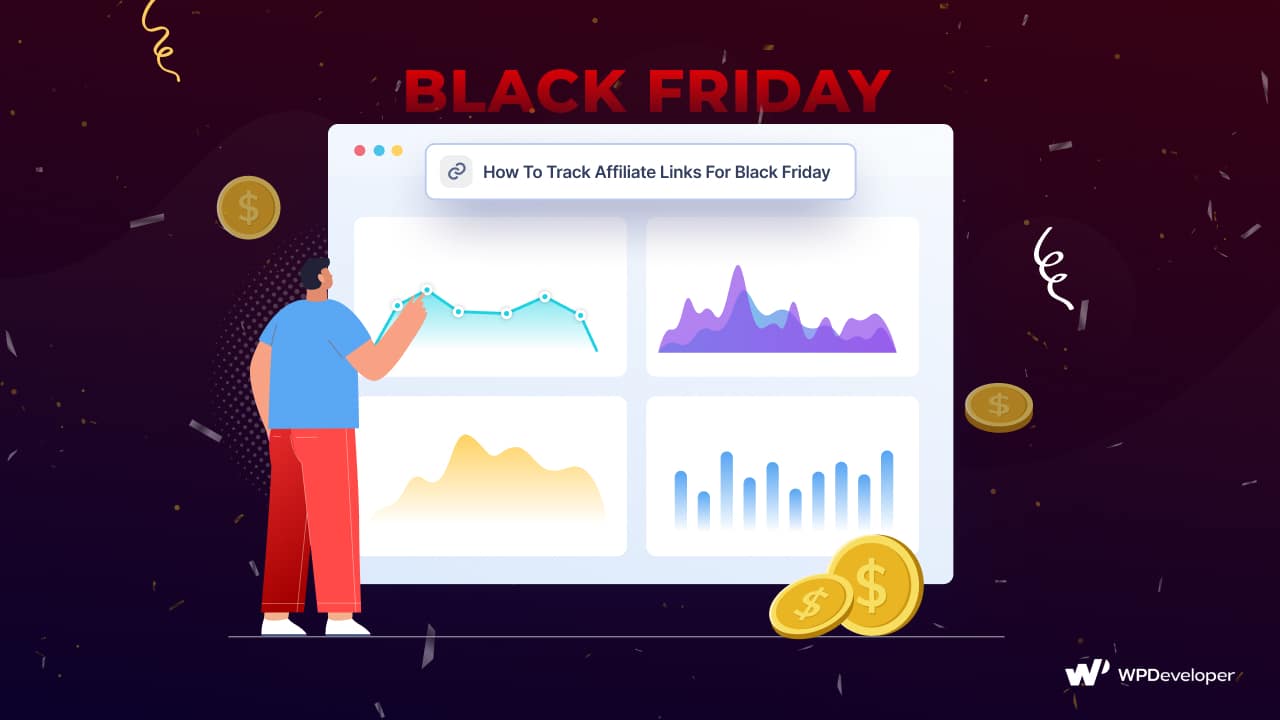 Why It Is Important To Track Affiliate Links?
The foundation of online businesses today depends on affiliate partnerships to a greater extent. Whether you own a fashion and apparel business, sell appliances, or run a software company, a strong affiliate network can multiply the growth of your business through extensive promotion. Additionally, it can help your business get more exposure and accomplish the target that you would have to do on your own.
Affiliate marketing is one of the booming digital marketing strategies that businesses are taking advantage of. So when you have affiliate partnerships, it is important to keep track of the affiliate networks that bring you the best benefits.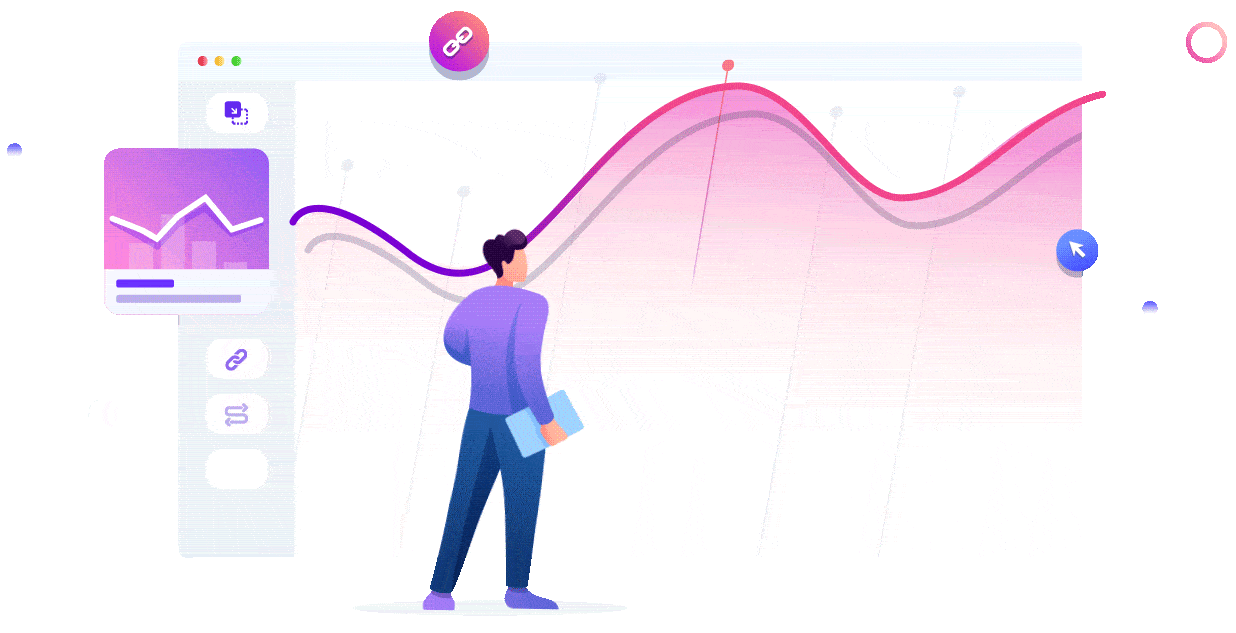 You can evaluate the overall success of your business goals and programs by tracking the key performance indicators for your affiliate marketing strategies. Additionally, affiliate link tracking assists you in developing vital plans that will aid your company in achieving both short- and long-term goals. Tracking referral links helps you identify what areas of your business you should prioritize.
Identifying which affiliates generate the most sales and conversion is an important affiliate marketing indicator that you need to track. Keeping records of your top affiliates is a good practice. This will help you find the most profitable and active affiliate to move forward with them on a long-term basis. As special events like Black Friday, Christmas, or New Year deals are the most sale-generating time, keeping track of the affiliate links during these campaigns is important.
Types Of Affiliate Link Tracking You Need To Know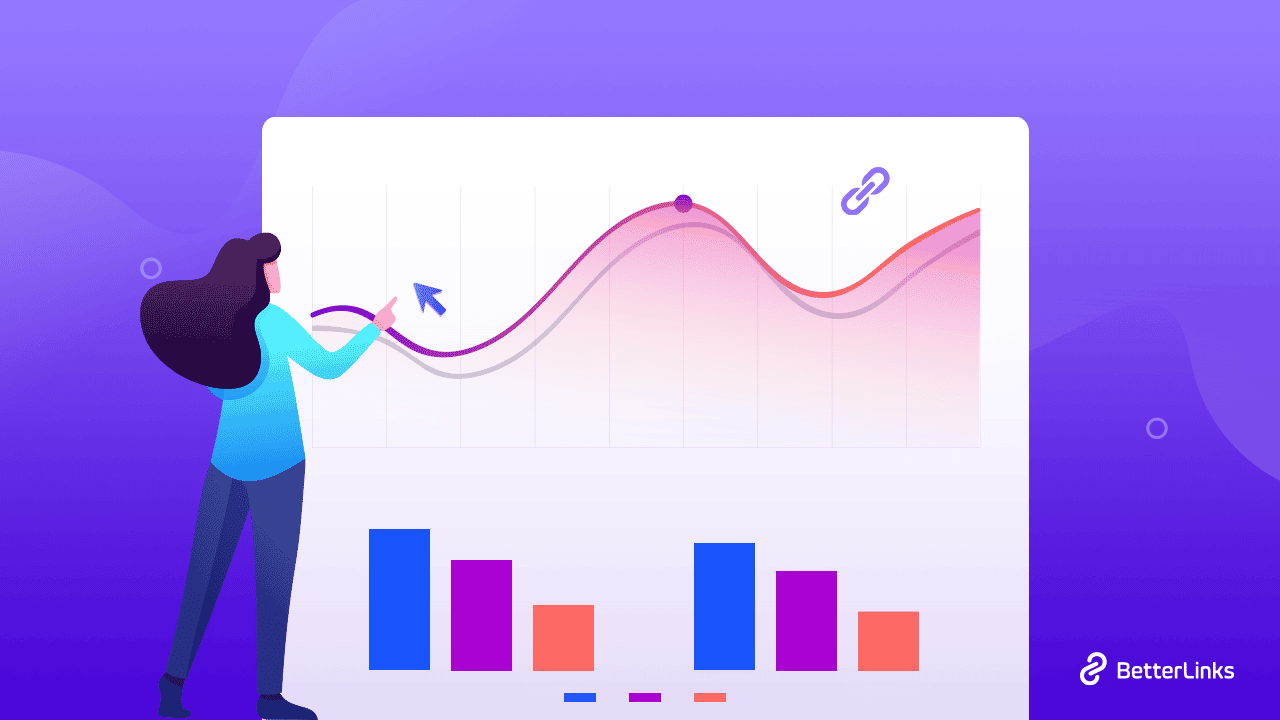 Your marketing campaigns, budget, and relationship with your affiliates can be at stake if you fail to track affiliate links properly. Because this won't allow you to identify which of your affiliate brings you the best. Link tracking is crucial for affiliate marketing. If you don't track affiliate links properly, affiliate partnerships would be difficult. A specific URL containing the affiliate's ID is used to measure the performance of a particular affiliate. There are two common ways to track your affiliate or referral links.
Client-Based Tracking
Client-based tracking refers to when visitors click on a link that directs them to a landing page, that particular ID is stored on the browser we know as a cookie. How long the ID is stored depends on the cookie lifetime of the site. Some cookies are deleted automatically while others may have an expiry time of 30, 60, or 120 days for example.
When a customer goes through the desired action on the website, a conversion pixel—a small piece of code—loads and reads the cookie data (transaction ID). The data is then forwarded to the conversion tracking system, where it is logged for the appropriate partner. The affiliate eventually receives payment for the award. However, a specific browser tracks a particular browser cookie. So when a customer does the action from a different browser and conversion is made, it will not be tracked.
Server-To-Server Tracking
Server-to-server tracking is a cookieless tracking. In this tracking method, the user and partner information is saved on the company's server where a unique transaction ID is attached. When a customer makes a conversion by clicking a unique tracking link, a postback with the transaction ID is sent to the conversion tracking system.
The server-to-server tracking method is considered to be more reliable than client-based tracking as there is no chance of losing any conversion when the cookies are disabled on the user's browser. However, in terms of technical complexity, implementing client-based tracking is quite challenging.
How To Efficiently Track Affiliate Links During Black Friday?
Tracking and managing your referral links can be complicated but thanks to affiliate link tracking solutions made it super easy for businesses to get detailed statistical data on affiliate marketing campaigns, the number of clicks, conversion rate, ROI, commission rates, etc. Looking forward to an advanced link-tracking solution for your Black Friday marketing campaigns on your WordPress websites?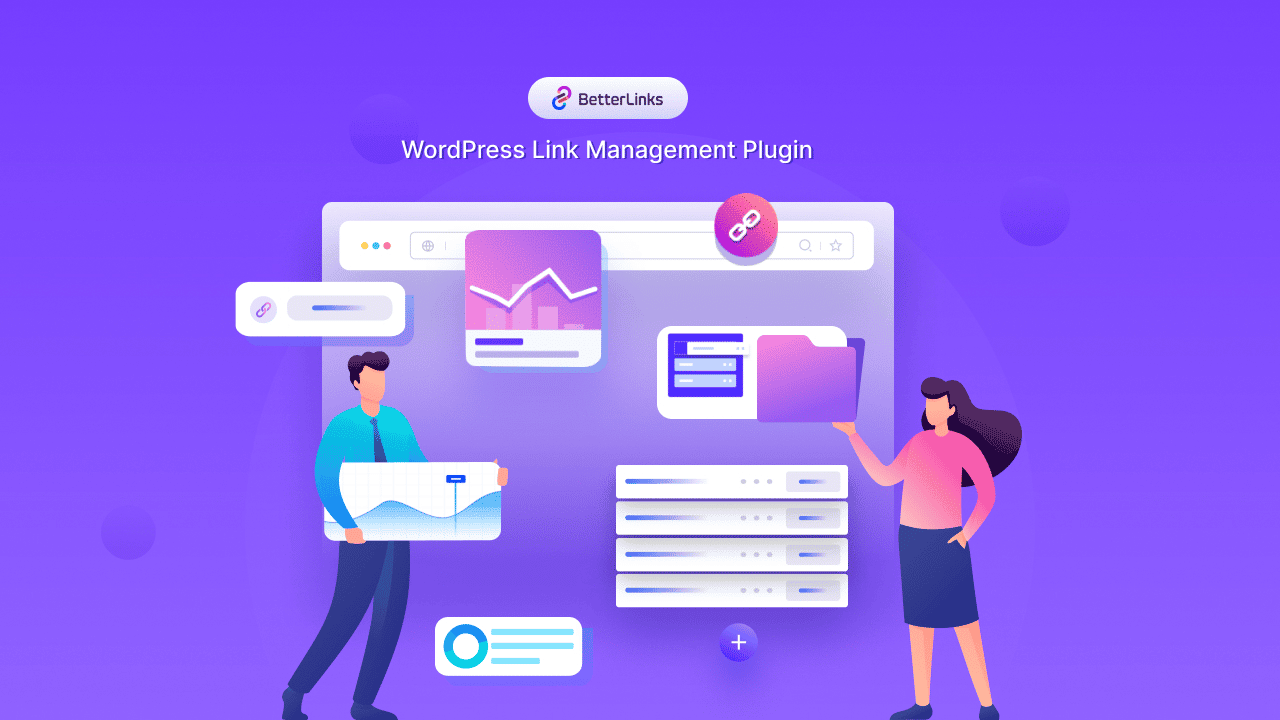 You can use BetteLinks which enables you to measure and evaluate the performance of all your website URLs, marketing campaigns, and affiliate links with just a few clicks. You will have access to advanced, built-in analytics tools as well as a number of other special features like Google Analytics integration, A/B Split Testing, and various types of Dynamic Redirections when you use this helpful link shortening and redirection plugin.
Track Your Links With BetterLinks' Advanced, Built-In Analytics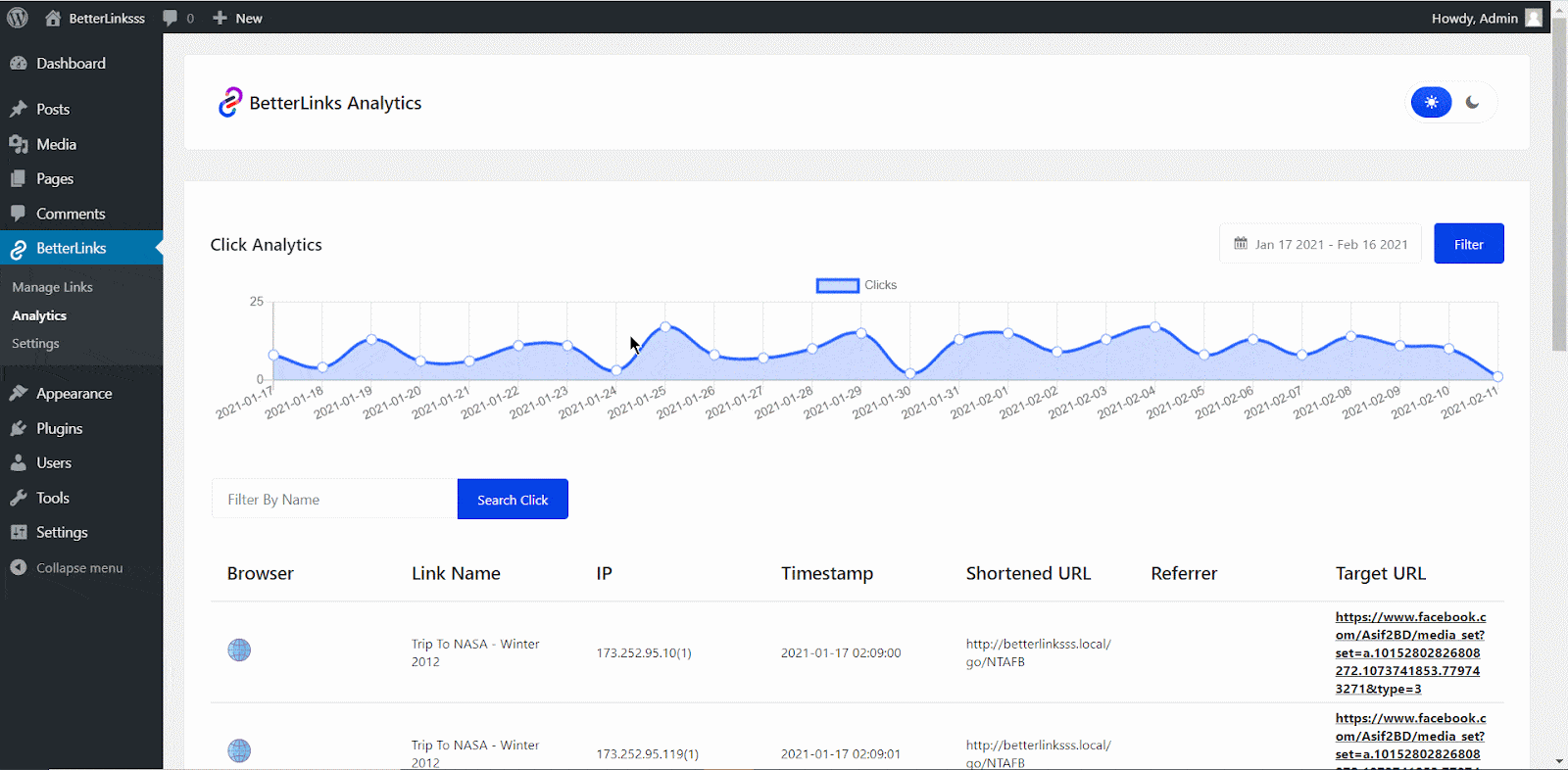 BetterLinks is more than just a plugin for link shortening. It goes beyond that. BetterLinks offers an advanced built-in analytics tool to help you better analyze your links. You will receive useful information regarding the effectiveness of your links from this. You can easily measure your click-through rate, link name, referrer, target URLs, and much more. To monitor how many visits a certain link receives throughout particular seasons or times of the year, you can even filter the data collected according to date and time.
You can plan and implement successful campaigns as BetterLinks analytics enables you to make better predictions based on insightful data. So you can evaluate campaigns or affiliate links' performance effectively. Straight from your website dashboard, you can manage all these in just a single click.
Follow Campaigns With Google Analytics Integration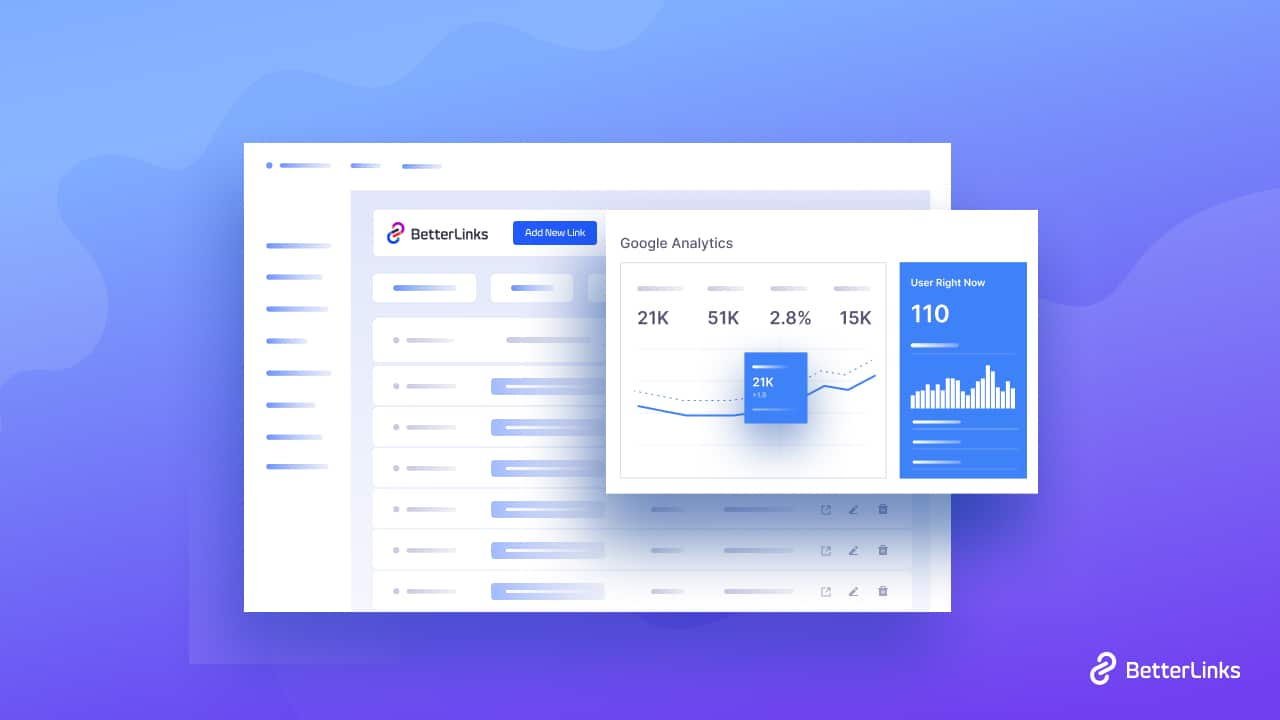 By using Google Analytics, you can get a comprehensive picture of all insightful data about your marketing initiatives and learn more about how people are using the shortened links on your website. With BetterLinks PRO, you can have seamless integration with Google Analytics and get important data to better execute your Black Friday campaigns.
However, by integrating BetterLinks with Google Analytics, you may boost your marketing efforts by collecting even more useful data. For instance, the location of your website's visitors, the technology or device they use, their demographics, their interests, and many other factors.
Monitor Black Friday Campaigns With Advanced UTM Builder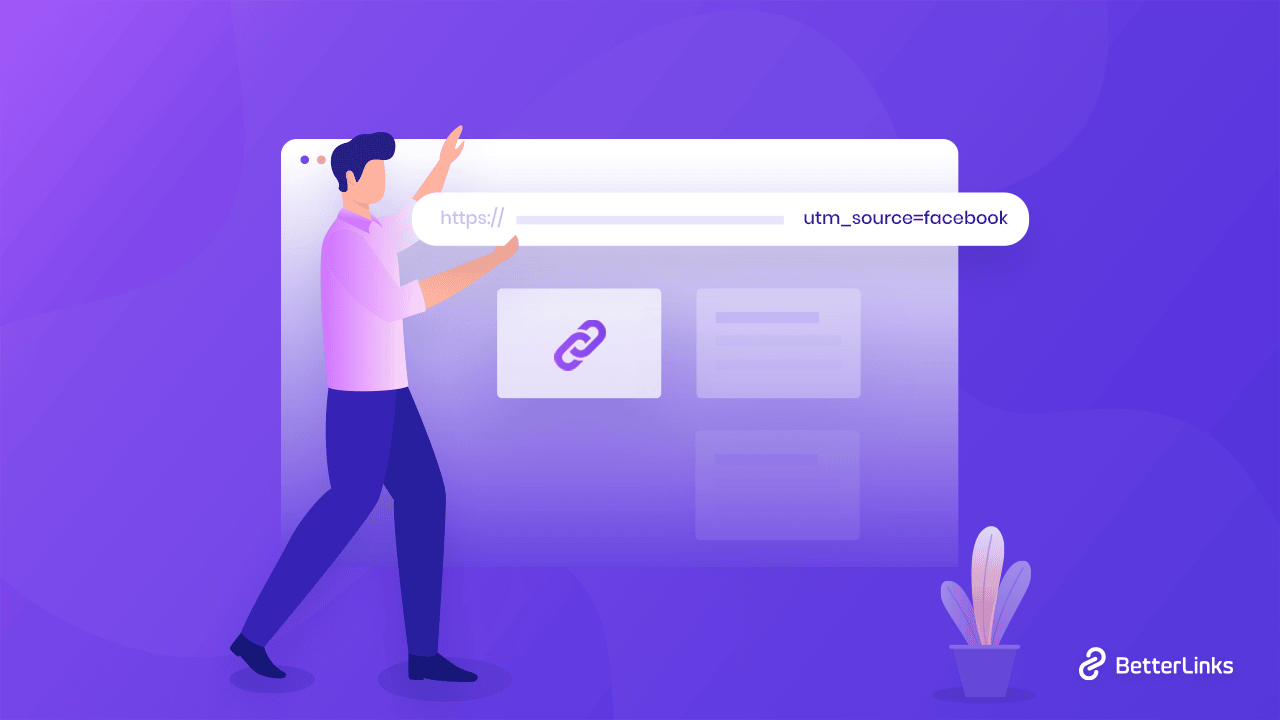 The use of UTM parameters has significantly changed online marketing tactics in the present. By selecting the appropriate parameters, you may quickly identify the sources of your traffic. For instance, if your website has an excellent landing page, you may determine the precise source of your visitors by using information like the name of the particular campaign or even the referral URL.
BetterLinks PRO has this amazing feature – Advanced UTM Builder. This exclusive, premium feature allows you to easily generate a UTM code that you can use to track affiliate links and marketing campaigns. With the help of this feature, you can easily fetch data from Google Analytics and set parameters for your marketing or affiliate programs.
Analyze Performance Better With Advanced Split Test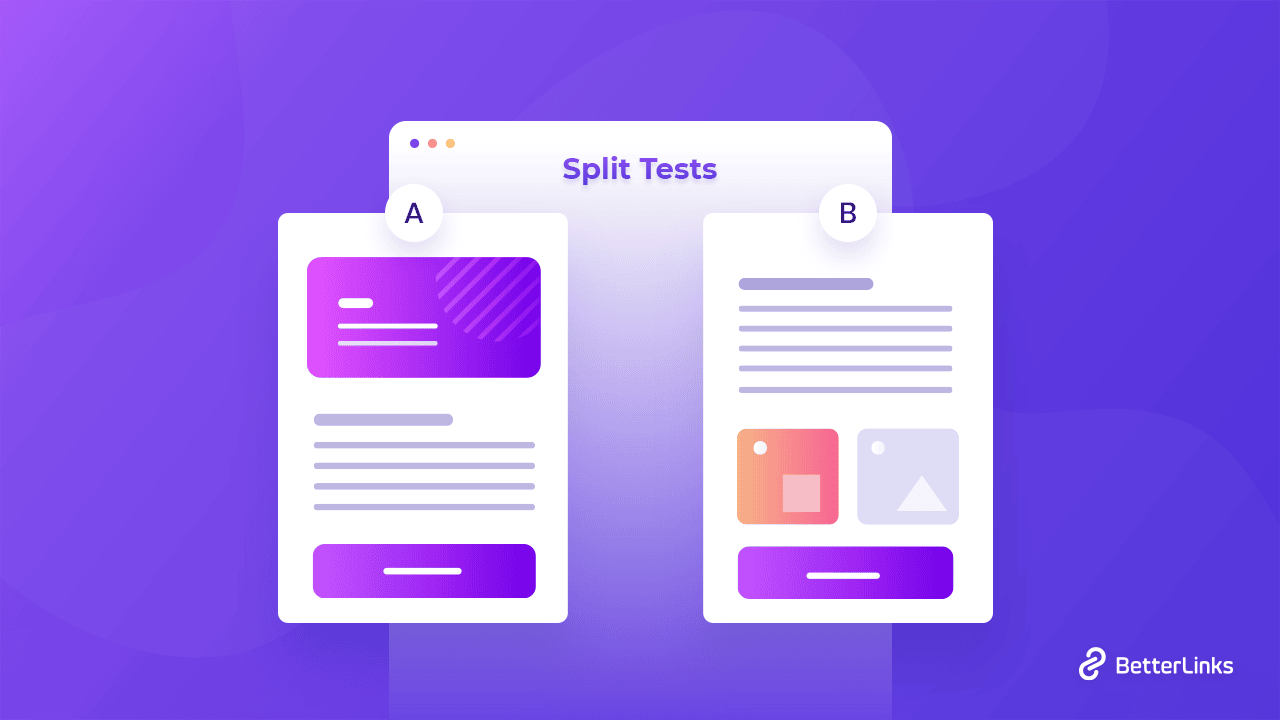 Split testing is a fruitful way that marketers use to perfect their strategy and advertising campaigns. To accomplish this, your website needs to have two offer pages (or more) and a target landing page. The main landing page is where the user will be led from the offer pages, where the redirect link will be set through a hyperlink or call-to-action buttons.
Once the redirect links have been added to your offer page, all that's left to do is enable the dynamic redirects function and the split testing option to analyze the performance of your offer pages using BetterLinks analytics.
Common Affiliate Link Tracking Mistakes You Should Avoid
During campaigns, it is important to properly track affiliate links. All your affiliate link-tracking efforts can end up with no good outcome if you set up a single link for the entire marketing campaign. This makes it impossible for you to identify which affiliate marketing channels bought you the sale. It is one of the worst affiliate marketing mistakes that you can make.
So you need to make sure that you develop unique URLs for each of the advertisements. All your marketing channels including emails, blog posts, headers, and sidebars need to have their own unique links that can be easily tracked, measured, and organized as needed.
What To Do After Black Friday: Affiliate Metrics You Should Measure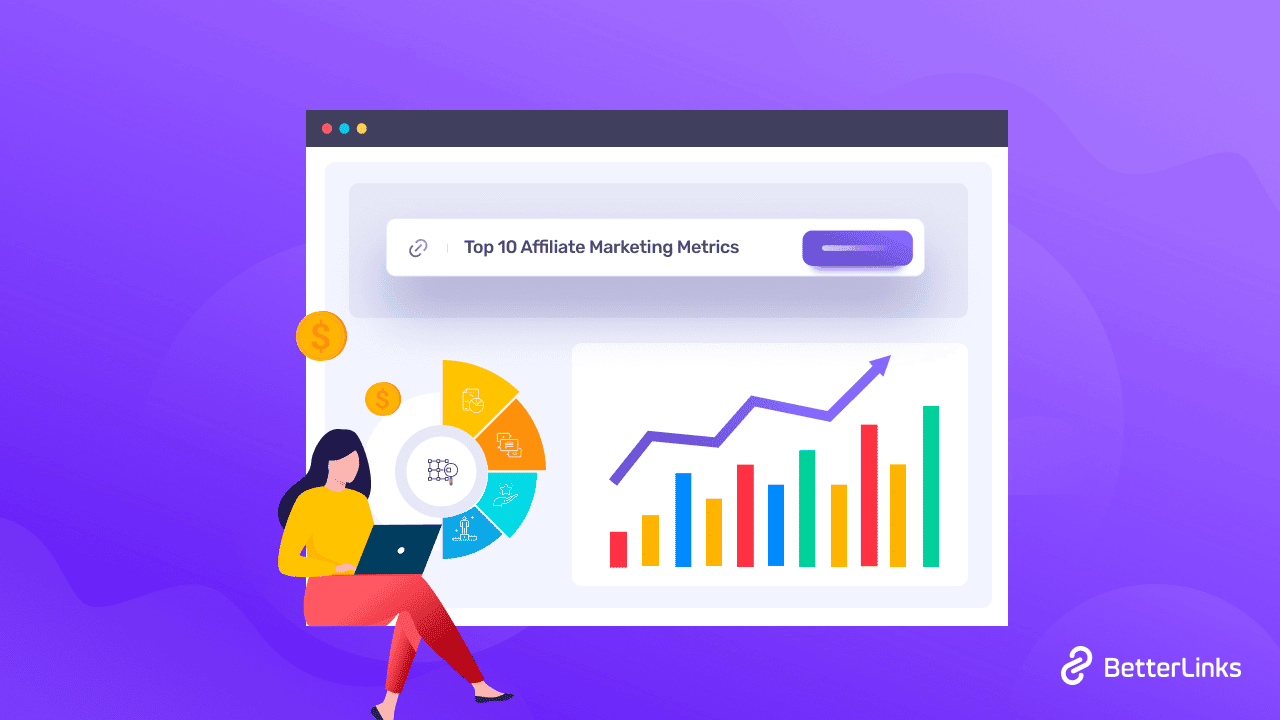 Keeping track of the top affiliate marketing metrics is essential when it comes to proper decision-making for the expansion of your business' marketing and boosting sales. Not only will measuring these indicators prevent failures, but it will also enable you to grow your company to the pinnacle of success. Measuring the affiliate marketing metrics after Black Friday or other major campaigns will help you comprehensively analyze the overall success of your business strategies and programs.
Efficiently Track Your Affiliate Links During Black Friday
As time passes, the competition in the affiliate marketing industry intensifies. Partners, therefore, have to step up their efforts to keep pace with the competition. Affiliate link tracking during campaigns is a proven way to measure and improve the performance of your campaigns. This is helpful to plan, adjust, and implement your marketing strategies as well. So for a revenue boost, and successful marketing campaigns, you must stick with the most effective method to track affiliate links, especially during the busiest business seasons like Black Friday.
Did you find this blog helpful? Share your thoughts with us in our Facebook community and for more affiliate marketing insights subscribe to our blogs.