Affiliate marketing is one of the strong alternate ways of earning money as a business owner or individual if you know the proper tactics. It helps online businesses whether it's eCommerce, IT business, or others, and affiliates to generate more revenues with significance. Also, make your footstep even stronger by using proper affiliate marketing plugins or solutions.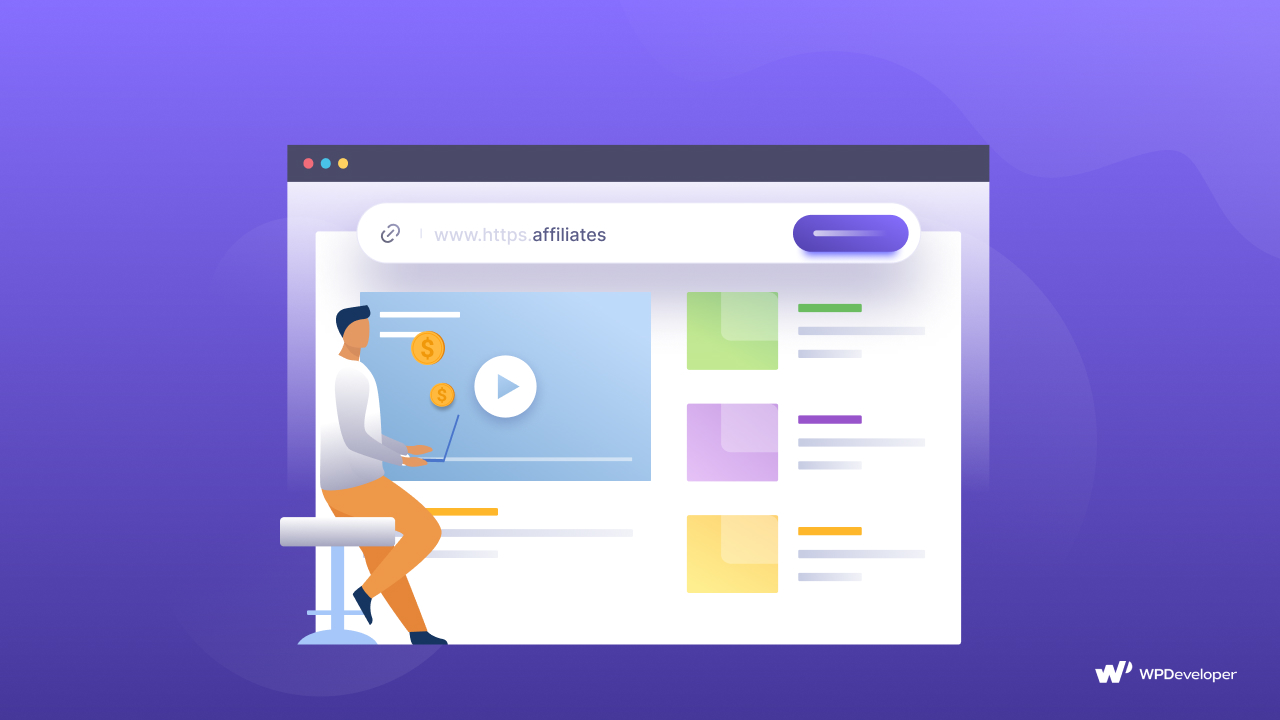 If you are a WordPress site owner, it would be then very easy for you to make things happen beautifully with the best affiliate marketing plugins. You can easily track and measure the success rate of your affiliate marketing with a lot more other facilities. And for that, you have to get a clear concept of how to implement affiliate marketing strategies with the best solution. 
Affiliate marketing is beneficial for both a business owner and an affiliate marketer. Both can easily make money with affiliate marketing by applying proper tactics. You can define affiliate marketing as a complete advertising business model where any third-party provider, the influencer will help you to make your way of promoting your products or services. That third-party service provider is affiliate marketers who earn fixed money the time they help any business to boost their sales. 
Every business sets its own commission rates, benefits, and facilities any affiliate will get. You can say it is a pay-for-performance marketing program where affiliate marketers will make money according to the sales any online business gets through their promotion. 
For example, Amazon affiliate programs work as bloggers or websites with an amazon affiliate link if they mention it in their blogs or website, each time a purchase has been made from this link their affiliates will make money. This is how it works for both parties.  
 According to BIGCOMMERCE stats 10.1% increase in affiliate marketing spending in the United States each year.
What More Should You Know About Affiliate Marketing?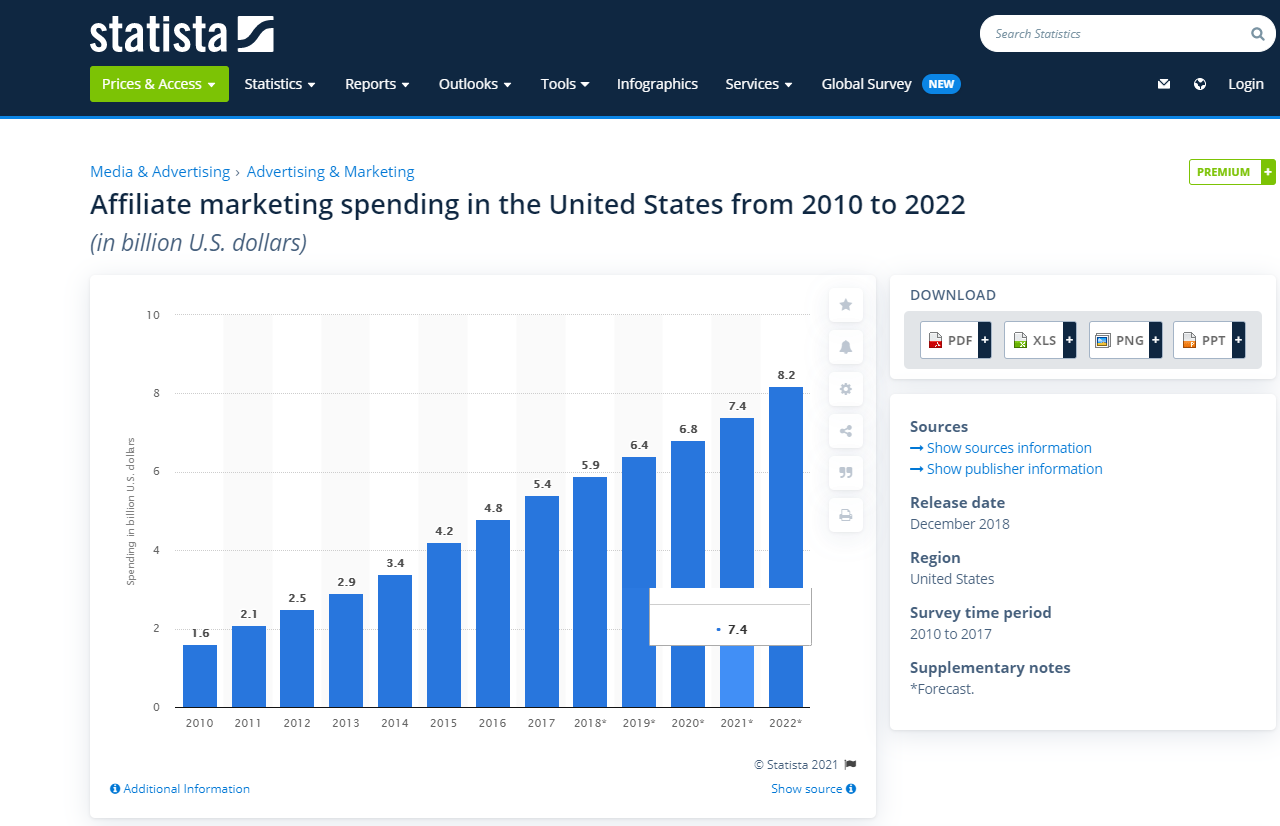 As an online business owner or an affiliate marketer both have to be clear and concise about their affiliate marketing perspectives. They have to make sure about the facts, and benefits both parties will get. And easily can boost up the business sales to earn more commission on the other ends of affiliate marketers. Take a look at the more facts below about affiliate marketing: 
Great Way To Boost Your Marketing Promotion
If an online business owner is focused on successful marketing promotion, affiliate marketing is one of the cool strategies everyone should look for. Affiliate marketers can make commissions and in the meantime business owners can reach out to the vast customer base. And for a newcomer who just started their business can work as a blessing for easy branding their products and boost up sales.   
Easiest Way To Earn As A Business Owner Or Affiliates
As you are depending on affiliates to do your promotions on their website or blogs, and help you reach your target customers can make your half work done with ease. So for your business promotion, branding, and boosting up your marketing, affiliate marketing can help you in all. It helps you to earn money from your different affiliate marketers sources and affiliates can earn maximum commission according to this. 
Draw More Profits Within A Short Time
If you want to make your business grow and earn more profits within a short time, affiliate marketing is the one you should go for without any hassles. As a newcomer or if you are searching for a way to make money, affiliate marketing is the finest tactic a business or an individual earner can take as a profession. 
7 Best Affiliate Marketing Plugins for WordPress + Growth Hacks
As earlier mentioned, if your website is WordPress built, then this is very easy for you to manage your huge affiliates with a perfect solution. In this section, you will get all the 7 best affiliate marketing plugins for WordPress and growth hacks for your business. So stop roaming around and dig depth to know all detail about the solutions below:  
1. BetterLinks – Affiliate Link Shortener, Organizer & Tracker

BetterLinks can help you shorten any type of links it can be your affiliate, any posts or page links anything with its simple user interface. You can easily track, filter, and manage your affiliate links in advance with BetterLinks, one of the latest WordPress affiliate marketing plugins with 1000+ active installs. During the time of its release, it has been growing in a continual process. 
With the help of this link shortener solution, create an efficient balance between your different affiliate networks. Use custom slugs, add categories, tags to organize your links and make them meaningful for your online visitors.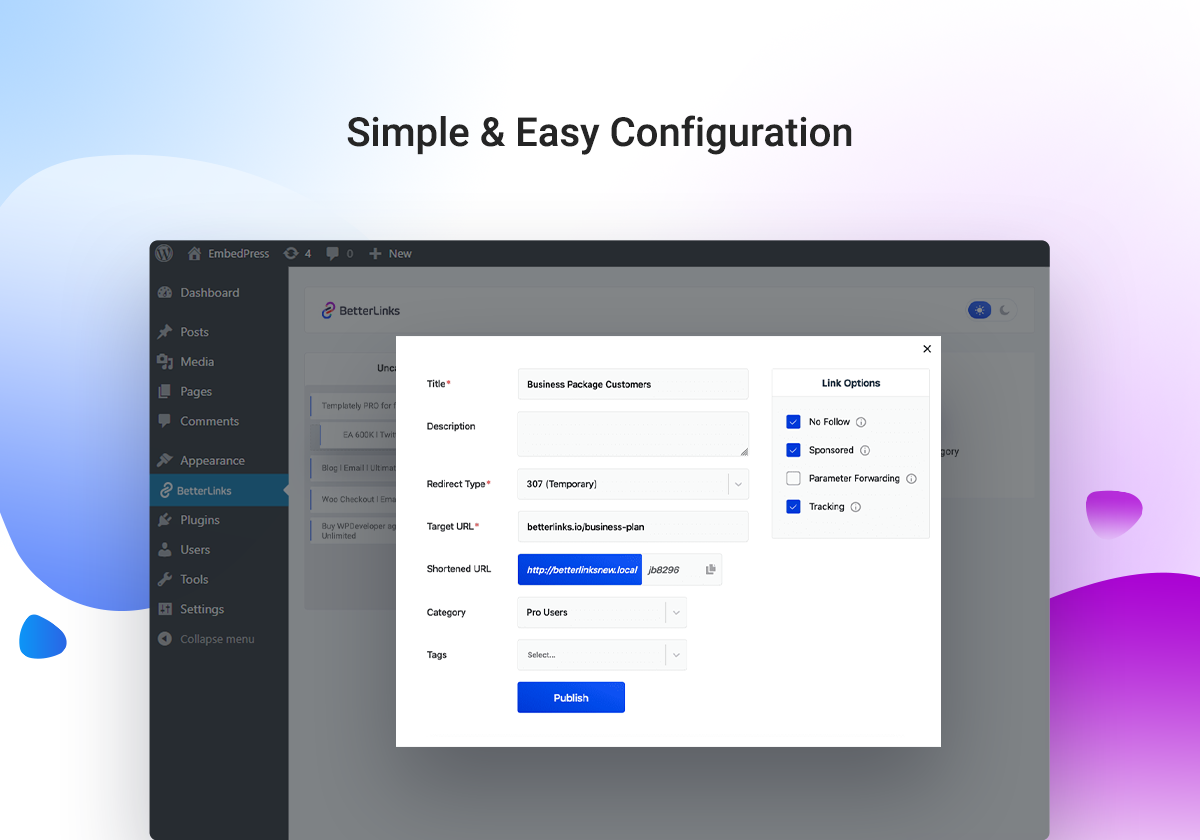 If you want to run any paid campaign, encourage social sharing or track the performance of your shortened link. And for tracking links or performance analyses you can get advanced in-built analytics, which is powerfully integrated with Google Analytics.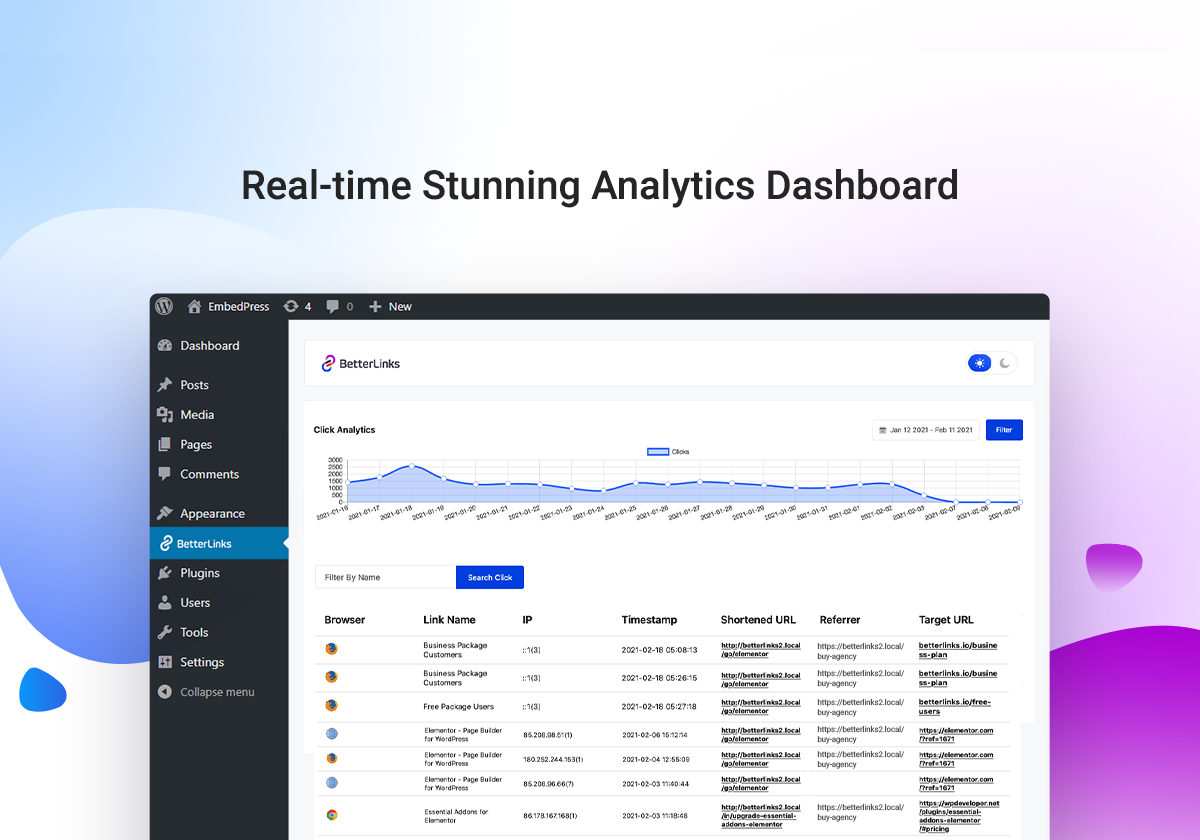 You can even A/B test your customized links and can make custom domain or branded links whenever you want. So you can measure your link performance, compare and can set or change your marketing strategies accordingly. 
Moreover, BetterLinks comes with WildCards facility, can disable any bot links, advanced user role management system is also included. Anytime you face any issue you can refresh your database and make your link management process faster than before. Anytime you can export or import data to redirect those links directly to your website, make it sort, or for analyzing it.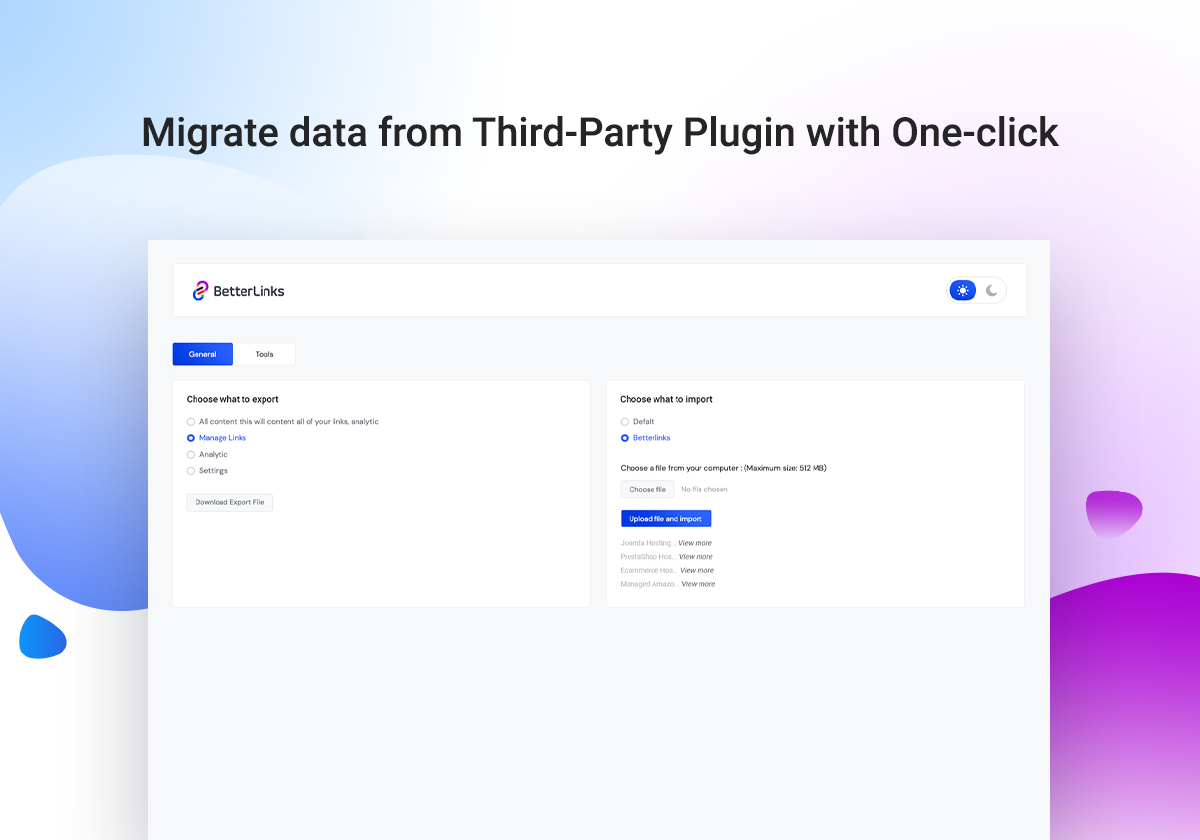 With BetterLinks' easy migration policy you can easily shift from your current solution to this latest advanced one. And can manage your affiliates to your every website URL exclusively from one organized place of BetterLinks. There are many more you will get with this link shortening, affiliate marketing, and complete link management solution for WordPress. 
Key Takeaways of BetterLinks  Affiliate Marketing Plugin 
Shorten, and track any kinds of links with ease.

Measure your link performance with its in-built analytics. 

Links tags, add categories, & easy migration facilities to help you out.

Simple, user-friendly interface & to smooth affiliate marketing journey. 
2. AffiliateWP – Powerful Tool To Manage Your Affiliate Programs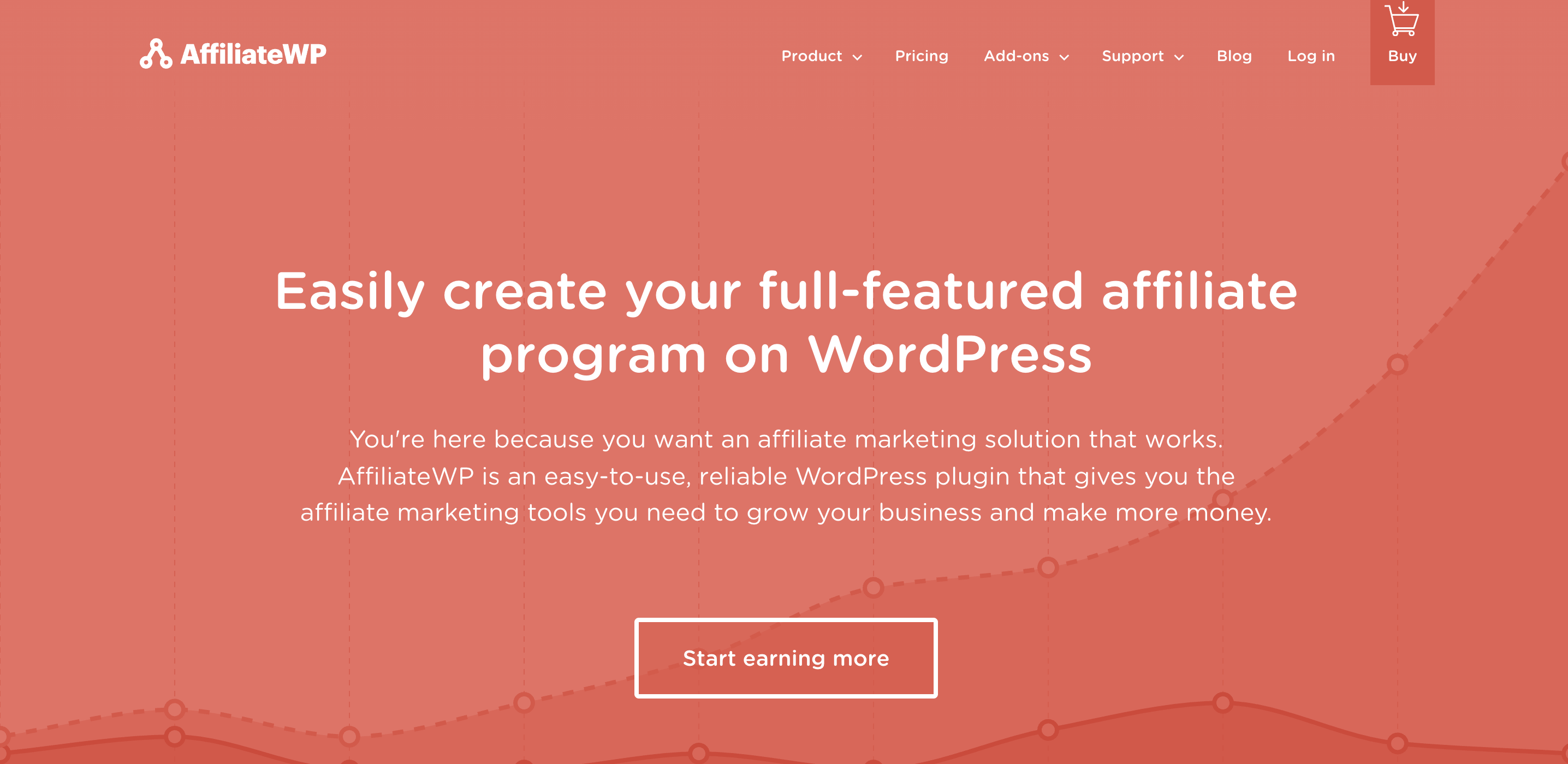 AffiliateWP is a powerful affiliate marketing plugin for WordPress to help you manage your affiliates by using its advanced features. It comes with an intuitive affiliate dashboard, easy-to-use interface with detailed reporting, real-time graphs, and more to make your affiliate program successful. You can get it for free and paid for both versions for availing advanced features. It comes with a set of separate affiliate tools to help you make your affiliate function distinct.  
Key Takeaways of AffiliateWP Marketing Plugin 
An easy user interface to manage your affiliate programs in advance.

Track & measure the results of your affiliate marketing or referral programs.

Integrated with lots of platforms eCommerce, membership forms & more.
3. Pretty Links – Affiliate Link Management, Tracking & More 

Pretty Links helps you to shorten, organize and track your affiliate marketing programs effectively to boost your sales. Your affiliate links can easily get clocked redirects and measure the performance of your affiliate links. It comes very handy for WordPress and makes your affiliate marketing campaign tracking work smoother. It comes as a free plugin for WordPress but if you have unlocked its all advanced features you have to enable its premium version. 
Key Takeaways of Pretty Links Affiliate Marketing Plugin 
Internal, external, affiliate link building facilities. 

Track & measure your redirect, shorten, or affiliate links performance. 

Flexible, intuitive, easy-to-use interface & more. 
4. Easy Affiliate Links – Manage Your Affiliate Links In Advance

Easy Affiliate Links solution can make your affiliate marketing work smoother and more effective without any hassles. You can easily shorten your affiliate links, cloaked redirects, and more. It will automatically track your link performance and make your affiliate marketing programs faster. 
Key Takeaways of Easy Affiliate Links Marketing Plugin 
Shorten, track and manage your affiliate links in advance. 

Get detailed reports of your affiliates and get success. 

Automatica text disclaimer is present for affiliates and more. 
5. Affiliates Manager – Beautifully Organize Your eCommerce Affiliates

Affiliates Manager helps you build your eCommerce site affiliate marketers to drive your website traffic and boost sales on your WooCommerce store. It can manage your affiliates' recruitment, registration, login, management process, and more in advance. You can also easily measure your affiliate marketers' performance and analyze for growth hacking. 
Key Takeaways of Affiliates Manager Plugin
Add unlimited affiliates, flat rate, or percentage-based layouts. 

Track your affiliate referrals' performance with real-time reporting.

Affiliate ad impressions traffic, integrated with powerful solutions & more.
6. ThirstyAffiliates – Best Affiliate Link Cloaking Tool For WordPress

ThirstyAffiliates helps bloggers provide the best link-clocking affiliate marketing plugin to monetize their WordPress website affiliate marketing. It comes with no complex setup to manage your affiliates' links in advance. You can easily shorten your affiliate links with safe redirects and smart unlocking. It will automatically track your link performance and make your affiliate marketing programs faster. You can explore ThirstyAffiliates' free affiliate marketing plugin, also upgrade into a pro plan anytime to avail of its more exclusive features.   
Key Takeaways of ThirstyAffiliates Marketing Plugin 
Shorten, track and manage your affiliate links more effectively.

Commission protecting link redirection and hierarchical link categorization. 

Get detailed reports of your affiliates and get success managing affiliates.

Comes with an advanced link picker tool, & more exclusives in pro updates. 
7. YITH WooCommerce Affiliates – Advanced Affiliate Link Manager

YITH WooCommerce Affiliates plugin can help you organize your eCommerce affiliate marketers beautifully with an intuitive user interface. You can easily set up commissions for your registered affiliates only and track their performance for further evaluation. It's a completely free plugin for WooCommerce. 
Key Takeaways of YITH WooCommerce Affiliates Plugin
Flexible, easy-to-use interface to manage all your eCommerce affiliates.

Track all affiliates and measure their performance in advance. 

Fix your affiliate commission rates, do customization as per your need & more.
Best Ways To Build A Strong Network Through Affiliate Marketing 
Affiliate marketing helps you create a strong network with influencers, bloggers, partners, third-party companies, and more. You can easily make a strong hub through this by helping each other with business and at a time earn money. Check out what more benefits you can get from affiliate marketing or as an affiliate marketer. 
Promote Your Affiliate Programs In A Greater Way
Businesses can do promotions that can help them get their affiliates or can increase their lists of affiliates. Sending an email contacting them immediately or making affiliate promotion programs can help you boost your business sales with the right strategy. 
Enthusiastically Invite To Join Your Affiliate Network 
Affiliate invitation is the process where you always have to find the latest opportunities and approach the new ones to be your affiliate.  You always have to maintain a strong connection with your affiliates about all updates, offers, promotions, commission updates, and more. That's how you can build two-way strong communication without any hassles.   
Clear Your Join Policies & Benefits 
When you are creating your affiliate programs make sure to be transparent about all the rules, guides, and benefits that other parties can get. Also, you can easily track and measure their performance where you have made your sales. This can help you create a strong network during time with affiliates. 
Check out this blog Easy.jobs site affiliate program blog to have a clear idea about how you can invite your affiliate networks through blogs and work for your organization's growth hacks. 
Now Make Money With The Best Affiliate Marketing Solution
As an affiliate marketer, you can also go through lots of success stories to know how these exceptional marketing policies do well in today's world. So to make you cope with this fast phase world you need to get the best affiliate marketing plugins for growth hacking your online business. 
Hope you like this blog post and don't forget to share your thoughts with us by commenting below.  You can check out more blogs here to get all updates or join our Facebook community to get connected with us.