Wouldn't this be really frustrating to schedule a content for your website and then only to find out that it hasn't been published at all? This is actually not a very uncommon issue among WordPress users. Missed schedule errors can be a nuisance, especially if you have a lot of content planned for your website.
Now, imagine if there was a plugin to automatically prevent this from happening and keeping everything organized? Well, that's exactly what you can do with WP Scheduled Posts Pro. Now rebranded and known as SchedulePress, this advanced WordPress plugin can help you easily manage the missed schedule error in WordPress.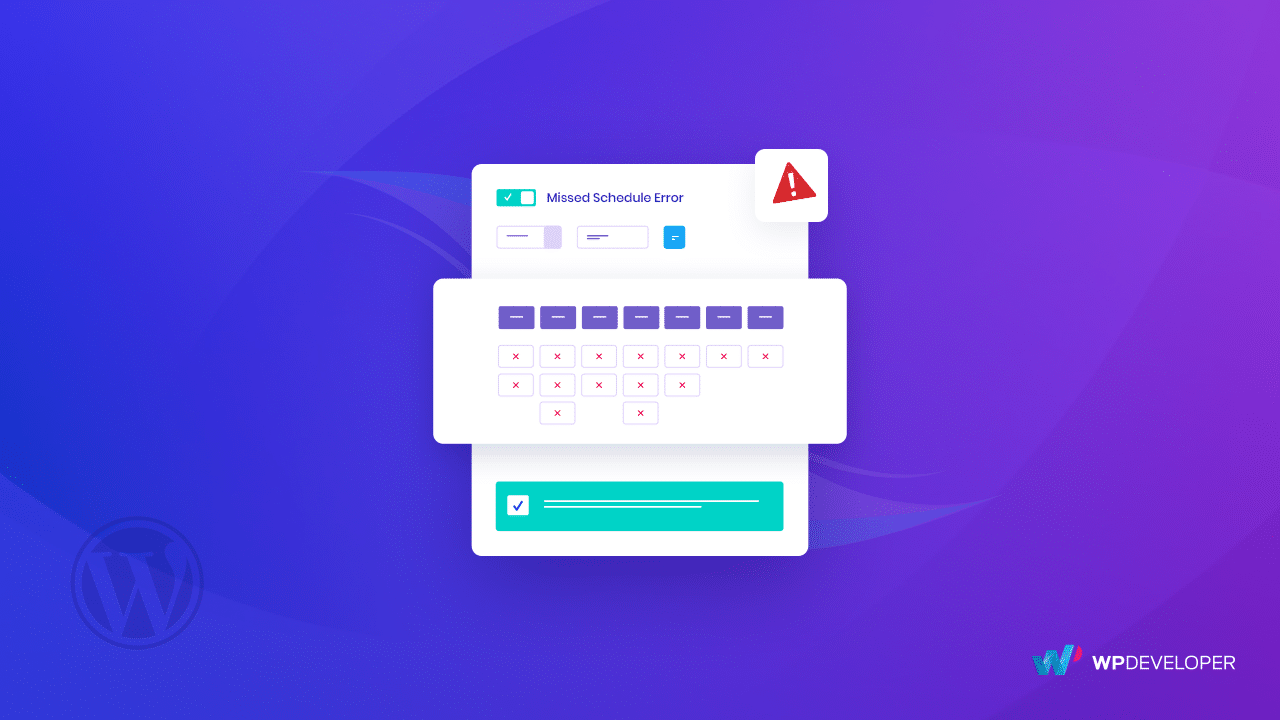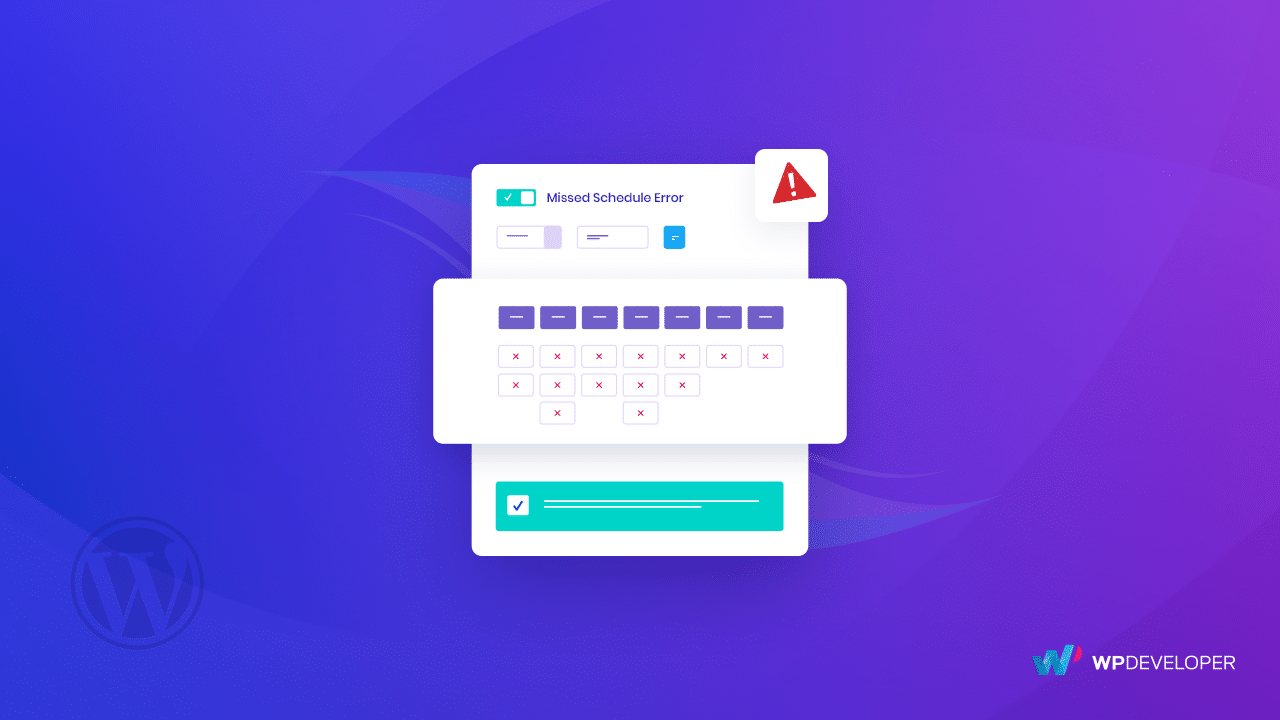 The Reason Behind Missed Schedule Error
To run unattended scheduled tasks, WordPress uses Cron job for these sorts of events. By default, "wp_cron" function takes care of this.
How the Cron job works is that each content you schedule is saved in the database with your set time. The event is only triggered when you have a visitor on your website. When someone comes to your site, it checks whether there's an event scheduled or not. If yes, only then it publishes the content.
That's where the problem lies especially if your site has a limited number of visitors. Suppose, if no one visits your website during that time interval, the scheduled event is not going to get triggered. As a result, your post is going to remain unpublished.
The missed schedule error has always been a hot topic for discussions among WordPress users in popular forums such as: WordPress.org, Quora, Reddit, Stack Exchange & many more. For instance, you can check out this following subreddit to get the severeness of this issue and how people have been suffering from it for years.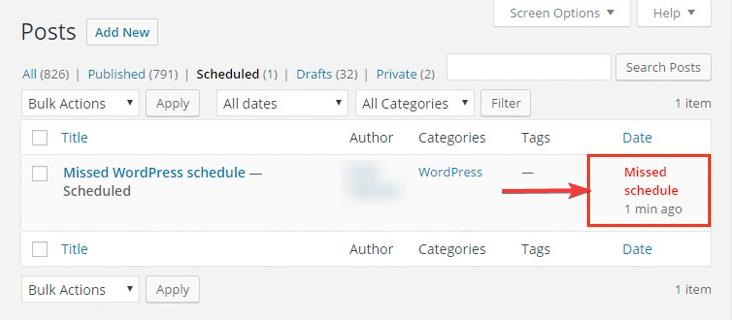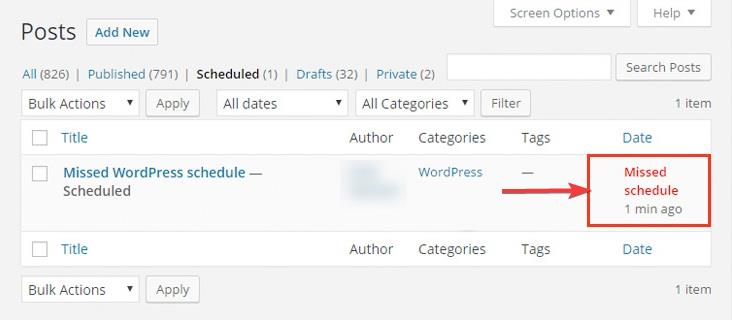 Why Do You Need to Manage Missed Schedule Error
Suppose, if you have planned few contents for a specific time period in advance but some of them don't get posted. Wouldn't that be really frustrating? Since you are scheduling your articles in the first place to be published in the chosen time. Right?
For multi-author blogging sites, it can be really annoying if someone's content gets lost and unpublished due to the missed schedule error. This leads to hampering your work calendar as everything can become disorganized as a result.
Most importantly, what's the point of scheduling if you have to check manually whether every content has been published or not at the right time? This is why you need to manage the missed schedule properly.
However, to keep everything afloat with your content planning, you can simply just activate SchedulePress Pro and enable its Missed Schedule Handler feature. As a result, you no longer have to worry about having your contents go unpublished due to the error.
How Does SchedulePress Deal with Missed Schedule Errors
As mentioned before, SchedulePress Pro comes with the Missed Schedule Handler feature. First of all, it checks the database for any unpublished contents which was supposed to be posted. If any content which is failed to be published in the specific time interval is found, it takes care of this by firing the slipped event and posting the articles.
SchedulePress checks every 15 minutes whether any planned contents have been missed by the Cron Job or not. For the cases of failed events, it automatically posts the unpublished contents which missed the given schedule.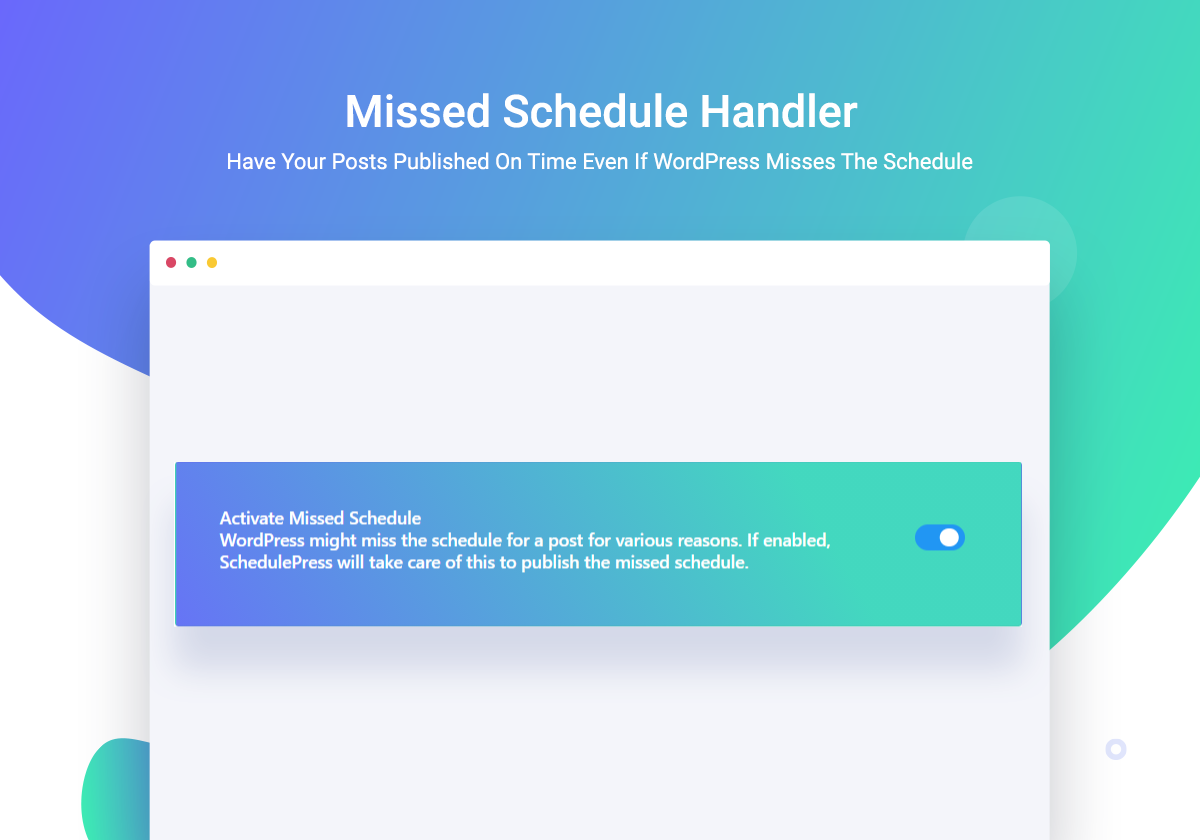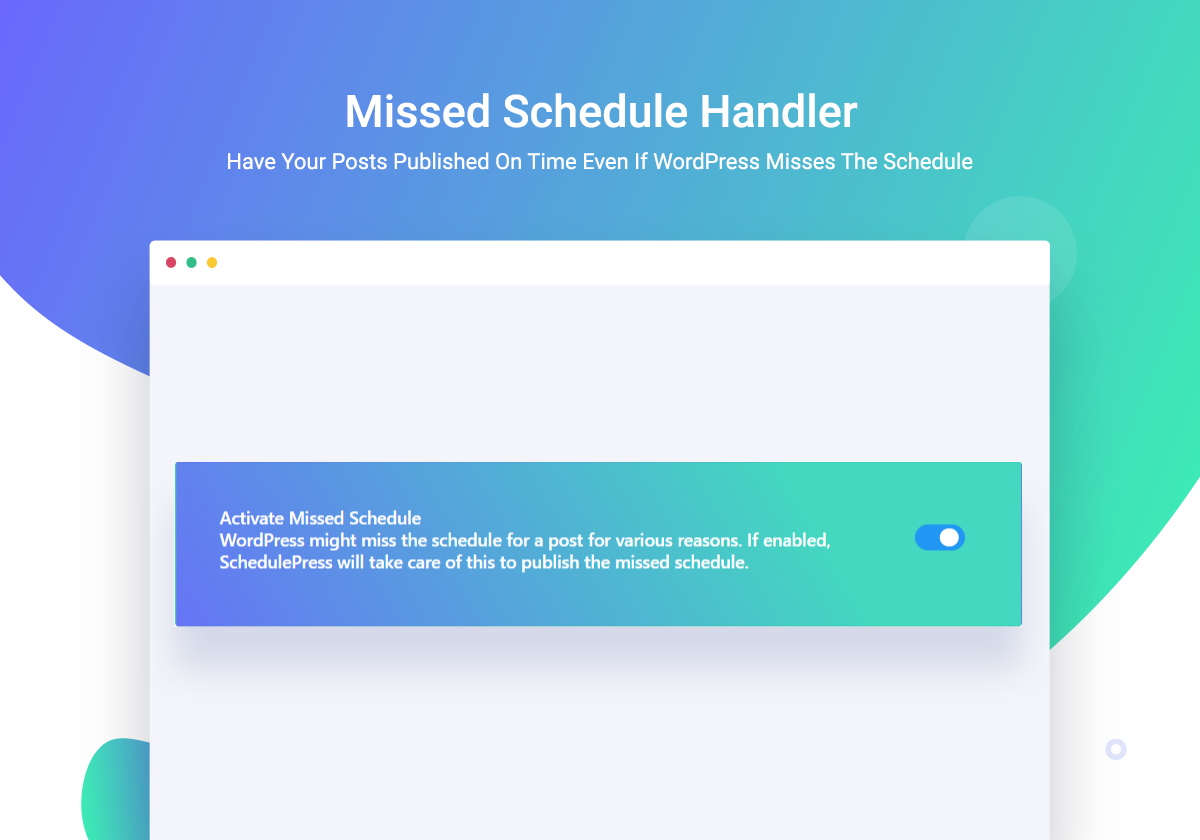 How to Activate Missed Schedule Handler
To activate Missed Schedule Handler, simply just go to your WordPress dashboard and navigate to wp-admin -> Schedule Post -> Manage Schedule.
Just below the "Manual Scheduler", all you have got to do is to click on the "Activate" button and you are all set. SchedulePress Pro will automatically handle this and will prevent contents to remain unpublished.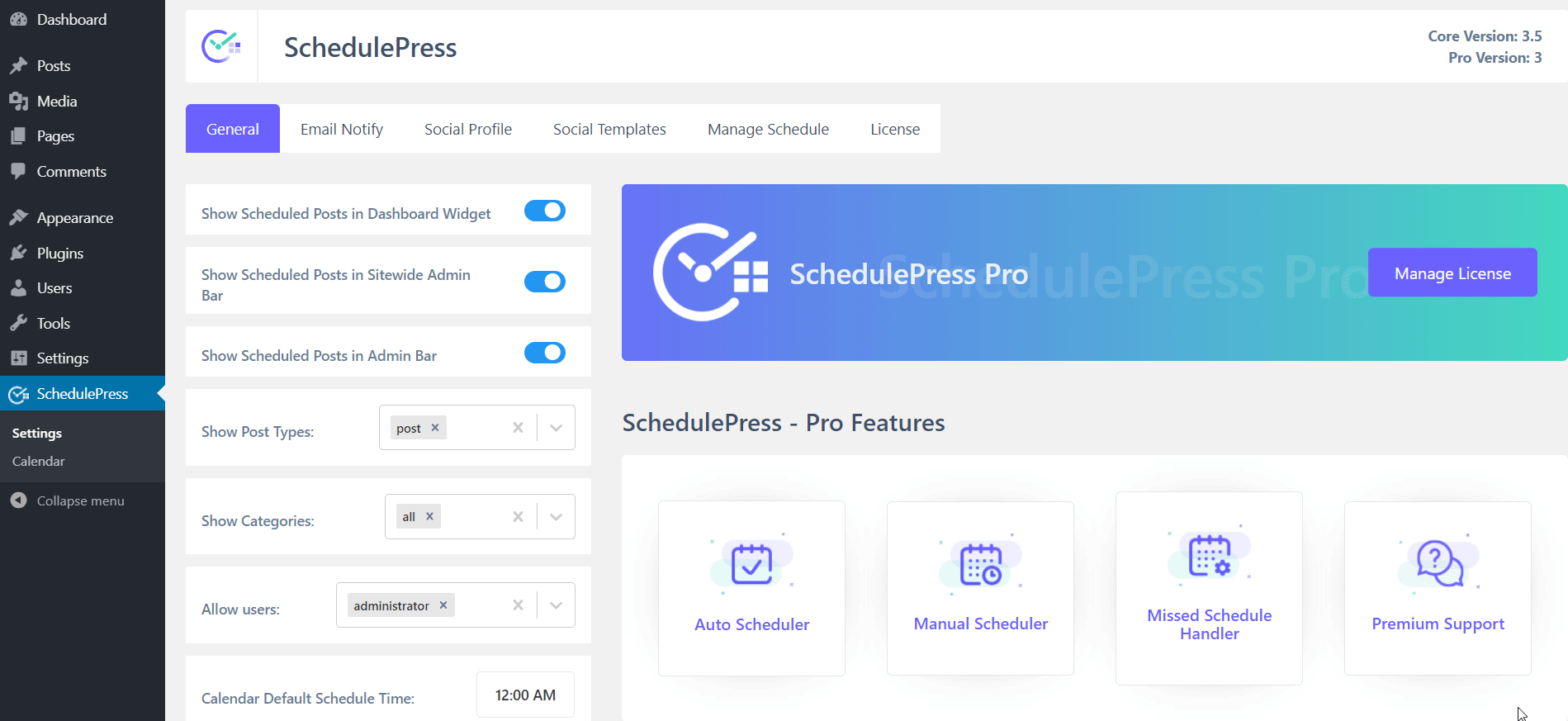 Final Thoughts
To wrap this up, to save you from the pain of planned contents going out of track and failing to be published in the right time, you should definitely try out the Missed Schedule Handler feature of SchedulePress Pro.
Most importantly, you can now easily plan your contents for the future in an organized way thanks to SchedulePress. So, why don't you get started & get the live experience of how this works & play around with it by trying out our free version?