If you are looking for a way to increase sales for your WooCommerce store, then we have some good news for you. Introducing ReviewX -a brand new WordPress solution that helps you increase sales by boosting credibility with multi-criteria WooCommerce reviews and ratings for your WooCommerce products.
Credibility is important for any eCommerce business. This is because most customers tend to purchase products and services that are recommended by others. So if you want to convince a new potential customer to add your products to cart, you might want to display compelling, reliable reviews from other customers on your site.
This is where ReviewX for WooCommerce comes in. With this, you can make your customer feedback more reliable by adding several key details–multiple review criteria, rating statistics, product order status and more.
Arifur Rahman Naim is the mastermind behind ReviewX. This advanced plugin is brought to you by WPDeveloper& the team of Arifur Rahman Naim. WPDeveloper is the same team behind Essential Addons For Elementor and 20+ other products that used by more than 800,000 active users around the world.
With the introduction of ReviewX, we hope to make it easier for WordPress users with WooCommerce stores to capture and showcase compelling customer reviews to help increase their conversion rates.
Why Do You Need Multi-Criteria WooCommerce Reviews?
As we mentioned earlier, product reviews are essential for all types of businesses. The more content rich and detailed these reviews are, the more value they create for your eCommerce store. This is where multi-criteria WooCommerce reviews & ratings can help. With detailed reviews and ratings for multiple criteria, you can gain more credibility to drive sales, improve your WooCommerce store's reputation, and even score higher on search engine results pages. 
Want to know more? Let's take a quick look at the reasons why you might need multi-criteria reviews & ratings for WooCommerce.
Leverage Credibility With Detailed, Informative Reviews
When a new potential customer visits your WooCommerce store, he or she will want to see proof that your business is credible, reliable and trustworthy. For this reason, they will want to see detailed reviews about your products, your shipping methods, your purchasing process and much more. So, by using multi-criteria reviews for your WooCommerce store, you can gain more credibility and boost sales with the help of ReviewX.
Make Your Store Stand Out With User-Generated Content 
One of the best ways you can make your online store stand out is with the help of user-generated content. These include real-life images and videos of your products that help potential buyers see what your product looks like in real life. With ReviewX, you can leverage these user-generated content to enhance your business's image and reputation and thus make your online store stand out from all others.
Engage With Customers To Boost SEO & Gain More Conversions
With ReviewX, you can boost your SEO to rank higher and gain more conversions for your WooCommerce store. This is because when customers are reviewing and rating your products, they can help bring more traffic to your online storee-Commerce business and also create new content for your product pages.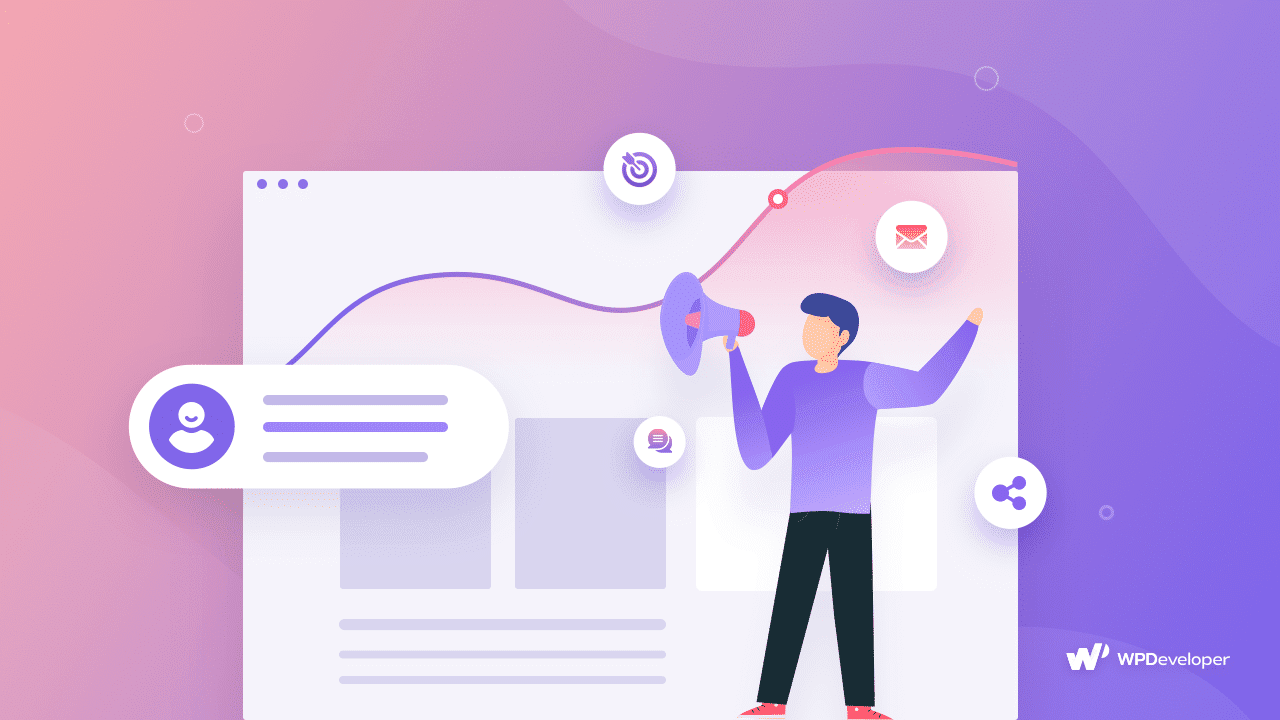 Improve Your Products With Valuable Customer Insight And Feedback
When customers are reviewing your products on the basis of multiple criteria, your business will have a unique opportunity to improve and tailor your products according to their feedback. This can help you satisfy your customers better in the future and thus help you build a loyal customer base in the long run.
What You Get With ReviewX For WordPress
Now that you know why you need multi-criteria reviews and ratings for your WooCommerce store, let's deep dive into all the amazing features you can get with ReviewX.
Choose Your Own Criteria For Your Product Reviews
With ReviewX you have the flexibility and freedom to choose what criteria to set for your product reviews. For instance, if your WooCommerce store focuses on handbags for women, then you can set up multiple review criteria such as material quality, color, design etc.
Easily Sort Customer Reviews & Ratings
In order to influence your site visitors with truly rich, compelling customer content, you have to look through all of your customer reviews to find the most convincing ones. This can be very time consuming if you have to search manually. 
With ReviewX however, you can filter customer reviews within seconds. ReviewX comes with the option to sort customer reviews and ratings on the basis of recent reviews, photo reviews, text reviews, or top-rated reviews.
Advanced Visual Representation To Display Review Statistics
To add further credibility to your WooCommerce store, you might consider displaying the number of good reviews and ratings your products have received in a statistical format. You can do this easily with ReviewX. All you have to do is choose the style of your graph and ReviewX will display all the statistics related to individual products based on the review criteria you've set.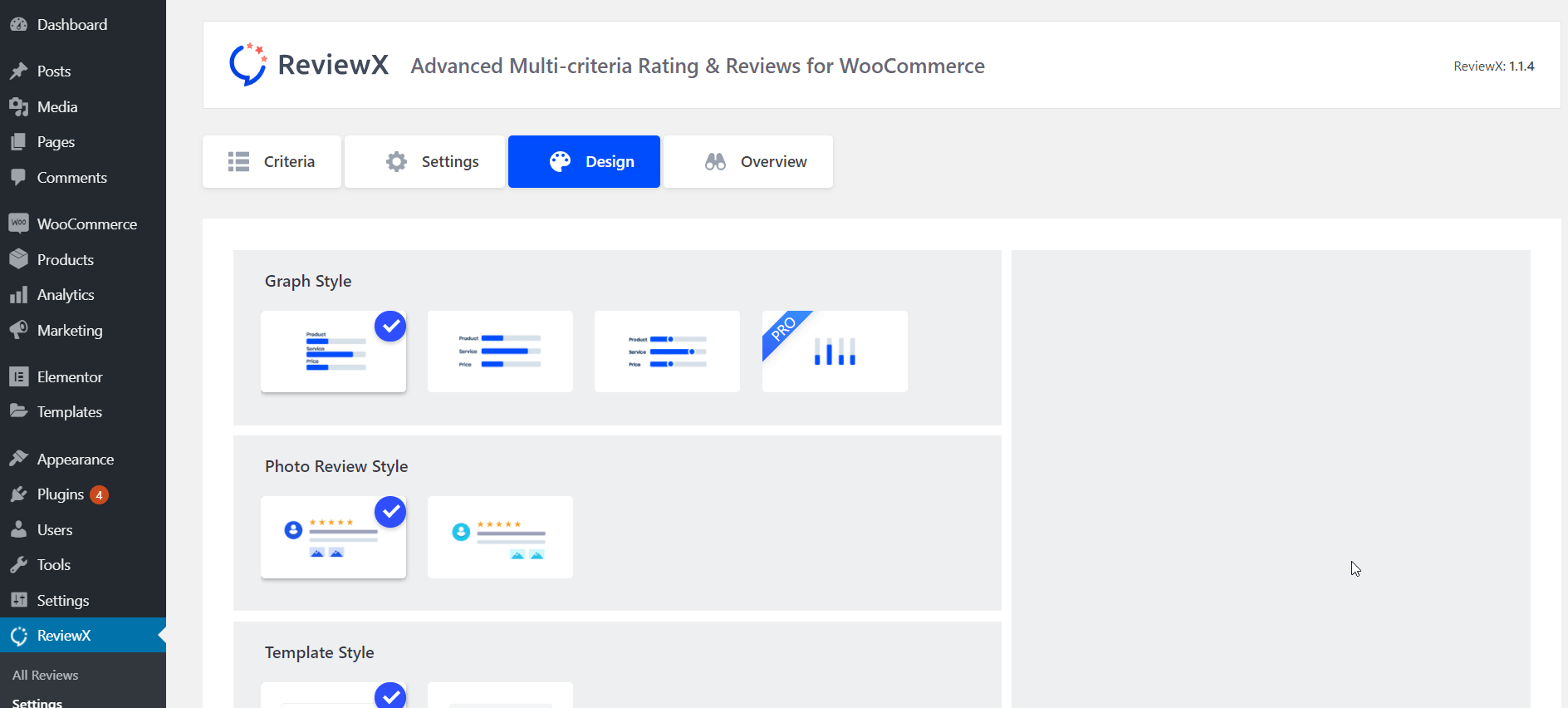 Boost Credibility & Increase Engagement With Social Sharing
What would be the point of having great reviews and recommendations for your WooCommerce store if you couldn't share them on social media? Posting on social media platforms is a great way to engage and interact with potential customers. To help you boost credibility and increase engagement with future customers, ReviewX comes with a social share feature so your customers can share what they love about your products and services.
Enable Reviews For Product Order Status
The quality of the purchase and delivery process of your online store is just as important as the quality of your products and services. Customers want efficient, easy purchase processes and feedback about their products while they are in transit. They also want to know how good and reliable your refund policies are.
For this reason, ReviewX gives you the option to enable Product Order Status reviews so that customers can give instant feedback about every stage of the purchase process.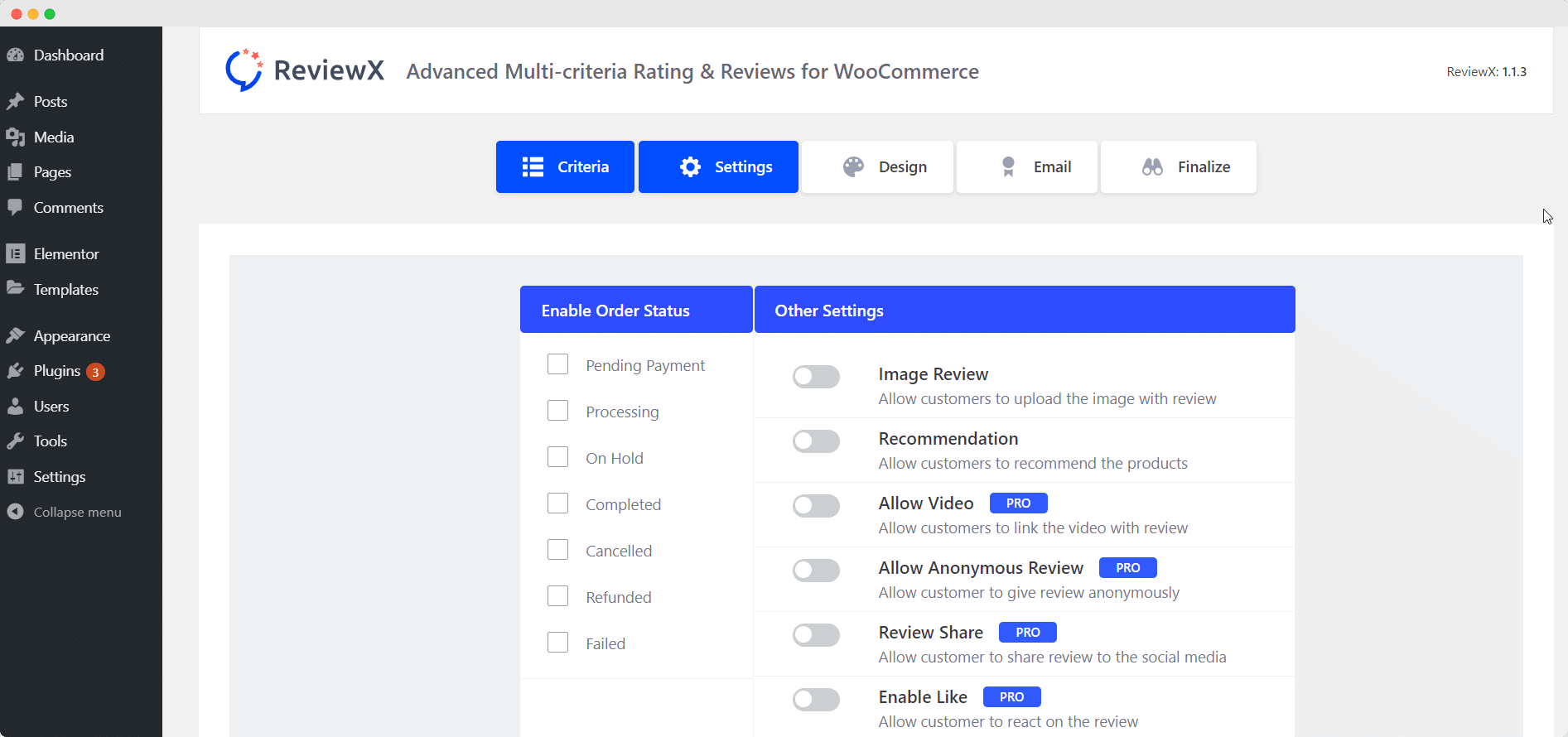 Display Reviews With Images & Videos
They say that a picture is worth a thousand words, and so you should definitely consider giving your customers the option to post images and videos of your products with their reviews. 
In general, reviews with images and videos tend to make richer, more compelling customer content than text-only reviews. Furthermore, reviews with images and videos add more credibility as your site visitors can see what your products look like in real life.
Instantly Send Automatic Email Reminders To Customers
Sometimes, customers need to be reminded and asked to leave a review for your WooCommerce products. To help you do this quickly and effortlessly, ReviewX comes with an automatic email reminders feature. All you have to do is customize your email message, and ReviewX will automatically send them to customers to remind them to leave reviews on your website.
Moreover, from the Email Settings option, you can set the number of days to wait before sending your automatic email reminder. You can also toggle to enable 'Consent on Checkout Page' to allow your customers to choose if they want to receive review reminder emails.
Besides this, you can also set the number of emails per order, and add a URL for customers to unsubscribe from emails if they choose to.
Powerful Integration With NotificationX 
NotificationX is a powerful FOMO marketing and social proof solution that you can use to boost sales on your WooCommerce store. It lets you display stunning popup alerts on any page of your website every time a customer purchases your product, leaves a review or makes a comment and much more.
NotificationX is trusted by more than 20,000 businesses and can be integrated with ReviewX. This means you can display ReviewX notification alerts for your WooCommerce products on your website to build credibility.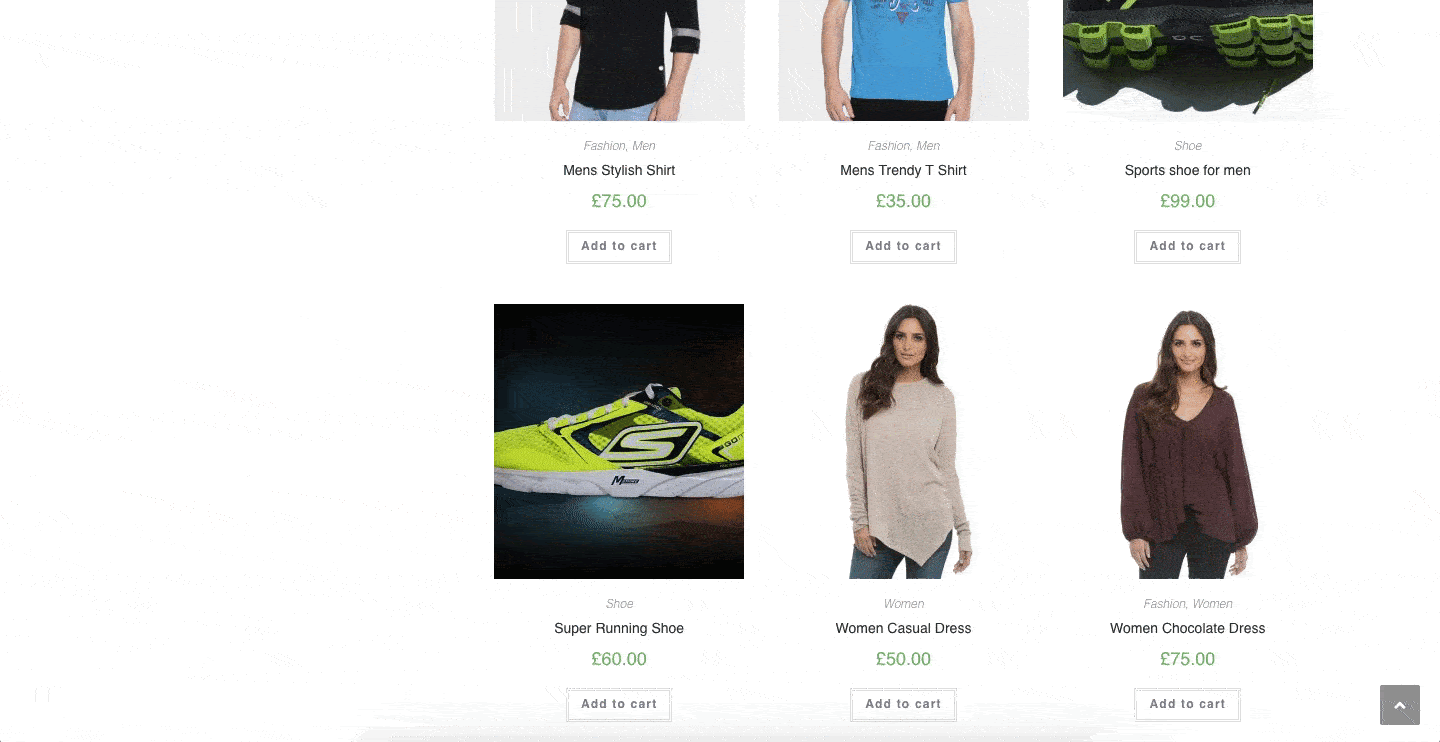 Seamless Compatibility With Elementor 
For those who use the popular drag-and-drop page builder Elementor, you will be happy to know that ReviewX is compatible with the Elementor Editor. By using elements like 'ReviewX Woo Reviews' or 'ReviewX Data Product Data Tabs' you can display customer reviews for your product stunning away from the Element Editor.
Unlock All Features With ReviewX Pro
To make the most out of ReviewX, you can unlock all exclusive and advanced features by getting ReviewX Pro. With this premium version, you can set unlimited number of review criteria, enable options for video reviews, send bulk review reminder emails, enable admin replies and much more.
Save big by purchasing any of these flexible plans for ReviewX Pro during this limited time offer, and get exclusive access to all premium features.
As you can see, ReviewX is an amazing and useful tool for anyone running a WooCommerce store. There are tons of things you can do with this WordPress solution. Use the power of multi-criteria ratings and reviews to influence your customers, enhance the trustworthiness and reliability of your store, and share what happy customers are saying on your social media.
Try it out for yourself. Check out the free version of ReviewX  or unlock all features with ReviewX Pro.