Building credibility is a great way to grow your business and client reviews can play a vital role to increase your conversion rates. People tend to make the purchase decision by seeing the positive feedback from other customers. As testimonials are not typical sales pitches and have an impartial tone normally, so it can highly influence visitors to try out your products or services.
If you are using Elementor page builder, Essential Addons Testimonial Slider can help you to display your clients review easily on your WordPress site without any coding. Let's have a look of the EA Testimonial Slider Widget and what you can do with this!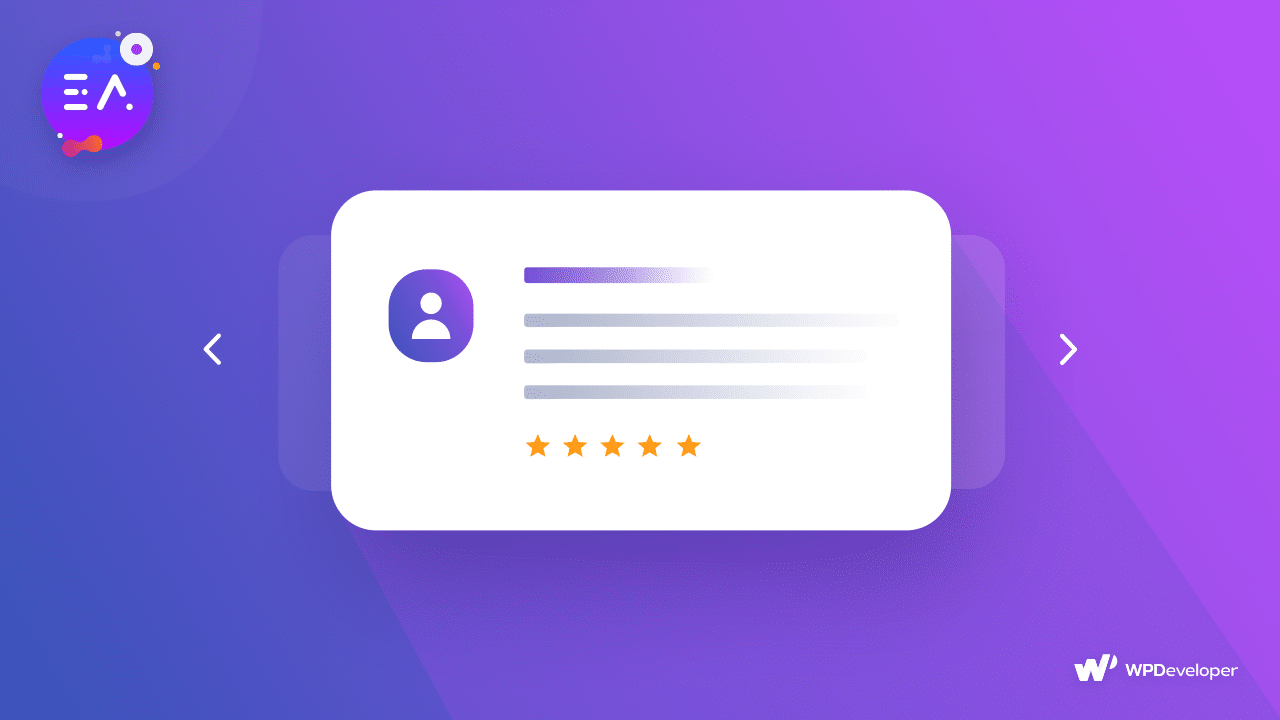 Advantages of Displaying Testimonial Slider to Enrich Customer Interest
If you add your clients' valuable comments with proof, it will definitely gain trust for others who were confused about purchasing your product or not. Testimonial from loyal customers strengthens your new customer interest.
Suppose you visit a website to buy products but there are no client reviews, you would probably hesitate to take the purchase decisions. On the other hand, if you see lots of users leaving a positive review of the products with their real identity, company name, and ratings, it will surely grow your trust to get the product. Similarly, if someone is looking for the product you sell and his closest friend suggests your site, that particular person is likely to buy the product as per referral. 
Displaying Testimonials can be referred to as a FOMO (Fear of Missing Out) Marketing strategy. Basically, it creates urgency and scarcity of losing something important in the human mind. So, when a customer visits your site and views so many glowing reviews, it will instantly hit their mind to take your services or purchase your product. This is how Testimonial works effectively to enlarge one business.
Essential Addons Pro comes up with Testimonial Slider which you can use to add credibility to your business. With this element, you can easily just insert your customer image, detailed reviews or insert ratings to create the testimonials.
Showcase Client Reviews Using EA Testimonial Slider
Without any further discussion let's first search the EA Testimonial Slider element from the search bar. Then Just drag this widget on the particular section you want to display and start your work!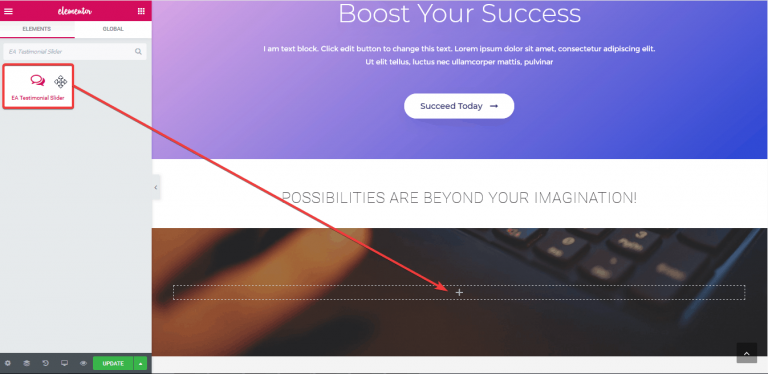 Edit Your Content Using EA Testimonial Sliders
This Content section is divided into two individual parts: one is Testimonial Content and another one is Carousel Settings.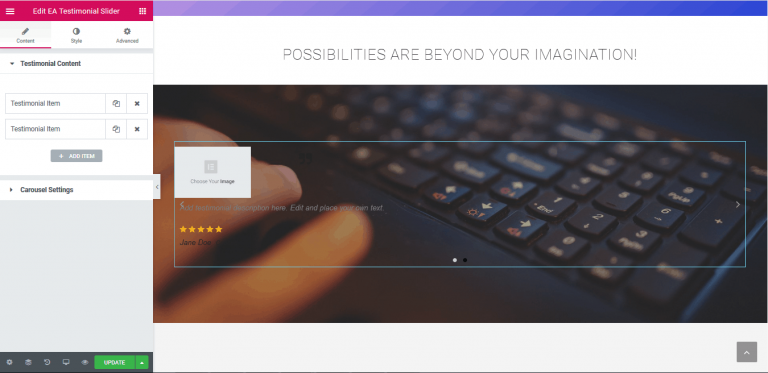 By clicking on Testimonial Content you can insert the image of your client and view it on the panel. You can also add your customer name and company name. Then you can insert the valuable comments of clients about the products and display ratings of the customer on the site to grab audience trust.
Simply just by adding images and text of your client details you can create the basic craft of Testimonial Slider easily with Essential Addons for Elementor.
Carousel Settings of EA Testimonial Slider
By using Carousel Settings, you can choose your preferred Transition Effect for the slider. There are five Carousel effects like Slide, Fade, Cube, Coverflow & Flip and by default, the Slide effect is set.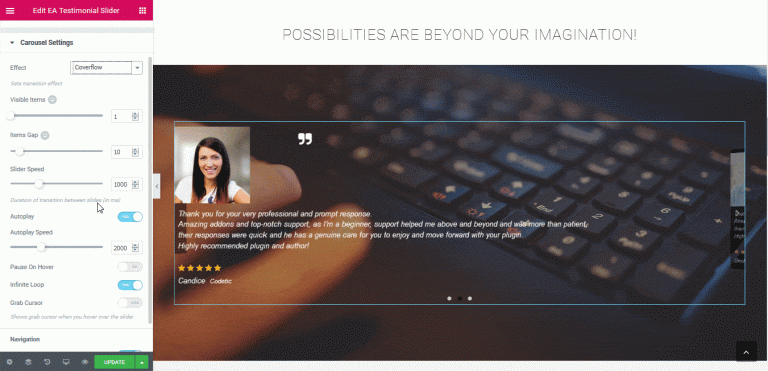 You can pick the desired number of Testimonial Sliders you want to display with this carousel element. Moreover, you can use the toggle to enable or disable Autoplay, Pause on Hover, Infinite Loop & Grab Cursor. It will help you to display the design you preferred for your site with ease.
Styling Content With EA Testimonial Slider
In this section, you can easily style the contents which you have added before. Five parts are present here individually to style your content like Testimonial Style, Testimonial Image Style, Color & Typography, Arrows, and Dots.

By using Testimonial Style, you can select from the style bar how you to showcase your Testimonial Slider contents. As well as you can control alignment with multiple preset.

Therefore choosing Testimonial Slider Image Style, you can change your image width or shape, fix it as per desired and display image beautifully on site.
By selecting Color & Typography, you can change the style of the text content of your EA Testimonial Slider that you want to display to attract Your customer. Therefore, using Arrows feature, you can choose arrows style, position or color to focus the slider content. If you want further information, you can view our documentation on How to Configure and Style EA Testimonial.
Final Outcome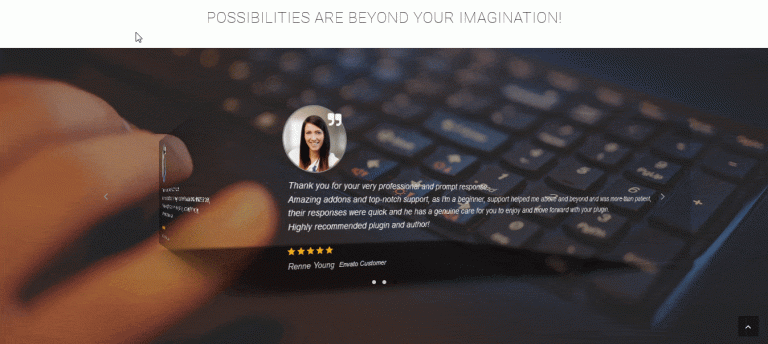 Following all of the above procedures, you can easily display eye-catching client reviews with the help of Testimonial Slider widget for Essential Addons.
Sum Up
In short, smart uses of Testimonials can help you to grow your business as people will be more likely to buy your products or take your services without any doubt. So this is how you can easily enhance your site value and promote products.
So what do you think of the EA Testimonial Slider element? Try out and leave your comment below!