Dreaming of building a stunning hotel or travel booking website in WordPress? Look no further than Tourfic, a travel booking website building WordPress plugin. You can integrate this powerful plugin with WooCommerce to create a professional and fully-functional website for your travel agency in a few clicks. Read on to discover how this plugin can help you build the ultimate travel booking website in WordPress!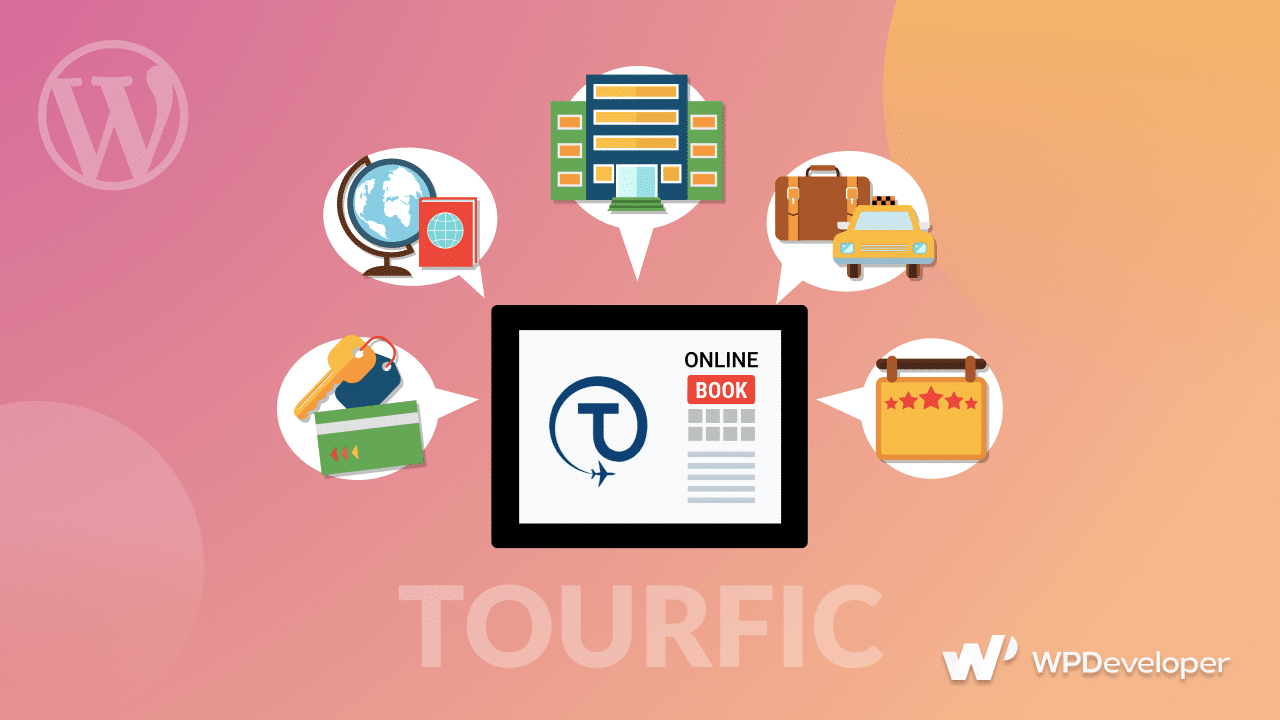 Introducing Tourfic: Tour, Travel & Hotel Booking WordPress Plugin
Tourfic is a WordPress plugin developed by Themefic that offers a comprehensive solution for tour and travel businesses that address the need for efficient management and marketing. It is designed to help businesses to manage their tours and bookings and promote their services online.
With Tourfic, you can effortlessly create a professional and sleek website just like Agoda, Booking.com, or Airbnb. Just list down hotels and resorts, make tour plans for your visitors, manage your bookings and payments, and create a seamless and enjoyable experience for your customers with this stunning plugin.
The plugin provides a user-friendly interface for tour operators to manage their tours and bookings efficiently. Tourfic also comes with many attractive features that allow businesses to customize their tour pages, add multiple pricing options, and manage their availability calendars.
Tourfic Key Features: Unlock Secrets Of Making WooCommerce Booking Website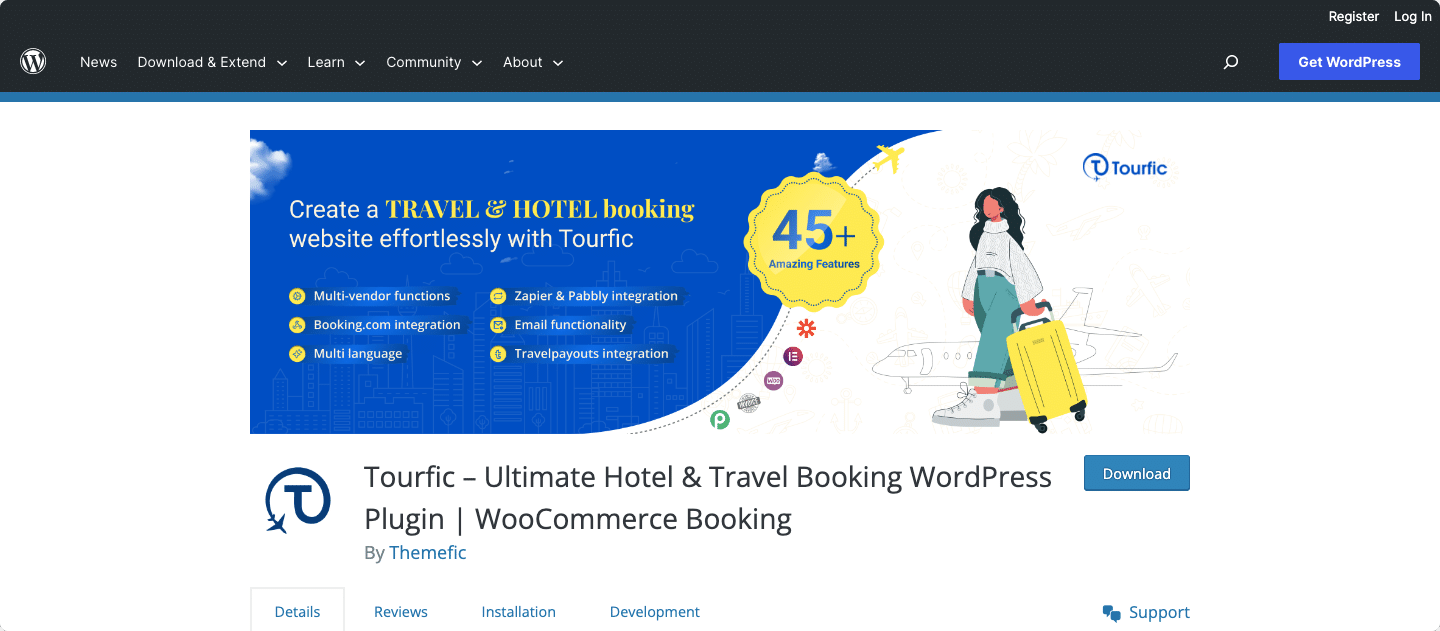 Tourfic comes with a range of features that make it an effective tool for managing tour and travel businesses. Here are some key features that make Tourfic the ultimate Tour, Travel & Hotel booking WordPress plugin.
1. Seamless WooCommerce Integration
Tourfic plugin seamlessly integrates with WooCommerce, the most popular eCommerce platform for WordPress. It provides a user-friendly interface for managing bookings and payments. With just a few clicks, you can track payment status, send booking confirmations to customers, and keep track of all your bookings in one place. Overall, it streamlines the whole tour booking management process, making it easier for businesses.
2. Brilliant Dashboard With User-Friendly Interface
Tourfic offers a brilliant dashboard with a user-friendly interface that makes it easy for businesses to manage their travel bookings on WordPress. The dashboard is designed to be intuitive and straightforward, ensuring you can easily navigate its features, regardless of your experience level.
From managing your bookings to configuring your settings, Tourfic's dashboard puts everything at your fingertips, so you can focus on what matters most – growing your travel business. Additionally, Tourfic's dashboard is fully customizable, allowing you to tailor your experience to meet your specific needs and preferences.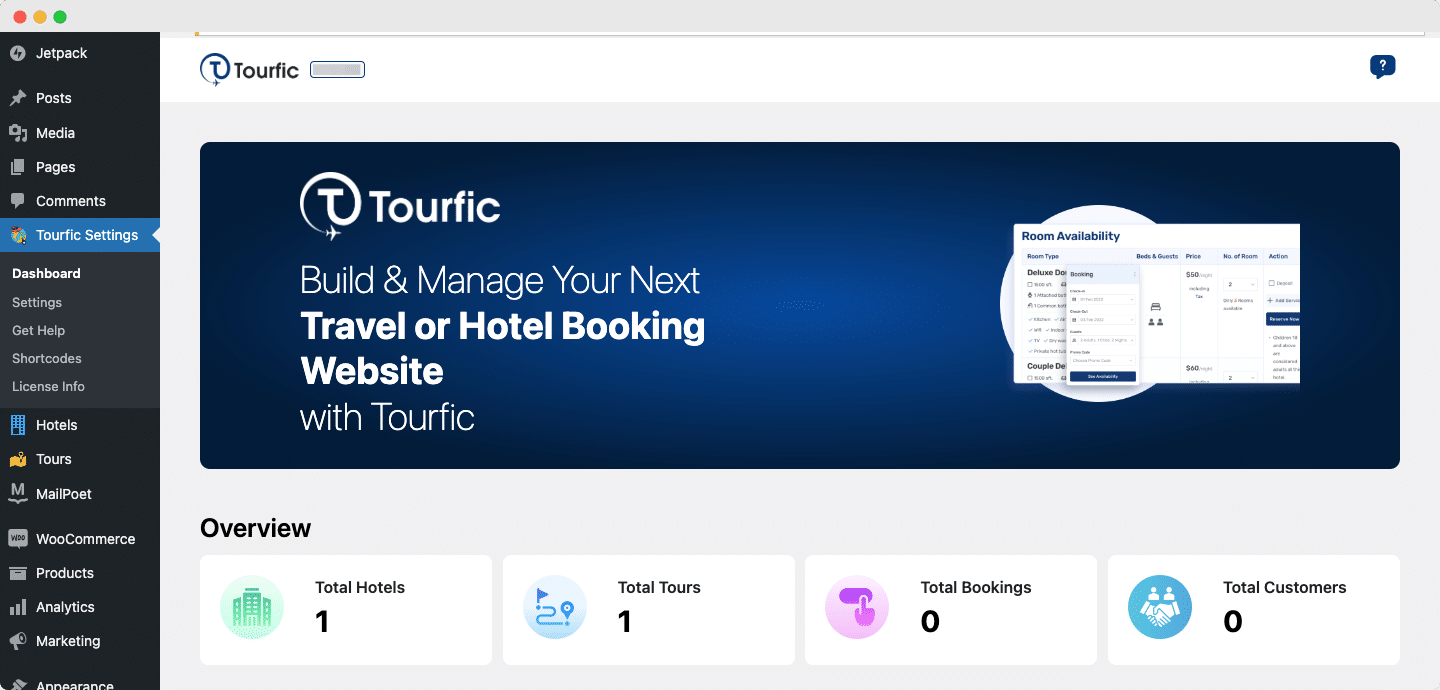 3. API-Based Affiliate Integration
Tourfic's API-based affiliate integration lets you easily monetize your hotel and travel booking website. With Tourfic PRO, you can seamlessly integrate with popular affiliate programs like Booking.com and TravelPayouts. This integration allows you to earn commissions for every booking made through your website. It also includes support for the Booking.com Affiliate Program and TravelPayouts Affiliate Program, giving you access to a vast selection of hotels and travel options. You can easily take advantage of this powerful feature to boost your revenue and grow your business.
4. Wishlist Feature For Future Booking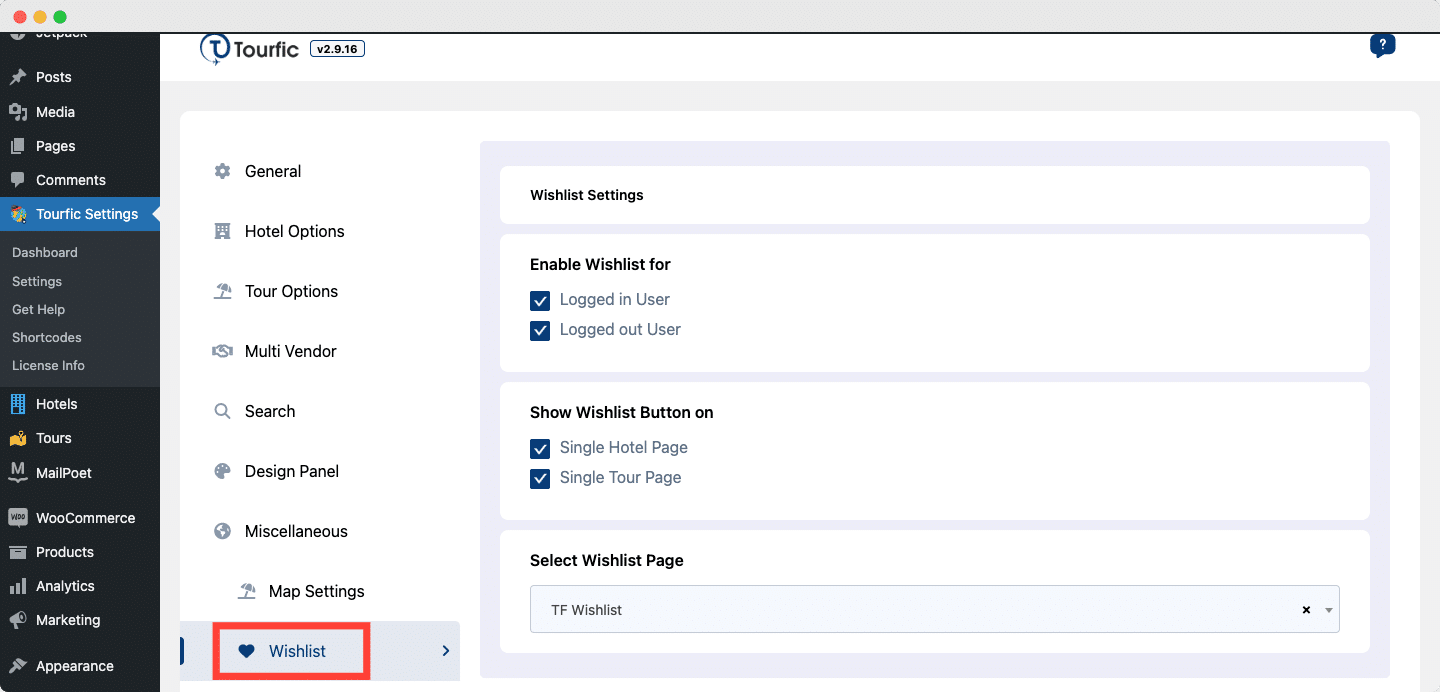 Tourfic's Wishlist feature allows customers to save their favorite hotels and tours for later, increasing the likelihood of a future booking. Customers can easily add hotels and tours to their Wishlist and access them later on a dedicated page. What's more, Tourfic PRO offers even more advanced Wishlist capabilities. Moreover, with this exclusive feature, you can enhance the user experience and increase the likelihood of repeat bookings.
5. Customer Feedback And Reviews
What's a travel website without customer reviews? Tourfic knows the importance of customer feedback and has integrated a comprehensive review system for hotels and tours. You can enable or disable the review section with ease and customize the fields according to your requirements.
Tourfic also allows logged-in and log-out users to leave reviews, giving you a broader spectrum of customer feedback. If you need to modify or create new review fields, you can do that as well. Plus, you can delete old review fields to keep everything up-to-date. With Tourfic, you can make sure that your customers' voices will be heard, making your travel business even better.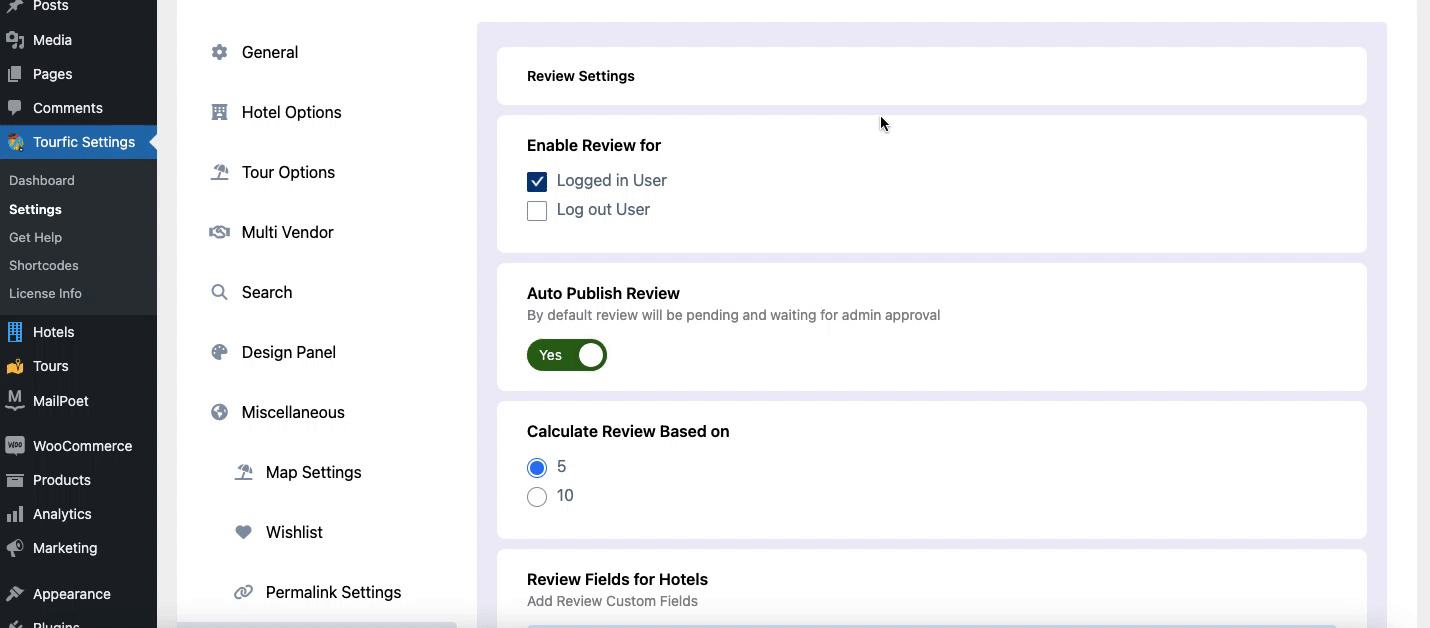 6. Multiple Payment Gateway Support
Tourfic supports a range of payment gateways, including PayPal, Stripe, Authorize.net, and more, to ensure secure and easy online payments. It supports literally any payment method powered by WooCommerce to make it easy for your customers to pay for their bookings. With multiple payment options available, you can cater to a wider audience and increase your revenue. This integration saves you time and effort while providing your customers a hassle-free booking experience.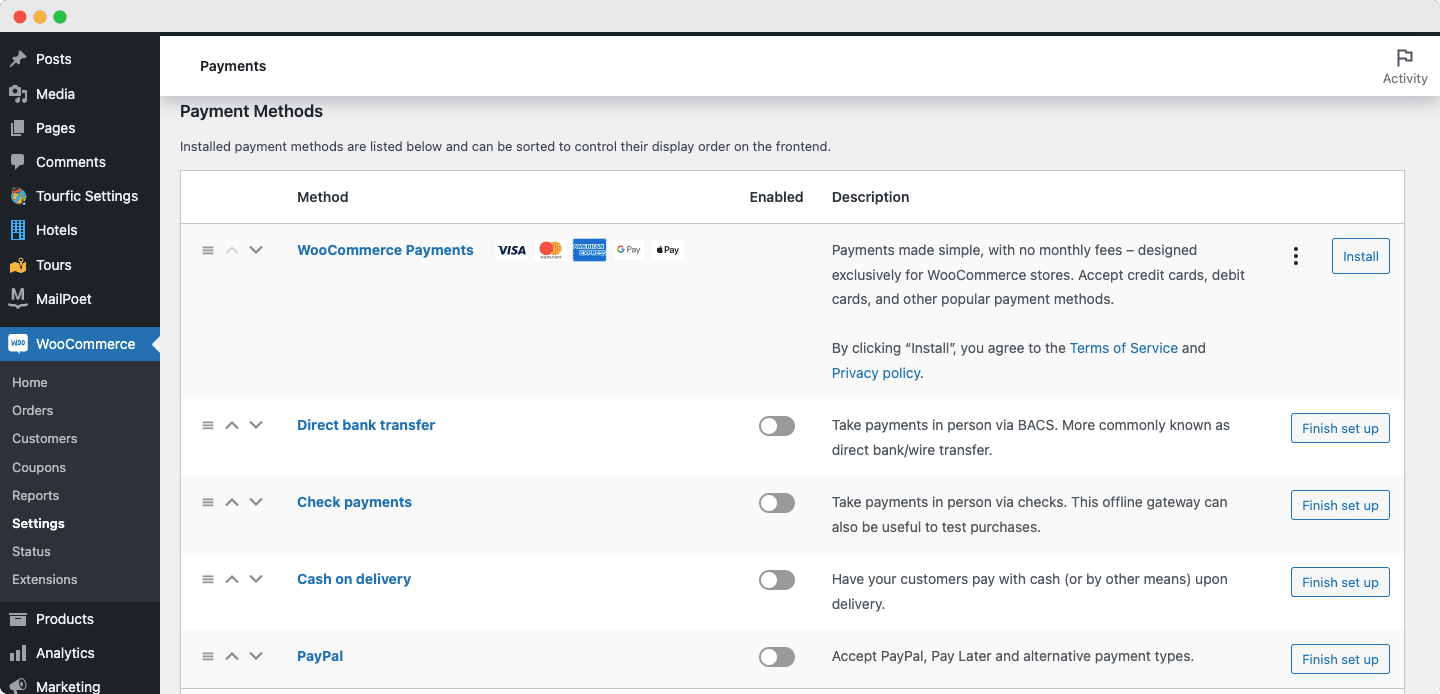 7. Advanced Multi-Vendor Functions
Tourfic's advanced multi-vendor functions make expanding your hotel and tour booking website easier than ever. With Tourfic PRO, vendors have access to dedicated order details pages and a frontend dashboard (coming soon) to manage their listings. Also, it includes a dedicated login and registration system for vendors, enabling you to keep track of your vendors and their listings with ease. Additionally, you can enable or disable specific vendors and even set up email verification for added security.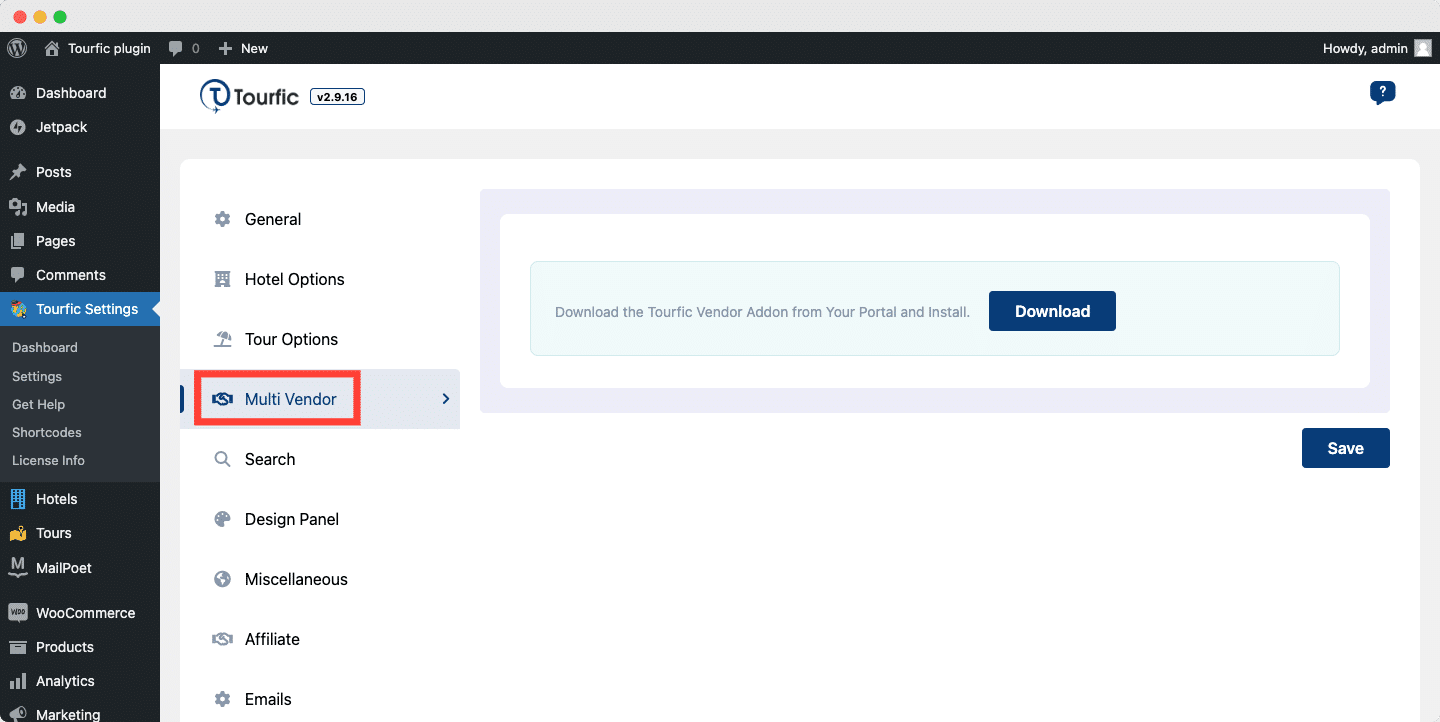 8. Pabbly And Zapier Integration
With the seamless integration of Pabbly and Zapier, businesses can efficiently manage hotel and tour inquiries, booking data, customer information, and vendor details using Tourfic. This integration establishes a streamlined approach, enhancing organization and delivering optimal results. By automating various tasks and synchronizing data across platforms, the integration simplifies operations, saving time and effort for tour and hotel businesses.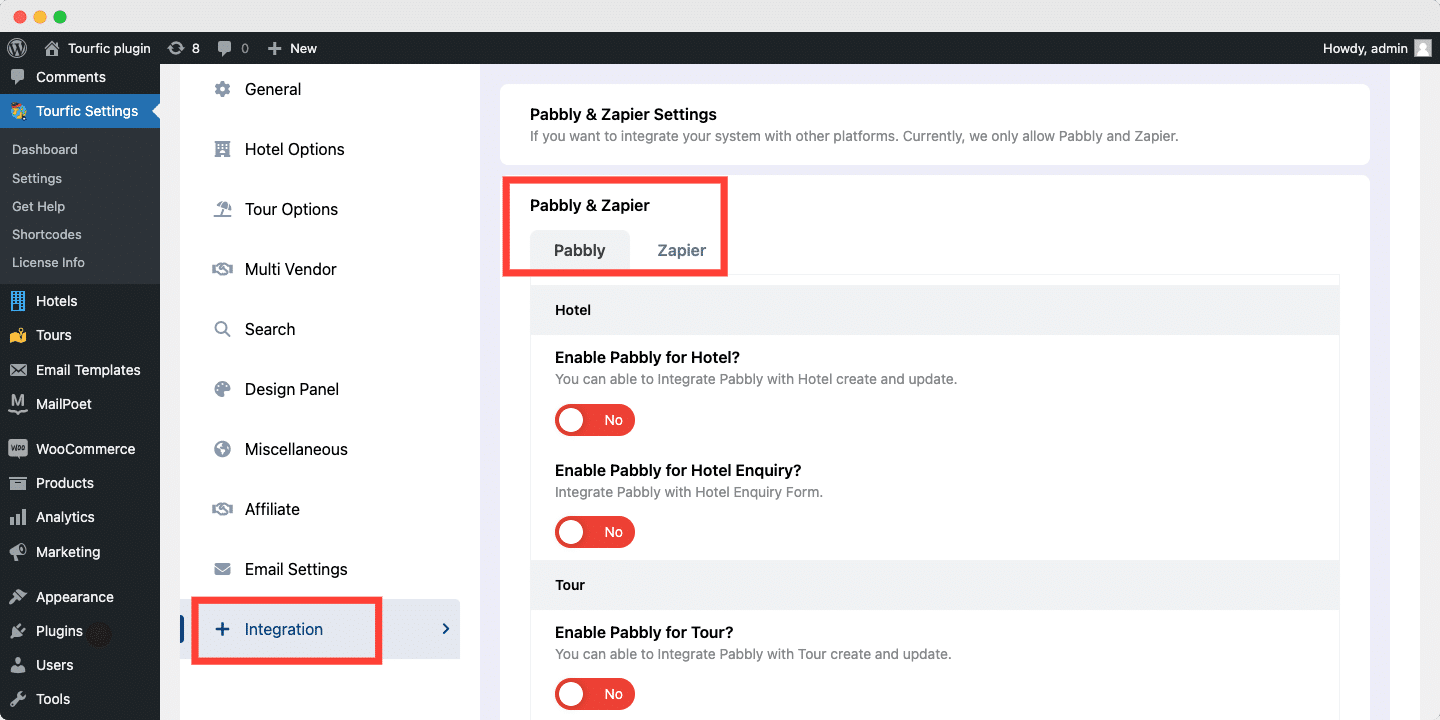 Creating Hotel Booking Website With Tourfic
You can unleash the power of Tourfic, the ultimate plugin for managing hotel bookings effortlessly. With Tourfic, you can add unlimited hotels and rooms, set room prices per room, and manage room availability based on dates. The plugin also comes with a photo gallery feature for hotels, room details with terms and conditions for each room, and dedicated customer review systems. You can also enjoy a range of social sharing options, including Facebook, Pinterest, LinkedIn, and Twitter. The plugin also comes with an inquiry form and a wishlist feature for hotels.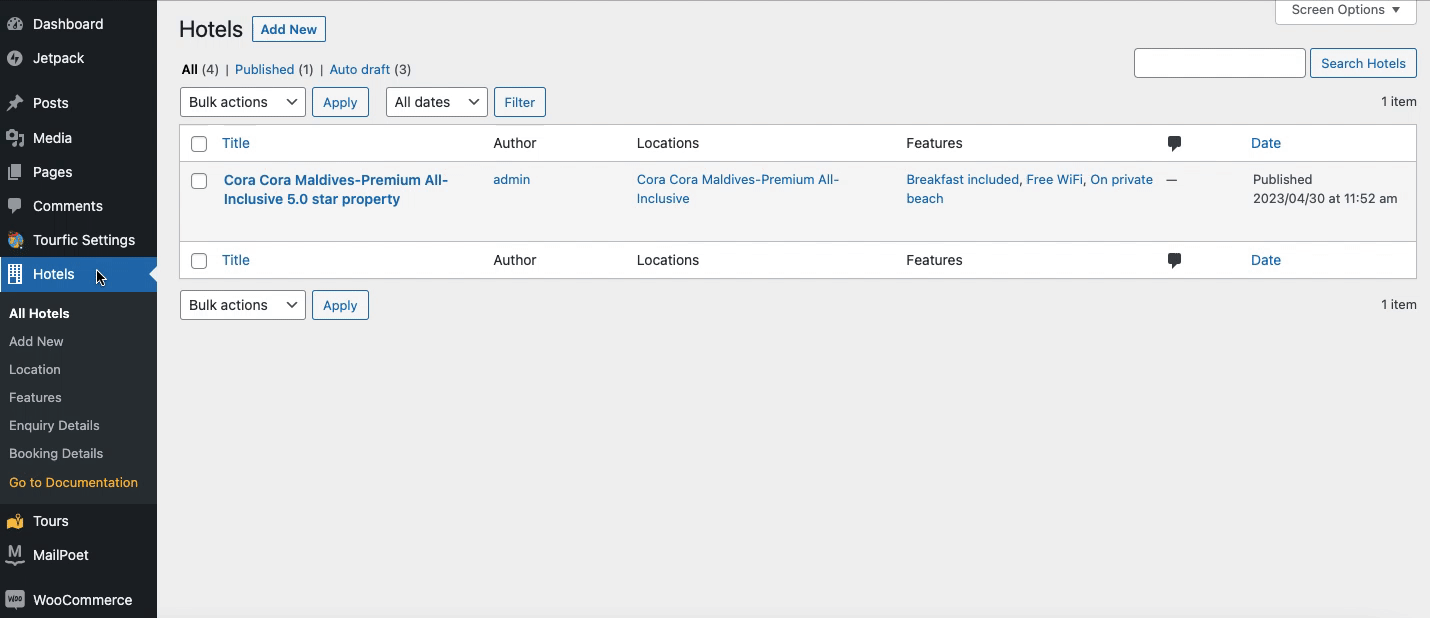 For more advanced features, Tourfic PRO offers additional capabilities such as per-room gallery and features, number of rooms based on dates, room price by persons, room inventory management, advanced/partial payment, dynamic location search based on OpenStreetMap and Google Maps on the options panel, airport pickup service, and more. With Tourfic, you can manage your hotel bookings like a pro and take advantage of advanced features to help you stand out in the competitive hotel booking industry.
First, you need to install and activate WooCommerce because that's what Tourfic uses for payment gateways. Then complete the WooCommerce basic setups like store details, industry, product types, business details, and theme. Get this step-by-step walkthrough and learn how easily you can create your hotel booking website with Tourfic.
Building Travel Booking Website With Tourfic
With Tourfic, you can easily create a travel booking website with all the essential features. You can add unlimited tours and customize each with a photo gallery, features, FAQs, and terms and conditions. You can highlight the best parts of your tours with the Tour Highlights section and can manage what's included or excluded in each tour with the Tour Include/Exclude section.
You can easily provide a detailed itinerary for each tour, set it as a featured option, and allow customers to easily check the price by person. With a dedicated customer review system, customers can leave feedback and ratings for each tour, and a dedicated wishlist feature allows them to save their favorite tours for later.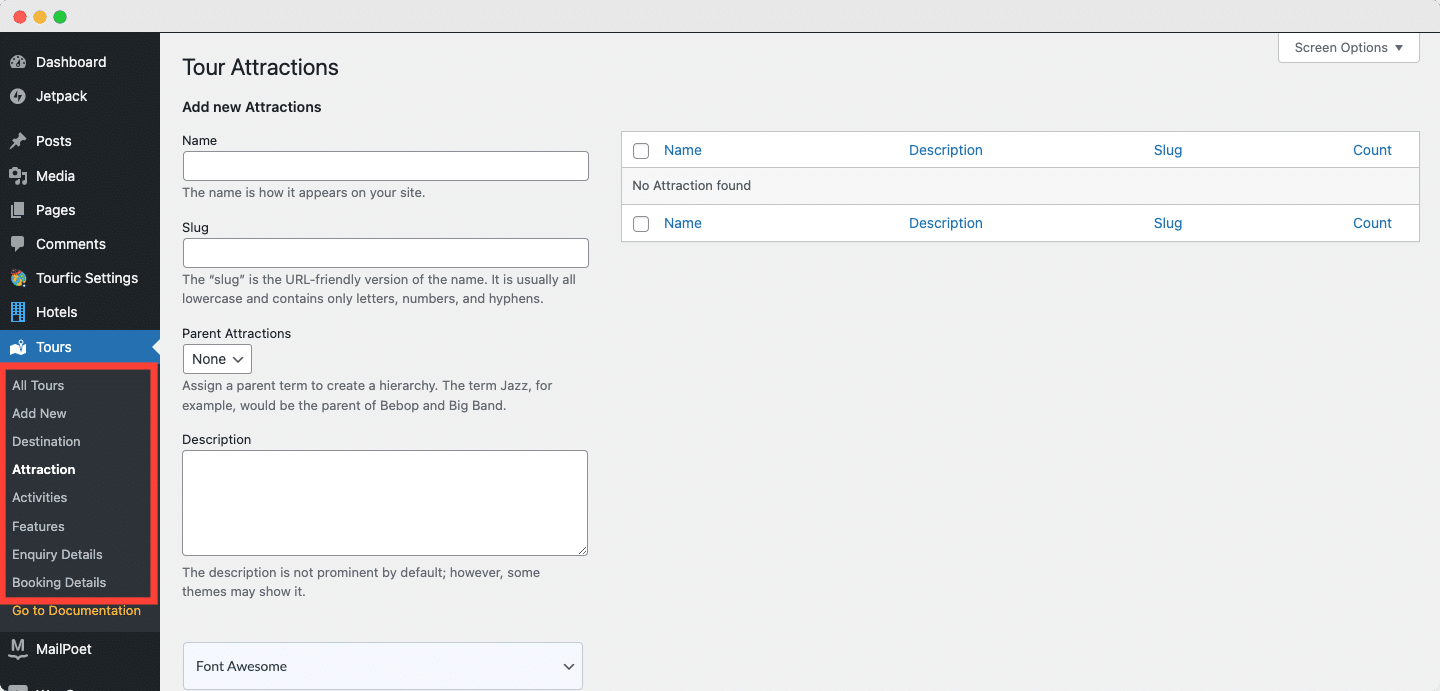 It also provides an inquiry form that makes it easy for customers to contact you with any queries. You can choose from continuous tour availability every month within a range or fixed tour dates with the PRO version of the plugin. Advanced features like custom availability, per-day availability, and partial payment options make it easy to customize the tour offerings.
Tourfic also offers the option of adding tour videos to your galleries and selling tour extras. Also, you can set minimum days before restrictions on tour booking and use our dynamic location search based on OpenStreetMap or Google Maps on the Options Panel to help customers find the best tour options. With Tourfic, you can create a professional and feature-packed travel booking website without hassle by following this step-by-step guide.
How Tourfic Can Be Beneficial To Make A Booking Website
Tourfic can be a game-changer to enhance your hotel and travel booking website. This powerful plugin comes packed with a range of useful features that can be beneficial for your business. Here are some of the key benefits that Tourfic can offer to tour and travel businesses.
• Increased Efficiency: It helps businesses streamline their booking and tour management processes, saving them time and increasing efficiency.
• Improved Customer Experience: It provides a user-friendly interface for customers to book tours, track bookings, and receive booking confirmation. This improves the overall customer experience and increases customer satisfaction.
• Customizable Hotel & Tour Pages: Tourfic allows businesses to customize their hotel tour pages to suit their branding and messaging. This enables them to showcase their tours in the best possible light and attract more customers.
• Real-Time Availability: It provides real-time information on tour availability, enabling businesses to avoid double bookings and provide accurate information to their customers.
• Online Payment Acceptance: Tourfic is integrated with several payment gateways, making it easy for businesses to accept online payments. This enables them to provide a seamless payment experience for their customers and avoid payment delays.
• Effective Marketing: Tourfic comes with a range of marketing tools, such as social media sharing, email marketing, and search engine optimization. These tools enable businesses to promote their tours and services online and reach a wider audience.
Some Challenges You May Face With Tourfic
Tourfic is a new plugin in the market compared to others yet it comes with lots of exclusive features. It is a potential tool that can be a great addition to any website, but it is not without its challenges. Have a look below to know what users may face when using Tourfic.
No Multi-Currency Support Available
Currently, Tourfic doesn't provide a multi-currency feature though this feature is crucial for a travel booking website. Supporting multi-currency would allow customers to view prices and pay in their preferred currency. Travelers are more likely to book flights, hotels, and other travel arrangements in their local currency because it is more convenient and transparent. Travelers often find it confusing and time-consuming to convert prices from one currency to another, especially if they are not familiar with the exchange rates. So this feature is a must-have for a hotel and booking plugin.
Tourfic Does Not Come With Its Own Hotel Booking Theme
Currently, Tourfic does not provide any of its own WordPress themes, which means that users must rely on third-party WordPress themes. This can be a downside for users who want a more seamless and cohesive design. While there are tons of hotel booking website templates and themes available, many users would prefer to have a hotel booking plugin that comes with its own theme and seamlessly integrates with all features.
Moreover, there are many other booking website plugins that offer their own themes to provide a better user experience. It helps them to stand out from their competitors. So in this aspect, there is room for improvement for Tourfic.
Start Creating Your Own Hotel And Booking Business With Tourfic
Overall, Tourfic is an excellent solution for building a stunning hotel and travel booking website in WordPress. Its user-friendly interface, seamless WooCommerce integration, and advanced features make it easy for businesses to manage their bookings, expand their business, and increase their revenue. Whether you're a small or large travel agency, Tourfic has something for everyone. So, if you're looking to create a professional and fully-functional travel booking website, Tourfic is definitely worth considering.
Do you think this blog is helpful? Share your thoughts with us in the comment section below. Also, don't forget to subscribe to our blog to read more tutorials, news, and updates.