The first-ever regional event WordCamp Asia 2020 is just right around the corner. We are absolutely delighted to announce that WPDeveloper is sponsoring and participating in the conference in Bangkok, Thailand. The event will take place from February 21-23. We will have our own booth and will have a surprise and cool swags for you all. So, if you are at the event, don't forget to meet our fantastic team and say hi!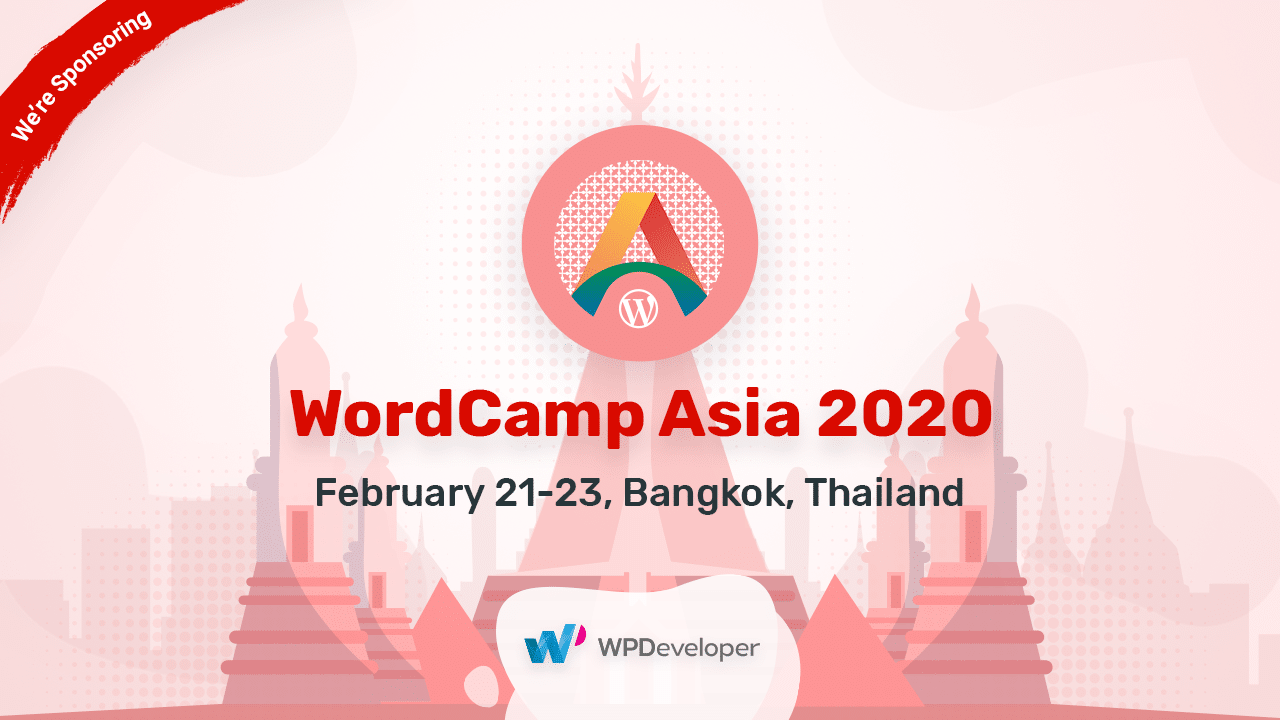 Sneak Peek of WordCamp Asia 2020
WordCamp Asia 2020 is going to be the first-ever regional WordCamp in Asia. They are expecting over 1,400 attendees at the event. Despite the recent outbreak of Coronavirus, the support received from the WordCamp community has been nothing short of sensational. Let's take a glimpse of what you can expect in WordCamp Asia 2020:
Kicking Off with Contributor Day
WordCamp Asia will kick off with the 'Contributor Day' on 21st February. It's an excellent opportunity to get involved with all the WordPress enthusiasts at the same place. Contributor day has room for everyone to participate and learn something new & exciting. A fun workshop for Kids (KidsCamp) will be held as well so you can even bring your kids at the event.
Two Day-Long Conference Event
The much-awaited Conference days will begin on 22nd February. Attendees will get to enjoy free lunch, coffees, snacks, and many other privileges. Two-day event will feature talking sessions on various interesting topics. The speaking sessions are one of the most exciting things people always look forward to in the WordCamp events. For more information on the WordCamp Asia schedule, you can check out here.
WordCamp Asia will feature an incredible line-up of Speakers which will cover lots of interesting topics. Matt Mullenweg, co-founder of WordPress, will deliver his keynote on the 2nd day of the conference event.
Our CMO, Afshana Diya will be involved in a 1-hour panel discussion on the topic 'Building a WordPress Community'.
Grab Cool Swags From WPDeveloper Booth
We always consider WordCamps as a fantastic opportunity to give something back to the WordPress community. WPDeveloper will be bringing lots of amazing giveaways presents for all of you guys. Come to our booth and collect exciting swags along with t-shirts, wooden tags, and many others. Our team will be available throughout the entire WordCamp Asia event at the stall. So, don't miss your chance to meet us and grab cool swags.
Join Us at After Party
WordCamp Asia 2020 will end with the After party celebration at LHONG 1919. After Party is just the icing on the cake that you need to make the entire event memorable. It's a wonderful opportunity for fellow WordPress lovers from all over the world to get connected and have a blast. WPDeveloper team will be happy to meet you all at the party and join in the celebration. If you want to get connected with our team, don't feel shy to say hi!
We absolutely can't wait anymore for WordCamp Asia 2020. WordCamps are always the most fun events to participate in. Since this is going to be the largest gathering of WordCamp people in Asia, let's make this a memorable one. We can't wait to see you all at the event.