After a record-breaking regional WordCamp in Porto, it is time for the capital of Greece, Athens, to host WordCamp Europe! WordCamp Europe 2023 will take place between 8-10th June and welcome WordPress enthusiasts from all over the world. Dive into the blog to learn what to expect in this biggest European WordPress conference.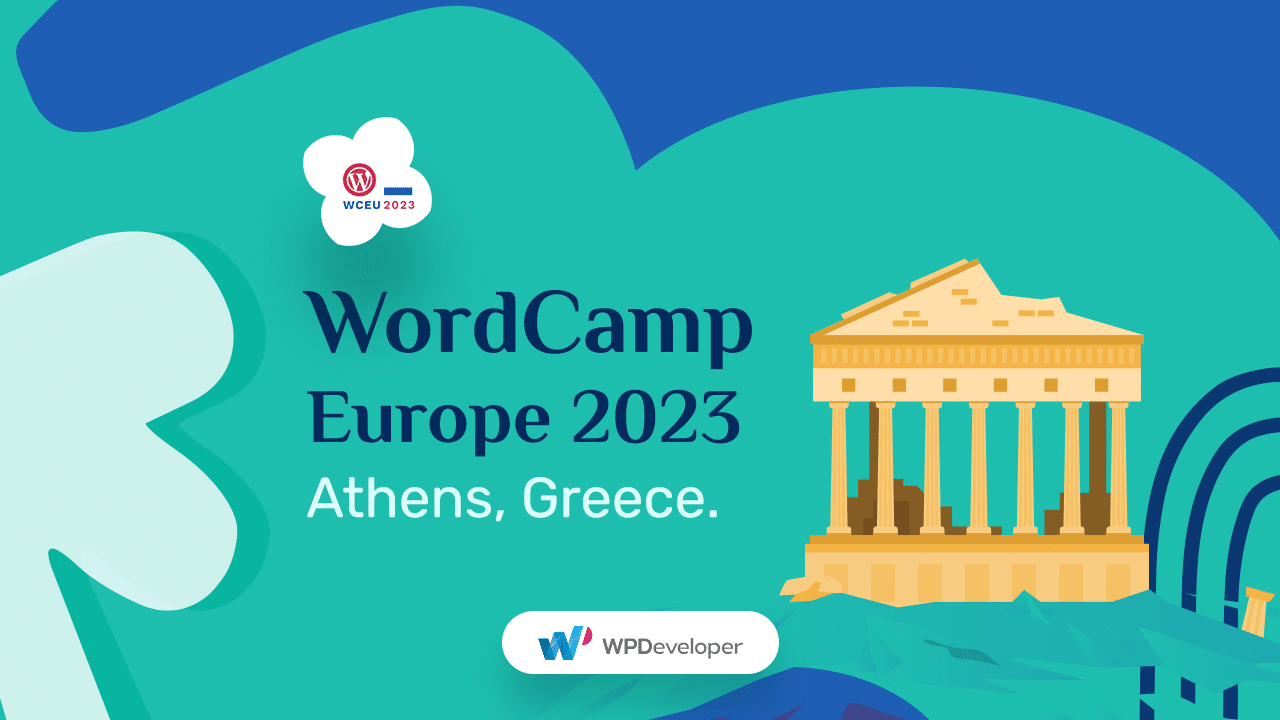 WordCamp Europe 2023: What Awaits You In This Historical City
Flagship events like WordCamp Europe welcome WordPress enthusiasts from all over the world to come together and connect with the community. Along with networking purposes, WordCamps are a great source of knowledge sharing as well. Now, let's see how WordCamp Europe 2023 will surprise you with all its exciting activities.
Attend WordCamp Europe At The Largest Venue In Athens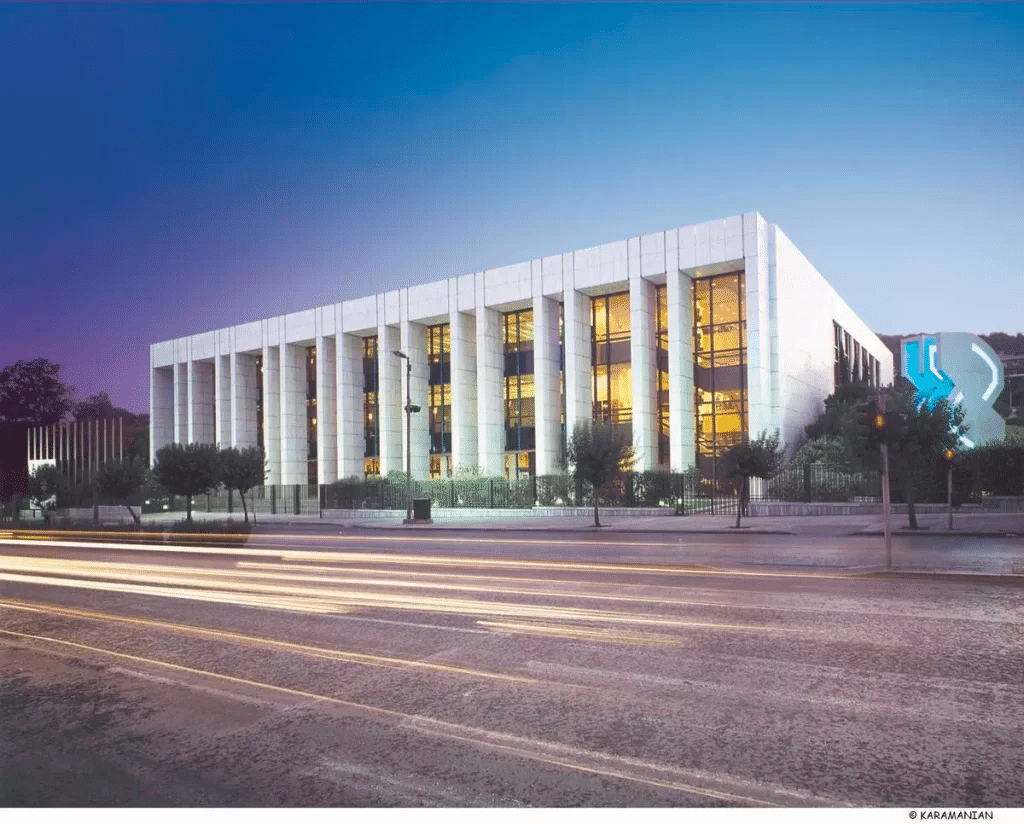 This year's WordCamp Europe is going to be held at Megaron Athens International Conference Centre, which is the largest venue in Athens. Just a few minutes of walk from the historical range of historic landmarks, this venue has the capacity to host 6,000 people. Very close to Eleftherios Venizelos International Airport, and Athens Metro, this building comes with a modern complex with all kinds of facilities that you love to have.
Join Contributor Day & Help Make WordPress Even Better
This year's WordCamp Europe will have an all-day-long Contributor Day on 8th June. To attend the contributor day, you need to register separately. So, don't miss out on this opportunity to meet all the WordPress enthusiasts who work behind the scenes to grow this open-source platform. Also, if you are a beginner, you can learn how you can also contribute to this open-source project.
Teach WordPress To The Youngsters: Special Workshop For Kids
WordPress is a diverse and inclusive community, and what better way could there be to grow this community than by teaching WordPress to the kids? At WordCamp Europe 2023, there will be a brand-new session for kids during Contributor Day.
In this workshop, children who accompany their parents to WordCamp Europe 2023 will have the opportunity to explore and create their very own WordPress websites in a 3-hour-long session with the help of experienced educators and volunteers. The volunteers will help them to set up their websites and teach them how to create different types of content with WordPress on the spot!
This workshop would be most helpful for kids between the ages of 13 to 16, and participants will be required to bring their own devices. You can read more details about WordPress Workshop for Kids here.
Participate In Wellness Track Activities & Embrace A Healthy Lifestyle
The Wellness Track at the WordCamps can remind us to prioritize our well-being. In WordCamp Europe 2023, Yoga classes, Tai Chi sessions, and short hikes to Lycabettus ​​will be arranged for the attendees. As these sessions are designed for beginners, anyone can join and learn the importance of an active and stress-free life.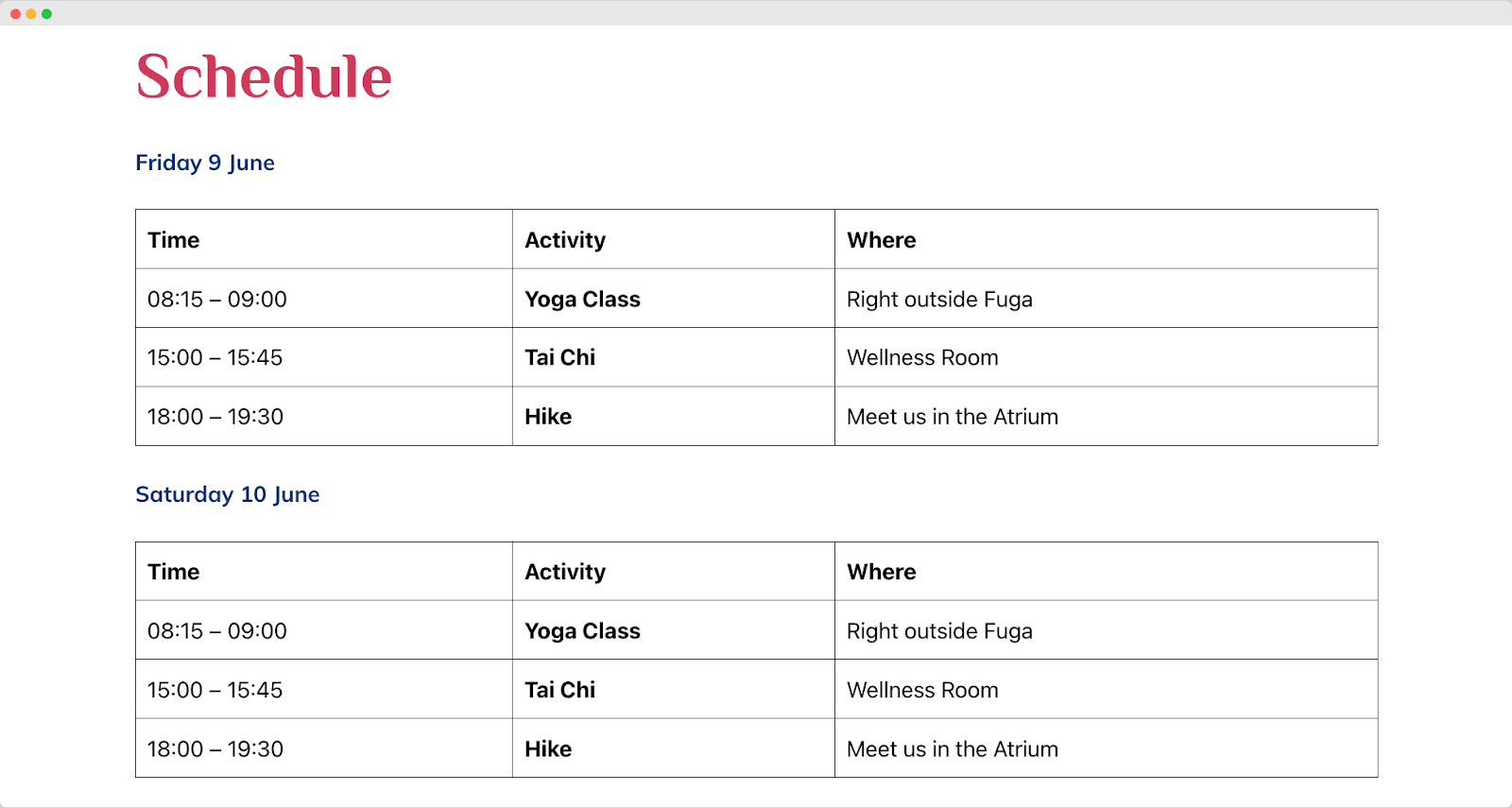 Expert instructors will be there to guide you on these activities. While only 20 Yoga mats will be available, you can also enjoy the sessions by sitting on the ground. So, don't forget to spend some time in the wellness tracks while you are attending the conference days.
Join Insightful Open Discussions In WP Connect
The WordCamp Europe Community team will also arrange open discussion sessions on both of the conference days in the WP Connect space. You can join and learn new things from the community and share your views on different topics.
Afshana Diya, the Chief Marketing Officer of WPDeveloper, will be there along with Hari Shanker, Courtney Robertson, and Emanuel Blagonic to share her expertise on Five For The Future and how a company can donate an employee to the WordPress Project; along with helpful advice on how anyone can become a sponsored contributor for the open source project.
The People Behind WCEU 2023
The WordCamp conference is the result of the hard work of dedicated organizers, speakers, and sponsors who make it possible with their valuable time and effort. Now, let's meet the people behind this biggest WordPress conference in Europe.
Meet The Global Team Leaders
The WCEU 2023 is in the hands of 3 experienced campaigners, Evangelia Pappa, José Freitas, and Sjoerd Blom will oversee the whole event. Each of them is eager to make WordCamp a huge success with their individual touch and expertise. Combining the efforts of volunteers and sponsors, the Global Team Leads hope to present the most successful WordCamp to you this year.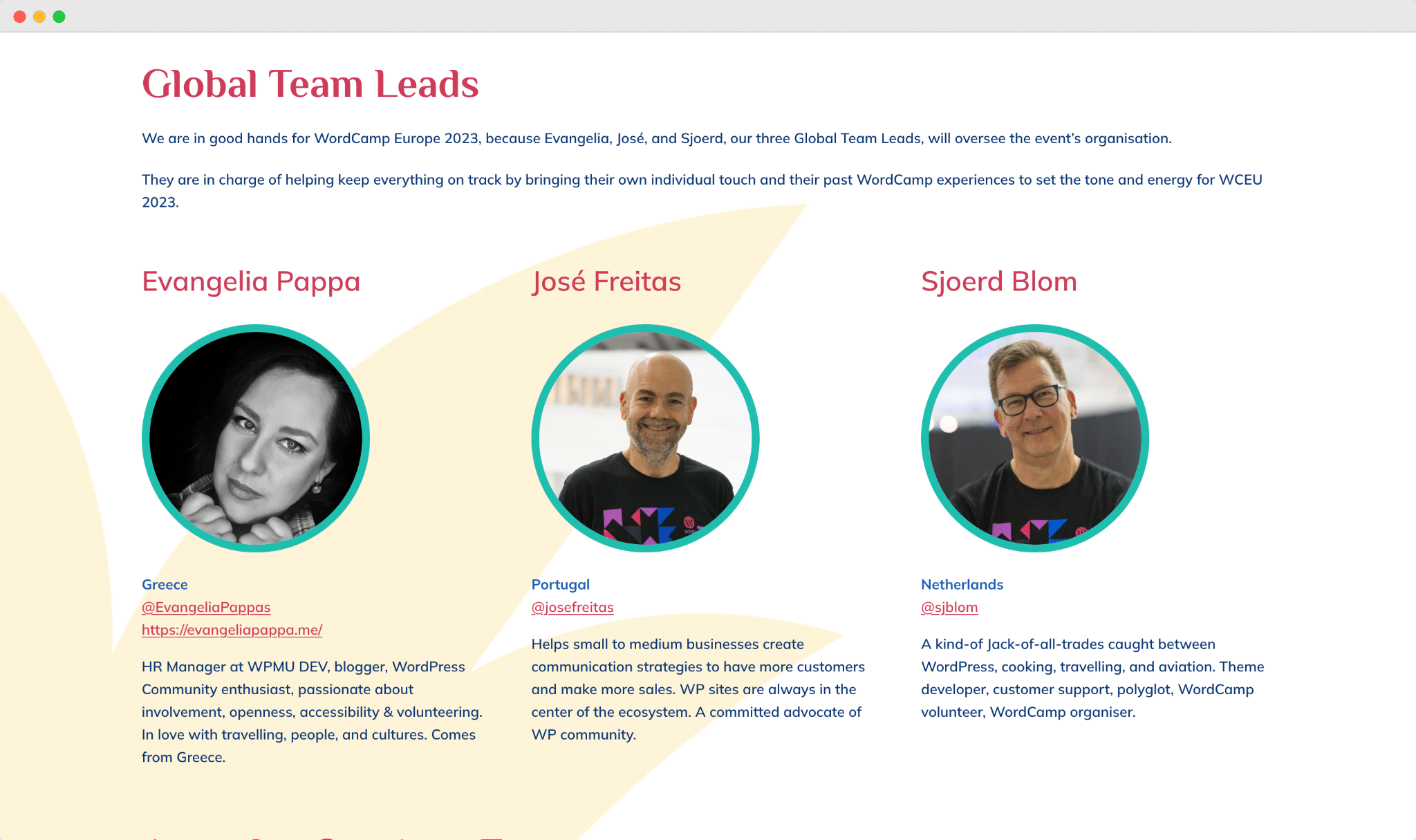 The First Group Of Speakers
WordCamp Europe 2023 has already announced the first batch of remarkable speakers who will talk in front of the crowd. Covering a wide range of topics such as Accessibility, Design, Development, Marketing, etc., these well-known and experienced speakers will share their insights with the WordPress community along with other speakers.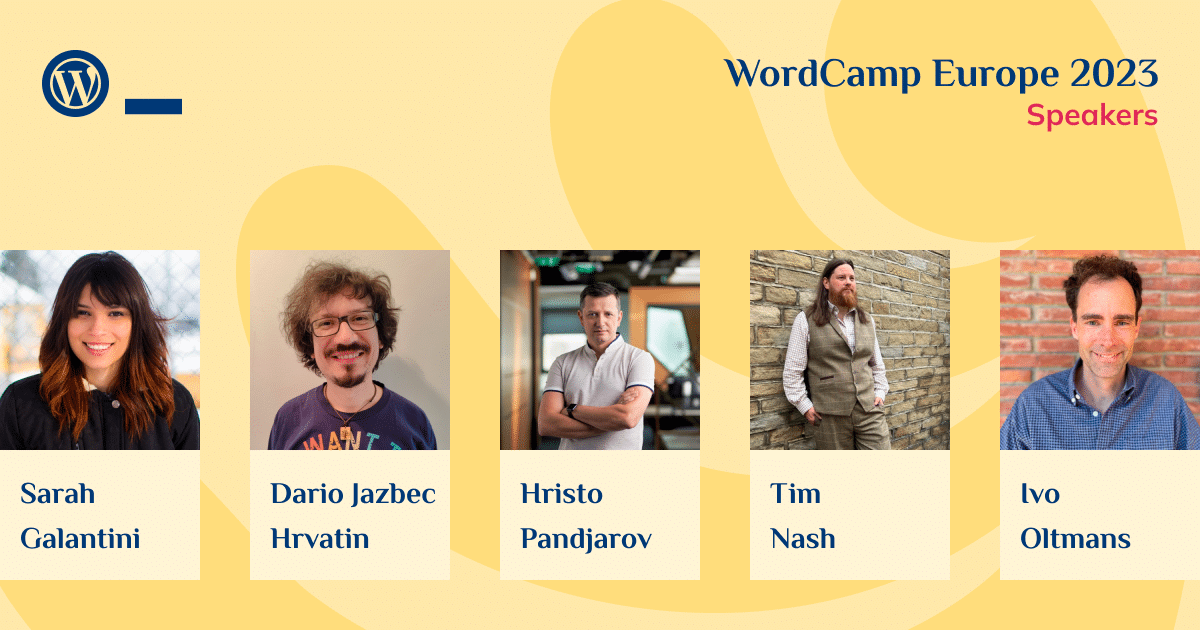 Check Out The Event Schedule
The full schedule of WordCamp Europe 2023 is now available and you will find that this year, there are three different tracks and two workshops for attendees on both days of the WordCamp. Also, there will be an after-party on 10th June which is the perfect opportunity to network with everyone who is involved in this WordPress.
The Contributor Day of WCEU 2023 will take place on 8th June, and this time, you can participate remotely as well! Check out the full schedule of WCEU 2023 Contributor Day here.
Media Partners & Supporters For WCEU 2023
Recently, WordCamp Europe shared the news of who will be the media partner and supporter. In general, media partners and supporters help WordCamp to achieve maximum visibility for the conference. This year, team WPDeveloper is proud to announce that we are one of the media supporters for WordCamp Europe 2023. Stay tuned as we share exciting updates about this most anticipated event!
Say Hello To Team WPDeveloper At WordCamp Europe 2023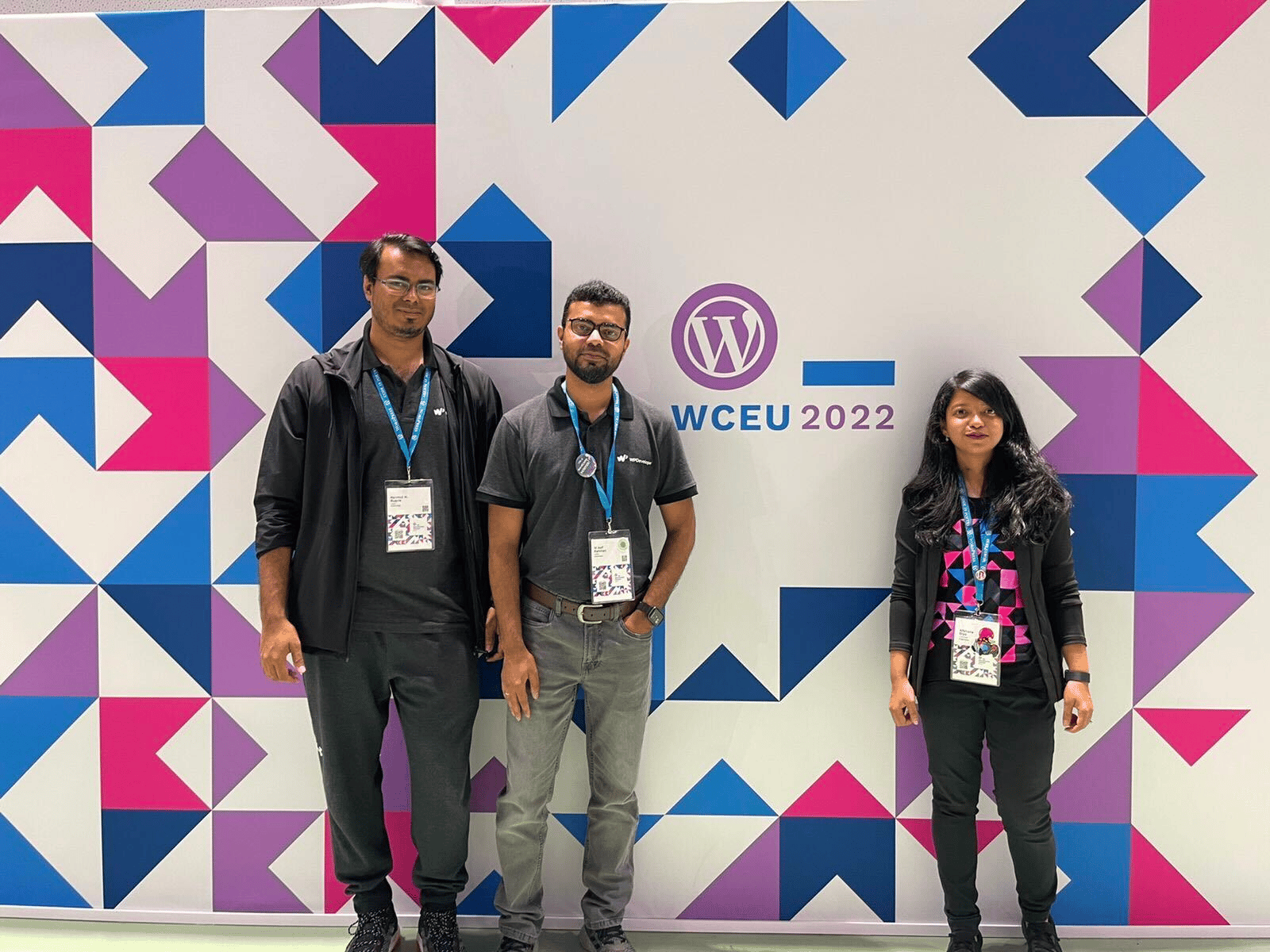 Team WPDeveloper is attending WordCamp Europe 2023, so if you are joining us in Athens, don't forget to drop by and say hello! We are always eager to meet and connect with our beloved community; in fact, Team WPDeveloper has contributed to WordCamps worldwide for several years by sponsoring, organizing, and even volunteering or participating as speakers.
And so, if you are attending WCEU 2023, feel free to get in touch with our team; we're excited to meet you!
Ready To Join WordCamp Europe 2023?
WordCamp Europe is the biggest regional WordPress conference and the perfect opportunity to meet and connect with incredibly talented individuals who are passionate about WordPress. So, don't miss this chance to book your ticket before time runs out.
For more news, updates, and all things related to WordPress, subscribe to our newsletter or join our Facebook Community.