With the year coming closer to an end and the final major release WordPress 5.9 is getting ready. While there is still plenty of speculation on what you can actually expect from the next update, we have put together possible upcoming features, a preliminary roadmap and a tentative release date.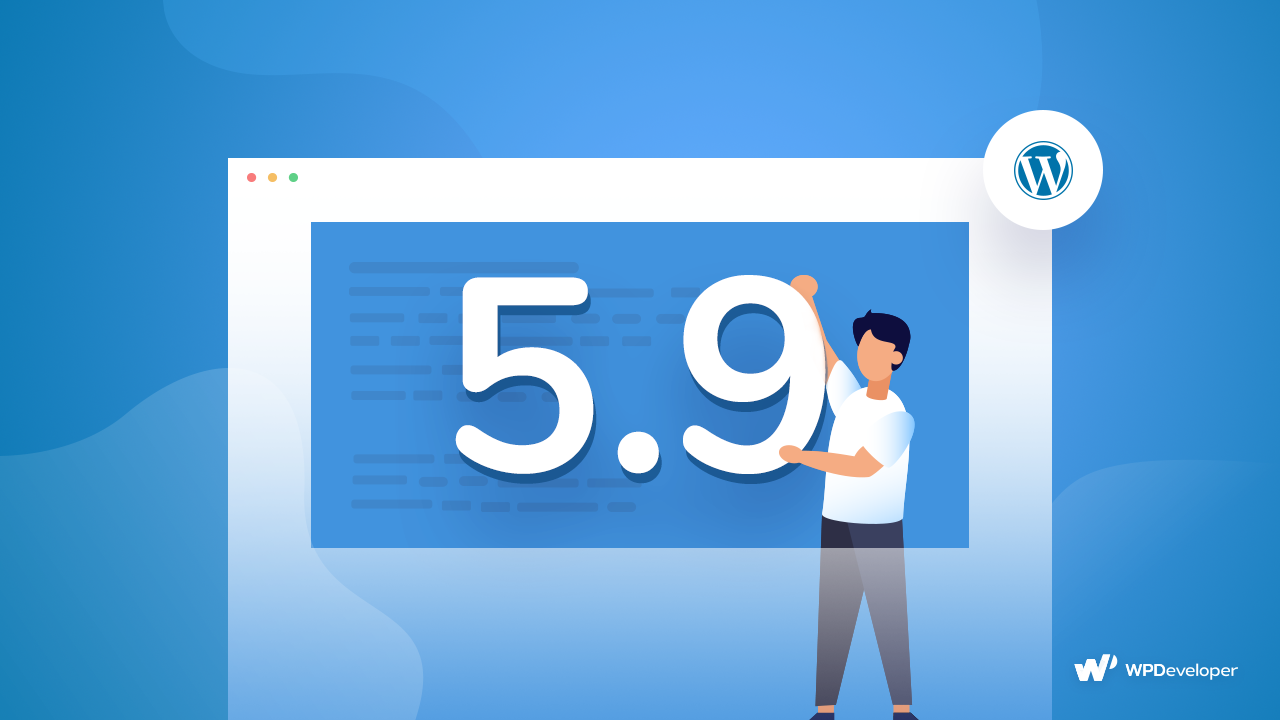 Not much is yet known about this upcoming WordPress release, but we do know that Matt Mullenweg himself is the Release lead, and that the new update will focus mostly on more block options and full site editing features in Gutenberg. We will continuously update this blog with more details as soon as new information is available. Here's what we know so far.
What's Coming In WordPress 5.9: Roadmap & Features
Since WordPress 5.9 is going to be the last major update for 2021, tons of new features have been suggested for a proposed, preliminary roadmap. Of course, once the roadmap is finalized and the work is underway, some features may not make it to the final release. But so far, we have some good idea of what to expect with WordPress 5.9
Note: As of October 14th 2021, the following features can be expected from WordPress 5.9. Of course, not all of them are fully ready yet, but we can expect most of these to make it to the final version of WordPress 5.9.
[Update] Improved Navigation Block & Design Tools For Block Editor
The navigation block that came with Gutenberg has seen several enhancements and bug fixes since its initial release. WordPress 5.9 will introduce more improvements for the navigation menu block to enhance user experience and its compatibility with different WordPress themes. 
In addition to this, several new improved and more consistent design tools may be introduced with WordPress 5.9, along with enhancements to colors, typography and layouts.
According to the latest update on October 14th 2021, we can expect several improved block interactions such as List View drag and drop, better toolbar controls for nested blocks, improved inserter between blocks and block-level locking for patterns. 
[Update] Insertion Of Patterns Directly From The Pattern Directory
The WordPress pattern directory was first introduced with the release of WordPress 5.8, and has been a game-changer for page building in Gutenberg. With the new WordPress release, there may be some more improvements in how patterns are inserted and also how blocks are transformed to patterns.
According to the latest update on October 14th 2021, it is expected that WordPress 5.9 will allow users to insert patterns in Gutenberg editor directly from the pattern directory. Previously, users had to copy a pattern from the pattern directory and then go back to the Gutenberg editor and paste it. This improved pattern insertion can make the process of using block patterns faster and much easier. 
[Update] Introduction Of New Block Themes For Gutenberg
The latest WordPress update will introduce block themes and their template editors. Not much is yet known about these new block themes, but you can check out some of the initial ideas for how these features can be used to visualize and edit your website design. 
[Update] Development Of Styles Graphic Interface For theme.json
As WordPress 5.8 has made it easier for themes to control various aspects of how blocks are rendered, with WordPress 5.9 we may have a new user interface that will help us interact with these style properties. At the moment, this project is named "global styles" and already an initial prototype design has been made.

According to the latest update on October 14th 2021, it is expected that the Styles sidebar will come with tons of new design tools such as typography tools, dimension and spacing tools and an improved Color Picker.
Enhancing Full Site Editing With Gutenberg Editor
With WordPress 5.9, we may get a step closer to achieving full site editing with Gutenberg editor. Josepha Haden Chomphosy, the marketing lead for this new release, has stated that 'the main goal for 2021 is getting full site editing to all WordPress users'. This means with WordPress 5.9, creating beautiful web pages with the block editor should become much easier for all users, and several new blocks and editing features are already under development. 
More Responsive Block Options For Intrinsic Web Design
One of the most important and exciting features coming with WordPress 5.9 are more responsive block options. The goal is to make it easier for blocks to wrap, stack and organize themselves to fit different screens and hence making it easier to create more responsive websites using Gutenberg blocks. 
Introduction of A New WordPress Default Theme: Twenty Twenty-Two
As we get ready for the year to wrap up, we also have a new default WordPress theme to look forward to. Traditionally every year a new default WordPress theme is released and is named after the upcoming year. That means with WordPress 5.9, we will get the new Twenty Twenty-Two theme, which will be the default theme for the new year coming ahead. 
Featuring beautiful illustrations of birds in flight, simple typography such as Source Serif Pro, and a subtle color palette inspired by nature itself, Twenty Twenty-Two is expected to be the most lightweight and flexible default theme to be created for WordPress.
Twenty Twenty-Two is also going to come with tons of customization options and a variety of patterns, page templates, headers and footers to help you add your personal touch. Some patterns have been intentionally designed to be irregular, while others are more traditional, to help you add the perfect balance of playfulness and utility in your website design.
Expected Release Date For WordPress 5.9
So when is WordPress 5.9 coming out? According to the tentative timeline, we may get the latest new WordPress update on December 14, 2021.
Stay Tuned For The Latest WordPress Update
As mentioned before, these are just the initial features and proposed roadmap for WordPress 5.9. Of course, we will only know which of these features will make it to the final cut later.
Until then, there will be plenty of time to get your early sneak peek at WordPress 5.9 when the Beta versions are released in November, so make sure to subscribe to our blog for the latest news and updates about WordPress 5.9.