WPDeveloper is headquartered in Bangladesh, which is the home of supremely delicious pithas. Bengali Pithas, which are somewhat similar to pancakes or fritters, are an inseparable part of the Bangladeshi culture and comes in many different shapes, each with unique, mouthwatering flavors. For the past three consecutive years, WPDeveloper is celebrating Pitha Utshob, an in-house pitha festival, to appreciate and indulge in the wholesomeness of delicious, traditional Bangladeshi Pithas!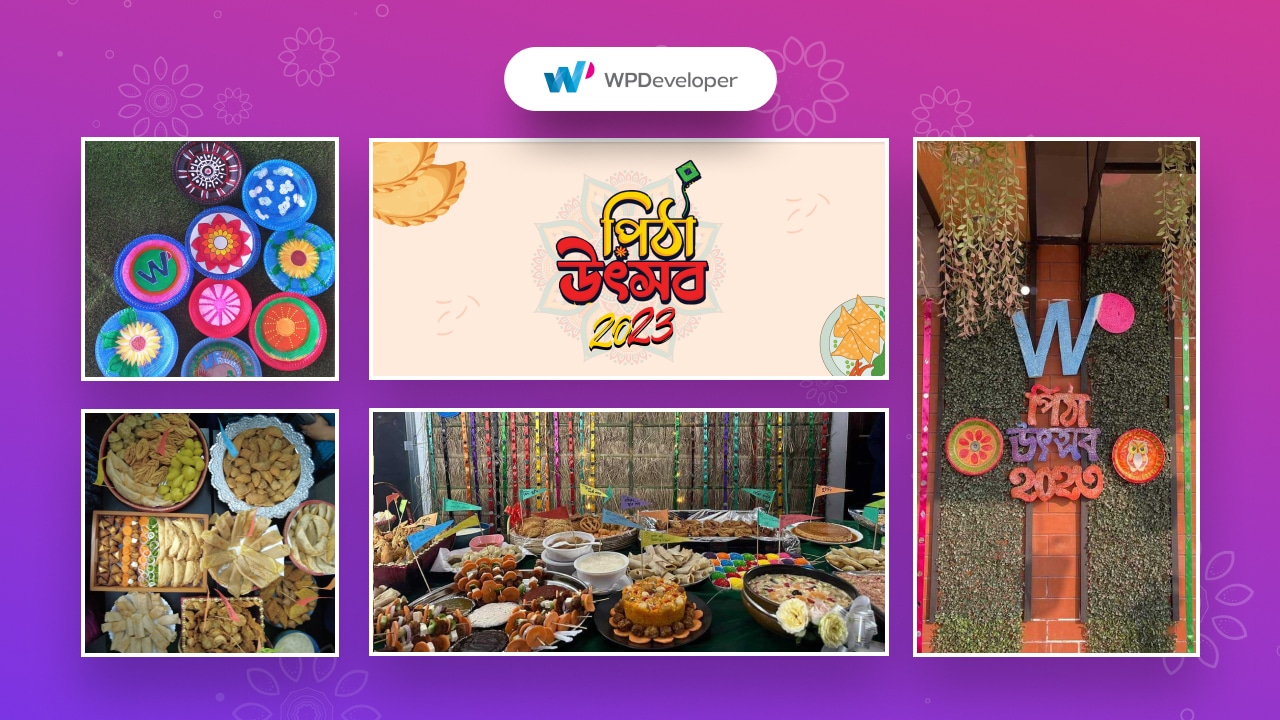 Like the seasonal versatility of Bangladesh, Bangladeshi food never fails to amaze people with its versatility of colors and flavors. And winter in Bangladesh is famous for its warm traditional delicacies like 'Pithas'. This year, for the third time, WPDeveloper celebrated Pitha Utshob, and we want this beautiful experience to last with us in the coming years as well.
🍯 Winter Pithas Of Bangladesh: A Symphony Of Flavors
Sweet or savory, deep fried or steamed, there are a thousand different recipes for making Bengali pithas, each of them unique and delicious in their own right. Traditionally made during the cold winter season, festivals dedicated to this much beloved treat are held locally all over Bangladesh, and are called pitha mela or pitha utshob.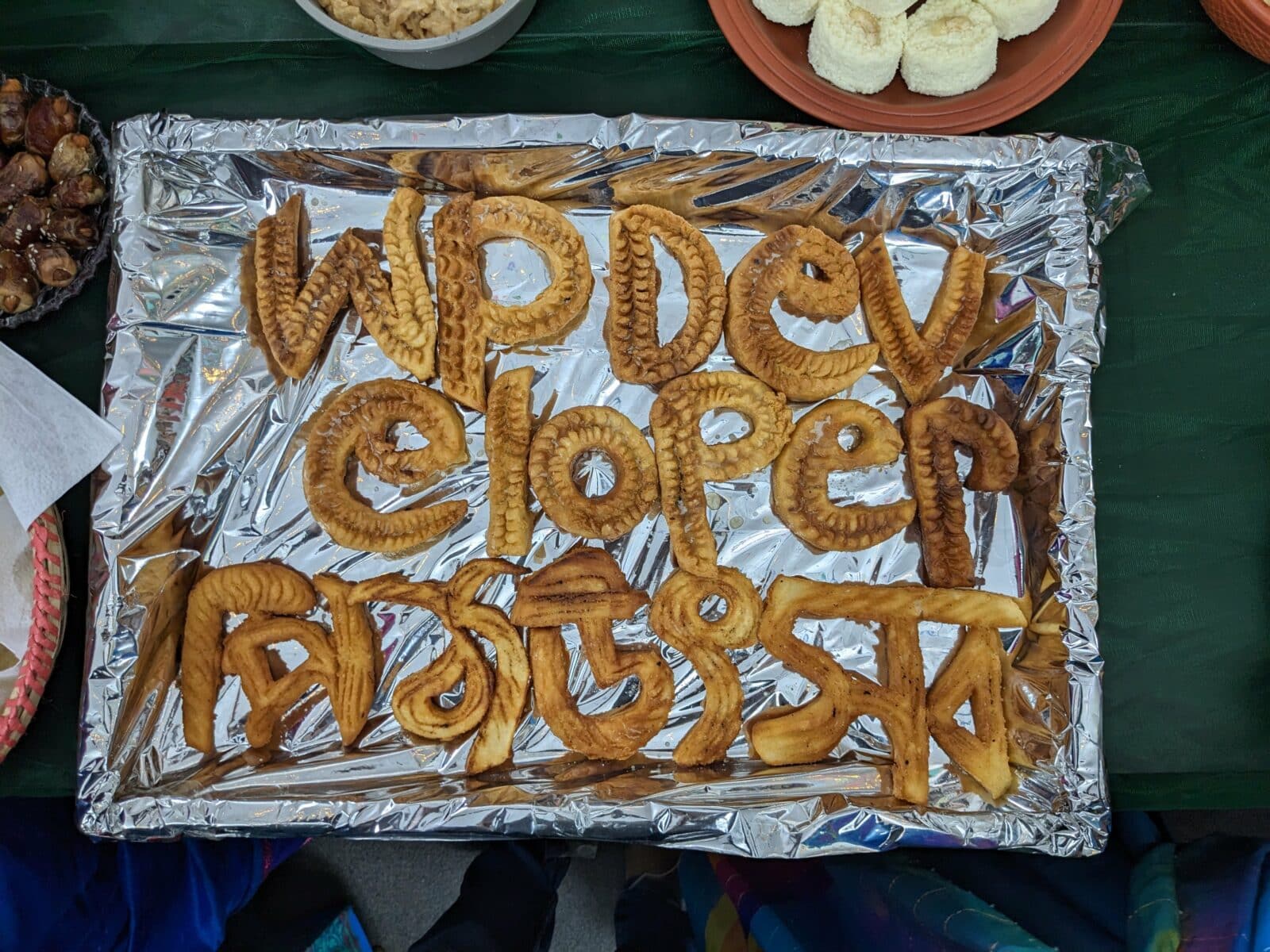 Whether you are a spice lover or possess a sweet tooth, from steamed to fried, crispy to juicy, there is something for you. One of the most popular pitha in Bangladesh is Bhapa Pitha, a type of steamed ricecake made with freshly ground riceflour, molasses and topped with strips of coconut. During the autumn and winter seasons, Bhapa Pitha can be found on every street corner in Dhaka city.
Another delicious pitha in Bangladesh is Patishapta Pitha. These are thin sheets of crepes folded and stuffed with a filling of coconut and cream, or sweet rice pudding.
While these are some of the most popular and beloved pithas, there are tons of more different types of pithas that are made in every Bengali household. And that is where the idea of the in-house pitha utshob at WPDeveloper came; we wanted to bring in the joy of sharing delicious warm pithas during the cold winter season in our headquarters, and for the past the three winters, we have been keeping the tradition alive by getting the full team on board with the preparations!
Pitha Utshob At WPDeveloper: Bringing Joy With Traditional Pithas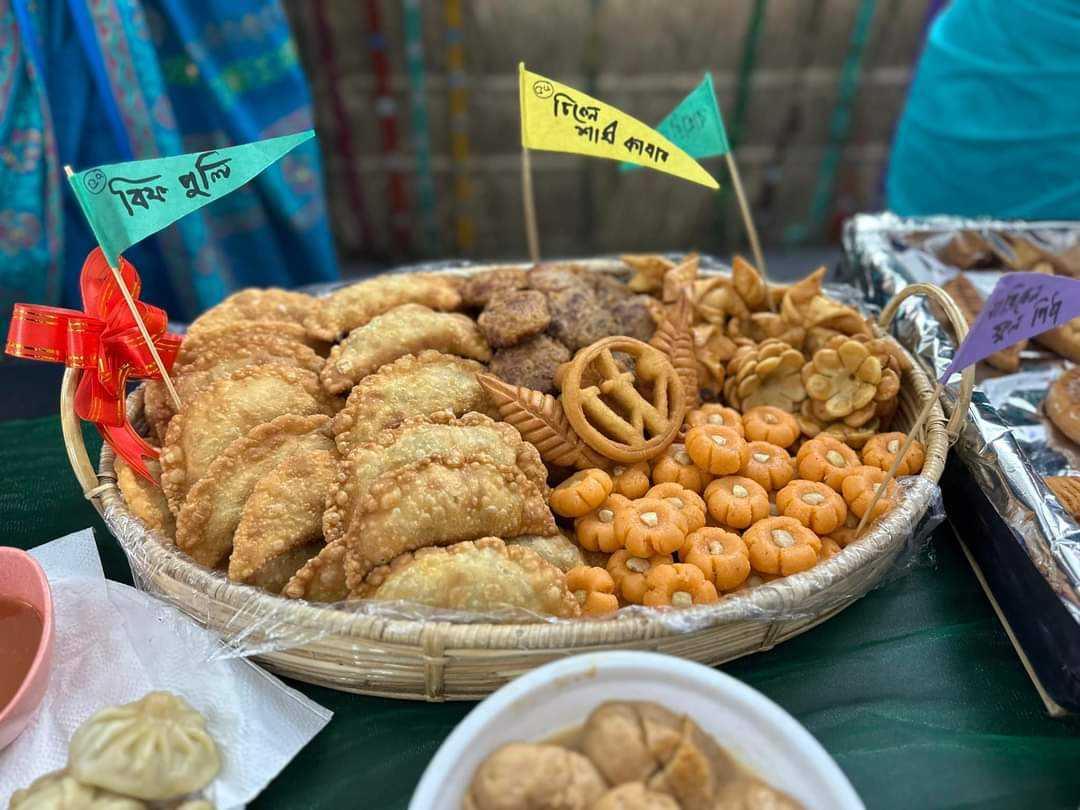 WPDeveloper never wants to miss any chance to celebrate and Pitha Utshob is just a part of it. Our team leads are always at the forefront of planning and celebrating Pitha Fest with utmost enthusiasm. With support and appreciation from our leaders and everyone around, WPDeveloper has been successfully pulling off Pitha Utshob for the past two years.
Everyone at WPDeveloper waits excitedly for the Pitha Utshob all year round. Bringing special homemade pithas of special localities of Bangladesh, relishing them together, and having pleasant family moments, everything makes this event so special. Pitha Utshob is just like a winter refreshment for all the members of team WPDeveloper.
Celebrating Pitha Utshob at WPDeveloper made us discover all our talented in-house artists and cooks as well who can pull off any event successfully.
WPDeveloper Celebrates Pitha Utshob 3.0 To The Fullest Joy
After successfully celebrating Pitha Utshob for the last 2 years, we arranged it for the third time on 12th January 2023 at WPDeveloper. Around 200 people attended the event including all our team members and their families. Let's have a look below to see how we arranged this successful event in just a few days. Here's goes a glimpse of Pitha Utshob 2023 at WPDeveloper.
🥳 Joyful Preparations With Colors Around
Pitha Utshob is one of our exciting in-house events and we organized it all on our own. It is really exciting to plan things for the amazing day. From planning the event to generating innovative ideas on decorations, segments, etc., we did everything on our own. And, once we all came to the same phase and were happy with our plans, we started executing them by shopping.
Buying colorful party elements and funky stationeries for the day was very exciting. We were so indulged in the preparations that we couldn't stop ourselves from voluntary preparations. Throughout the whole week before the program, we stayed at the office for more than 2 to 3 hours than usual, crafted decorative things, painted on plates with creative designs, and made some beautifully crafted items at our own.
🎊Creative And Innovative Decorations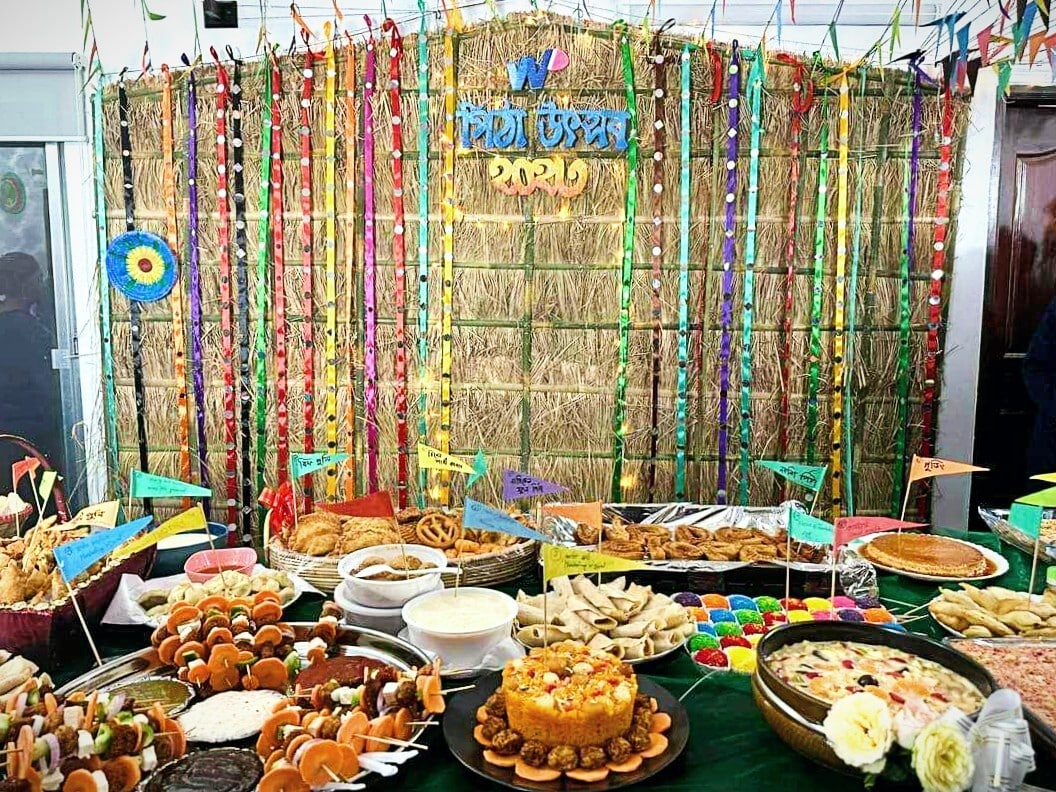 Last year, we decorated our center area where pithas were displayed with lots of colorful handmade lanterns that lit up the entire environment and create a chromatic look. This time, we came with paper pennant bunting strings that covered the ceiling to bring the festive look. We also furnished our whole party area with colorful ribbons with mirrors that reflected the light beautifully and created a charming outlook.
The most exclusive plastic plates painted by our creative team members attracted everyone who attended the festival. The center background was thatched to portray the authentic rural vibe of Bangladesh from where pithas originated.
🥟 Heart-Warming Sweet & Savory Delicacies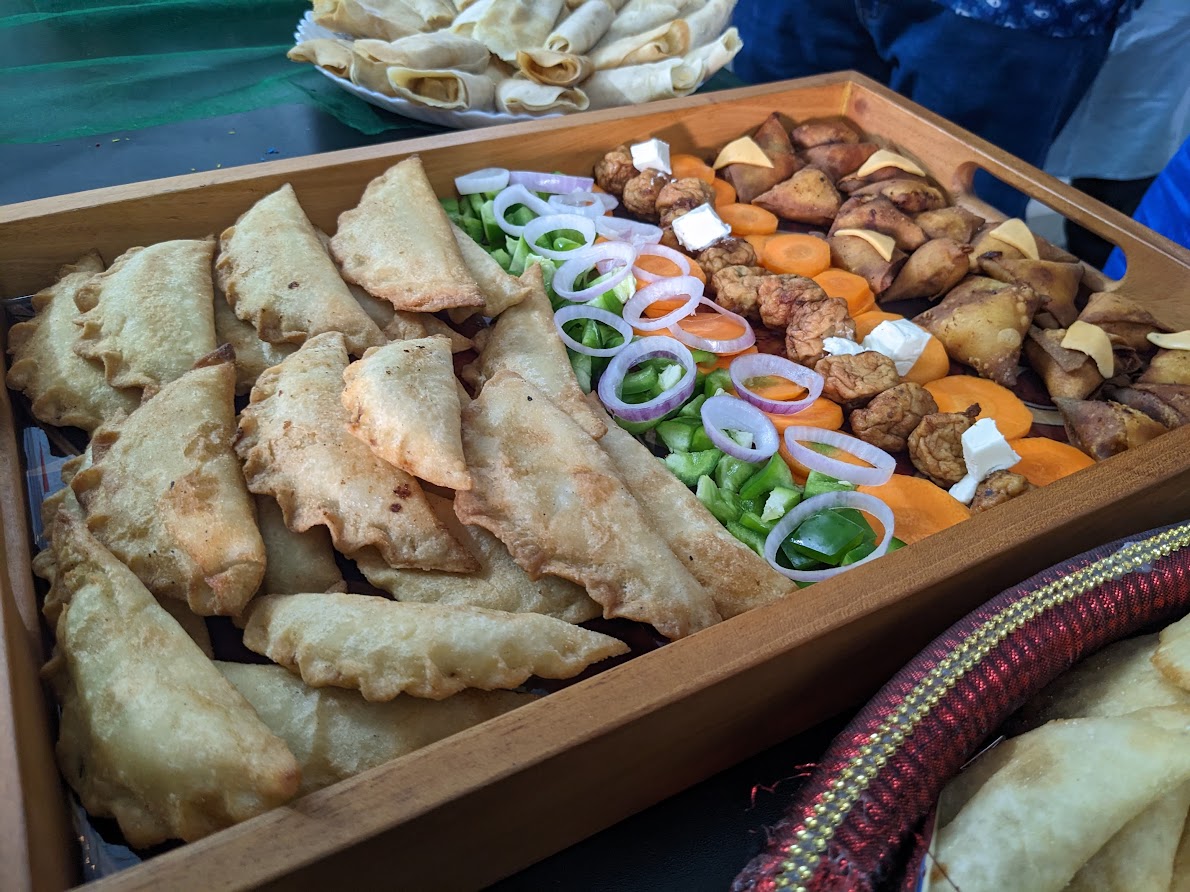 On that day, each team came with their best pithas and presented them with beautiful decorations. No one left the chance to be creative and brought delicious pithas with fantastic presentations for the program.
At the festival, everyone enjoyed 70+ types of pithas. These pithas were of various tastes, some of those were sweet whereas some were spicy. They all had different shapes and making styles. There were steamed, baked, and fried pithas which were really mouthwatering.
🎁 Prize For Best Taste And Best Decoration
As our team members brought these appetizing foods, we planned for finding the best one to encourage the pitha makers! According to the plan, we arranged a voting corner where every attendee voted for two categories, one for the best taste and the other prize for the best decoration.
We arranged two gifts for the two winners and announced their names after counting the votes. They seemed really happy with their gifts and everyone else enjoyed the whole ceremony with lots of joy!
🎵 Music Jamming To Cheer Up The Souls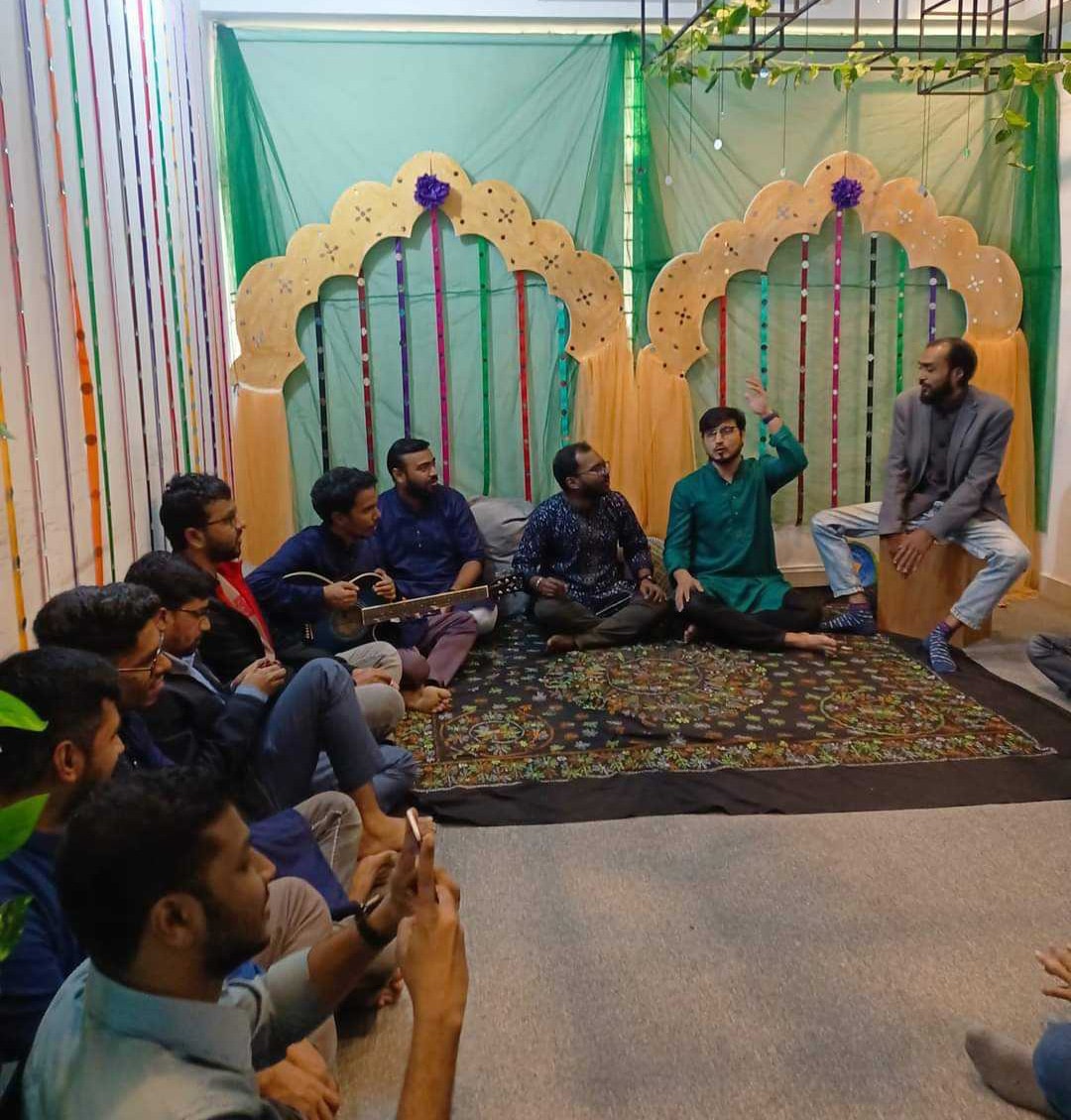 How can we forget to share about our 'Jolsha Ghor'? 🥁 Well, we decorated a special musical corner where our talented teammates sang popular folk songs of our country. This is the 2nd most attractive arrangement of the Pitha festival. (As the 1st one is eating pitha of course!)

This time, many of our guests also participated in singing at the festival which was really exciting. Also, after having tasty and delicious fries and cakes, becoming the audience of this musical evening was really enjoyable.
🎨 Kids' Fun-Loaded Drawing Session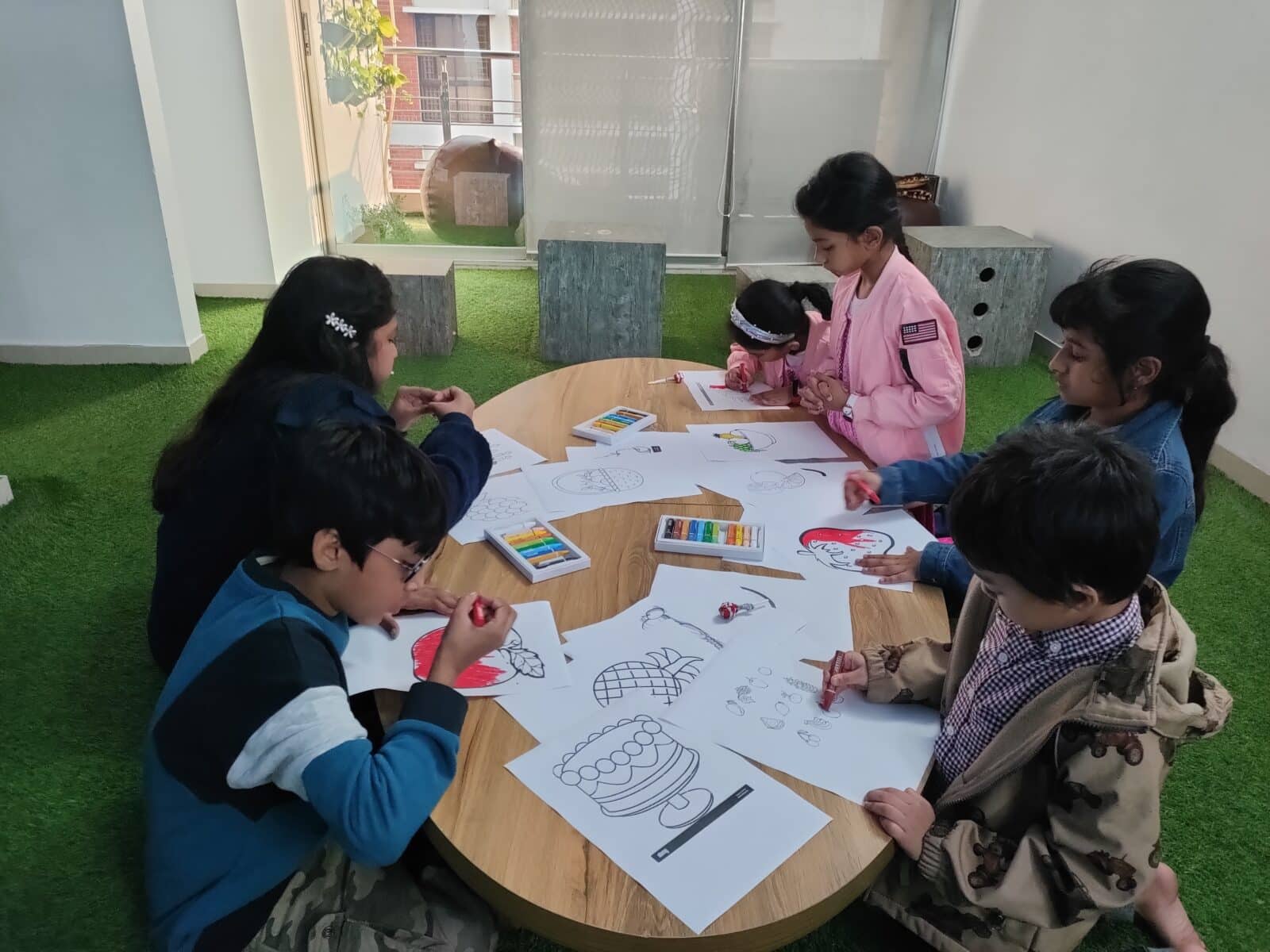 We didn't forget about the little guests who enjoyed the festival a lot. We arranged a drawing competition for the children where they get a chance to show their painting skills! And guess what! Every kid enjoyed the segment and started painting with papers and colors full of energy.
We felt so blessed to have so many children in our workplace who cheered us up with their colorful drawings. We were amused by their participation and couldn't decide whose creation was the best. So we decided to share presents with every kid who attended the program. Besides that, we were also happy to see the joy of getting gifts on their faces. They are really precious. ❤️
Throwback To The Previous Pitha Utshob Held At WPDeveloper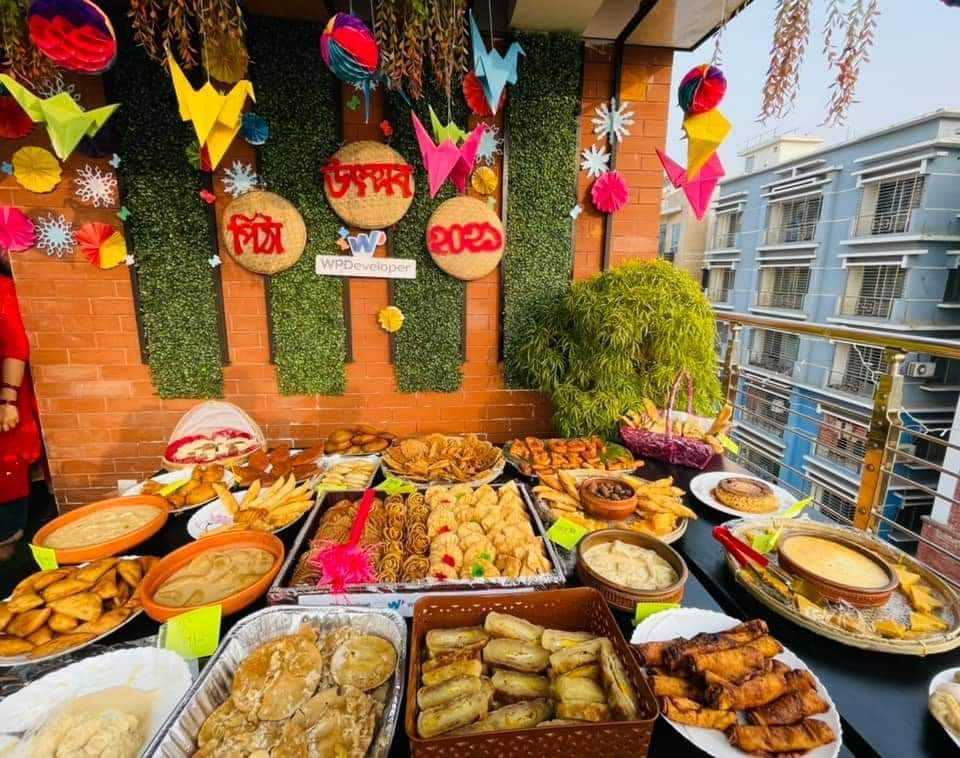 Here, at WPDeveloper, we believe in connecting people together and bringing joy to everyone. Bangladeshi Pithas are a must-have and we do not want to miss the moment of celebration with a variety of winter delicacies. And so, we have been celebrating Pitha Utshob for the past couple of years. 
Celebrating Pitha Utshob has been an amazing experience at WPDeveloper. From taking preparations to successfully pulling off the event, every moment of previous Pitha Utshob at WPDeveloper became memorable for all the teammates.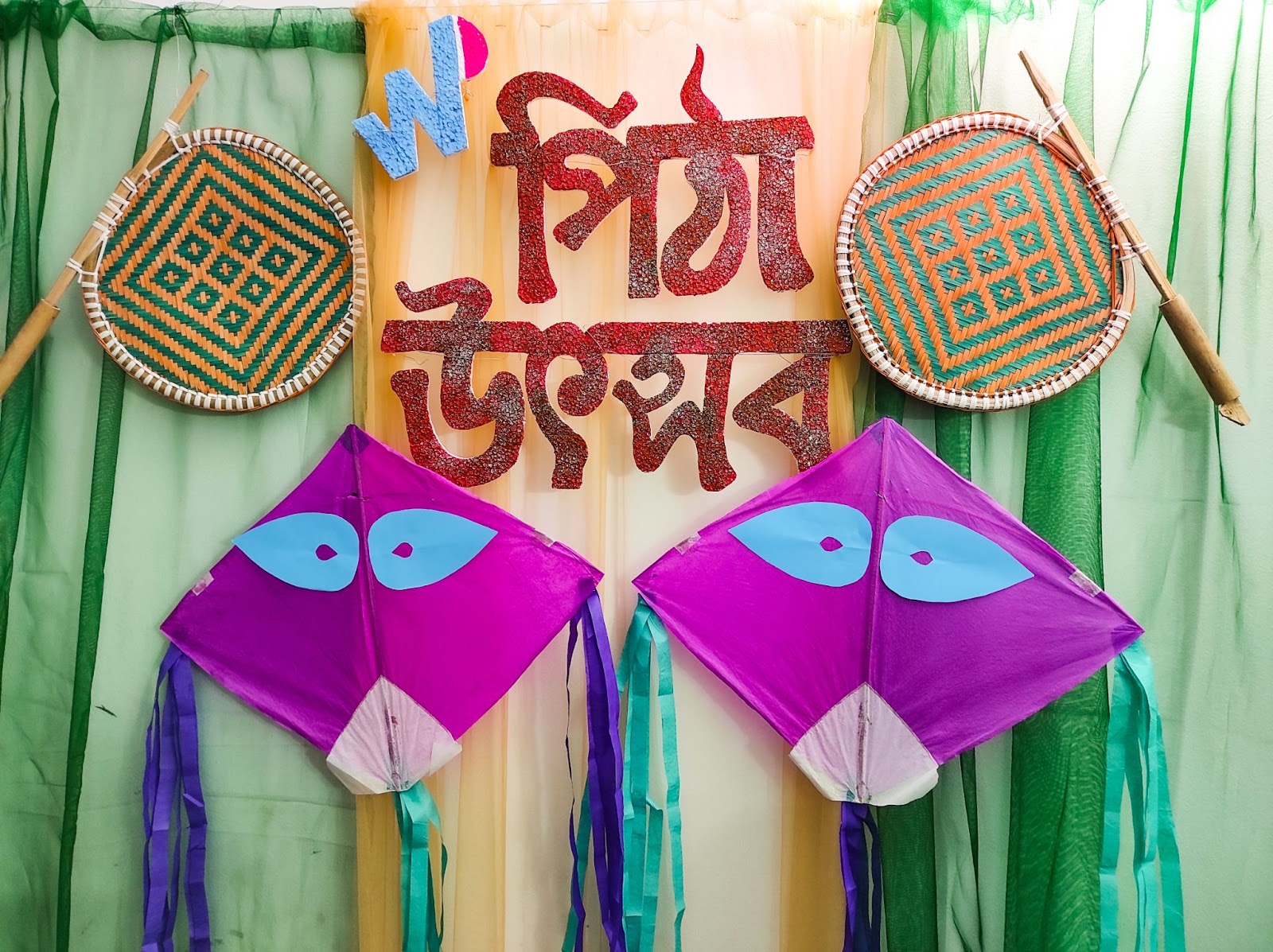 Tons of delicious sweet and savory dishes were there along with the traditional pithas. Team members bought some of the unique pithas and their local delicacies. All our team members with their enthusiastic participation make this event more joyous.
Everyone from team WPDeveloper was invited with their family members. They came, enjoyed the food, and spent some quality time in a festive mood. Everyone was bewildered by the diversity of pithas with beautiful decorations. Most of the Pithas were made by our team members or someone from their family.
The amount of Pithas bought by our team members was so huge that it was overwhelming for everyone to choose what to have. Each year with heightened enthusiasm, fun, and participation, Pitha Utshob started getting better and better.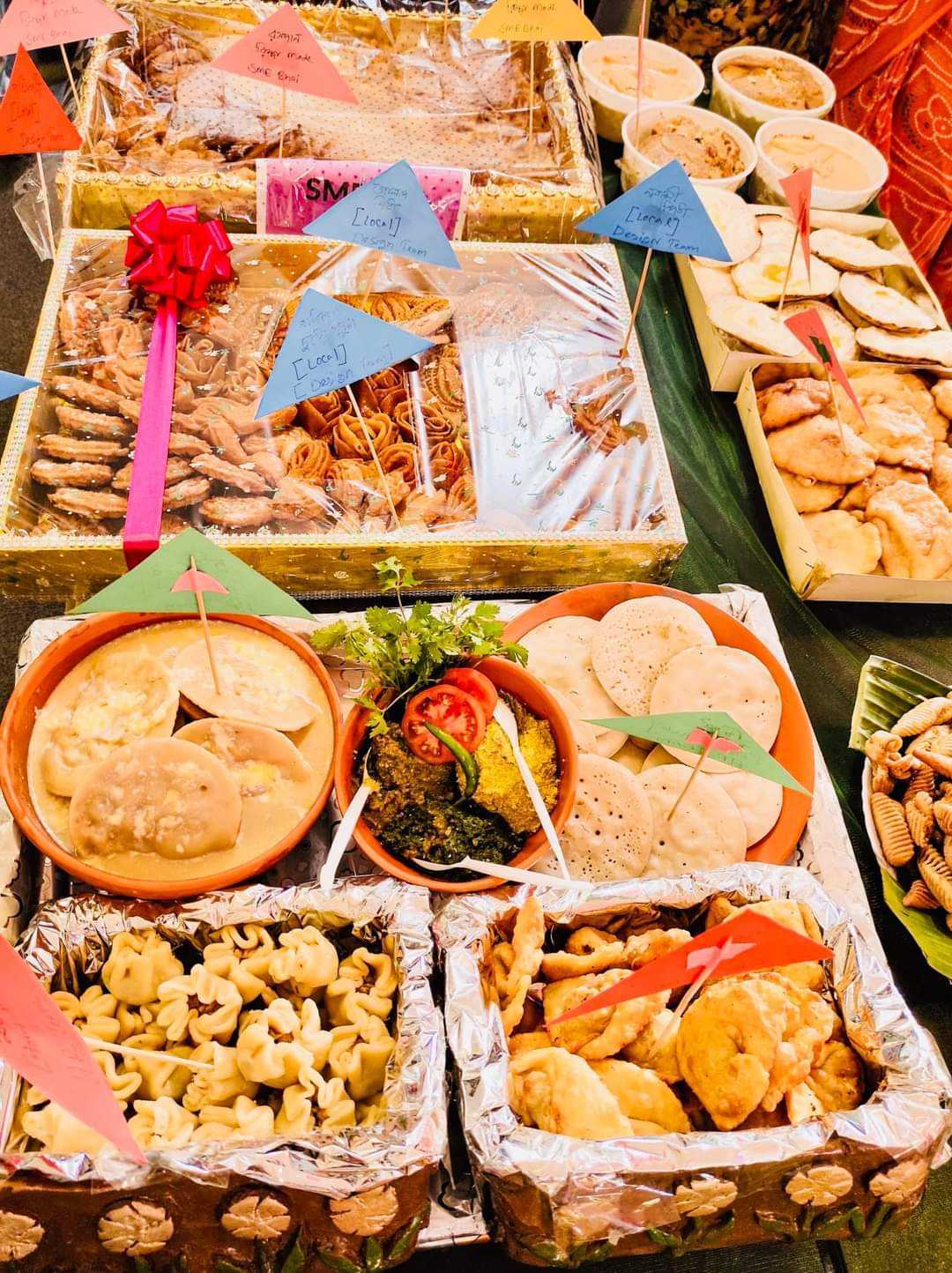 Keeping in line with the flow of the past two years, WPDeveloper arranged Pitha Utshob 2023, and this year, Pitha Utshob 3.0 surpassed all the enjoyment of previous years. This was an incredible experience like before. It's all about having the winter delicacies together, enjoying the moment, and keeping the Bangladeshi food tradition alive. And in this way, we bring people together, know each other more, and grow bigger as a team.
Did this blog make you curious about Pitha Utshob at WPDeveloper? You can also be part of this immense joy and festivities by joining our team. Do not forget to keep your eye on our job openings and you are wholeheartedly welcome to be a part of our Facebook Community. Also, subscribe to our blogs to find out more about all our exciting events.