We're only three months into 2023, and the year has already been off to a very exciting start for team WPDeveloper. This February, we flew to the exotic Land Of Smiles, Thailand, with 75+ team members – a dream come true event. Take a look at WPDeveloper Team Retreat 4.0, where we went to Hua Hin for a relaxing tour after experiencing the first-ever mega flagship WordCamp Asia!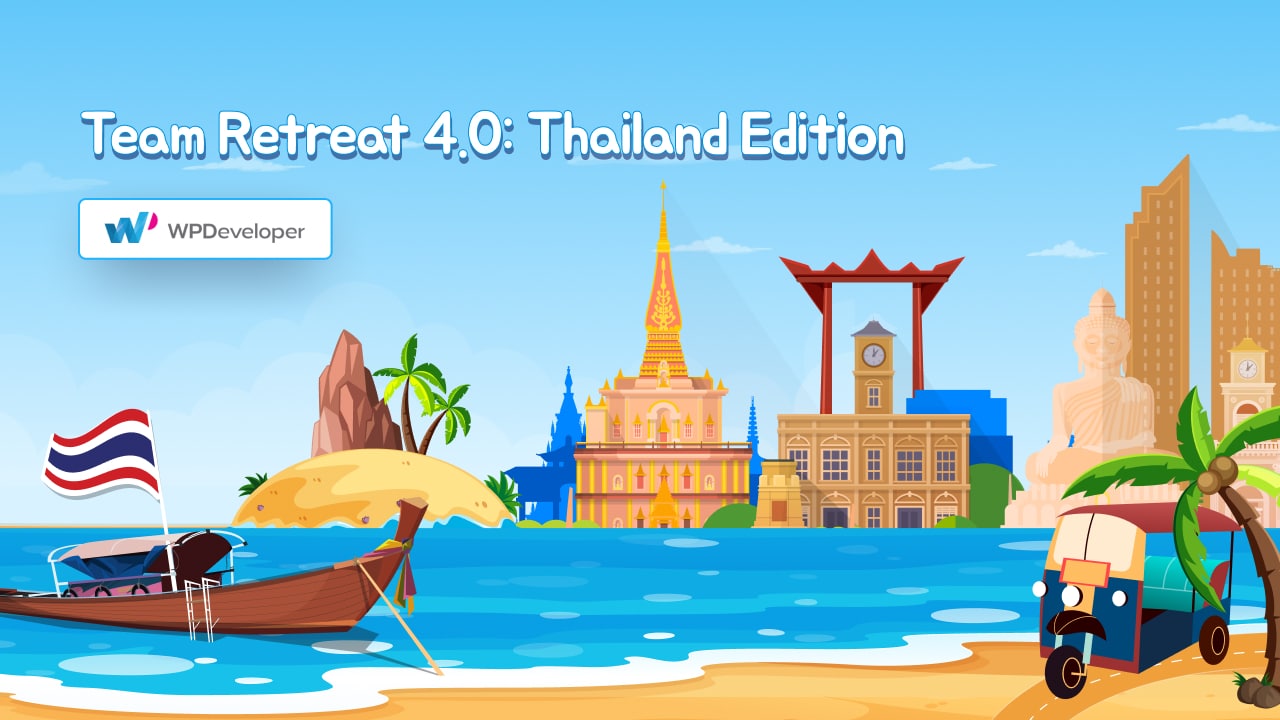 🇹🇭 Beyond The Borders Again: WPDeveloper Travels To Thailand!
Annual retreats have always been one of the many perks of being a part of team WPDeveloper. This has always been the vision of our team's founder, M Asif Rahman, and CEO, Nazmul Islam Rupak – to gift team members with exceptional tours nationally and internationally annually. And this time, in 2023, we decided to take 75+ team members on a relaxing retreat to Thailand, the Land Of Smiles.
🎪 Attending The First-Ever Flagship WordCamp Asia
The trip to Thailand started with the entire team attending WordCamp Asia 2023, the first-ever regional flagship conference of the WordPress community in Asia. We are pleased to announce that we were not only an Ashok sponsor for this mega event, and several members of our team were part of the WCAsia organizing and volunteering teams as well! Read more about our unforgettable experience.
🚌 Road Trip With The Team To A Relaxing Seaside Town, Hua Hin
After wrapping up WordCamp Asia 2023, it was time for us to embark on our official retreat toward Hua Hin. This seaside town of Thailand is known for its peaceful sandy beaches, unique culture, night market, and high-end resorts. For the official retreat, we have chosen Hua Hin to embrace the beauty of nature with a peaceful mind.
This time, we road-tripped to this beautiful town of rich heritage and serene beaches by bus. And as we moved along the paved roads of the Thai countryside, we were amazed by the breathtaking scenes on both sides of the road. The journey lasted about 3 hours, and we finally arrived at Hua Hin Grand Hotel & Resort, our stunning abode – just a few minutes from the white-sand beach. Check out our team retreat video below!
🏝️ Soaking In The Sun By The Stunning Tropical Beaches
The small town of Hua Hin is surrounded by a few local beaches, giving tourists several options for where to catch some rays and go swimming in the Gulf of Thailand. And our team took turns visiting them and enjoying the picturesque beauty.
⛱️ The Alluring Beauty Of Hua Hin Beach
Hua Hin beach is a stunning destination that mesmerizes you with every sight and splash of waves. With its pristine white sand and crystal-clear water, the beach offers visitors a breathtaking view of the Gulf of Thailand.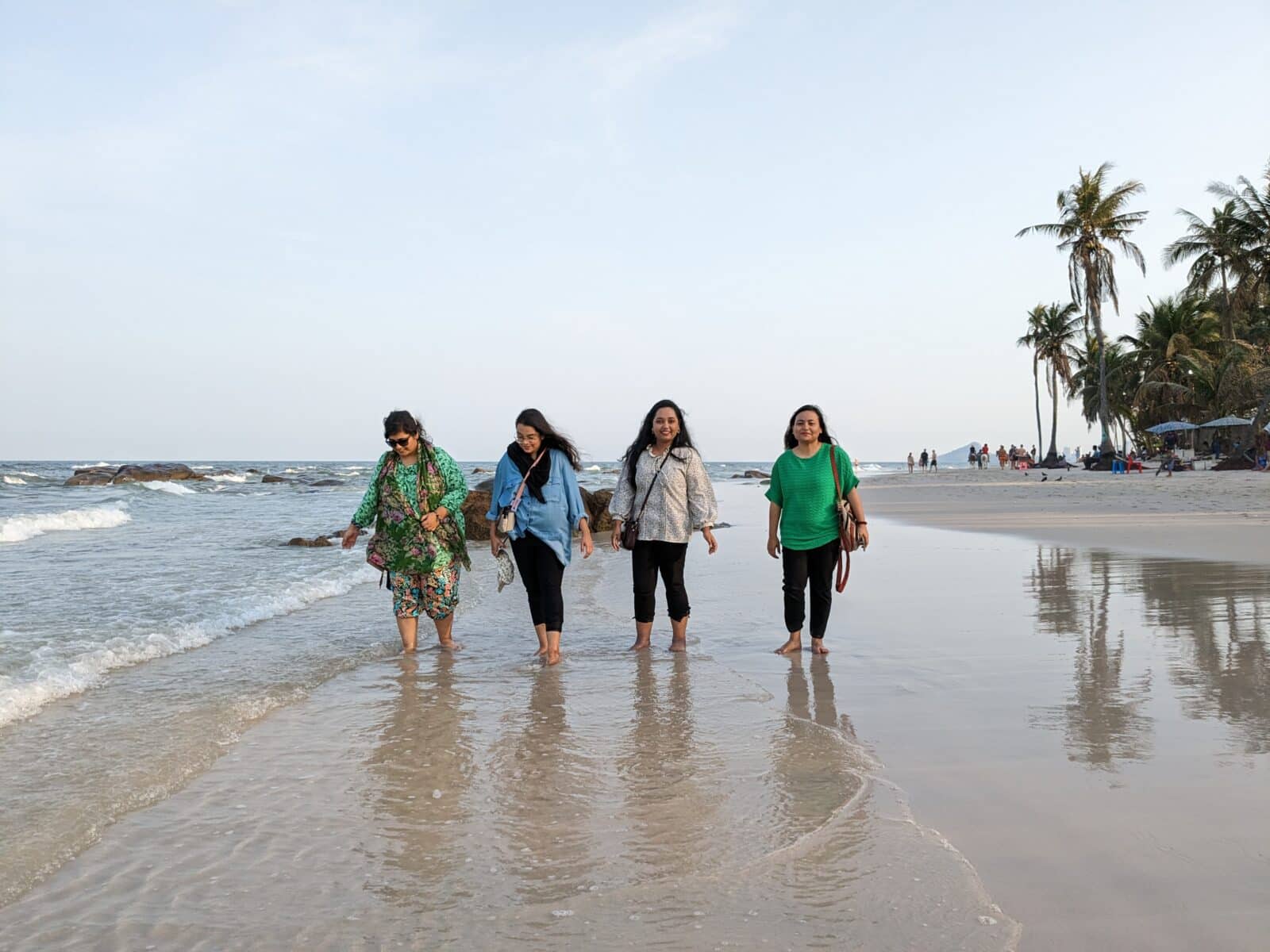 As the sun sets by this shore, the sky takes on an array of colors, creating a stunning backdrop for an evening walk along the beach. The atmosphere gets peaceful and relaxing, making it the perfect place to unwind and soak in the natural beauty of Thailand. Hua Hin beach is a must-visit destination for those seeking a tranquil beach experience with an unforgettable sunset view.
And the first thing our teammates did after reaching Hua Hin was rush to the beach – some enjoying a deep in the sea, others exploring the natural scenic beauty of the coastline. Everyone needed the feeling of relaxation and peace after the three busy days of WordCamp.
🏖️ The Surprising Peace At Sai Noi Beach
Sai Noi Beach is where the mountains collide with the sea. This small, away-from-the-crowd beach was worth exploring, with an astonishing view and a peaceful atmosphere. Several members of our team went there and spent time making countless memories.
This beach is one of the cleanest beaches you will find on earth. The blue-green water takes our hearts out, and some of our teammates couldn't help but swim in the crystal clear waters. The mermaid sculpture beside the beach added extra attraction to this beautiful place.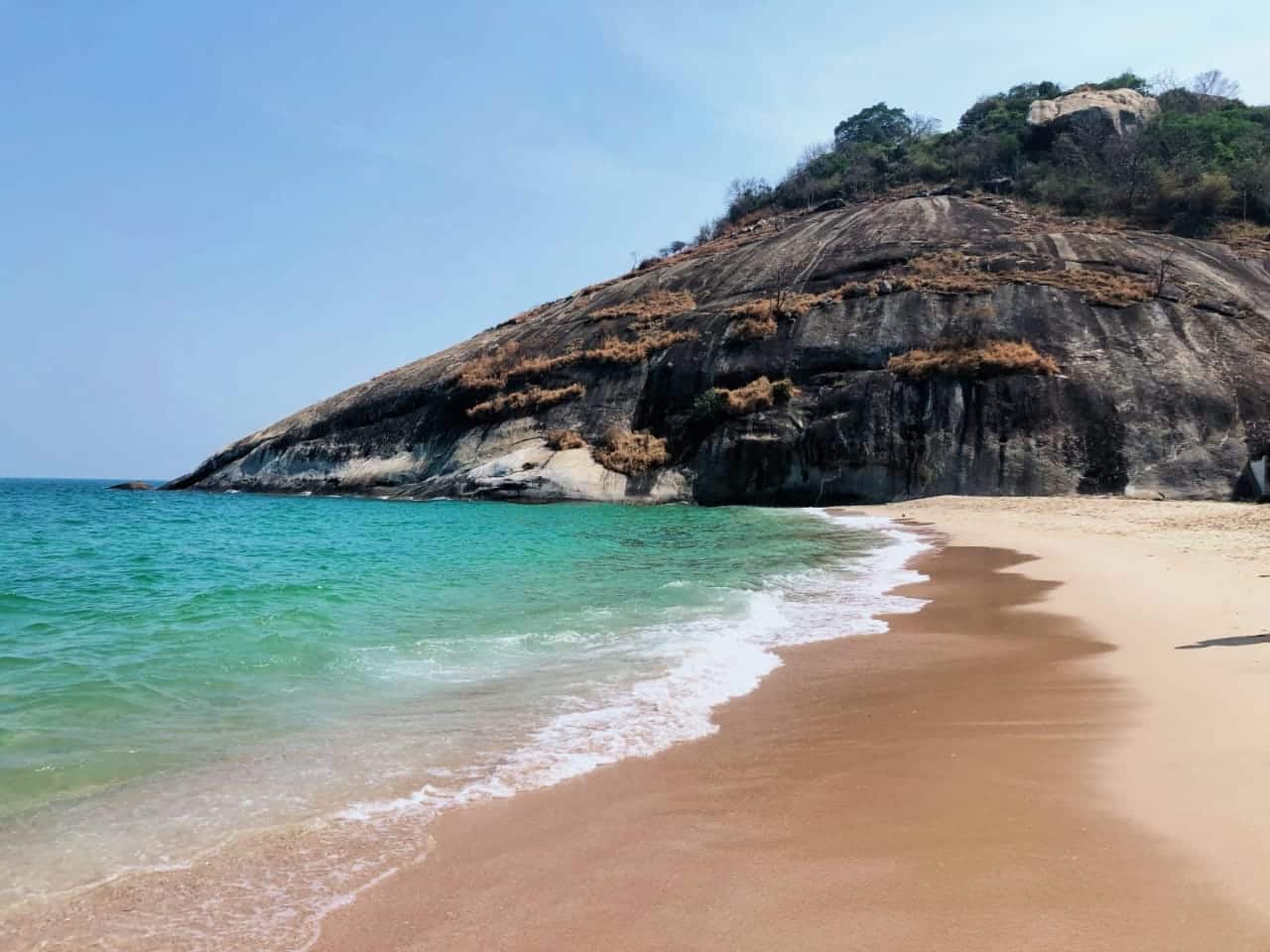 What's more, this beach has a secret staircase to climb the nearby rocky mountain and explore the beauty of the sea from the top of it. Once you climb the staircases, you will feel like you are in the middle of a jungle, and the beach is a secret heavenly place. Even though it was a bit dangerous to go inside the wilderness, a few brave team members didn't miss the chance to explore the beauty of the bay from the top of the rocks.
🛕 Exploring The Various Magical Attractions Of Hua Hin
Hua Hin might be a beach town, but it offers a range of magical attractions for tourists to explore – there is something for almost everyone. And there was nothing that members of our team left unexplored. Some took a relaxing stroll through the town's beautiful parks and gardens; others explored the historical landmarks.
🌲 Walking Through Pran Buri Forest Park
On our team's second day in Hua Hin, numerous teammates strolled the trail and boardwalk of the Pran Buri Forest Park, located only a short distance from the city center. Renowned for its dense mangroves, winding paths, and exotic birds, the park's major attraction is a kilometer-long boardwalk along the forest's edge. Exploring the tranquil forest floor in search of the breathtaking sights of nature was a worthwhile experience enjoyed by many from our team.
🛕 Understanding The Thai Culture At Wat Huay Mongkol Temple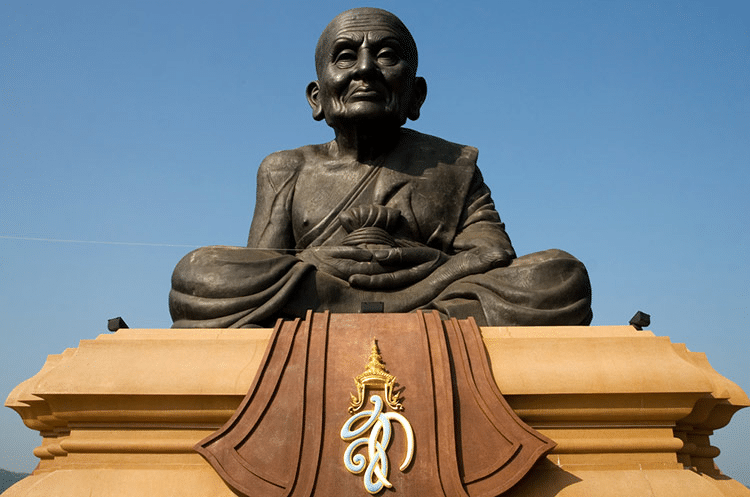 A few members of our team went to the Wat Huay Mongkol temple, which is just 15 kilometers west of Hua Hin. This beautiful temple is known for the big statue of Luang Phor Thuad, one of Thailand's most famous monks. Their journey to top the template was a refreshing one. The whole environment of the temple was so peaceful, and the views were breathtaking.
You can easily spend a few hours there to sit around and be amused by the beauty of the template and its surroundings. This place is also a perfect spot to meet the locals who came here wishing good luck, health, fortune, and happiness. While visiting this template, our teammates learned about the Thai people's religious activities.
🗻 Witnessing The Beauty Of Pala U Waterfall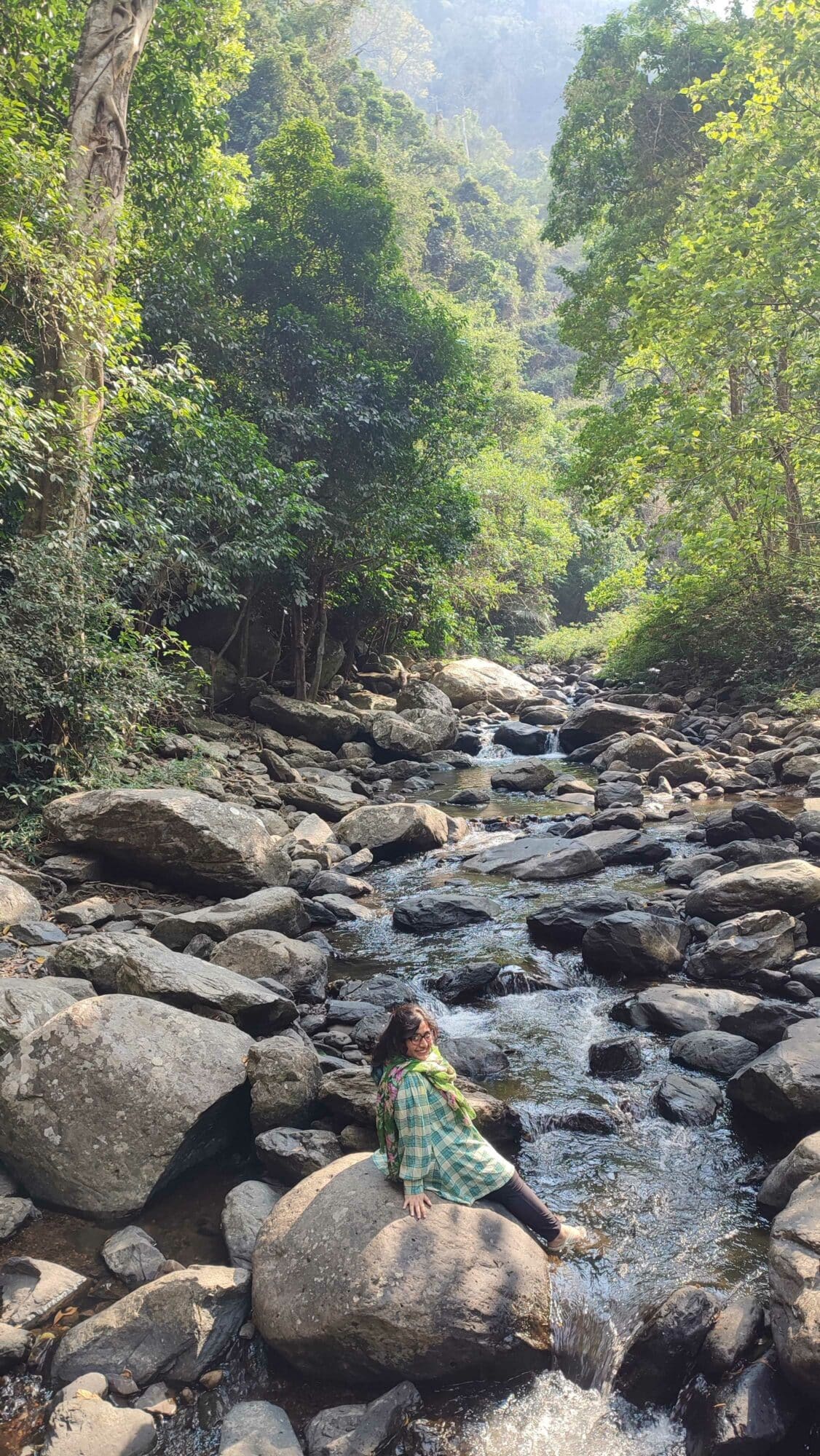 We also decided to explore the stunning, 11-tiered rock waterfall, the Pala U. Nestled in the dense forest of Kaeng Krachan National Park, Thailand's largest natural reserve, just about an hour's drive from Hua Hin.
Filled with numerous uncommon birds, wild monkeys, and magnificent butterflies along the different tiers of the fall, attracting tourists and visitors to the national park throughout the year. And without a doubt, team members who visited were mesmerized by the beauty this waterfall beheld.
🛶 Visiting The Infamous Hua Hin Floating Market
Not only renowned for its natural beauties and historical monuments, but Hua Hin is also popular for its markets; the Floating Market is one to be mentioned. The market is built around a man-made canal, where vendors sell their wares and Thai antiques from small boats. The market is designed to recreate the traditional Thai atmosphere, allowing visitors to enjoy cultural performances and live music.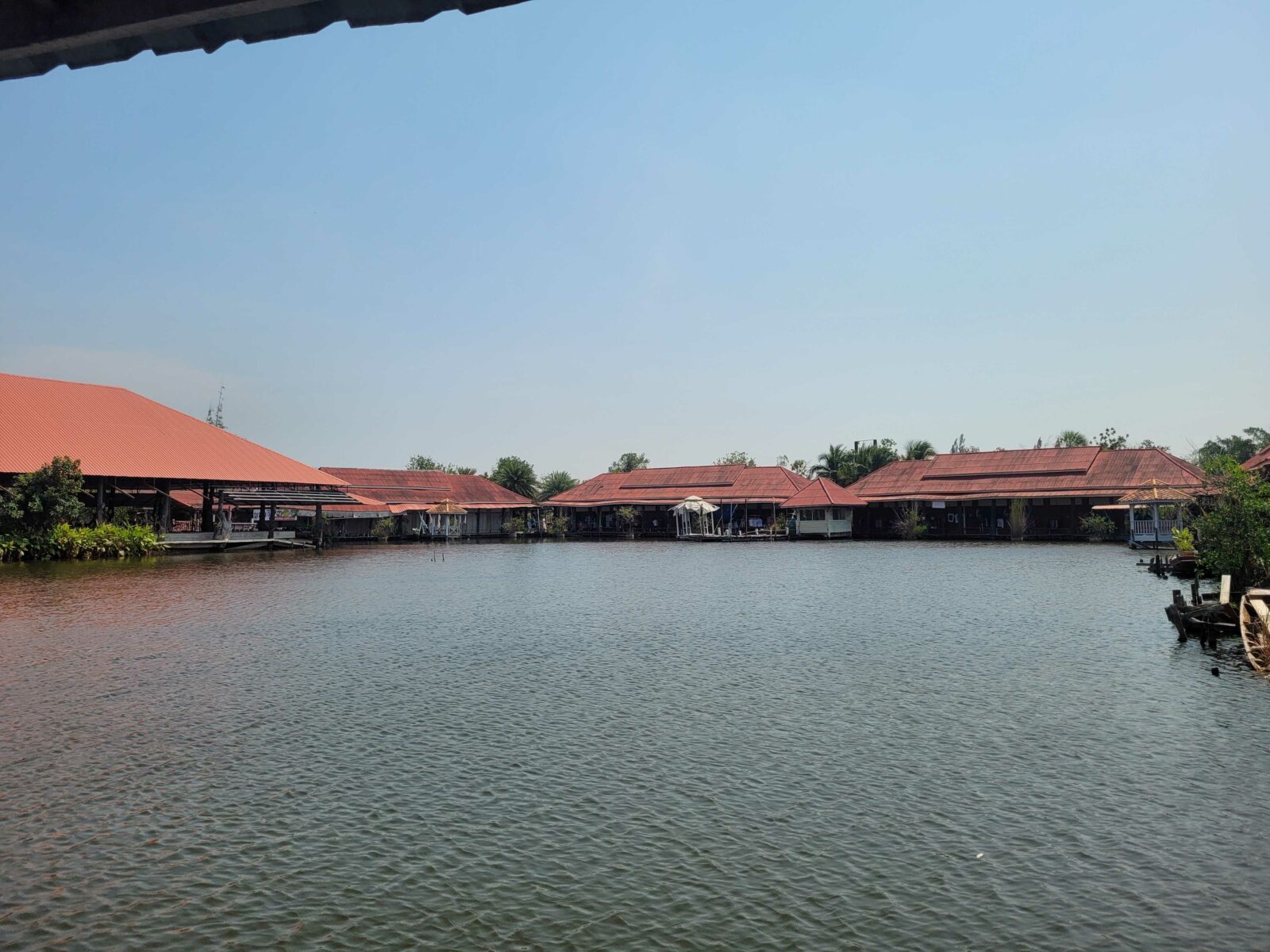 Visitors can enjoy various Thai street food, souvenirs, and handmade crafts as they stroll or ride by boat along the canal. And in addition to shopping and dining, visitors can also take a boat ride along the canal to explore the surrounding area. Overall, exploring the Hua Hin floating market was a fun and unique experience for us of Thai culture and cuisine in a beautiful setting.
🤿 Participating In Fun Activities & Water Sports In Thailand
At team WPDeveloper, we have a team full of adventure-loving people. During the Nepal retreat, almost all teams participated in some of the world's most extreme sports. This time, our brave souls took the chance to participate in fun and extreme activities in Thailand. Now, let's have a glimpse at all the fun activities we did during our Thailand retreat.
🏄 A Brave Attempt At Kitesurfing
Kitesurfing is one of the most extreme water sports around the world. It is a combination of surfing, windsurfing, paragliding, and skateboarding. You will only dare to attempt Kitesurfing if you have a brave heart. Our team is full of extreme adventure lovers, and 8 of us were interested in participating in Kitesurfing.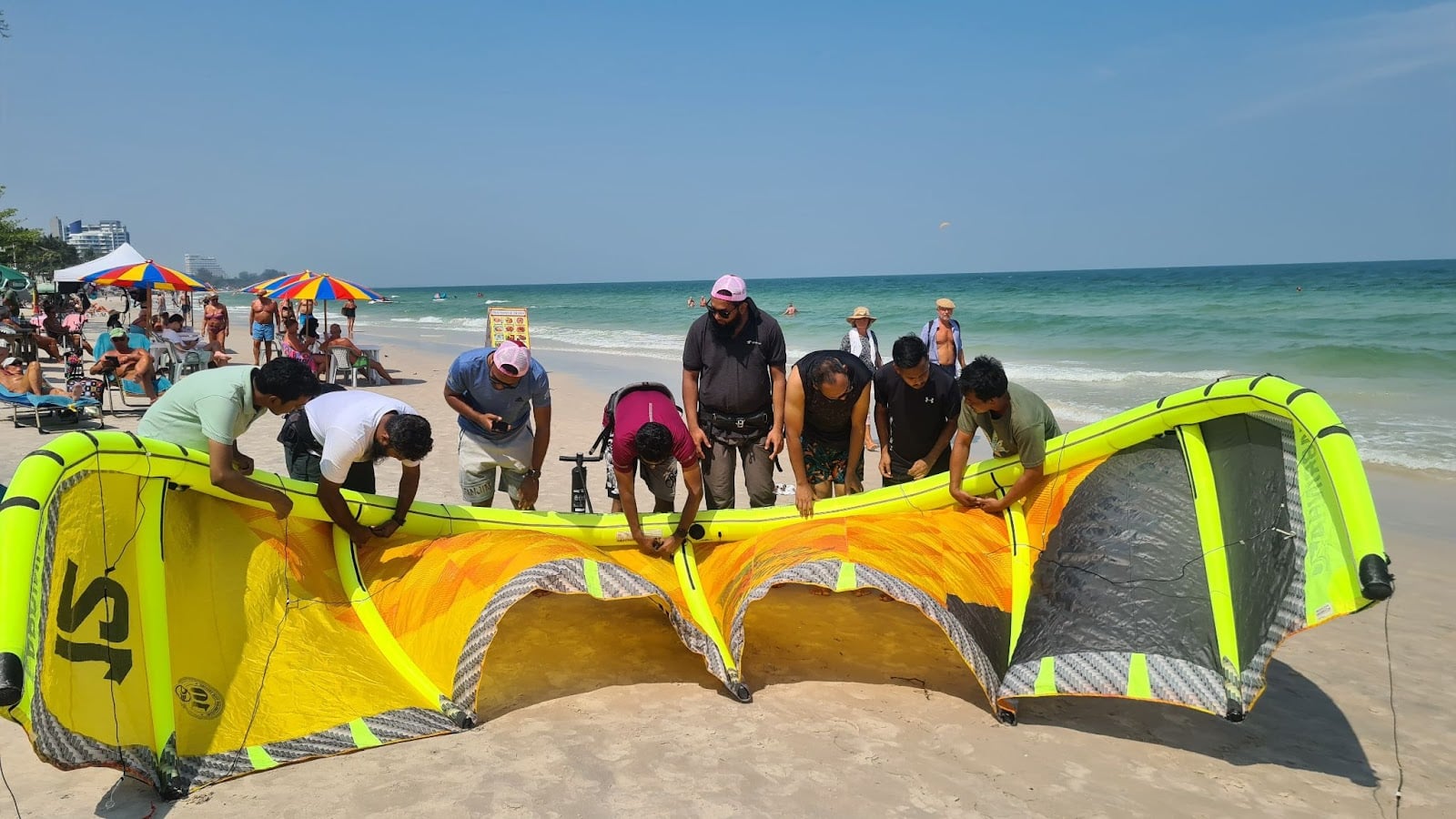 As planned, our team went to the surfing spot and started training for Kitesurfing. After finishing 2 hours of the first training session, they learned that you must be a professional surfer to control the kite against the wind to surf on the water. Therefore, you need at least three days of training to perform this extreme water activity. So, even though our team members were highly interested in kitesurfing along the gulf of Thailand, due to unfavorable circumstances, the team couldn't go ahead with the activity.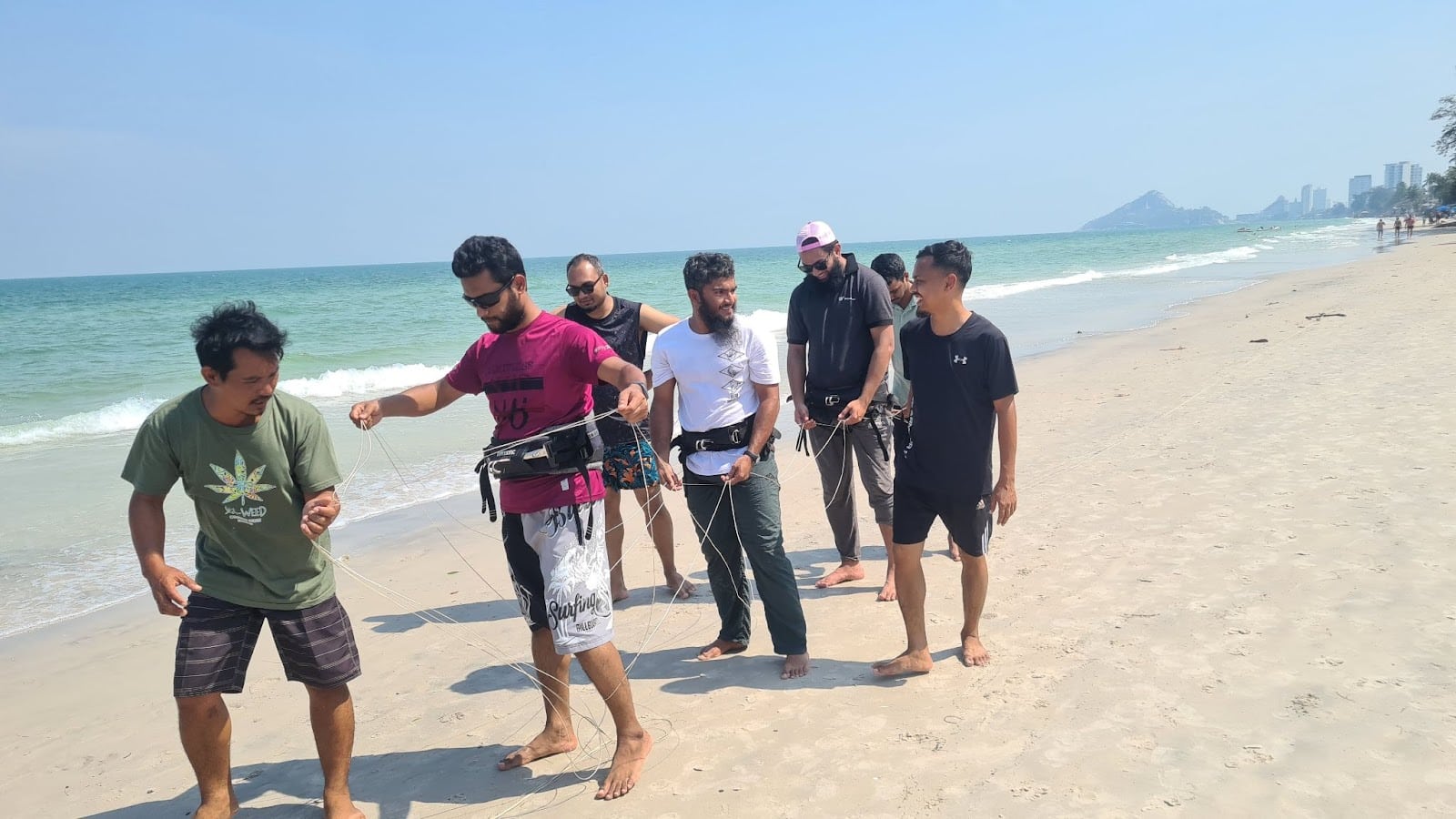 Later, one of the members of this group, Fencer Md Monir Hossain, who is also a professional fencer with several national and international experiences under his belt, explained that knowing when and where to stop is important if you want to take part in adventurous activities. Everyone who participated had a wonderful time learning about the great sport and hopes to perform the water sport fully someday.
🤿 A Look Into Life Underwater While Snorkeling
During our retreat, some of our team members went snorkeling at Phi Phi Beach, and they swear it was an experience of a lifetime to explore the colorful marine life of the Andaman Sea. The crystal-clear waters of the beach make it a perfect location for snorkeling, and several tour operators offer snorkeling trips to nearby reefs and islands. The agencies provided all necessary snorkeling equipment and were led by experienced guides who provided safety instructions and information about marine life.
Those who dived in had the excellent opportunity to watch various tropical fish, vibrant coral reefs, and even sea turtles. Snorkeling in Phi Phi Beach was an exciting adventure that led many of us to glimpse into the stunning underwater world of Thailand and surely is a must-do activity for anyone visiting the region.
🤿 Deep Sea Scuba Diving In Phi Phi Don
Scuba diving in Phi Phi is another incredible experience that offers divers a glimpse into the fascinating and diverse underwater world of Thailand. Located in the Andaman Sea, the Phi Phi Islands are a popular destination for scuba divers, with crystal clear waters, stunning coral reefs, and abundant marine life. And we are thrilled to announce that a few brave hearts of our team have taken a scuba diving 1-day lesson. Some have dived to depths of around 11 meters, even though it was their first-ever experience!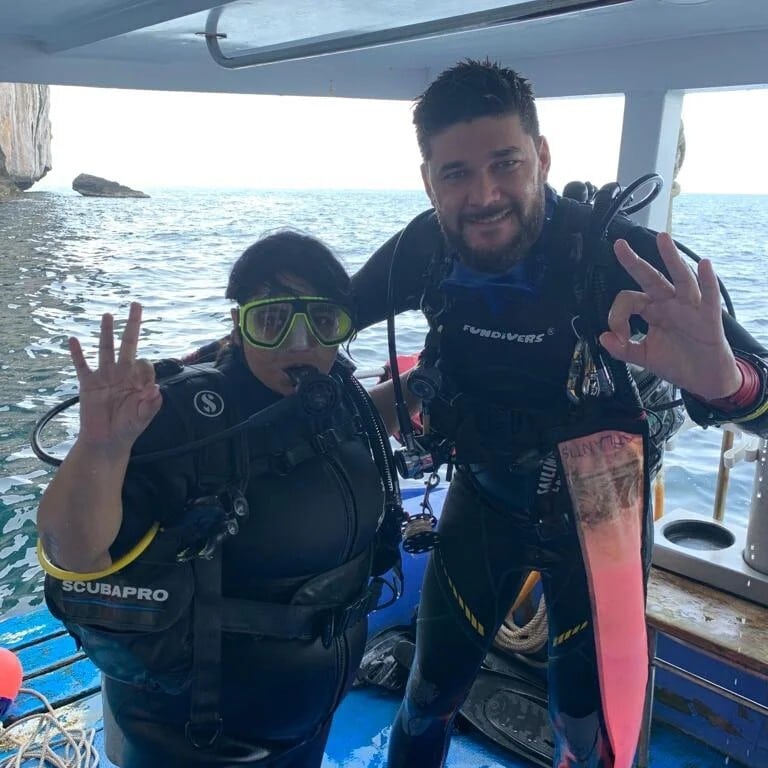 Diving in the deep sea allows divers to explore deeper depths and encounter unique species such as whale sharks, manta rays, and giant groupers. With a variety of dive sites to choose from, including walls, caves, and wrecks, scuba diving in Phi Phi is a must-do for any diving enthusiast looking for a thrilling and unforgettable adventure.
🪂 A Lifelong Goal Achieved: Skydiving
Thailand is not just known for its marine beauty and sports. There are plenty of options for exhilarating jumps, hiking, trekking, and more with professional instructors and state-of-the-art equipment.
But would you have dared to do a free fall from 13000 feet from the sky? One of our teammates, Abid Hasan, dreamed of performing Skydiving. During our Thailand retreat, he jumped from the sky and enjoyed one full minute of adrenaline. He traveled to Bangkok from Hua Hin and Pattaya to fulfill his dream.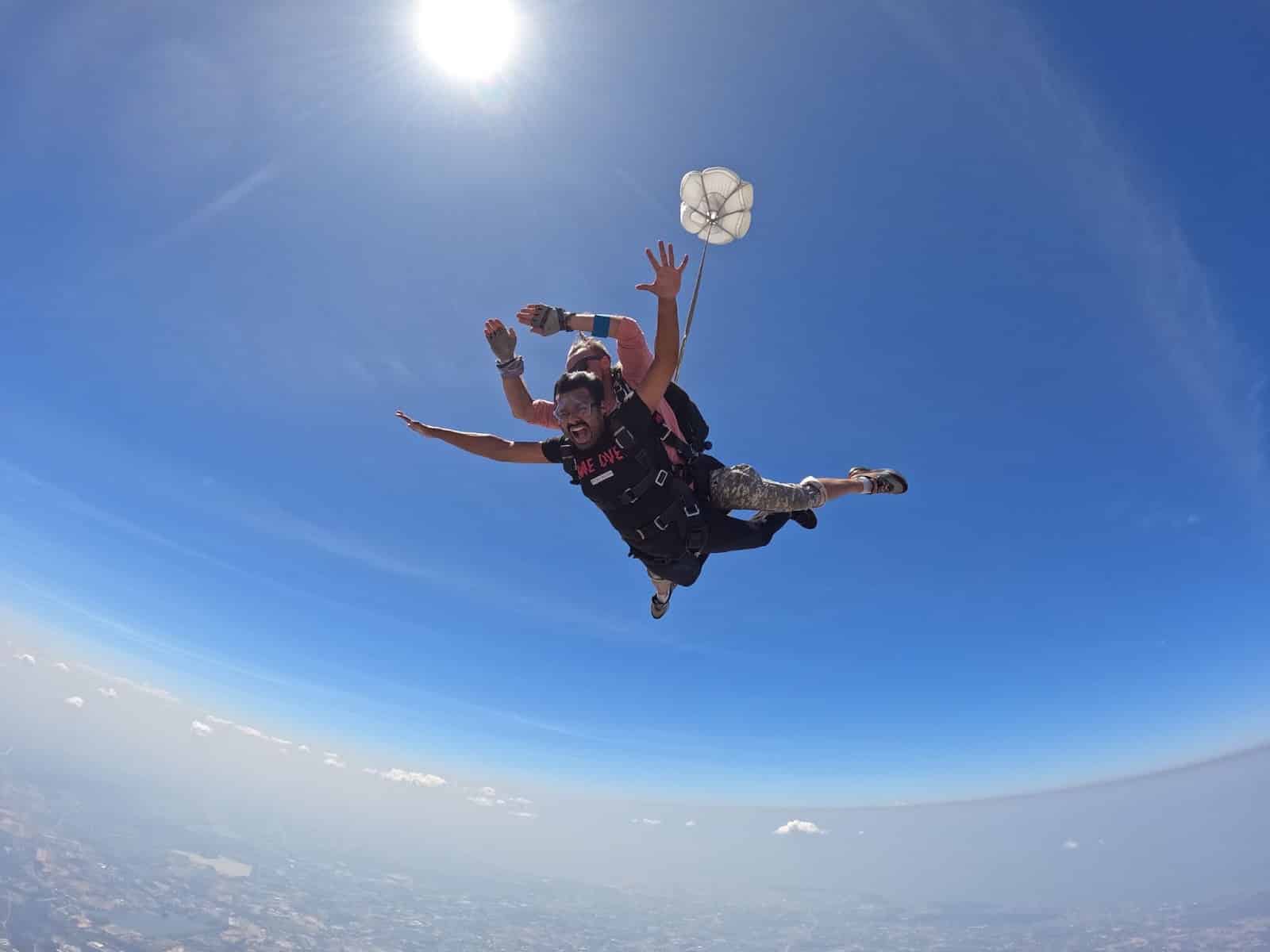 The whole experience was surreal to him. He had a fear of heights, yet he jumped from 13000 feet. The thrill of skydiving was enough to keep him energized and excited throughout the journey. Once he jumped off the airplane with the jumpmaster, he felt like a bird, enjoying the beauty of the earth from the top and forgetting his fear of heights.
"The freefall moment during the skydive was truly unforgettable. As I plummeted through the air for about a minute, I experienced mixed emotions that I could not adequately describe. The air pressure and my body's positioning made me feel like a bird at moments.

Skydiving had a profound impact on my life and will remain a cherished memory forever!"

– Abid Hasan
🛍️ Going On A Shopping Spree In Hua Hin's Night Markets
It has become a traveling tradition for Hua Hin visitors to enjoy the sea and other outdoor activities by day and roam the Hua Hin night market by night for a glimpse of the rich Thai culture, and it was no different for our team. Each night, the town center came to life with the Hua Hin Night Market, attracting not just all the members of team WPDeveloper, but also tourists from around the world.
The night market has everything you could ask for. Under canopies of lights, shopkeepers line one street, covering 2 blocks, which stays closed to traffic. Here, you can wander easily through the many street shops of souvenirs, arts and crafts, traditional clothing, Thai seafood and delicacies, and drinks at every corner.
And, of course, our team went on little shopping sprees during our stay at Hua Hin at the WPDeveloper team retreat. Every night, we broke down into smaller groups and spent hours wandering this busy street, tasting the distinctive flavors of Thai street food, and shopping for souvenirs for ourselves and our families back home.
🦞 Ending The Retreat With A Team Dinner: Enjoying Thai Delicacies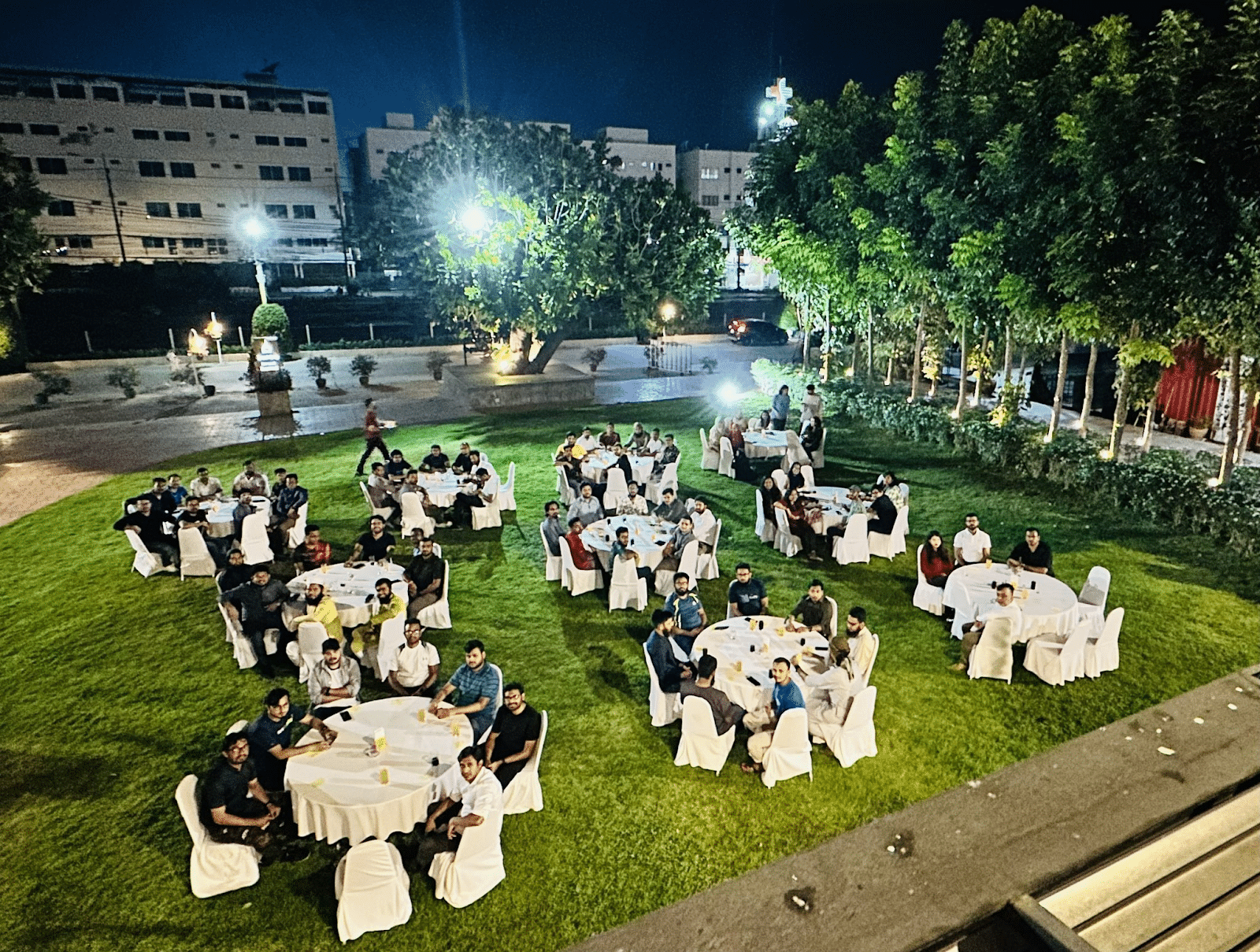 Team dinner in an official retreat can be a great opportunity for coworkers to bond and relax after work. And WPDeveloper arranged it on the last night of our retreat. It's a chance to get to know each other on a more personal level and build stronger relationships that can lead to better collaboration and communication in the workplace.
As mentioned earlier, this time also, there were so many teammates for whom it was the first time going abroad. We utilized the time fully by listening to everyone's unique experiences throughout the journey. The atmosphere was really cozy and friendly, and everyone shared their hearts.
🤝 Want To Join Us In Our Next Adventure?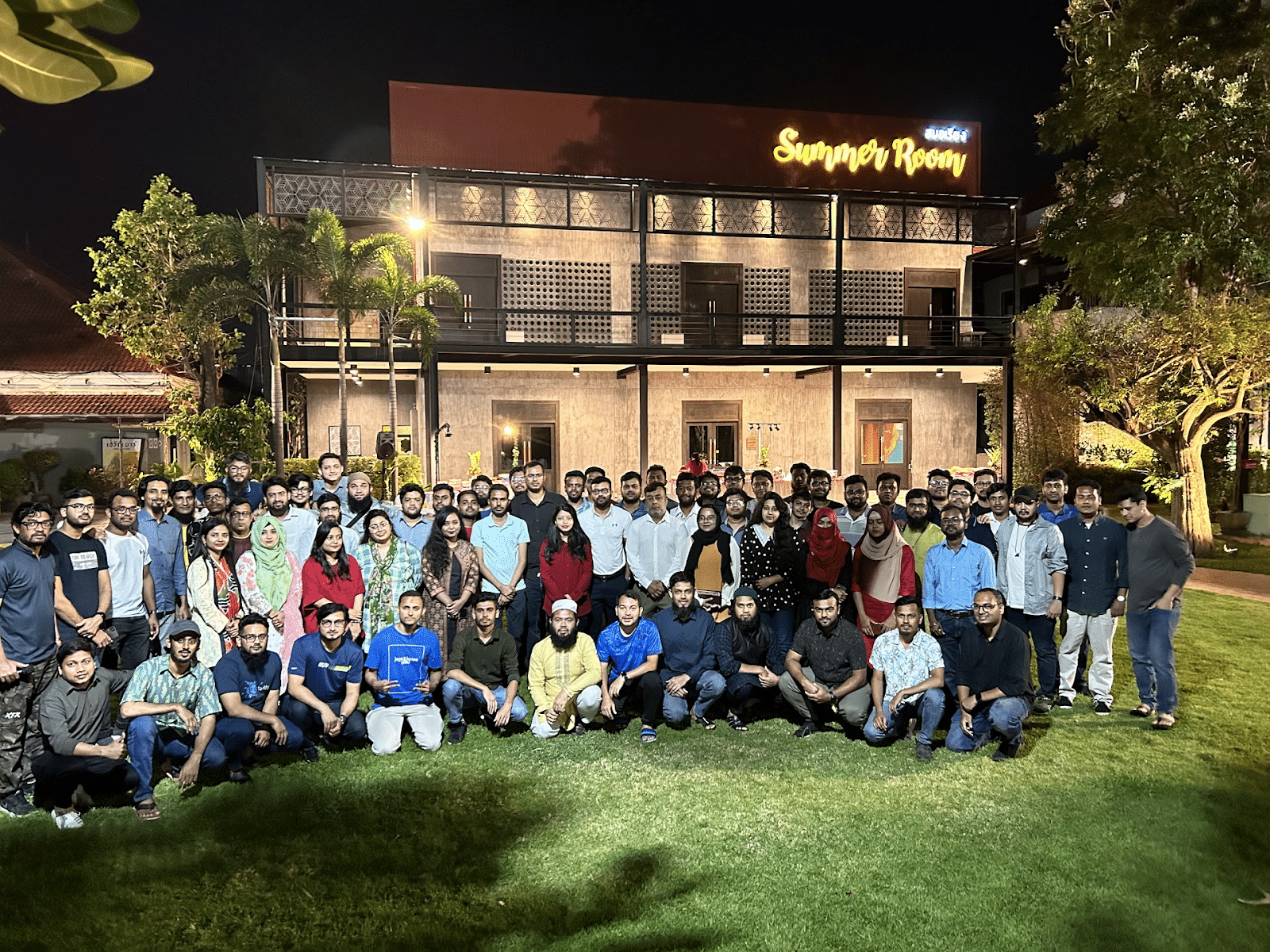 We stayed in Thailand for 10 days and returned with unforgettable experiences and memories. The refreshing time we had there can not be described in words. During this retreat, we got the opportunity to make beautiful memories that we will cherish forever.
So, did you find our Thailand trip inspiring? If you want to be a part of our exciting and adventurous team, we currently have a few job openings you can apply to.
Also, join our Facebook community to become the first one to get alert of new openings. Don't forget to subscribe to our blog to read about our next adventures!