A few days ago, the most prestigious and much-awaited first-regional WordCamp Asia 2023 was staged. From February 17 to February 19, 2023, the event was held in Bangkok, Thailand, right at the geological heart of Asia. Team WPDeveloper is delighted to have sponsored this mega flagship event for the WordPress community in Asia and participated with more than 75 people! Let's have a WordCamp Asia recap and see the details of this incredible event below.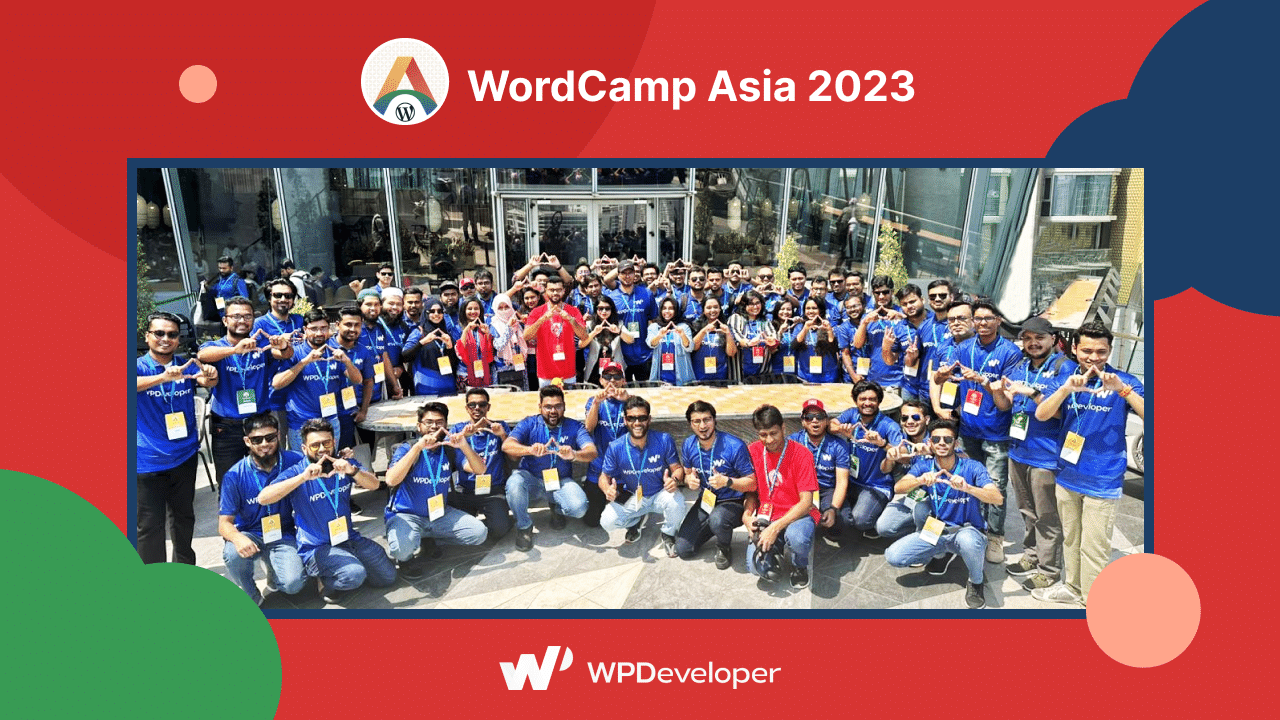 From Dreaming To Doing: Recap Of WordCamp Asia 2023
In 2020, the first-ever flagship event was set to take place in Bangkok, Thailand, before it was postponed indefinitely due to the unforeseen global pandemic. However, despite all the challenges, WordCamp Asia received tons of support from the entire WordPress community, and after long 3 years of planning and anticipation was finally held this past February 2023. And what a very exciting and momentous event it has been!
This historic event was attended by WordPress enthusiasts, professionals, and anybody who is or wanted to be a part of the platform's worldwide community. This was Asia's first regional WordCamp!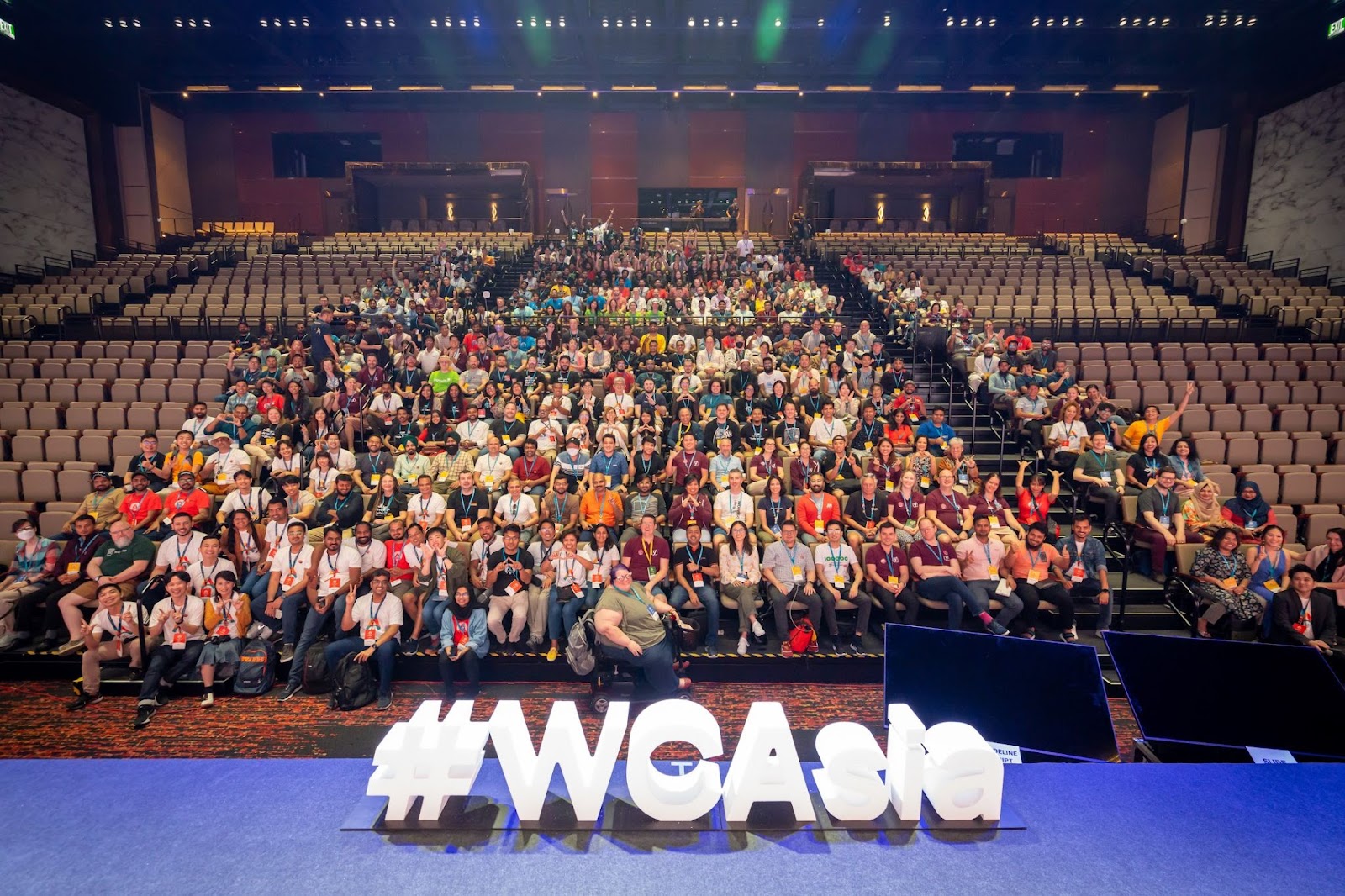 This event was a fantastic success! From the warm-hearted nature of the organizers, sponsors, attendees, and locals, the super-sized portions at every delicious meal, the celebration of diversity, to all of the extraordinary conversations everyone had during that short span of time – nothing was short of incredible. Here's a recap of WordCamp Asia that has left a mark on everyone's memories.
The Biggest Gathering Of The Asian WordPress Community
WordCamp organizers all around the world have had to make changes during the past three years, with some going entirely online and others calling off their events entirely. It was crucial for the WordCamp Asia organizers and volunteers to hold off on their in-person gathering until it was secure enough.
And as mentioned, the first flagship WordCamp Asia finally took place from 17th to 19th February 2023 after three arduous years of preparation and pre-planning. And to attend this weekend of learning and networking, WordPress users from all around the world came to the lovely tropical lands of Bangkok, Thailand.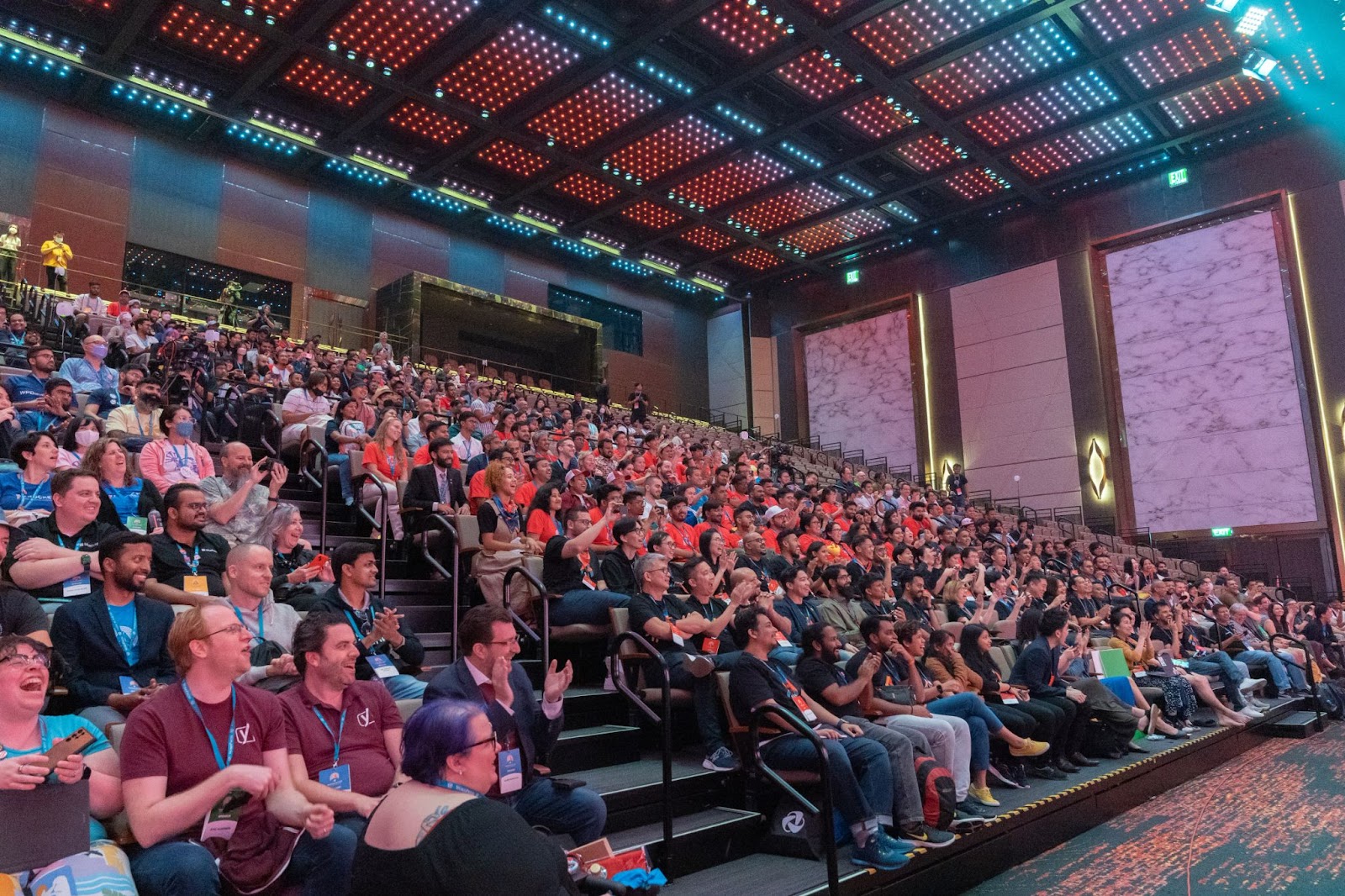 The numbers and figures are staggering, and we have to mention that the organizers, sponsors, and volunteers did an amazing job making all of it happen. Before the event, WordCamp Asia organized a Contributor Day where 653 individuals could come and participate. In the 2 days that followed, 1,299 participants attended the very-first WordCamp Asia The fact that 3,185 viewers watched the live stream is even more phenomenal!
ICONSIAM: The Destination Itself For WordCamp Asia 2023
On the banks of the Chao Phraya River in Bangkok, Thailand, lies the mixed-use complex known as Iconsiam, styled as ICONSIAM. It has a sizable mall, as well as hotels and condominiums. It also features more than just high-end stores and restaurants; it also includes an indoor floating market and a water fountain light show ready to make your day.
ICONSIAM was explored by WordCamp participants in their own unique ways, and it has all the makings of a future gem for anybody!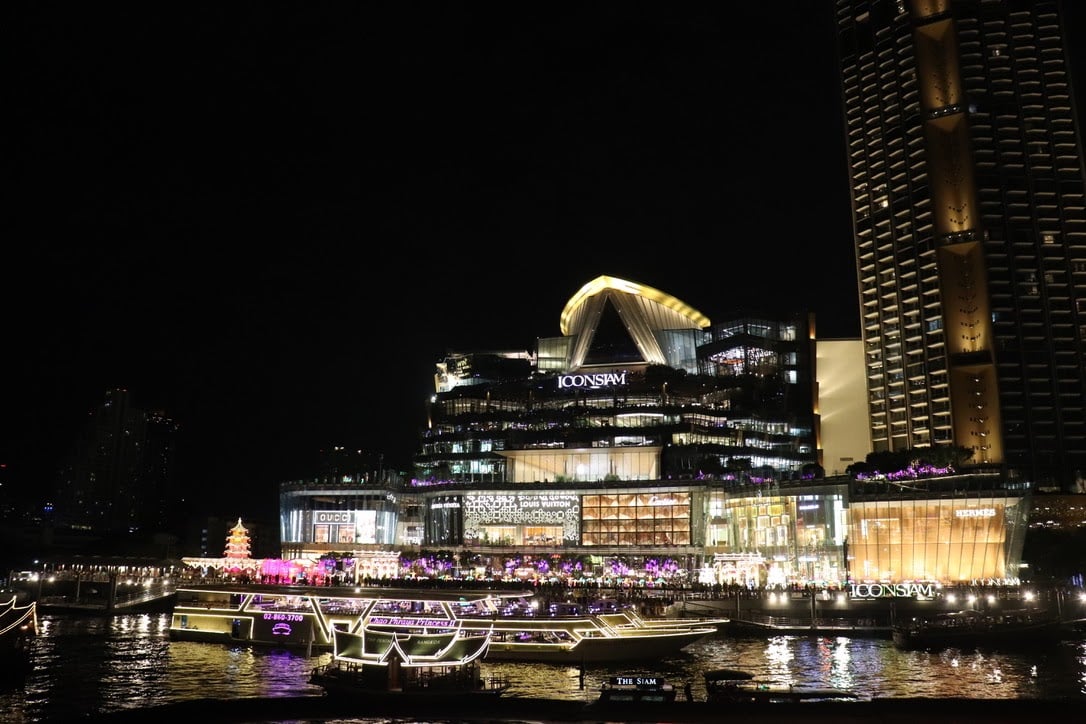 And the True Icon Hall at ICONSIAM was the home to the very first-ever WordCamp Asia for the entirety of its duration, with its multiple stories of accommodation and countless facilities.
WPDeveloper Sponsored #WCAsia 2023 & Travelled With A Team Of 75+ Smiling Faces
Team WPDeveloper was an Ashok sponsor of WordCamp Asia and we attended this event with our full team. It was our dream to attend a flagship community event with our whole team and we managed to attend WordCamp Asia with 75+ team members.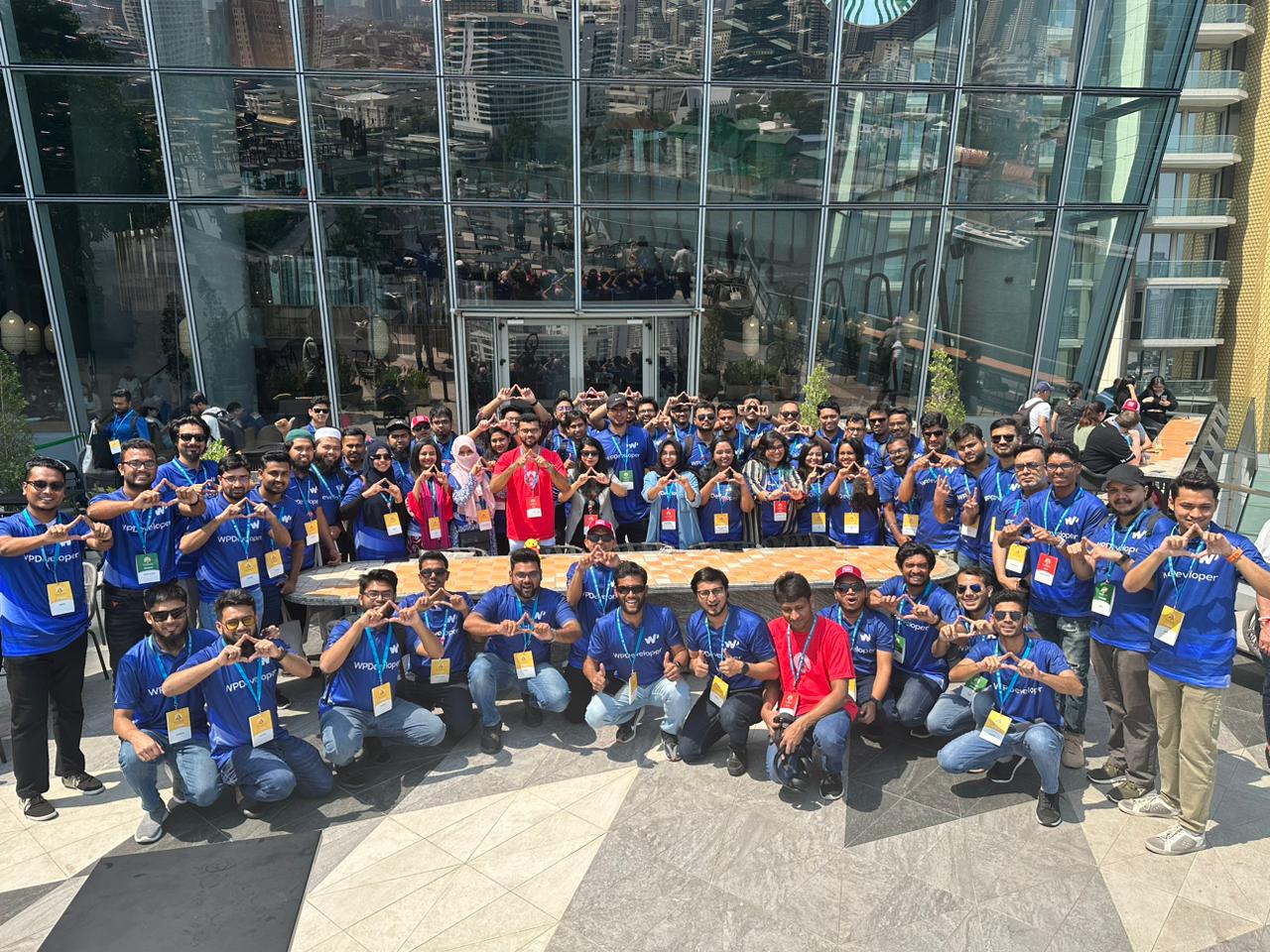 For many of us, it was the first ever WordCamp and the experience of this event was unforgettable. We have connected with the amazing WordPress community and exchanged our ideas. Also, we talked one-to-one with our different product users and they shared that many positive feedbacks we got were overwhelming.
Our sponsor booth was always full of our well-wishers and users. They stopped by our booth and expressed their feelings about products, learned more about us, or just took a picture. We also arranged fun games, and activities to make this event memorable for them and gave special swags.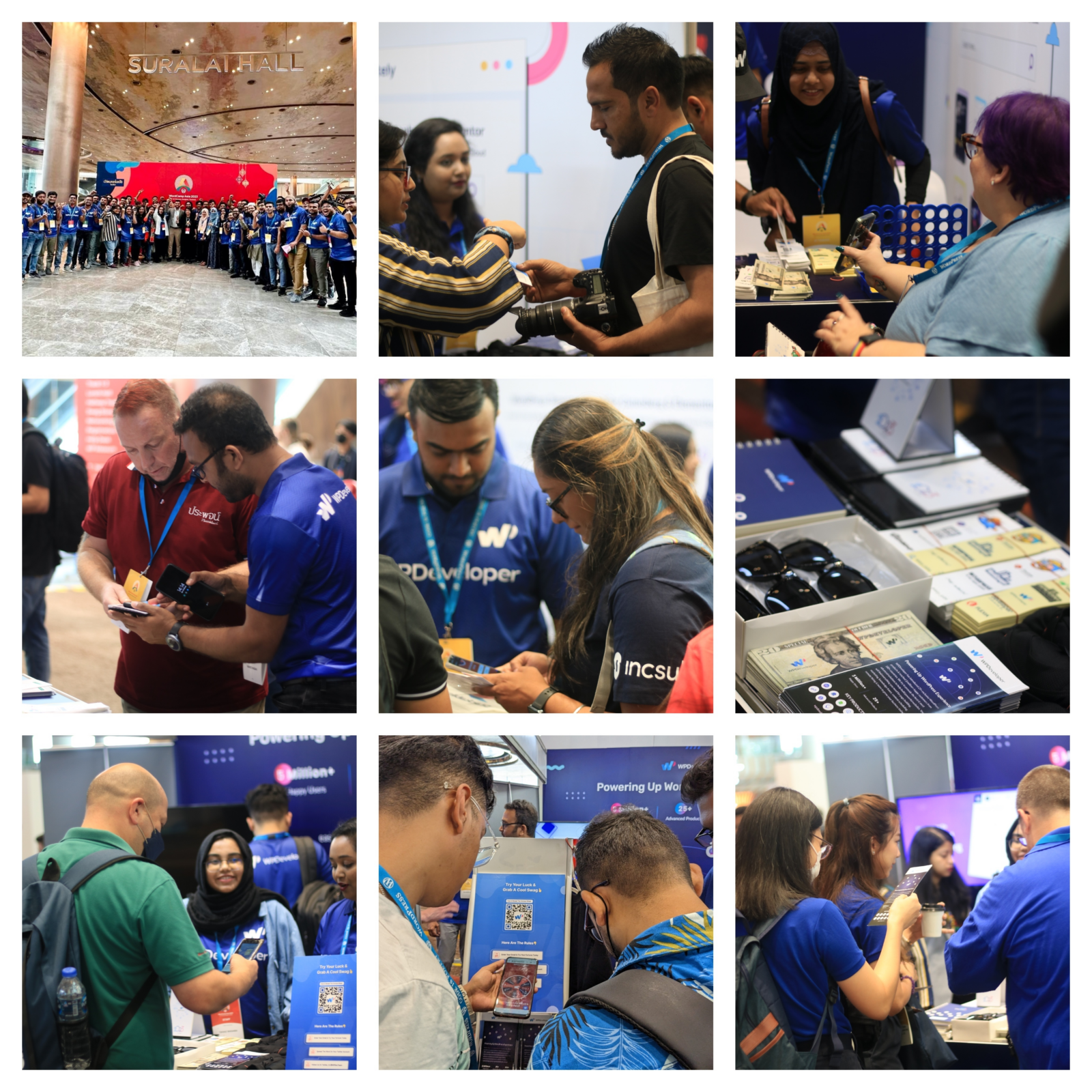 Hear From Team WPDeveloper: Our Experience At WordCamp Asia 2023
WordCamp Asia 2023 is no doubt an unforgettable, groundbreaking historical moment for the WordPress community, as it is the first-ever Flagship WordPress event to take place in Asia. At WPDeveloper, we are proud to have been an Ashok Sponsor for this event. But even more importantly, we are incredibly delighted that nearly the entire WPDeveloper team, consisting of more than 75+ members attended WordCamp Asia!
Here are a few words from our CEO, Nazmul Hasan Rupok, on his thoughts about this event and how it felt to have the entire team to join the first-ever WordCamp Asia.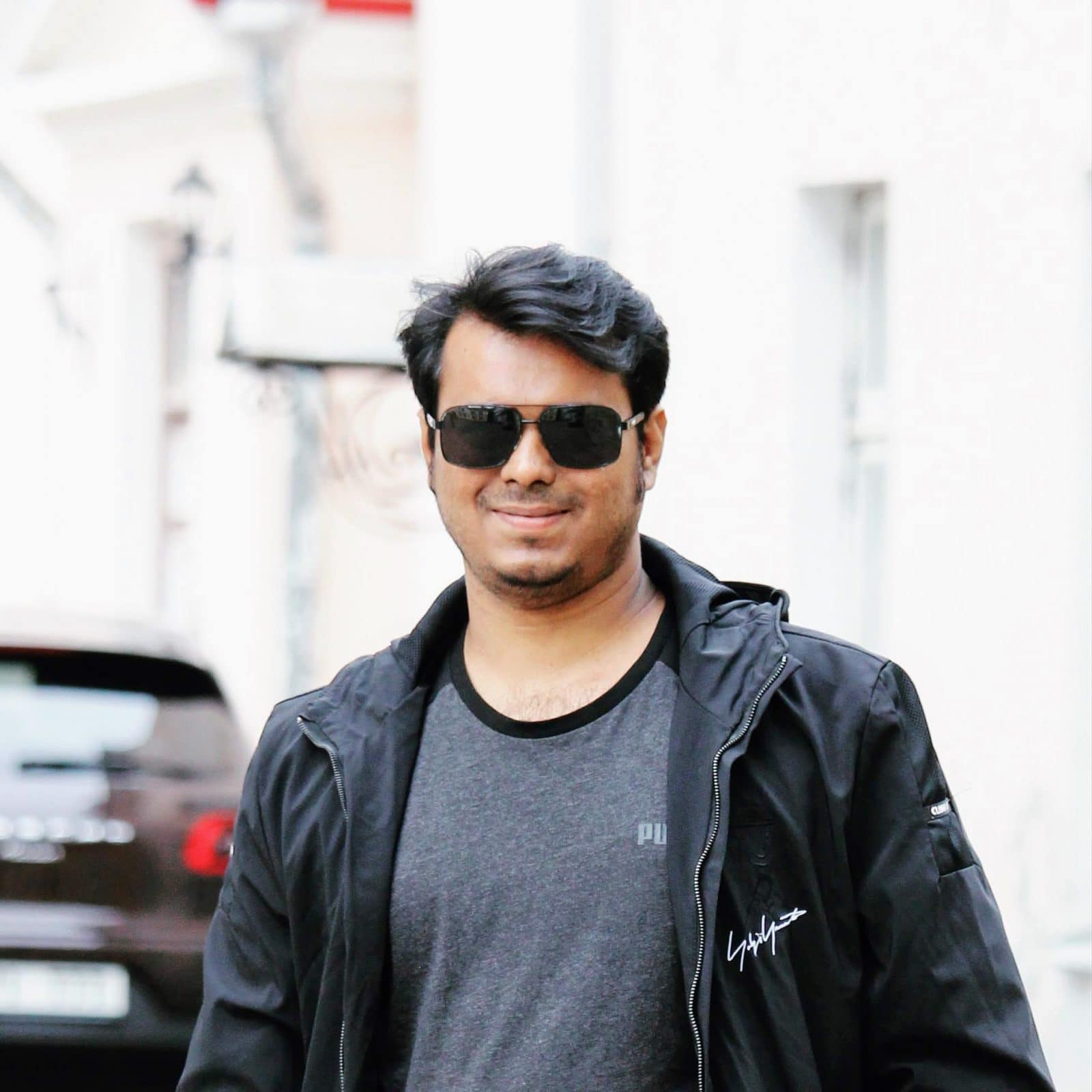 "Attending WordCamp Asia was an incredible experience for me and my team. Not only did we have the opportunity to learn from some of the best and brightest minds in the WordPress community, but we also had a great time bonding and having fun together.
Whether you're a developer, designer, marketer, or business owner, there is something for everyone at WordCamp, and I can't wait to attend again next year!"
Nazmul Hasan Rupok
CEO, WPDeveloper
Not only did WPDeveloper attend WordCamp Asia with a huge team of 75+ team members, but we are proud to share that several of our team members were directly involved with this flagship event as speakers, organizers, volunteers, and table leads.
To begin with, the founder of WPDeveloper, M Asif Rahman, was one of the notable speakers at WordCamp Asia. Along with him, the CMO of WPDeveloper, Afshana Diya, was part of WordCamp Asia Organizers team as Marketing Lead.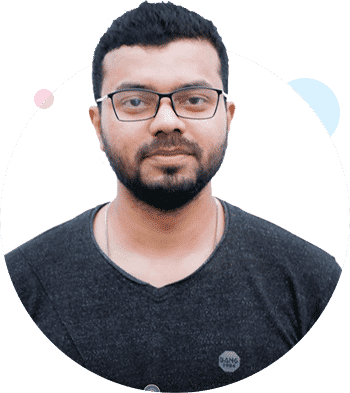 "WordCamp Asia was truly a dream come true for me personally, and also for the company.
I was initially involved with the idea of a regional WordCamp in Asia since 2016, and later in 2020, we had planned to travel with the whole team, but the pandemic put a hold on all of our plans.
After so many years of waiting patiently, it was truly an incredible experience to be able to attend WordCamp Asia and bring all 75+ of our team members to this event. Surely it will spark the community spirit and individual contribution much more."
M Asif Rahman
Founder, WPDeveloper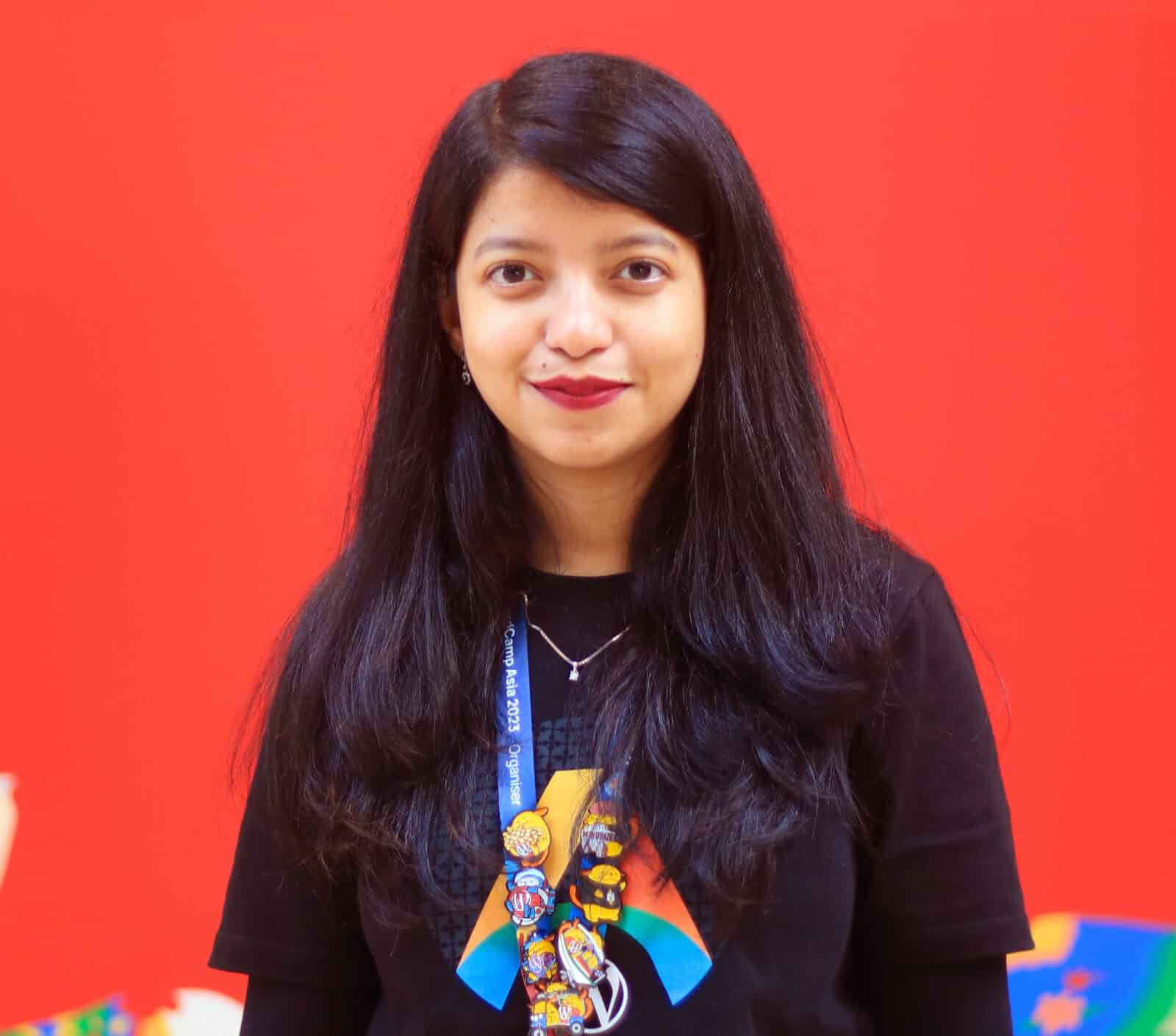 "Organizing WordCamp Asia's first-ever flagship event was an unforgettable experience. The event brought together WordPress enthusiasts worldwide; the energy and enthusiasm were amazing.
Despite having to start from scratch, we overcame the numerous challenges that arose during the planning stages, and the event ran smoothly.
Being able to join a Flagship WordCamp with the entire WPDeveloper team, consisting of around 80 people, was my best WordCamp experience."
Afshana Diya
CMO, WPDeveloper
Contributing To WordPress At #WCAsia: Over 650+ Contributors
Contributor Day for WordCamp Asia 2023 took place on February 17, 2023, the first day of the three-day event in Bangkok, Thailand. It is a day dedicated to making the WordPress project better through contributing in 21 different teams, from marketing, to documentation, translation, and more.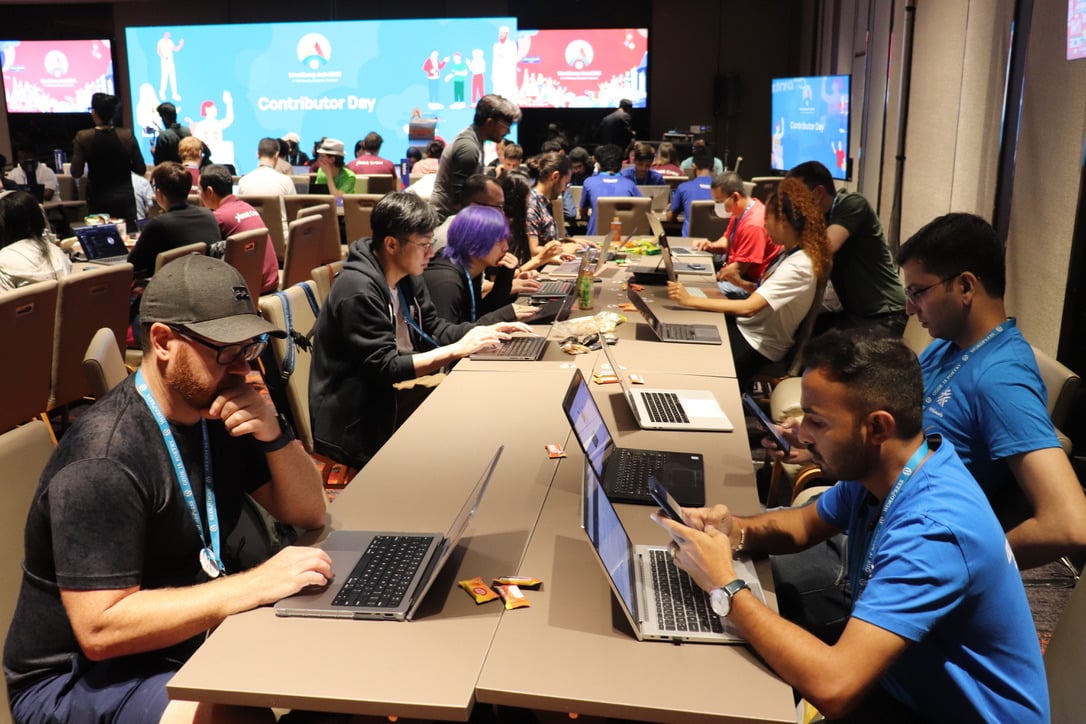 To contribute, you don't need to be a coder or designer or even have any WordPress knowledge. Contributing to the project is a brilliant way to get involved and learn about it. The WordPress project brings together several teams that work on everything from design and polyglots to the core and community.
We are delighted to share that three team members from WPDeveloper participated in WordCamp Asia as table leads for Contribution Day. Below, they have shared their experience on WCAsia Contributor Day, which saw more than 650 enthusiastic contributors for the WordPress project!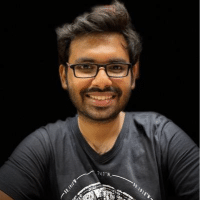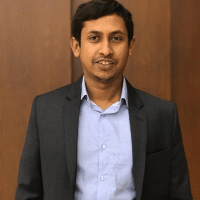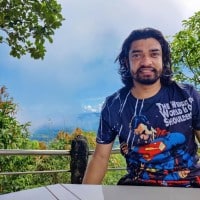 I was thrilled to be selected as a table lead for the Openverse table at WordCamp Asia. It was my first time in this role, and I found the experience to be truly enjoyable and rewarding.
I welcomed contributors to our table and provided guidance on how to get started with contributing to the Openverse project.
Overall, being a table lead at Openverse was a fantastic experience that I will always cherish.
Abid Hasan
Senior Support & Product Engineer
WPDeveloper
I had a great FIRST in-person WordCamp this year and that was a BIG one.
WC Asia was a lifetime experience for me. Never felt such enthusiasm and saw such a friendly environment.

Luckily I was Table Lead of the Test Table, helping new contributors to core trac and how to submit test reports etc.

In general, WC Asia was a dream event for me.
A. H. M. Nazmul Hasan Monshi
Senior WordPress Developer
WPDeveloper
As a Table Lead, I had the privilege of welcoming contributors to our table and providing guidance on how to get started with contributing to the Openverse project.
Our interactions were not just limited to work-related discussions; we also shared our contribution stories and got to know each other on a personal level. These exchanges helped us build meaningful relationships within the community and created a sense of camaraderie.
Md. Mahbub Hasan
Senior Technical Support Engineer
WPDeveloper
In addition, more than 6 team members from WPDeveloper were involved with WCAsia as volunteers. As we dive deeper into our WordCamp Asia recap, let's take a moment to appreciate the heroes of WCAsia, the volunteers whose hard work made this event a memorable one for all!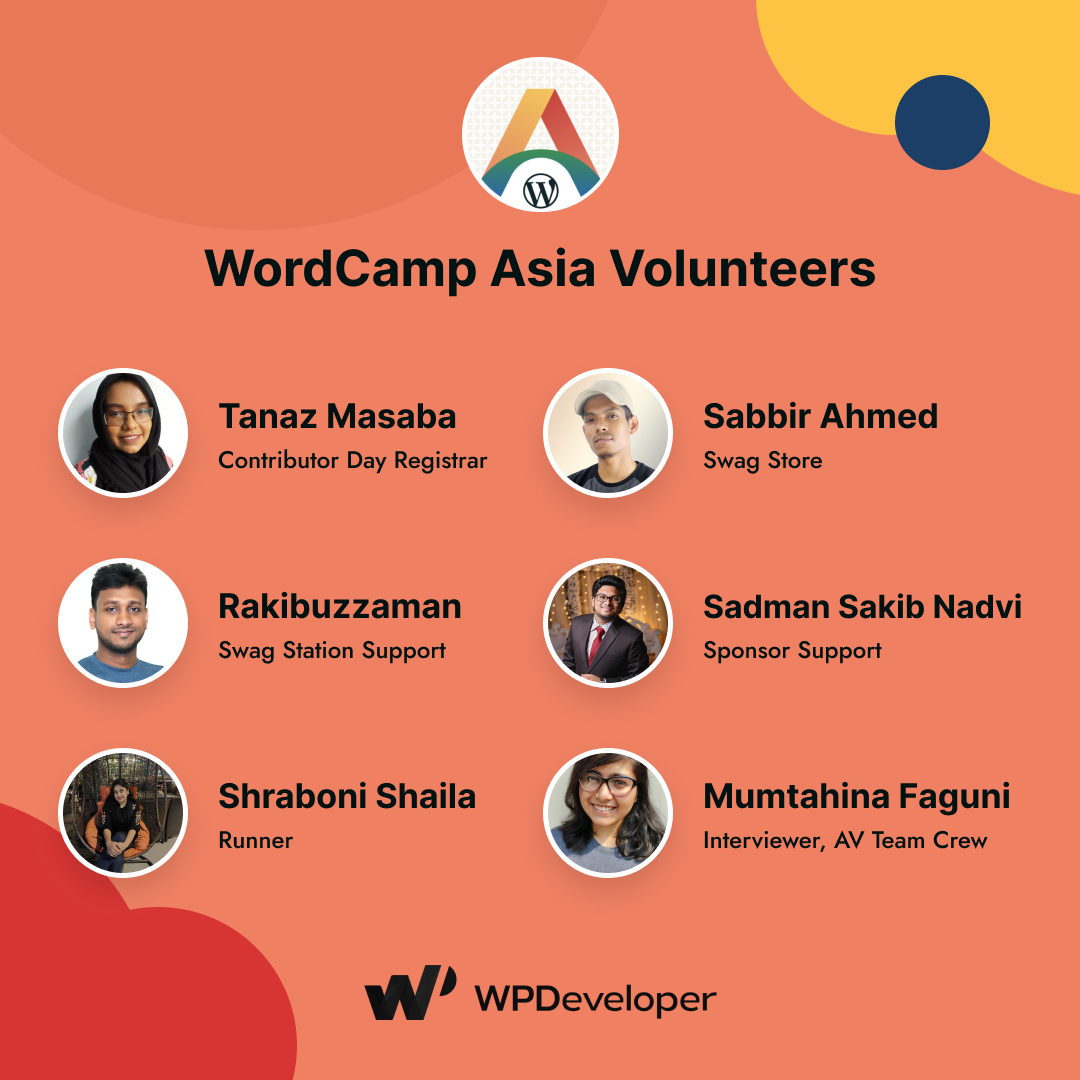 2 Unforgettable Days Of WCAsia: Speaker Sessions, Booths, Networking Opportunities & More
Both of the conference days of WordCamp Asia 2023 were filled with enlightening sessions, knowledge sharing, networking, and fun activities. People were thrilled to finally meet their heroes and friends and had fun throughout the event. The images below show a beautiful WordCamp Asia recap through the photographer's eyes.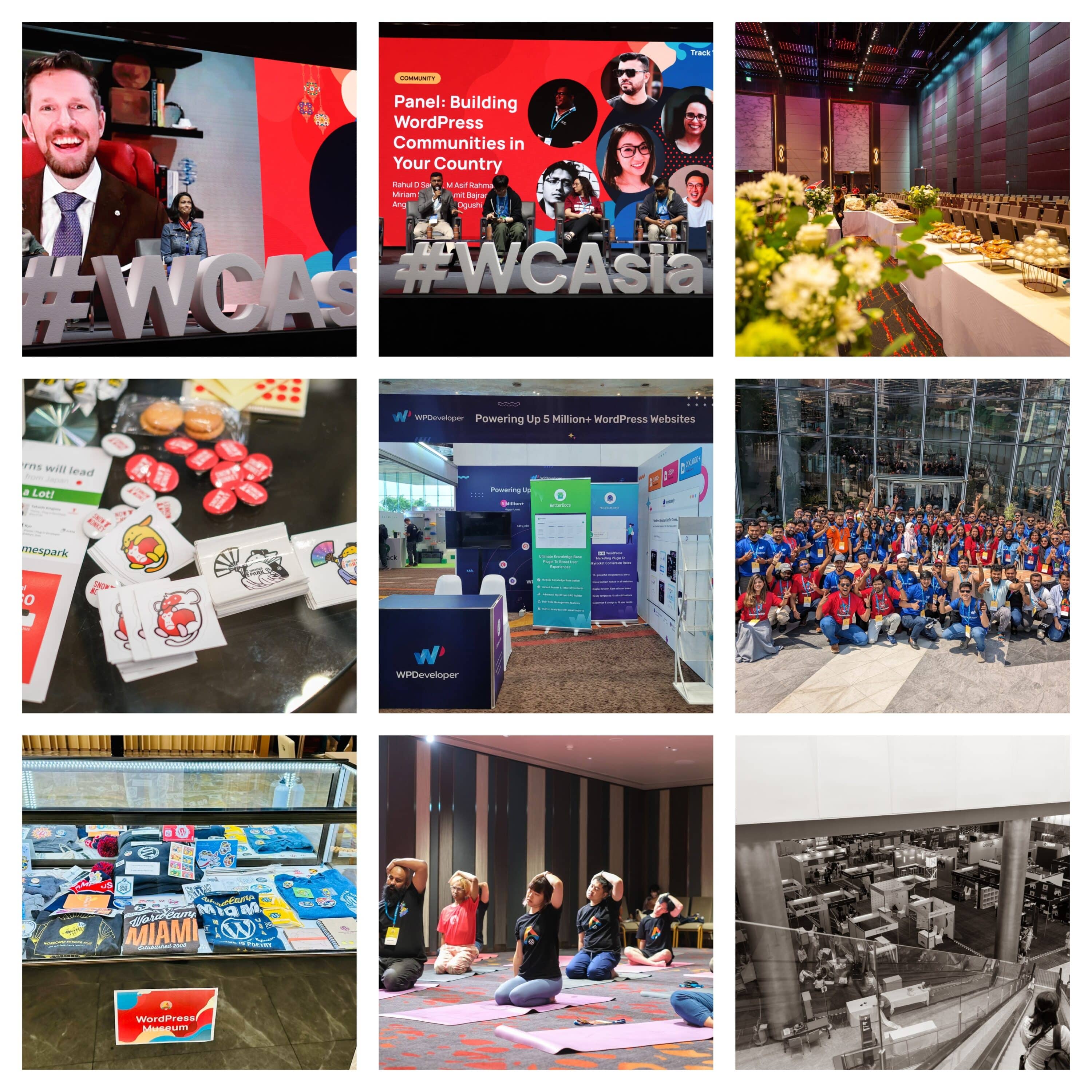 People explored different sponsor booths, collected swags, and attended fun activities. Everyone was saying hi to each other, taking pictures, and making friends. Additionally, the After Party was one of the craziest ever as everyone danced their hearts out. People came wearing their ethnic dresses and the mixture of different cultures made this After Party even more special.
Valuable Insights From Speaker Sessions By Industry Experts
One of the major goals of WordCamps is learning and sharing knowledge with the community. And this mega flagship event was full of enriched sessions by industry experts. Industry experts around the world shared their valuable insights on different topics which are truly worth hearing.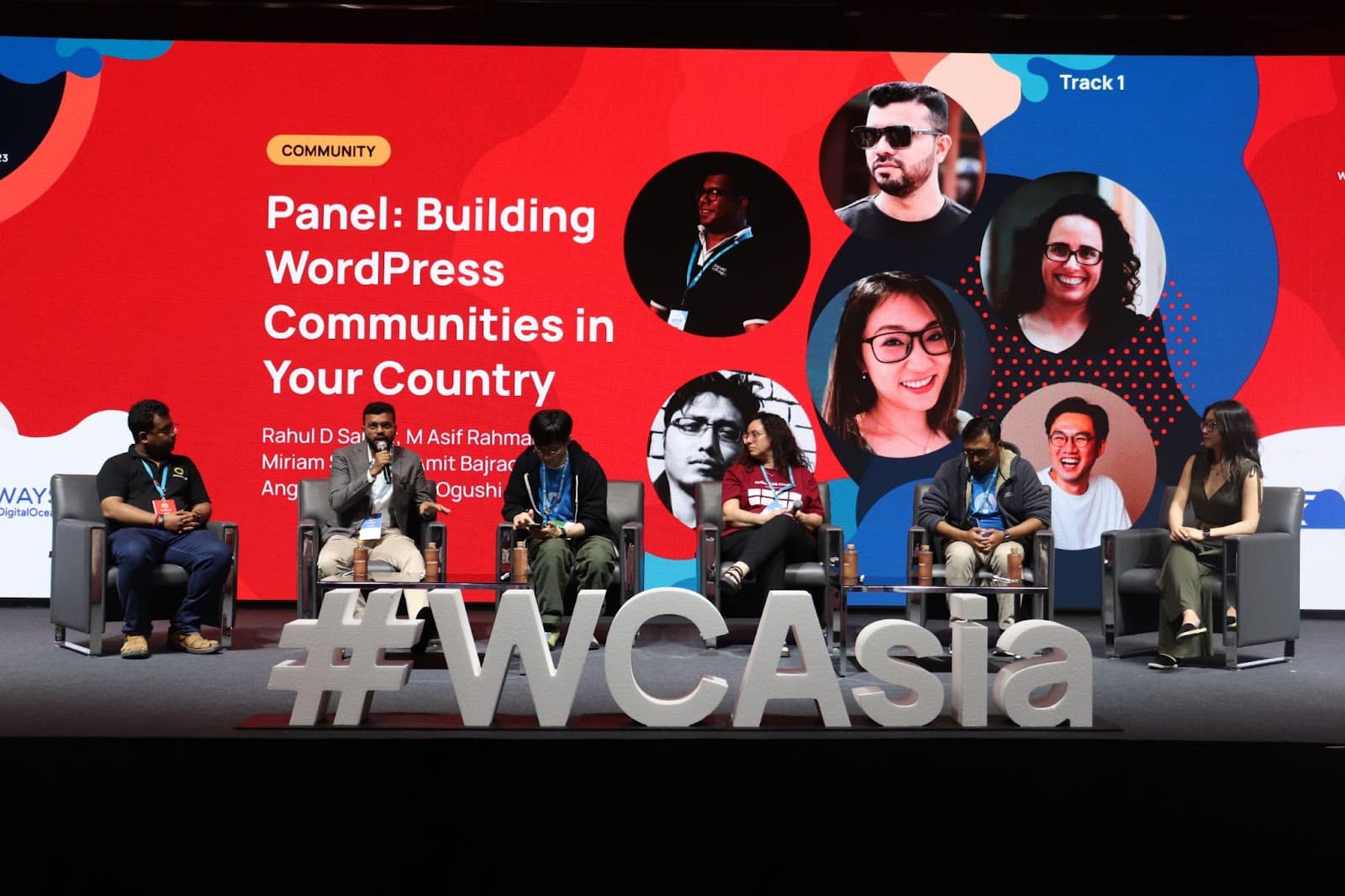 Among the 60 notable speakers, our beloved founder, M Asif Rahman joined a highly interactive panel discussion on building WordPress communities in your country. He expressed his ideas and experience and shared how "spreading the joy of WordPress" is key to growing and nurturing a thriving WordPress community.
An Enlightening, Virtual AMA Session By Matt Mullenweg
The conference featured two jam-packed days of sessions, including a Q&A with Matt Mullenweg, the co-founder of WordPress. In his absence, the audience's queries were mediated by StoreApps founder Nirav Mehta and WordPress Executive Director Josepha Haden Chomphosy.
This session saw many different interesting questions from the audience which were answered by Matt Mullenweg, including the role of AI in community-driven innovation, how to promote and encourage voluntary contribution in the open source project and introducing WordPress to young students from an early age.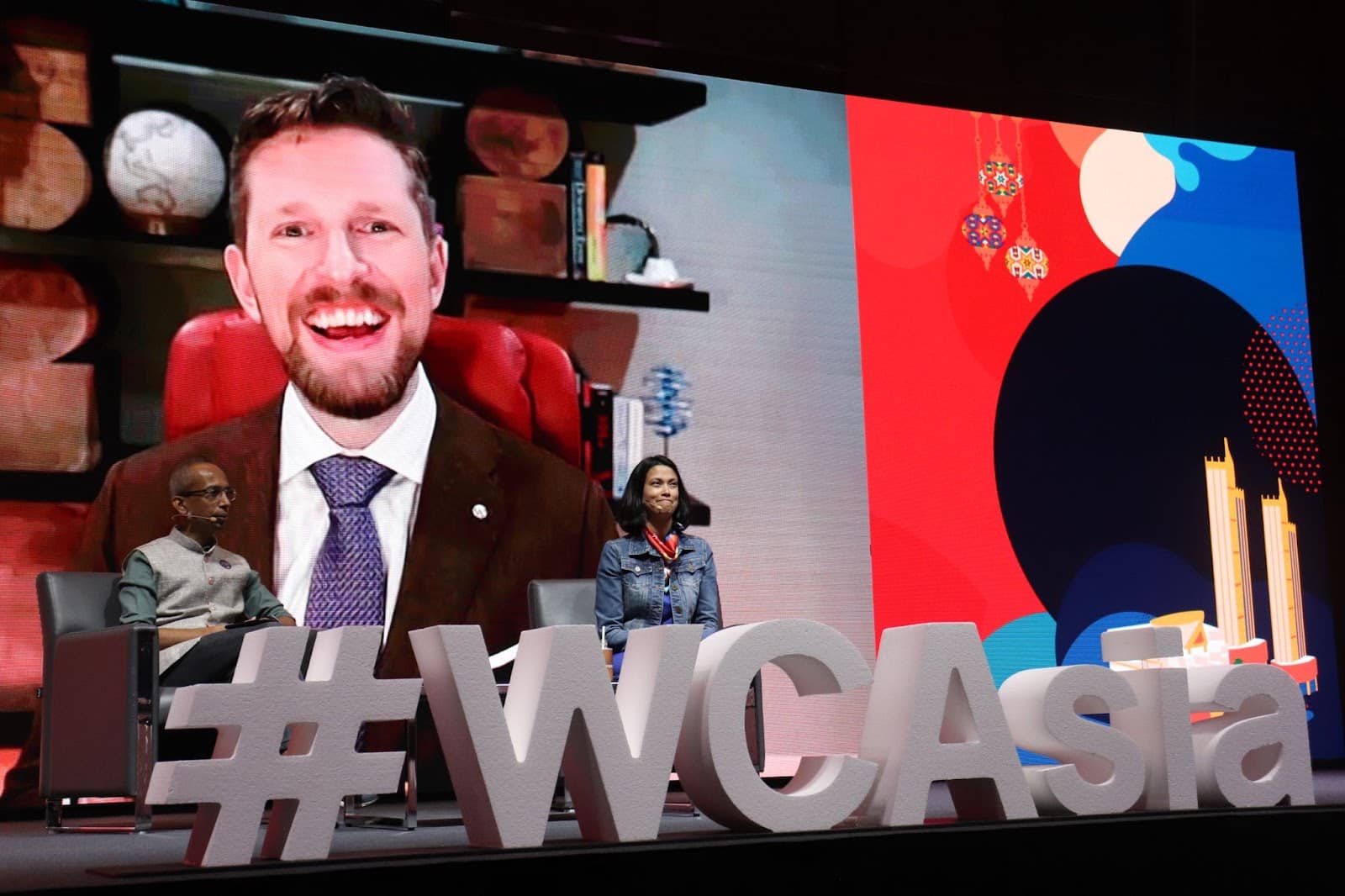 Endless Swags, Awesome Giveaways & Much More From The Booths
Every attendee joining the WordCamp event always desires to explore the booths and collect as many swags as their token of memory. And this year WordCamp was no different. The most renowned companies from all around the world gave the attendees so many pretty swags, stickers, notebooks, and much more.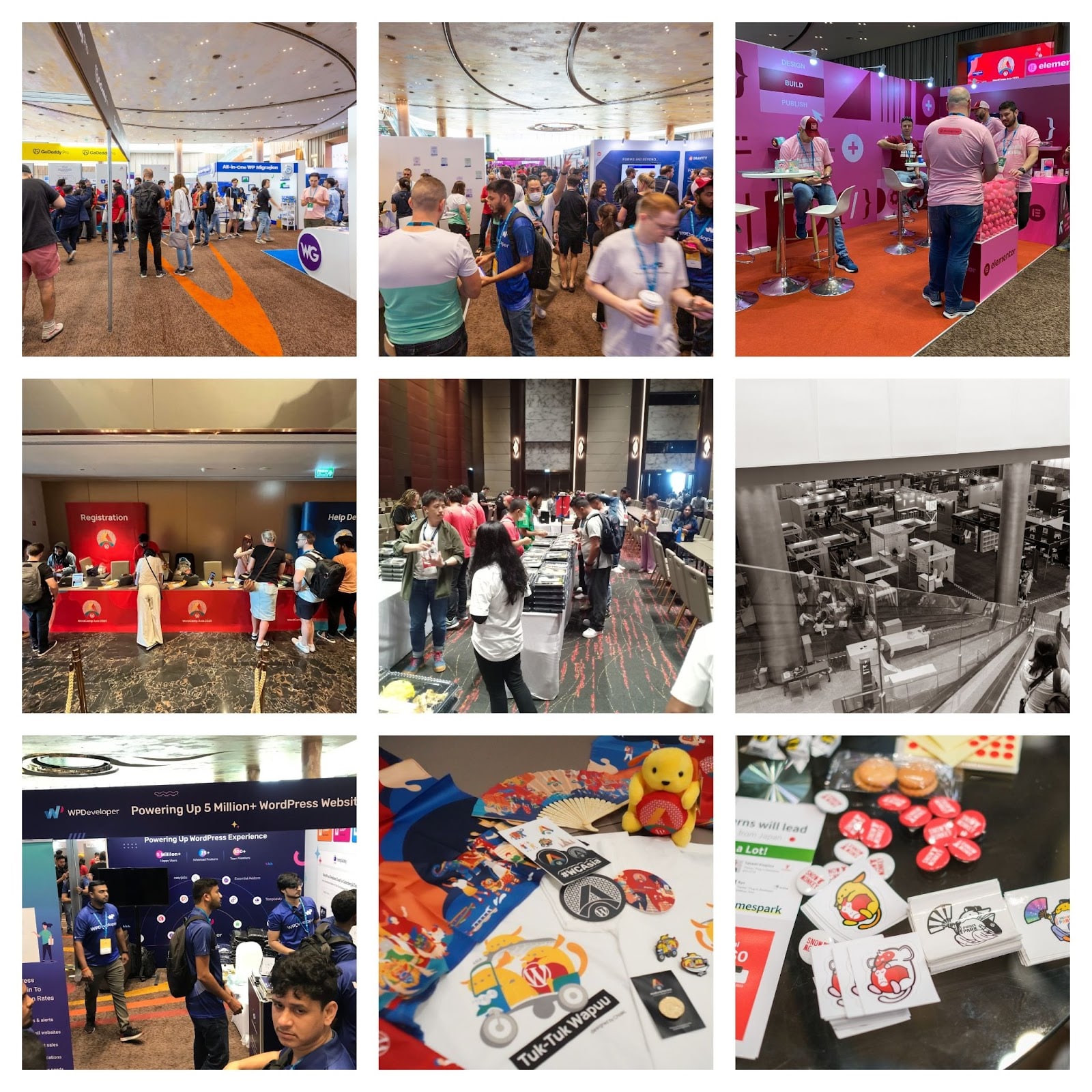 Companies like JetPack, Google, and WooCommerce made this event more cheerful with some exciting giveaways. From Ipad to Keyboards and much more were awarded to the attendees through exciting games and fun events.
The Next Destination: WordCamp Asia 2024 And Beyond!
Finally, we would like to wrap up our WordCamp Asia recap with some exciting news. The organizers revealed Taipei, Taiwan, will host WordCamp Asia 2024 the following year at the conclusion of Day 2. The city's night food stalls and hot springs were lauded by 2024 organizers. It goes without saying that we are all excited to get together once more in 2024.
Have you liked our article on WordCamp Asia Recap? Mark your calendars now, keep your eyes on the official website and our blog for all more updates yet to come, and get ready to join at this grand event in Taipei, Taiwan!