Planning to build your own WordPress website without coding? Then the first page builders will come to your mind are Elementor & Beaver Builder. But it may be tough for you to choose between Elementor vs Beaver Builder if you have never used page builders for WordPress before.
To make your decision easier, today we are going to dive into a detailed comparison of Beaver Builder vs Elementor and find out which one wins. 
User-friendly WordPress page builders like Elementor and Beaver Builder will let you create professional-looking pages in seconds. Even if you have no web design or development experience. 
Why Should You Use Page Builders For WordPress Websites?
Page builders for WordPress have made building websites easier, simpler, and beginner-friendly. These page builders help you build websites without the need to deal with coding. Most of the time, they provide you with a collection of pre-built elements or widgets you can customize to fit any design.
If you are new to the WordPress platform, let's find out why you should use page builders for WordPress website designing.
🔰 
No Coding Knowledge Needed to Build Websites
When most people think about starting a website, they usually think it is challenging and overwhelming. While it is true that creating and maintaining a website requires some commitment, you can make the whole process easier with page builders.  They offer pre-built widgets for almost all functionalities. You only need to decide which functionality to integrate on your website and start creating stunning websites. 
🔰 Build Pixel-Perfect WordPress Websites On Your Own
If you have planned to create a WordPress website for yourself or your business, hiring expert web designers will cost you a fortune if you don't have web design knowledge. In this situation, if you use WordPress page builders to create your website, you will get lots of attractive templates and a variety of user-friendly widgets that will simplify the creation process. This will save you both money and time.
🔰 
Have Full Control Over Your Website
Even if you have coding knowledge and experience, using page builders for WordPress can help you create websites more quickly as all you have to do is drag and drop the widgets where you want to. And if you are not from a coding background, then this is even more useful. If your website is built with WordPress page builders, then you will get full control over your website and make any changes you want at any time.
🔰 Enhance Your Website's Performance
When you manage and develop your website entirely on your own, you have to pay attention to site performance, conversions, etc. it's not a task for one to handle. The good news is that WordPress page builders will make your site SEO optimized. You will not need to go for multi-functionality and heavy themes when you are adding your website functionalities via page builders. This will improve your site loading speed as well.
Best WordPress Page Builders To Create Websites Instantly
As you've decided to use a WordPress page builder, and now it's time to find out which is the best WordPress page builder to use. There are immense numbers of page builders for WordPress available. Based on beginner-friendliness, ease of use, pricing, and user reviews, here we have listed the 2 best WordPress page builders for you.
Elementor- The World's Leading WordPress Website Builder
Elementor is one of the popular WordPress page builders with more than 5 million active users. It began its journey back in 2016. With its attractive visual design and amazing performance, you can create any type of website instantly without any hassle. Elementor gives you complete control over every page on your website using a beautiful live visual editor and is compatible with tons of popular WordPress plugins.  
Beaver Builder- Popular And Flexible WordPress Page Builder
Beaver Builder is another famous WordPress website builder to help you in creating attractive websites easily without using a single line of code. It started its journey in 2014 and gained popularity for its easy-to-use drag and drop feature. Over 175,000 websites are using the flexible and powerful Beaver Builder.
Beaver Builder Vs Elementor: A Complete Comparison
Before you choose the best WordPress page builder for your website, you might want to have a look at this comparison between Beaver Builder vs Elementor.
1️⃣ Quick Setup Wizard For Getting Started Easily
If it's your first time creating a website all by yourself, then a beginner-friendly setup wizard of WordPress page builders will help you get started easily. Let's compare the setup wizards of both Beaver Builder and Elementor.
Beaver Builder Setup Wizard
When you install and activate beaver builder from your dashboard, it will take you to the onboarding Welcome page. There you will find all the processes and help you will need for kickstarting your website. For better understanding, they will also guide you with essential images.
You will find a Beaver builder on the side of your newly created page. Beaver Builder's setup wizard will take you on a visual tour of how to create your first web page step by step.
Elementor Quick Setup Wizard
Just after you activate and install Elementor on your WordPress dashboard, it will take you to their onboarding page. There you will get the full video on how to get started with Elementor.  The setup wizard will also take you directly to the editing panel to start creating the website.
If this is the first time for you to build a website with drag and drop page builders, then Beaver Builder is the most user-friendly when compared to Elementor. Alternatively, if you are familiar with the drag and drop feature, Elementor's introductory video will be sufficient for kickstart.
2️⃣ Drag-And-Drop Visual Editor With Live Preview
Both WordPress page builders Beaver Builder and Elementor allow it's users to create websites with an amazing drag and drop feature. Let's take a look at the features of Beaver  Builder and Elementor editor. 
Beaver Builder's Exclusive Drag & Drop Visual Editor
Beaver Builder is one of those first WordPress page builders that used drag and drop features for building websites. You have to get elements from the panel and drop them on your page. For each element, the customization panel will appear and you can make changes from there. So the visual editor is basic and you won't get a lot of customization opportunities.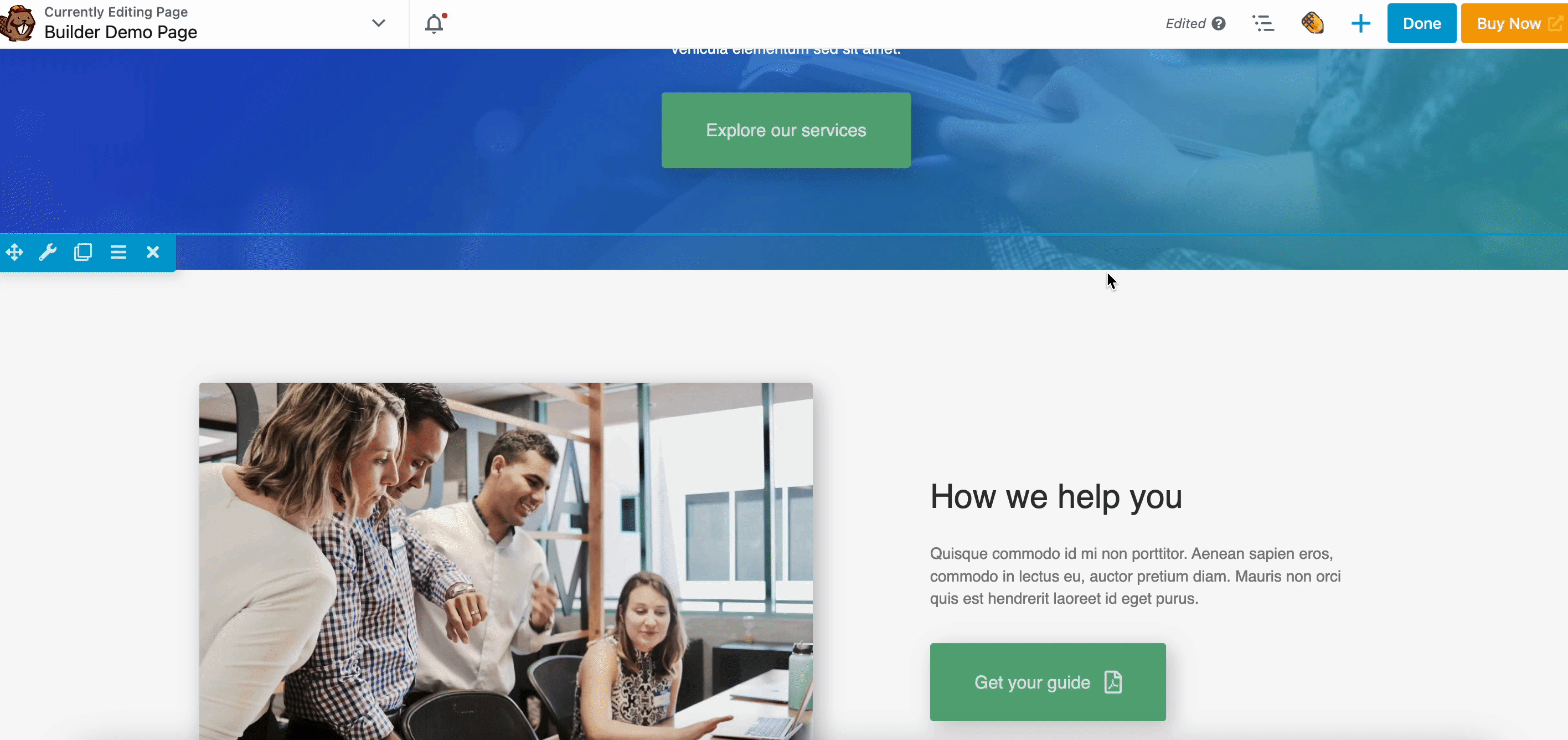 Elementor's User-Friendly Visual Drag & Drop Editor
On the other hand, you will have the option of full customization with Elementor. The element panel allows you to instantly drag and drop any element onto any area of your webpage. You will have the ability to customize each element's size, color, style, layout, alignment, and many more. Its real-time preview of changes is very engaging.
Which Page Builder Is More User-friendly?
Elementor has the swiftest and smoothest drag & drop visual editor among Beaver Builder vs Elementor. You will get to the fullest opportunity in customization and modification. On the other hand, Beaver Builder is suitable for simple website layouts.
3️⃣ Number Of Free And Premium Widgets For Page Building
Nowadays websites are considered a tool for marketing, sales, communication, and many more. WordPress page builders allow you to add all types of functionalities in the form of widgets and modules. Let's check out the widget comparison of Beaver Builder vs Elementor.
Stunning Beaver Builder Modules
To create a personal portfolio or an eCommerce website, you will get almost all the essential modules with Beaver Builder. You can even save your customized module for later use.
Besides the available 6 free modules and 50 pro modules, there is also Beaver Builder element library available in WordPress repository, like Starter templates, Ultimate Addons For Beaver Builder, and so on.  
Unlimited Widgets For Elementor
Elementor offers a wide range of widgets to its users. Elementor tries to give beginner-level users the utmost facilities in creating websites. At present, there are 31 free widgets and 79+ pro widgets available. You can save your customized widgets as templates as well as global elements to reuse on your multiple sites.
To give users more flexibility and accessibility, there are so many element libraries available for Elementor. There you will find an unlimited number of widgets for certain functionalities. Among them, Essential Addons For Elementor is the largest and most popular Elementor library with 90+ widgets and 1 Million+ happy users.
Between Elementor and Beaver Builder, Elementor offers more widgets. You can create any category website instantly with Elementor. If you want to create a simple and sleek website, then Beaver Builder will give you full coverage. But with Elementor, you will get more flexibility to be as creative as you want.
4️⃣ Compatibility With Different WordPress Themes
WordPress themes are crucial in order to run any kind of WordPress website since they provide the basic functionalities. Both WordPress page builders are compatible with multiple themes in different ways. Here is a comparison between Elementor and Beaver Builder for theme compatibility.
Beaver Builder's WordPress Theme Compatibilities
Almost all popular WordPress themes support beaver builder. There are 25 themes specifically created for Beaver Builder in the WordPress repository. Beaver Builder has its own compatible theme, which gives you the freedom to create stunning websites without hassle.
Elementor's WordPress Theme Compatibilities
From default WordPress theme Twenty Twenty-Three to multipurpose popular themes like flexia, Astra, etc are fully compatible with Elementor. At present, there are 500+ Elementor compatible themes available in WordPress repositories. Moreover, Elementor has its own WordPress theme Hello -the fastest & most SEO friendly. With this, you can create any category website smoothly.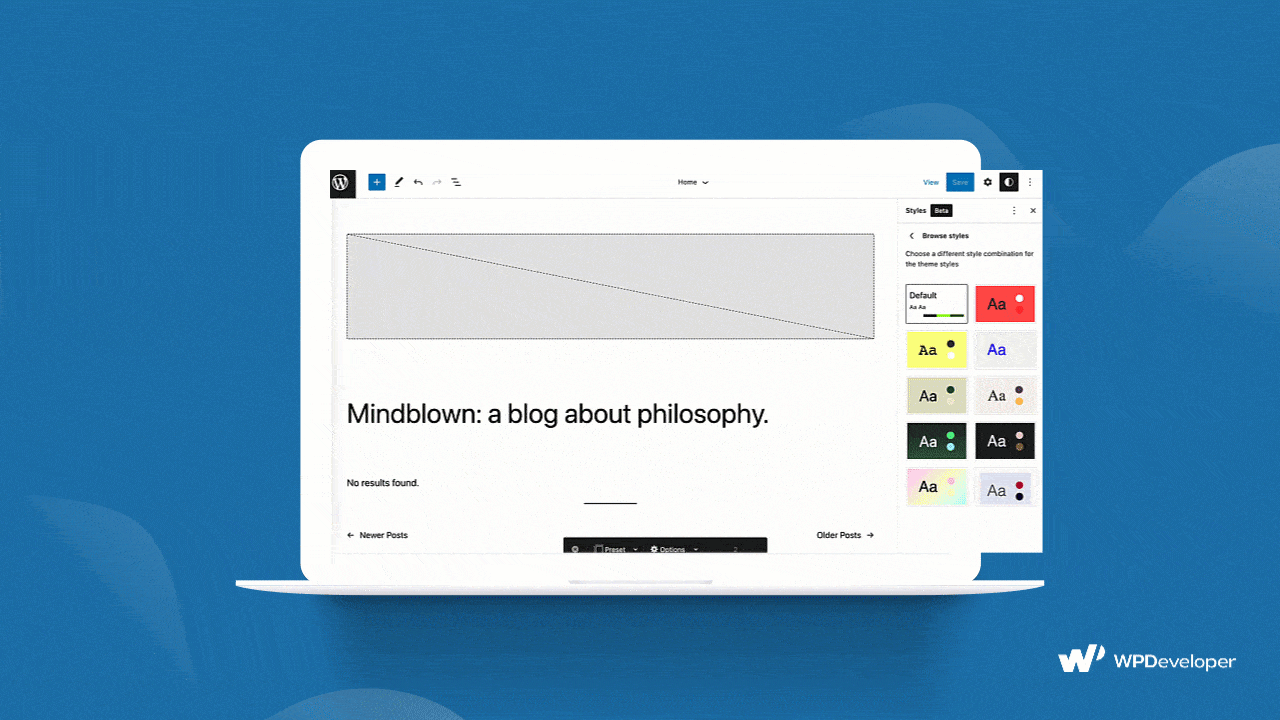 On the surface, Elementor is a better choice as its compatible with a huge number of themes. However, Beaver Builder themes offer so many functionalities that you can build multi-purpose websites with them.
5️⃣ Ready Templates Collections: Beaver Builder Vs Elementor
Both best WordPress page builders not only offer you a code-free website creation experience but also enable you to design pixel-perfect websites with amazing templates. Let's see which one wins Elementor vs Beaver Builder in terms of the template collection.
Beaver Builder Template Collections
Beaver Builder offers ready templates to create amazing looking websites without knocking basic web design principles. There are now 3 free and 29 pro templates and many third-party templates are available which you can directly access from the module panel. You get two categories to choose from: landing pages and contact pages.
Elementor Template Library- Hundreds Of Free
 And Pro Templates For WordPress
Elementor Template Library will offer you more than you imagine. At present, there are 300+ free and pro templates available to help you in creating outstanding websites within one click. Both single block and complete page templates are available here. These templates are directly accessible from your Elementor editing panel also.
If you want access to additional templates, Elementor makes it very easy for you to access new templates via third-party developers. For example, Templately– the ultimate template cloud for Elementor adds over 2000+ templates of multiple categories.
Both of the WordPress page builders offer outstanding, user-friendly, and SEO-optimized templates to make your website creating experience way smoother. If you're looking for a large variety of pixel-perfect template designs, then between Elementor vs Beaver Builder, Elementor is the better option.
6️⃣ 
Effect On Website Loading Speed And Performance
WordPress sites' search engine ranking depends on the SEO-Friendliness, user engagement, site loading speed, and so on. To improve your site speed you will need clean, code-optimized, and light-weight themes, plugins, and page builders.
When you are comparing Beaver Builder vs Elementor, you have to check out the memory usage, individual web page loading speed, and so on. Considering these key factors, Beaver Builder is lightweight and loading fastly. Since Elementor offers vast functionalities, it is less speedy than Beaver Builder.
7️⃣ Accessibility In Theme Building Functionality
Besides offering ready templates, modules, or blocks, Elementor and Beaver builder have their own Theme builder. These two theme builders will help you to create customized elements for your website to make it more accessible. Elementor vs Compare, which theme builder is good to go for, let's check out.
Presenting Elementor Theme Builder
With Elementor theme builder you can create multiple types of custom builder templates such as page, section, pop up, header, footer, archive, and many more. These Theme Elements let you insert dynamic information pulled from your WordPress site's main functionality. Once you've built your design, you can choose exactly where you want to use it.
Beaver Builder Theme Building Functionality
Beaver Builders theme building functionality is available in Themer Layouts. With this, you can create a customized header, footer, 404 pages, and so on. This theme builder will allow you to display customized posts where you set them to display.
Considering the wide range of functionalities, Elelmentor theme builder is more user-friendly among Elementor vs Beaver Builder. On the other hand, Beaver Builder theme builder allows the creation of customized templates in fewer steps.
💸 Pricing Plans: Elementor Vs Beaver Builder
More exciting and amazing features, widgets, and templates are available in both the best WordPress page builders pro packages. Let's see which plugin should be upgraded into Pro, Beaver Builder vs Elementor.
Elementor WordPress Page Builder
If you go for Elementor Pro you will get access to immense facilities. You can upgrade to pro users depending on your need and budget plan. The details of Elementor Pro pricing plan are here.
Beaver Builder Pricing Plan
Beaver Builder Pro is more user-friendly and offers a wide range of customizations. Depending on user needs they have divided their pricing plans into these categories.
Which WordPress page builder wins in the pricing category depends on which platform you get more comfortable with. Elementor wins among Beaver Builder Pro vs Elementor Pro depending on pricing range and category.
📣 Hear It From The Community: Beaver Builder vs Elementor
Beaver Builder and Elementor are considered two of the best page builders for WordPress. To select one for creating your websites, let's explore their reviews and possibilities from the WordPress community.
Elementor
Support Issue Solved 168/198
Beaver Builder
Active Installations 200,000+

Support Issue Solved 7/11
According to the WordPress community, Elementor is more popular than Beaver Builder between Elementor vs Beaver builder.
🤔 Beaver Builder vs. Elementor: What WordPress Page Builder Should You Choose?
Before declaring the final verdict, let's recap what are the pros of Elemntor and Beaver builder.
The main advantages you will going to get with Elementor Page Builder:
➡️ More user-friendly live visual editor.
➡️ Countless attractive templates and blocks availability
➡️ SEO optimized with 100% responsiveness
➡️ The utmost facility in customization
Now let's explore the advantages of choosing Beaver Builder.
➡️ Easy to start setup wizard to help beginners.
➡️ Modern design features, gradients, drop shadows.
➡️ Full freedom of customization, even using custom codes.
In general, Elementor is more designer-friendly and Beaver builder is developer-friendly. Honestly, you can choose either of these WordPress page builders because they are both excellent at what they do and will never let you down!
Let us know Beaver Builder vs Elementor, which page builder is the winner to you via comments. Don't forget to subscribe to our blog and join Facebook Community to get more of these comparisons, fun tutorials, and many more.