A seamless payment process is essential for running any type of online business. Depending on this your business will grow or fall at the same time. That's why a business owner needs to be careful about including secure payment gateways to provide the best online transection service to their customers. And if you are a WordPress user, you can easily offer a secure payment process to your customers using the best payment plugins. 
But how to get the right tool for your business is the real concern. Don't worry! This blog is all about getting you to know the top 5 best payment plugins for WordPress in 2023.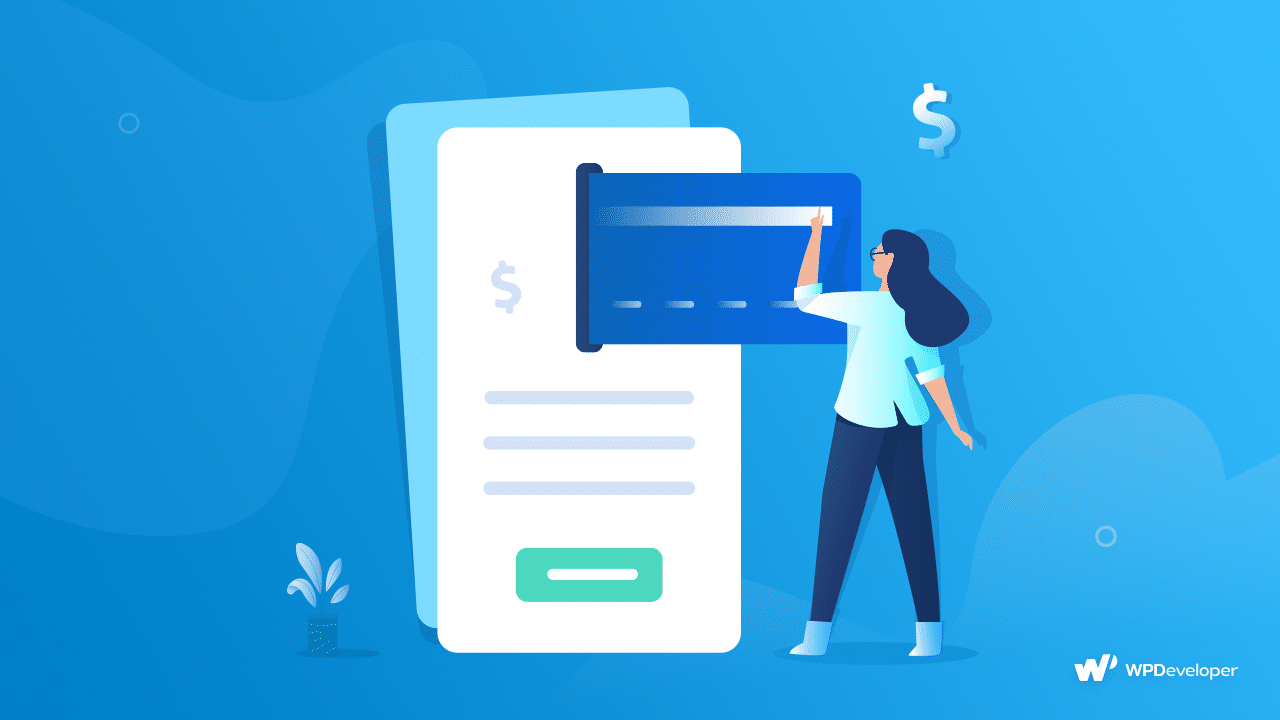 How To Choos The Best WordPress Payment Plugin?
You have to know what are the major features you need to assure a secure online payment process between two ends: buyer and seller. According to this you should do research and look for the latest, advanced features on your selected WordPress payment plugins. Take a look below to know how to choose the best payment plugins for WordPress: 
You need to assure the secure transaction process first. Make sure your chosen WordPress payment plugin comes with the SCA process (Secure Customer Authentication).
Multiple payment options facilities should be included. So that customers can easily pick their preferred payment options such as credit card, internet banking, or others. 
Automated email alerts or SMS notifications can help you send your customers a confirmation after the payment was successfully made. Admin alert facility should present there to notify you about your customer purchases. 

Easy and flexible refund options should be included for seamless payments without charging high rates.  
Top 5 Best Payment Plugins for WordPress – Compared [2023]
As you already know why you should use the best payment plugins, this time you will get to know all the top 5 best payment plugins for WordPress you should start using. Check out all details here: 
Stripe Payment Forms By WP Simple Pay

WP Simple Pay offers the best Stripe payment form and Stripe payments plugin for WordPress users. It easily accepts credit card payments and considered itself the only Stripe payments plugin that connects Stripe with WordPress to grow your business. Configuration is very simple you just have to create a payment form in your WordPress site following some simple steps and start accepting credit cards or other payment types. It comes with both free and premium versions with affordable price plans. 
 WP Simple Pay Highlights:
It comes with embeddable payment form buttons

Powerful integration with Stripe Checkout hosted payment forms

Offer custom branding on Stripe Checkout payment forms

Help you collect billing & Stripe shipping addresses 

Support for 30+ languages, 45+ countries & 135+ currencies in Stripe

Get Apple Pay & Google Pay with Stripe Checkout

Ensure secure payments with PCI compliant & SCA-ready payment forms 

Inlcude smart fraud protection & spam prevention service with a lot more. 
PayPal Plus For WooCommerce

PayPal Plus for WooCommerce is considered the official PayPal Plus plugin. It powerfully integrates with all PayPal Plus payment methods into your WooCommerce shop like PayPal, Direct debit, Credit card, and Pay upon invoice with others. 
This plugin provides a checkout page that loads an iframe. You can offer all PayPal Plus payment methods to your buyers. Buyers can choose which payment methods they want to choose just by clicking the buy button. 
PayPal Plus For WooCommerce Highlights:
Comes with a new express checkout gateway for faster payments. 

Get easier integration with all payment methods in only one plugin.

Offers four types of payment methods like PayPal, Direct debit, Credit card, and pay upon invoice.

Secure payment gateways that protect against losing money to chargebacks & reversals. 

PCI conformity is there to make the checkout page loads an iFrame with a lot more.
WPForms – Contact Form, Payment Forms & More

WPForms is one of the popular form plugins for WordPress that helps you create contact forms, payment forms, registration forms, and a lot more. WPForms powerfully integrates with PayPal, Stripe, Square, and Authorize.Net. You just need to connect your favorite payment gateways by following an easy setup process with WPForms and start collecting your online payments securely. The payment integration facility comes with its premium version.  
WPForms Highlights:
Flexible, easy-to-use & secure interface to manage your online transactions. 

Powerfully integrated with PayPal, Stripe, Square, and Authorize.Net payment methods. 

Help you create a credit card payment form to accept payments on your WordPress site & a lot more. 
Forminator – Contact Form, Payment Form & Custom Form Builder

Forminator is the easiest WordPress form builder plugin. It helps you create a  payment form, contact form, order form, email form, feedback widgets, and a lot more with payment options including PayPal and Stripe. Forminator's comes with a smooth drag and drop visual builder with easy setup and add forms process. To activate payment options with Stripe & Pay Pal, you just have to enter the publish keys for both fixed and variable payments. It comes with both free and premium versions with more advanced features. 
Forminator Highlights:
Easily take payments, donations, down payments, and sell merch with Stripe and PayPal integrations.

SCA compliant included Stripe and PayPal payment processes. 

Offer easy-to-use, faster & secure payment processing for WordPress users. 
Now It's Your Turn To Explore!
Hope you like this blog helpful to include a secure payment process in your WordPress site using the best payment plugins. Let us know your experience by commenting below.
To find out more exciting blogs, and tutorials, subscribe to our blog, and don't forget to join the amazing Facebook community.  
Want To Read More Exciting Blogs?