Whether you are an affiliate marketer, an eCommerce store owner, or a content creator, being able to shorten & track your URLs can make a huge difference for marketing campaigns. That's why you need an all-in-one WordPress link shortener plugin. Introducing BetterLinks PRO– an advanced link management solution for WordPress that lets you effortlessly cloak, shorten, and track your URLs.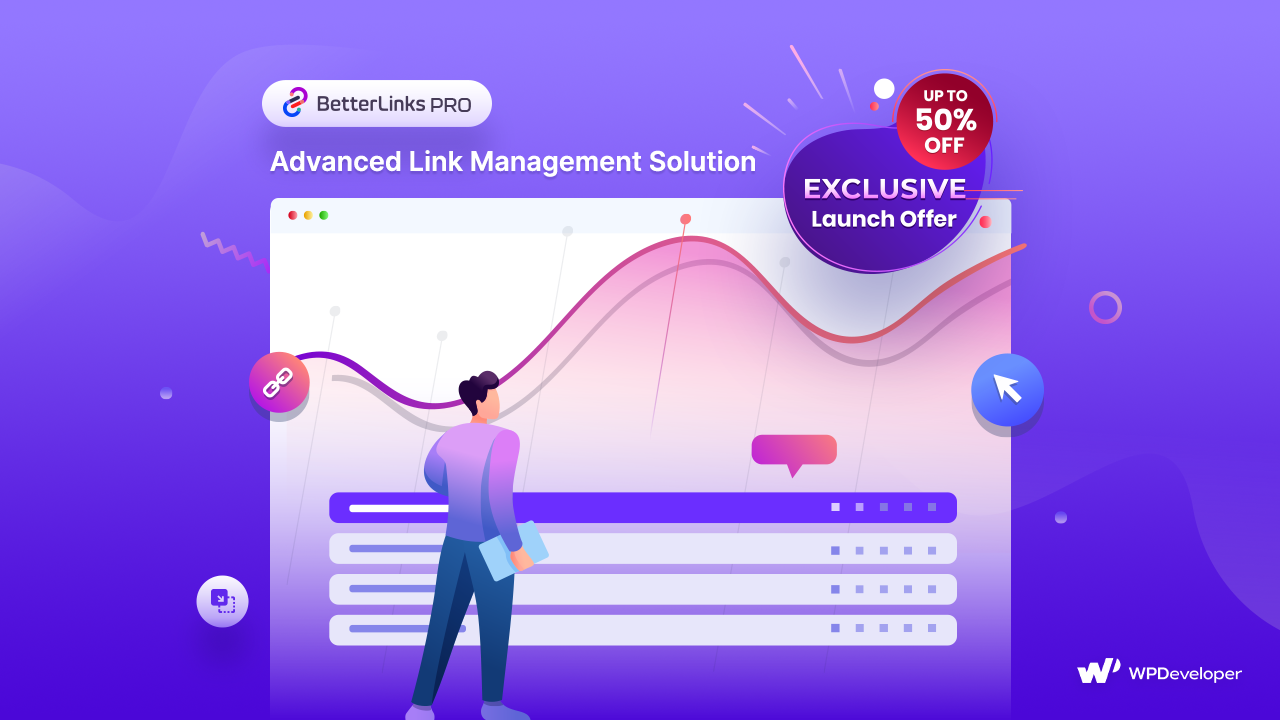 At WPDeveloper, we are always striving to bring the solutions and features most requested in our community. With more than 5 million users who are delighted with our products, we are always trying to go the extra mile to bring you advanced solutions.
And that's what inspired us to create BetterLinks, a powerful WordPress plugin with which you can create branded, pretty links for your affiliate marketing campaigns, or easily share your content on social platforms. 
BetterLinks is one of the latest projects we've been working on here at WPDeveloper, and we are super excited to share it with you. We introduced the free version a few months ago earlier this year and already we have seen an amazingly positive response from our first 1000 users. And after several requests from the community, we are officially launching BetterLinks PRO with powerful premium features that will help you manage your marketing campaigns better and analyze your URLs and click-through rates effortlessly. 
BetterLinks PRO also comes with tons of other advanced features such as helping you set link expiration dates for limited time campaigns, setting up multiple redirect link types, integration with Google Analytics, and seamless one-click migration from other plugins. What's more, you can even use the advanced role management features to get complete control over who gets to manage your links and by extension your marketing campaigns.
Dive in with us today to find out all the exciting link management features you get with BetterLinks.
Make Your Brand & Products Stand Out With BetterLinks PRO
Creating branded, pretty links is a great marketing strategy that can help you draw attention to your products. After all, short and attractive links always look better and more professional to your target audience. Plus, if you are planning on sharing your campaigns or content on social media, short, branded pretty links are a must-have for any marketer.
That's where BetterLinks comes in. Brought to you by the same team behind popular WordPress products like Essential Addons for Elementor, NotificationX, BetterDocs and Templately, BetterLinks can help you run successful marketing campaigns by creating branded, short links and managing them without breaking a sweat. 
But wait, there's more! What makes BetterLinks PRO the ultimate link management solution for WordPress isn't just that it helps shorten and cloak your links; you can also track and analyze your link performance, integrate it with Google Analytics, carry out split testing with Dynamic Redirects and instantly create social share templates with an advanced UTM Builder.
Sounds exciting? Dive in with us, and see for yourself all the amazing features that you get with BetterLinks WordPress link shortener plugin.
Explore Advanced Link Management Features From BetterLinks 
Whether you want to cross-promote your products, cloak your affiliate marketing links, or redirect visitors to specific landing pages for your marketing campaigns, you can do it all with BetterLinks. Let's take a look at all the advanced features that you get with this WordPress link shortener plugin.
Easy Drag & Drop Interface To Manage All Your Links In One Place
Keeping track of all your links can seem like a daunting task, but with BetterLinks WordPress URL shortener plugin, you get a very attractive, easy-to-use, drag-and-drop interface with which you can manage all of your links in one place. 
You can create new categories for your links to keep them properly organized, drag and drop them to move a URL from one category to another, and get an overall bird's-eye view of all the URLs you are managing in one place.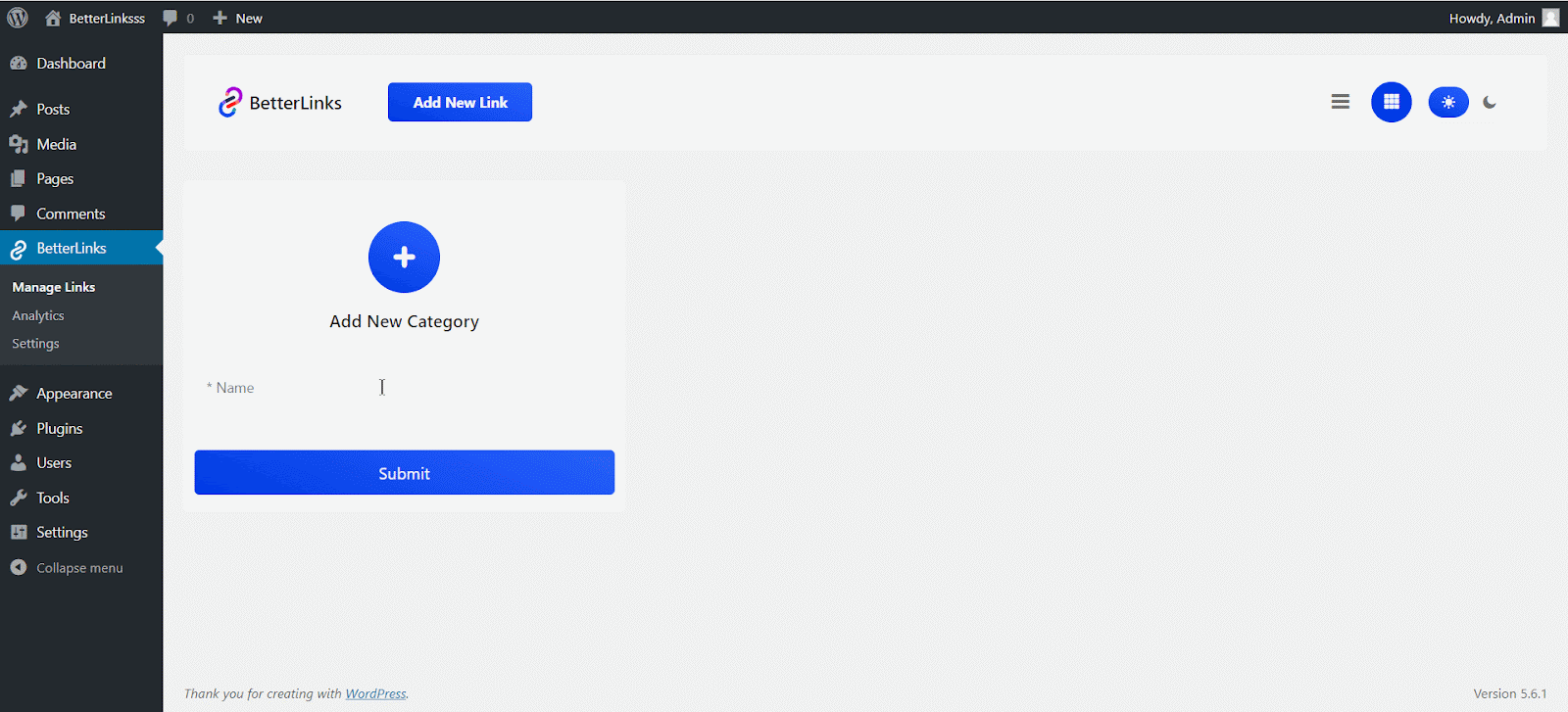 Create New, Shortened URLs Quickly With BetterLinks
Once you have some categories set up to keep all of your shortened links organized in one place, you can start creating new links using this amazing WordPress URL shortener plugin To do that, all you have to do is click on the "Add New Link" button as shown below.
Alternatively, you can also click on the '+' icon under any category to add a new link with BetterLinks there. Afterward, a popup will appear where you can add the details about the new link you just created such as the 'Title' of the link, a brief description, its redirect type, target URL, tags as well as the shortened link.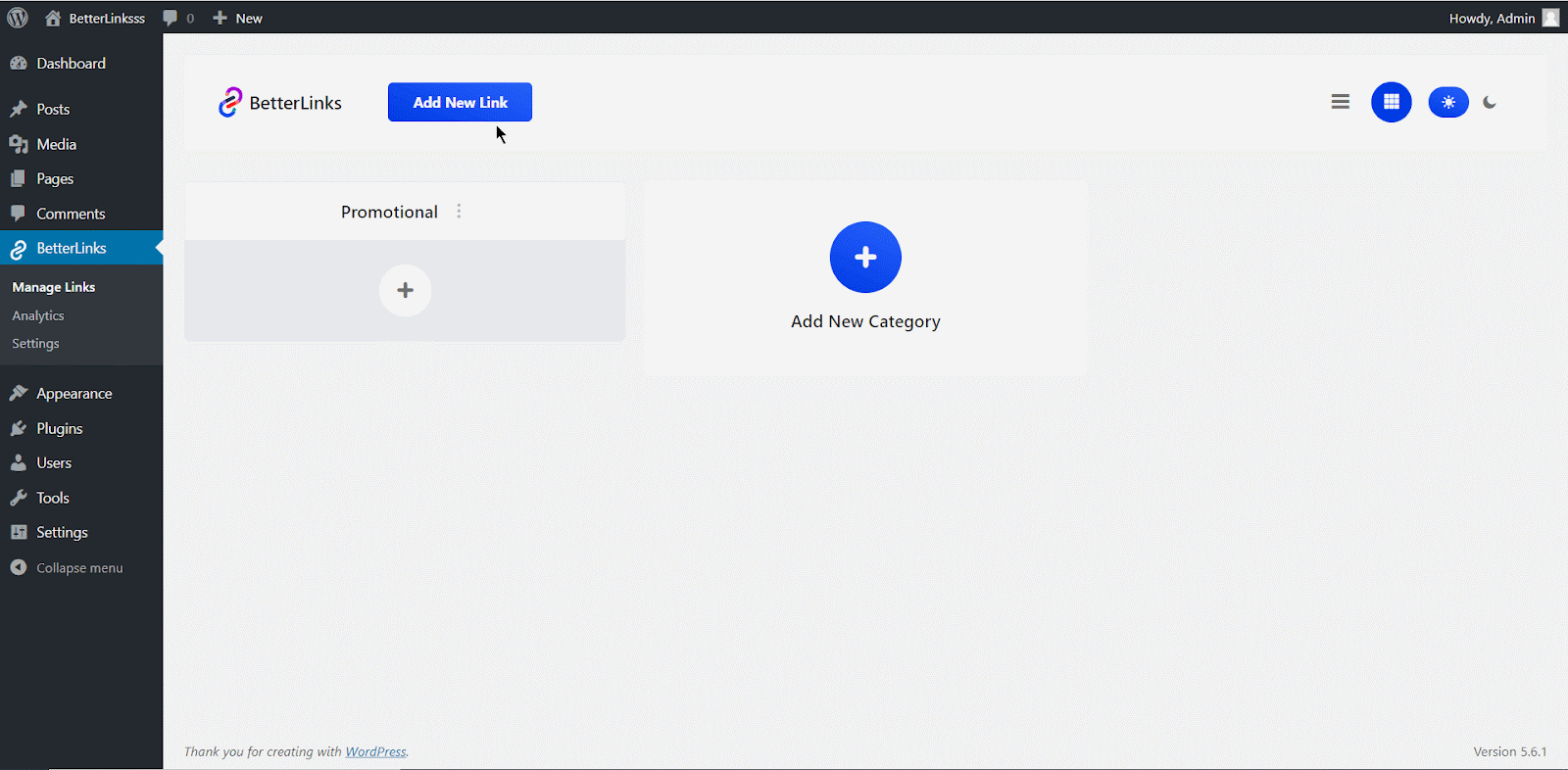 Set Up Multiple Redirect Types And Schedule Link Redirects
With BetterLinks, you can also set up multiple redirect types and manage them effortlessly from your dashboard. Currently, this advanced WordPress link shortener plugin lets you create 301 (Permanent), 307 (Temporary), and 302 (Temporary) redirect links. 
What's more, you can even schedule your link redirects by adding an expiry date after which the status of your links will change from 'Active' to 'Expired'. This is very useful in several marketing campaigns, such as when you want to create a promotional campaign that lasts for a very limited amount of time. 
Get Insightful Data About Link Performance With Built-In Analytics
To help you manage your campaigns better, especially for affiliate marketing, BetterLinks comes with an advanced built-in analytics tool that will give you insightful data about the performance of your links. 
With this advanced WordPress link shortener plugin, not only do you get to cloak and shorten your links, but you can also see how many times your links have been clicked and thus create better affiliate marketing campaigns and strategies. 
Moreover, you can easily filter the data to view the click analytics report for any given period of time. This will help you get a clear idea of past campaigns and how you can plan better, improved campaigns for the future.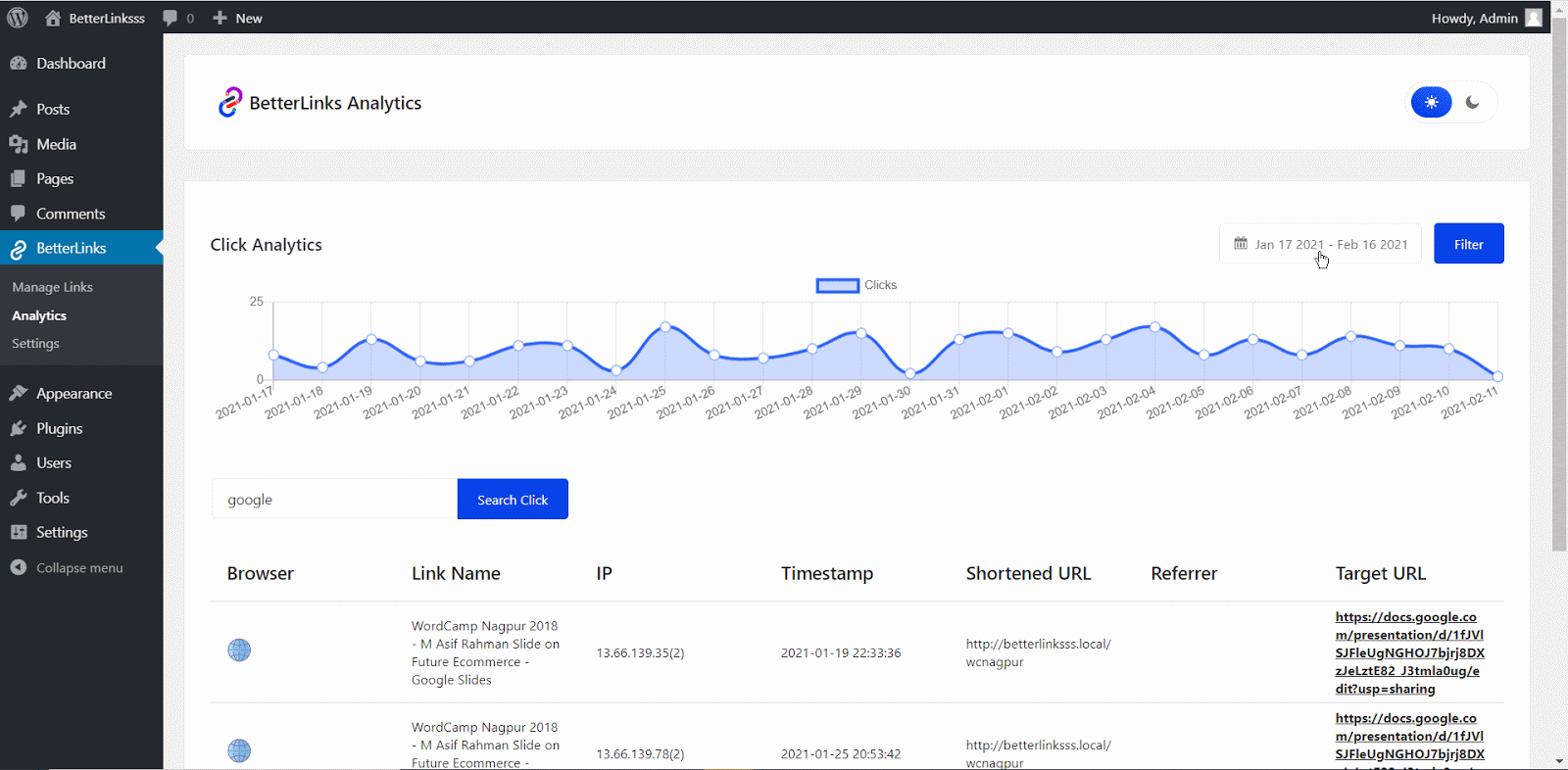 More Exclusive, Premium Features With BetterLinks PRO
Now, these are just some of the basic features you will get when you first start out with BetterLinks. However, BetterLinks has tons of more exclusive and advanced features which makes it the ultimate WordPress link management plugin. Take a look at these features below.
Advanced UTM Builder For Creating Social Share Templates
One of the exclusive features you get with BetterLinks PRO is its advanced UTM builder, which you can easily configure to create social share templates for sharing your links. 
Have you ever noticed how when you click on the 'Share' button for a campaign or a post, it automatically generates a pre-made social share message with a branded, shortened link?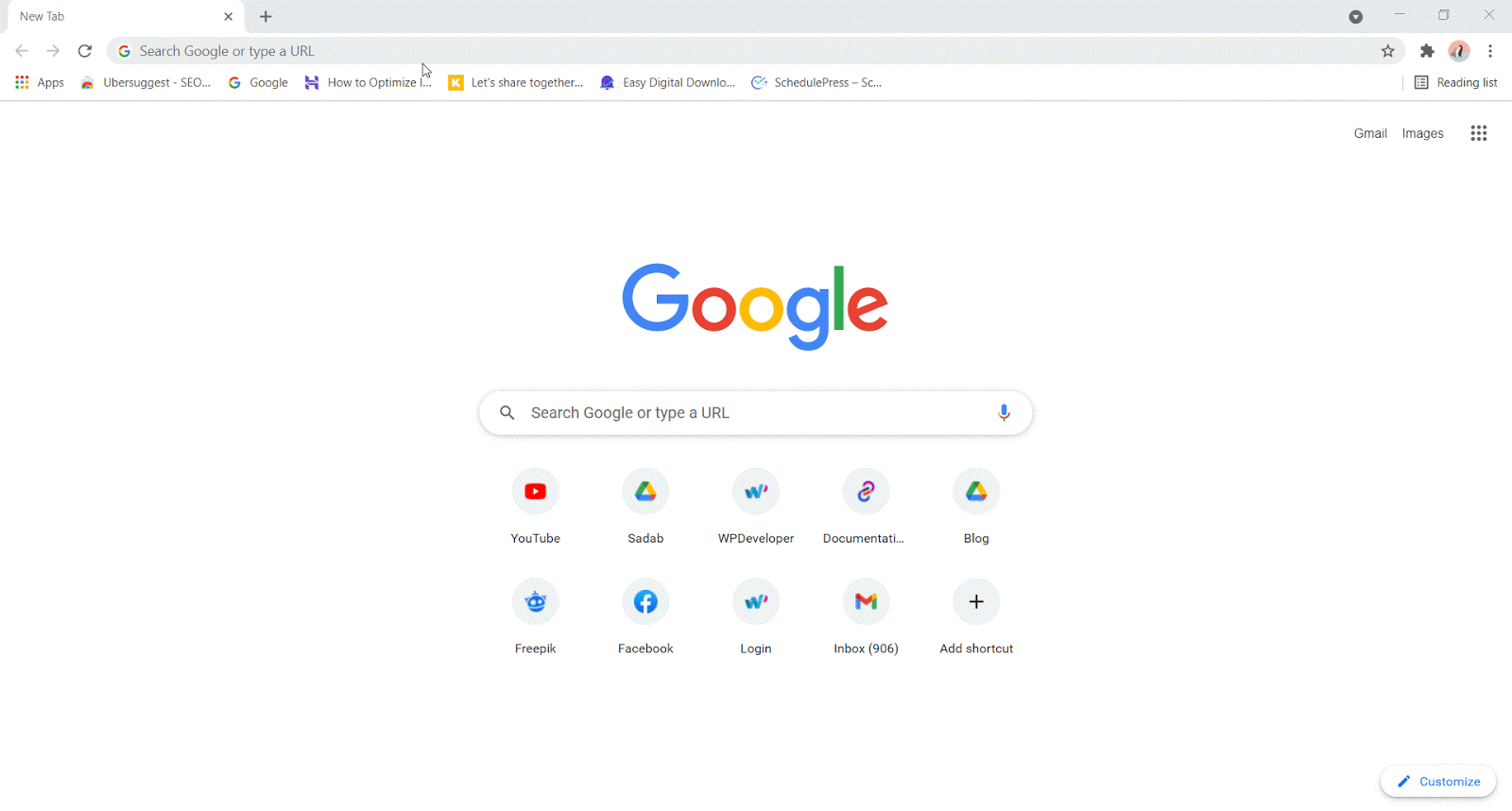 Well, now you can do just that with the social share feature that comes with the advanced UTM builder in BetterLinks PRO. Once you have configured the UTM builder in BetterLinks, you can create custom social share templates for Twitter, Reddit, LinkedIn, Facebook and even emails.
Seamless Integration With Google Analytics For Better Link Management
Before you can use the UTM Builder with BetterLinks, you must first integrate BetterLinks PRO with Google Analytics. This advanced feature allows you to get more insightful information about who is clicking on your links, from which browser and other important data that could help you finetune your campaigns.
The steps for integrating BetterLinks with Google Analytics are very simple. You just need to copy the 'Tracking ID' from your Google Analytics account, head over to BetterLinks dashboard and enable the 'Google Analytics' option. Once that's done, simply paste the tracking ID you had retrieved and hit the 'Save' button to start using BetterLinks with Google Analytics.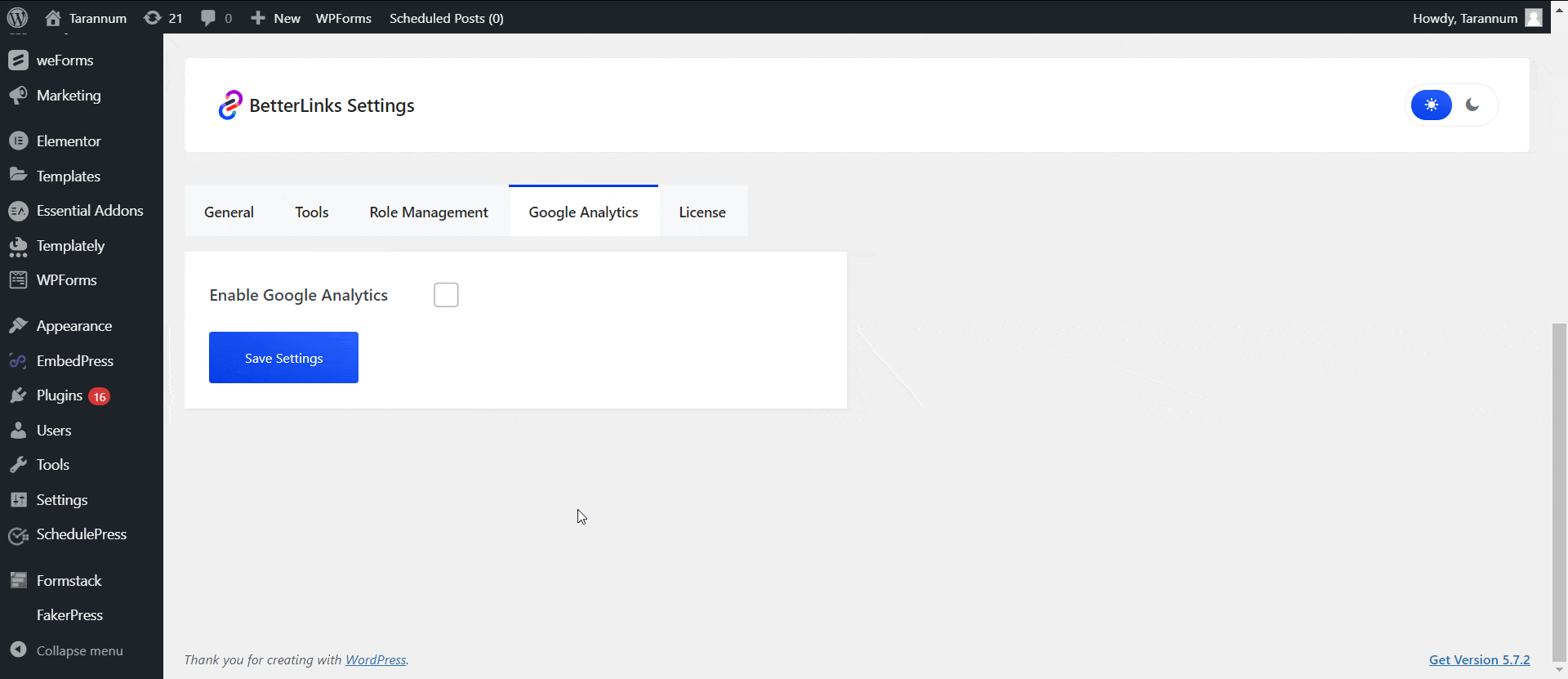 Carry Out Split Testing & Create Link Rotation With Dynamic Redirects 
Besides this, BetterLinks PRO lets you perform split testing with dynamic redirects. You can even create link rotations with dynamic redirects as well. 
'Split testing' is a very important way for marketers to finetune their strategy and campaigns. To do this, you must have two offer pages (or more) and a goal landing page on your website. The offer pages are the web pages where you will set the redirect link (through a hyperlink or call-to-action buttons) and the main landing page is where the user will be redirected to.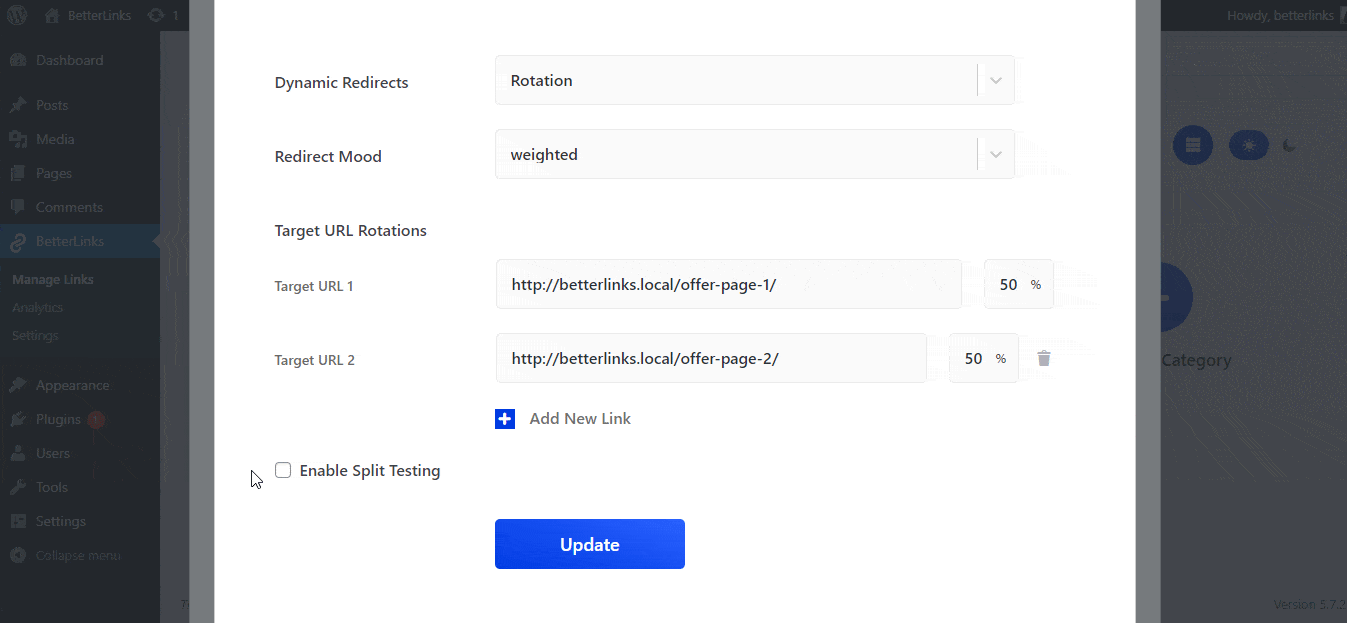 Once you have inserted the redirect links to your offer page, it's only a matter of enabling the dynamic redirects feature and split testing option to see how your offer pages are performing.
You can view and analyze the results of your split testing with the built-in analytics tool from BetterLinks mentioned above, and see the conversion rates and other reports for each of the offer pages in a beautiful graphical format.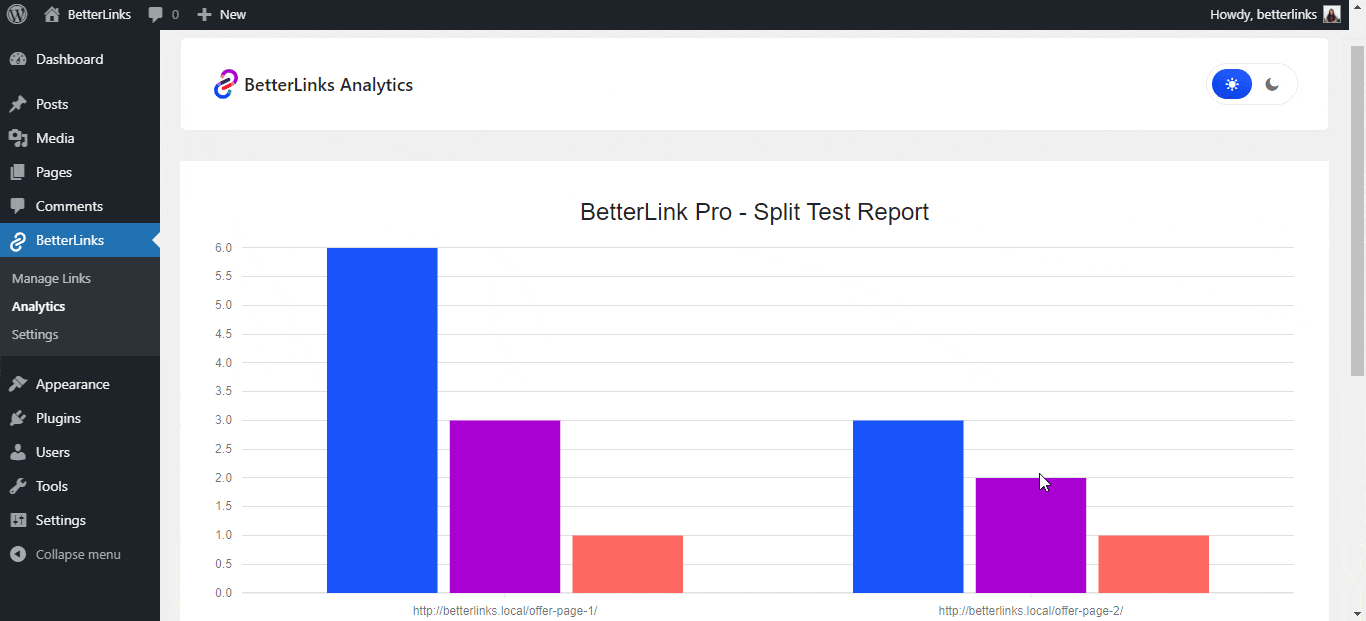 Create & Manage User Roles In BetterLinks To Streamline Your Work
If you are working with a team, you can easily streamline your marketing and link management tasks by creating user roles with BetterLinks PRO. This will allow you to set up custom permissions for different user roles and give them access to different features of BetterLinks.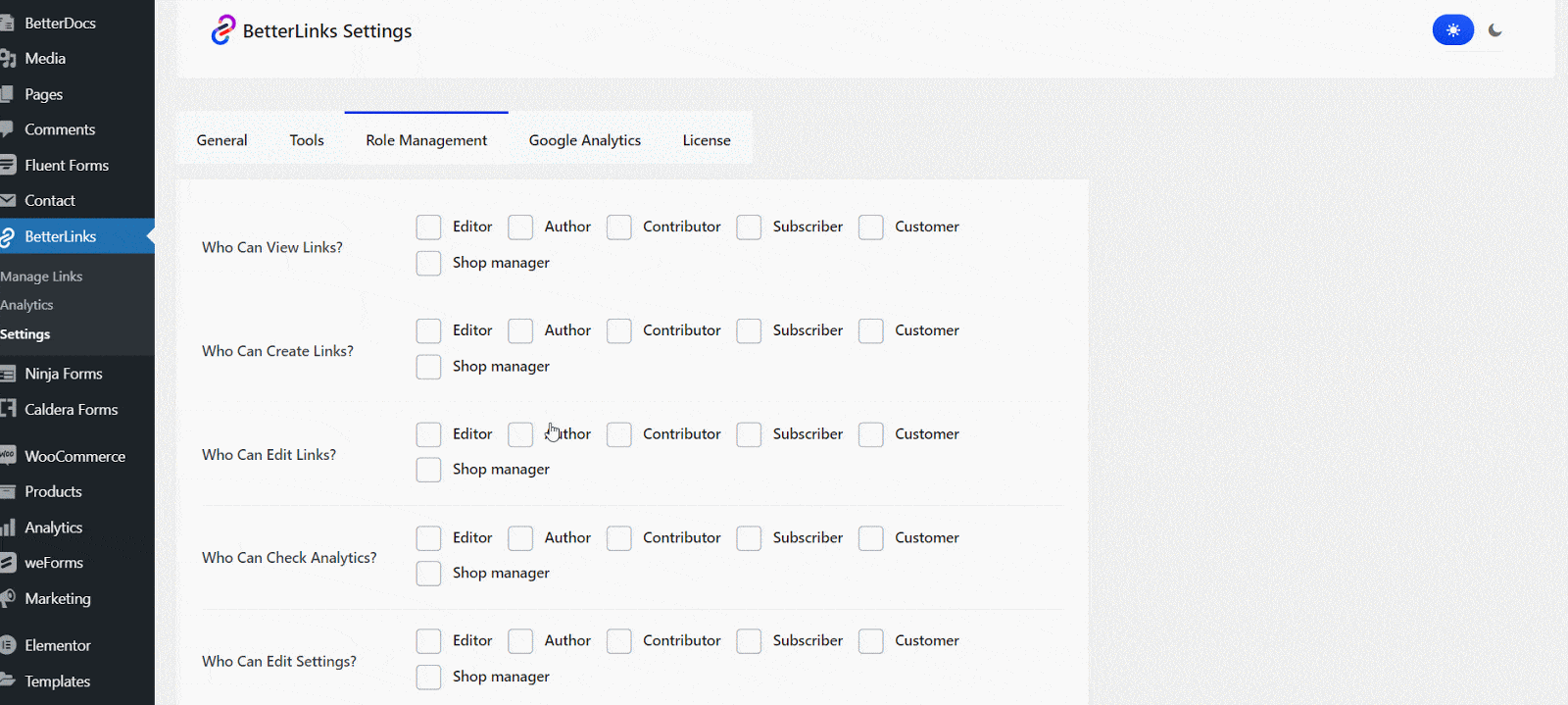 Migrate To BetterLinks WordPress Link Shortener Plugin Today
These are just some of the features that you can get with BetterLinks, but stay tuned as there are many more features to come! So, be the first to join us and get your hands on the ultimate WordPress link shortener plugin today by trying out BetterLinks. 
You don't even have to worry about migrating your links with too much hassle when switching to BetterLinks–no matter which plugin you are using, BetterLinks comes with a seamless one-click migration feature that will help you shift from your current WordPress link shortener plugin without a hitch.  
Exclusive Launch Offer: Grab 50% OFF On BetterLinks PRO
And for a limited time only, you can save a whopping 50% and grab LIFETIME UNLIMITED access to all premium features. So hurry and get started with BetterLinks PRO today!