Want to create a quick holiday sales page during this Christmas season and wondering how you can do it? We have got 5+ stunning Christmas and New Year templates for Elementor to design an interactive holiday sales landing page without using any codes. Using these ready templates, you can build a WordPress website within a few minutes to attract, engage and boost holiday sales. Take a deep dive into this blog to know all the details.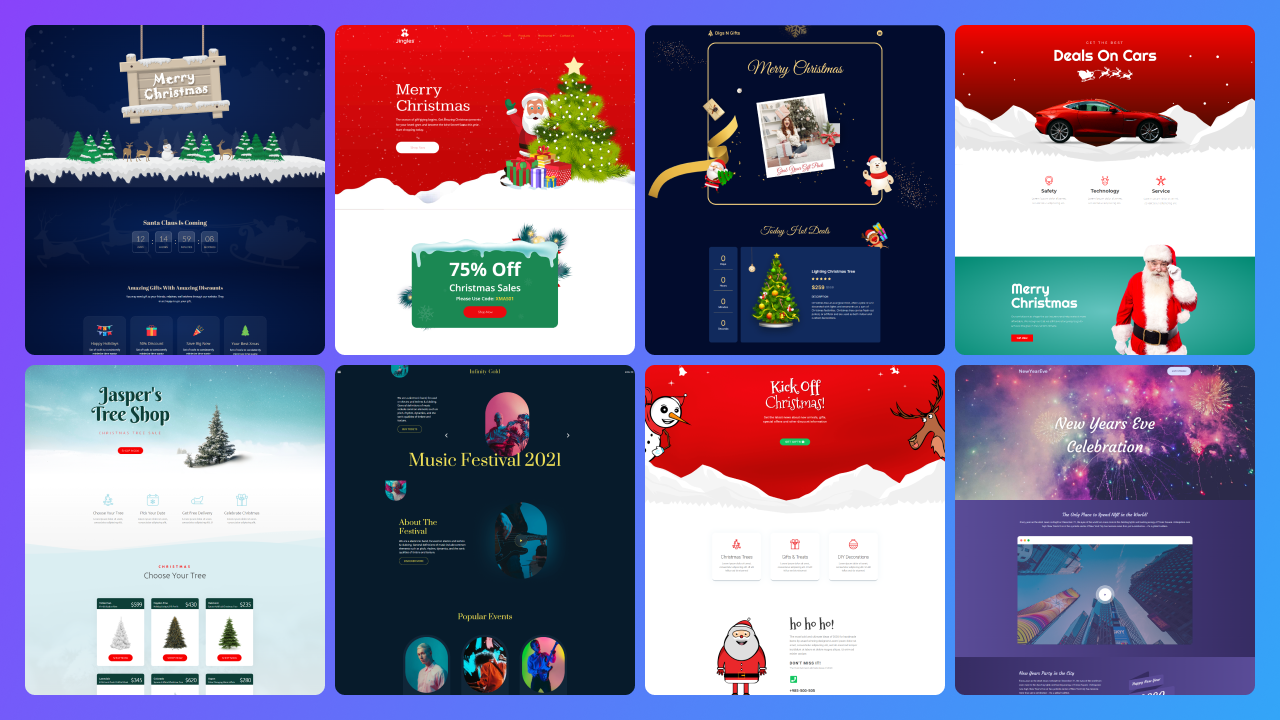 Business owners or marketers look forward to making their landing pages special during the time of holiday sales. When November starts and till the year-end, you have to give some extra effort to provide discounts and special offers on your products and appealingly display them on the website. 
This is why for the season of Christmas and New Year Eve, companies are more focused to create a festive mode on their website and mesmerize their customers with instant sales, exclusive holiday sales offer on products or services, and influencing customers to purchase the spot. 
The National Retail Federation (NFD) mentioned that "holiday sales during November and December rose between 8.5% and 10.5%, for a total of between $843.4 billion and $859 billion of sales".
Best Ways To Design A Stunning Holiday Sales Landing Page
As you already know how holiday sales create a great impact, also what you need for creating a high converting holiday sales landing page. To enlighten you more with exclusive tips, in this section, you can get all the best ways to build a stunning holiday sales landing page for Christmas & New Year below. 
Include A Vibrant Look 
A vibrant, exciting, professional look facilitates holiday sales landing page design to get more leads and increase conversions. You have highlighted your sales, promotions in a way that your customers feel moved towards getting the deal the right way. Navigation, banner, color concept, font, call to action design personalization with interactive content are mandatory parts to implement. 
Provide A Sense of Urgency
A sense of urgency on your holiday sales or focusing on the concept like the Christmas & New Year season can work if you use the counter on your banner or create a ready option banner with a timer to make your audience know how soon your exclusive sales will end. It is one of the proven and effective marketing tactics to go with.  
Sales Should Be Noticeable 
When you are highlighting your holiday sales for Christmas & New Year or anything, you should highlight the section in a way that your potential customers feel encouraged to give a click. Accordingly, make the purchase and boost sales conversion. This has to be wonderfully represented when your business is online-focused.  
Showcase Easy Purchasing Process 
You have to make your online payment gateways system smooth so that customers can add cart products and purchases immediately. This is one of the last steps where your visitors turn into customers. Make sure you have to ensure your online payment process is flexible whatever product you sell software, eCommerce, or anything.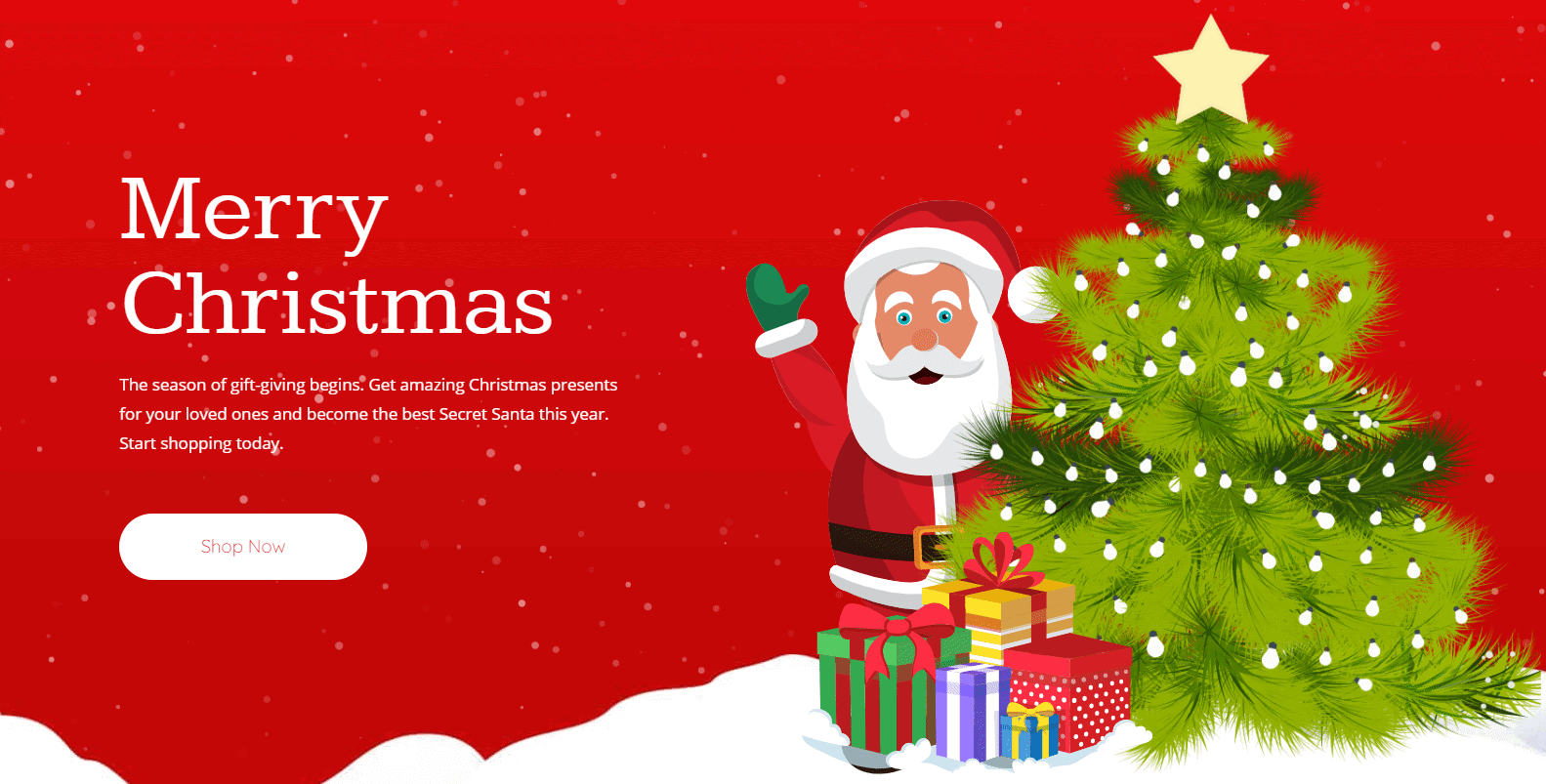 Top 5-8 WordPress Christmas And New Year Templates For Elementor
Now, this is the time you are going to know all the top 8 WordPress Christmas And New Year templates for Elementor to create a dazzling landing page or deal page to accelerate yours without coding. You can choose the right Elementor templates and personalize them the way you want. Get started!
ChristmasLy – Christmas Landing Page Designs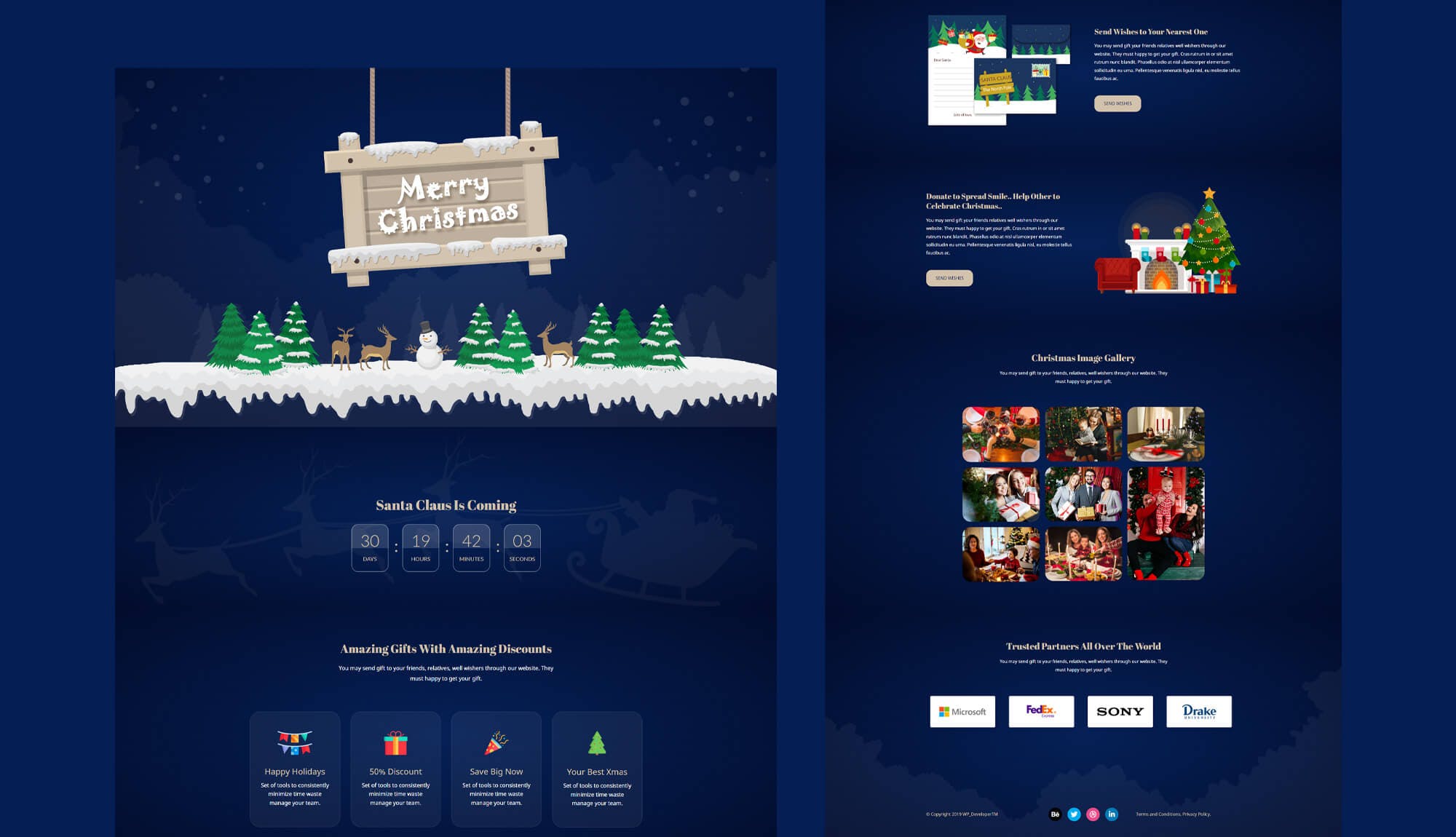 ChrismastLy landing page design template comes for Elementor users to promote their Christmas sales, offers, parties, or any related things in a stunning way. It's a complete festive looking ready Elementor template that is provided by Templately, WordPress best templates hub with a cloud solution. 
ChristmasLy design includes an interactive banner design section with countdown, call to action, gallery sections, and more. You just have to install & start customizing the way you want. It also comes with a Gutenberg-compatible design. To know more about ChristmastLy Gutenberg compatible landing page design, you can check this detailed blog. 
Elementor Christmas Tree Shop Template
To sell your Christmas tree huge this year's holiday sales, you can grab this Elemnetor ready template design Jasper's Tree Shop, and design the website without coding. You have a separate section to display your Christmas tree exclusively with other interactive sections to attract your costumes to make the purchase immediately. 
Digs N Gifts – Christmas Gift Store Template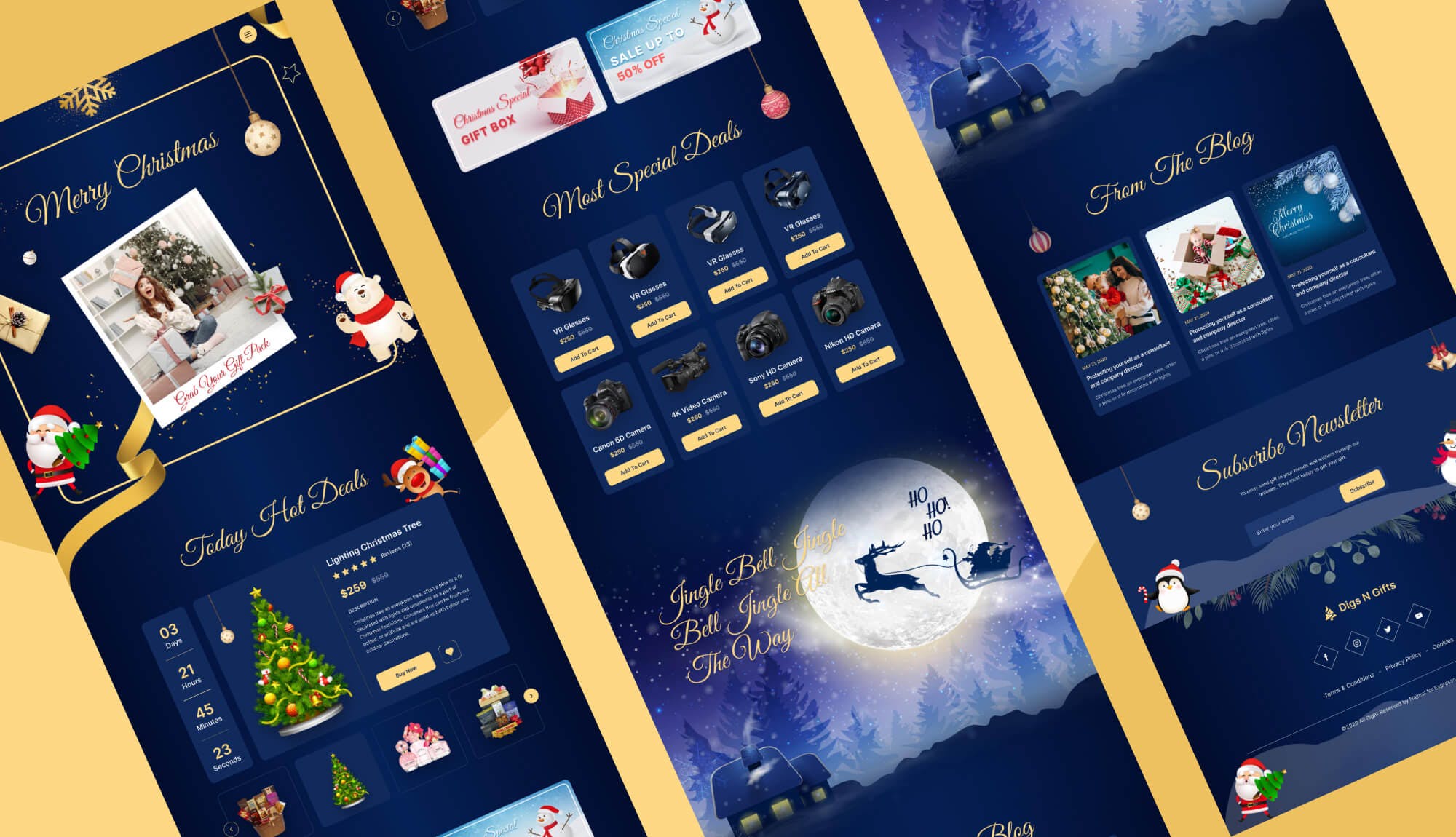 If you want a ready Elementor template to design your gift store for holiday sales Christmas & new year gift store, you can use Digs N Gifts by Templately and make a huge difference on your gift store to boost holiday sales. These complete templates pack that comes with home page, about page, product page & more to make a complete gift store for Christmas & New Year or any related occasion. 
Elementor Christmas Car Agency Template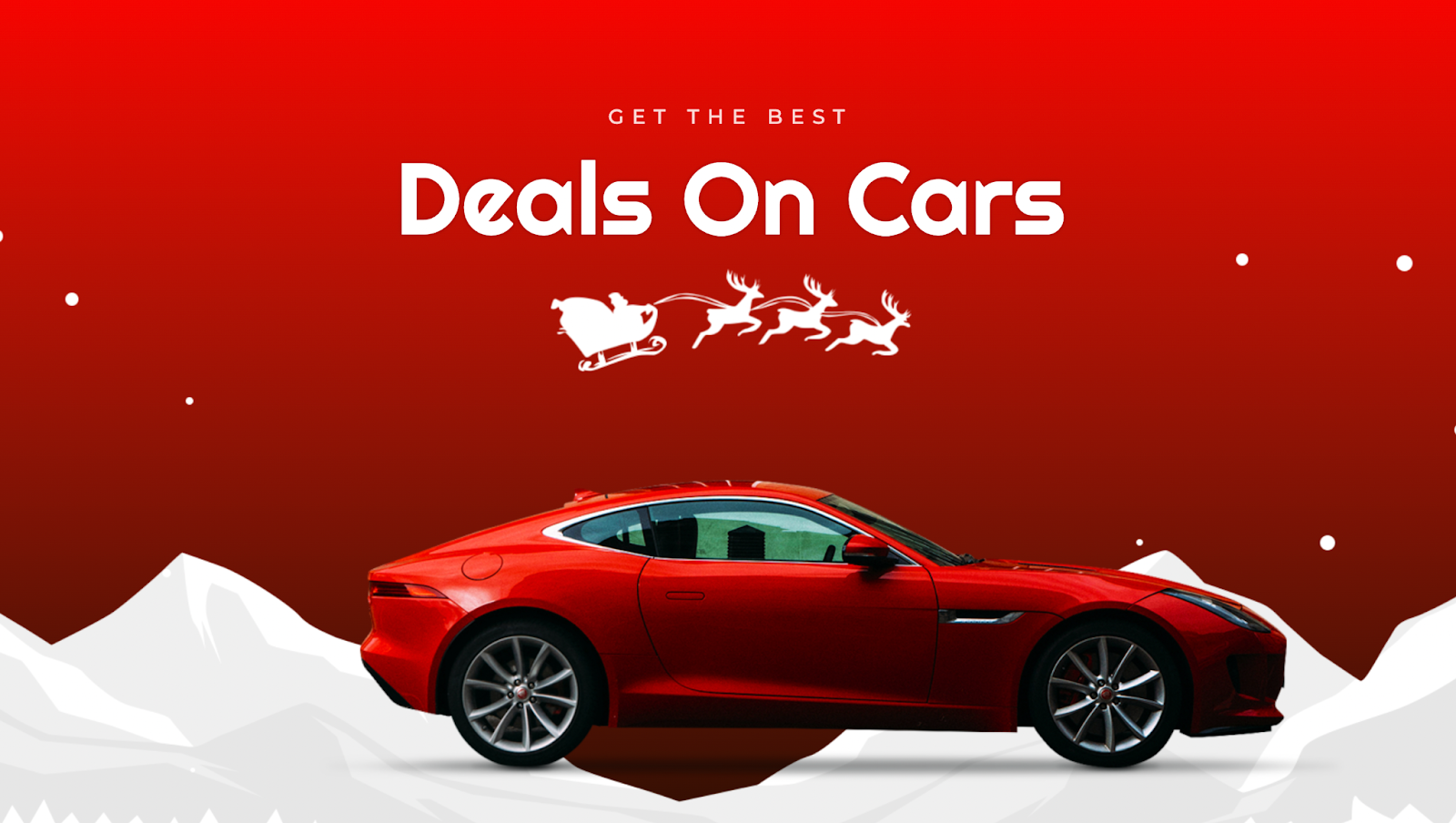 If you want an appealing car agency template in Elementor especially to boost sales in Christmas & New Year, you can get this ready Elementor template and make the changes. You can showcase your exclusive car deals, product highlights, and more to encourage your target audience in this holiday sales season and accelerate sales.  
Jingles – Christmas Landing Page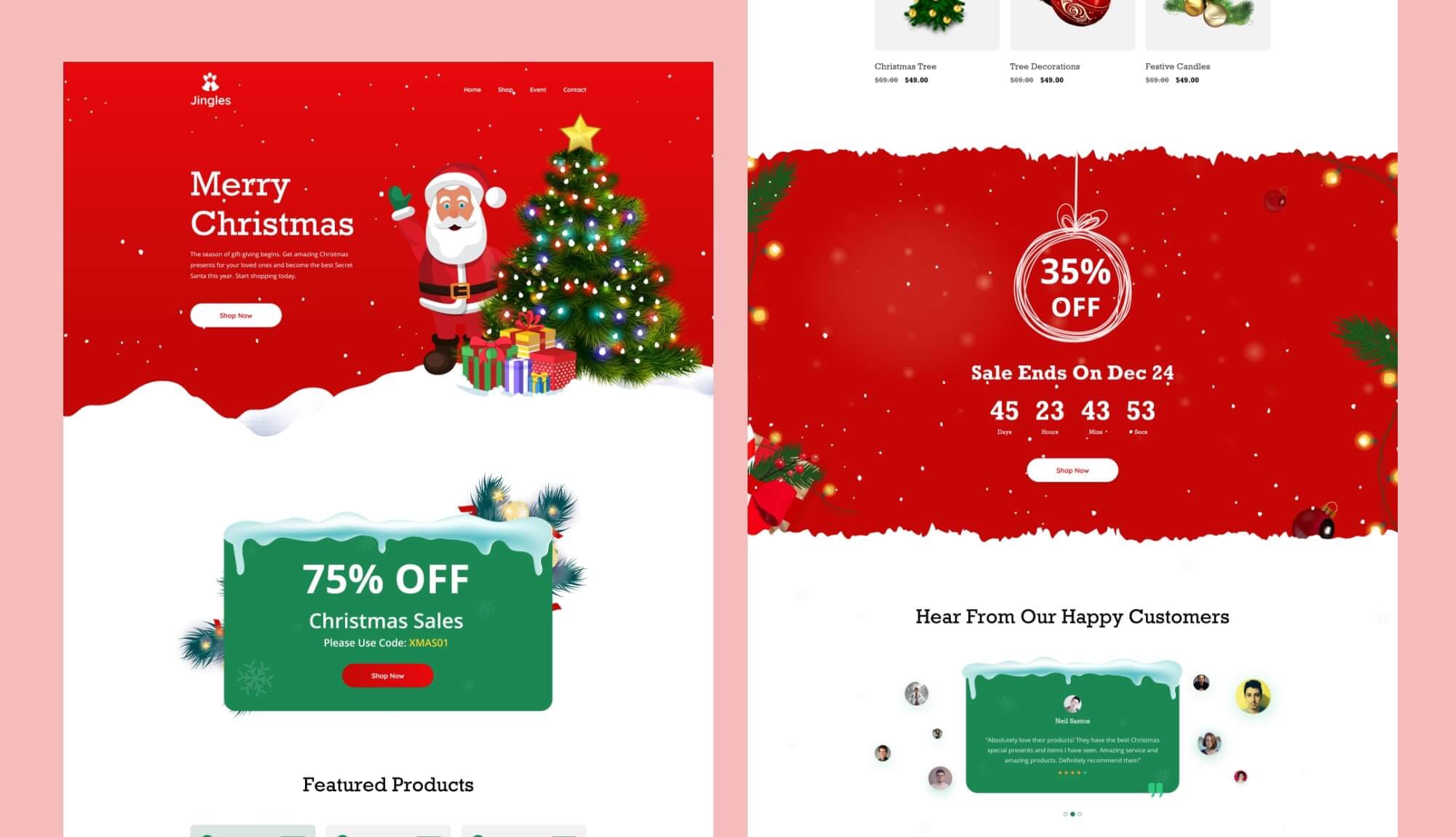 Beautiful looking Christmas landing page Jingles by Templately to make your celebration grand in the eyes of your audience. You can easily promote sales, offers impressively and customize them to highlight all your holiday's sales. It comes with an interactive countdown, individual promotion section, featured products place, and more to boost your Christmas & New Year sales.  
Christmas Gift Shop Template By Elementor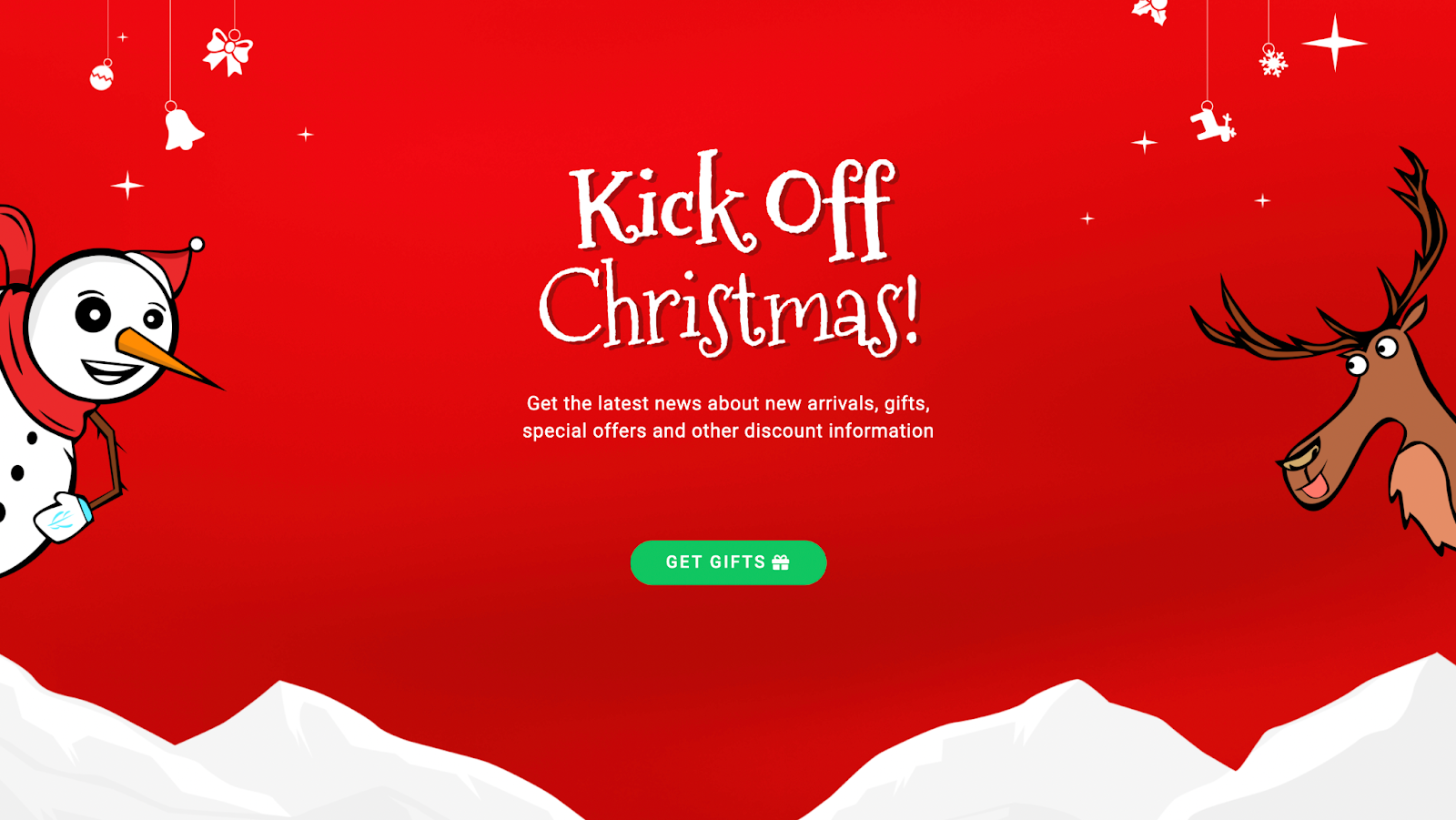 Elementor templates kit provides an interactive, ready gift shop template to decorate your online gift store this Christmas & New Year without coding. You can just install, customize and publish the website right away just following some simple steps. This template comes with an attractive banner section, timer, form, and other exclusive design sections to make a complete user-engaging website right away.
Infinity Gold – New Year Party Website Template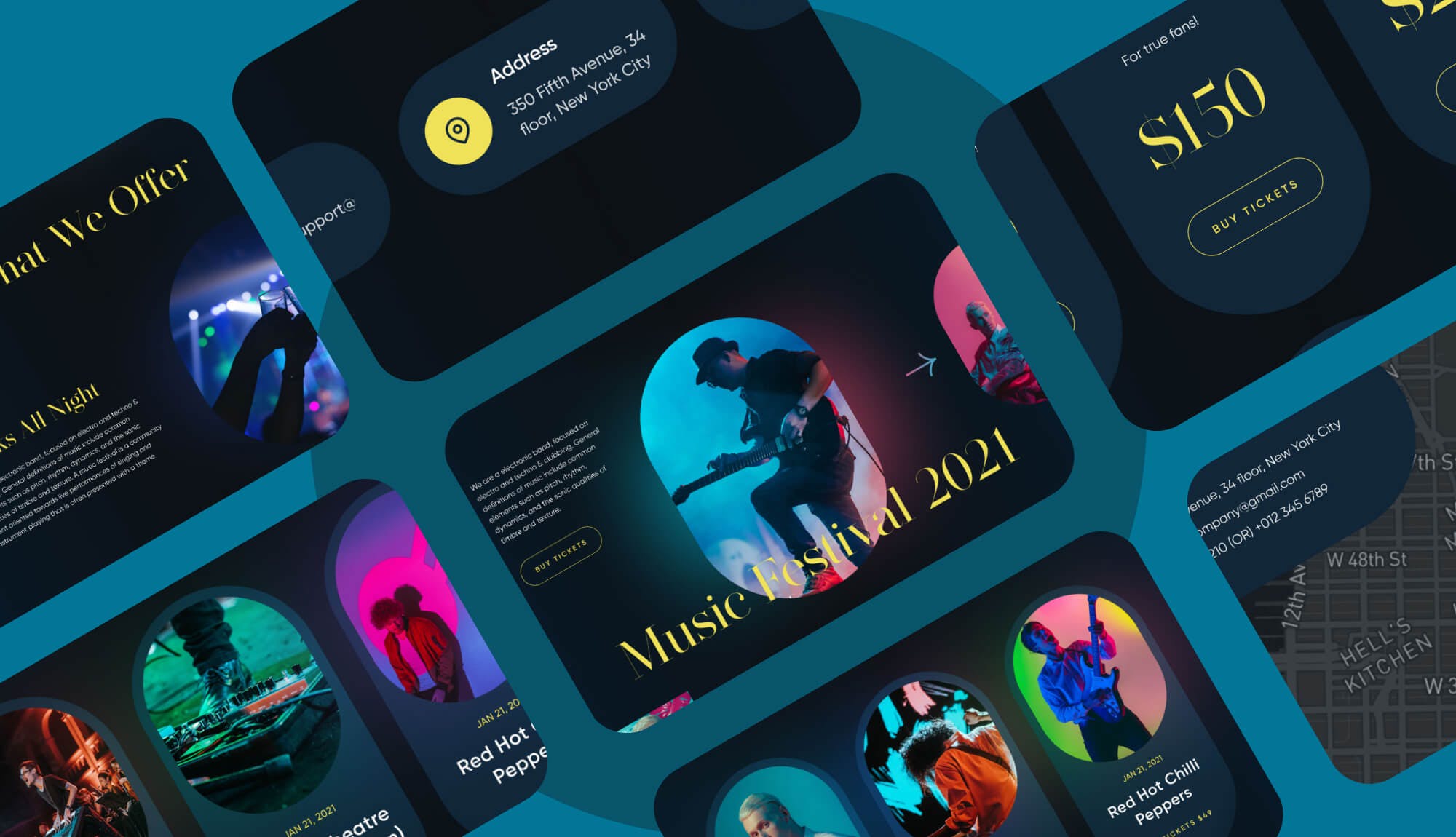 Infinity Gold by Templately comes with 5 ready single-page templates to create a modern, attractive, and fully responsive website for the New Year parties or any celebration website in Elementor. Infinity Gold comes with an interactive layout, stunning Call To Action buttons, animated countdowns, and much more to create an appalling New Year party website. It's fully customizable without any coding and you can make it as per your preferences. Infinity Gold  offers: 
Home Page

About Page

Event Page

Ticket Page

Contact Page
Elementor Interior Design Template For Christmas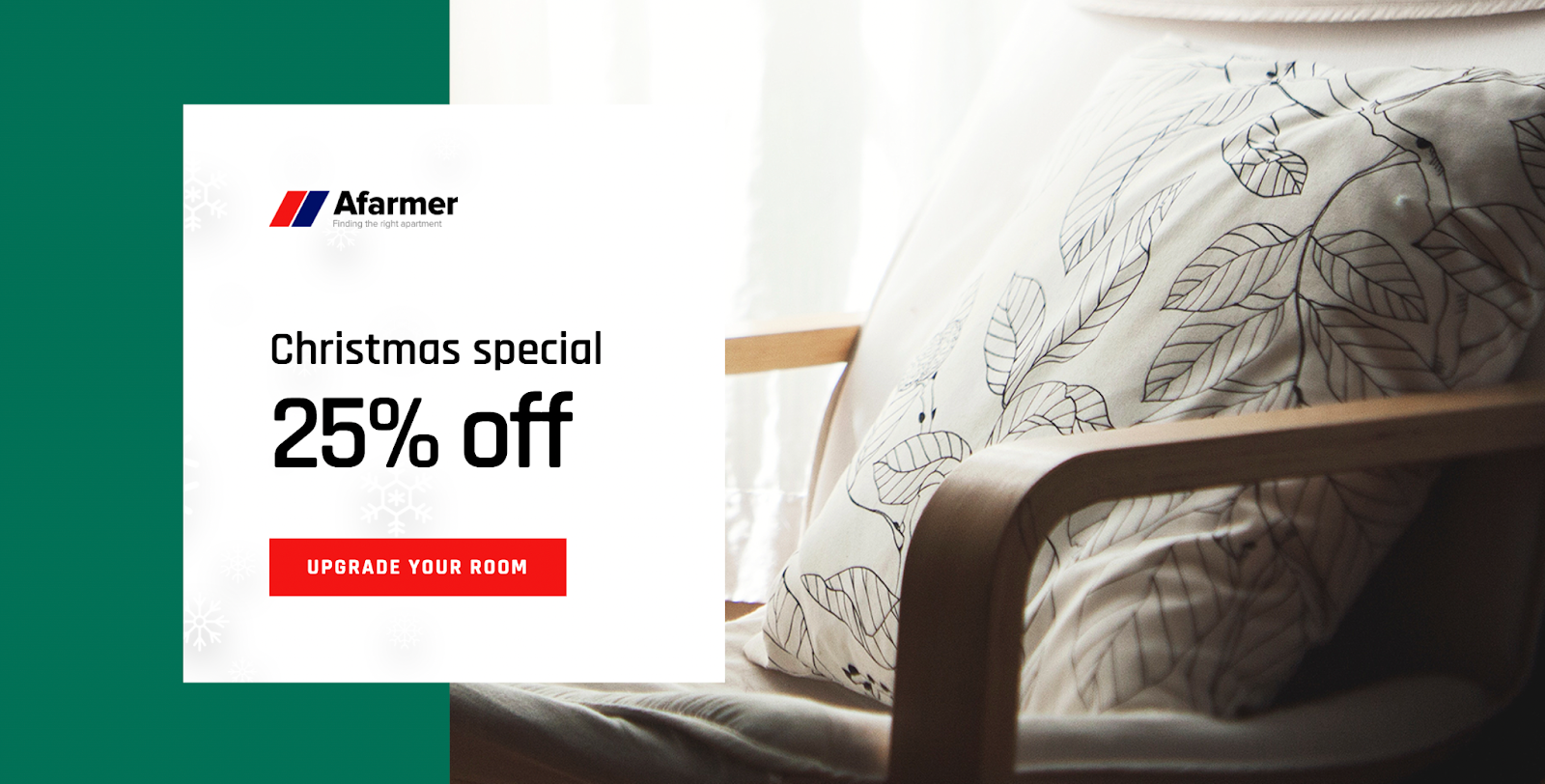 Elementor templates kit offers impressive interior website ready templates 'Afarmer' to encourage you to redesign your website without coding for this Christmas & New Year. You can highlight your holiday sales banner section, products, pricing separately, and more in an impressive way. You don't have to give any extra effort, just insert and change the content as per your preference to decorate your interior website in Elementor stunning these holiday sales seasons. 
NewYearEve – New Year Landing Page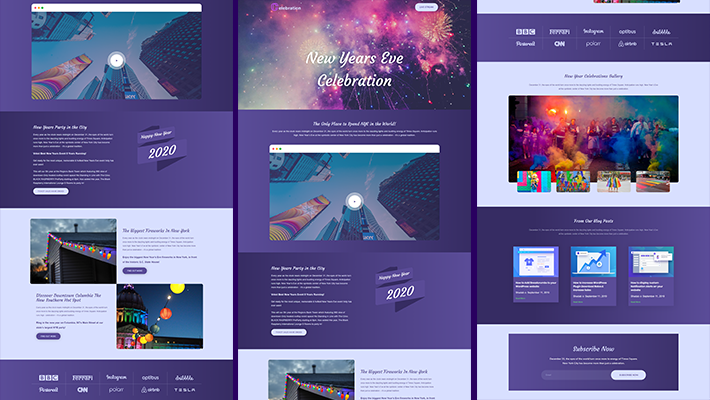 Make your new year happening this year and boost sales by creating a high converting landing page design with NewYearEve ready Templately design for Elementor. You just need to get these templates ready and make them fully functional according to your website environment without coding. It's completely responsive, cross-browser compatible, and comes with more advanced options to explore. 
Now It's Your Turn To Explore!
Make your holiday sales happening this year and on for your customers using the best WordPress Christmas And New Year templates for Elementor and boost sales. Hope you find this blog helpful and let us know your experience by commenting below.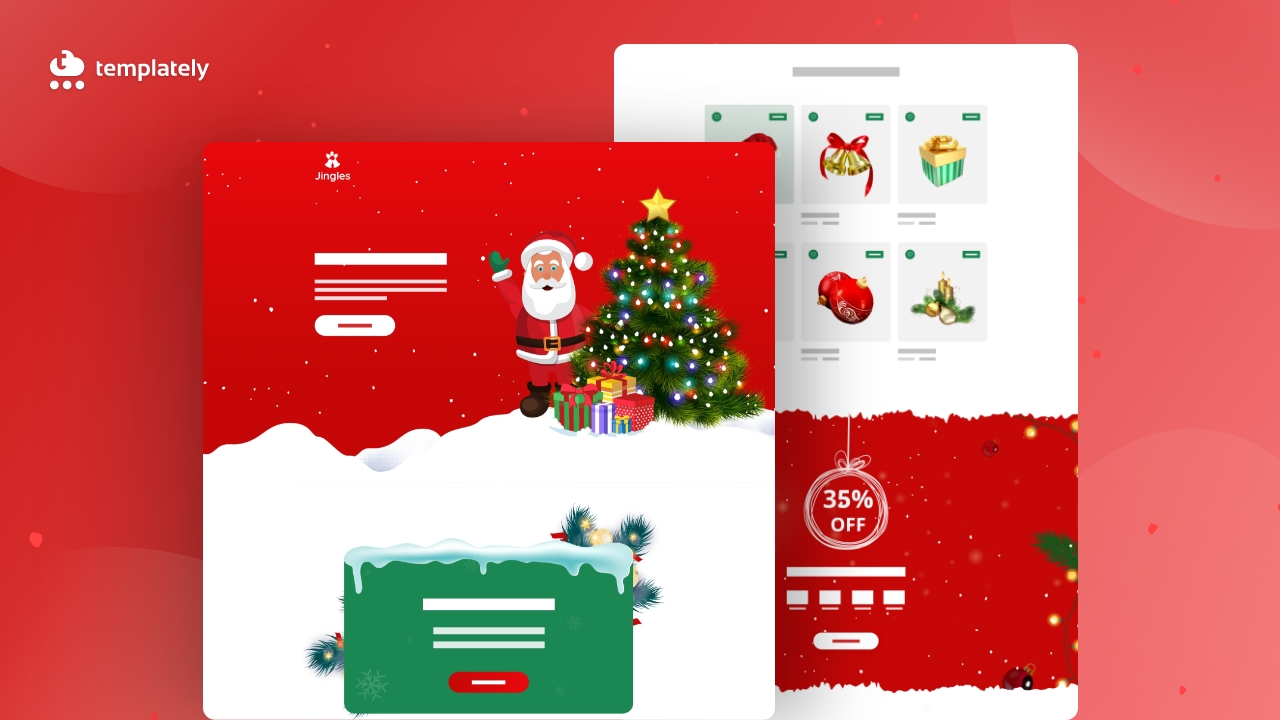 Get more exciting blogs, articles by subscribing to our blog, also don't forget to join our exciting Facebook Community to get attached with all WordPress experts.