Wondering if customers are satisfied with all the high-quality products you put out into the market? Or, want to know whether your excellent customer services are making a positive impact on user experiences? The best way to find out these important answers is to carry out a detailed, well-designed customer satisfaction survey. And with this blog, we are here to help you design surveys that promise instant responses.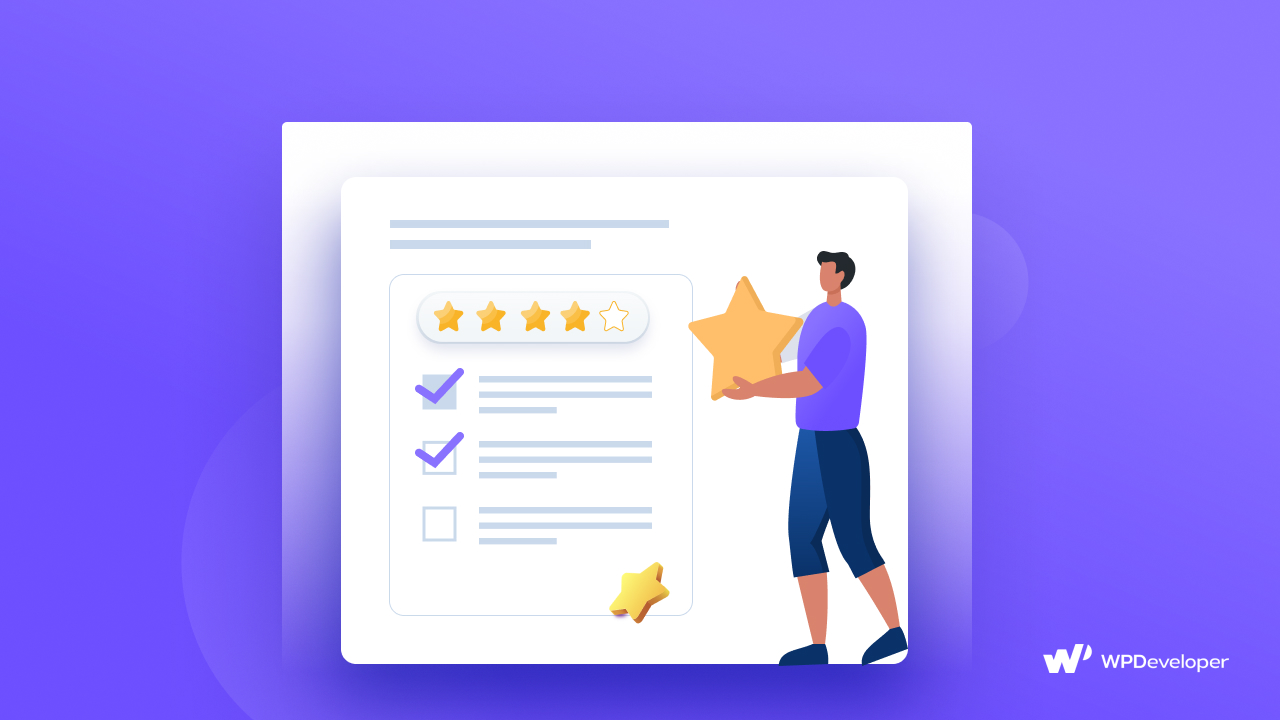 According to recent research, more than 81% of companies that listen to their customers and take their feedback into consideration when improving their business tactics outperform their competitors in every way. And to be one of the top rising businesses with a high conversion rate, you need to carry out customer satisfaction surveys that provide unique insights into the strengths and weaknesses of your business. 
Unfortunately, the majority of the time, customers do not agree to answer satisfaction surveys if the questionnaires are thought out well enough or are not created after thorough research. Especially if the survey is cluttered, complex, and consists of multiple unnecessary questions. But not to worry, because we have you covered. 
In this complete guide, we will walk you through the basics of customer satisfaction surveys and how to design one. You will get every information you need – all the way from the best practices to follow to sample questionnaire templates to follow to create a customized survey form for your own business. So stay tuned, to find out more.
Importance Of Customer Satisfaction Surveys In Business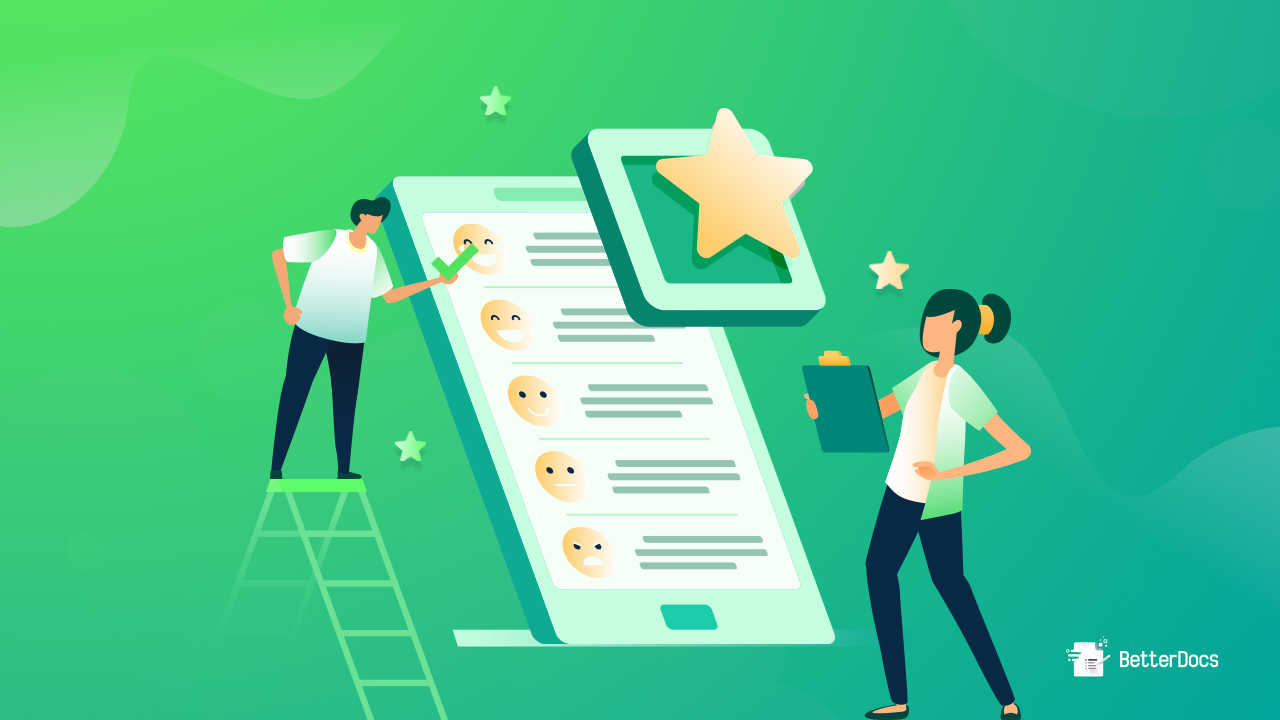 First off, a Customer Satisfaction (CSAT) survey is a questionnaire designed to understand a customer's satisfaction level with your company's goods or services. It can be of many different types ranging from simple, one-question types to detailed technical questionnaires served to paid testers. And, most importantly, can help you identify areas of business that need more attention and improvement, as seen from the customer's point of view.
Regardless of how much product you produce or how much effort you put into your business, it will all go to waste if the customers or target audience are disappointed. So, here, it is important to understand that CSAT surveys give you an insight into how well your business is doing, which is essential for the survival of your company in the market. It not only helps you improve your business but sets it apart from all the competitors in the business. 
To be more specific, a CSAT survey can help you: 
🎯 Understand the customer experience better and improve their purchasing journey, thus boosting their customer loyalty to your brand, as well as their satisfaction.  
🎯 Significantly enhance customer retention rates, while reducing churn effectively.
🎯 Figure out the source of your website or store traffic, enabling you to invest more in the right products or services that drive the maximum amount of customers to your company. 
🎯 Optimize certain areas of your business where your customers spend a significant portion of their purchasing journey, i.e your website.  
🎯 Turn unsatisfied customers to supporters and promoters as well, by making them feel heard and understood. 
🎯 Launch new product features and service facilities based on the demands or wants of the customers. You will be able to turn customers' opinions into the perfect source of ideas and innovation for best-selling goods. 
🎯  Determine your brand's promoters and supporters. You will be able to easily identify customers as well as users who recommend your products online to their follower base and use the word-of-mouth strategy to promote your brand to new customers.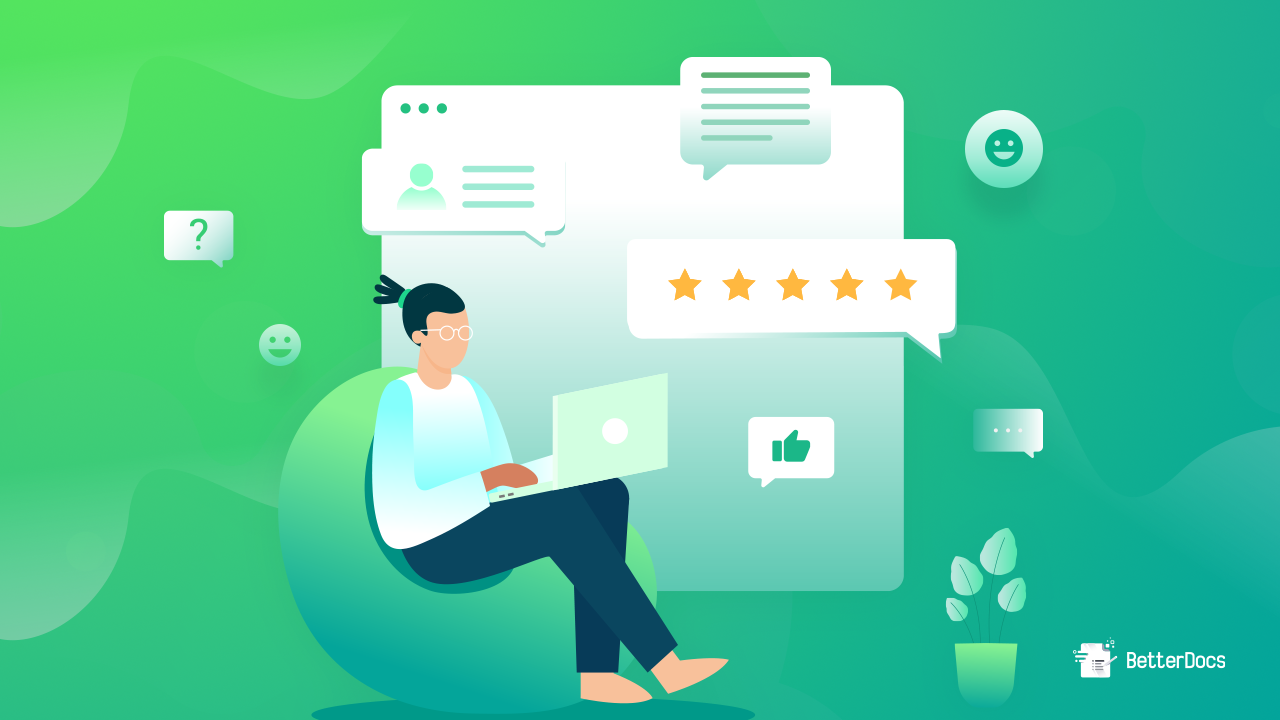 Customer satisfaction surveys not only tell you what you are doing well in your business strategy but also provide you with critical and constructive feedback, helping you understand your strengths and weaknesses. If you want to learn more about why customers' feedback is necessary for your business' growth, please check out our in-depth guide here. 
When the results of the survey come in, make sure to consider all of your customers' opinions and feedback when making big decisions. It is sure to catalyze business sustainability and growth exponentially.
10+ Best Practices To Follow The Perfect Satisfaction Survey
Now that we know what exactly a customer satisfaction survey is and its importance, you need to understand that not all CSAT surveys get the response you want from your customers. Try to put yourself in your customers' shoes here, and you will see that there have been many times when you, yourself, have skipped answering survey questionnaires by other businesses or companies. So why should it be any different for your clients? 
If a customer is provided with a lengthy survey with over 5 pages of questions that require detailed answers, it is more than likely that the customer or user will not find the survey worth their time or energy. In fact, most customers only respond to well-thought-out and designed questionnaires that are easy and simple to answer, with to-the-point questions that do not irritate them.
Therefore, the design of a customer satisfaction survey is crucial to the success of this research for your business. And so, today, we are here with 10+ best practices you can follow to design a customer satisfaction survey that is sure to generate proper answers from users.
💡 Set a clear objective before creating the questionnaire. Before asking the questions, make sure you know what product or service you want to query about. Be precise and clear in your wording in order to avoid confusion or misunderstanding. And make sure to not ask personal questions that might offend your users. 
✅ Start the survey with overall satisfaction levels, and then slowly move on to more specific details. This way, you will not be taking the users into direct difficult or specific questions.
🎯 Keep the CSAT survey short and simple, with only the most relevant questions. And try to avoid double-barrel questions. Try to fill the questionnaire with questions that require short answers. Better still, if you use yes/no questions or checkboxes that can be easily filled out within minutes. 
⏳ Send out the questionnaire at the proper time and in a good format, targeting to not irritate or disturb your clients. In fact, there are various types of questionnaire tactics that you can follow to effectively get feedback from your users: 
1) Online polls or survey
2) Mailing list survey
3) Email signature survey
🤝 Contact different customers or users with each survey, ensuring you get a wide range of answers, opinions, and feedback. And make sure to acknowledge all responses from every customer you inquire about. 
🔗 If possible, try to A/B split test your online questionnaires and see which survey or set of questions work better among your customer base, and which form gets more responses. 
⭐ Make sure to thoroughly thank your customers for their time and effort in filling out your customer satisfaction surveys. And ensure customers that their negative responses will be looked into further, providing proper solutions. 
💻 Optimize responsiveness of your surveys for mobile or tablet users, ensuring customers can fill out your survey forms from the comfort of their preferred devices.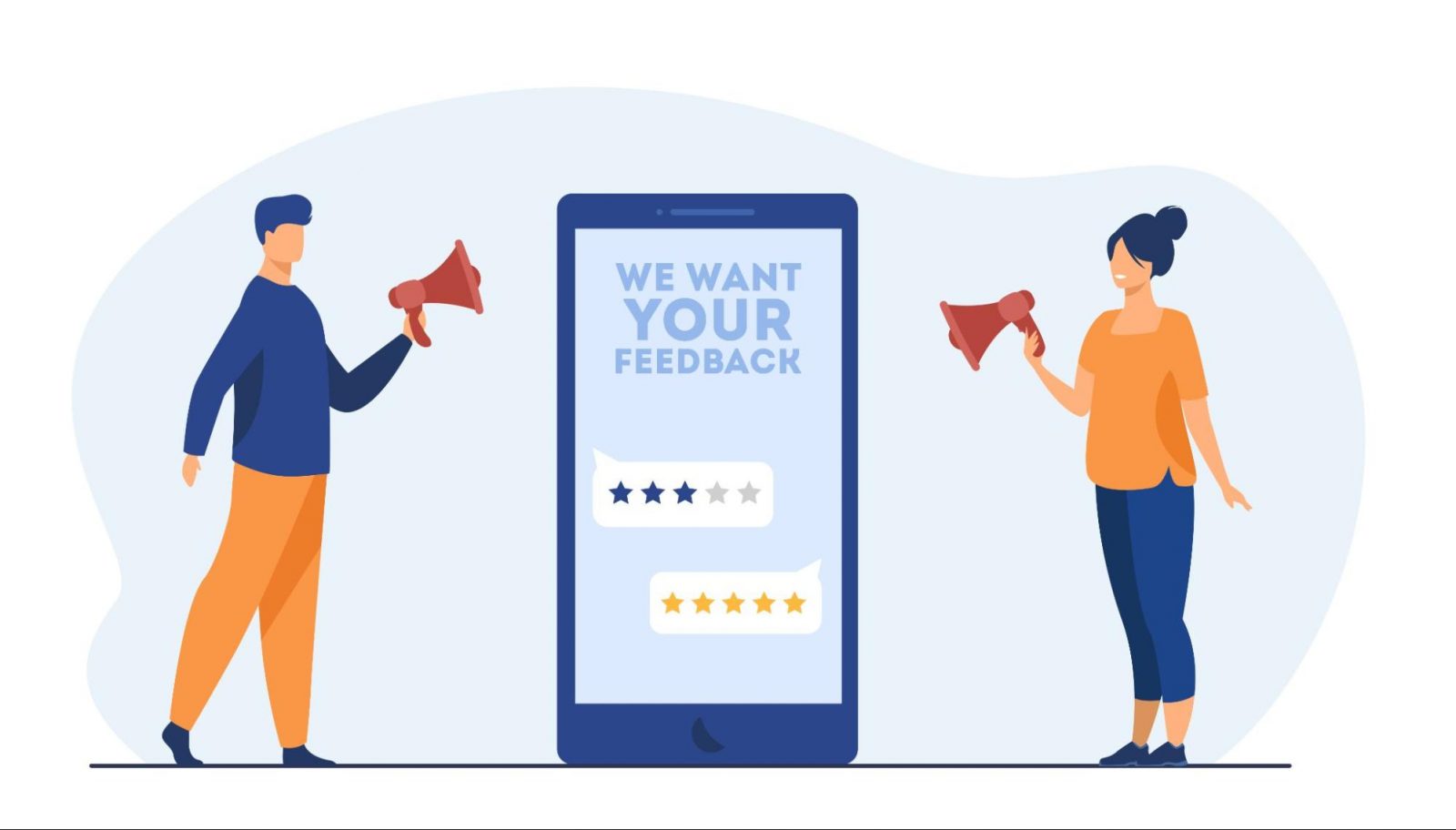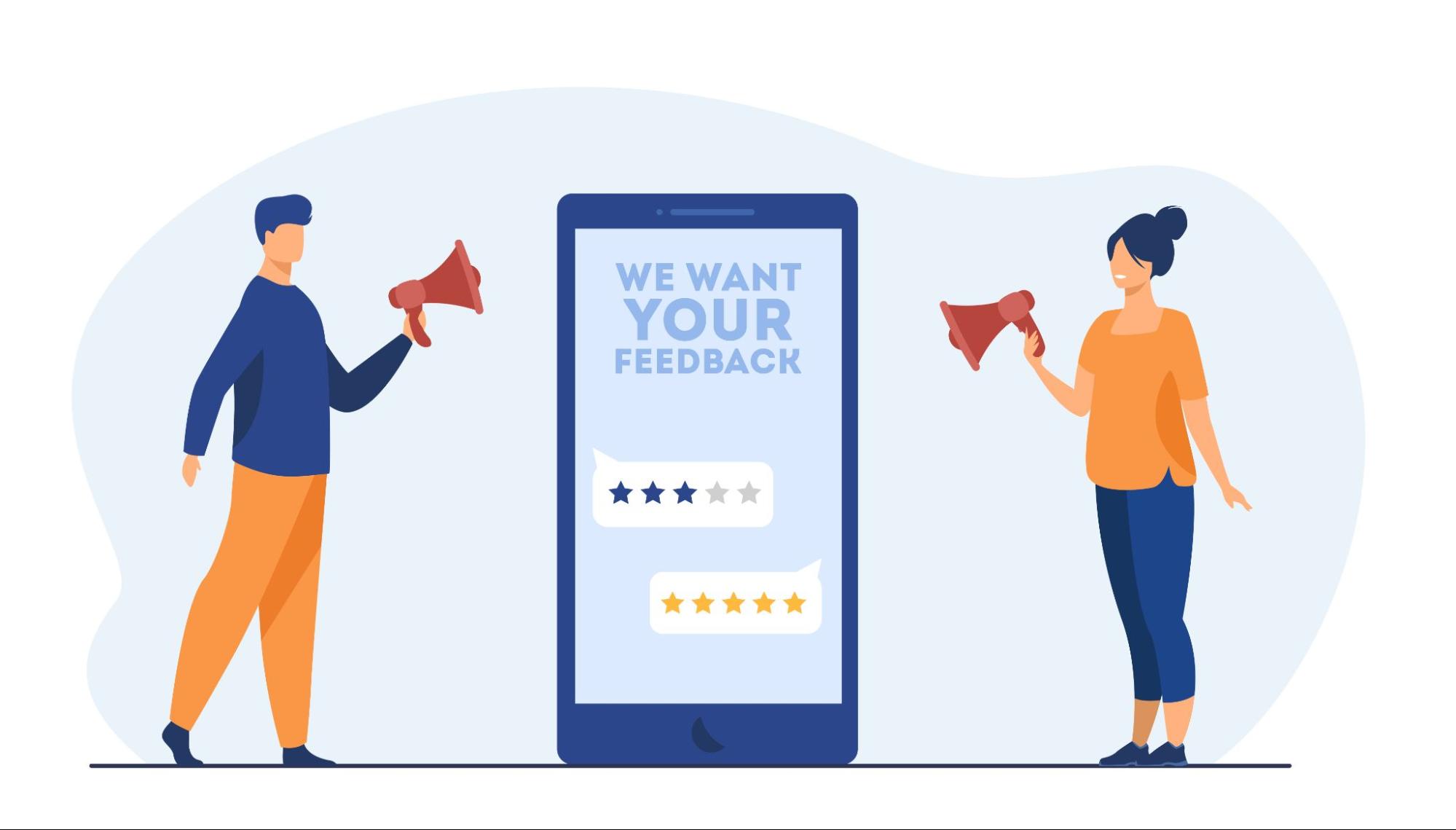 Now that we know what the best practices to follow are, let's learn how we can easily design a customer satisfaction survey with ease.
Sample Questions For A Well Designed CSAT Survey
A big catch to remember here is that your CSAT survey questions must not be boring – try to keep the content or questions engaging, relevant, and impactful. If not, users will not be interested to read through the entire questionnaire, and most importantly, the data won't be useful to your research.
Now, there are a few types of customer satisfaction survey questions. In this section of the blog, we will share each type and some sample questions that go with it: 
Use Short, Binary Scale Questions For Direct Answers:
The very first type of customer satisfaction survey type is the short and simple binary questions that require to the point answers such as yes/no, thumbs up/thumbs down, and more:
📋 Did you have a satisfying experience while shopping with us?
📋 Did the quality and outlook of our product meet your expectations?
📋 Did you find what you were looking for?
📋 How likely are you to recommend [product name] to a friend or colleague?
📋 How could we improve your experience with [brand/product/service]?
All of these questions were simple, one-word replies or feedback that will take the customers no more than a few seconds to respond to.
Provide More Options With Multiple-Choice Questions:
Next up, we have the 'multiple-choice questions' type of survey that usually carries three or more mutually exclusive options that your users can choose from. Here, you provide the users with a range of preferred responses, all they have to do is select the option that matches with them the most. 
As an example, you can ask your customers which type of product they prefer to buy online from the comfort of their homes and provide the following options: 

Ask Scale Questions To Get A In-Depth Rating & Response:
The most popular type of survey includes scale questions that ask the customers to rate the product, or service, or even the company, based on their experience on a scale of 1 – 10. 
Example: 
'On a scale of 1 – 10, how satisfied were you with your experience shopping with us today?'
Or, 'On a scale of 1 – 10, what did you think of the taste of your food today?'
Other than numbers as your scale for satisfaction level, you can also use labels for responses such as 'strongly disagree, disagree, neutral, agree, and strongly agree.'
These types of questions give your users the flexibility or freedom to be more specific about their experiences, while the detailed data collected can be accurately used to make better business decisions and improve customer experiences.
You can allow your customers to choose any point in the middle of the scale that correctly depicts their experience, with the semantic differential type of customer survey questions.
Plan Open-Ended Questions For Detailed Feedback: 
And finally, if you are looking for in-depth, qualitative insights, you will have to ask open-ended questions on your customer satisfaction survey to allow your users the freedom to explain their entire experience. An example could be, 'Would you like to share any thoughts to help us improve [brand/product/service]?'
It assists in identifying consumers' value propositions and learning about the most significant aspects of the customer's life — information that you won't acquire from a numerical or multiple-choice survey.
Satisfaction Survey Templates & Examples For Inspiration
Let's look at some customer satisfaction survey templates that you can use as inspiration for your company's questionnaire. 
Customer Satisfaction Survey Template # 1

Or, you can also ask questions where you can ask your readers or website users to grade their experience on a scale, as seen in customer satisfaction survey template #2
              1️⃣ 2️⃣ 3️⃣ 4️⃣ 5️⃣ 6️⃣ 7️⃣ 8️⃣ 9️⃣ 🔟
Here, consider 1 as 'Very Unlikely' and 10 as 'Very Likely'
Customer Satisfaction Survey Template # 2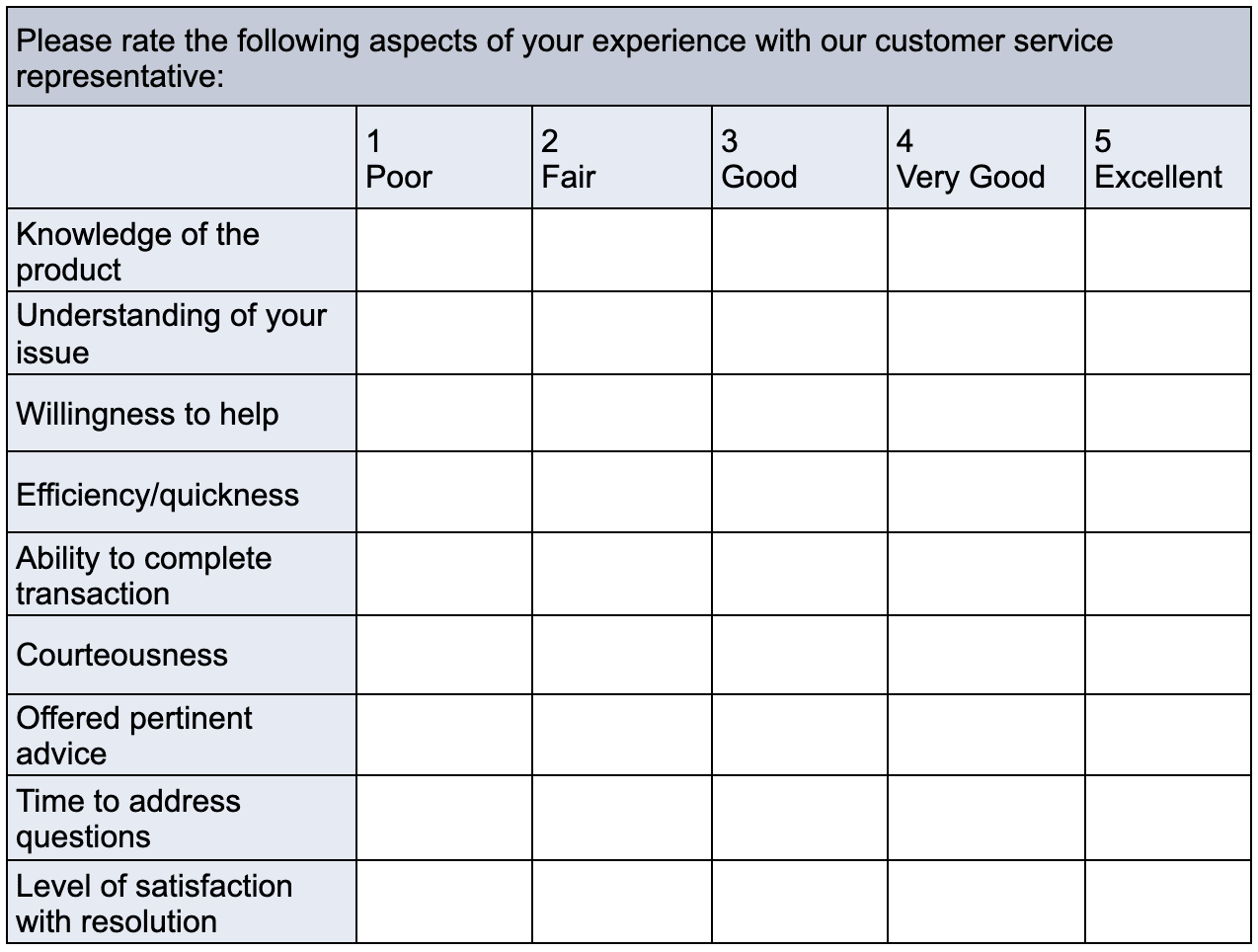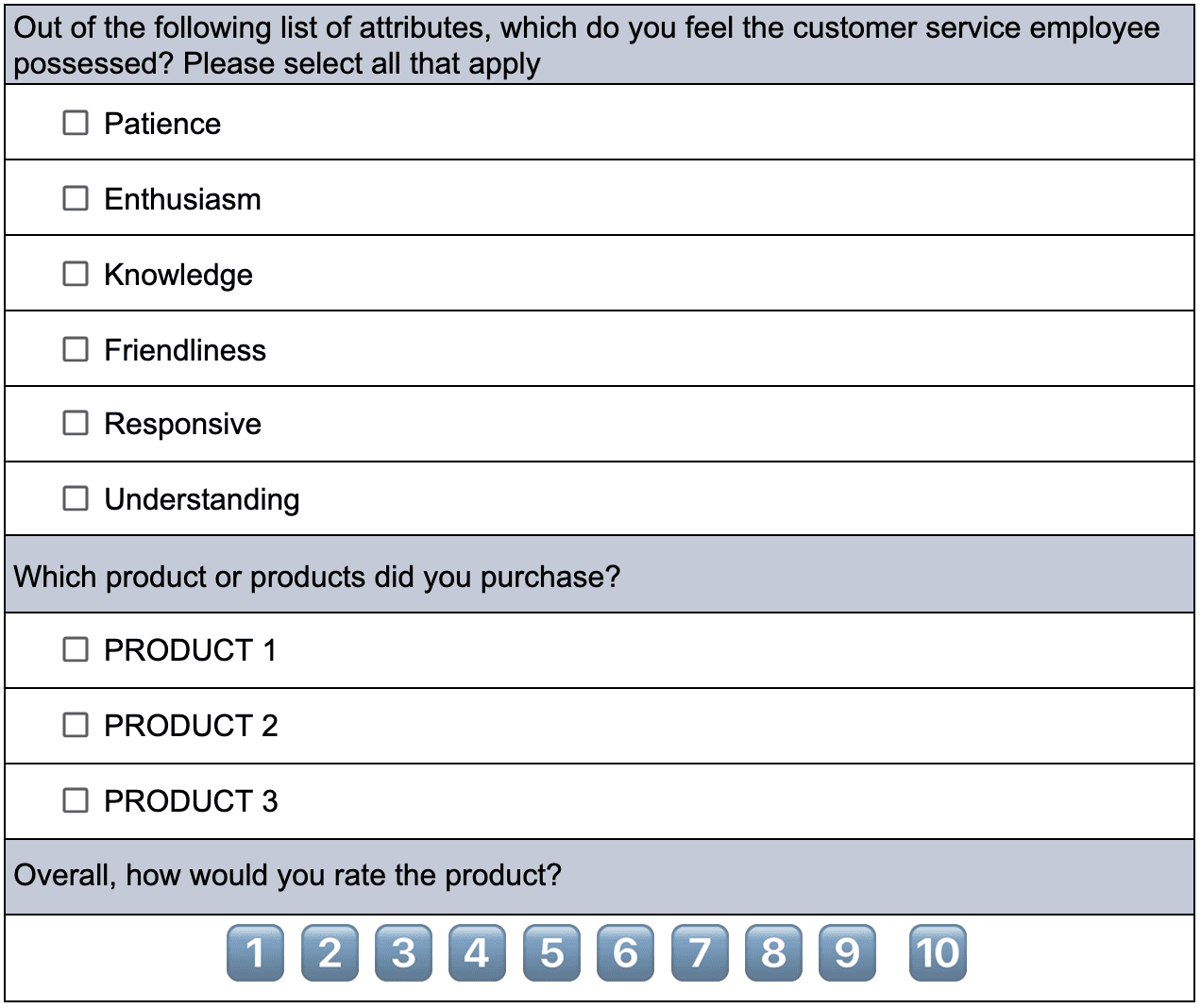 Now that you have seen some sample templates, let's take a look at examples from renowned businesses around the world. 
Customer Satisfaction Survey Example - Skype
The video chat and instant messaging computer software program, Skype, that uses rating system, multiple choice questions and open ended questions together to ask for customers' feedback.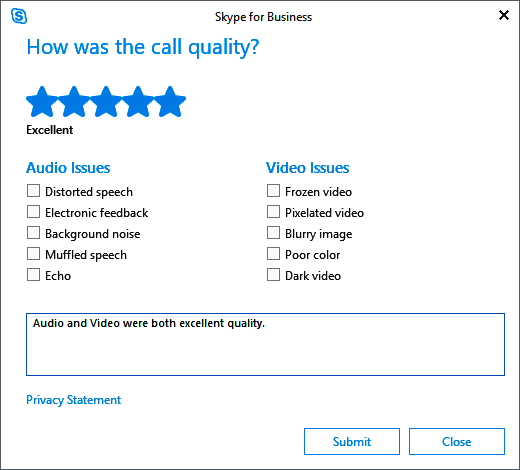 Customer Satisfaction Survey Example - McDonalds
Then we have the renowned and highly successful food chain, McDonalds, that uses multiple choice questions that users can easily fill out while taking the survey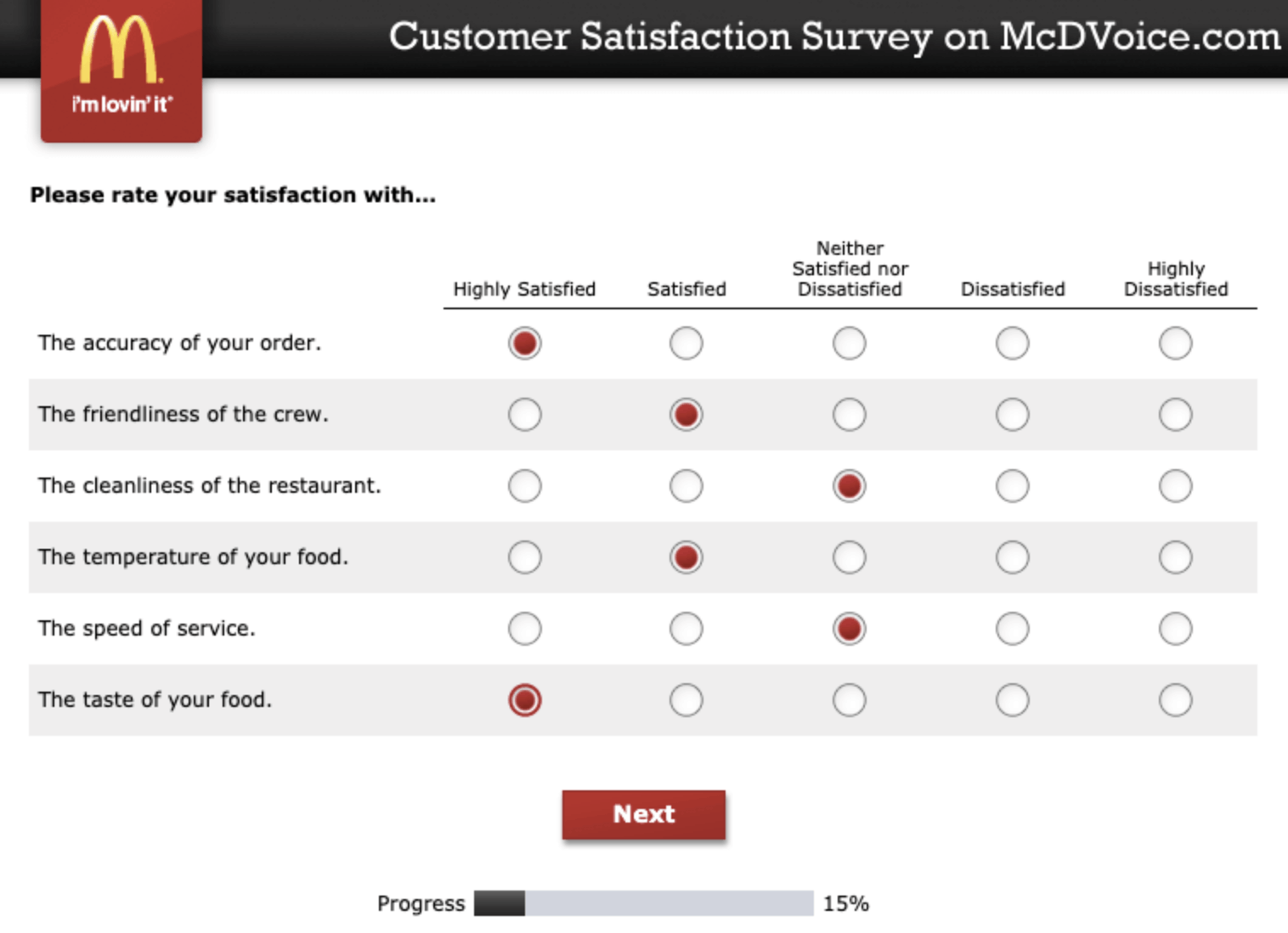 With that, we conclude our ultimate guide on how to create excellent customer satisfaction surveys to easily collect customer feedback and reviews, and use them to skyrocket your business sales and conversions instantly. You can also check out this blog on how to convince your customers to write reviews for you to get more tips and tricks.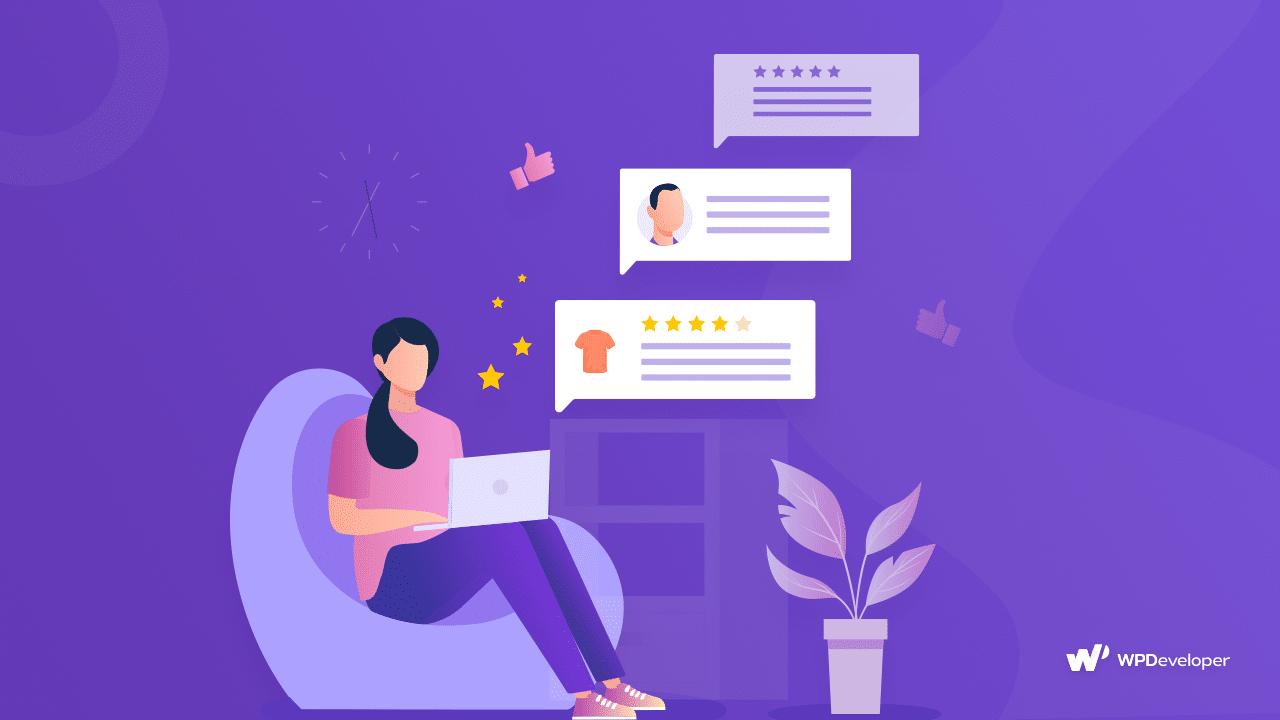 Hope you find this blog helpful and feel free to share your feedback by commenting below. For more insightful and informative content like this, subscribe to our blog. Or join our super-friendly Facebook community and get all the latest updates.