In the tech sector, a documentation page is one of the effective mediums to solve customer technical problems instantly. Without continuing any long conversation to the support panel. But in many cases, people don't find the perfect solution to create and manage their knowledge base page in a continuous manner. So they find it difficult to maintain it.
Yet you don't need to feel worried about organizing your documentation page now. Because you get the best documentation plugin called BetterDocs to arrange your whole Knowledge Base page and make it user-friendly for your audience to find out their solution just by seeing or advanced search.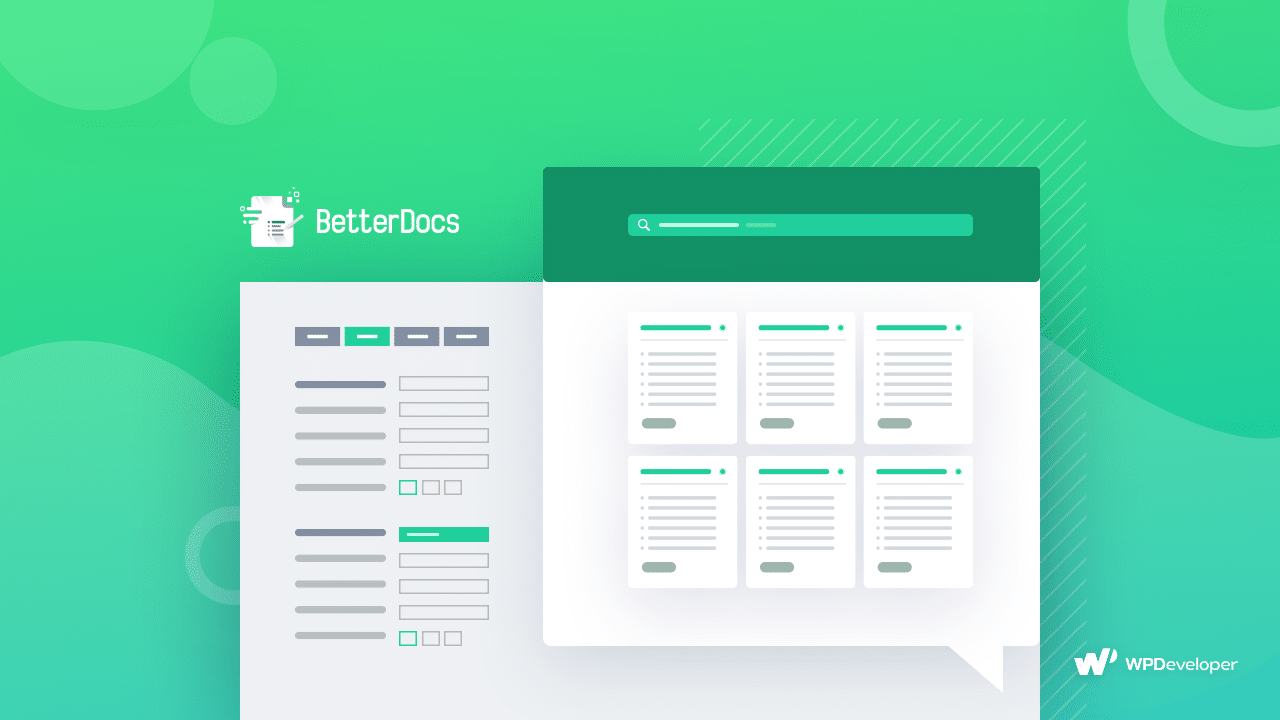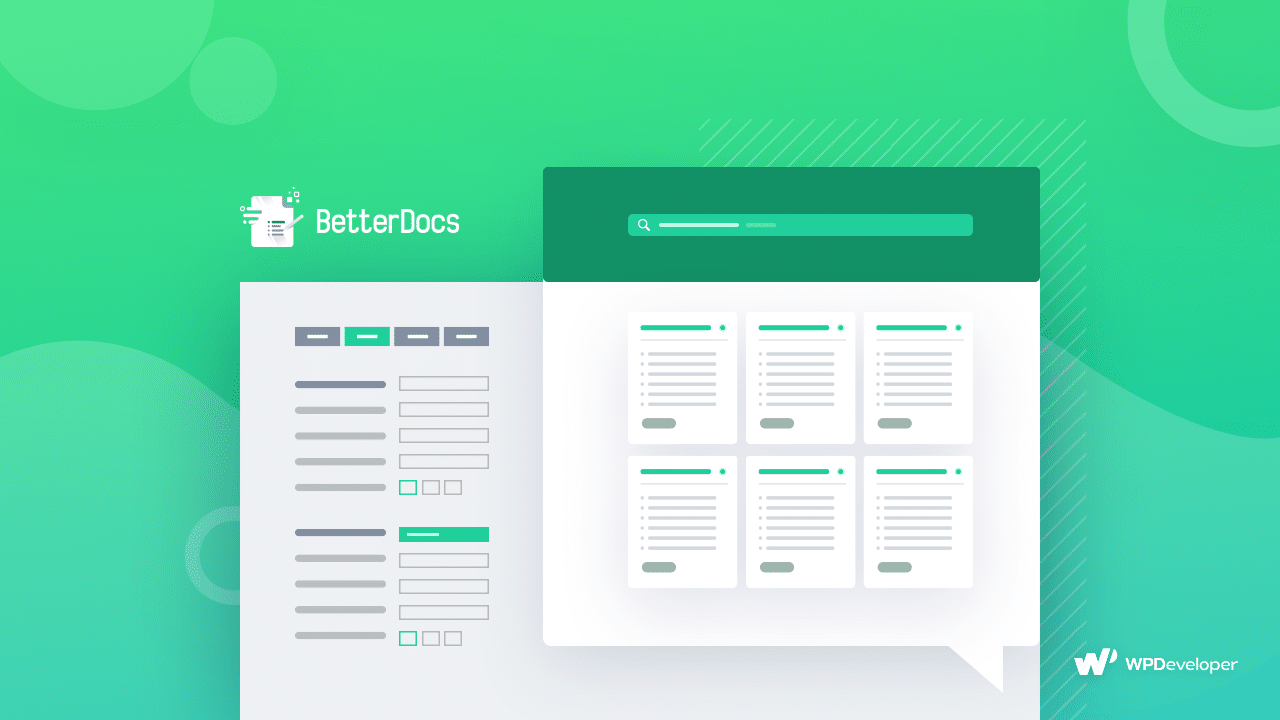 Importance Of Digital Documentation In Tech Industry
The first thing is knowledge is the ultimate power you can share with the consumer that would help them to evaluate your service well. Having an up to date technical documentation page will create an effective path to communicate with your customers more than before.
Suppose you run a software company, it's obvious how much high-quality product you have, it would have some technical bugs that might affect your consumer during work. These would be the common queries you are getting in the support forum. It would be normal that the team might get frustrated for having the same query over and over again. What if you take help from your support and technical person to create a Knowlege Base.
In the smartest way, you will be able to answer your customer query maintaining proper guidelines. And by following these simple steps they would feel encouraged about self-servicing. Because when you deal with software or any electronic device you need the instant solution to serve your purpose. So for that reason, the tech industry wants to build its online documentation page that reduces the unwanted load from the helpdesk. Also, this will help you to build a transparent and trustworthy relationship with your customers than before.
Advanced  Online Documentation Page Using BetterDocs
Without any other further description, let's give a direct hit on the topic. Considering BetterDocs to organize your documentation page will benefit you in advanced features and functions with affordable pricing. Also offering you a free version to first know the product then decide to move it to the Pro for more advanced features.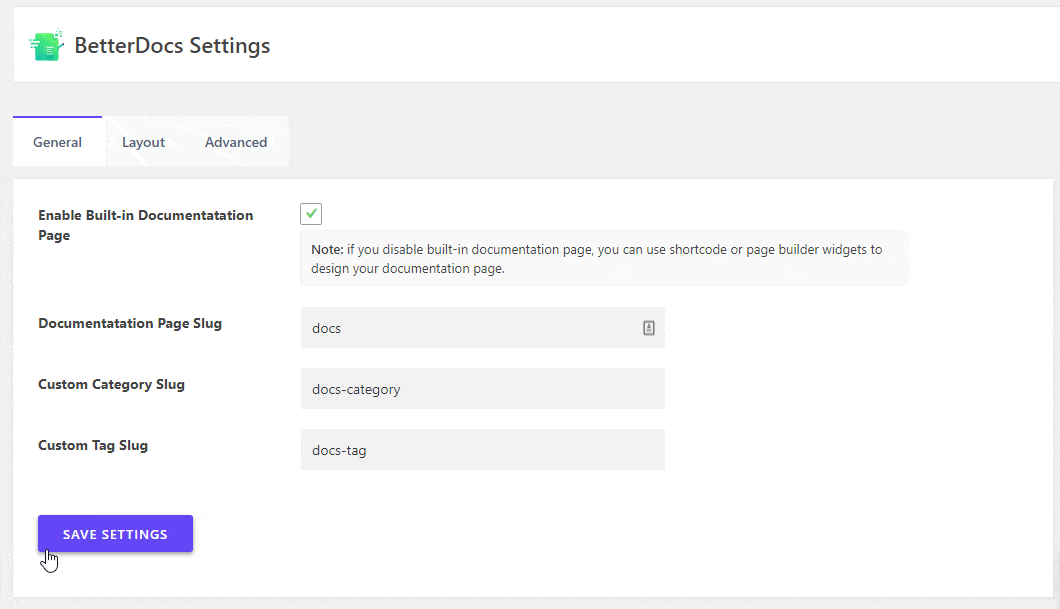 In the beginning, you will add a new doc page to create your documentation. You can add multiple tags and categorize them to sort your document externally on the page. You will get a built-in page for your Knowledge Base page. But if you consider any other outlook, you can easily customize it by adding shortcode or any page builder widgets.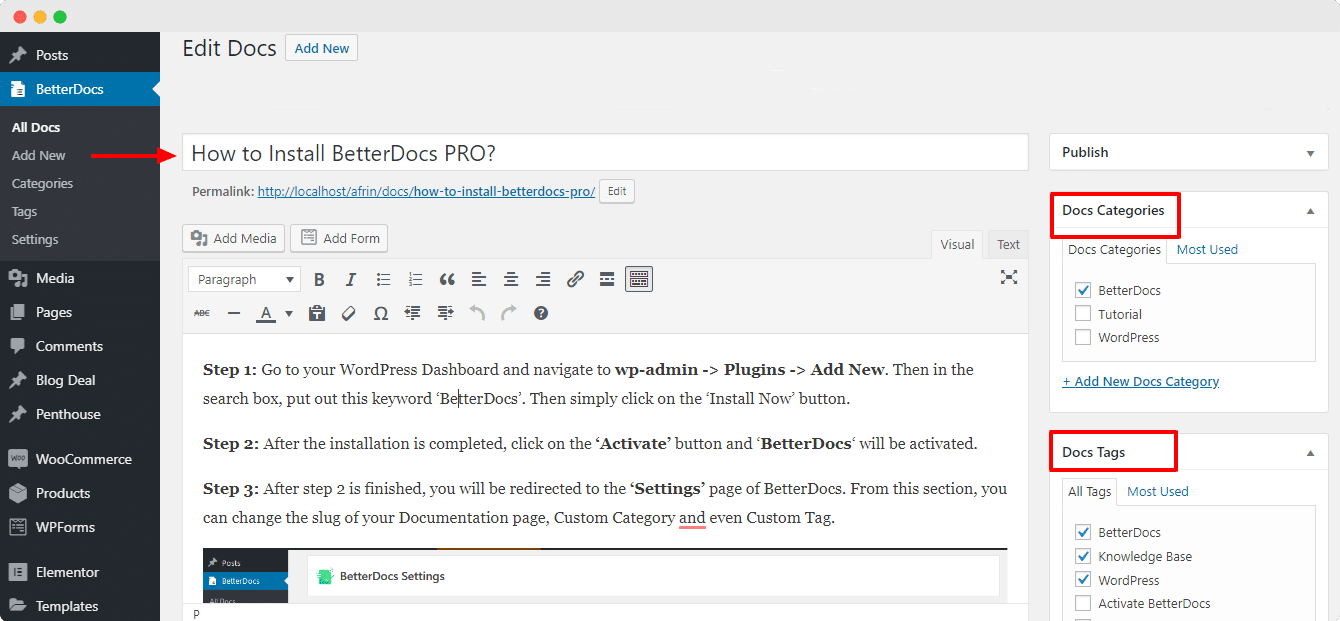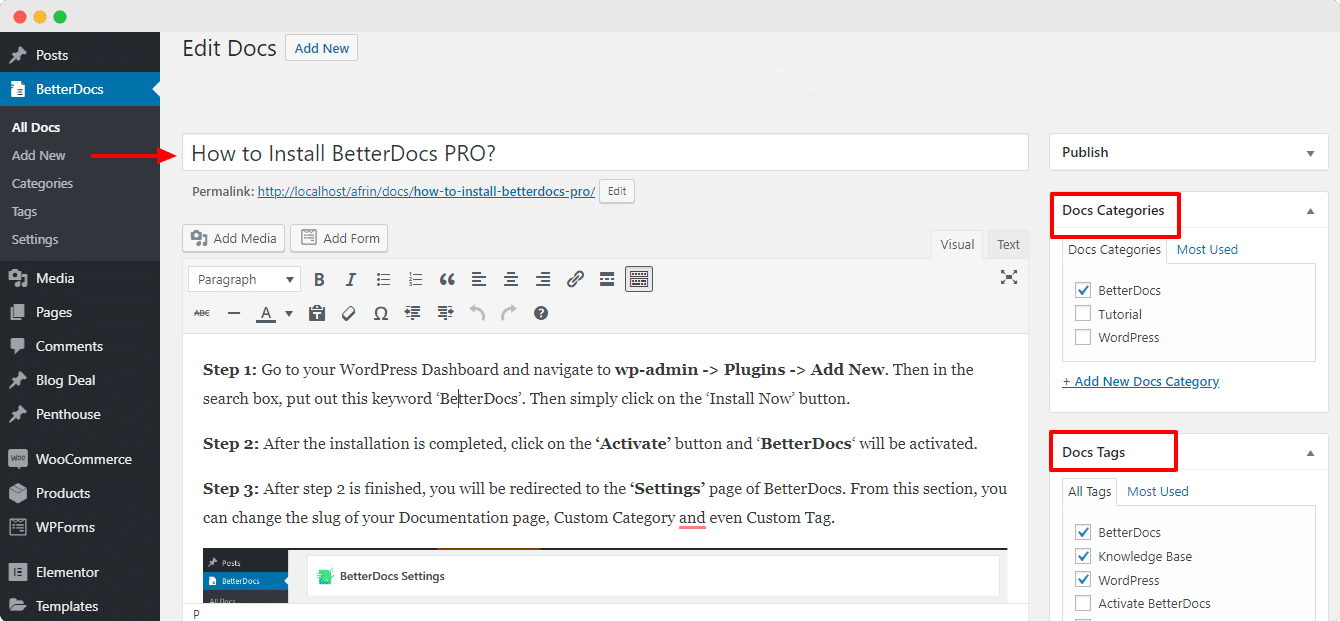 On the other hand, its advanced Table of Content (TOC) with the sticky one will sort your documentation page according to the category. Your customers can see other related content in the TOC and get helped immediately if they are also searching for it.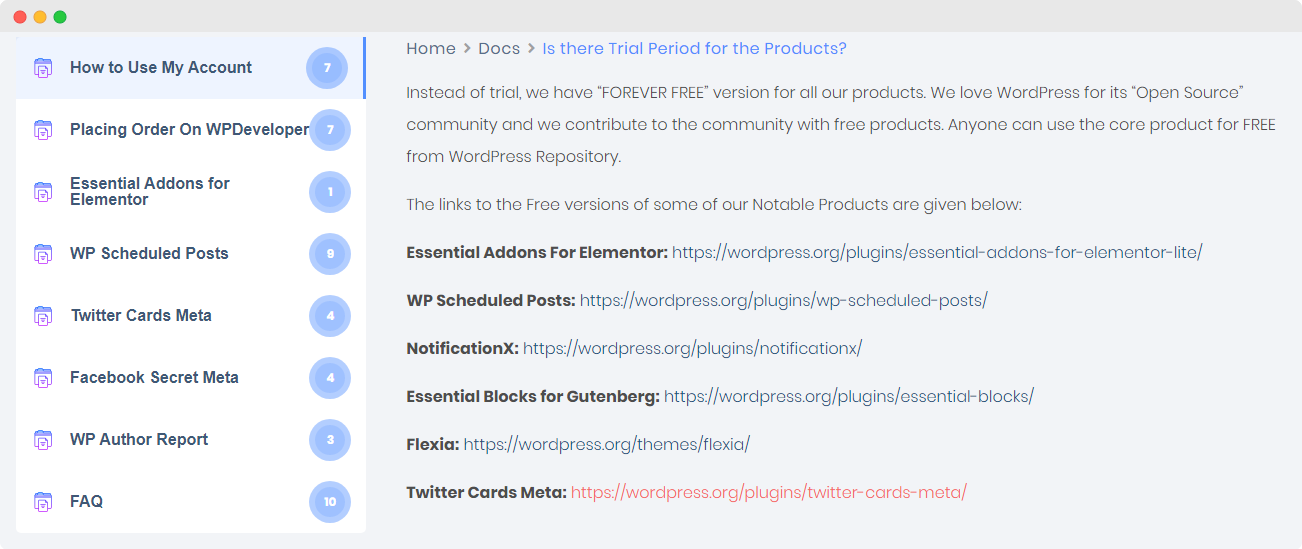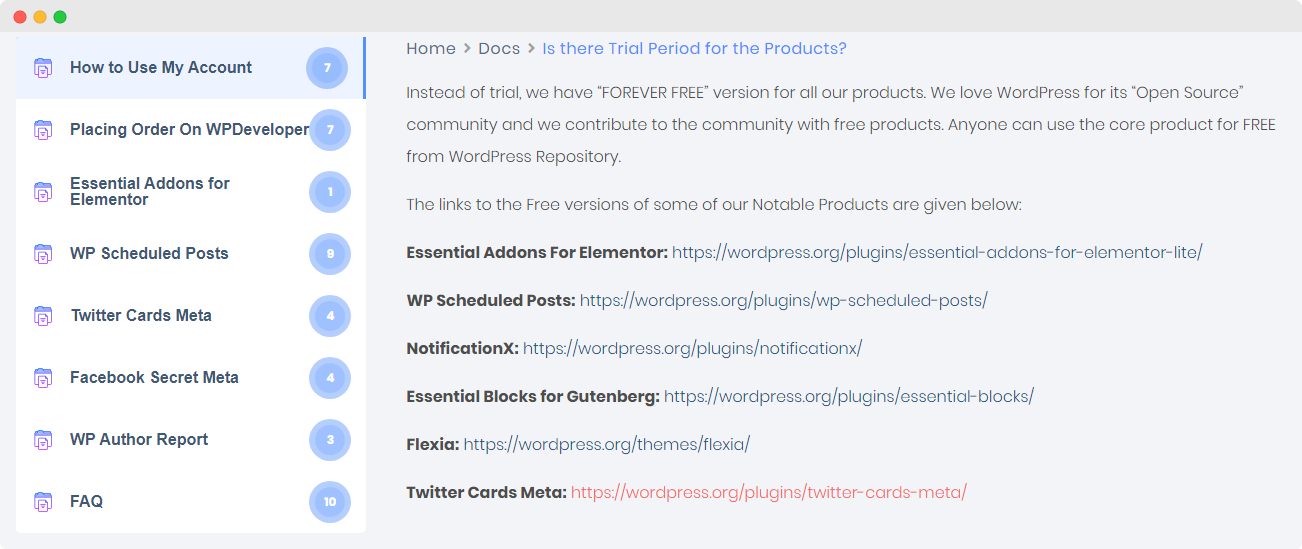 It comes with an internal advanced search section to help your users to find out their preferred document just typing a character in the bar. It will also help the search index in advanced to find out the technical content just by searching in search engines.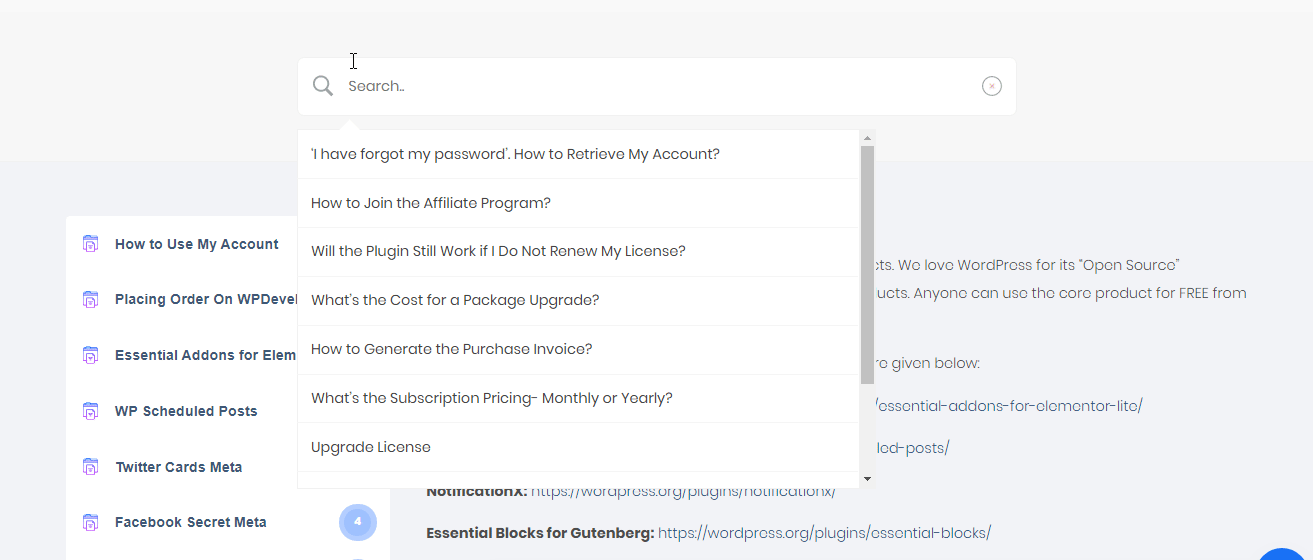 On the other hand, you can also be able to track your user activities by Analytics. You can know in which particular problem is searched mostly, and be careful about future work.
Wrapping Up
Nowadays the online documentation page is another smart marketing strategy to build trust among your users and new visitors. It also works as a booster to reduce support tickets. Once you are able to introduce your customers to your well-organized Knowledge Base page, they will eagerly prefer to take self-service rather than having a long conversation over the helpdesk.
So what are you waiting for? Try out BetterDocs and share your experience by commenting below!